If you're looking for an escape from the heavy crowds on your next vacation, then the Sanibel Island beaches are perfect for you! The islands of Sanibel and Captiva boast many different types of beaches, each one suitable for its own niche of tourists.
Just off the coast of Cape Coral, Sanibel and Captiva Island are all about the outdoors. As a result, you'll feel the magical current in the air through the island's slightly off-kilter vibe. It's this atmosphere that permeates nature, the beaches, and everyday life that keeps drawing visitors back.
Because Captiva and Sanibel boast some of Florida's best beaches, you'll find some of the bluest waters for swimming, scuba diving, and parasailing. The islands also hold a reputation for having the best beaches for families!
Unbeatable because of its secluded nature, the Sanibel Island beaches feel like they're part of an upscale resort. The sand glitters so brightly that it hurts your eyes, and kids love the shelling opportunities. You'll feel like you're on tropical escape rather than just a beach in Florida.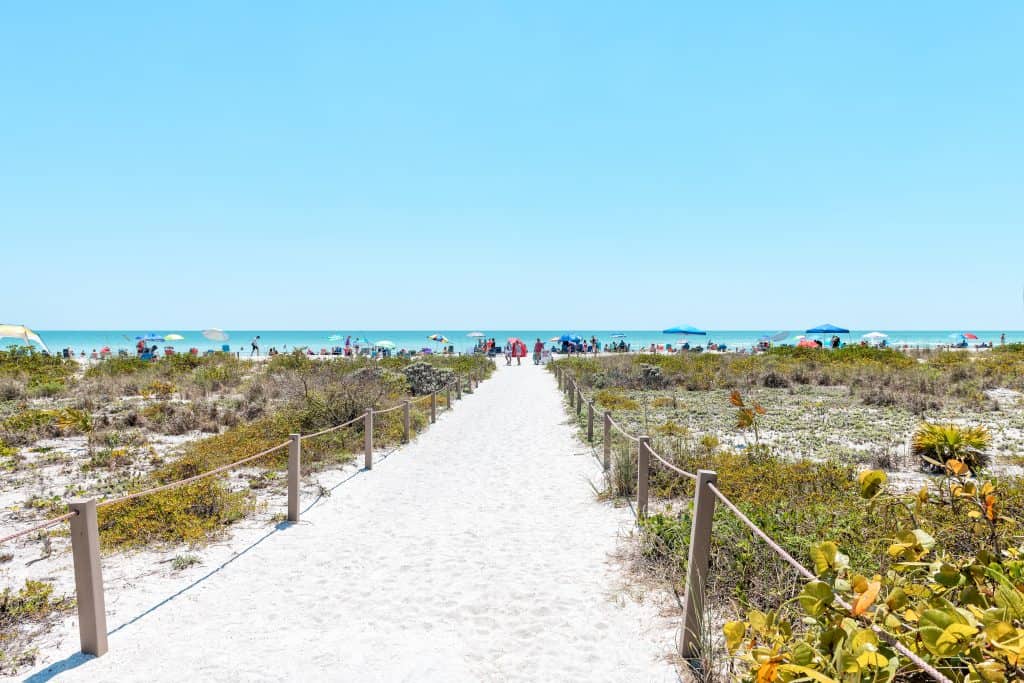 Where Is Sanibel and Captiva?
Sanibel Island and Capitva Island are both on Florida's Gulf Coast! You can find them just south of Fort Myers and Cape Coral and to the north of Bonita Springs and Naples. Its location makes it a wonderful day trip for anyone in Central Florida.
To get there, simply follow I-75. Take exit 131 to get onto the Daniels Parkway. From there you'll merge onto the 6 Mile Cypress Highway before arriving at Summerland Road which will take you to the Sanibel Island Causeway.
Once you see the parasailors, fishermen, and beach umbrellas dotting the shoreline, you'll know you've arrived.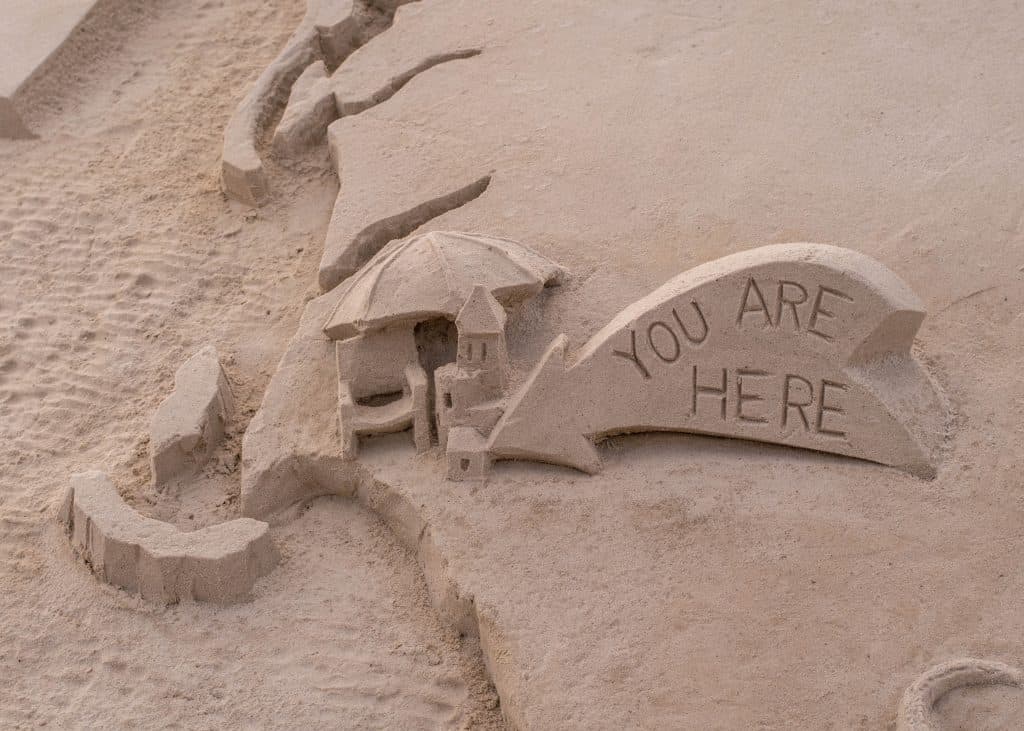 What's The Difference Between Sanibel and Captiva?
While both Sanibel and Captiva Island are both beautiful, they each offer something different. Sanibel Island is better for shelling, while Captiva Island has the softest sands.
Don't get us wrong, Captiva Island beaches are still better for shelling than most beaches in the entire world! Sanibel just happens to be the absolute best there is.
The waters of Sanibel Island beaches have a gradual slope, which allows shells to be washed up on the shoreline extremely easily. Captiva Island beaches have a steeper slope on the shoreline, which means less shells wash up on the beach.
Sanibel Island beaches are actually made up of ground-up shells, more so than sand. Those with sensitive feet might want to wear water shoes. Captiva Island beaches are made up of the soft sugar sand you would typically see on a tropical island.
Because Sanibel is filled with people searching the beach for shells, they often become crowded. Captiva Island beaches are usually laid back and very quiet. Most times of the year, it feels like you're the only one on the beach!
In short, if you're looking for great shelling, head to Sanibel. If you want a tropical escape with sugar soft sands, head to Captiva.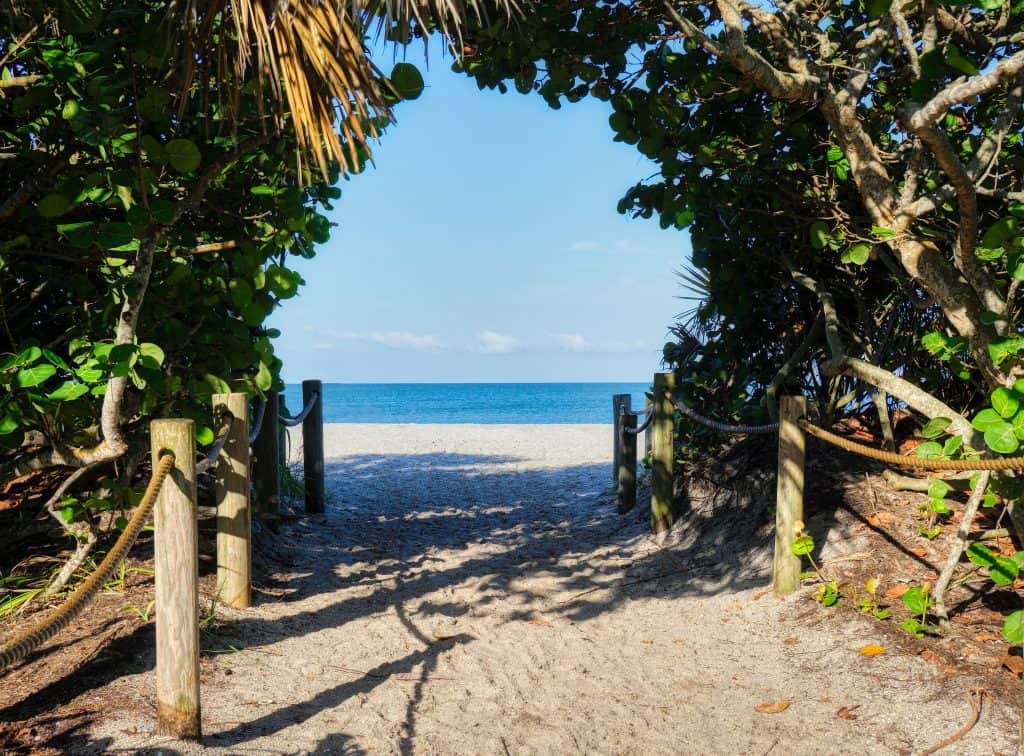 Best Beaches For Shelling
If you're in search of the rarest and unique shells, we've established that Sanibel Island beaches are the best for shelling of the two islands. But which beaches yield the best results?
The truth is, you won't be disappointed with any Sanibel Island beaches. The island's formation runs east to west, ideal for treasures to wash up and stay on the shoreline!
We recommend going to hunt at low tide. Make sure to bring a bag to keep your finds, as well as sunscreen and water. Check the weather, too! If you can go right after a big storm, you'll find even more shells!
Lighthouse Beach often has smaller shells, so you'll most likely see many a few doing the "Sanibel stoop" to complete their collections. As you work your way towards the west end of the island, you'll find bigger and bigger shells. For the biggest shells, we recommend shelling at Blind Pass Beach!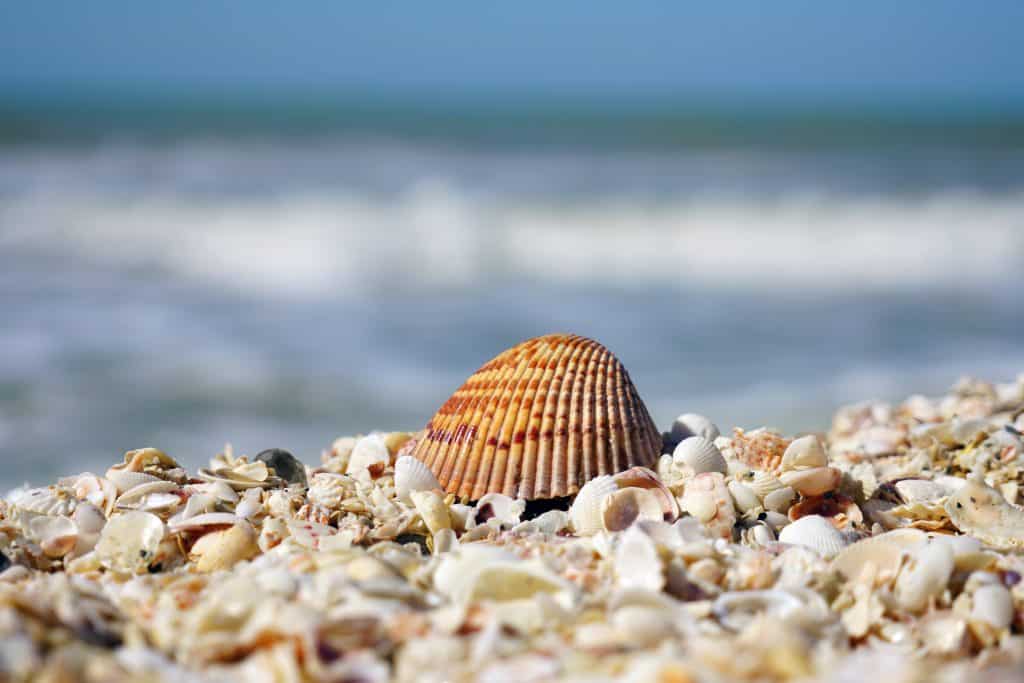 Guide To Spotting Sea Turtles
Believe it or not, Florida is the only place in the country where you can see that many sea turtles at once. And all in the wild! Sanibel and Captiva Island beaches are very habitable for sea turtles to make their nests.
The best time of year to see wild sea turtles on Sanibel Island beaches is during the summer, during sea turtle nesting season. Sea turtle nesting season lasts from roughly May to September.
Turtles generally nest at night, so be prepared for a late-night walk on the beach! Turn off any lights or use a red or green light filter for night beach walks so as not to disturb the turtles.
You absolutely should NOT touch a sea turtle, especially a baby one. There can be legal repercussions, but it is also extremely harmful to the turtle itself! You especially should leave marked nests alone.
Even if you're not actively looking for sea turtles, you should always follow proper beach etiquette. You never know if there's a nest around that hasn't been discovered yet. Fill in all holes and knock down any sandcastles before you leave so the turtles aren't blocked on their way to the water.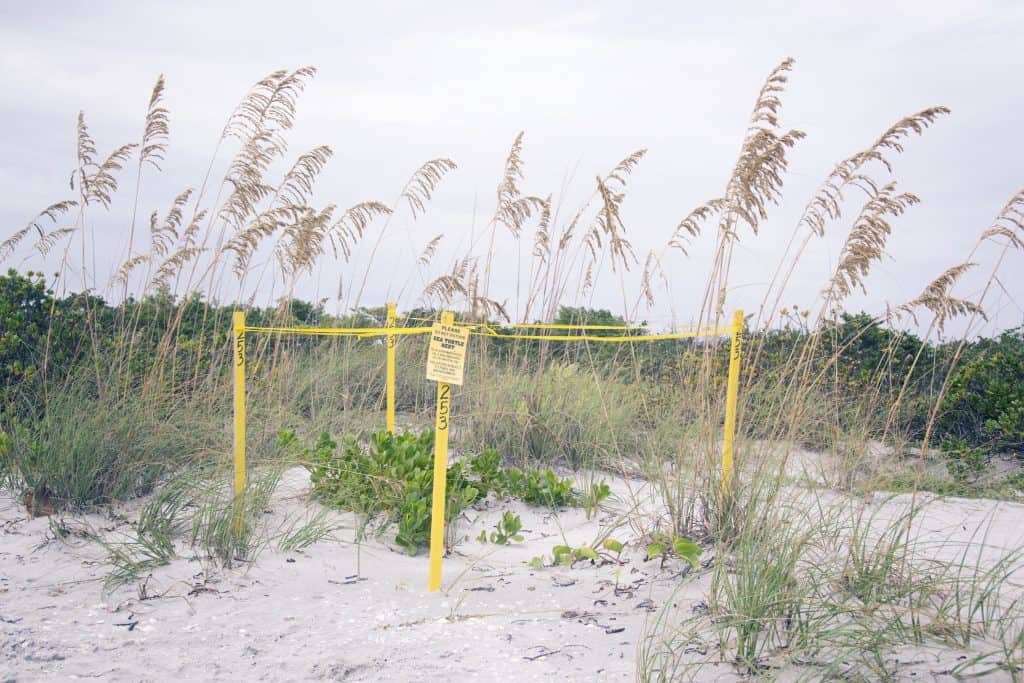 7 Best Beaches on Sanibel And Captiva Islands
Turner Beach (Blind Pass Beach)
Just a stone's throw from the bridge from Sanibel to Captiva lies Turner Beach, aka Blind Pass Beach. You'll find it on the western edge of Captiva Island. A popular destination for visitors, Turner Beach is one of the best beaches on Captiva.
With excellent fishing grounds and gorgeous sunsets, you're more likely to see people sitting on the beach rather than swimming in the water. In fact, swimming should be avoided on Turner Beach.
Because the beach sits in the middle of both Sanibel and Captiva, the currents here are incredibly strong and dangerous. If you're not careful, you could be whisked away to the open sea! Visitors are advised not to wade deeper than knee-level.
So if you can't swim here, what can you do? Go shelling, of course! Because of the beach's location, you are more likely to find the biggest shells anywhere on Sanibel, especially at low tide.
The parking lot is smaller than most of the other beaches in Sanibel, so arrive early. There are only 20 spaces! The lot is open from 7 AM – 7 PM and costs $3 per hour. Amenities include outdoor showers, restrooms, and a drinking fountain.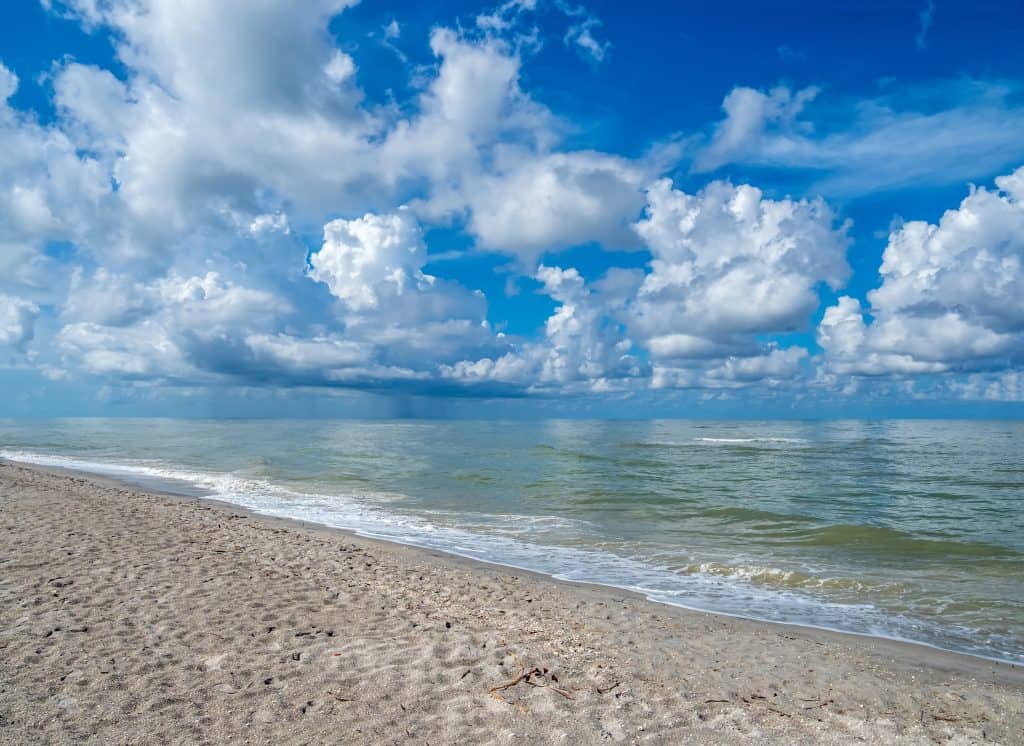 Lighthouse Beach
If you're looking for the perfect photo op, then of course you're going to want the sunset and a lighthouse as your backdrop. At Sanibel Lighthouse Beach, one of the best beaches in Sanibel, you get both!
After you've crossed the Causeway connecting Fort Myers to Sanibel, turn left at the intersection. Here you'll find a stunningly gorgeous white sand beach. Lighthouse Beach, with its phenomenal sunsets and gentle currents make it a premier swimming and shelling destination! Of course, when you are done, don't forget to check out some of the best restaurants in Sanibel!
Behind you, you'll see the historic Lighthouse, one of the first build on the Gulf Coast. The unique iron frame with its deep red color makes the perfect backdrop for a romantic evening. The Lighthouse once provided ships guidance after the Civil War.
You can also take advantage of the fishing pier, which affords beautiful views of the Fort Myers skyline. Sanibel Lighthouse Beach also has some of the best hiking trails in Florida, many popular with bicyclists.
Tarpon Bay Beach
When you're looking for a true escape, you need a beach that's free of crowds, tourists, and small children. Tarpon Bay Beach, one of the best Sanibel Island beaches, will be your perfect escape!
That serenity does come at a small price. You will have to make a short hike from the parking area to get to Tarpon Bay Beach. Once you arrive at the small, mid-island beach, it's worth it. There are always hardly any people around.
In fact, depending on the time of day and year, you'll have the entire beach to yourself! We do recommend bringing a beach umbrella, as there is hardly any shade on the beach itself.
To get there, park at the Trost Parking Lot at 205 Tarpon Bay Road. The lot holds 76 spaces and a marked trail will take you to the beach. Amenities include bike racks, picnic areas, restrooms, outside showers, and a drinking fountain.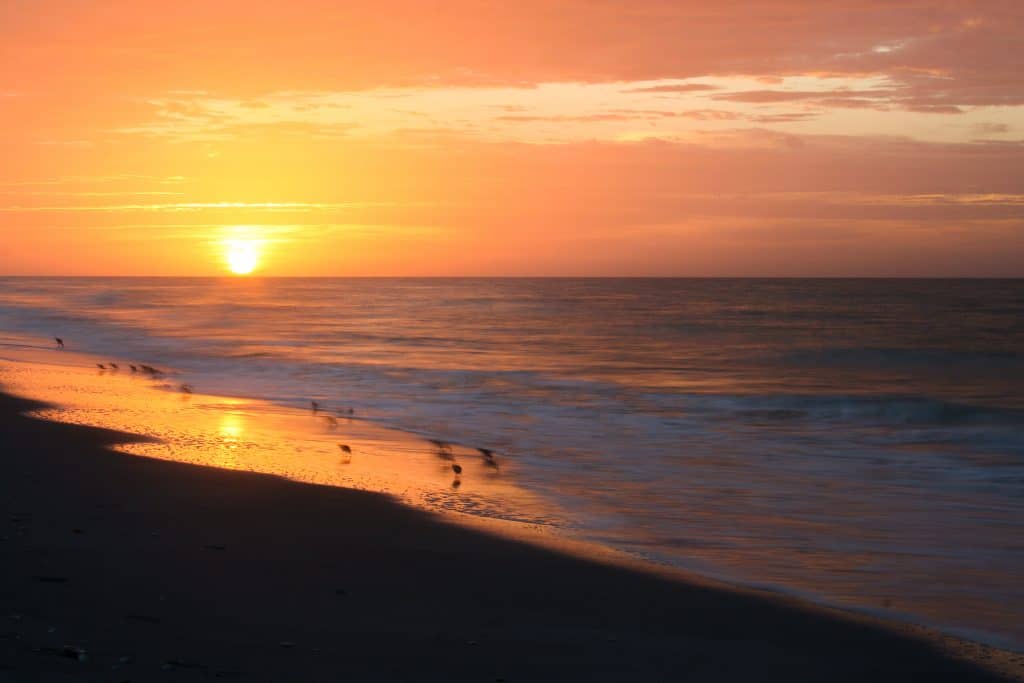 Bowman's Beach
If you ever feel guilty about leaving your pup at home, that ends now! Head to Bowman's Beach, one of the best dog beaches in Florida!
From the parking lot, walk 1/4 mile over a freshwater bridge. From there, you'll traverse a few sandy trails before arriving at miles of turquoise water and white sand.
There are no houses or hotels, so this is a quiet secluded area. Enjoy swimming, hiking the trails, or catching a bite to eat at the picnic areas with charcoal grills. Dogs must remain on a leash!
To get to Bowman's Beach from the mainland, there is a $6 bridge toll fee. Once you've arrived, parking is $5 an hour.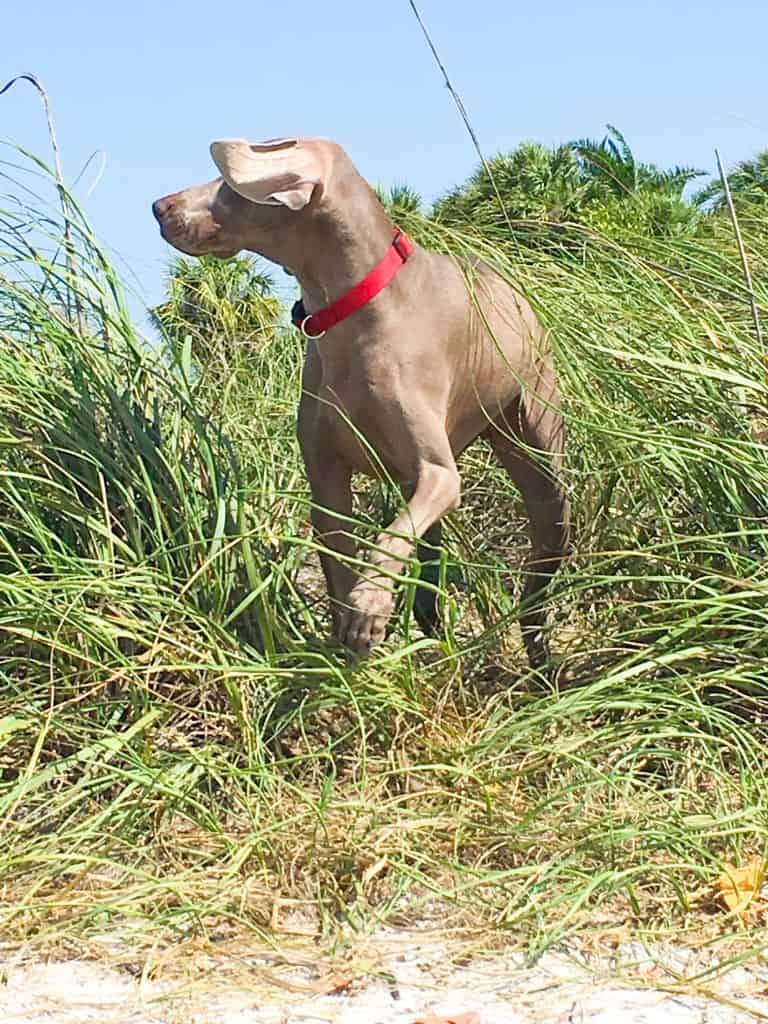 Captiva Beach
One of the most romantic Captiva beaches, Captiva Beach is also known as Allison Hagerup Beach Park. Find it right behind the South Seas Island Resort at the end of Captiva Drive.
Captiva Beach earns its romantic reputation with its incredible views. Walk to the end of the island to experience panoramic sunsets like no other. Since this beach is very secluded, bring a bottle of wine to share on the picnic tables. Maybe grab some to-go food from some famous Captiva Restaurants and eat it right on the beach?
Right behind South Seas Island Resort, you can find quaint and luxurious lodging. In addition to the resort, you can find many beach cottages and cabins for your stay! There are even fun luxury glamping options!
The parking lot is incredibly small, so we recommend getting there early. Because it is not very populated, there are no restrooms or outdoor showers, so plan accordingly.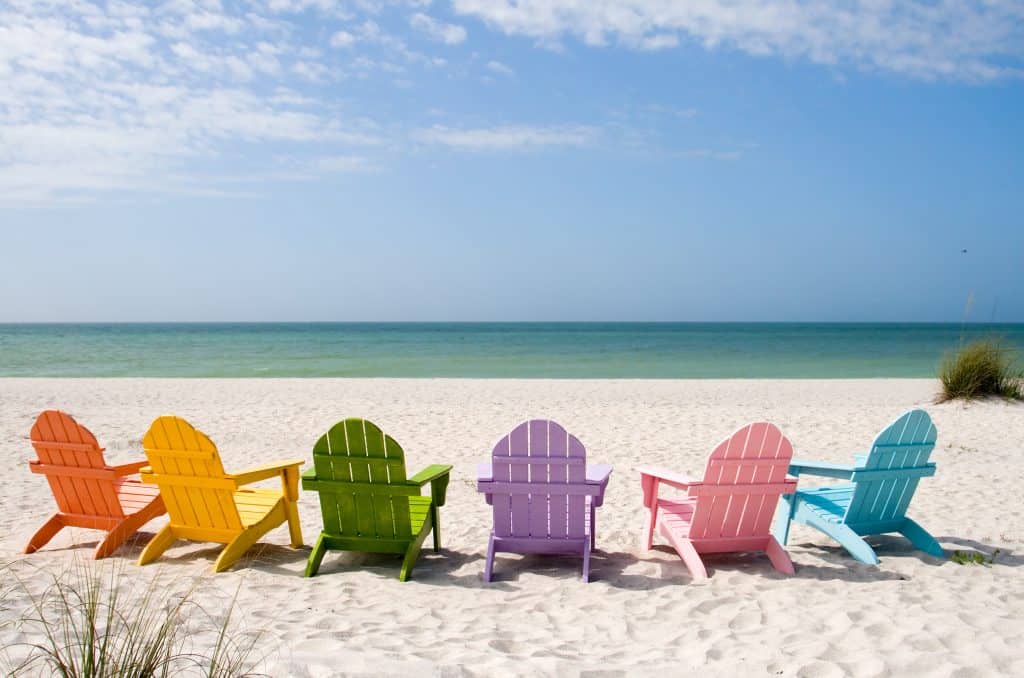 Gulfside City Park (Algiers Beach)
At Gulfside City Park, you'll find a long stretch of white sand that stretches to the shoreline. This makes it one of the best beaches on Sanibel Island for families!
Found on Algiers Lane off of Casa Ybel Road, Gulfside City Park also goes by Algiers Beach. Because it feels so private, surrounded by lush greenery, this is one of our favorite Sanibel Island Beaches for sunbathing.
Kids will appreciate the depth of the beach, as well as its very slight slope which makes it easy to build sand castles. Parents will appreciate the many picnic table areas for snack time.
Gulfside City Park is also pet-friendly! Simply keep your pup on a leash and enjoy a refreshing walk together on the beach. You can also walk together on many of the hiking trails skirting the Gulf. The views go on forever!
Because of its secluded nature, this is one of the best Sanibel Island beaches to see sea turtles. During nesting season, make sure to avoid nests roped off with yellow caution tape.
The parking lot holds 46 parking spaces, and costs $5 per hour. Amenities include bike racks, picnic areas, a shaded pavilion, outdoor showers, restrooms, and a drinking fountain.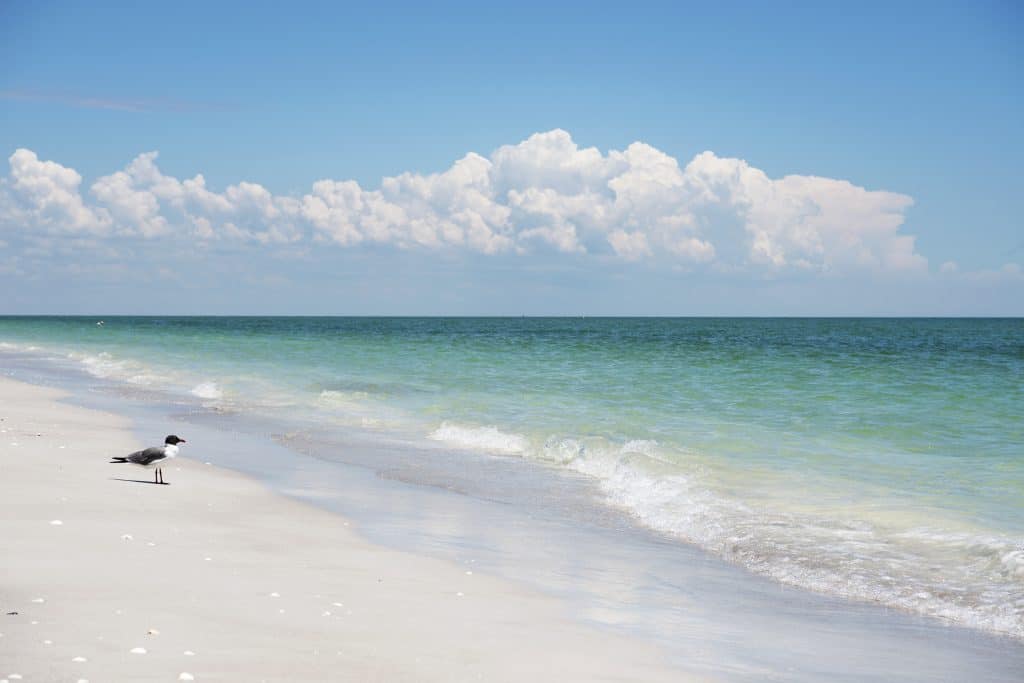 Causeway Islands Park
The Causeway Island beaches will be the first string of beaches you encounter as you make your way over the bridge from Fort Myers. One of the best Sanibel Island beaches, there's something for the whole family here!
Because this is the access point to the islands, the beach here can get crowded. The shorelines lie on the man-made island built to support the Causeway. As a result, all the beaches are thin and can't accommodate large amounts of people.
Unfortunately Causeway Islands Park is not optimal for sunbathing. However families can plant a beach chair and umbrella in the sand as the children run and frolic in the water.
The Causeway Island beaches are a choice spot for windsurfing! If you love skidding across the water, you might even end up on a shallow sandbar where you can relax and do a bit of shelling.
While there is technically no parking "lot," pull-off parking is available and free. Because of this, the beach sees heavy crowds from December through April.
Did You Find This Post Helpful?
If so, we would love to keep in touch! We enjoy seeing photos and comments about your experiences in Florida! You can follow us on Instagram and we will repost your photos on our feed and comment too! Just tag us at @floridatrippers and hashtag #floridatrippers. We can't wait to see your travels!