Finding the best breakfast in Orlando can be a daunting task, given the size of the city! Now, we've made it easier for you to get the best bang for your buck when you eat the "most important meal of the day."
Whether you're heading out to a big theme park, taking off on a day trip from Orlando, or just looking for the snazziest brunch in town, "The City Beautiful" has something for you.
Orlando is host to a variety of different cultures and cuisines. From mom-and-pop diners to bougie foodie hot spots, and even ethnic cuisines, you're bound to find something new you'll fall in love with.
Even if you're a local, there are bound to be some breakfast spots you've missed. So rise and shine, we've listed our top picks to find the best breakfast in Orlando that are worth rolling out of bed.
Don't forget to check out some of the Best Places To Stay In Orlando when planning your visit!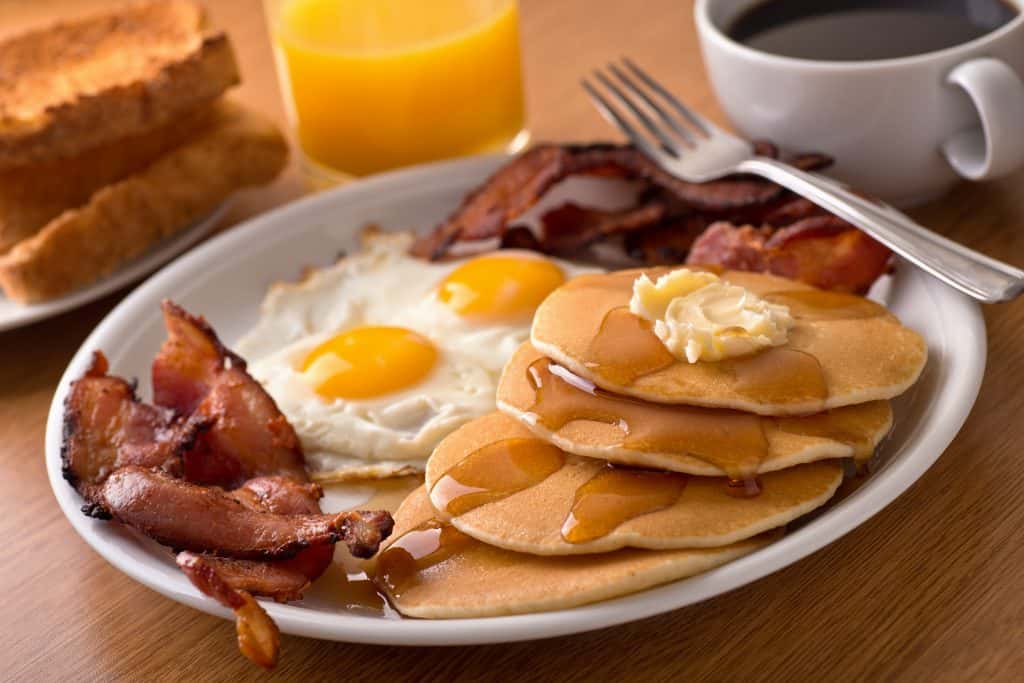 16 Best Places for Breakfast In Orlando, FL
World Cafe (International Drive)
For those wanting to get a taste of England without having to hop across the pond, make a visit to World Cafe on International Drive. As the best breakfast near Universal Studios, you'll be able to start your day right!
Before you even sit down at your table, your mouth will water from the smell of the coffee alone. Have a giant stack of pancakes, bangers and mash, or have a traditional English breakfast: back bacon, sausage, Heinz beans, and two fried eggs!
World Cafe also serves lunch later in the morning. Bring your appetite since the burgers and paninis are huge! World Cafe is open from 8:30 AM – 2:00 PM daily.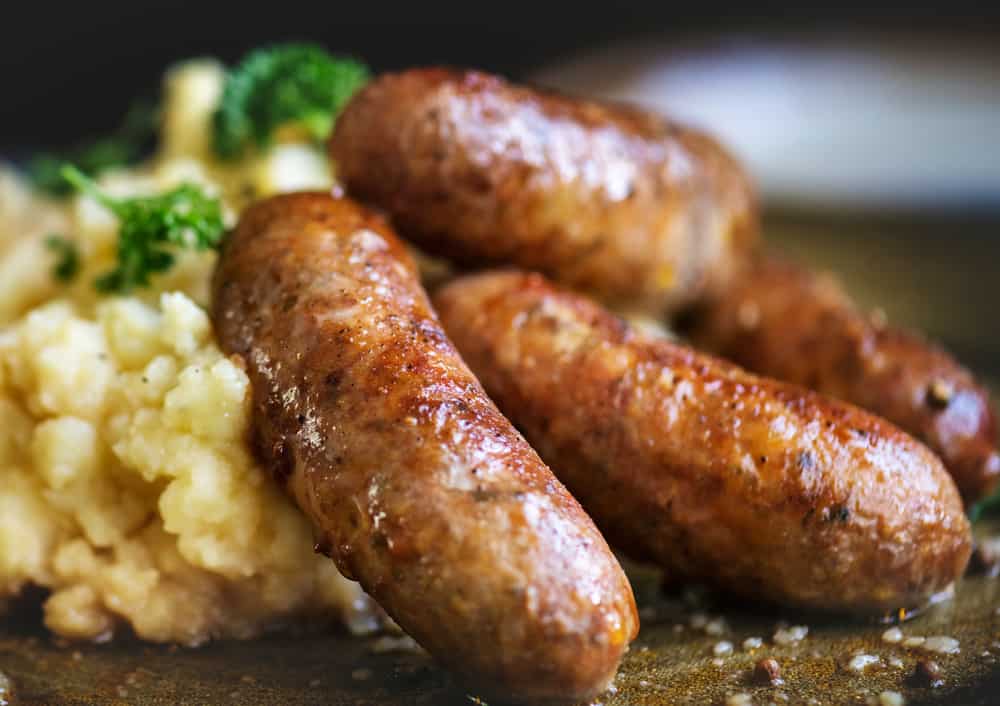 Maxine's on Shine (Downtown)
If you're looking for a romantic eatery, look no further than Maxine's on Shine. East of Lake Eola, Maxine's transports guests back in time with 40s decor without being gimmicky. It's an authentic experience with regular live music!
Attend a "Rejuicination Brunch" and taste American breakfast staples with a sexy twist only Maxine's can bring. Fried green tomatoes are served up with firecracker sauce. Drench your chicken and waffles with a zesty Asian barbecue drizzle!
You'll soon agree this is one of the best Orlando brunch restaurants!
In the heart of the city, Maxine's on Shine is high on the list of best downtown Orlando breakfasts. "Rejuicination Bunch" is served Fridays through Sundays from 10:00 AM – 3:00 PM. Reservations are highly recommended.
Make sure to check out our list of the Best Brunch Restaurants In Orlando for your trip!
Hash House a Go Go (International Drive)
For a taste of the Midwest wrapped up and delivered right to one of the best breakfast restaurants in Orlando, don't miss out on Hash House a Go Go on International Drive.
Hash House a Go Go prides itself on its "Twisted Farm Food." Most of the portions are so large, the kitchen sticks a steak knife right through the center! Their best pancakes in Orlando are steering-wheel-of-a-tractor big. The chicken and waffles feature the kitchen's famous sage fried chicken.
To make it a boozy brunch, check out the Tractor Bar and let libations set your spirit free. Grab their famous B.L.T. Bloody Mary, which is promised to cure your hangover. They also offer the "HH Front Porch," a sweet mix of vodka, lemons, and sweet tea sure to quench your thirst.
Hash House a Go Go is open on Fridays and Saturdays from 8:00 AM – 7:00 PM and Sundays through Thursdays from 8:00 AM – 2:00 PM.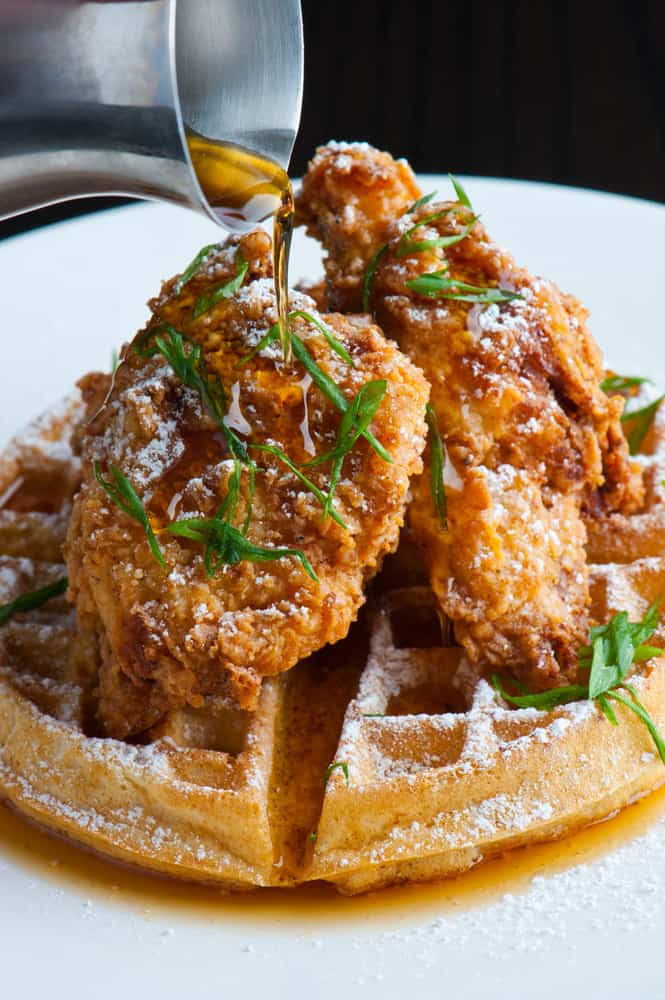 Boma (Animal Kingdom)
If you're a tourist in Orlando, chances are you're paying a visit to the Mouse. Disney's Animal Kingdom is one of our favorite parks, so why not take advantage of one of the park's best breakfast spots?
Boma at the Animal Kingdom Lodge is an all-you-care-to-enjoy buffet that looks like an actual African marketplace! Under thatched roofs, enjoy flavors from over 50 African countries that you will savor well after you've finished eating.
Start your day with tropical juices or coffee from Kenya that has floral and citrus notes. Then enjoy carved ham, African pastries, and corn beef bobotie, a type of South African quiche. This is some of the best breakfast food in Orlando.
If you're making your way through Animal Kingdom, you need to get a taste of Africa at Boma. This could easily be called the best breakfast near Disney!
White Wolf Cafe and Bar (Ivanhoe Village)
Earning a spot in locals' hearts for the past 25 years, White Wolf Cafe and Bar is named for the owners' late white German shepherd, Casper. This award-winning gourmet bistro serves tantalizing food any time of the day, but they might take the title for best breakfast in Orlando!
White Wolf is found in the Ivanhoe Village. Just minutes from Downtown, this is a quaint antique area with unique shops. Grab breakfast on Wednesday through Friday from 8:00 AM – 3:00 PM or brunch on Saturday and Sunday from 8:00 AM – 3:00 PM.
At breakfast, make sure to start with an order of jumbo cinnamon buns with warm vanilla icing for the table. Customize a breakfast sandwich or build your own omelet. Your yogurt parfait is even served in a wine glass!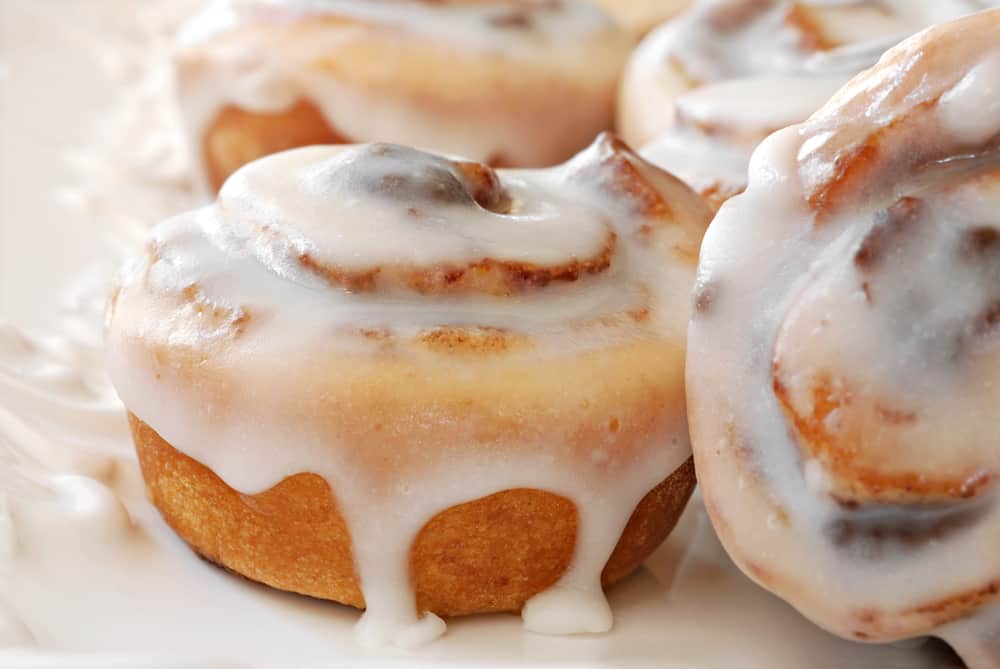 Keke's Breakfast Cafe (Lake Nona)
At Keke's, it's like your hometown diner grew up and went to the city. All the food is handmade in-house. Fresh fruits and vegetables are delivered daily so everything is fresh! This chain is open daily from 7:00 AM – 2:30 PM.
This is one of the best breakfast places in Orlando. Keke's Breakfast Cafe features an extensive breakfast menu with entire sections dedicated to their fluffy pancakes and waffles. Options are of course available for eggs and meats.
The real star of the menu is the stuffed french toast. If you have a breakfast sweet tooth, try the banana, nut, and caramel french toast. Inside you'll find bananas, pecans, and an irresistible caramel sauce with powdered sugar. It can't be beaten!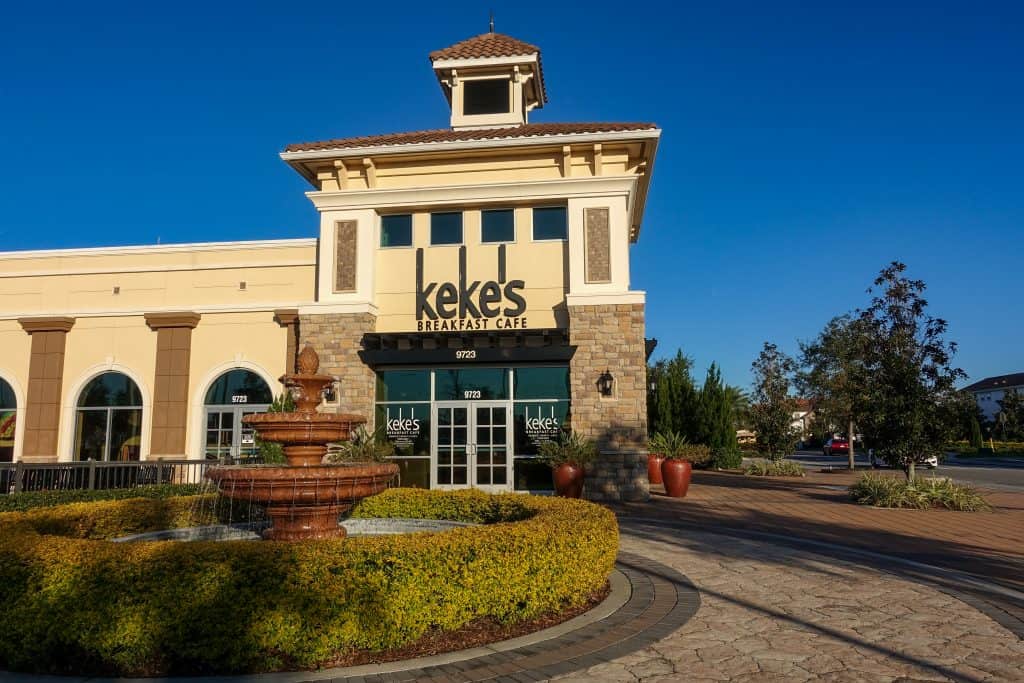 Nick's Family Diner (Rosemont)
Sometimes breakfast for dinner really hits the spot. At Nick's Family Diner, breakfast is served all day! Family-owned and operated, this quaint diner will make you such a big breakfast, you'll have trouble getting out the door!
In what used to be an old Pizza Hut, Nick and his family built their legacy. The diner is beloved by locals, and with good reason! The portions are generous and you can taste the passion in the food.
Each omelet is made with four extra large eggs with every topping imaginable. Nick's has the best hash browns ever! There's even a section on the menu dedicated to eggs benedict.
Breakfast is served all day, every day on Tuesdays through Saturdays from 8:00 AM – 2:00 PM and Sundays from 9:00 PM – 2:00 PM.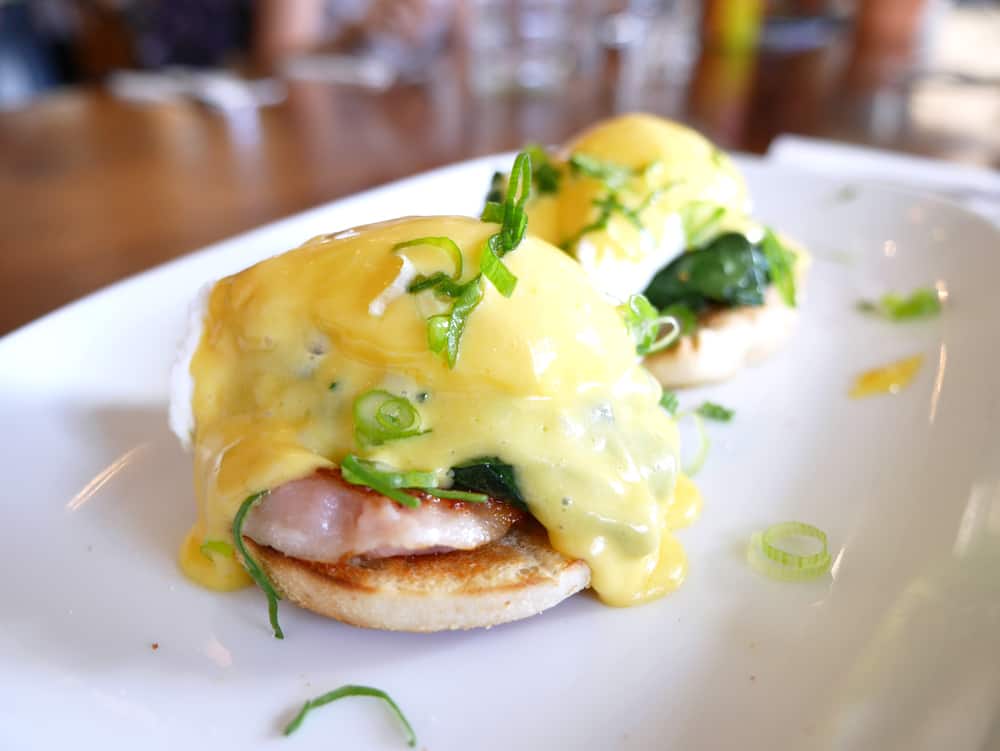 Q'Kenan Restaurant (Regency Village)
Do you know those hole-in-the-wall restaurants that gain traction by word of mouth? Q'Kenan Restaurant fits the bill, serving the most unique and best breakfast in Orlando with Venezuelan/Latin influence!
This restaurant is unassuming from the outside. It's so easy to pass by, as it's located in a strip mall in Regency Village. Once you seek it out and step inside, the restaurant opens you up to a world of Venezuelan cuisine. Even if you've never had it before, the staff is incredibly helpful and friendly.
At this hidden gem, you'll find Venezuelan breakfast empanadas, andino, and fried arepitas. They're covered in grated cheese and cream with a chicken avocado mix. Yum!
Q'Kenan Restaurant is open every day from 10:00 AM – 9:00 PM.
The Boheme (Downtown)
Dine artfully. That's the motto of one of the most bougie Orlando brunch spots, The Boheme. Located in the Grand Bohemian Hotel in Downtown Orlando, brunch at the Boheme is a fine dining experience.
Sure you've heard of a power lunch, but a power brunch in Orlando? In the tastefully appointed modern dining room, that's just what you'll get. The Sunday Jazz Brunch is open from 10:00 AM – 2:00 PM, always with live entertainment.
Family-style platters include a breakfast skillet of bacon, smoked sausages, eggs, and fingerling potatoes. The Hunter's Board, a savory charcuterie plate, is for more advanced palates. Prime Rib is served table-side with au jus.
Is your mouth watering yet? This is one of the best places for breakfast in downtown Orlando!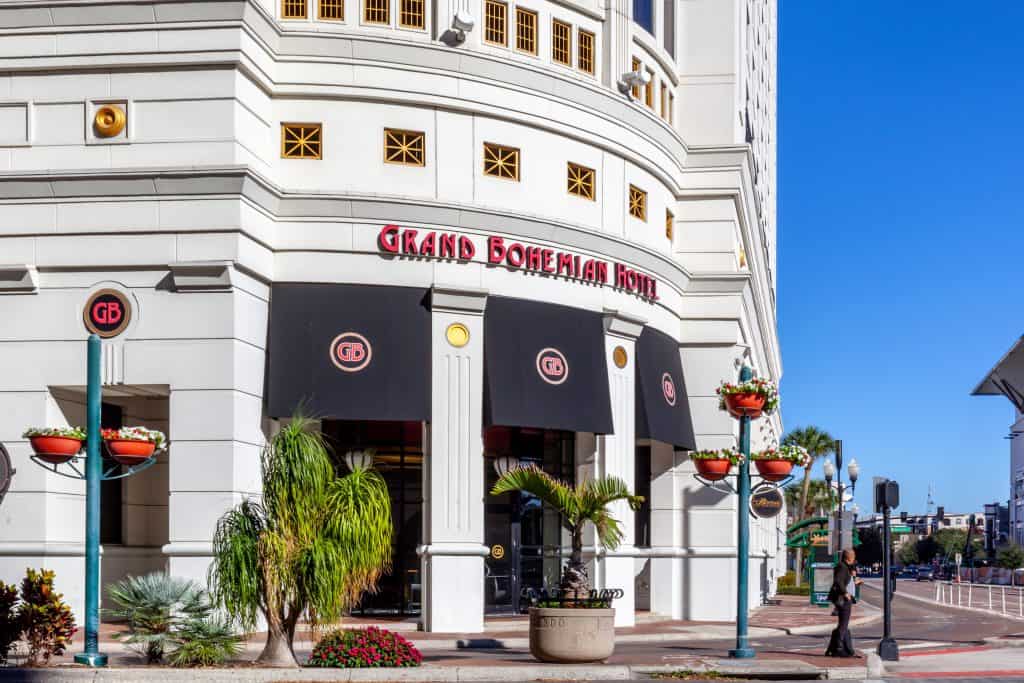 Leguminati (Hourglass Social House)
If Leguminati is a secret society, then sign us up! If you're looking to try out a vegan breakfast, Orlando won't disappoint you. Leguminati is an airy, counter-service eatery that serves vegan food from 11:00 AM – 8:00 PM.
Leguminati was founded by the "Bean Team" when they realized that Orlando was quickly becoming a mecca for vegan foodies!
The original food truck has now evolved into a full restaurant that serves crunches. Think of a crunch wrap supreme from Taco Bell, and make it delicious and vegan!
Most people think of vegan food as just bland tofu, but Leguminati is here to prove you wrong.
The best vegan breakfast in Orlando has never been more accessible. Expand your horizons! If you have no idea where to start, the staff is very friendly and will help you pick something out you'll love!
Make sure to check out our list of the best vegan restaurants in Orlando!
Chroma (Lake Nona)
In the heart of Lake Nona Town Center, you can catch the best breakfast and brunch in Orlando at Chroma Modern Kitchen + Bar. Fine dining meets casual gatherings in this eatery. Brunch has never sounded more delicious!
Chroma prides itself on serving a full spectrum of small plates for big palates. This is perfect if you don't want to choose just one entree and taste everything on the menu!
The kitchen faces the bar and lounge area so you can see the flames soar as the chefs prepare your meal. The solarium seating area overlooks Lake Nona's community art installation, "The Beacon."
Small plates include deviled eggs, flash-fried goat cheese, and roasted edamame. Make sure to check out their handcrafted sodas like the Sour Blueberry Cooler made with house lemonade, sparkling water, and delicious blueberry nectar.
Chroma Modern Kitchen + Bar is open from Sunday through Thursday from 11:00 AM – 10:00 PM and Friday and Saturday from 11:00 AM – 12:00 AM.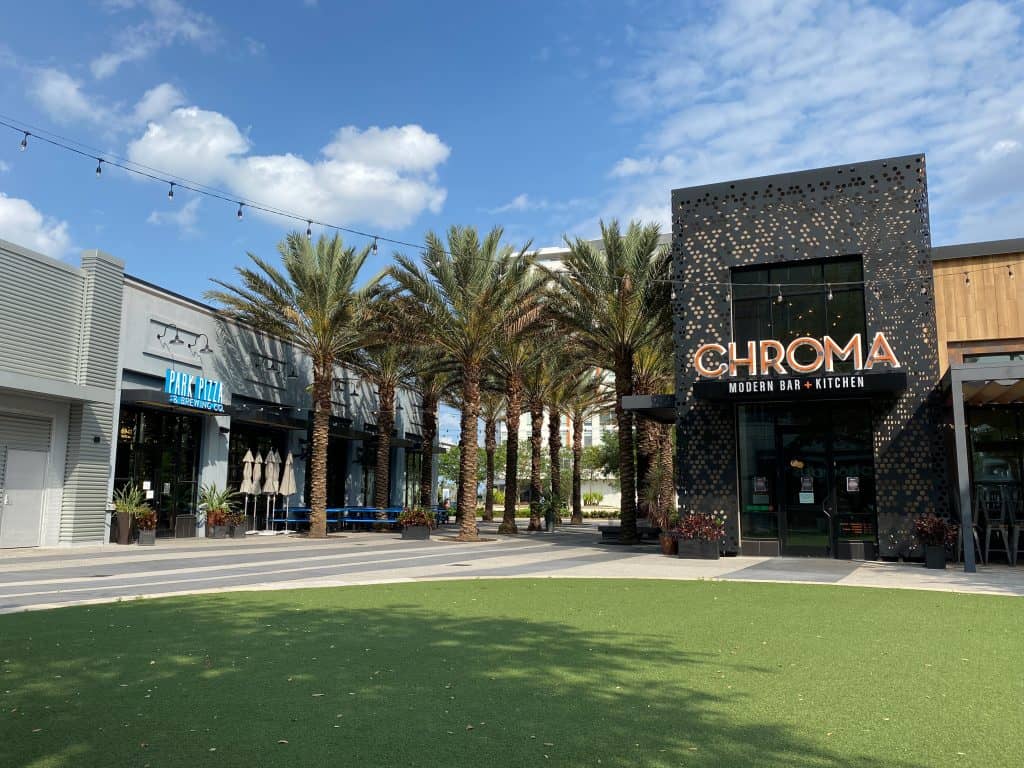 Pao Gostoso Bakery (International Drive)
If you're looking for new and exciting breakfast restaurants in Orlando, you absolutely cannot miss the Pao Gostoso Bakery. Especially noteworthy if you've never tried Brazilian cuisine, this is a cheery bakeshop and cafe that you can't visit just once.
Serving up sweet and savory treats, Pao Gostoso bakes all its bread and pastries daily. They serve the best coffee from Latin America, beloved for its nutty and chocolatey flavor notes. They also specialize in decorating wedding cakes!
Try the Kibe, deep-fried beef croquettes. The brigadeiro are delicious fudge balls. When you're done, finish with the quinadao, a sweet coconut egg custard. Sure you've had almond milk, but have you tried cashew juice? Now you can!
Pao Gostoso Bakery is open daily from 9 AM – 8 PM. This is one of the best breakfasts on International Drive in Orlando!
iCafe de Paris (ICON Park)
Located right underneath the Orlando Eye, you must visit iCafe de Paris in ICON Park. Just look for the giant Ferris wheel, you can't miss it!
This is one of the perfect breakfast spots in Orlando to visit before you check out ICON Park, a shopping mall that also houses Madame Tussauds and the Orlando Aquarium. You'll be lured in by the smell of what locals call the best cup of coffee in Orlando.
You may have come for the attractions, but you'll stay for the crepes. Packed with Nutella, honey, and fresh fruits, it's hard to pick just one. Make sure to order a latte. They're always adorned with delicate artwork poured in by the velvety microfoam.
iCafe de Paris is open daily from 8:00 AM – 12:00 AM.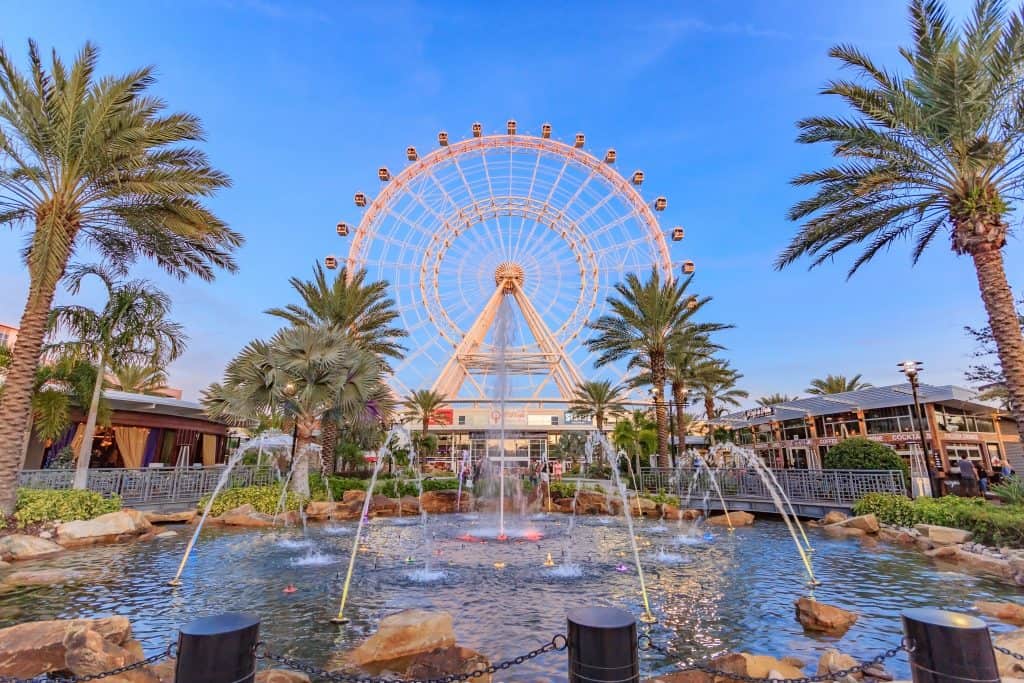 Omelet Bar (Plaza on University)
One of the best breakfast restaurants in Orlando is only 3 years old! At the Omelet Bar, breakfast is not just considered the first meal of the day. It is considered a journey to discover global breakfast recipes while nourishing the body and soul.
Growing into a national chain, this location at UCF was the first, born out of a passion for creating the best tastebud-teasing recipes. With a full bar, you will easily lose track of time and turn a quick breakfast into a boozy brunch in no time!
Highlights of the menu include the Lobster Benedict, the Very Berry Waffle stacked with blueberries, strawberries, and raspberries, and the Southwestern Bowl filled with eggs, cheese, black beans, corn, peppers, onions, and avocado. Additionally, build your own omelet, of course!
The Omelet Bar is open daily from 8:00 AM – 9:00 PM.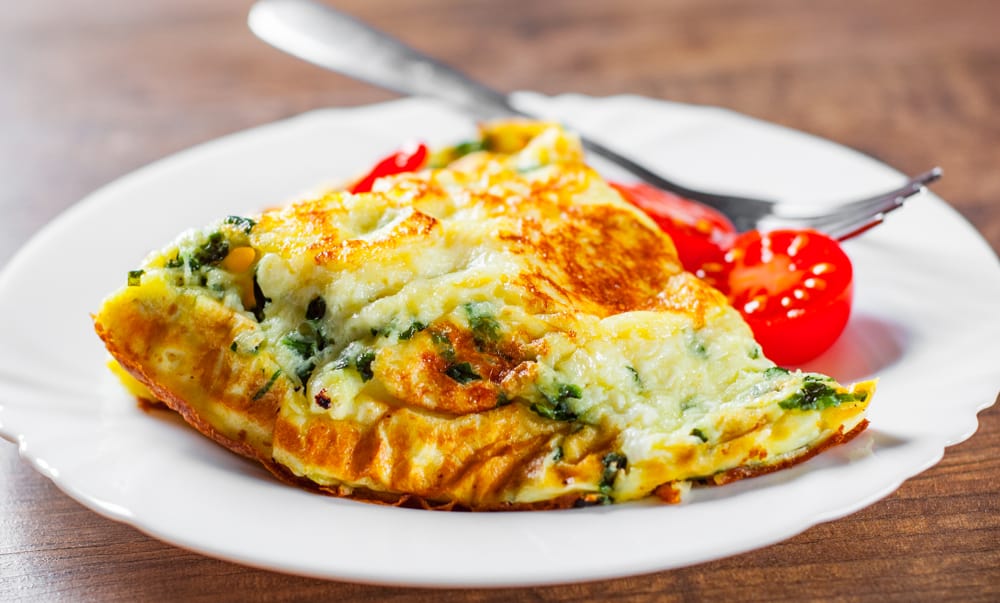 Holler & Dash (Celebration)
A division of Cracker Barrel, Holler & Dash is a breakfast chain that serves up comfort food with a modern twist! You may have had biscuits, but you've never had them like this before.
In addition to feeding you, each location makes their biscuits fresh throughout the day, every day. Also, the jams and jellies as well as the gravies are made from scratch daily as well. Pro-tip: Add gravy to pretty much anything on the menu!
Choose from fluffy waffles, egg bowls, and of course, biscuits and gravy. A notable favorite is The Firebird, stacked with fried chicken, house-made buffalo sauce, lettuce, and tomato. Spicy!
Holler & Dash is open Monday through Friday from 7 AM – 2 PM, Saturdays from 7 AM – 3 PM, and Sundays from 8 AM – 2 PM.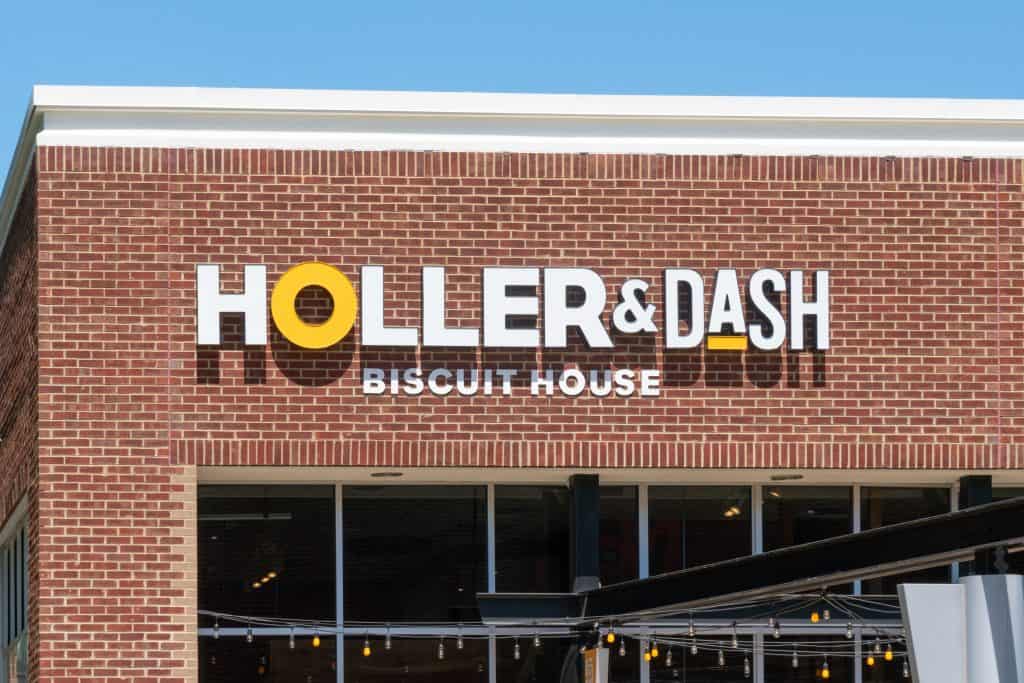 Se7en Bites Bake Shop (Primrose Drive)
Se7en Bites Bake Shop is one of the Diners, Drive-Ins, and Dives Orlando, Florida, locations. If Guy Fieri approves, it must be good! This is the place to grab the best Orlando breakfast.
This restaurant has a great breakfast menu that is served all day so you can swing by anytime you are craving a classic breakfast meal like biscuits and gravy. There are many other biscuit and egg meals too.
If you are looking for a big, filling meal, try the 7th Trimester. This includes a buttermilk garlic biscuit, over medium egg, applewood smoked bacon, and five cheese mac n'cheese all topped with a potato chip bacon crumble. Wow!
The meals here are affordable for their big portion sizes. Consider coming here if looking for a cheap breakfast in Orlando.
Se7en Bites is open Thursday through Friday 8 Am – 3:30 PM and Saturday through Sunday 9 AM – 3 PM. They are closed Monday through Wednesday.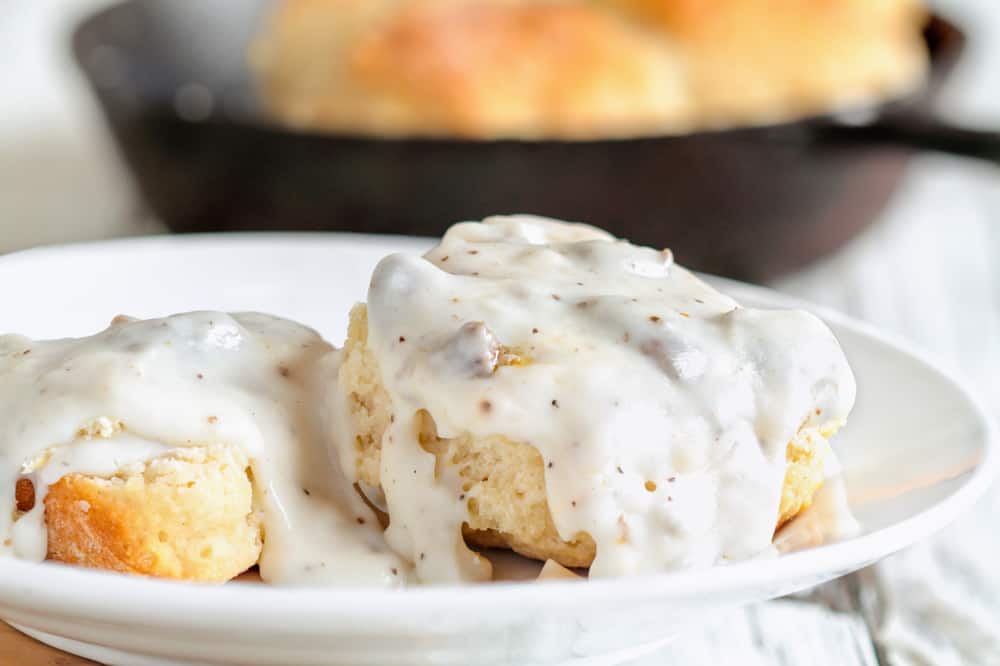 Did You Find This Post Helpful?
If so, we would love to keep in touch! We enjoy seeing photos and comments about your experiences in Florida! You can follow us on Instagram and we will repost your photos on our feed and comment too! Just tag us at @floridatrippers and hashtag #floridatrippers. We can't wait to see your travels!