If you are looking for a list of all the best things to do in Cocoa Beach we have you covered. Check out our guide for what to do in Cocoa Beach!
Cocoa Beach is one of the best beach towns in Florida.  Known for being family-friendly, great for shelling and surfing! If lucky enough to visit during Christmas time you can watch surfing Santa's. Best of all it is less than an hour drive east of Orlando. It is located on the gorgeous Space Coast of Florida.
At the Cocoa Beach Pier, visitors can dine at any a variety of restaurants, enjoy drinks at one of the bars or shop at the boutiques while live music is performed. Or head to the beach to relax or surf!
Cooca Beach is one best east coast Florida beach towns with tons to do nearby. Visit Kennedy Space Center, Merritt Island National Wildlife Refuge where you can spot wildlife, or take part in eco-tourism.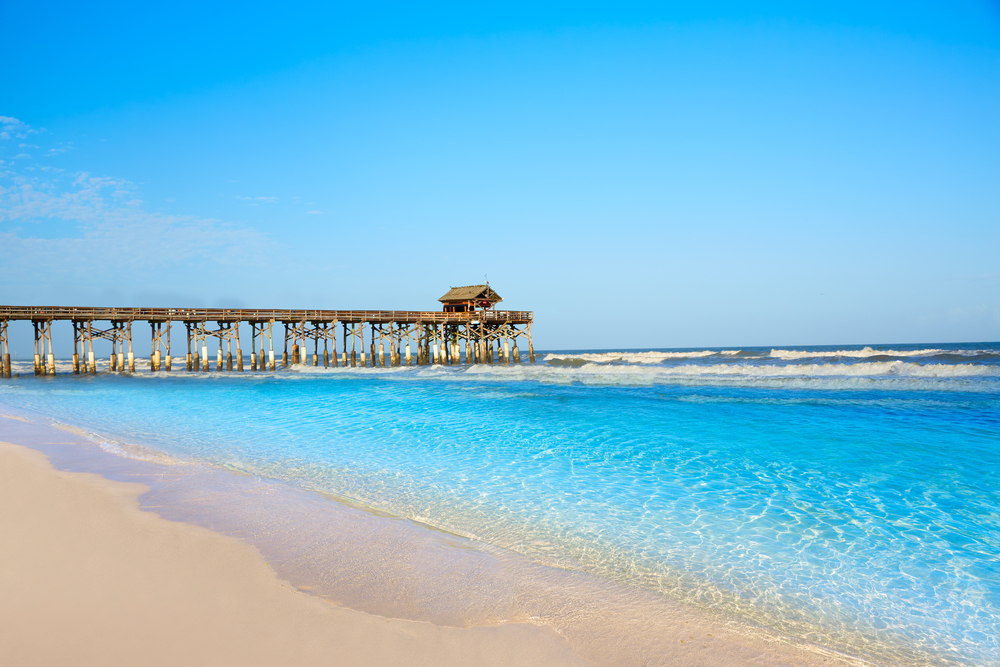 15 Best Things To Do In Cocoa Beach FL You Shouldn't Miss
Cocoa Beach Pier
Stroll along the 800 foot Cocoa Beach Pier. Visitors can wander through the largest surf shop in the world, and explore the Florida Surf Museum. The Pier offers visitor one of the best free things to do in Cocoa Beach. From restaurants, to bars, too shopping and fishing this is a destination right on the beach.
For those looking for things to do in Cocoa Beach at night, the pier is the perfect spot to head to have a cocktail and watch the sunset. The restaurants along the pier offer up happy hours with amazing sunset views of the Atlantic Ocean while live music is performed. We highly recommend heading to the pier at night for one of the best things to do in Cocoa Beach for adults.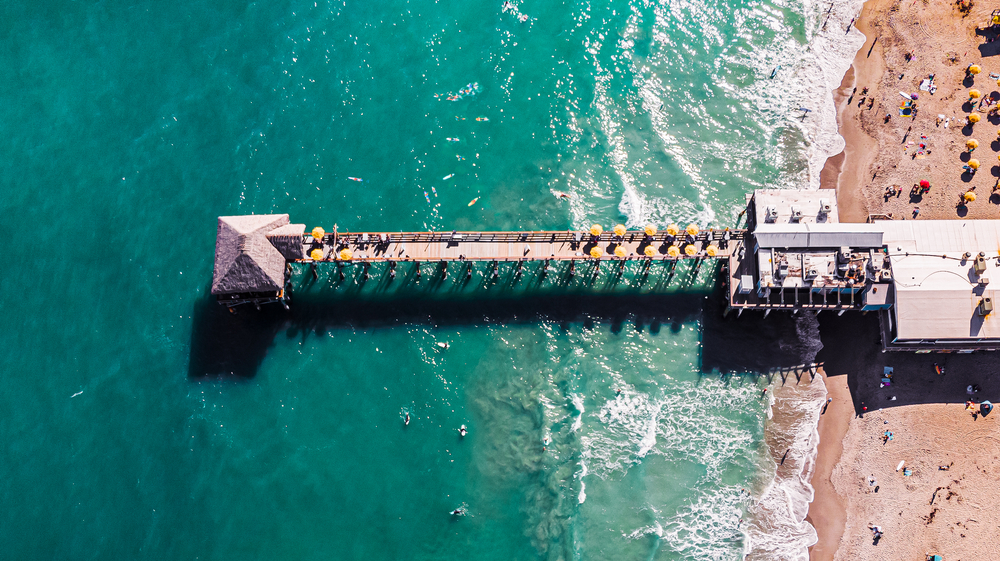 The Dino Store
The Dino Store is one of the attractions in Cocoa Beach Florida perfect for families. It features the museum of Dinosaur and Ancient cultures as well as the storefront and adventure zone.
You can choose to visit just the museum, the adventure zone or buy a combo pass of both for $24 adults and $20 children. Open Monday, Wednesday to Saturday from 10 am to 5 pm and Sunday 12pm to 5 pm.
A visit here takes you back in time where the museum showcases hundreds of authentic dinosaur fossils and artifacts from around the world. Explore the hall of Dinosaurs, the mineral cave, the dawn of man and the terror bird exhibit.
While the adventure zone is hands on arcade game style, slides and live animals. There is even a nile raft ride carnival style boat ride.
Ron Jon Surf Shop
One of the fun things to do in Cocoa Beach, is to head to the Ron Jon Surf Shop the largest surf shop in the world. For the past 60 years, this flagship store has been the destination for anything surf related you could want!
Make sure to stop in and get a famous Ron Jon Surf Shop teeshirt. The store is open daily from 9 am to 11 am and even offers a free parking lot while you shop. Not only do they have everything for surfing, but they also have everything needed for a beach vacation, skating, Christmas ornaments and more.
Go surfing
If you are new to surfing in Florida, Cocoa beach is one of the most loved Florida surfing spots. As well as being a great place for beginners it's also home to 11-times World Surf League #1 pro, Kelly Slater.
Surfing is one of the best Cocoa Beach activities! So come enjoy the surfing capital of the southeast. Beginners are welcomed with warm water and small waves making it the perfect spot for a lesson. While at the same time experienced long boarders love the long breaks near the pier.
If you are lucky enough to be visiting during Christmas time you will be in town for Surfing Santas. Started in 2009, it has evolved into a local phenomenon with over 800 Santas and 10,000 spectators in attendance to watch all those who dress up as Santa and going surfing !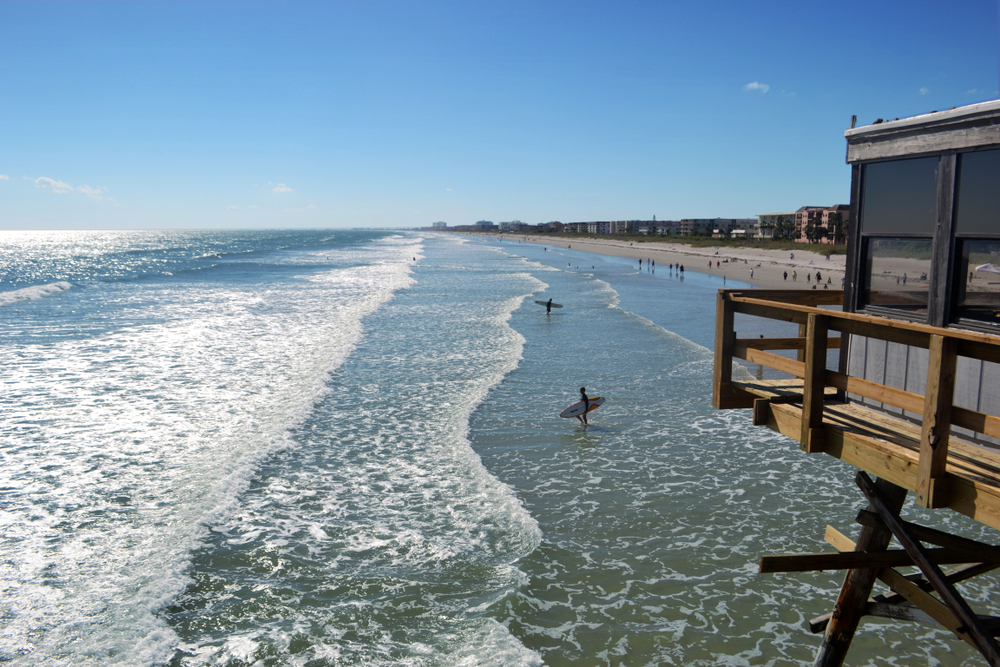 Bioluminescent kayaking
For the best views for bioluminescent kayaking , you're going to want to head to the the Banana River Aquatic Preserve. Flanked on both sides by nothing but roads with no major development makes it the perfect place to see the bioluminescence.
There are a lot of incredible tours that will guide you through bioluminescent kayaking in Florida, if you do not want to go on your own.
The best time to go is from the middle of May through the summer until early October. It is thought by scientists that you will see the most activity five days after the full moon of the month.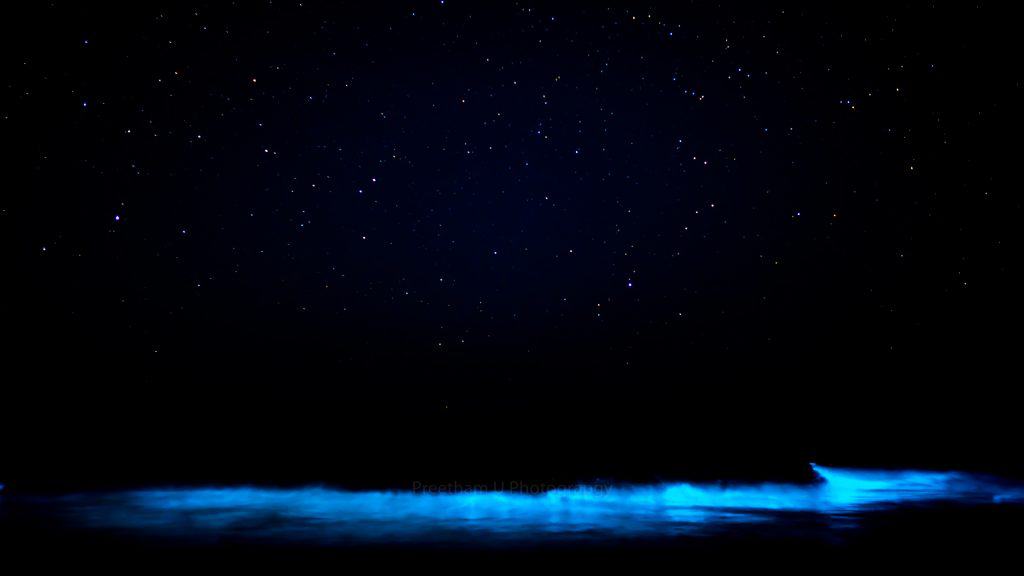 Exploration Tower
Exploration Tower gets are vote as the best activities in Cocoa Beach for those looking for both something fun and educational. Just 12 minutes north in Cape Canaveral, you can explore observations decks, explore exhibits, and interactive activities.
On the 7 floors you will find a cafe and shop on floor 1, sculptures of marine life made from 100% recycled material as well as early European settlers on floor 2. Floor 3 is where you can learn about the history of the area that transformed it into a harbor as well as a theater.
Floor 5 explains how mega ships pass through port Canaveral and showcase the submarines from the navy port. If you want to see Kennedy Space center head to floor 6 for exhibits on rockets and space. The observation deck is located on floor 7.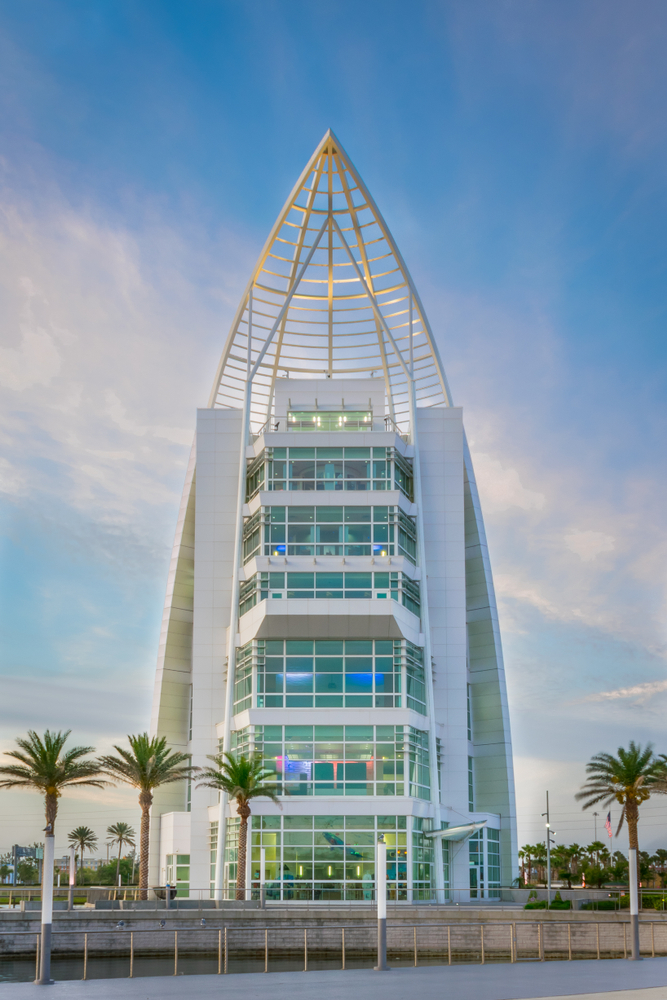 Thousand Islands
Are you looking for unique things to do in Cocoa Beach for couples? If so, head out to 1000 Islands Conservation area. This area is made up of islands in the Banana River Lagoon and is the perfect place to kayak.
Explore the over 900 acres of mangroves and salt marshes that were formed in the 1950's when small ditches were dug thought the islands for water movement and later a storm broke through leaving a flooded tide delta.
As you kayak through the mangrove tunnels you can see a variety of wildlife, birds and fish. We consider this to be one of the hidden treasures in the Cocoa Beach area.
Cocoa Beach
Cocoa Beach is not only one of the best white sand beaches in Florida, is is also the the closest beach to Orlando Airport! It is also one of the things to do in Cocoa Beach with kids because of the calm warm waters making it one of the nicest family beaches in Florida.
Cocoa beach is a popular port for cruise ships, so there is all manner of fun merchandise on the beach if you want to do more than just get a tan!
In addition to having the gorgeous white Florida sugar sand, and absolutely gorgeous water, there are tons of other fun activities like wind sailing, party boats, and waters ports as well that beachgoers can enjoy!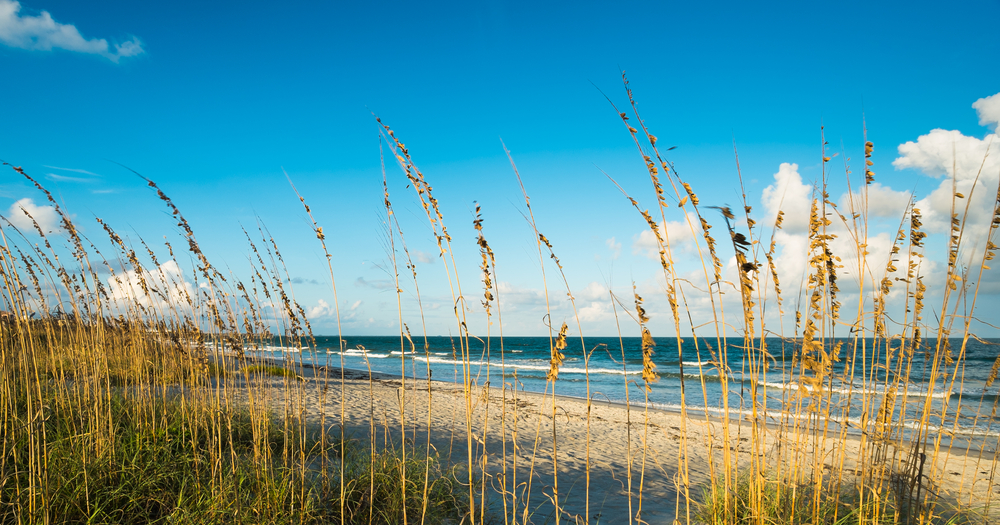 Lori Wilson Park
Lori Wilson is one of 4 major parks in the Cocoa Beach area. If you are looking for places to visit in Cocoa Beach Florida head to Lori Wilson Park. One of the nicest beaches in Florida is found at Lori Wilson Park with sand dunes and costal preserves.
It also features a 3000 feet nature trail boardwalk through the 30 acer Maritime Hammock Preserve. There are picnic tables, shower, bbq grills, volleyball courts, restroom facilities, a dog park and parking and admission is free! The park is open daily from 7 am to 7 pm.
Kennedy Space Center
The Kennedy Space Center is one of ten National Aeronautics and Space Administration field centers. Located in Merritt Island just 25 minutes away this is one of the things to do near Cocoa Beach! It is a must visit on any bucket list of things to do in Florida!
At the space center, you can meet an astronaut, see the Space Shuttle Atlantis. Or go through the U.S. astronaut hall of fame, visit the rocket garden and watch the launches of space shuttle. For those looking for what to do in Cocoa Beach and want something educational, this is one of the best museums in Florida.
This center lets visitors get an up-close and hands-on view of humans in space. From exploring NASA's space shuttle program or discovering more about upcoming space exploration. The Kennedy Space Center is educational and fun.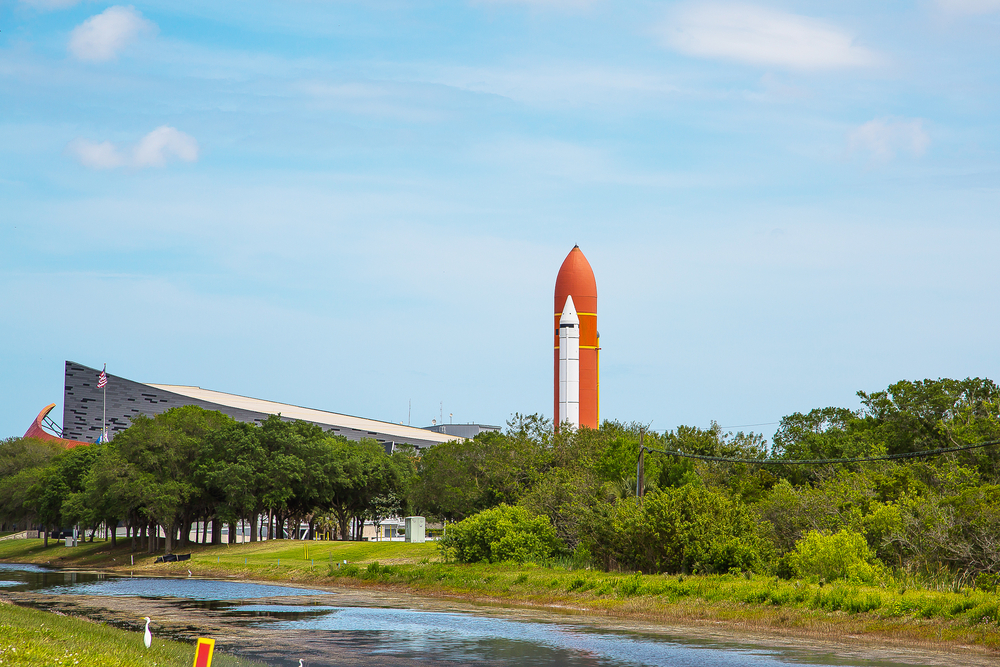 Historic Cocoa Beach Village
For those looking for something casual to do, head to Main Street to explore the historic Cocoa Beach village. You will find shops, restaurants, and a town square. Since the 1800's it has been the cultural hub of Cocoa Beach and a destination in of its own.
As you stroll along the tree-lines streets you can shop at local boutiques, dine at one of the many restaurants, or watch a play a the Village playhouse.
Check the webpage for a variety of events, such as marathons, music and moonlight on the promenade, arts and crafts bazaar, sip and strolls, as well as holiday events!
Go Manatee Sighting
Cocoa Beach Florida is the perfect place to go manatee sighting. This area of Florida is known for eco-tourism and educational tours to see manatees, dolphins and more. Many of the tour operators, offer day time tours, or a more romantic sunset tour perfect for a date night.
On the Space Coast, 1000 islands is home to the West Indian Manatee (also known as the Florida Manatee). They love to hang out in the mangroves along the coast line. The best time to see the manatees is April 1 to November 15.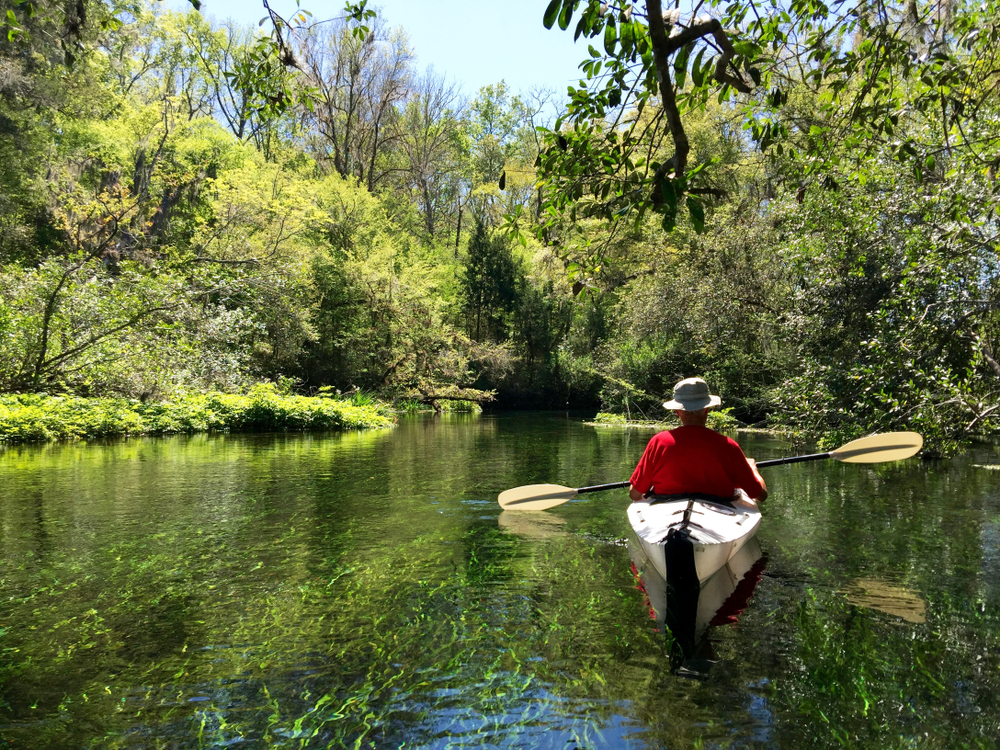 Florida Surf Museum
Founded in 1999, the Florida Surf Museum is tasked with preserving the history of Florida's surfing. A visit here will allow you to explore exhibits, research and preservation via memorabilia and historical videos.
The museum hosts a variety of exhibits from around the state of Florida and how surfing has transformed over the decades. Listen to the surfing legends captured over time, or attend one of the events hosted by the surf museum. The suggested donation for admission is $2 per person. Best of all it is located inside the Ron Jon Surf Shop complex.
Helen & Allan Cruickshank Sanctuary
Located on the Space Coast about 30 minutes from Cocoa Beach, it is one of the things to do in Cocoa Beach for those looking for birding. This 140 acer diverse sanctuary, is open daily . Named after its founders who came to Florida in 1937, the flora, fauna and birds here are unrivaled.
The Florida scrub forest creates a unique habitat for birds not found elsewhere in Florida. There are trails for hiking, offering educational information along the trail. Walk from the scrub forest to the wetland.
Best of all there is no fee for entry or for parking. Keep an eye out for a variety of birds, turtles, duck and fish.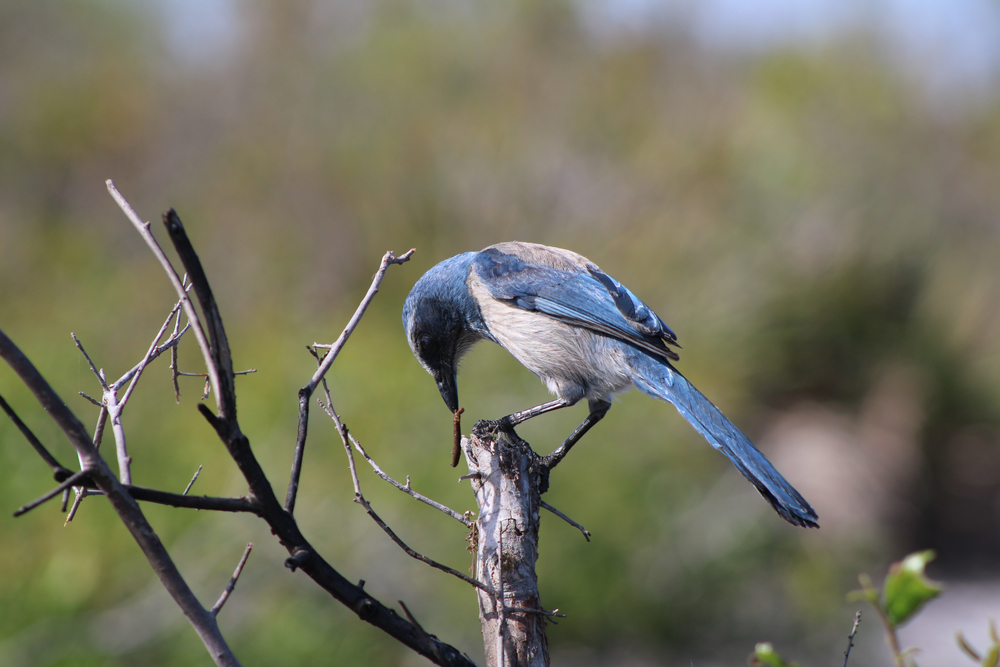 Coconuts on the Beach
Coconut on the Beach is one of the restaurants on Cocoa Beach. You will be greeted by the large tiki man outside this beach bar that offers live music, cocktails and food overlooking the Atlantic Ocean. It is also super family friendly and you can often spot porpoises playing just off shore!
Although the menu is focused on seafood there is something for everyone. Try one of the speciality entrees such as the fresh catch of the day, shrimp and grits, fried shrimp, reef tacos, or chef's house steak and lobster Mac and cheese.