On the southern end of the beautiful Space Coast, there are so many exciting things to do in Melbourne! No, we're not talking about the city in Australia, but that doesn't make this town in Florida any less special!
Melbourne is known for its signature charm and family-friendly beaches. Known as The Harbor City, there's no shortage of things to do in Melbourne, Florida. Here you'll find true Florida appeal in its nature, arts scene, and upscale boutique shopping.
Whether you're spending the sunny days beachside learning to surf or exploring the hiking trails, you'll be able to get in touch with nature. Discover your artistic side at the museums or while taking in a show at the Performing Arts Center.
Melbourne is perfect no matter what kind of escape you're looking for. You'll find the city suitable for a weekend getaway, a girls' night out, or even a romantic date night.
If you've never been here, you might be surprised at what the area has to offer. So dive on in and discover the most exciting things to do in Melbourne, Florida!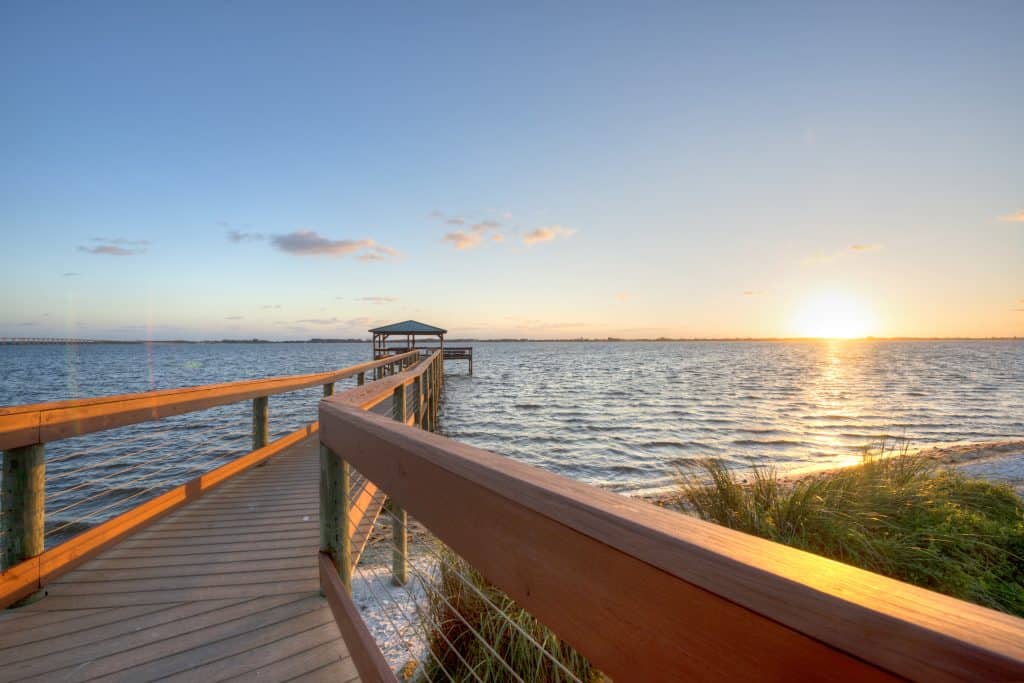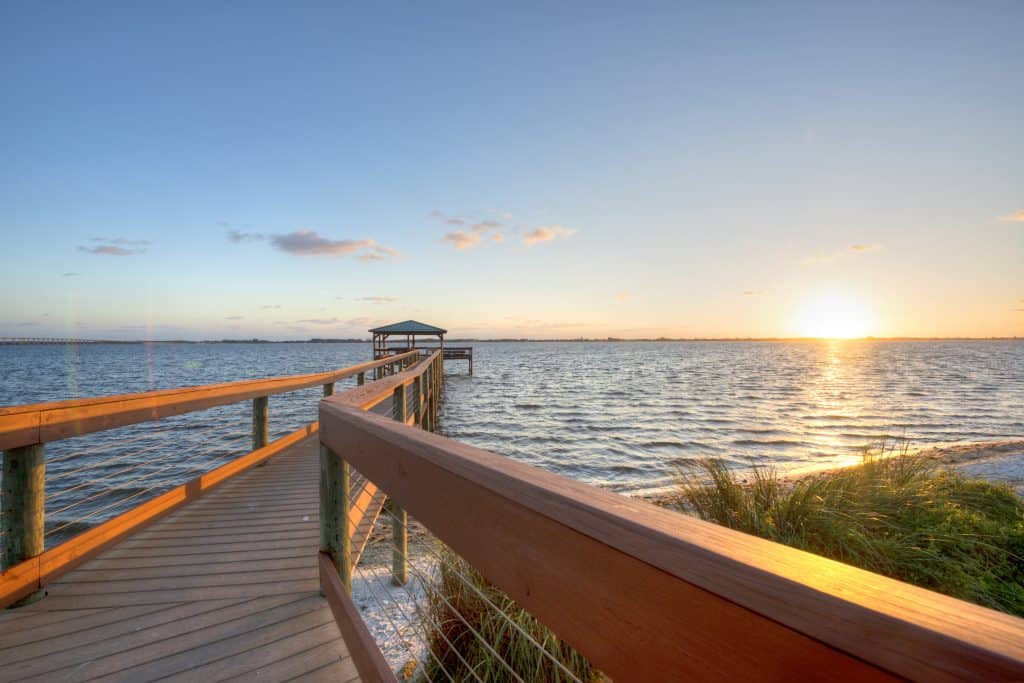 16 Fun Things To Do in Melbourne Florida
Liberty Bell Memorial Museum
You won't find the real Liberty Bell at the Liberty Bell Memorial Museum, that's in Philadelphia, silly! But you will find a replica here as this museum by Honor America serves as the area's anchor for focus on education!
When you enter the Liberty Bell Memorial Museum, you'll find it's divided into three sections. First, the Rotunda of American History, second, the Background of the Bell, and lastly, Freedom Hall.
In the Rotunda of American History, you can see American history milestones depicted in a neat timeline. Events are marked with historical documents and patriotic memorabilia. There are also exhibits that display the history of Florida from before the American Revolution to the present.
At the center of the Rotunda, you'll find the replica of the Liberty Bell. This replica was cast by the Whitechapel Bell Foundry, who cast the original bell in 1751! The focal point of the museum, here you'll learn everything you need to know about the Liberty Bell's storied history.
Finally, you'll move onto Freedom Hall, added in 2005, which serves as a tribute to the men and women of America's Armed Forces. Displays here include Military Awards and Decorations from each of the major wars in which America was involved. There's also a spotlight on Brevard Heroes.
Admission to the Liberty Bell Memorial Museum is free. A visit will renew your sense of patriotism and pride. Tours guides can help to deeper enrich your experience and are available by special request!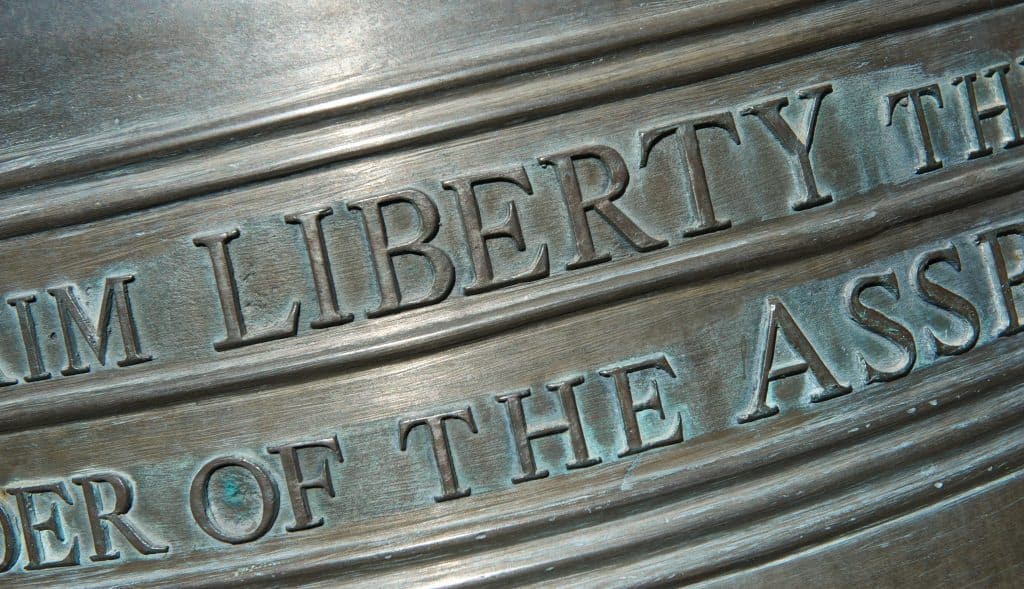 Rossetter House Museum & Gardens
One of the more educational things to do in Melbourne, the Rossetter House Museum and Gardens are listed on the National Register of Historic Places. Today, the home celebrates Florida's history and those who made it home in the late-nineteenth and early-twentieth centuries.
The Rossetter Family arrived in Eau Gallie in 1902 and were typical of other Florida pioneer families. Six years later, the Rossetter House was built. The family became leading merchants in the fishing industry and agents for the Standard Oil Company.
Now that the family's history and home have been preserved forever, guests can tour the Rossetter House, the Houston Family Cemetary, and the Rossetter Gardens. Locals can also reserve the gardens and home for private functions like weddings and bridal showers.
Don't forget to visit Ella's Closet Gift Shop in the Roesch House across the street. A perfect place to pick up a Florida souvenir, you can purchase books on Florida's history and works by local artists David and Linda Miller of Pelican Bay Arts.
The Rossetter House Museum and Gardens are open on Wednesday, Thursday, Friday, and Saturday from 11 AM – 4 PM. Tours are held at 11 AM, 12 PM, 1 PM, 2 PM, and 3 PM. Tours cost $10 per person, but discounts are given for groups of 10 or more.
Eau Gallie Arts District
Affectionately known as EGAD, the Eau Gallie Arts District is one of the most exciting things to do in Melbourne. A vibrant community with a rich history, EGAD is sure to spark your creativity.
In the Eau Gallie Arts District, you'll find an eclectic mix of art galleries, restaurants, shops, and boutiques. A cultural hub for Melbourne, you'll always find something on their events calendar no matter when you visit.
While City Services like the Post Office and Public Library make their home in EGAD, you'll also find art galleries like the Fifth Avenue Art Gallery and Highland Art Studios. You can even find the FLEAGAD Market where local vendors sell their handcrafted wares.
EGAD pretty much has everything you could want: some of the best spas in Florida, hair salons, an improv studio, kava bars, floral arrangers, marble retailers, and even a tattoo parlor!
After you're done exploring, you can sit down at one of EGAD's many restaurants and bars to take a load off and enjoy an upscale or casual meal. Grab a hot dog at the adorable Mustard's Last Stand or grab a Prohibition Era-style cocktail at The Oleander Club.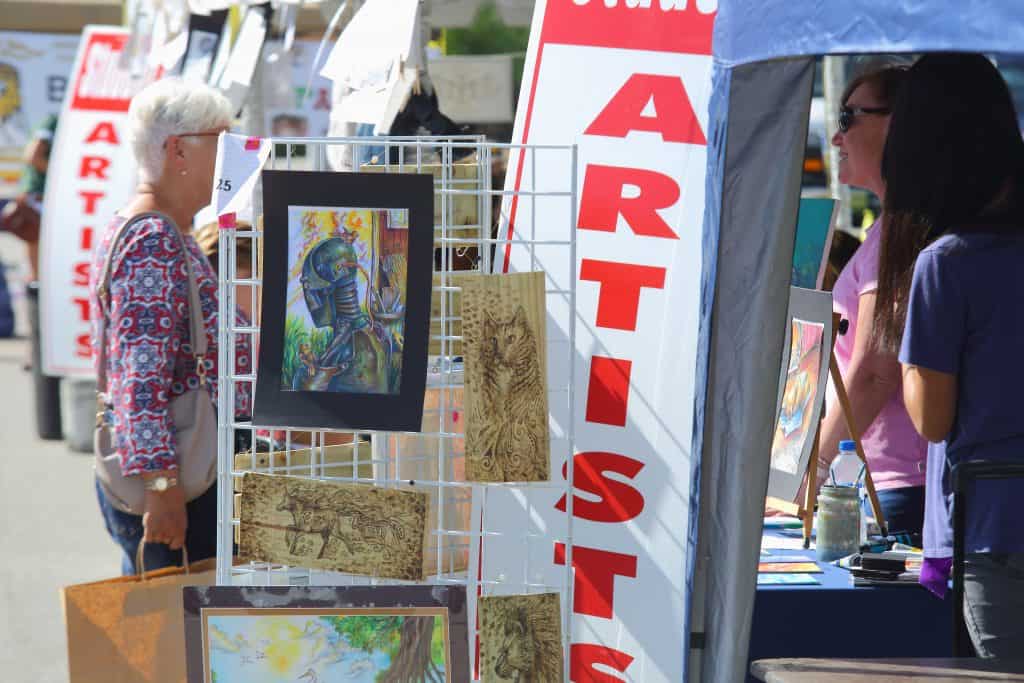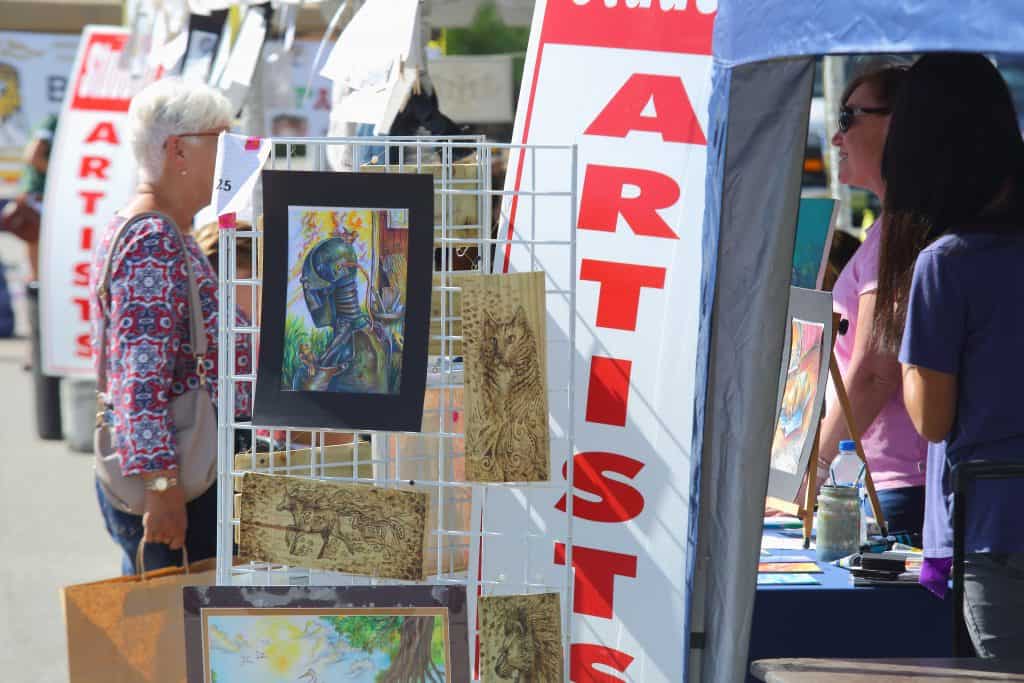 Florida Tech Botanical Gardens
Melbourne is home to the Florida Institute of Technology, a destination for STEM students around the state. Here you'll also find one of the most beautiful things to do in Melbourne, Florida, the Florida Tech Botanical Gardens.
Spanning over 15 acres, the Botanical Gardens have become one of the most unique campus botanical gardens of its kind in the continental United States. A stream bordered by shady hammocks of palm trees winds through the heart of the entire campus.
As you walk along the Dent Smith trail, you'll see palm trees emerging from the stream, butterflies fluttering to and fro native Florida flowers and even a separate bamboo trail. Stick to the trail though, there are many poisonous plants in the garden and hammock.
Don't forget to seek out Melbourne's Little Red Schoolhouse, found in the middle of the gardens. Built and painted in 1883 by John Goode, students sat on benches, and there was a hand-operated pump outside.
Kennedy Space Center
Did you know that the most well-known NASA base makes its home in Florida? The Kennedy Space Center, one of the best museums in Florida, lies on Merritt Island in Cape Canaveral, making it the ultimate day trip from Orlando!
One of the most exciting things do in Melbourne, Florida, this is where you can watch the space shuttle launches! In addition to housing a stunning collection, the grounds are also home to the Merritt Island National Wildlife Reserve, one of the best parks in Florida.
During your time at the museum, check out the Astronaut Training Simulators where you can go inside the Atlantis Space Shuttle. Then, see replicas of the Mars Rover and test your skills as a recruit! Afterward, check out the U.S. Astronauts Hall of Fame where space explorers are remembered!
Before you leave, make a point to stop at the Space Mirror Memorial. Because it is covered in mirrors, the 24 names of astronauts lost to space emblazoned in black granite are constantly illuminated. Above all, it serves as a sobering reminder that space exploration can sometimes require the ultimate sacrifice.
Because the sheer number of exhibits to see is overwhelming, the Kennedy Space Center has put together a suggested itinerary! However, you can also find an option to customize your own itinerary!
The Kennedy Space Center is open to guests daily from 10 AM – 4 PM. Single day admission is $57 for adults and $47 for children.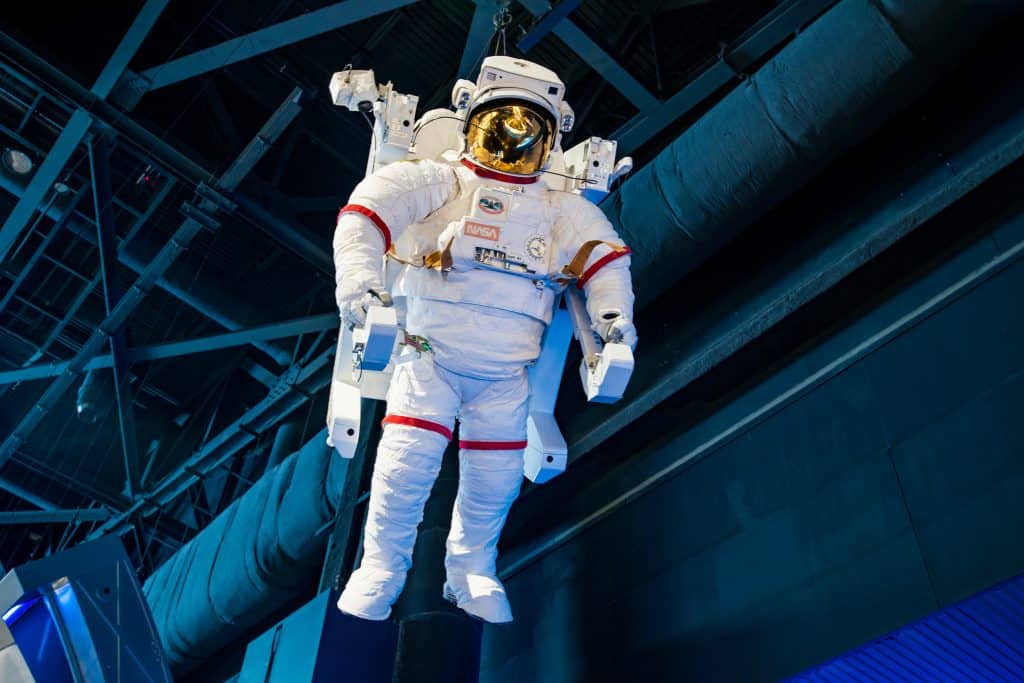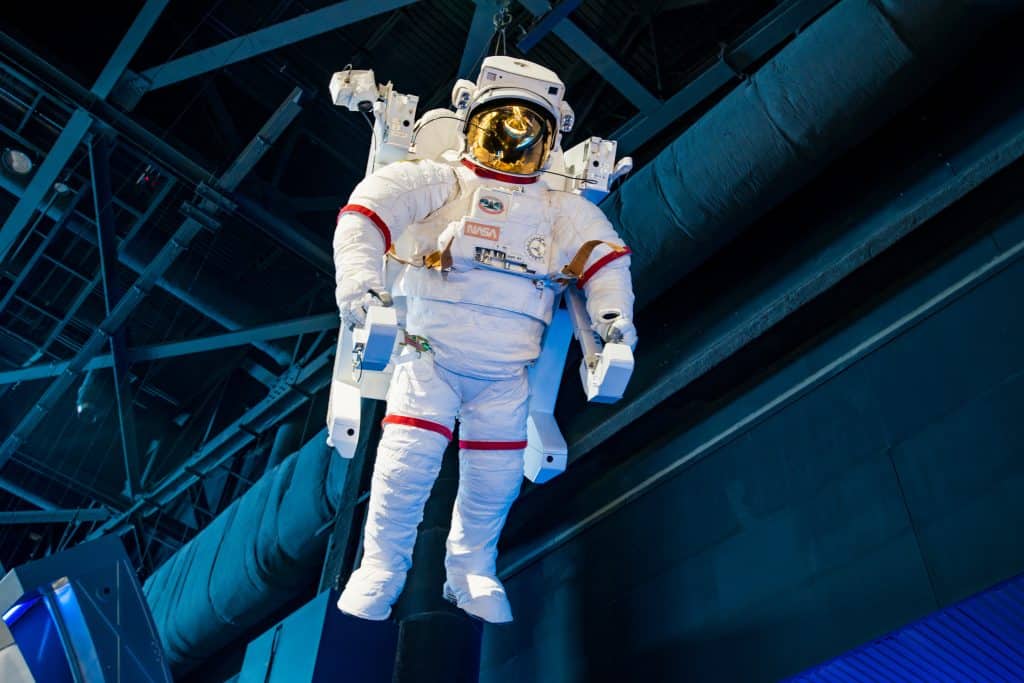 Foosaner Art Museum
Also found in the Florida Institute of Technology, the Foosaner Art Museum can be found right on the edge of the Indian River in the Eau Gallie Arts District. Not only is it one of the best museums in Florida, but it is also one of the best things to do in Melbourne.
The Foosaner describes itself as a gathering place, a catalyst for change, and a center for creativity. The curators and staff collect, display, and interpret all forms of the visual arts as they relate to the past, the present, and the future.
With rotating displays and exhibits, you'll never find the same thing twice upon a visit to the Foosaner. As of January 2021, you can see the "Robot Love" exhibit including mixed media, musical performances, fashion shows, and paintings. Past exhibits can be viewed digitally online!
Admission to the Foosaner Art Museum is free. The museum is open from on Wednesday through Saturday from 10 AM – 4 PM.
Manatee Cove Park
Fisherman and nature lovers, rejoice! Manatee Cove Park is one of the best things to do in Melbourne. Here you'll find a place to observe manatees and fish to your heart's content in a protected cove.
Manatee Cove Park spans just under 30 acres. One of the most beautiful places in Brevard County, this community river park affords nature lovers a perfect place to enjoy a relaxing day in the sun.
Right at the access to the park, you'll find the Manatee Cove 4-H Equestrian Arena. But it's not just about horses here. You can also take classes to learn about dog ownership and breeds as well as sharp-shooting and archery!
The access road then leads to a small lagoon that offers a protected refuge for manatees. A perfect place to see manatees in Florida, there's a launch site for canoes. The combination of sea cows and lush surroundings make Manatee Cove Park one of the best places to go kayaking in Florida.
Around the lagoon, you'll find a nature trail perfect for a hike any time of day. If you're a fisherman, bring your rods and lures and enjoy shoreline fishing access.
The park is also perfect for families after referendum improvements. Now, there's also a sizable playground for children, benches, picnic tables, and even a grill found in a nice, shaded area.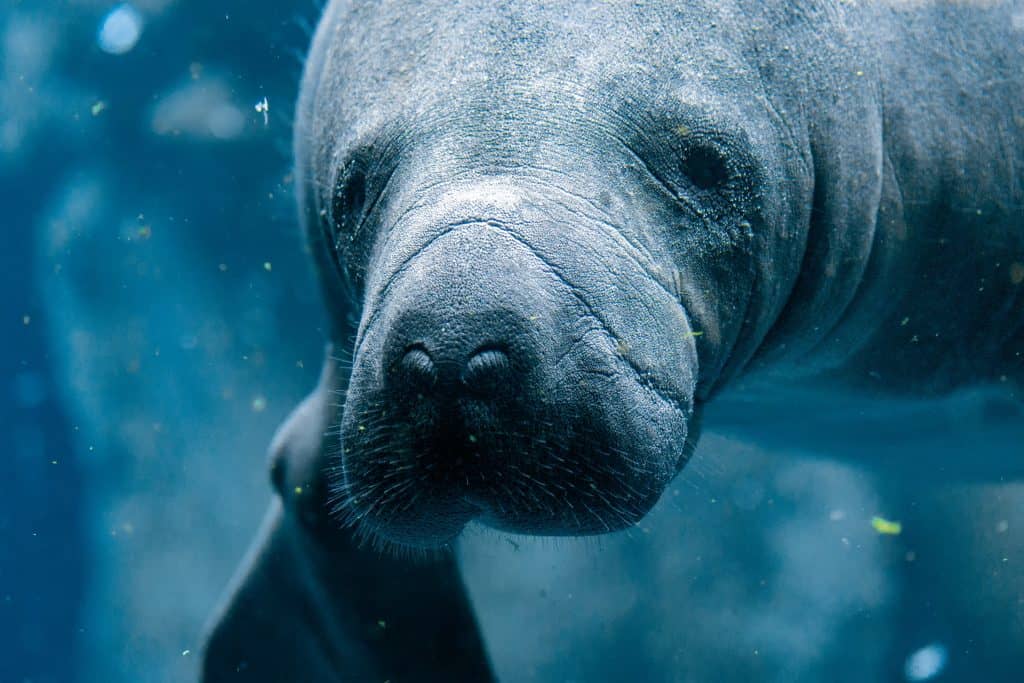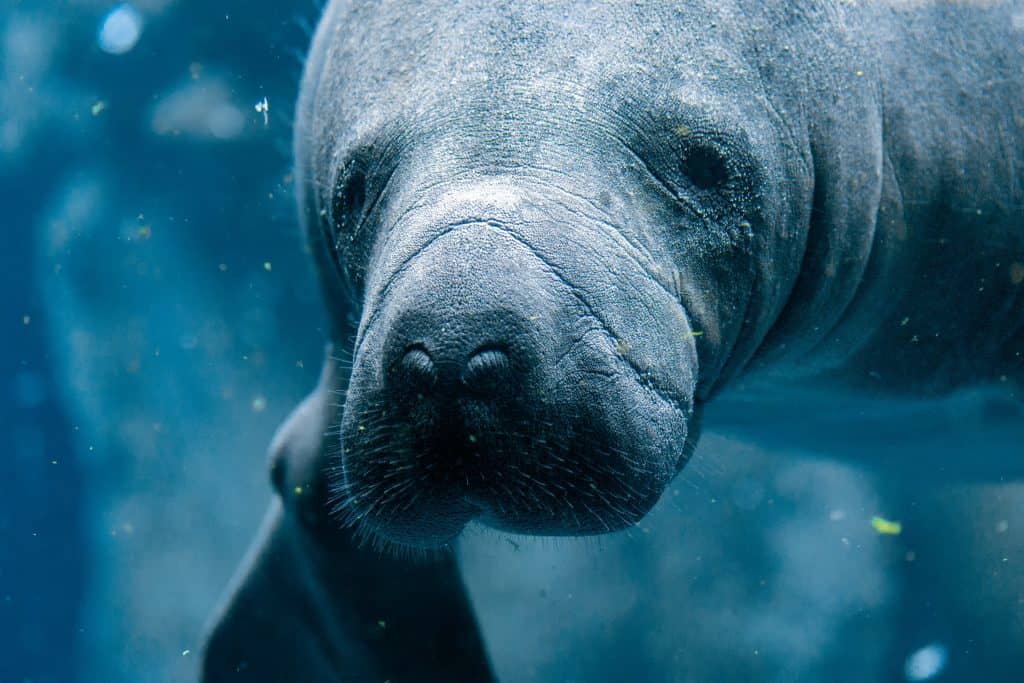 Sebastian Inlet State Park
10 miles south of Melbourne Beach, you'll find one of the best State Parks in Florida for fishing, surfing, and observing rare wildlife. Sebastian Inlet State Park is located on the tip of two barrier islands that forms the boundaries between Brevard and Indian River counties.
Sebastian Inlet has multiple fishing jetties. It is considered a premier saltwater fishing spot on the East Coast! Anglers regularly catch fish like Spanish mackerel, redfish, and snook.
If you visit during June and July, you can see Loggerhead Sea Turtles nesting on a ranger-led walk. If you're lucky, you can see baby sea turtles eating the seagrass beds off the Indian River Lagoon. The most endangered whale species, the Right Whale, can be seen on the coast as well.
Take a hike on the one mile Hammock Trail. Rentals are available for canoeing and kayaking on the Indian River Lagoon. Take a night paddle to see bioluminescence! Be patient and you'll have the chance to see bobcats, alligators, river otters, and other native Florida animals!
Sebastian Inlet boasts 3 miles of beach perfect for swimming. Only a portion of the beach offers lifeguard protection from Memorial Day through Labor Day. Because the inlet is known for its waves, those with small children should swim in the gentler waves of "The Cove" to the north.
This South Florida State Park is famous for its surf breaks, "First Peak" and a third of a mile south, "Monster Hole." The contour of the ocean floor rises, causing waves to rise up and form long lines, giving surfers a long ride back to shore.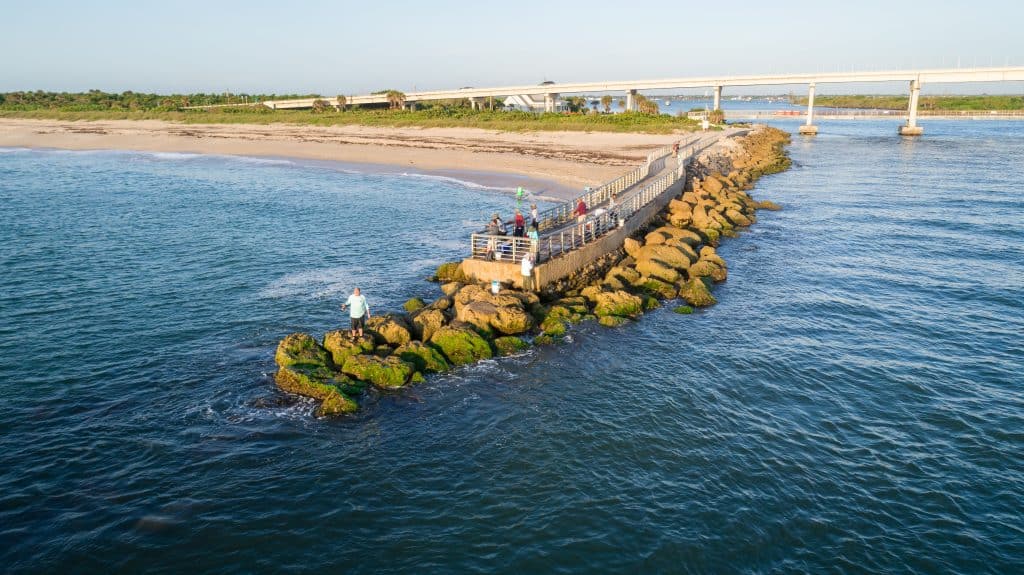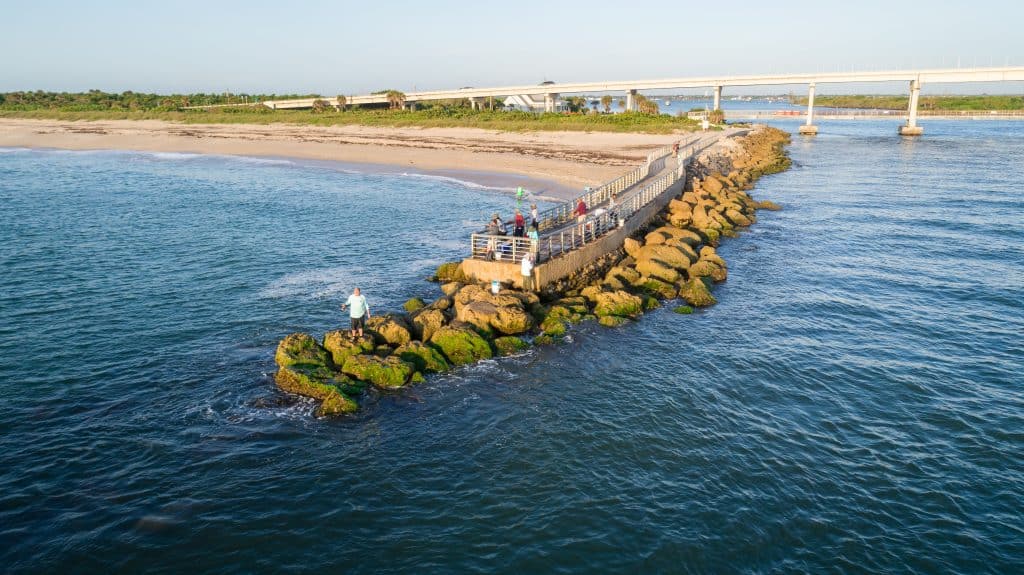 Wickham Park
Perfect for those taking the ultimate Florida road trip, Wickham Park not only provides a perfect spot for nature and adventure lovers, but it's also a great place to go camping! One of the best things to do in Melbourne, you can also enjoy many outdoor sports.
Wickham Park spans just under 400 acres. Locals often enjoy recreational opportunities like 7.5 miles of hiking and mountain biking trails that wind through the rustic, wooded areas of the park. There's also a 1.3 mile pedestrian walkway!
Swimmers will love the lakes perfect for a dip on a hot summer day. The multiple athletic fields are perfect for soccer or flag football, and you can find volleyball courts as well. There's also a dog park, fishing access, an 18-hole disc golf course, archery, horseshoes, and horseback riding!
The park is also a wonderful location for tent and RV camping in Florida! There are 133 campsites that offer water and electric hookups. There's also restrooms, showers, laundry facilities, and a dump station!
Campsites cost $21 per day or $534 per month. Each day after 30 days costs $17.80. Campers may stay up to 168 consecutive days in a 12 month period. Reservations for under 30 days must be paid in full.
Historic Downtown
The most bustling and interesting area in any place is downtown, and the Harbour City is no exception. One of the most fun things to do in Melbourne is to explore Historic Downtown.
The most charming part of Melbourne, Historic Downtown dates back all the way to the 1800s! In recent years, the Melbourne Main Street Program rehabilitated the area, making it the "preferred destination" for quality dining, shopping, and entertainment!
Along Main Street, you'll find twelve murals, each hand-painted and commissioned by the city. The murals are bright and colorful and depict everything from Blue Jays sitting on an orange to Loggerhead Sea Turtles and Hisbicus flowers to vintage cars.
Downtown also hosts some of the best festivals in Florida. Among the upcoming festivals, you can enjoy Botanical Fest where vendors will be selling trees, plants, decorative items, and more! It's the best place to spruce up your yard!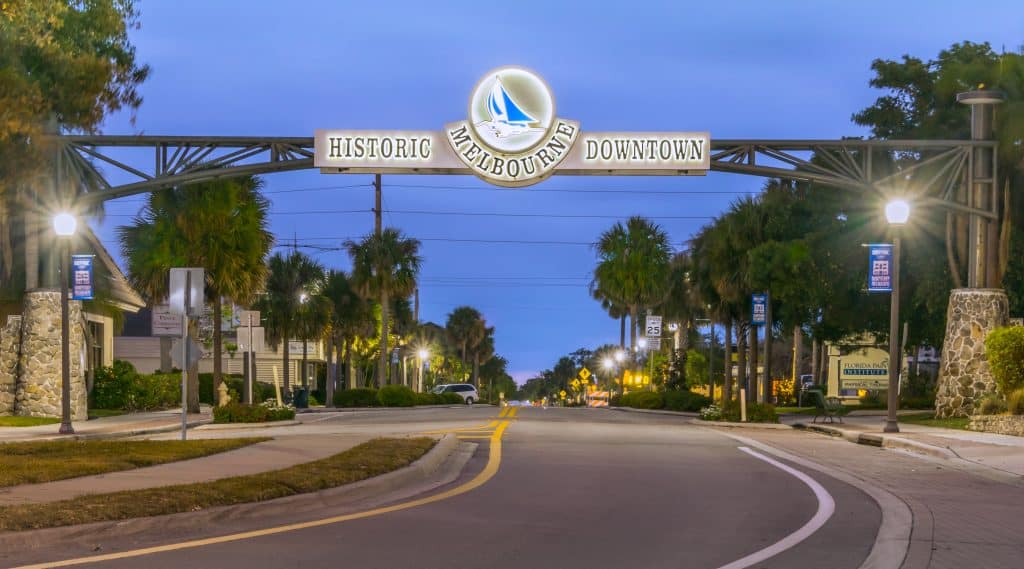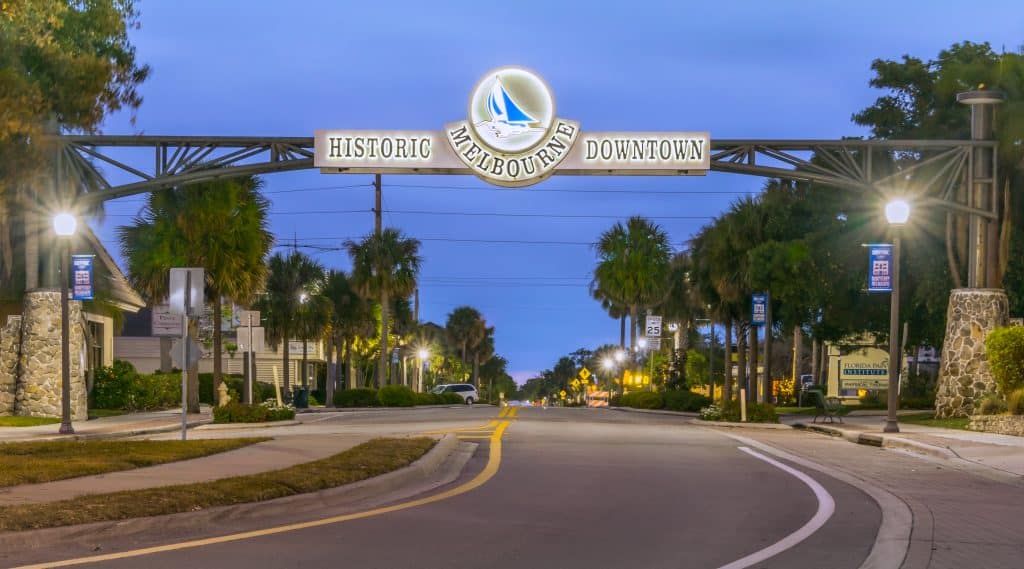 Andretti Thrill Park
If you're looking for fun and games on Florida's Space Coast, look no further. One of the most fun things to do in Melbourne, Florida is to visit Andretti Thrill Park complete with amusement rides, go-karting, and more!
Think of Andretti Thrill Park as your one-stop destination for all the fun and games you can imagine. Here you can find roller coasters, go-karts, a seven-story drop tower, batting cages, and mini-golf. There are too many attractions to list!
Inside, you can find the sprawling arcade! With over 7,000 square feet and 100 games, you'll find something for everyone in the family. Make sure you don't forget to check out the second floor!
Purchase a wristband to receive access to the Super Speedway track, F1 track, Jr. Indy track, Spinning Coaster, Andretti 360, Drop N Twist Tower, Rookie Row, Wave Rave Boats, Majors Mini Golf, Lazer Tag, Ropes Course, Andretti Edge climbing wall, Batting Cages, Children's Rides and Andretti Express.
Wristbands cost $32.71 for two hours, $36.45 for three hours, and $42.06 for unlimited access all-day. All rides require that riders wear close-toed shoes, so dress accordingly!
Paddling Paradise Bioluminescence Tour
Paddling Paradise, run out of Melbourne, offers many exciting tours that take you to the best places to kayak in Florida. Even if you're an experienced paddler, how many times have you gone bioluminescent kayaking in Florida?
Bioluminescence is light produced by a living organism. If you've ever seen a firefly, you have seen bioluminescence! The light is produced by energy released by chemical reactions inside the organism.
When you go bioluminescent kayaking, the water lights up as you glide along. Each stroke of your paddle will produce a bright shimmer of blue! Don't worry, you're not hurting the plankton in the water!
Paddling Paradise offers a Bioluminescence tour that takes you through the Indian River Lagoon. Incredibly dark at night, you'll be able to see the shimmering lights clearly. Make sure to wear water shoes and bring bug spray!
The tours are offered June through October, when bioluminescence is at its peak. Tours are given exclusively at night, sometimes even by moonlight. If you're lucky, you'll even see manatees! Check Paddling Paradise's website for more information.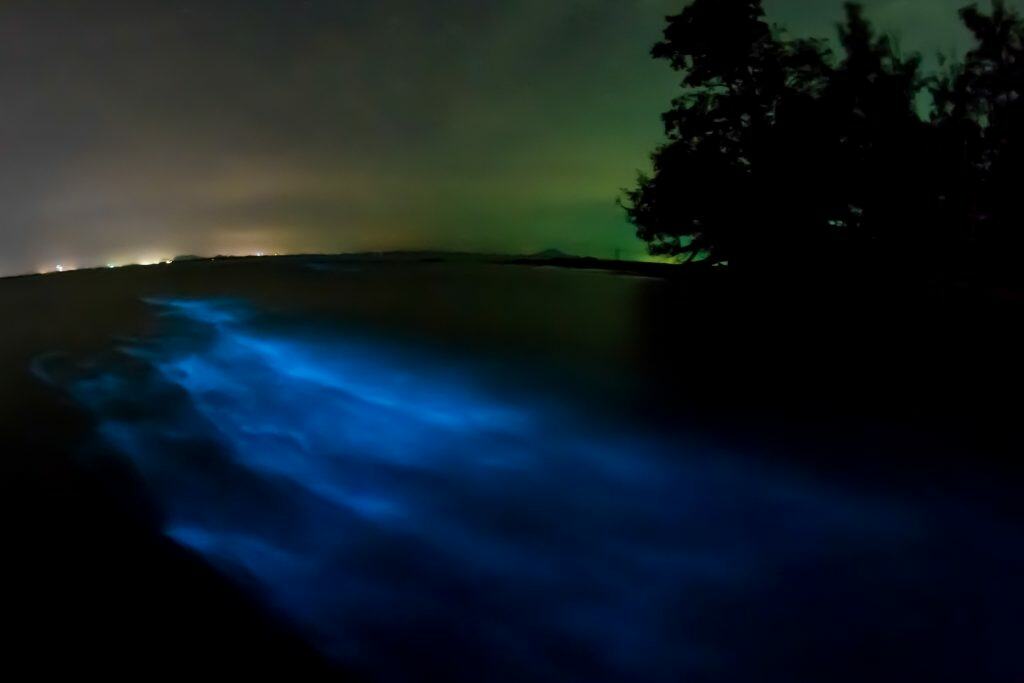 Brevard Movie in the Park
If you're old enough to remember going to drive-in movies and miss that nostalgia, then you're in luck. Drive-in movies, in light of the current circumstances, have been booming and coming back with a vengeance.
One of the best things to do in Melbourne, Florida is to attend Brevard's Movie in the Park! Movies are shown once a month, weather permitting! Admission and parking are free.
You can pull your car right up to the giant 30-foot movie screen. All ages are welcome! Movie pre-shows begin right at sunset with the movie following. The films shown are all family friendly like Pixar's Onward and the Princess Bride.
While spaces are free, they are limited. We encourage pre-registration as a means to secure your spot! Check the website to see future showings and to reserve your spot.
Tank America
Sure you've been to theme parks like Disney and Universal Studios, but we guarantee you that you've never had an experience like this before. One of the most thrilling things to do in Melbourne is to visit Tank America.
Here, you can ride around an outdoor course inside tanks! Yeah, you heard us. FV433 Abbot Military tanks! Set on 35 lush acres of land, you'll find a deep water lake, jungle terrain, and rolling trails with steep hills, mud holes, and straightaways. You can even crush a car.
Afterward, you can go inside to the 20,000 square foot indoor laser tag course, which is military themed. With authentic looking props and decorations, you'll feel immersed in realistic combat conditions.
Your laser guns are replica weapons including a 50 caliber gun and several WWII era machine guns. This is not your grandmother's laser tag. This is high-intensity, high-energy laser warfare!
Because Tank America is such an intense experience with real military tanks, the ticket price is very steep. Tank driving packages start at $349 and can go up to $1,519 depending on how many extras you want. Tactical laser tag, however, only costs $25 per session.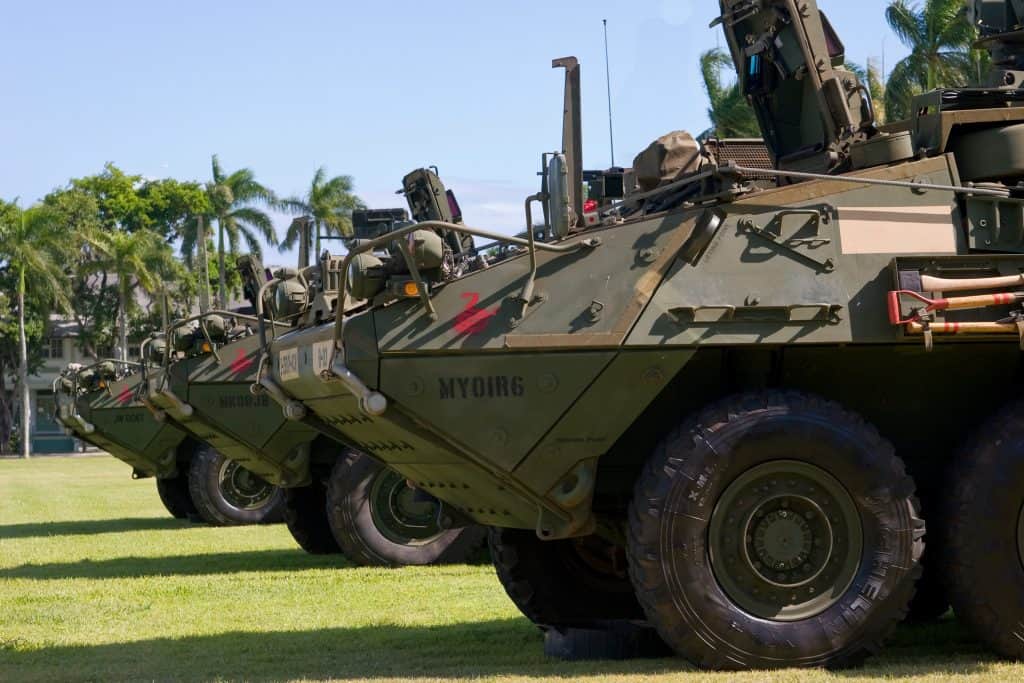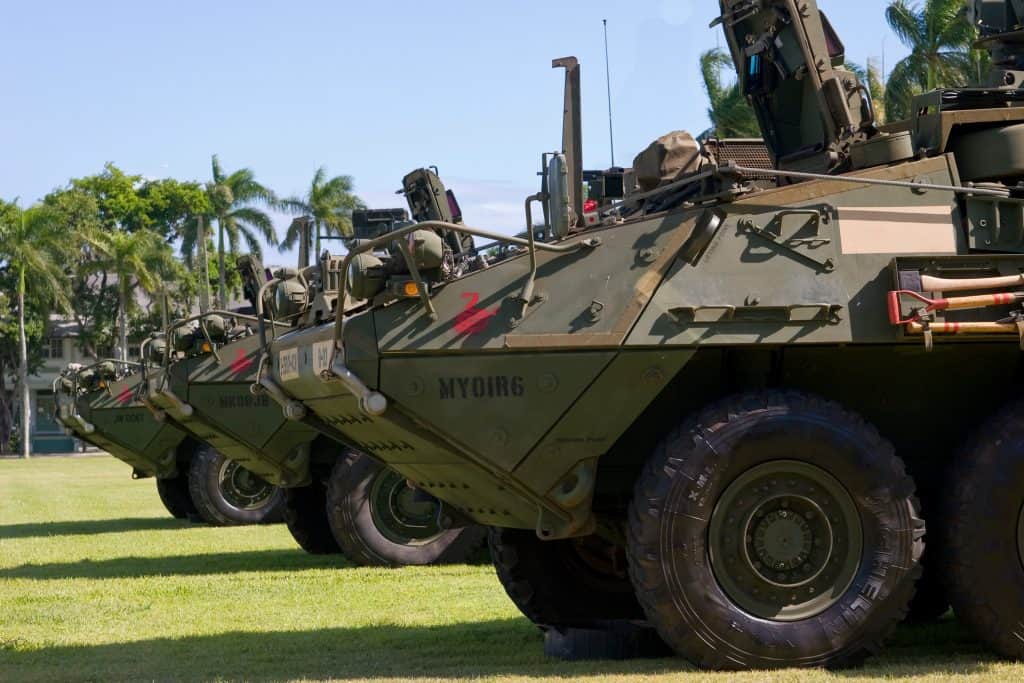 Rehab Vintage Market
Attention all thrifting gods and goddesses! We've found your next haven for unique finds. One of the best things to do in Melbourne is to visit the Rehab Vintage Market to pick up the best in thrifted and vintage wares!
Run by Melbourne local Annie Sloan, Rehab Vintage Market is the place for the best home décor, antiques, vintage goods and one of a kind finds with numerous vendors and styles. You're sure to find something fun and unique for your home here.
On any given day you could find hand-soldered necklaces made from vintage carpenter rulers. You can find dressers made from driftwood and mango wood. They even have pestle and mortars from the 1800s!
You can walk in two days in a row and find a completely different set up. The aesthetics, themes, and pieces are constantly changing. Don't waste any more time and head there so you can grab your next find before somebody else does!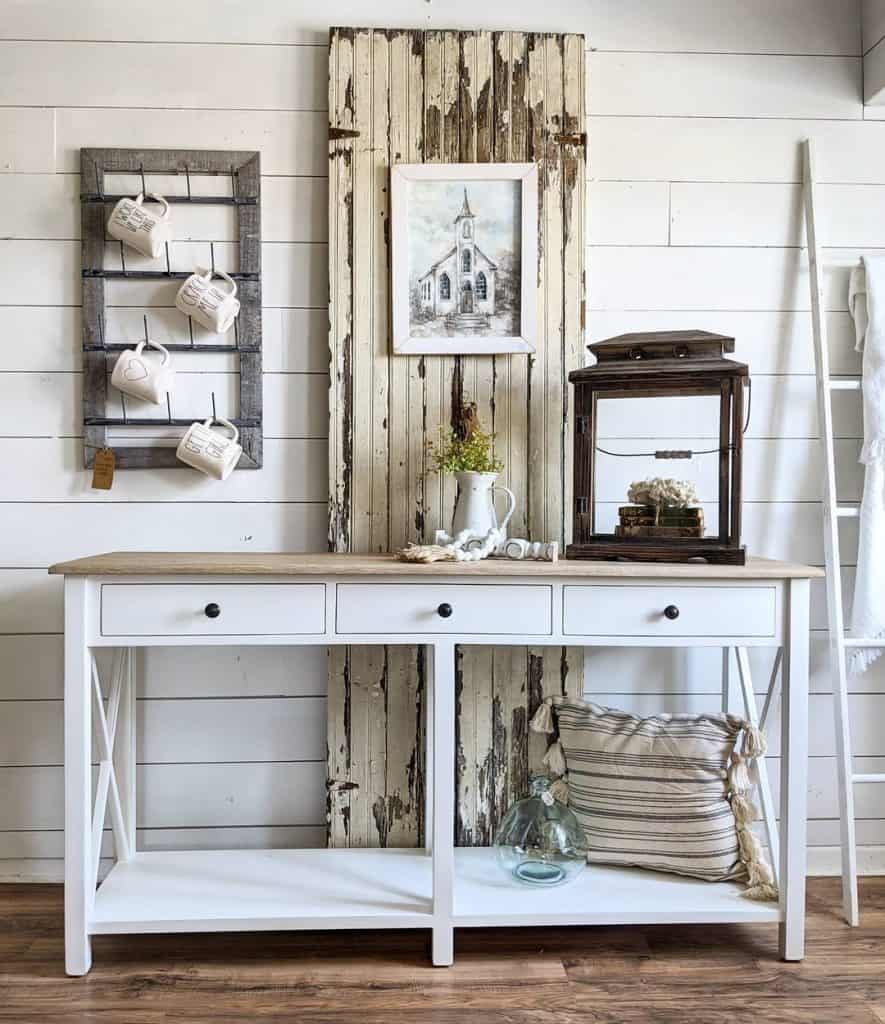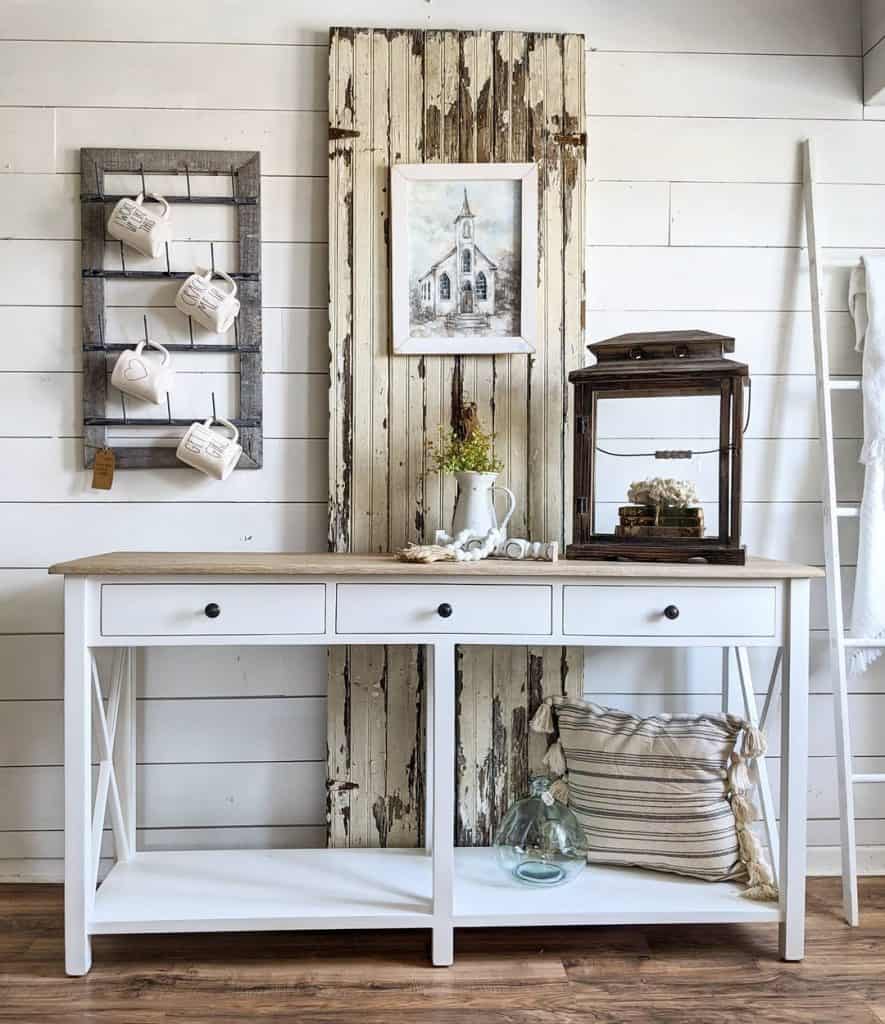 Astronaut Memorial Planetarium and Observatory
When you think of the Space Coast, you might think of the Kennedy Space Center and shuttle launches. So of course, one of the best things to do in Melbourne is to go stargazing in Florida!
As a caveat, this destination is not in Melbourne. It's just next door in the small town of Cocoa (not to be confused with Cocoa Beach), you'll find the Astronaut Memorial Planetarium and Observatory.
The Brevard Astronomical Society holds free and open viewings to the public. On weekend nights, you can go watch a planetarium star show! Afterward, climb up to the rooftop observatory to see the stars in real life.
While you can definitely see the stars with the naked eye, you can also look through one of the largest telescopes in Florida! You can crisply see things like Venus and Mars. Look out for the Orion Nebula, a newly forming cluster of stars.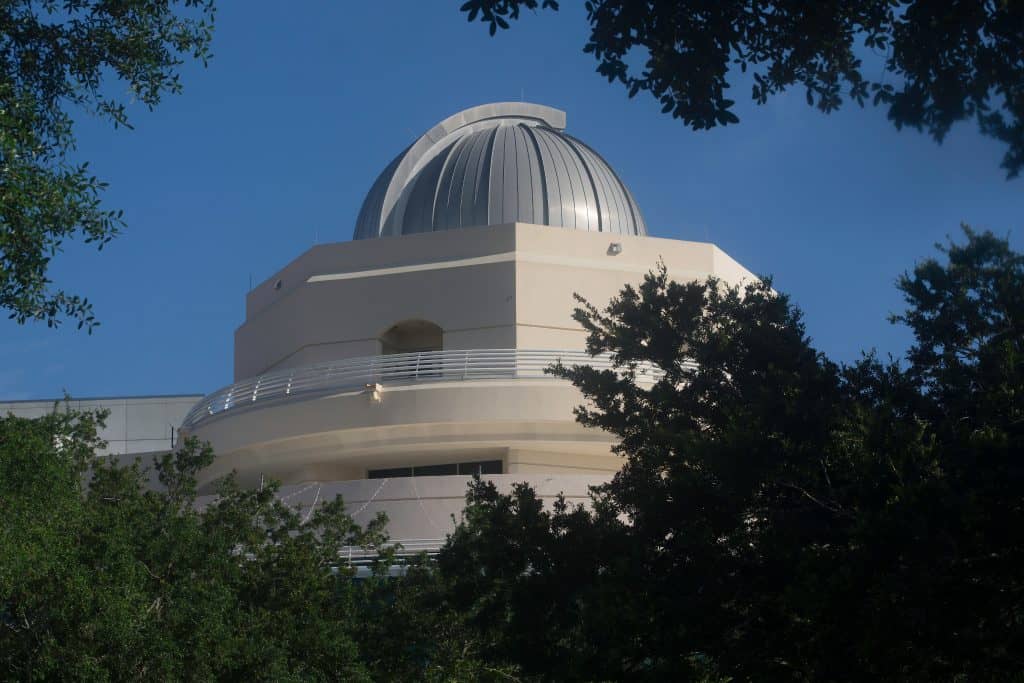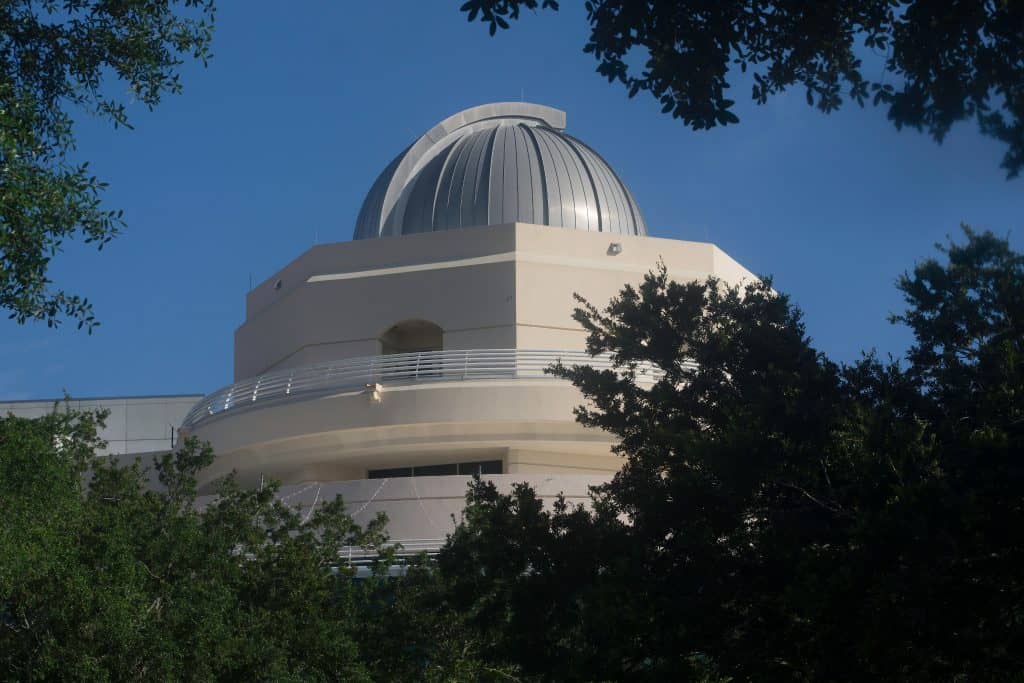 Did You Find This Post Helpful?
If so, we would love to keep in touch! We enjoy seeing photos and comments about your experiences in Florida! You can follow us on Instagram and we will repost your photos on our feed and comment too! Just tag us at @floridatrippers and hashtag #floridatrippers. We can't wait to see your travels!