Are you looking for the best things to do in Fort Lauderdale, Florida? Look no further! We've put together a collection of the best Fort Lauderdale activities.
Fort Lauderdale is easy to get to, either as a day trip from Miami, or to spend a relaxing getaway.
Located on Florida's southeast shore, the city of Fort Lauderdale has become famous for its beaches, canals, and culture. You'll be able to spend plenty of time on the water and in the sun, with 24 miles of beach to explore. Plus, you'll want to check out Fort Lauderdale's museums and shopping areas.
Whether you visit with kids, friends, or family, there are things to do in Fort Lauderdale, FL for everyone. In fact, Fort Lauderdale has a new campaign claiming it's for "Everyone Under the Sun".
So pack your swimsuit and discover the best things to do in Fort Lauderdale, FL (and nearby)!
Don't forget to check out our list of the best Beachfront Resorts In Fort Lauderdale for your trip!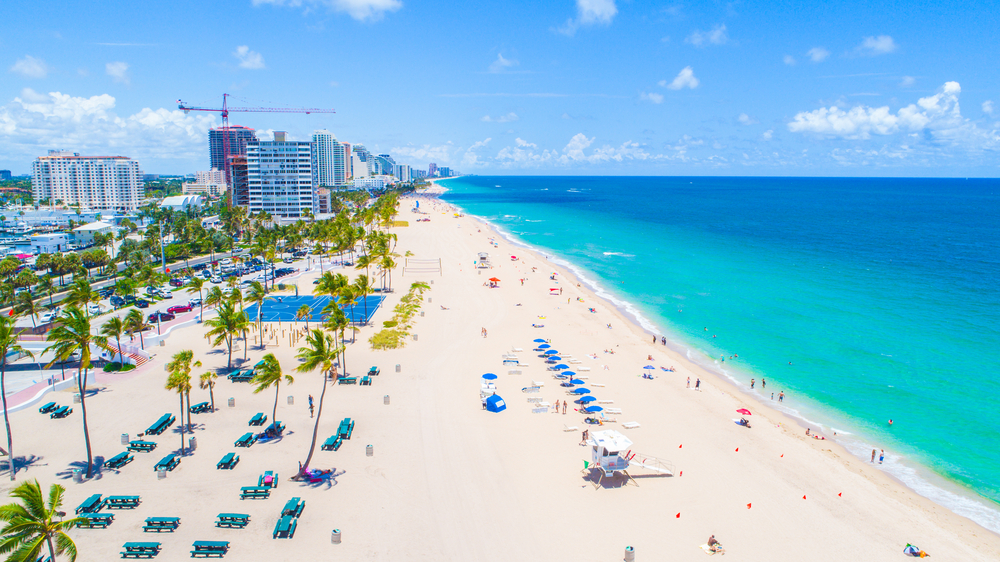 15 Best Things To Do In Fort Lauderdale FL You Shouldn't Miss
Las Olas Beach
Of course, one of the best free things to do in Fort Lauderdale is to go to the beach! Las Olas Beach has everything you need for a great day on the water.
The beautiful golden sand is kept clean and the water is a deep blue at this public beach in Fort Lauderdale. You might even be able to spot some colorful fish if you go snorkeling!
With restrooms, outdoor showers, and rentable beach chairs, you can comfortably settle in for the day at Las Olas Beach.
The Las Olas area is known for its fun vibes. You can stretch your legs and stop in the shops or cafes dotted along the boardwalk. In the evenings, the air will be filled with live music coming from the various restaurants along the beach.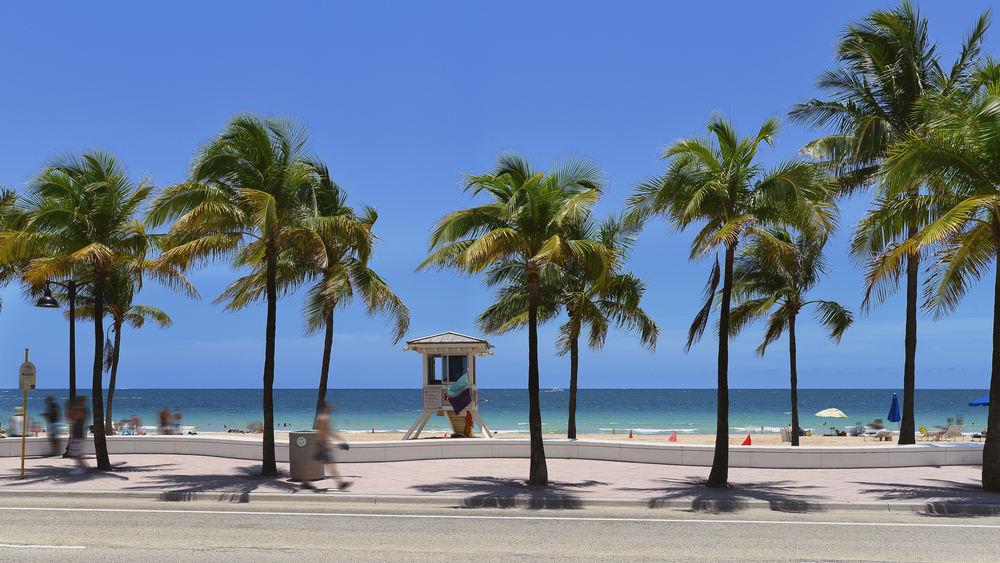 Las Olas Boulevard
For those who enjoy shopping, one of the best things to do in Fort Lauderdale is to visit Las Olas Boulevard. This boulevard, which runs perpendicular to the beach, is Fort Lauderdale's prime shopping district.
You will find a wide variety of shops, boutiques, and art galleries. Whether you're shopping for apparel, jewelry, books, or even to charter a private yacht, you can find places on Las Olas Boulevard.
When you need a rest from shopping, take a break in one of the quaint cafes and restaurants.
Bonnet House Museum & Gardens
Visiting this historic home is one of the best things to do in Fort Lauderdale for those who want to step back in time. The Bonnet House Museum & Gardens is beautifully preserved and will transport you back to the 1930s of Florida's elite.
The house was given as a wedding gift in 1919 to Helen Birch (daughter of Hugh Taylor Birch) and her new husband, Chicago artist Frederic Clay Bartlett. Unfortunately, Helen passed away in 1925, and Frederic rarely visited the house until his next marriage in 1931.
Frederic and his new wife, Evelyn, then redecorated the Bonnet House, with embellishments and furnishings that visitors can still see today. Before her death, Evelyn deeded the property to the Florida Trust for Historic Preservation. It was added to the U.S. National Register of Historic Places in 1984.
Guests can enjoy strolling through the house, full of art and antiques, as well as the various ecosystems throughout the gardens.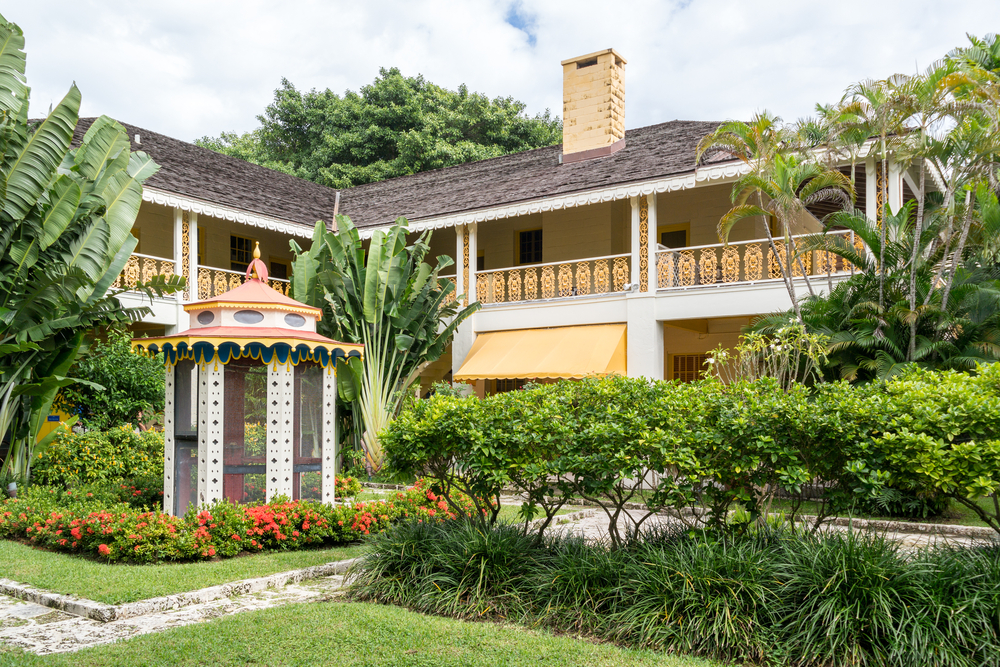 Hugh Taylor Birch State Park
Known as Fort Lauderdale's "Central Park", Hugh Taylor Birch State Park is a wild haven located right on the water. Spending time in one of Florida's state parks is one of the best things to do in Fort Lauderdale for anyone looking to escape the hustle and bustle.
Stop in the Terramar Visitor Center to learn about the area's history before setting out on the hiking trails. You can take a 20-minute walk through the Coastal Hammock, one of the last tropical hammocks in the area.
The park drive is almost two miles long, so it's a popular biking and inline skating route. However, if you're just looking to relax, visitors can also swim at the park's beach or rent canoes or stand-up paddleboards.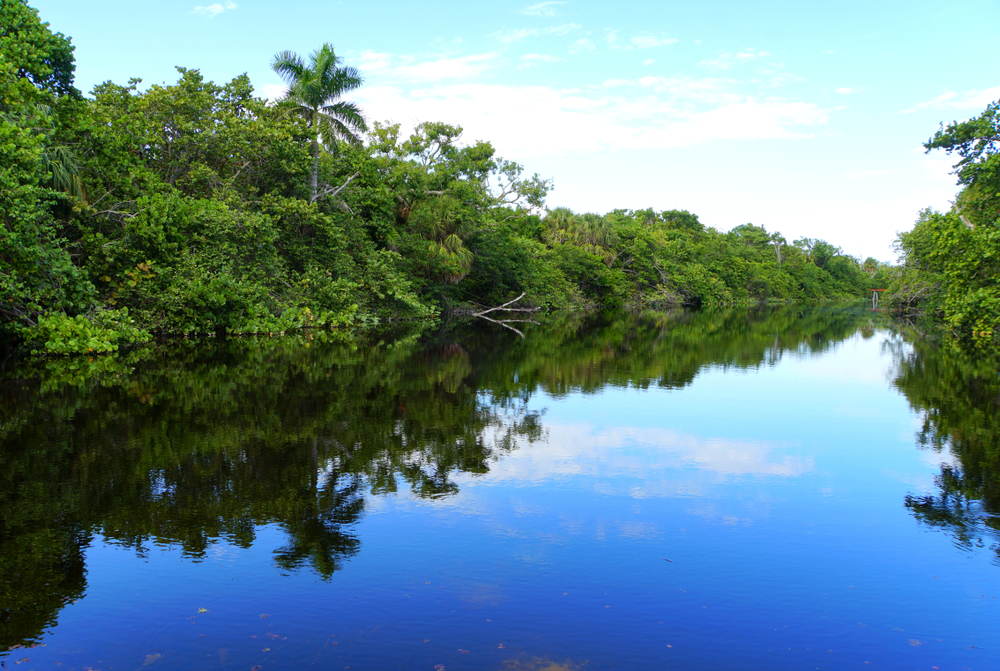 Kaluz Restaurant
One of the best things to do in Fort Lauderdale is to dine at one of the many delicious restaurants in the area. Kaluz Restaurant is at the top of our list of best restaurants in Fort Lauderdale!
Located on the intercoastal waterway, Kaluz Restaurant offers lovely views as well as good food. It's a great place for a date or family dinner.
Kaluz Restaurant serves modern American cuisine, particularly fresh seafood, and hand-cut steaks. They have an excellent Chilean sea bass dish, prime rib sliders, and a crab dip as an appetizer. However, if you don't eat meat Kaluz has some fresh, crisp salads.
You'll want to stay for dessert at Kaluz as well. Try their traditional Key Lime Pie or bread pudding.
Museum of Discovery and Science
One of the best things to do in Fort Lauderdale with kids is to take a trip to the Museum of Discovery and Science. Visitors of all ages can enjoy the hundreds of interactive exhibits while learning something new!
Learn about Florida's geography and ecosystems, understand the laws of physics, or "uncover" dinosaur bones! From "flying" in a cockpit simulator to feeling hurricane-force winds and creating clouds in the Storm Center, exhibits at the Museum of Discovery and Science are hands-on.
The Museum of Discovery and Science is also home to AutoNation® IMAX® Theater, which is six stories tall! Experience the natural world larger than life with films like "Amazon Adventure" and "IMAX Under the Sea".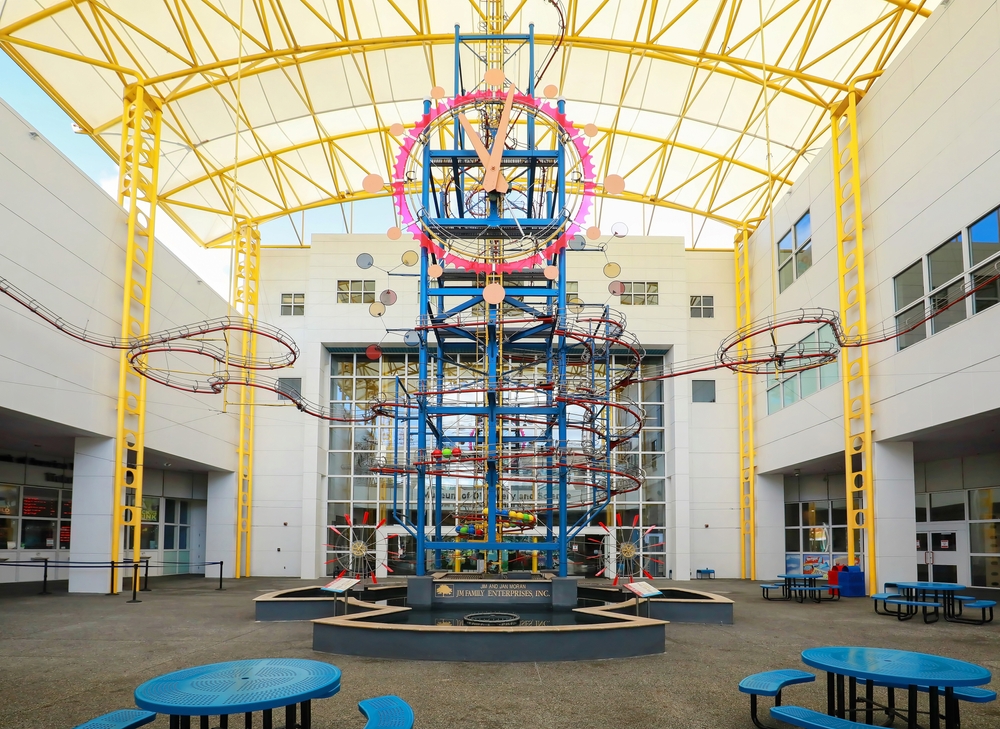 Flamingo Gardens
For a unique wildlife experience, one of the best things to do near Fort Lauderdale is to visit the Flamingo Gardens. This botanic garden is one of the oldest attractions in South Florida!
The Flamingo Gardens were established in 1927, and have since been on a mission to preserve, and provide education for, South Florida's nature and wildlife. It's now one of the best attractions in Fort Lauderdale, with a museum, special events, and regular garden tours.
Part botanical garden and part animal sanctuary, the Flamingo Gardens are home to over 3,000 species of exotic tropical and subtropical plants and trees. You'll find more than flamingos here as well. The Wildlife Sanctuary houses crocodiles, birds of prey, river otters, and Josh the black bear.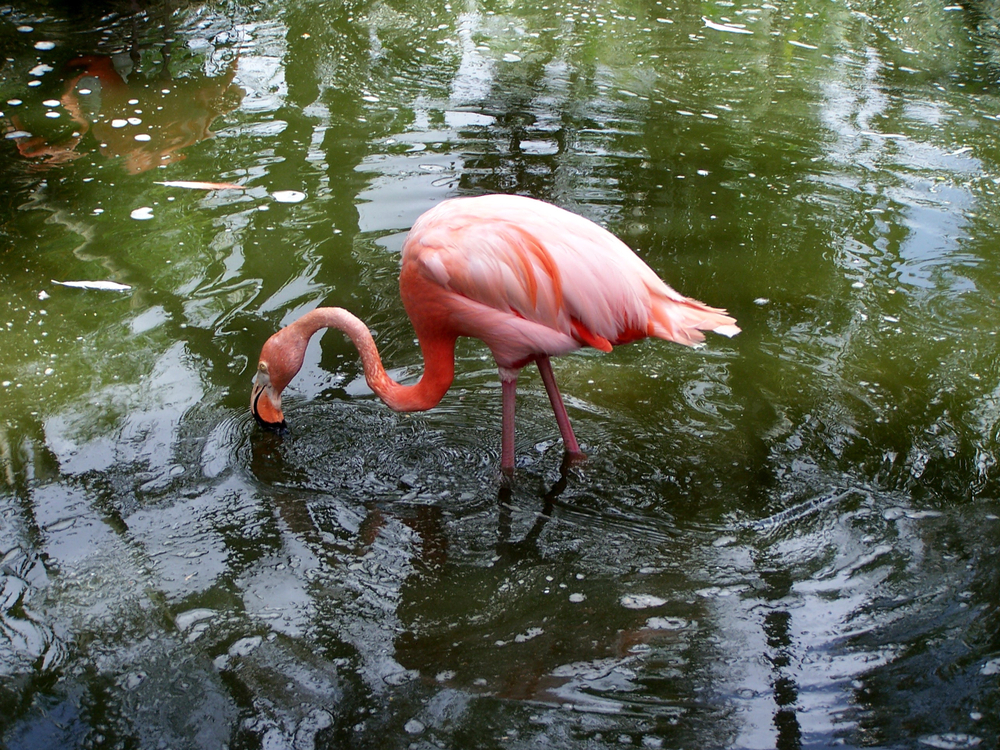 Jungle Queen Riverboat Cruise
Jungle Queen Riverboats have been cruising around Fort Lauderdale since 1935, and they are now one of the most popular attractions in Fort Lauderdale. These vintage riverboats offer a bit of history, a bit of entertainment, and a bit of sightseeing.
Choose between a 90-minute sightseeing tour, which is fully narrated, or a dinner cruise that includes a show of music and Polynesian fire dancing. Dinner is an all-you-can-eat BBQ feast!
Both cruises will take you through Fort Lauderdale's system of canals. You can drool over the magnificent houses along "Millionaire's Row".
Drinks, both alcoholic and non, are available for purchase on the boat. Going on the dinner cruise is one of the best things to do in Fort Lauderdale for adults. It can be a fun date night or birthday celebration.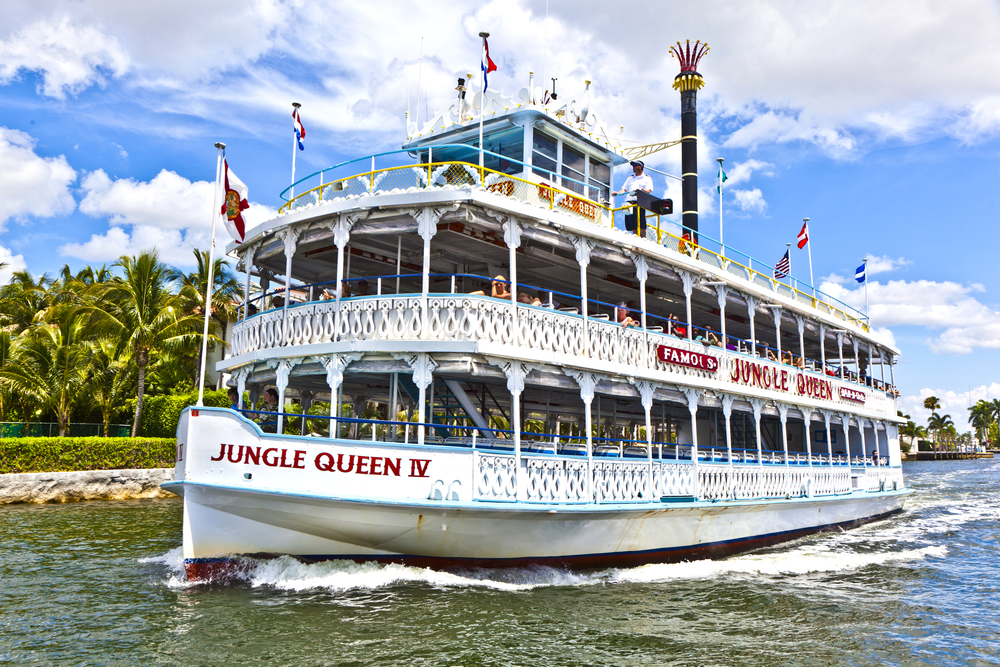 Butterfly World
Another of the best activities in Fort Lauderdale to do with kids is to visit Butterfly World. It's the largest butterfly park in the world!
Located just outside of Fort Lauderdale, Butterfly World opened in 1988. Founder Ronald Boender also started the "Bring Back the Butterflies" campaign, which encouraged people all over the country to grow butterfly habitats in order to increase butterfly populations.
Butterfly World is home to 20,000 live butterflies of varying species. Stroll through a series of screened-in, colorful gardens where butterflies rest, feed, and fly overhead. Some might even land on you!
There is an aviary as well, where you can feed exotic birds like Loriini parrots.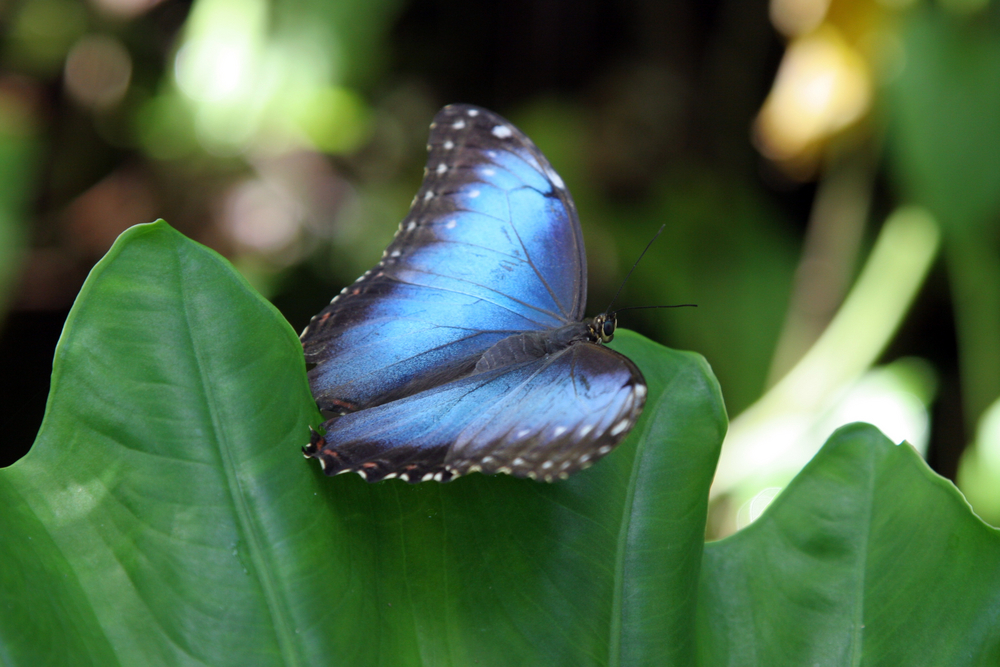 Historic Stranahan House Museum
If you are interested in the history of the area, one of the best things to do in Fort Lauderdale is to visit the Stranahan House Museum. It is the oldest surviving building in Broward County!
Originally built as a trading post in 1901, the house was owned by Frank Stranahan, known as Fort Lauderdale's founding father. His wife, Ivy, was the first school teacher in the area.
It's hard to imagine with all of the high-rise buildings around, but back when the Stranahans lived in the house, Fort Lauderdale was a frontier town. The house was restored and opened as a museum in 1984.
A guide will take you on a tour of the Stranahan House Museum, with stories of Fort Lauderdale's growth, the lives of Frank and Ivy, as well as the Indigenous Seminole families who would visit the trading post.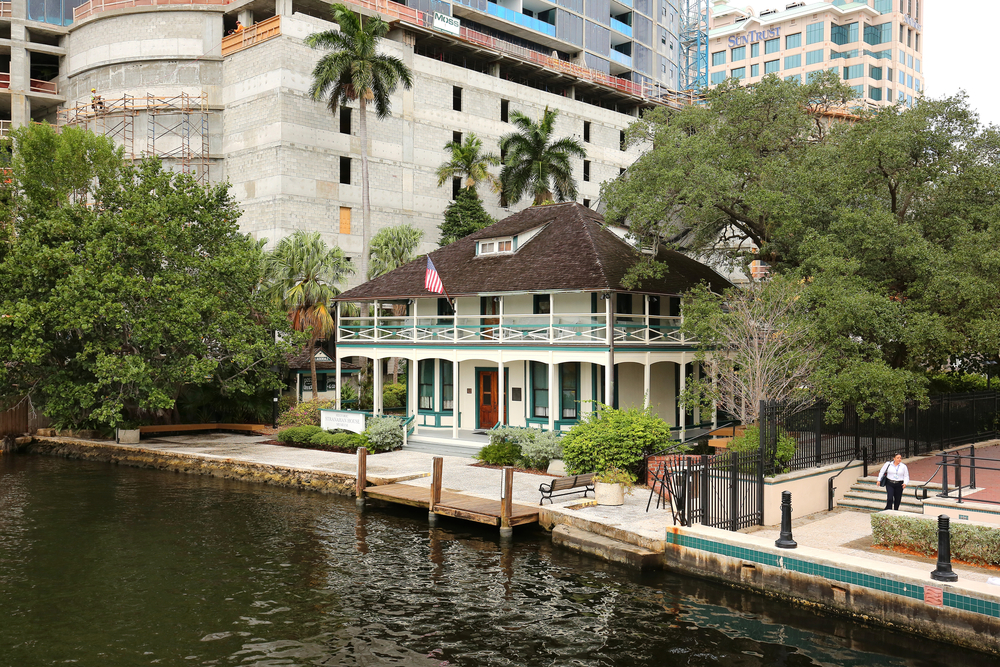 Paddle the Canals
Did you know that Fort Lauderdale's canal system is similar to Venice, Italy? For a different way to get out on the water, one of the best things to do is paddle the canals.
Whether you have your own kayak or paddleboard or need to rent one, the canals are easy to access. You can launch from either George English Park or Victoria Park. There are several places near these points where you can rent equipment.
Take in the views of extravagant houses and boats as you paddle through the canals of affluent neighborhoods. There's relatively low boat traffic in the residential areas, so even if you're a beginner paddler it should be fun and relaxing!
If you don't want to go out on your own, try the Seven Isles of Fort Lauderdale Kayak Tour.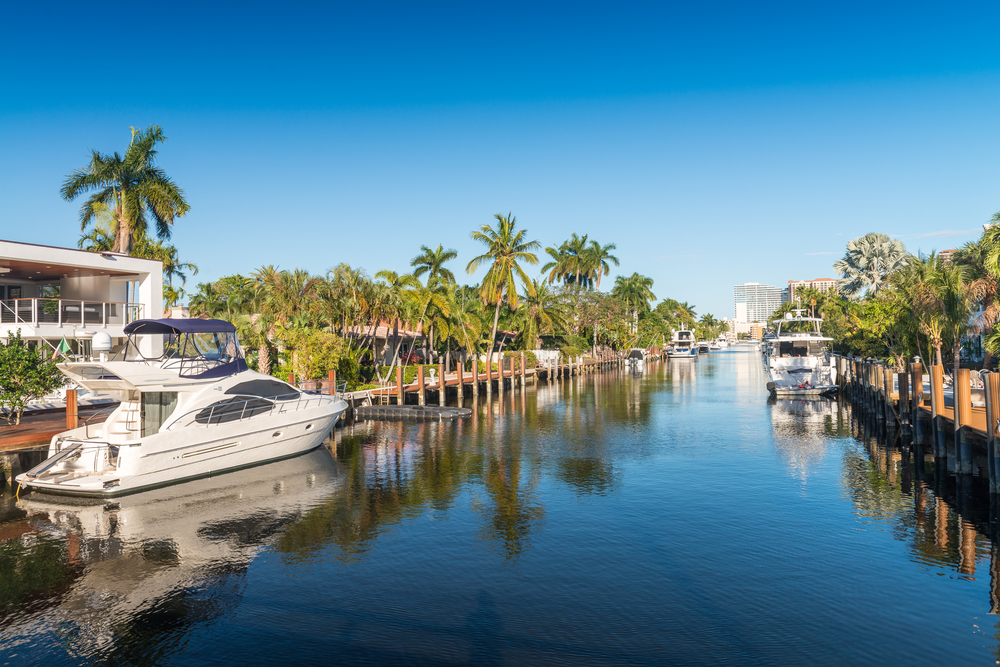 Broward Center for the Performing Arts
One of the most fun things to do in Fort Lauderdale is to catch a show at Broward Center for the Performing Arts. This awesome performing arts venue hosts more than 700 performances a year, so you're bound to find something you'll like!
Broward Center for the Performing Arts hosts touring Broadway shows, concerts, ballets, operas, lectures, and workshops. The largest space, the Au-Rene Theater, can sit over 5,000 patrons!
You can also take a free backstage tour of the Broward Center for the Performing Arts. Tours are open to the public and are available on the first Sunday of each month.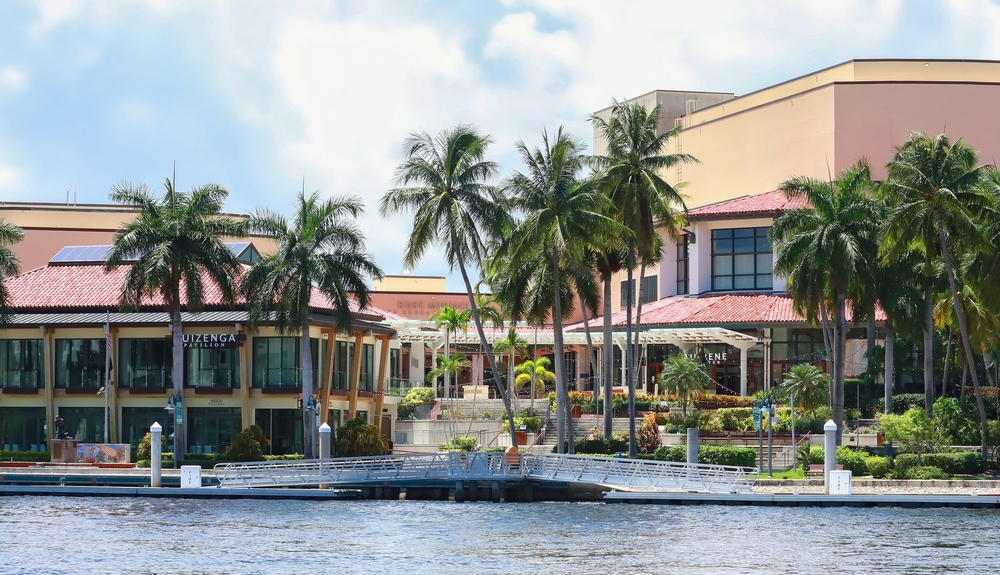 Riverwalk Fort Lauderdale
If you're looking to stretch your legs, another one of the best free things to do in Fort Lauderdale is to walk the Riverwalk. This park runs along the banks of the New River and is about a mile long.
There are quite a few eateries and art galleries that line the Riverwalk. Plus, you might catch a fun community event, like a free jazz concert on the first Sunday of every month or "Light Up Lauderdale" during the holiday season.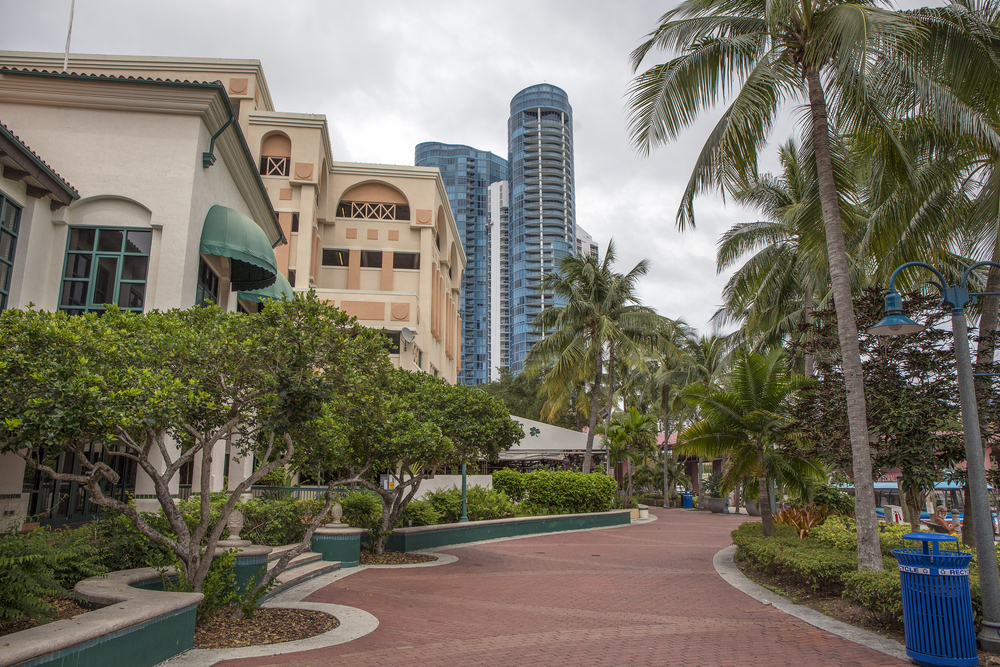 The Wreck Bar
One of the more unique things to do in Fort Lauderdale for couples is to have a date night at The Wreck Bar. This maritime-themed restaurant offers live mermaid shows!
Located within B Ocean Resort, The Wreck Bar is modeled after a Spanish ship. As you sip on a tropical cocktail, like rum punch, mermaids perform on the other side of porthole windows. Late on Friday and Saturday nights, you can also catch an underwater burlesque show.
The Wreck Bar is also known for its Sunday brunch, known as "Mermaids and Mimosas", which puts a magical twist on breakfast in Fort Lauderdale. It's recommended to make reservations at The Wreck since it's one of the best activities in Fort Lauderdale.
Day Trip to the Everglades
Although there are many fun places to visit in Fort Lauderdale, if you have time during your vacation, it's worth getting out of town. The Everglades National Park is about a two-hour drive from Fort Lauderdale and makes an awesome day trip.
The Everglades are full of natural wonders unique to South Florida. From marshes to mangrove forests, the Everglades National Park's ecosystems are an important part of wildlife conservation, as well as protection from hurricanes and floods.
With over two million acres to explore, the Everglades provide plenty of options for recreation. Search for alligators, hike the Anhinga Trail, or ride in an Everglades airboat.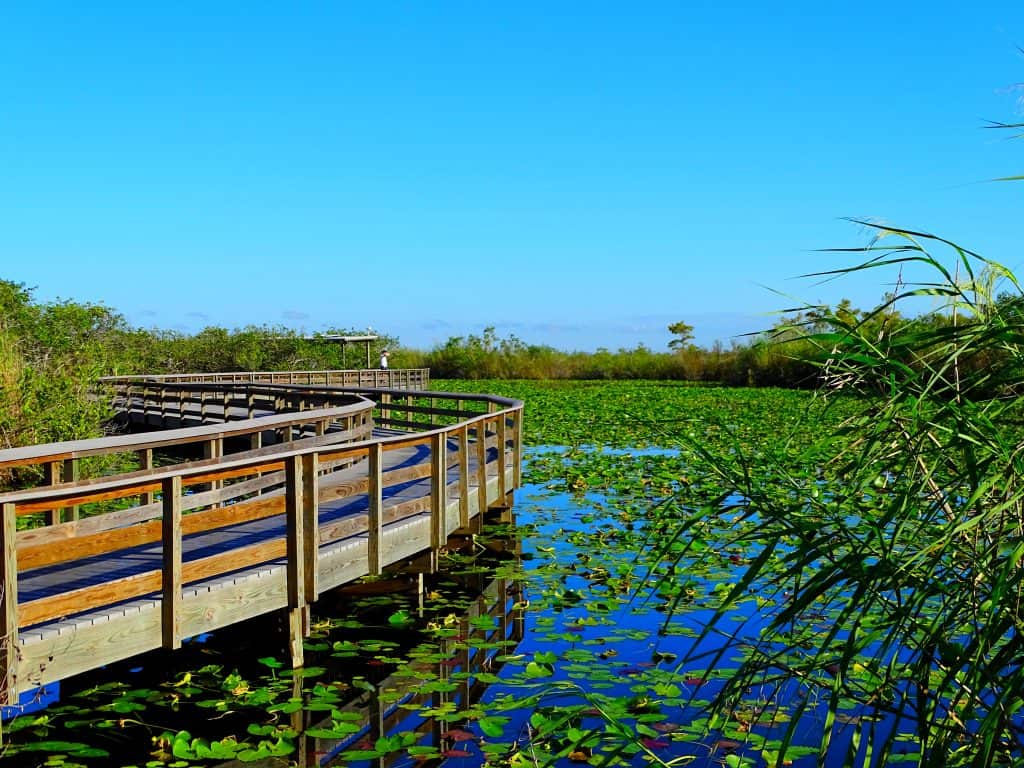 If you weren't sure of what to do in Fort Lauderdale, FL, we hope this list has given you some ideas! Whether you are looking for beach day activities or things to do in Fort Lauderdale at night, this city will keep you occupied all day!