If you've loved swimming in their cool waters, why not extend your stay and explore Florida Springs while camping? Many of Florida's natural springs lie near or within campgrounds and lodging opportunities just waiting for you!
Thanks to the Sunshine State's natural underground aquifer, about 800 billion gallons of water flow through limestone to bubble up to form more than 700 of the natural springs in Florida every single day. That's the largest collection anywhere on earth!
The water's temperature never goes above a crisp, refreshing 72 degrees, and through that crystal clear water, you can see entire ecosystems thriving: aquatic plants, gorgeous rock formations, and wildlife like manatees and turtles.
Sometimes, just one day at any of these magical springs isn't enough. Turn your day trip into a weekend getaway and stay at one of the campgrounds at Florida springs! You can find everything from tent sites, RV hookups, cabins, and even cottages!
So the next time you're looking for a way to escape, remember that Florida's natural springs are just a short drive away. Not only are Florida springs with camping easy on the wallet, but their beauty and recreation are sure to create lifelong memories.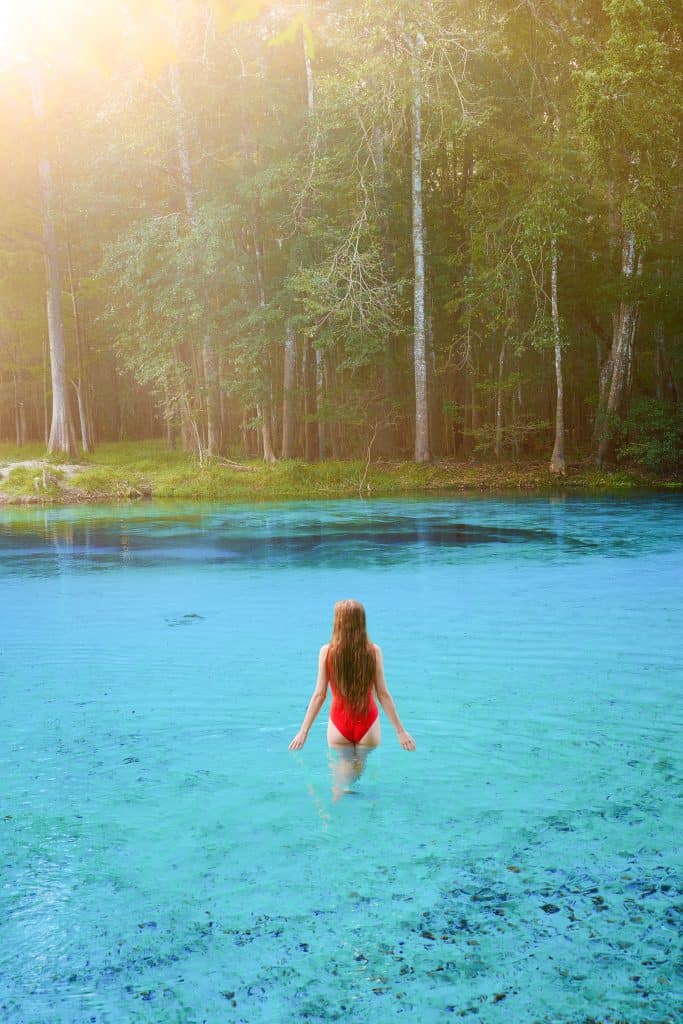 15 Best Florida Springs With Camping You Should Visit
Weeki Wachee
Natural springs are beautiful escapes, perfect to unplug from reality. If you want a little whimsy in your adventure, have no fear! Weeki Wachee, one of the best Florida springs with campgrounds, has real, live mermaids!
Okay, mermaids are make-believe, but the swimmers that don the incandescent fins only add to the beauty of Weeki Wachee Paying homage to the yesteryear of Florida tourism, you'll get lost in the magic of their underwater dance.
Weeki Wachee is also a great destination for families! The springs are also home to Buccaneer Bay, the only water park fed by a first-magnitude spring.
While swimmers can bask in the beautiful blues and greens of the Florida natural springs, divers can explore the freshwater cave system, confirmed in 2007 to be the deepest in all of North America.
While there are no campgrounds within the actual state park, there are many excellent campgrounds nearby. However, even if you have an RV or a tent, we recommend Cody's RV Park!
Only 8 minutes away from Weeki Wachee, Cody's RV Park lies right next to one of the best golf courses in Florida, so you have more options for recreation! Amenities include clean modern bathrooms, canoes and kayaks to take out on a pond, catch and release fishing, ducks, chickens, and lush botanicals!
At Cody's RV Park, RV hookup sites run $45 per night and $225 per week, with electric included. Tent sites run $30 per night and $125 per week, with water and electric included. We recommend making your reservations early, so call (352) 596-6010 at least two months in advance.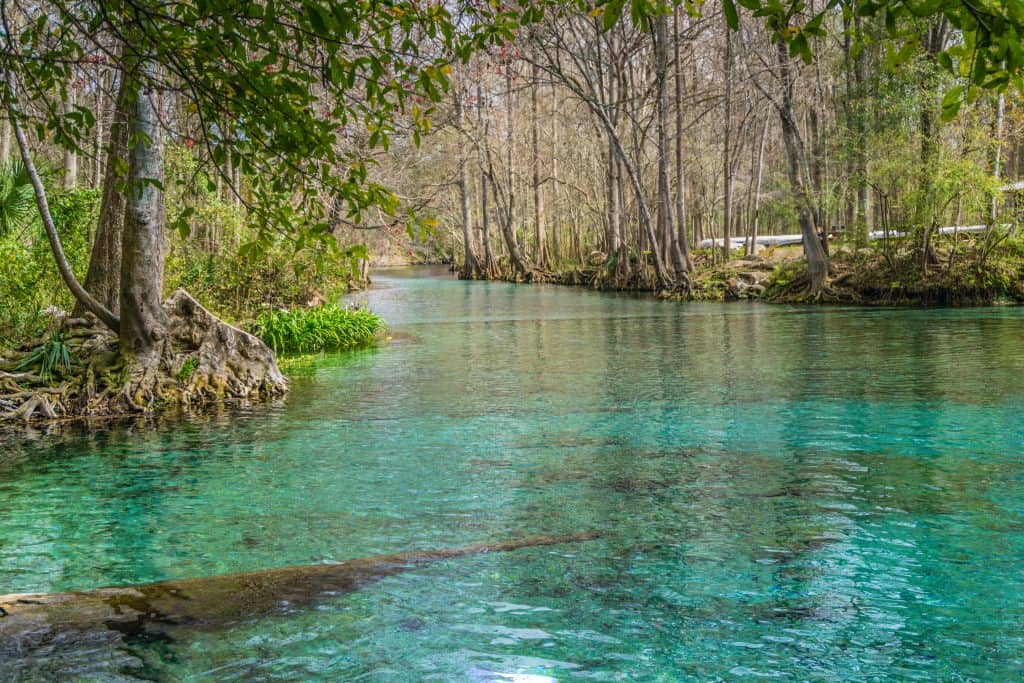 Wekiwa Springs
Right next to Rock Springs in Kelly Park, Wekiwa Springs is Orange County's longest-running tourist attraction. With miles of hiking trails waiting to be explored on foot, bike, or horseback, you understand why it's beloved by locals since the early 19th century.
At Wekiwa Springs, you'll find 53 campsites that accommodate both RV and tent camping. Most have both water and electrical outlets. No more than eight people can camp at a site at one time.
Through the dense hammocks, you can take a canoe passing the purple blooms of pickerelweed. When exploring the spring vent which feeds the Wekiwa River, you'll see a variety of Florida wildlife.
When you jump in the spring to swim or snorkel, be advised there is no lifeguard on duty. The springs near Tampa are 4 feet at its deepest, so no jumping or diving is allowed. You can also find a swim lift for ADA accessibility!
Camping costs $24 per night plus tax. Upon making your reservation, you will be required to pay a non-refundable $6.70 reservation fee. Primitive camping only costs $5 per person, per night.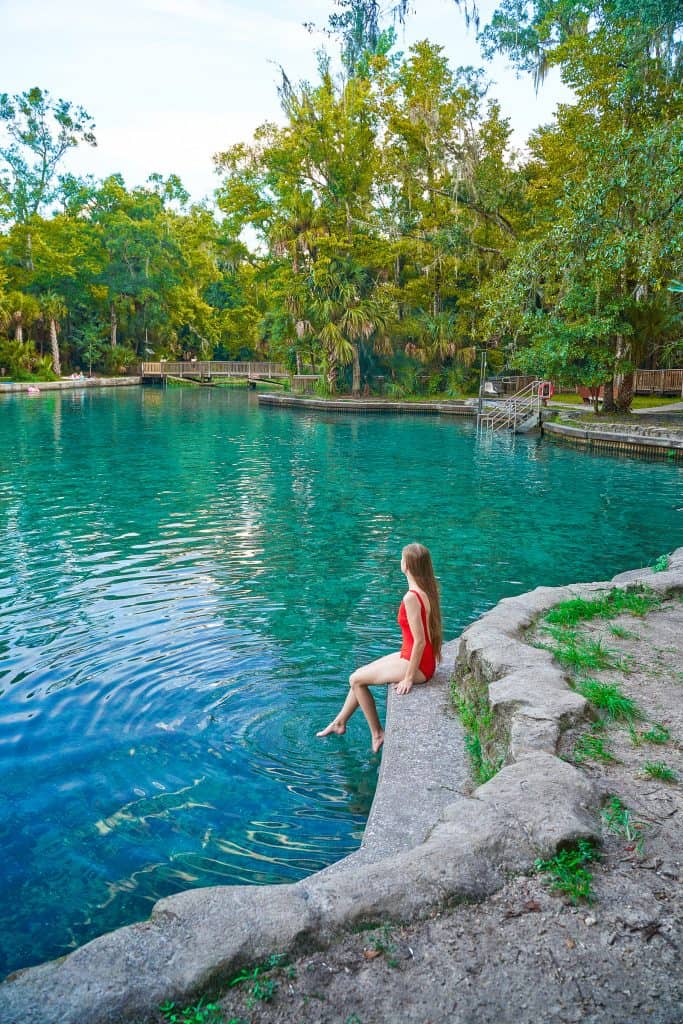 Ginnie Springs
Just 48 minutes west of Gainesville, you'll find Ginnie Springs near a town called High Springs. Perhaps the most famous of Florida's natural springs, Ginnie Springs has some of the prettiest waters in the entire state.
One of the best Florida springs with camping, Ginnie Springs offers primitive camping on a first come, first served basis. No reservation is required. Don't come here with the RV, there are no hookups!
If tent camping in the Florida heat sounds too hot already, you can easily dip into the waters of the springs to cool off. The water is always 72 degrees Fahrenheit, which to most Floridians, is cold!
You'll love going for a swim or paddle boarding through the ice-blue waters. Because Ginnie Springs is near college towns, weekends can get crowded. Weekday visits are the best way to ensure a chill camping experience.
Camp pricing runs per person, per night. Adults pay $22.43 on Sunday through Wednesday and $27.90 on Thursday through Saturday. Children ages 6-12 pay $6.54 and children 5 and under camp free.
Before you go, check out our complete guide to enjoying Ginnie Springs!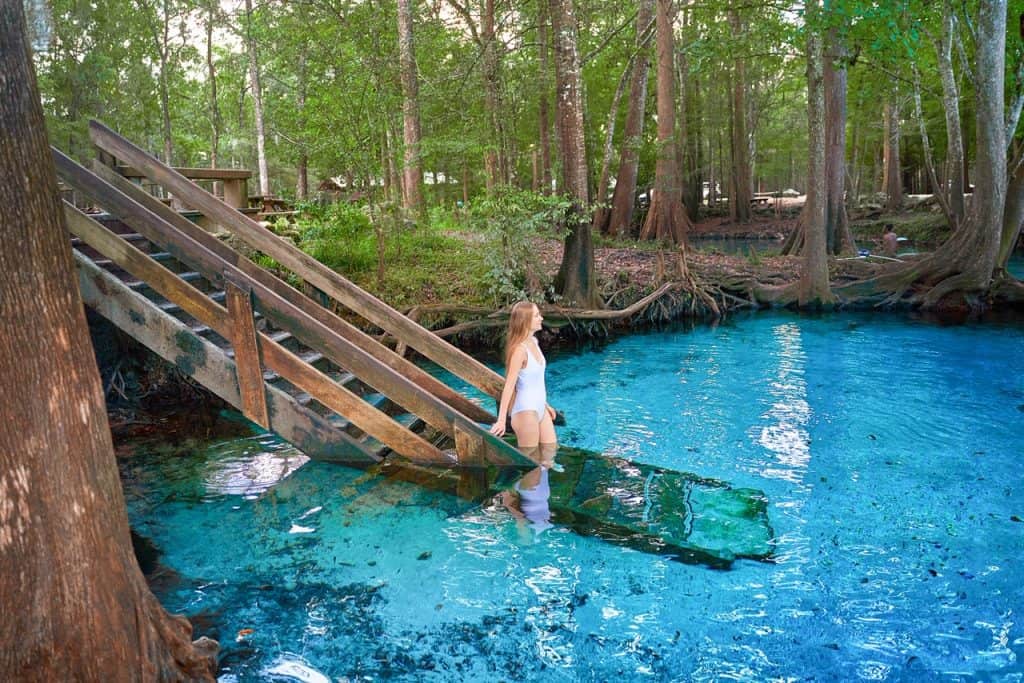 Juniper Springs
In Ocala, one of the best ways to enjoy nature and unplug is to spend some time at the Ocala National Forest. The most popular of the campsites in the park is the Juniper Springs Recreation Area!
The campsites are arranged into three loops near the creek and springs. All sites are shaded and equipped with picnic tables, a grill, campfire ring, lantern post, and space for tents. No sites have full hookups, though.
Campground amenities include hot showers, flush toilets, and a dump station. Nearby you can walk to a small convenience store. Here you can purchase camping supplies, beach supplies, food, drinks, and ice cream.
When you're not relaxing at the campfire, you'll love swimming in a warm natural pool! Canoe down the 7-mile Juniper Run to see stunning views of the Juniper Prairie Wilderness.
Ocala National Forest also has some of the best hiking trails in Florida! You can spend the entire day on the park's section of the Florida Trail. Look out for turtles, deer, black bears, and turkey. This is also one of the best places to see wild alligators in Florida.
Make sure to book your reservations in advance, as they are required and can be sparse! Fees run $21 per campsite per night.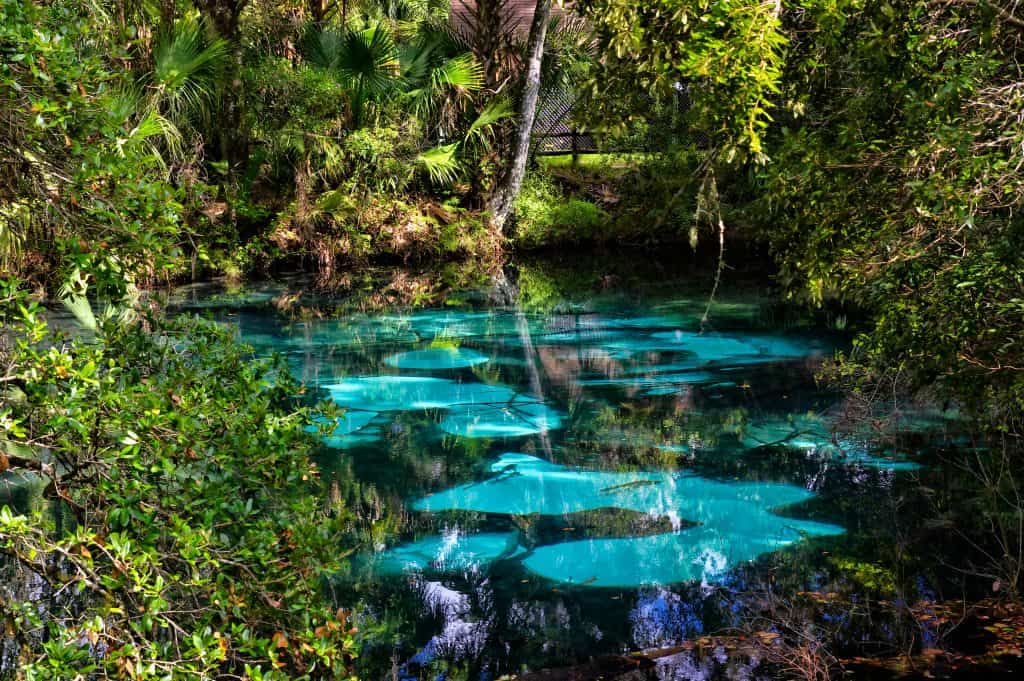 Gilchrist Blue Springs
Florida's newest state park, Gilchrist Blue pours out 44 million gallons of fresh water out of its second magnitude spring before flowing out in a shallow spring close to the Santa Fe River.
One of the best springs near Tampa, and only 2 hours and 25 minutes away, you can swim in the clear waters along with a wide variety of native fish, turtles, and invertebrates that call this set of natural springs in Florida home.
Gilchrist Blue Springs State Park has 25 campsites, 17 sites for RV or tent, and 8 sites just for tents! Reservations can be made up to 11 months in advance.
The max length for RVs or travel trailers is 40 feet and dogs and cats are allowed to visit and camp with you, they just cannot swim in the springs or be in the spring area.
It is recommended that visitors arrive early in the morning, as capacity is limited, and you will be turned away! Once you're set up, you can enjoy snorkeling, swimming, and paddling at the main springhead and on the spring run.
Camping in Florida State Parks costs $24/night plus a $6.70 reservation fee which includes water and electric.
Before you go, check out our complete guide to enjoying Gilchrist Blue Springs!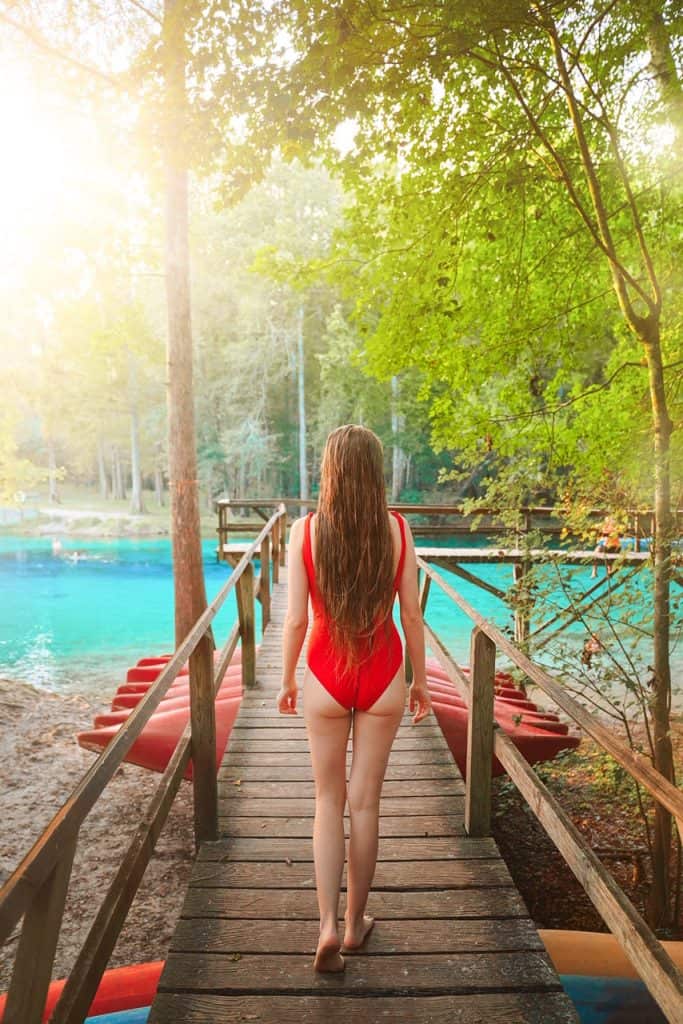 Rainbow Springs
At Rainbow Springs State Park, you'll find Florida's fourth-largest freshwater spring. One of the most beautiful natural springs in Florida, Rainbow Springs forms the headwaters of the Rainbow River. Here you'll find one of the Florida springs with camping!
Aside from the headsprings and tubing entrance, the campgrounds offer 60 sites! All campsites have full hookups with 20/30/50 amps electric. You can also find certain sites that are ADA accessible.
Among the campsite amenities, you'll find a recreation hall, showers, and restrooms, laundry, dump station, and playground. Campers automatically have free access to the headsprings and tubing area!
When you're not roasting marshmallows around the campfire, Rainbow Springs is one of the best places to beat the Florida heat. Swim in the fresh water of the spring or rent a canoe or kayak. You can even rent tubes to float down the Rainbow River.
If you want to tube, make sure to visit during April through September. Rainbow Springs also hosts the Florida Manatee Festival, one of the best festivals in Florida dedicated to the beautiful wild manatees! Also check out Jazz Up Dunnellon, a music festival in October.
Camping at Rainbow Springs State Park costs $30 per day, no matter the time of year. Reservations fill up fast during the tubing months, so book your site well in advance.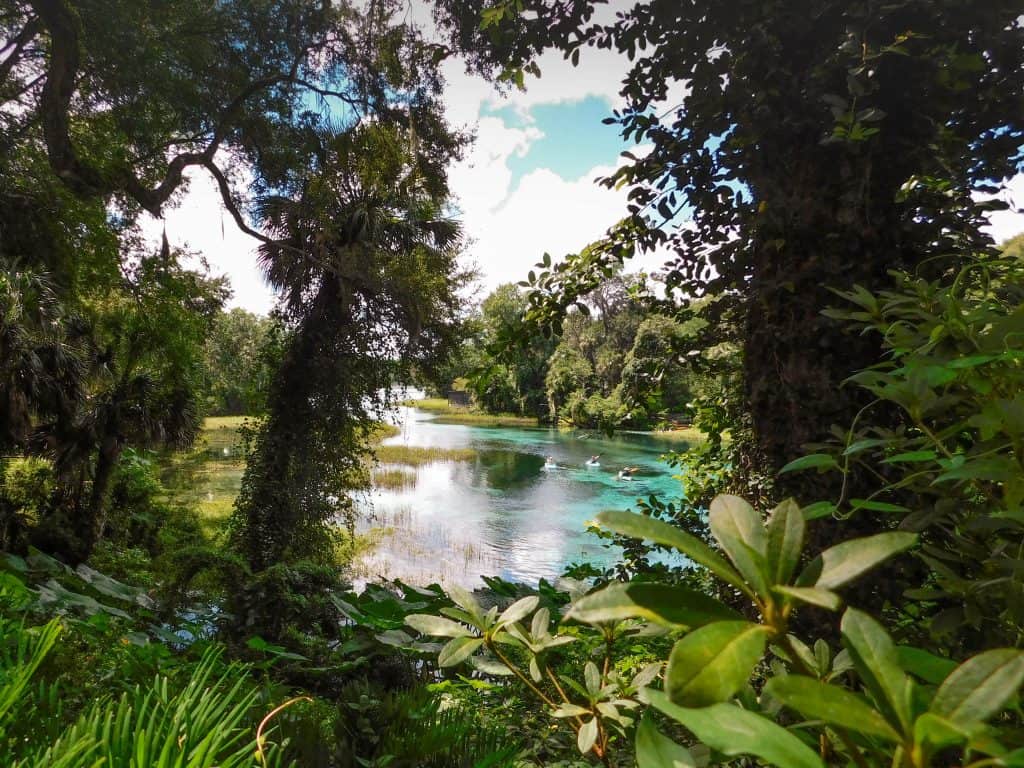 Devil's Den
For a prehistoric adventure, consider camping at Devil's Den. While not a state park, Devil's Den is actually a privately owned underground spring inside a dry cave! For one of the most unique campgrounds in Florida, Devil's Den can't be beat.
With one of the best RV parks in Florida, you'll find 32 camping sites. Most offer 30/50 amp hook=ups, water, and sewer. Back-in rentals start at $35 per night, $190 per week, and $400 per month.
Along the tent campgrounds, gaze at the night sky under the stars. Select sites have electric/water hookups. There are porta potties on site in addition to two bathroom/shower facilities. Tent sites are first come, first serve and cost $12 per night, per person.
If you don't feel like roughing it, you can also rent one of the four of the cutest cabins in Florida! All are identical in size and layout while sleeping four people each.
After you set up, head over to the spring to go snorkeling and scuba diving. Walk down a wooden staircase and descend up to 54 feet deep in the springs. You can also enjoy a heated swimming pool, charcoal grills, and pavilions with lawn games for the whole family to enjoy.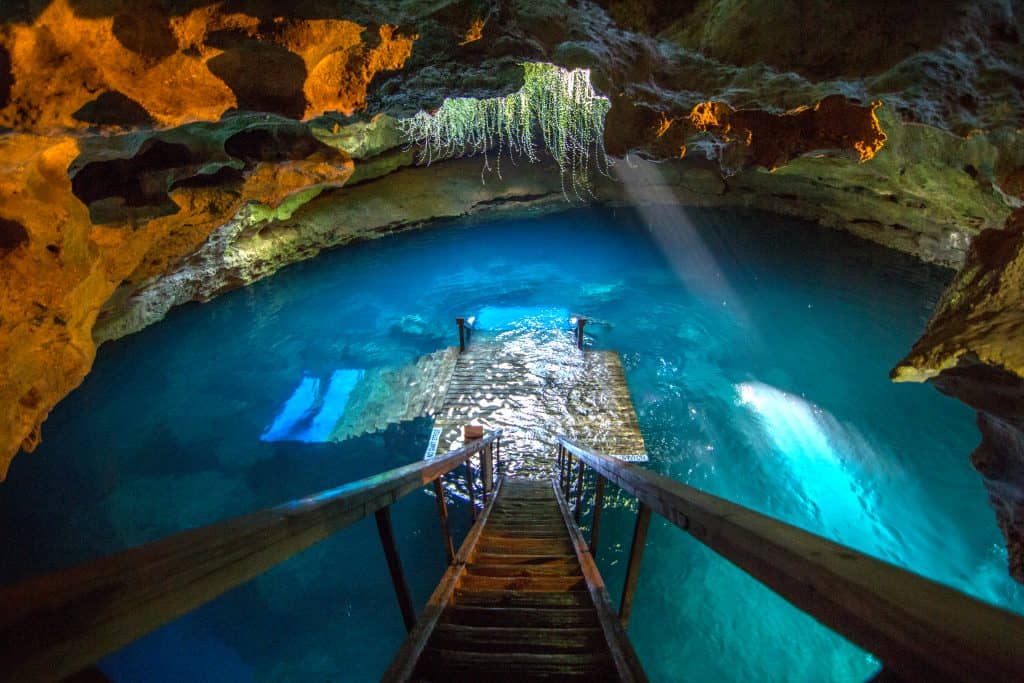 Silver Springs
One and a half miles away from Orlando and also located in Ocala National Forest, this spring is famous for its glass-bottomed boats.
Silver Springs really is as beautiful as it sounds. The aquamarine waters are surrounded by pine, oak, and cedar trees. Located in the 4,000-acre Silver Springs State Park, there is so much more to do than just marvel at the clear blue water.
Silver Springs State Park captures the charm of historic Florida on its 62 campsites. Of those, 53 support both RVs and tent camping, and sites are actually cabins!
Silver Springs is one of the largest and most visited Florida springs and has been since the 1870s. It's also one of the most famous springs, having been featured in Rebel Without a Cause starring James Dean!
Currently, swimming is not allowed in the spring but is expected to be returning in 2022. However, you can still enjoy the springs for canoeing, kayaking and paddleboarding, snorkeling, and of course the green and white glass-bottomed boats.
Campsites at Silver Springs State Park can be reserved up to 11 months in advance. RV/tent sites cost $24 a night, and cabins cost $110 per night. A $6.70 reservation fee must be paid upon making reservations.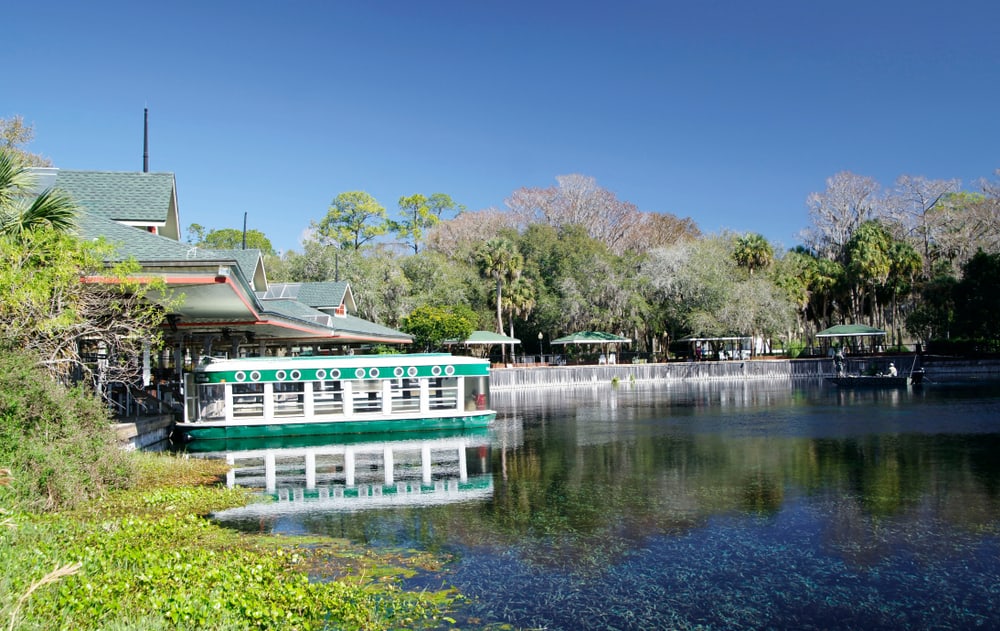 Fanning Springs
To the west of Gainesville, Fanning Springs lies on the historic Suwannee River. Under ancient oaks, you can enjoy all the beauty of Florida springs with camping, all in one!
Fanning Springs is perfect for those that want something in between wilderness camping and glamping in Florida. Here you'll find five cabins deep in the heart of Old Florida.
If you want something less luxurious, you can find one primitive group camping site. It accommodates eight people with access available by foot, bicycle, or paddling on the Suwannee River Wilderness Trail.
The nearest restroom is only 600 feet away with a water faucet only 300 feet away. While there is no electricity at the site, there is a campfire circle as well as an outside, open, cold-water shower.
Producing 65 million gallons of water daily, the headwaters of Fanning Springs are only one of the gems found in this pocket of Florida. You'll also be able to spy on manatees, musk turtles, and flounder in the crisp waters.
Reservations are not required of campers but encouraged. Cabins run $100 a night with a $6.70 reservation fee.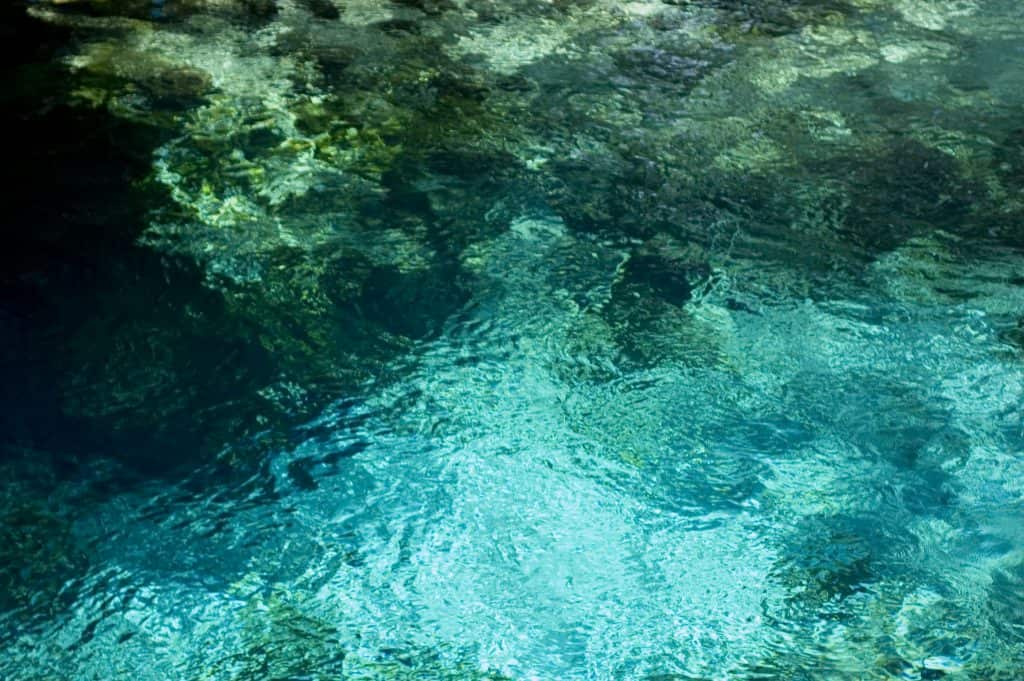 Alexander Springs
This first magnitude spring is considered by many to be one of the easiest and most accessible for visitors to explore and enjoy, especially for younger and older explorers. If you want to enjoy this year-round, you're in luck, Alexander Springs is one of the best Florida springs with camping.
A gradient slow, slope eases swimmers and divers into the cooling, crystalline waters. A smooth, limestone floor releases tiny bubbles up around snorkelers.
The campgrounds at Alexander Springs hosts 67 campsites that can accommodate tents and RVs! Some campsites are on a first-come, first-serve basis. Others are available by reservation.
Campers may not stay longer than 14 consecutive days in a 30 day period. While there are no electrical, water, or sewer hookups, hot showers and a dump station are provided. A concessionaire sells snacks, groceries, ice, charcoal, firewood, beach items, and personal items.
Popular with families, activities include but are not limited to biking, horseback riding, fishing, kayaking, and canoeing. There's something for everyone to do!
Tent camping and RV camping both run around $24 per night. Hours of operation run 8 AM – 8 PM, so if you're arriving before or after, you will have to call in advance to receive a gate code!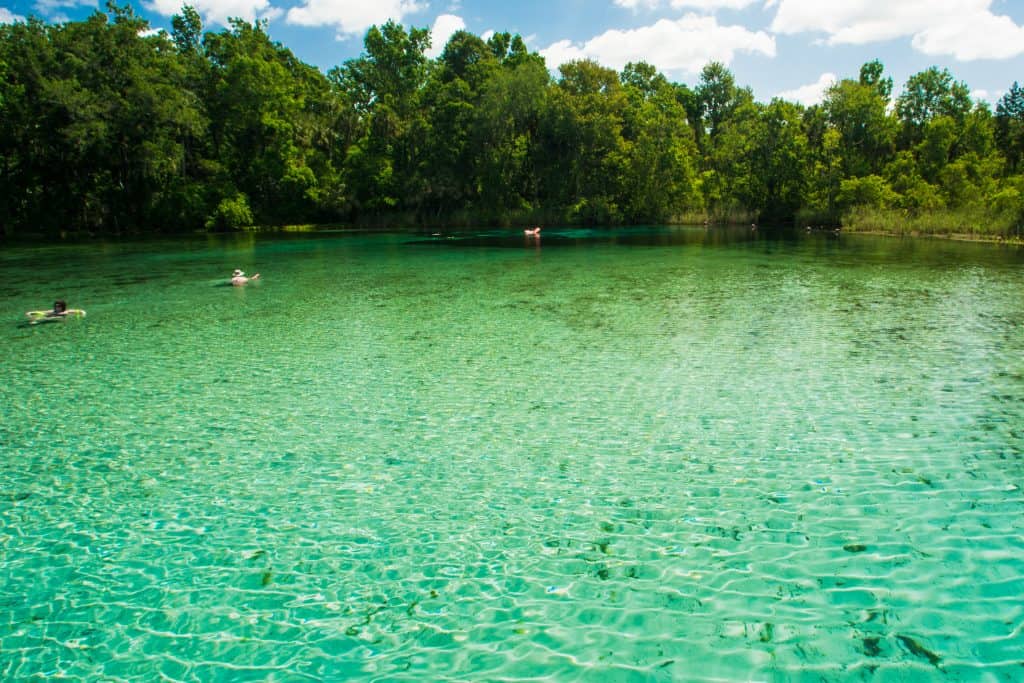 Otter Springs
At Otter Springs, you'll find over 636 acres of natural Florida. Just west of Gainesville and north of Ocala, you can find one of the prettiest Florida springs with camping.
At the centerpiece of the grounds is of course the second magnitude natural spring. You can also enjoy indoor comfort as well in an enclosed pool Pavillion with water a little warmer than the 73-degree spring!
Because Otter Springs is the perfect gateway to explore Florida's nature coast, there are many lodging options! You can choose between primitive tents, RV sites, cabins, and even a stilt house!
Primitive tent camping runs $24.22 per tent, which covers four people. There will be an additional $5 fee added per person, per night with a minimum six people on a site. Only water is included.
Electric sites for RVs and tents can be reserved for $32 per night or $650 per month. RV sites are to hold no more than eight people, and campsites are to hold no more than four.
Cabins sleep four people, with a three night minimum reservation on holidays. The Otter Springs Stilt House runs $140 per night or $715 per week, but offers glamping amenities like AC, a kitchen, dinette, and full bathroom!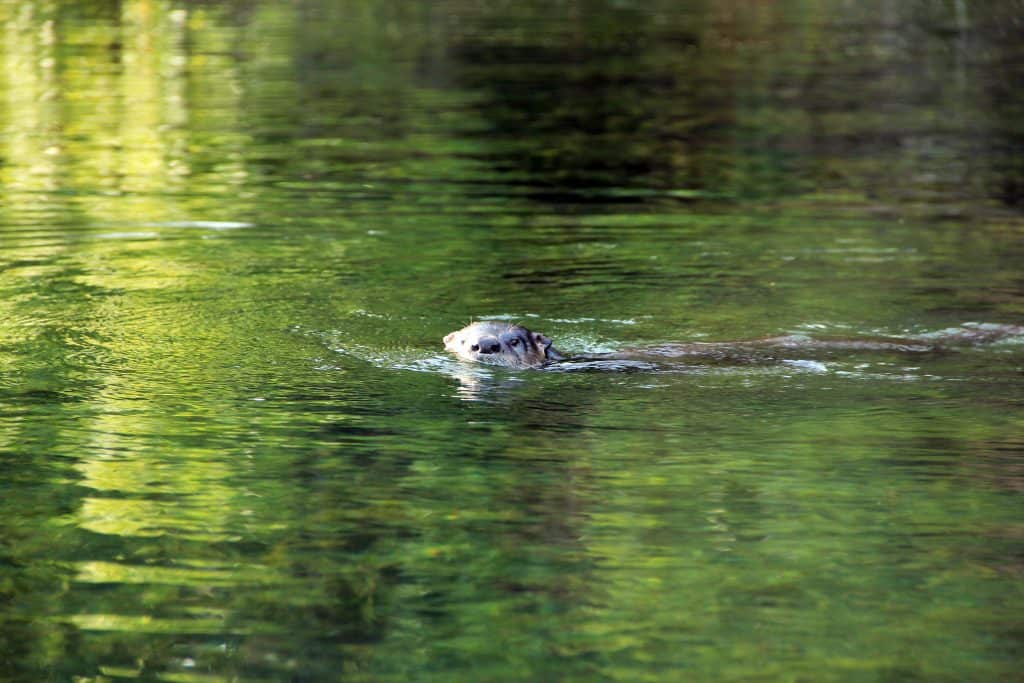 Salt Springs
Just outside of Orlando, Salt Springs is another jewel of the Ocala National Forest. Within the recreation area of Salt Springs, a natural spring rises from the cracks within the earth. The presence of potassium, magnesium, and sodium salts gives this spring its name.
Freshwater and saltwater fish, bass, turtles, and blue crabs as well as manatees call this spring home. You'll find plenty to do including swimming in the springs, fishing, snorkeling, hiking, and boating.
Hikers traversing the Spring Boils trail will be able to spy many smaller springs bubbling up and feeding into the streams that empty into Lake George.
Salt Springs has the largest campground in the Ocala National Forest and the only one with full hook-ups for RVs. All the campsites are paved and level!
Admission is $6.50 per person and $34.00 for an overnight RV hook-up. This is one of the springs in Orlando that really is a full day packed with activities!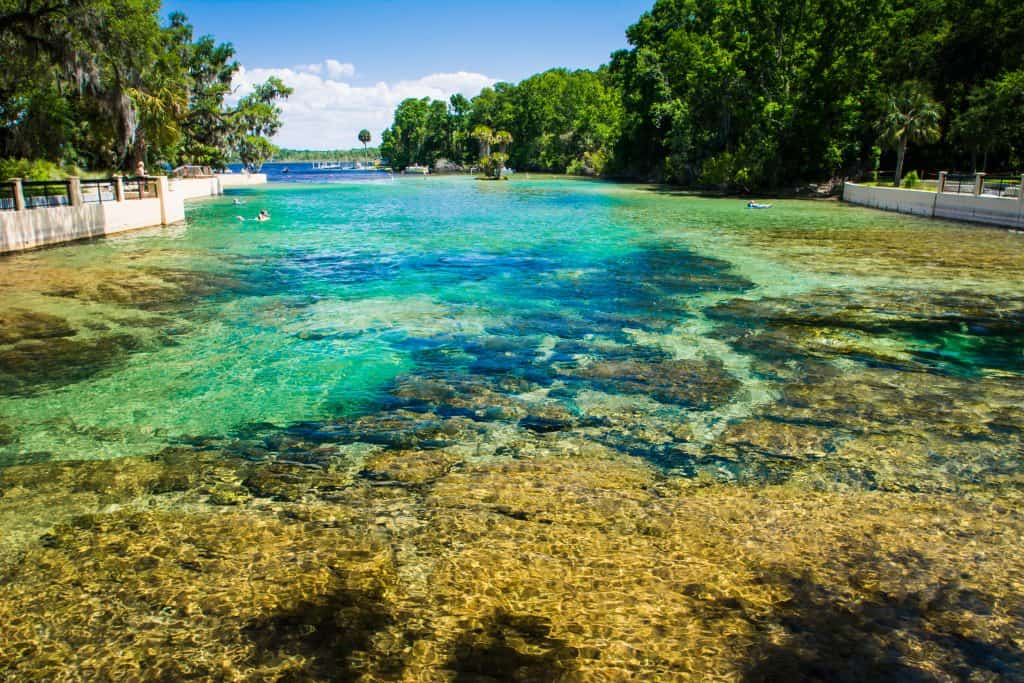 Ichetucknee Springs
North of Gainesville, eight major crystalline springs unite to form the Ichetucknee River, one of the best springs near Tampa. With plenty of room on the beautiful grounds, Ichetucknee Springs is one of the best Florida springs with camping!
If you want a relaxing day, you can canoe, kayak, or go tubing in the upper region of the area of the state park, where the pristine waters will gently carry you down the Ichetucknee River. Scuba divers and snorkelers can find a bit more adventure through the waterways.
Hikers can choose one of three hiking trails, with entrances at the north of the river: the tame Blue Hole trail that leads to the Blue Hole Spring, the largest in the park, or the intermediate Tressle Point trail, a self-guiding trail that looks on areas where in the past phosphate ore was mined.
Nestled away in the woods, you'll find the serene, privately owned campgrounds. Don't worry, it's only a half mile from Ichetucknee Springs. Each campsite is unique, having been carved out of woods.
Each campsite is secluded, with 20 and 30 amp hookups for RVs. Along with a fire ring and picnic table, each site has access to a camp store, clean bathrooms, and showers.
In a game room, you'll find a beautiful fireplace, pool tables, air hockey, a jukebox, and several other games for the kids!
Primitive camping costs $20 per night, per site. RV camping costs $35-40 depending on amp hookup. A minimum two night stay is required for all weekend camping. Reservations must be made in advance.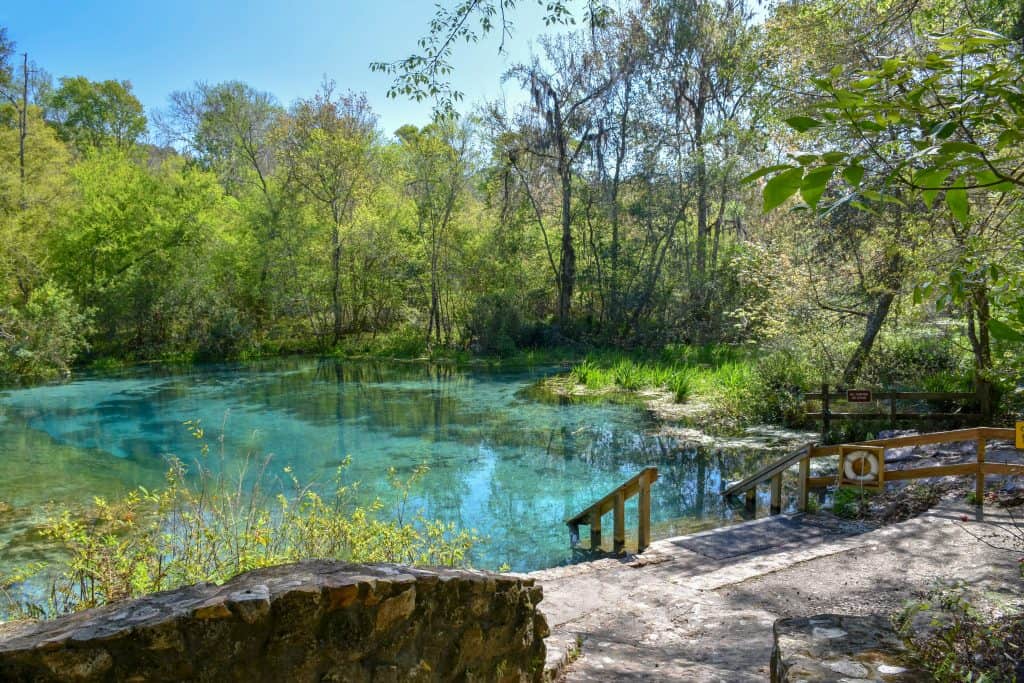 Wakulla Springs
14 miles south of Tallahassee, Wakulla Springs is the world's largest and deepest freshwater spring. The waters are surrounded by a lush and ancient cypress swamp. This is one of the best Florida springs with camping!
In the age of Old Hollywood, Wakulla Springs was used as a backdrop in films like "Creature From The Black Lagoon" and "Tarzan's Secret Treasure." Today, the grounds and habitat have been restored into what has become a popular manatee breeding ground.
The springs are so nice, some manatees in Florida have chosen to make Wakulla Springs their permanent home. You can take a swim with these manatees, but you cannot touch them!
While the waters are perfect for swimming, snorkeling, and kayaking, be warned. Because Florida's natural springs come from the aquifer below, the waters are always 70 degrees Fahrenheit. So it might be a bit chilly for you!
Deep within Wakulla Springs stands The Lodge, a full-service 27 room hotel! Book a room, see some manatees, and make your trip a weekend getaway!
Inside the Lodge, Tennessee marble runs throughout on floors, baseboards, thresholds, counters, stairwells, on desktops and tabletops in the gift shop, lobby, and veranda. The marble is fitted so meticulously no grout can be seen.
Edward Ball, the springs' namesake, wanted to preserve the area, creating a serene and peaceful retreat. The Lodge remains the crown jewel of precise craftsmanship. When you step into the Lodge, you gain a timeless glimpse into Florida's pristine and elegant past.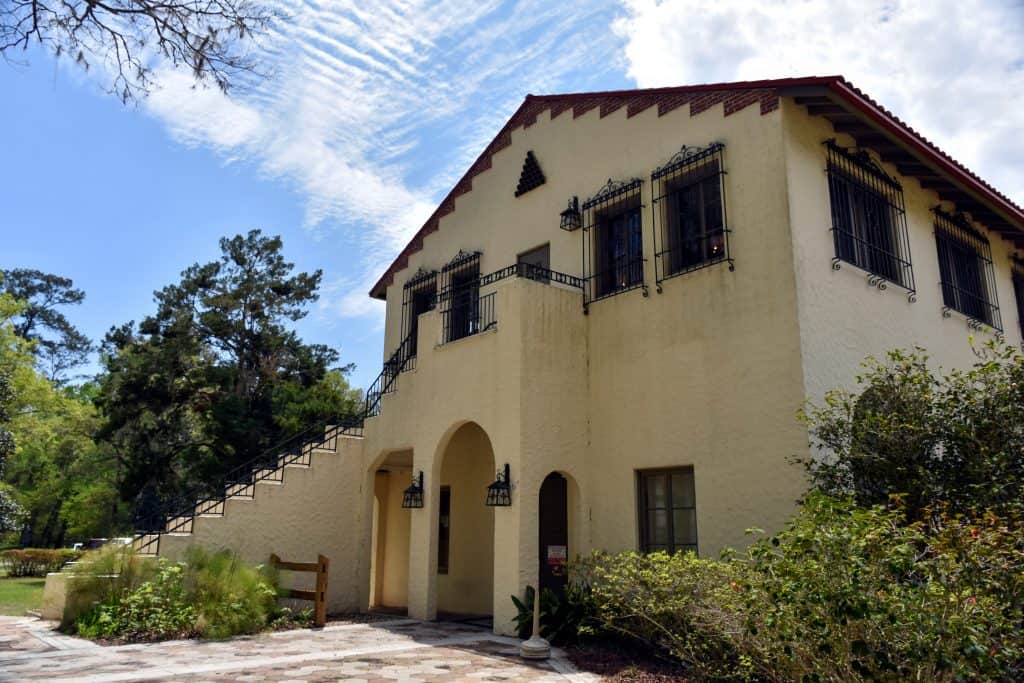 Did You Find This Post Helpful?
If so, we would love to keep in touch! We enjoy seeing photos and comments about your experiences in Florida! You can follow us on Instagram and we will repost your photos on our feed and comment too! Just tag us at @floridatrippers and hashtag #floridatrippers. We can't wait to see your travels!