If you're looking for the best restaurants in Dunedin, Florida then look no further! There's something for everyone in the family, especially those pesky picky eaters!
Like most of the small towns around Tampa, Dunedin packs a punch. It has the best of both worlds: a small-town atmosphere with a casual vibe, yet close enough to the city to enjoy the museums, nightlife, and culture.
Known for its beaches, pine forests, and the vistas of Honeymoon Island, Dunedin still tends to be an overlooked town in the grand scheme of all things Florida. Drawing locals in with its Scottish festivals and quaint downtown, Dunedin's quirk is part of its charm.
If you've not a local, you might not know that dining in Dunedin affords a smorgasbord of excellent culinary offerings. You can find everything from Irish pubs and sushi joints to steakhouses and authentic pizzerias.
In fact, every year when the local best of the best are announced, several restaurants in Dunedin always make the cut. Creative Loafing awarded Dunedin Brewery for "Best Bar Food," and named Casa Tina the "Best Dunedin Restaurant" and "Best Mexican Restuarant" in 2018 alone.
Meanwhile, the Tampa Bay Times declared The Black Pearl in the "Top 3 Best Places to Propose," and The Restorative in the "Top 5 Most Romantic Restaurants." If you haven't figured it out, dining in Dunedin is a big deal.
So the next time you're sick of your usual haunts in Clearwater and Tampa, or if you're a visitor looking for a good meal? Head downtown and check out the best restaurants in Dunedin!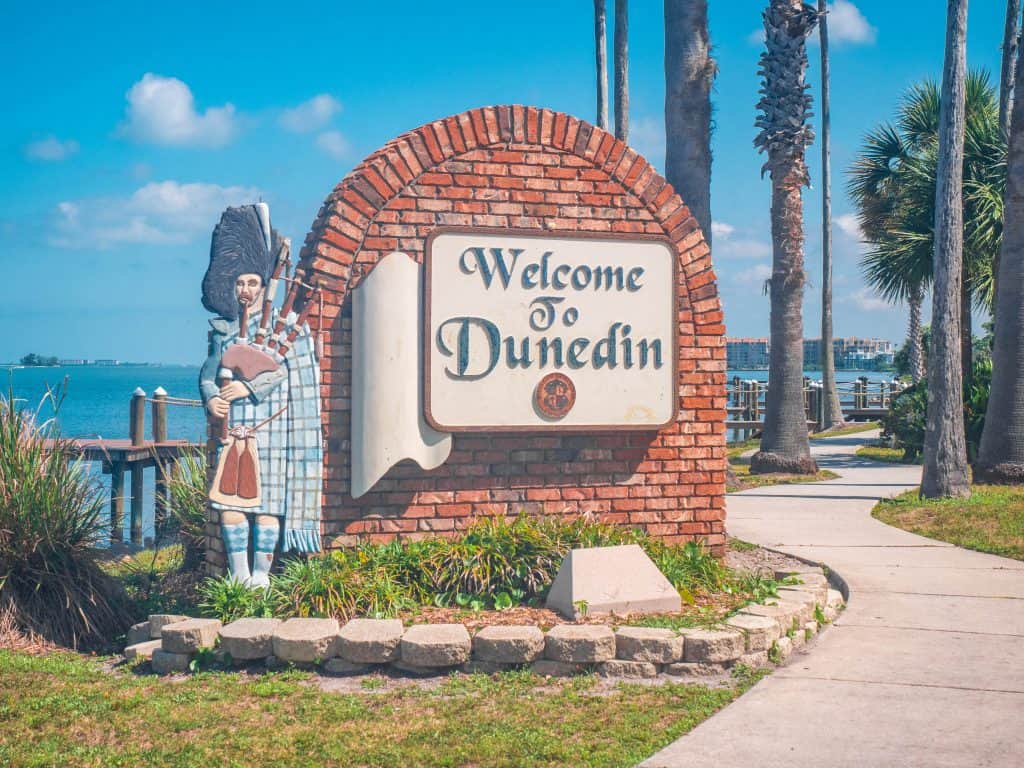 15 Best Restaurants In Dunedin You Must Try
Pisces
If you're looking for the best global food in Dunedin, look no further than Pisces. Here you'll enjoy at fabulous mix of modern, casual fine dining featuring cuisines from all over the world!
Chef James Keene is especially "keen" on putting a global spin on his creative sushi rolls. He starts with familiar ingredients and infuses them with flavors from around the world to give sushi an exotic spin.
The Aztec Roll uses black bean and corn salsa, chimichurri, and plantain chips to mix up its base of shrimp, salmon, cream cheese, and avocado. Greece shines in the Aphrodite Roll which uess Tzatziki sauce, feta, and sun-dried tomatoes.
If you're not a fan of sushi, there are other options, of course! Try Tapas style appetizers like Tuna Guacamole, White Truffle Edamame, or Chimichurri Marinated Angus Filet Skewers. Then move on to Stir Fry, Bahn Mi Sandwiches, or a Wasabi Cesar Salad!
Make sure to save some room for dessert to get a taste of Italy with "Straight Up" Tiramisu. Continue your trip around the world with the Creme Brulee Flight, featuring exotic fruits. Don't forget the Mochi Ice Cream!
Find Pisces on 799 Highland Avenue. Their hours are Tuesday through Thursday 4 – 9 PM and Friday and Saturday from 12 – 10 PM. Catch Happy Hour every day from 4 – 6 PM.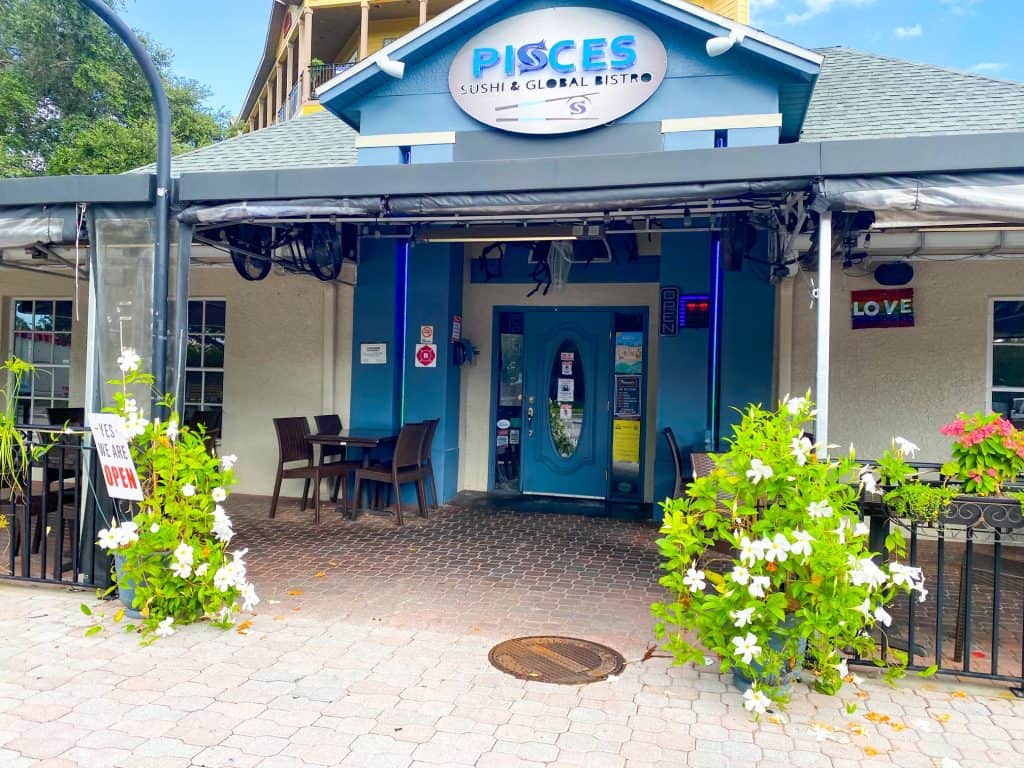 Bon Appetit
If you're looking for elegance, seafood, and waterfront views, then say "Bon Appetit!" Coincidentally, that's also the name of one of the best establishments for fine dining in Dunedin.
Voted "Tampa Bay's Best Waterfront Restaurant," Bon Appetit features stunning waterfront views of St. Joseph Sound, Honeymoon Island, and Caladesi Island. While taking in the view, you'll savor an eclectic blend of classical European and American Cuisines.
Start with classic small plates like Pan-seared Salmon Cakes, Shrimp Cocktail, or Mediterranean Octopus. If you're feeling Parisian, try the snails baked in a savory garlic-herb and curry butter.
Amon Bon Appetit's award-winning favorite entrees are the Grilled Baguette, the open-faced Maine Lobster Roll, and the Black Angus Sirloin Burger. Experience the depth of flavor of the Gulf Coast in the Bouillabaisse with shrimp, mussels, scallops, and Florida Grouper.
If you want to truly experience the fabulous views of St. Joseph Sound, simply ask to dine at the Waterfront Bar. You'll get the best of both worlds and select from the same menu as indoor diners. You'll love taking in the sunlight… or the moonlight.
Because the interior of Bon Appetit is so fabulously appointed, many locals rent it out for special events. With private dining rooms, Bon Appetit is perfect for your company's next meeting, or even your wedding.
Find Bon Appetit on 148 Marina Plaza. They are open seven days a week from 12 – 9 PM.
Dunedin Smokehouse
In the heart of Downtown, you'll find one of the best restaurants in Dunedin serving up barbecue. But this isn't your grandmother's barbecue joint. Taking immense pride in their food and regulars, Dunedin Smokehouse is the best barbecue dinner in Dunedin.
The unique menu features dishes and sides inspired by, but not limited to, the classic barbecue menu. All of Dunedin Smokehouse's ingredients are fresh and locally sourced when available.
Pull up a chair and listen to local bands, play trivia, and cheer for your favorite sports teams on one of 11 TVs. Don't leave your dog at home! You can enjoy a cold one from a rotating craft beer list on the front patio with your pup by your side!
Indulge in slow-smoked St. Louis Ribs that effortlessly fall off the bone. You can't go wrong with Pulled-Pork Sandwiches, Brisket Chili Nachos, or Smokehouse Jumbo Wings in your sauce of choice.
You can also build your own combo! Simply choose 2-4 different meats and load up on sides. It's hard to pick between Garlic Mashed Potatoes, Smoked Gouda Mac and Cheese, Granny Smith Cole Slaw, Sweet Potato Cornbread, or Garlicky Green Beans with Bacon!
Don't fill up too much because the desserts are huge and very indulgent. Try the ButterFinger Brownie or Rick's Pecan Pie. Be sure to ask for the Cheesecake flavor of the day!
You can find the Dunedin Smokehouse on 471 Main Street, open on Sunday through Thursday from 11 AM – 9 PM and Friday and Saturday from 11 AM – 10 PM.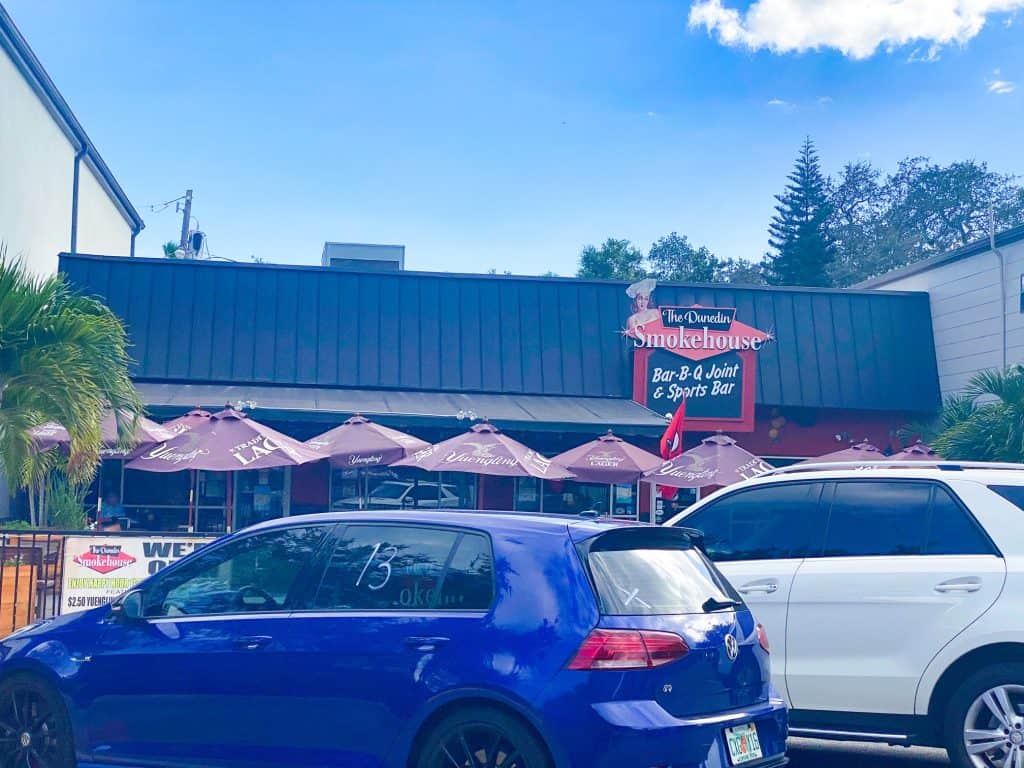 Lucky Lobster
If you're looking for one of the best seafood restaurants in Dunedin, then head over to the Lucky Lobster Company. Featuring the best fresh seafood caught right in Dunedin, the only way your meal could be fresher is if it was still alive.
In 1957, the Morans opened their flagship restaurant in New York City after emigrating from Ireland. 58 years later, as they honed their skills in New England cuisine, a fisherman near their old home caught a sapphire colored lobster dubbed "The Lucky Lobster."
Seeing this as a sign, the Morans moved to Dunedin, Florida to extend their business. In 2016, Dunedin's Lucky Lobster Company was born.
When you go tot have dinner at the Lucky Lobster, you build your appetite with starters like Baked Clams, Proscuitto-wrapped Scallops, or Jumbo Lump Crab Cakes. Of course you can't forget the New England Clam Chowder and Lobster Bisque.
For the main entree, you'll have a hard time choosing between shrimp, lobster, or grouper in your tacos. Should you get a Crab Cake Burger or the Lobster and Shrimp Quesadilla? It's hard to decide!
You can also take advantage of classics like the Lucky Lobster Roll at lunchtime. Don't forget brunch, too, with the Lobster Benedict which switches out ham for lobster. Yum!
Find the Lucky Lobster Company at 941 Huntley Avenue. Dine in on Sunday through Tuesday from 11 AM – 9 PM, Wednesday and Thursday from 11 AM – 10 PM, and Friday and Saturday from 11 AM – 10:45 PM.
Flanigan's Irish Pub
There's nothing quite like an Irish Pub. The casual and friendly atmosphere, the hearty food and drink, and the occasional Irish drinking song trickling through the speakers. At Flanigan's Irish Pub, you can expect all of the above at one of the best restaurants in Dunedin.
In the heart of downtown on Main Street, you'll find an authentic hangout at Flanigan's Irish Pub. Your first clue it's truly authentic? The pub is named for its founding family who opened the establishment in 1992.
Every Irish pub is all about flowing drinks, and Flanigan's is no exception. In addition to knowing the correct way to pour a Guinness, take advantage of Flanigan's drink specials. Ask a server for the Jello shot flavor of the day or try a shot of Sexton Irish Whiskey.
Make sure to grab the Fish and Chips, served with malt vinegar. They're so good that Flanigan's won "Best Fish and Chips" from Creative Loafing. That's how you know they're a big deal!
You can't go wrong either with classic staples like Corned Beef and Cabbage, Shepherd's Pie, and Bangers and Mash. Make sure to save room for the Flourless Chocolate Cake, made with Guinness. Try it a la mode!
Find Flanigan's Irish Pub on 465 Main Street, open on Sunday through Thursday from 11 AM – 2 AM and Friday and Saturday from 11 AM – 3 AM.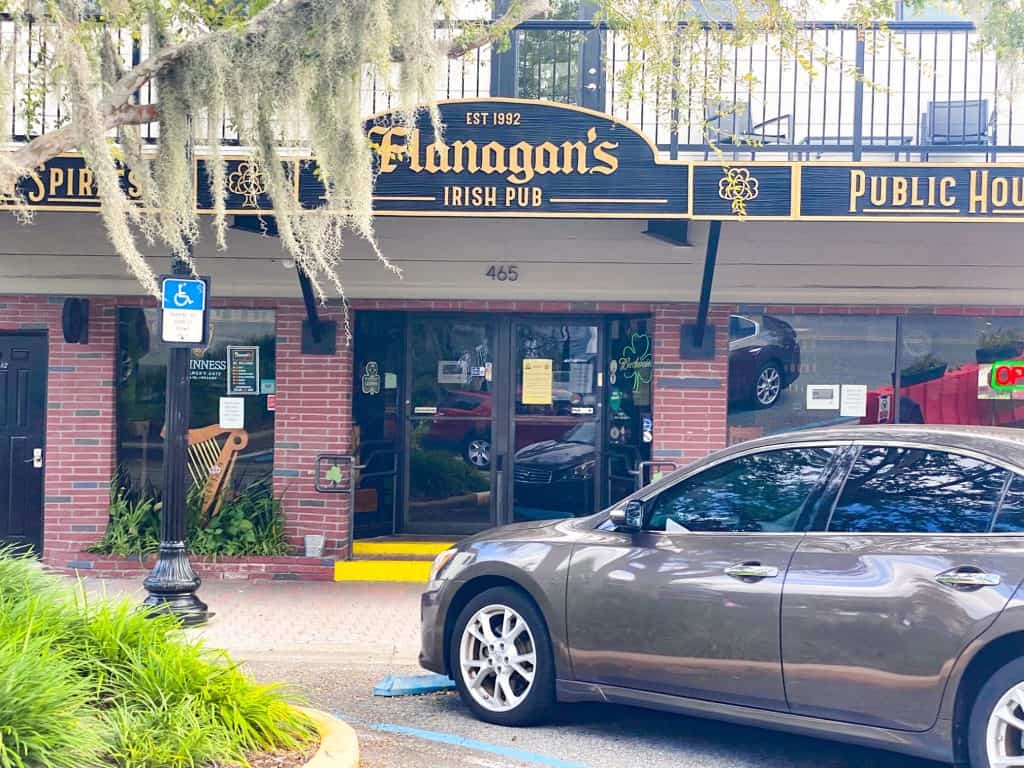 Thai Town
You know those elusive hole-in-the-wall hidden gems that you always pass by? But then you finally go inside and wonder why you hadn't before? We've done the heavy lifting for you this time.
Thai Town serves up authentic Thai food of the best quality. One of the best restaurants in Dunedin, you can expect large portions and friendly service anytime you walk in.
With cozy decor and beautiful ambiance, it's easy to miss Thai Town. It's hidden between a thrift store and a laundromat in a strip-mall, so keep your eyes peeled. Remember, never judge a book by its cover.
Start with the always-delicious Veggie Spring Rolls dipped in Sweet and Sour Sauce. You can't go wrong with the Steamed Dumplings with shrimp and pork. And is it even a Thai restaurant without Snow Crab Rangoon?
When it comes to entrees, you can choose from a variety of flavors and head indexes. Pick a protein and then a heat level for some delicious Pad Thai or Curry!
No Thai restaurant would be complete without Thai Tea. Of course Thai Town serves it, sweet tea topped with cream. If hot tea is more your speed, you can't go wrong with jasmine or green tea.
Find Thai Town on 1342 Main Street, open Monday through Saturday from 11 AM – 3 PM for lunch and 4:30 – 9:30 PM for dinner. Enjoy Sunday dinner from 12 – 9:30 PM.
Pan Y Vino
The next time you want to order pizza, don't go with a huge national chain! What if we told you that you could support a local business without having to sacrifice quality of ingredients or flavor?
At Pan Y Vino, you're getting the best of both worlds: a brick oven pizzeria and a wine bar all in one. Locals and loyal patrons swear up and down by Pan Y Vino's fresh ingredients, crispy thin crust, and wonderful wine selection.
With a casual, yet sophisticated atmosphere, you'll enjoy light salads and hearty, rich soups before the main event. Whet your appetite with Baked Goat Cheese or a charcuterie spread!
As you brows the menu, you'll see pizzas popping in the brick oven behind you. The sounds of the fire crackling will only make you drool! With so many unique flavor profiles and even gluten-free options, its difficult making a decision.
You can always play it safe with the classic Margherita, or you could try the Chorizo & Cheddar with Chorizo sausage, mozzarella, sharp cheddar, and marinara.
Really looking for something out of the box? Try Amancheez' Favorite with fig spread, goat cheese, spinach, mozzarella, and basil!
Find Pan Y Vino at 369 Main Street, open on Sunday and Tuesday through Thursday from 5 – 9 PM, and Friday and Saturday from 5 – 10 PM.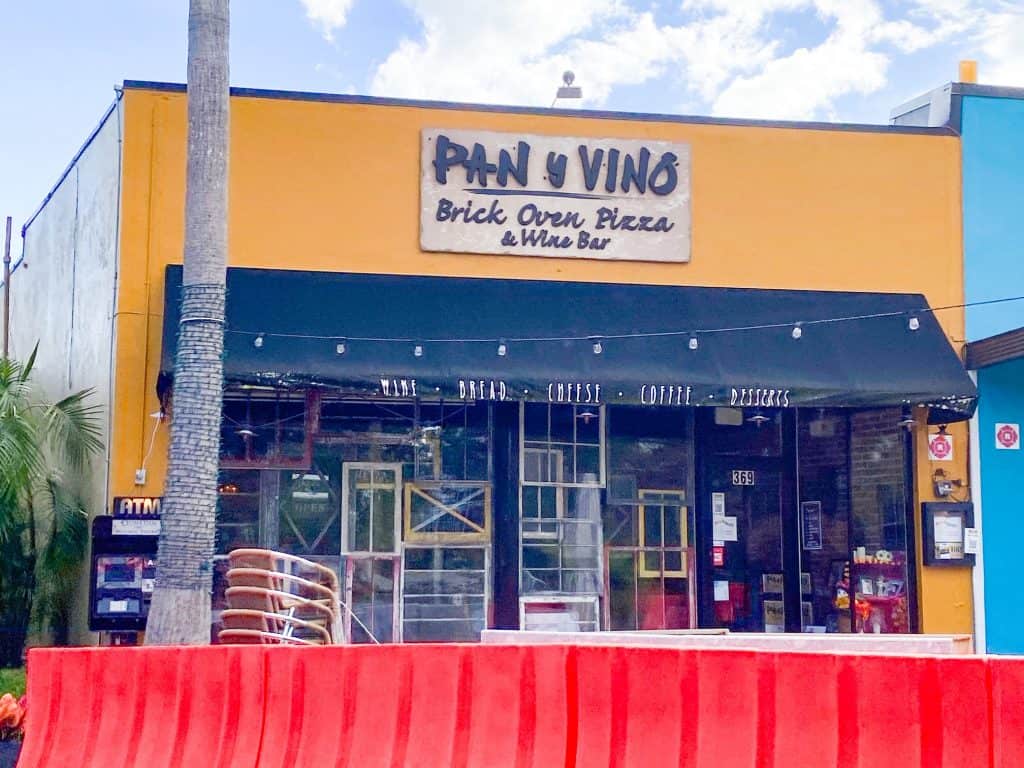 Reboot
Picture this: you're in a rut. You're tired of all your regular restaurants, and frankly, you're running out of ideas for a fun, romantic date night. Sound familiar?
What if we told you that one of the best downtown restaurants in Dunedin is a combination small plates establishment-slash-video game bar? Don't be afraid to nerd out and let your freak flag shine, you need to head on down to Reboot.
If you're looking for have a fun dinner out and not break the bank by buying a new PlayStation 5, Reboot is the perfect solution. Sit at the bar, order a drink, some food, and play video games of your choice on the TV screens above.
Choose from a variety of consoles: Nintendo Switch, PlayStation, XBox, and even vintage consoles. Don't forget the classic, bulky arcade games like Donkey Kong and Frogger! There's even a room where you can play video games with a Virtual Reality headset!
Serviced by the Coatttails Kitchen, you can enjoy small plates like Tsukemono Pickles, always organic and fresh. Or try the Pho with vermicelli noodles, pho spice mix, and chili paste.
Get your game on at Reboot on 248 Scotland Drive from Monday to Thursday 4 PM – 3 AM and Friday through Sunday from 12 PM – 3 AM.
Casa Tina
In a town known for its Scottish heritage, you would never expect to find a good Mexican restaurants. You'd be surprised. At Casa Tina, one of the best Mexican restaurants in Dunedin, you'll find the most authentic, fresh Mexican cuisine.
In the heart of Dunedin, partners for life Javier and Tina Marie Avila built their dream from the ground up. The resulting hidden gem has been a beloved spot for years in the community. A true family affair, some of the Avila children have put ten years of service into the restaurant, sleeping. in booths and peeling tomatillos.
Inside, the decor is colorfully delightful and creates an infectious mood. The exposed brick walls are painted bright pink and blue with hanging paper lanterns strewn about. In the center of the dining room, you can usually see acrobats spinning and dancing on aerial silks and hula hoops.
At Casa Tina, you'll find the freshest, healthiest, and most authentic Mexican cuisine around. Enjoy everything from fresh Ceviche and Enchiladas to their famous Mole Poblano. Of course, the complimentary chips and salsa is some of the best in town.
The staff of Casa Tina devotes themselves to giving back to the community that made their business a smash. Every Monday, the restaurant sponsors fundraisers that benefit the community, especially art and music programs for children.
You'll also find some of the best festivals in Florida here. Casa Tina goes all out and celebrates in a big way for Dia De Los Muertos and Mexican Independence Day, to name a few.
Find Casa Tina on 365 Main Street, open on Tuesday through Thursday from 5 – 9:30 PM, Friday from 5 – 10 PM, Saturday from 11 AM – 10 PM, and Sunday from 11 AM – 9:30 PM.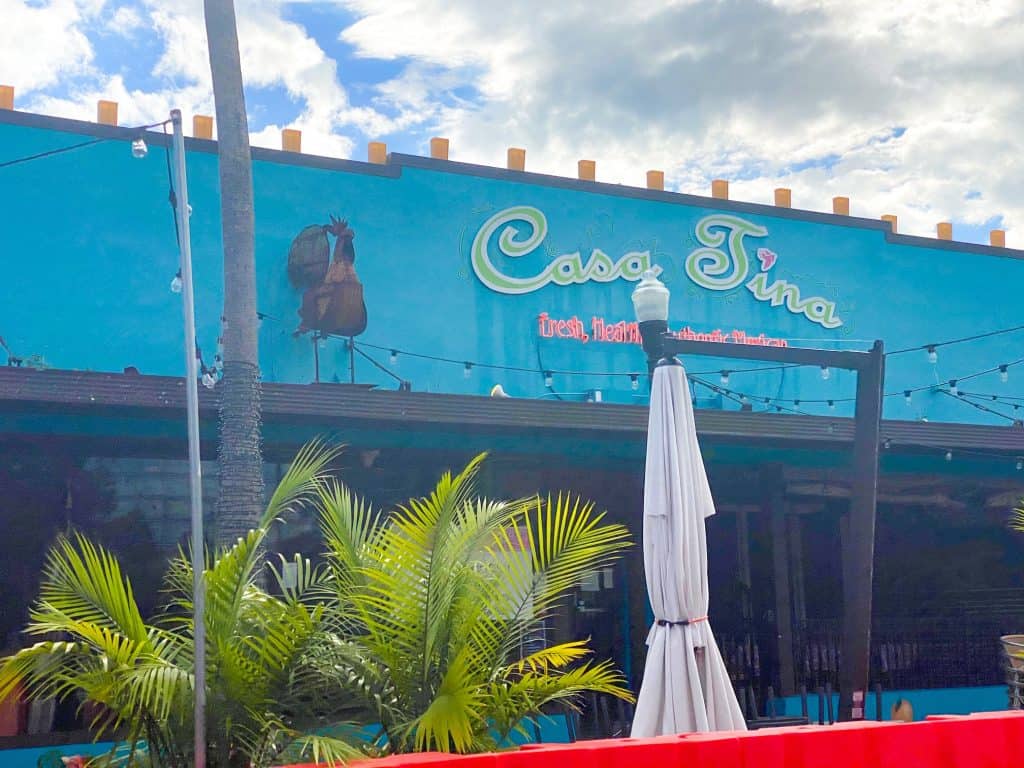 Lane's Lemonade
Meet Lane. She's the owner, manager, and chef behind the quaint and quirky Lane's Lemonade. In the heart of downtown Dunedin, Lane's is one of the best off-the-beaten-path options for dining in Dunedin.
Lane's passion for cooking developed while working in her family's Italian restaurant. Her grandmother imparted the lasting lesson that nothing brings people together better than good food.
After leaving her pervious business, Dunedin Coffee Company, Lane turned to a boxcar. Just as the boxcar once delivered citrus to a developing Dunedin in the 1880s, today Lane delivers local sandwiches and lemonades with a highlight on Florida citrus from that same boxcar.
Try the Grilled Cheese with cheddar, provolone, and Swiss cheese. Maybe with bacon? Lane elevates her Avocado Toast with an inspired, seasoned olive oil drizzle. Her Cuban Sandwich is made the traditional Ybor way, so you know it's a winner.
The real star of the menu? The freshly squeezed juices! All are mixed with either real cane sugar of Stevia, whichever you prefer. The lemonade and orangeade are always delicious. If you're looking for a sweeter twist, try the limeade with a flavor shot, squeezed from whatever fruit is in season.
Find Lane's Lemonade in the red boxcar on 349 A Main Street. She opens the boxcar on Fridays through Sundays from 11 AM – 8 PM.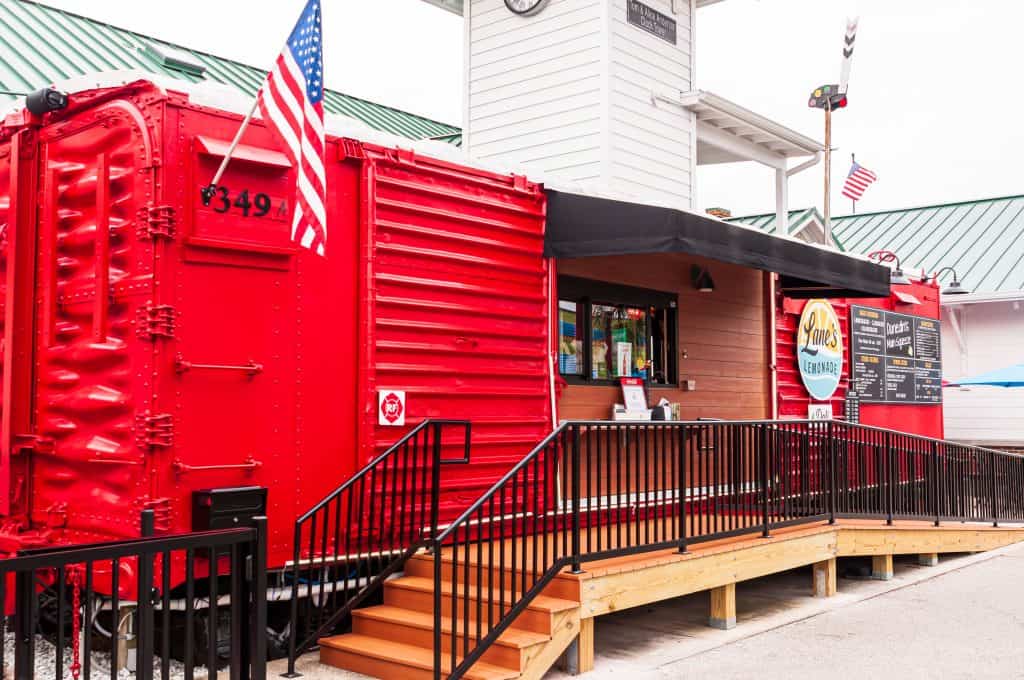 Cafe Alfresco
Right off of one of Florida's best hiking trails, you'll find one of the best restaurants in Dunedin. Serving up traditional American-International cuisine, Cafe Alfresco is worthy of your time.
Voted "Best Restaurant on the Pinellas Trail" by Tampa Bay Magazine, Cafe Alfresco is a sidewalk cafe that boasts the charm of a European Bistro. They also won Large Hospitality Business of the Year in 2019.
With a menu rooted in American Classics, you'll find international flavors peppered in. Try the Pot Stickers stuffed with pork, served with an orange-ginger dipping sauce or the Thai Sesame Salmon which uses crisp wontons for texture.
For heartier entrees, try the Pan-seared Scallops with lemon butter sauce. The Buttermilk Fried chicken can't be beat with fresh vegetables and mashed potatoes on the side. Or you can visit Italy with Chicken Piccata with an authentic lemon caper butter sauce and parmesan cheese.
A member of the same restaurant family at Bon Appetit, Cafe Alfresco knows the importance of ambiance. It feels like walking up to your best friend's home for a meal.
Lush greenery from the Pinellas Trail surround the restaurant. There are always bicycles parked right outside.
Find Cafe Alfresco right on the Pinellas Trail at 344 Main Street, open on Sunday through Thursday from 11 AM – 8 PM, and Friday and Saturday from 11 AM – 9 PM.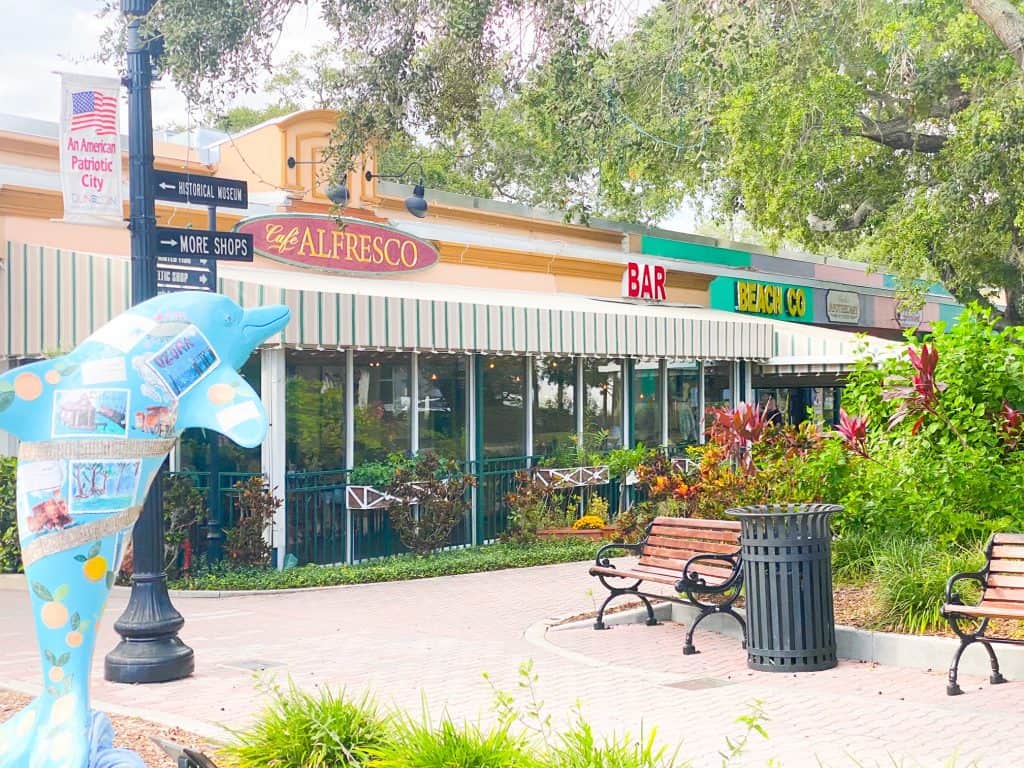 Caracara
Just what is Tapas anyway? A tapa is an appetizer or snacks in Spanish cuisine! Over the hears, tapas has evolved from a humble gathering of small plates into a full culinary experience.
At Caracara, one of the best restaurants in Dunedin, you can experience the culinary phenomenon. Now you can combine different tapas to create a sophisticated, full meal. This way, you and your table can experience many different foods. Much better than sticking to one entree!
When you order at Caracara, you might realize how boring traditional dining seems compared to tapas. Most of the options on the lunch and dinner menus are plant-based and vegetable-driven.
We go nuts over the Kabocha Squash, White Truffle Dumplings, and the Falafel Bao with picked onions and cucumber. You can't go wrong with the Lump Crab Nachos, and you just might need to order two plates of the delicious Sticky Pork Ribs.
It wouldn't be Tapas without a carefully curated cocktail menu! Indulge in the Expat, made of Thai Iced Cofee, vodka, and Kahlua. For something more exotic, try the Singapore Sling, a twist on the traditional drink with exotic fruits like lychee.
Find Caracara at 730 Broadway Suite 4, open on Tuesday through Thursday from 11 AM – 9 PM, Friday and Saturday from 11 AM – 10 PM, and Sunday from 11 AM – 4 PM.
The Black Pearl
While its name evokes images of Captain Jack Sparrow and his ship, you won't find any pirates here! At the Black Pearl, you'll still get an elevated dining experience with food that he might have eaten.
The Black Pearl, one of the best restaurants in Dunedin, serves up fresh Gulf seafood and American fare with a French twist. With a swanky atmosphere, you'll understand why it was voted "Best Romantic Dining" by Tampa Bay Magazine.
Chef Christopher Artrip believes "life is too short to eat bad food." The Best Chef according to Zagat 1999, his kitchen works in tandem with the service staff like a symphony to create an unforgettable dining experience. Meals are prepared using only the freshest local seafoods, meats, and vegetables.
Start with the complimentary Artisan Yeast Bread and an amuse-bouche like the Heirloom Tomato Gazpacho. Afterward, move on to a first course like the Asparagus Bisque or Escargot before transitioning to the entree course.
Then experience the culinary bliss of the Chilean Sea Bass Lyonnaise or the always-creamy White Truffle Lobster Risotto. If you're feeling adventurous, try the Maple Leaf Farms Duckling with its crispy skin. We dare you not to eat too much.
You have the option of enjoying a cheese course with goat cheese and apricot jam, or you can jump straight to dessert. Try the signature Black Pearl Ice Cream, made with black licorice. For a truly French dessert, try the Tarte Tatin for two. In layman's terms, it's a warm, upside-down apple pastry with brown sugar and spices always baked to order.
The Black Pearl makes its home on 315 Main Street in Dunedin. Hours are Sunday and Monday from 5 – 9 PM, Tuesday through Thursday from 5 – 10 PM, and Friday and Saturday from 5 – 11 PM.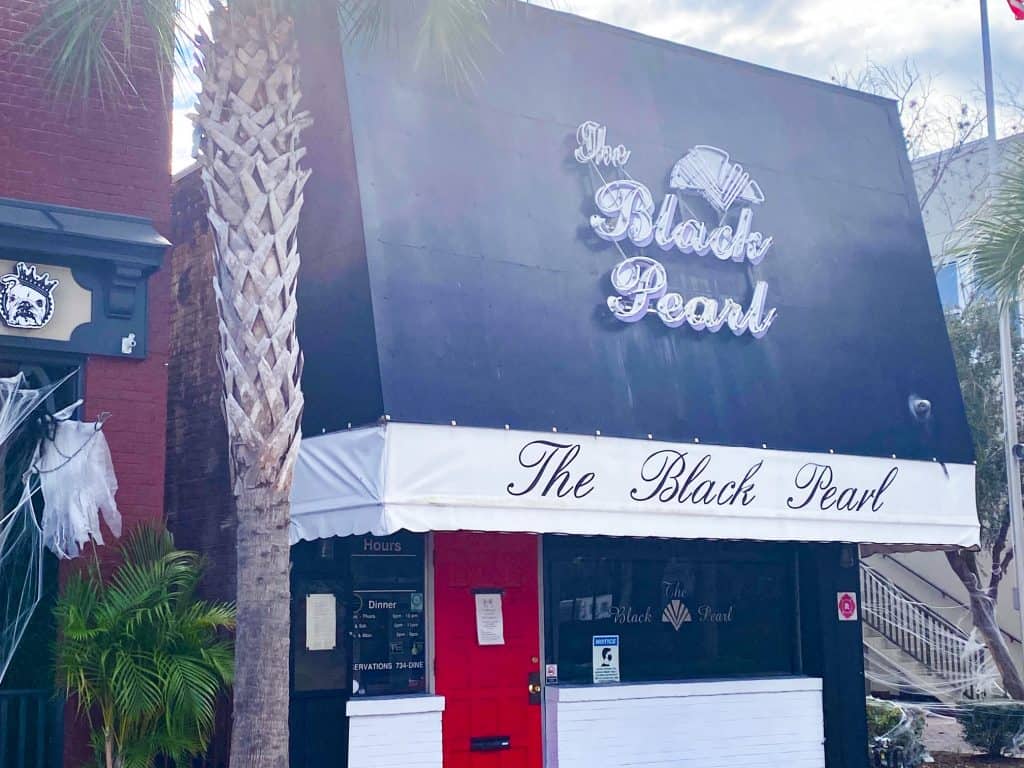 Ohana Cafe
If you're looking for vegan, vegetarian, or gluten-free restaurants in Dunedin, you can find all three at the Ohana Cafe! With a Hawaiian theme, you can truly feel like you're on an island escape while indulging in health-conscious foods.
Proudly using only the freshest ingredients available, the vegan and vegetarian dishes are organic, delicious, and guilt-free. Look for the unassuming lime green building on Main Street with the American flag flying out front.
You won't stop smiling when you learn Ohana serves breakfast all day! Our favorite is Mom's Popover Breakfast: 2 gluten-free popovers, nitrate-free turkey bacon, and a large organic egg cooked your way. Then pour organic maple syrup or macadamia nut sauce on top! Yum.
You'll see the Hawaiian influence in dishes like the Kahuna Wrap with carrots and daikon. Don't forget the Hawaii 5-0 Buffalo Burger with cheddar, spinach, tomato, and pineapple. Add a fried egg or turkey bacon to really indulge.
Start or finish the day with a delicious smoothie. Choose between options like the Spinach Colada, Magic Mango Kefir, or the Purple Surfer. Make sure to ask your server about Mommy's Gluten-Free Treats!
Find Ohana Cafe on 1452 Main Street, open on Tuesday through Thursday from 8 AM – 8 PM, Friday and Saturday from 8 AM – 9 PM, and Sunday from 8 AM – 3 PM.
Tony's Pizza
We're sure you've had your fill of national pizza chains! Next time you're craving pizza, head over to Tony's Pizza, one of the best restaurants in Dunedin.
When you eat one of Tony's Pizzas, you're biting into a true taste of Sicily. All of the pies are hand-tossed and stone-baked and even offer gluten-free options! Let Tony's bring Italy to you, from their family to yours.
If you're in a rush, you can grab appetizers like Garlic Knots, Mozzarella Sticks, or Jalepeno Poppers. Then grab pizza by the slice like Meat Lover's, White Pizza, or tried and true Pepperoni.
Your options open up when you're dining inside. With a selection of classic New York style pizza, you'll have trouble choosing. Try the Florentine with ricotta, tomatoes, spinach, garlic, and mozzarella. The Bada Bing features sausage, mozzarella, olive oil, tomatoes, and broccoli.
For more options, try the gluten-free pizza with your choice of toppings in a personal pan size. Or try the delicious traditional Sicilian Pizza with a square, thick crust. You also have your choice of hot or cold paninis and calzones stuffed to the bring with delicious ingredients.
Find Tony's Pizza on 320 Main Street, open seven days a week from 11 AM – 11 PM.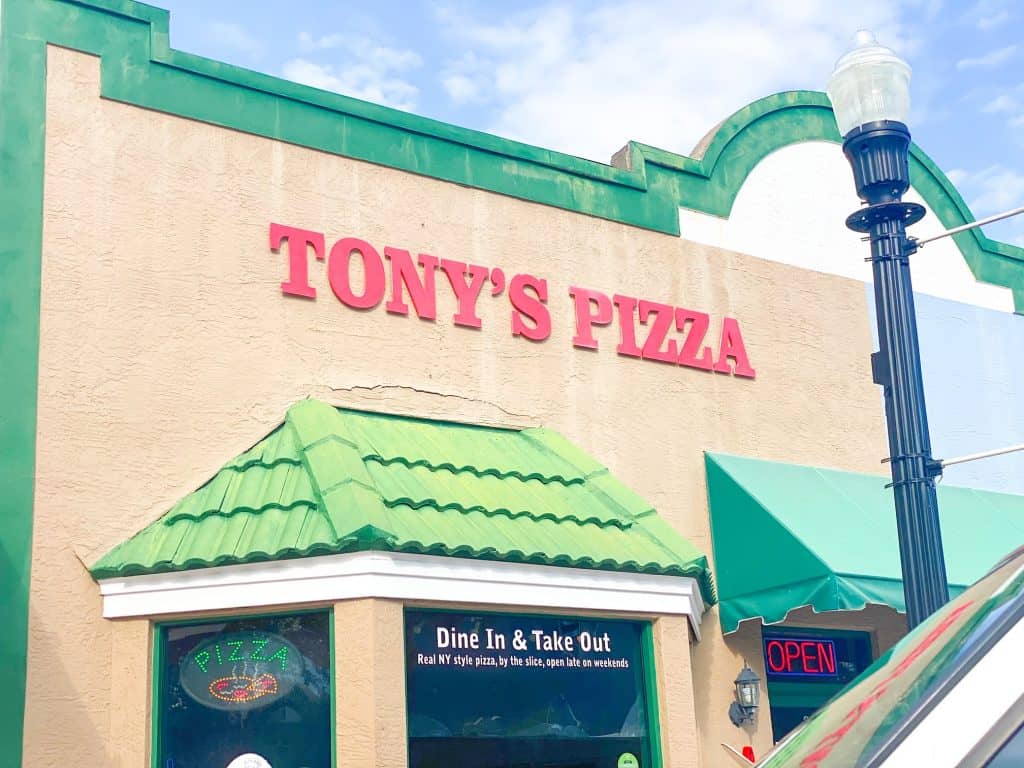 Did You Find This Post Helpful?
If so, we would love to keep in touch! We enjoy seeing photos and comments about your experiences in Florida! You can follow us on Instagram and we will repost your photos on our feed and comment too! Just tag us at @floridatrippers and hashtag #floridatrippers. We can't wait to see your travels!