Are you looking at something unique to do in Ocala? We have put together a list of the prettiest springs in Ocala to visit!
If you are looking to get outdoors and do something fun in Ocala why not head to some of the best springs in Florida! Ocala is located in North Central Florida and is the perfect day trip from Gainesville, Tampa or Orlando!
Because Ocala is located in the center of the state heading to the springs is a popular thing to do in Ocala if wanting to swim! These natural swimming are year round attractions in Florida with temperatures that average 68-72 degrees all year!
The springs in Ocala like all in Florida have sparkling crystal clear water perfect for swimming, scuba diving or exploring on kayaks and paddle boards. Springs in Ocala are also a great spot to view Florida wildlife and even swim next to Manatees!
Due to the unique makeup of Florida with limestone and one of the largest Aquifer the water from the Florida springs comes from the Floridan Aquifer, at a rate of over 8 billion gallons a day!
Take a visit to some of the first magnitude springs here in Ocala. From springs located with National Forests or at Silver springs one of the oldest Florida attractions you will not be disappointed at the beauty and fun that awaits!
Did You Find This Post Helpful?
If so, we would love to keep in touch! We enjoy seeing photos and comments about your experiences in Florida! You can follow us on Instagram and we will repost your photos on our feed and comment too! Just tag us at @floridatrippers and hashtag #floridatrippers. We can't wait to see your travels!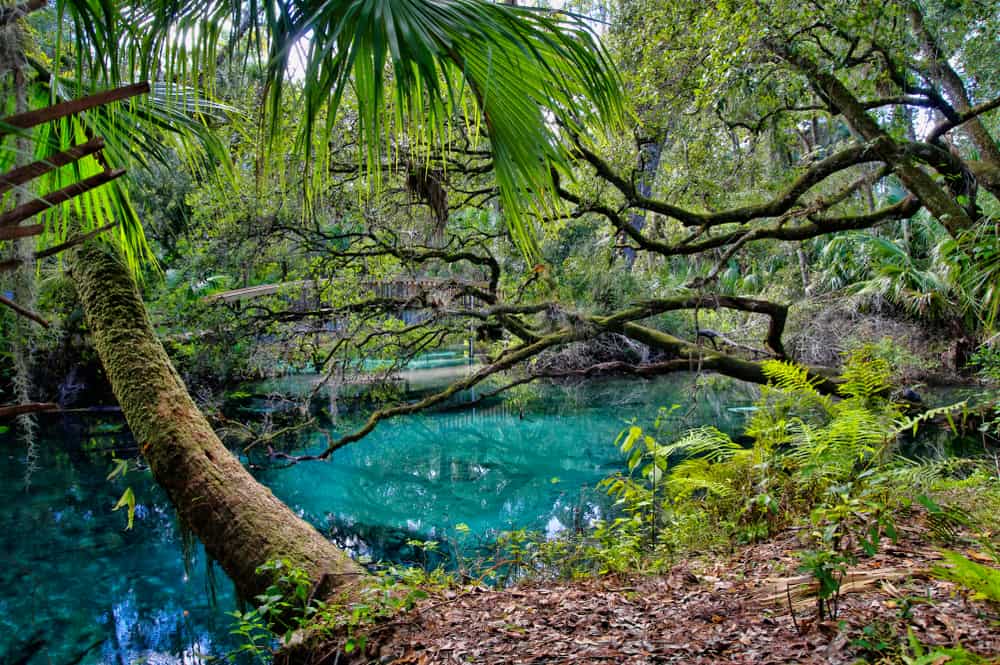 7 Prettiest Springs In Ocala You Must Visit
Juniper Springs
Juniper Springs in Ocala is located inside the Ocala National Forest. Juniper Springs is one of the oldest and most well known first magnitude springs and perfect for those looking to do more than swim.
Although with the 72 degree water year round swimming here is also very popular! Especially for families as the spring is quite shallow only 8 feet at the deepest unlike others in the area. It is perfect for snorkeling as well as you can often see tons of fish.
Juniper Springs is 135 feet long by 80 feet wide and is recognized by the large waterwheel as a backdrop. A concrete wall area surrounds the springs, with trees and lush vegetation that acts as a canopy around Juniper Spring.
Juniper Springs in Ocala is popular with canoers and kayakers as there is what is known as 7 mile Juniper run through the ecosystem that takes 3 to 5 hours to complete.
As it is a National Park entrance to Juniper Springs is $6.42 per person week days, $10.70 per person weekend, in addition to entrance to Ocala National Forest.
What makes Juniper Springs in Ocala a great place for a weekend visit is the amazing facilities at Juniper Springs Recreational Area perfect for camping right near the springs, with picnic tables, bathrooms, hot showers and a little store located close by. Make sure to book in advance and camp sites are $22 per night.
Salt Springs
35 miles East of Ocala in the Ocala National Forest you will find another of the first magnitude springs in Ocala. Salt Springs in Ocala gets its name from the fact that the water has a slight saltiness due to minerals like potassium, magnesium and sodium. This spring has a concrete wall around the peremieter.
Salt Springs is one of the springs near Ocala that spring is large, shallow, and has crystal clear 72 degrees water. This spring is one of the perfect places to head with children as the spring is shallow. It is also the perfect spring to head too if looking to snorkel as you can often spot fish and blue crabs.
There is a deep area to swim down where the fissures in rock allow the water to flow up into the spring. Along with the Salt Run a 5 mile water path that takes you to Lake George that you can kayak, canoe or stand up paddle board.
This is the perfect spring in Ocala to visit if taking a day trip from Jacksonville as it is only an hour and half drive to crystal clear 72 degree water.
Entrance fee to Salt Springs in Ocala is $6.50 per person day use fee and a
$10.00 parking fee. Primitive camping is $23 per night and camping with full hookups is $34 per night.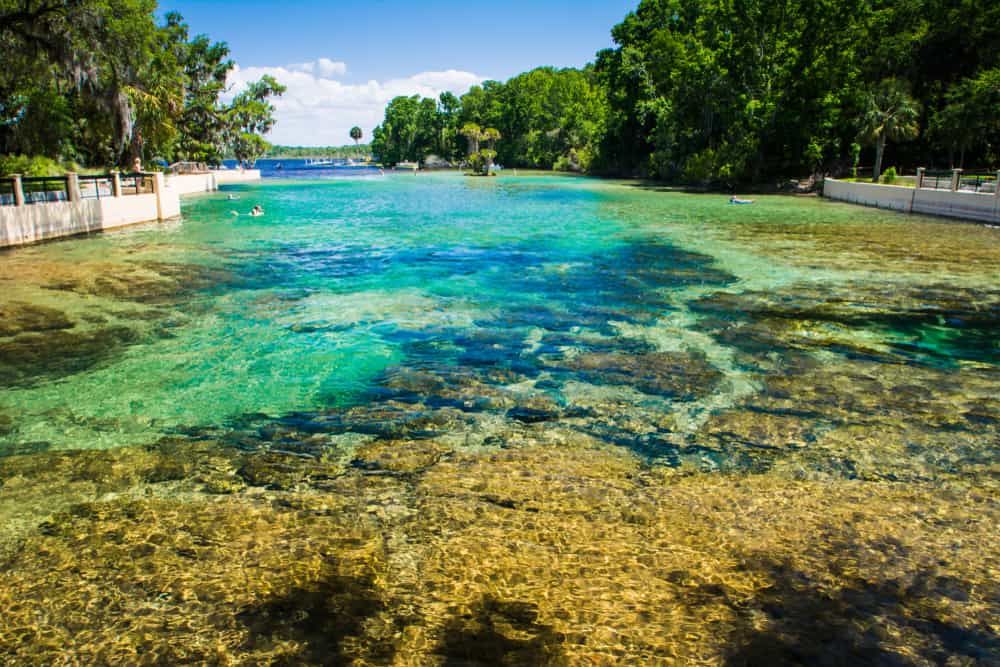 Alexander Springs
Alexander springs in Ocala is one of the interesting weekend getaways in Florida! This is the third of the Ocala springs located within the Ocala National Forest! And at just over an hour from Orlando it makes for a perfect day trip from Orlando! It is one of the easiest springs to visit near Ocala and also one of the widest at over 300 feet.
Alexander Springs is one of the most pristine springs in the North Central Florida Area with water that is even more crystal clear than other nearby springs making it a photographers dream!
Alexander springs is the only spring inside Ocala National Forest where scuba diving is permitted! For those looking to scuba dive the spring averages a depth of about 10 feet expect where the water is fed into the spring with depths reaching 25 feet. But what makes Alexander springs in Ocala so unique is visibility often exceeds 200 feet.
But not to worry for those looking to just swim or snorkel the sandy bottom with a gentle slope makes it perfect for families and non-scuba divers too.
The admission to the Alexander Springs in Ocala is $6 per person on weekday and $10 on weekends. Or free with a Ocala National Forest Recreational Area Pass. Campsites are $24 per night. And Canoe rentals are offered to explore the Alexander Run into the Alexander Springs Wilderness.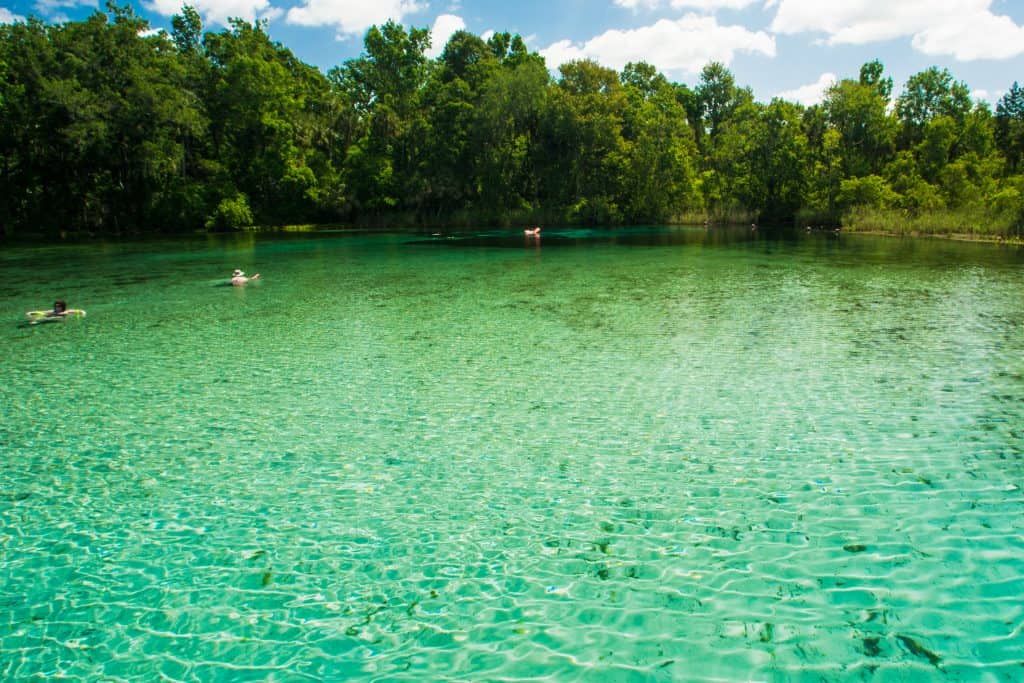 Rainbow Springs
Rainbow Springs is one of the coolest state parks in Florida to visit and was formerly known as Blue Springs. Rainbow springs is located within Rainbow Springs State Park in Dunnellon making it one of the springs near Ocala you must visit!
This is the fourth-largest spring in Florida and has been around for over 10,000 years! The crystal clear water has a sapphire-blue tint with human made waterfalls and gardens surrounding the spring. There has even been fossils found in the spring!
There is a roped off swimming area that ranges from 5 to 18 feet deep and a constant 72 degree temperature. As with most springs due to the crystal clear water you will easily be able to spot aquatic life like fish, turtles, and grasses.
For those looking to kayak or stand up paddle you can take Rainbow Run from the springs to Rainbow river. You can also tube all day on the lazy river for only $20 with a shuttle that will bring you back! Or canoe the river with rentals from spring head. However none are allowed in the swimming area!
Arrive as early as possible on weekends as the park closes once it reaches capacity. Hours are 8 am to 5 pm daily. Park admission is $2 per person, children 6 and under are free!
If looking for a place to stay in the area check out The Nature House an Airbnb Cabin near Rainbow Springs! Get a FREE $55 Airbnb coupon by using our code when you book!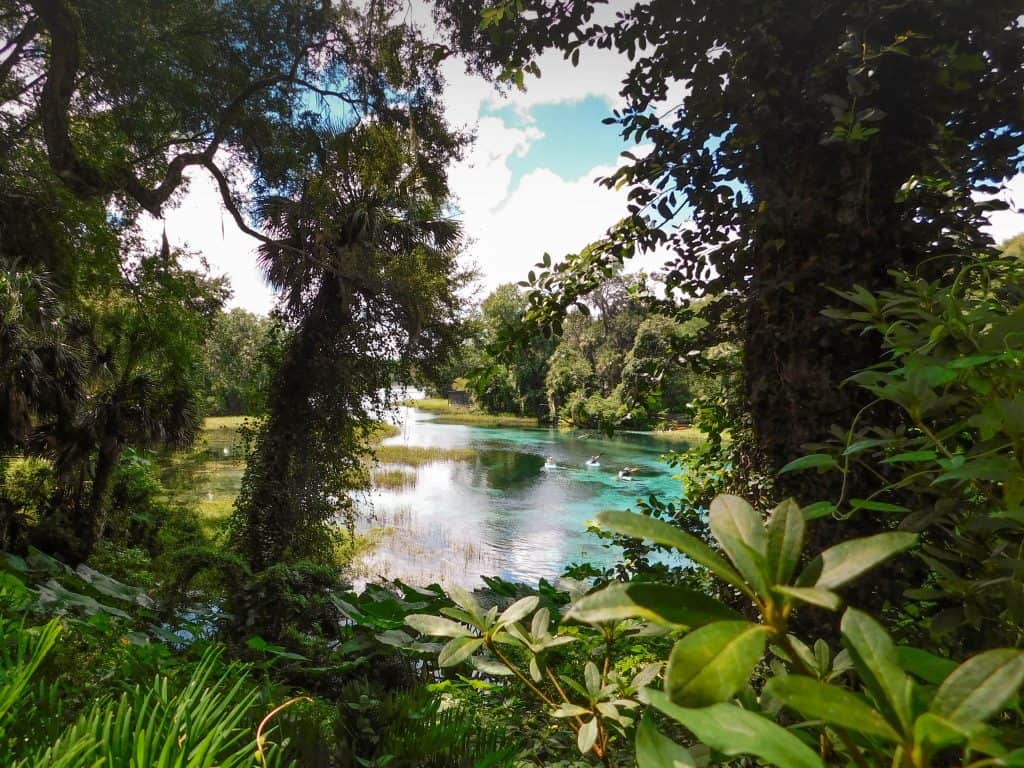 Paradise Springs
Paradise Springs is a diver's dream! This is one of the springs in Ocala that is a cavern area with prehistoric fossils in the limestone beneath the surface. Diving here is $30 per person and is cash only and is a privately owned sink hole that became a spring!
Located just south of Ocala off Highway 441, Paradise Springs is a unique place to visit for the day but is closed on Monday and Tuesday. Otherwise it is open from 8 am to 5 pm.
Don't expect a stream flowing from this spring like at other springs such as Alexander instead you enter the spring through Karst Window an opening that allows you to enter an underground stream.
It is important to note Paradise Springs is not for swimming it is for those looking to scuba dive! And you must show scuba certification at the entrance before entering.
You enter the spring through wooden steps that lead you into the spring pool and you can swim near a floating 15 foot platform under the surface. You follow the tunnel down at a 90 degree angle to enter the spring!
For cave divers in the area this is one of the springs in Ocala to head to with a Grim Reaper sign at 60 feet greeting you to continue to 140 feet depth where a cave diver certification is needed! At the 99 foot depth divers lose all light and you dive in the pitch black in a small shaft to the 140 foot mark.
Silver Springs
Silver Springs is the perfect one of the springs in Ocala to visit from Tampa as it is only an hour and half drive! Silver Springs State Park is best known for its green and white glass bottom boats to explore the spring from above the water.
Since 1870's Sliver Springs has been one of the largest and most visited springs in Florida known for its world famous boats at this 4,000 acre park that includes the spring as well as the 5 mile Silver River! Like other springs in Ocala Silver Springs is also located within Ocala National Forest.
However, you can also explore the Silver Springs by canoe, kayak and paddle boarding, and snorkeling. As of September 2020, swimming will be returning in the next 18 months. The Glass bottom boats allow visitors to experience the springs wildlife and plant life below the surface without having to be in the water.
Along with the boat ride tickets can be purchased once inside the State Park which costs $8 per car to enter. While at Silver Springs take time to visit the Silver Run Museum.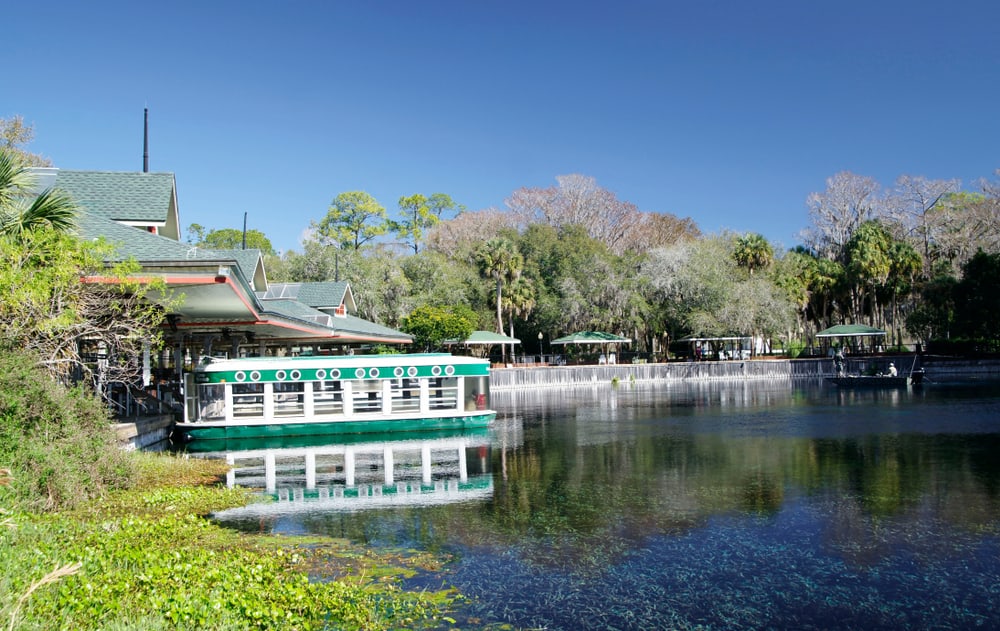 Silver Glen Springs
Silver Glen Springs not to be confused with Silver Springs is also located within the Ocala National Forest and is an archaeology lovers dream and was a sacred spot for Native Americans.
You can expect to see shells and fossils within the walls along the shore of the spring. Visitors to Silver Glen Springs often say it is one of the clearest springs in the area where you can see rainbows on the bottom of the sandy spring while snorkeling and swimming.
In Silver Glen Springs you can find tons of both saltwater and fresh water fish to watch just under the surface. And during the cooler months you will often spot manatees.
Located just two miles from Juniper Spring, Silver Glen Springs in Ocala has spring that pours into Lake George and St. Johns Rivers and is over 200 feet wide with depths up to 40 feet. Entrance is $6 per person with canoe rentals being offered.
Quite popular on the weekends we suggest arriving early as capacity is limited on a first come basis. Unlike other springs in Ocala National Forest no camping is allowed here!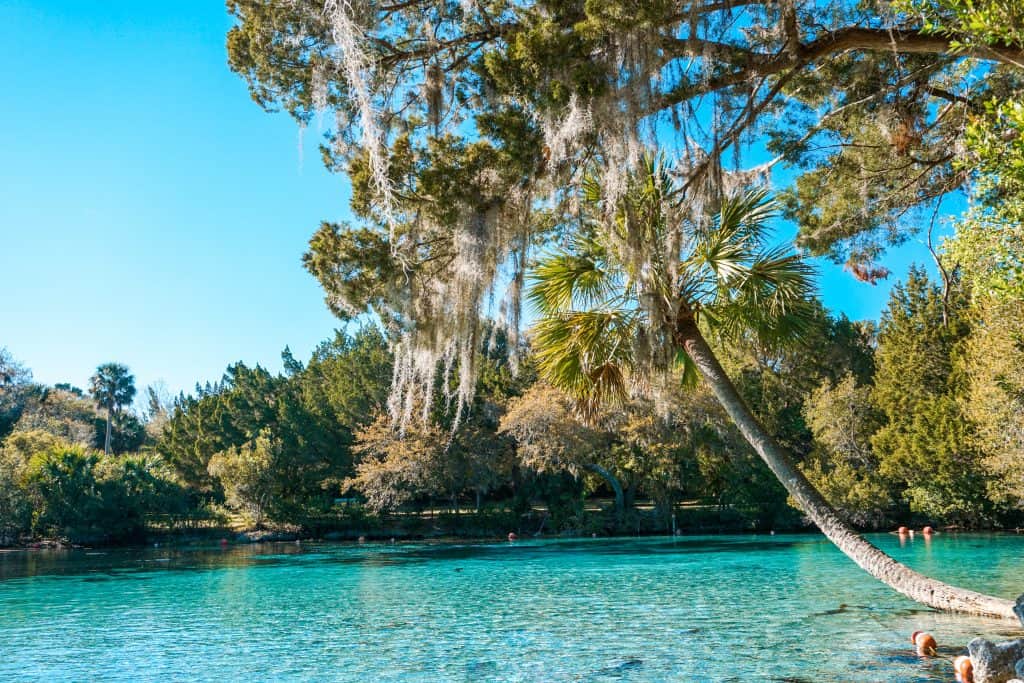 Did You Find This Post Helpful?
If so, we would love to keep in touch! We enjoy seeing photos and comments about your experiences in Florida! You can follow us on Instagram and we will repost your photos on our feed and comment too! Just tag us at @floridatrippers and hashtag #floridatrippers. We can't wait to see your travels!