If you're planning a trip to Miami with kids, then you've come to the right place! Miami is full of things to do and it's one of the most popular cities in Florida. It's also the second most populated city in Florida. When many people think of Miami they think of late-night clubs and bars, pristine beaches, and high-end hotels and shops.
While that may be the case, there are also plenty of family activities in Miami too. Miami isn't all partying and there are plenty of places to visit in Miami with kids. Your whole family can explore the Everglades, swim in a beautiful historic pool, or learn about animals at the zoo. You also don't need to break the bank to visit Miami.
The city is known for having some of the best upscale hotels and shops, but they aren't the only hotels and shops in the city. Depending on where you want to stay in Miami, you'll find options for a wide range of budgets. There are also cheap restaurant options, plenty of free activities for kids in Miami, and truly unique attractions.
So, don't let Miami's nightlife and high-end reputation scare you. Your family can have a really fun time exploring Miami with kids, you just need to know where to look. Which is where we come in! So, let's take a look at 15 fun things to do in Miami with kids!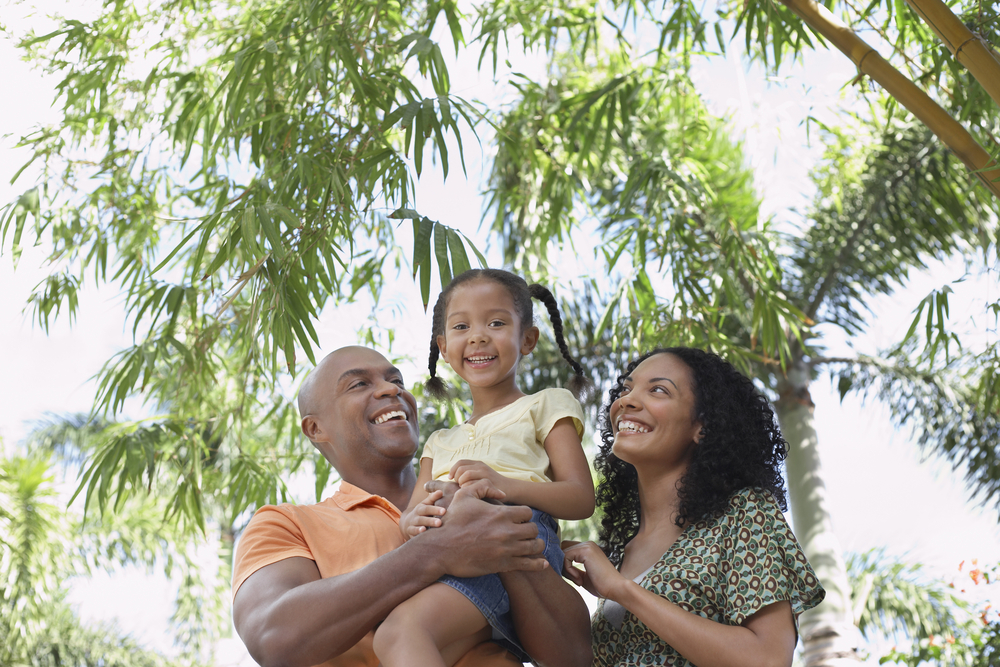 15 Fun Things To Do In Miami With Kids You Shouldn't Miss
A Day Trip To The Everglades National Park
Everglades National Park is one of the most popular things to do in Florida, hands down. We definitely suggest taking the kids on a day trip to the Everglades while you're in Miami. The Florida National Park is just a little over an hour away from Miami.
You can choose to walk around the Everglades on your own. However, you'll get the most out of your visit if you book an Everglades tour. There are a variety of tours available. But we think the kids will enjoy the Airboat Tour with a Wildlife Show tour.
As you ride in the airboat, you'll be able to spot alligators, turtles, and native birds. After the airboat ride, your guide will give you an educational wildlife show. You'll be able to see baby alligators, take a photo with a baby alligator, and learn about ancient alligator wrestling techniques used by Native Americans. It's easily one of the coolest activities for children in Miami!
Get Your Tickets Here: Getyourguide.com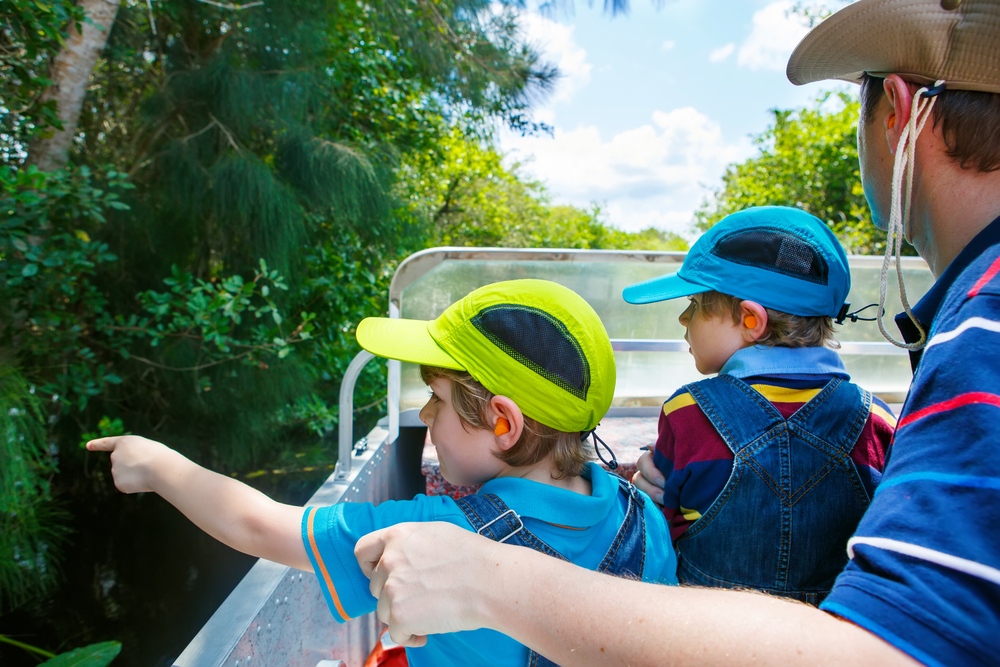 The Miami Zoo
One of the most popular attractions in Miami with kids in mind is the Miami Zoo. The Miami Zoo is the largest zoo in Florida and it's one of the top 10 zoos in the country. It is over 340 acres and features over 3,000 animals. The exhibits are large open-air exhibits and the zoo focuses on responsibly and respectfully housing its many animals.
At the zoo, you'll see a mixture of exotic and native animals. They have koalas, tigers, elephants, lemurs, otters, monkeys, and camels to name a few. There is also a building that houses a variety of reptiles and amphibians. In and around that building, you'll learn about crocodiles, vipers, poison dart frogs, red-eyed tree frogs, and so much more.
The highlight of a day at the Miami Zoo however is always the opportunity to feed some of the animals. Throughout the day, there are times when you can feed the giraffes and parrots. There are also guided encounters with animals like the pygmy hippo, a kiwi, and a tortoise. The Miami Zoo is easily one of the best things to do in Miami with kids! So don't skip it!
Get Your Tickets Here: Getyourguide.com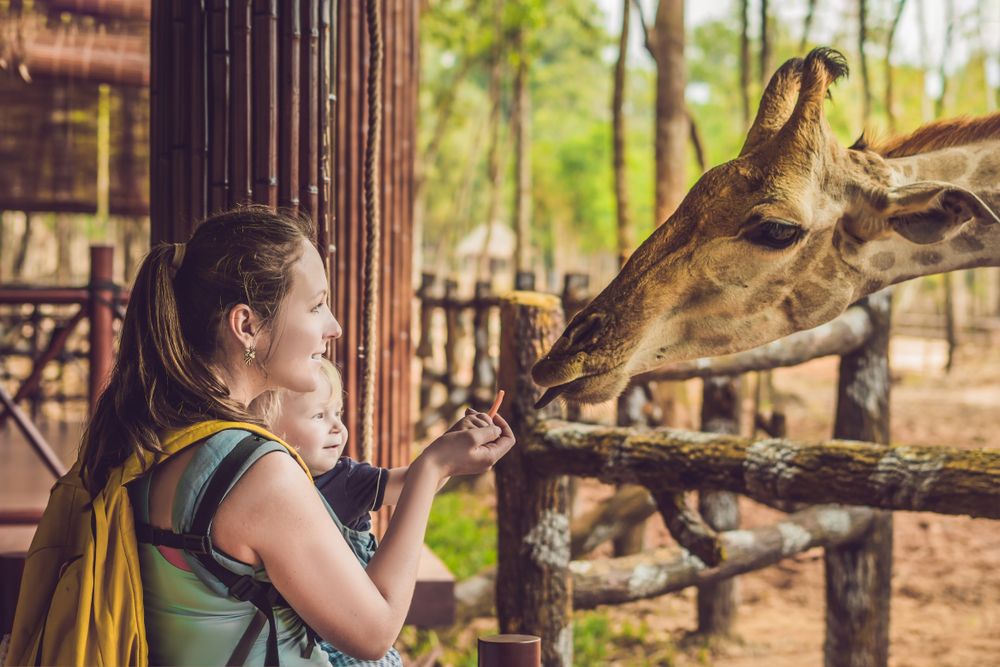 The Miami Children's Museum
If you're looking for a hands-on activity for kids in Miami, then consider going to the Miami Children's Museum. The Miami Children's Museum is a hands-on museum that is full of cool interactive exhibits. The kids will love it, but so will the adults! There are exhibits for every age range, so even the youngest kids in the group will find something to do.
Some of the exhibits change seasonally, but most of them are permanent. The permanent exhibits include a sketch aquarium, a supermarket, a multi-sensory room, an art room, and even a castle. That's not even all of the exhibits either!
Outside, they have four large playgrounds. Each of them has a different theme and is aimed at a different age group. So the big kids will find some challenges at their playground, while the toddlers will have fun exploring a lowkey playset.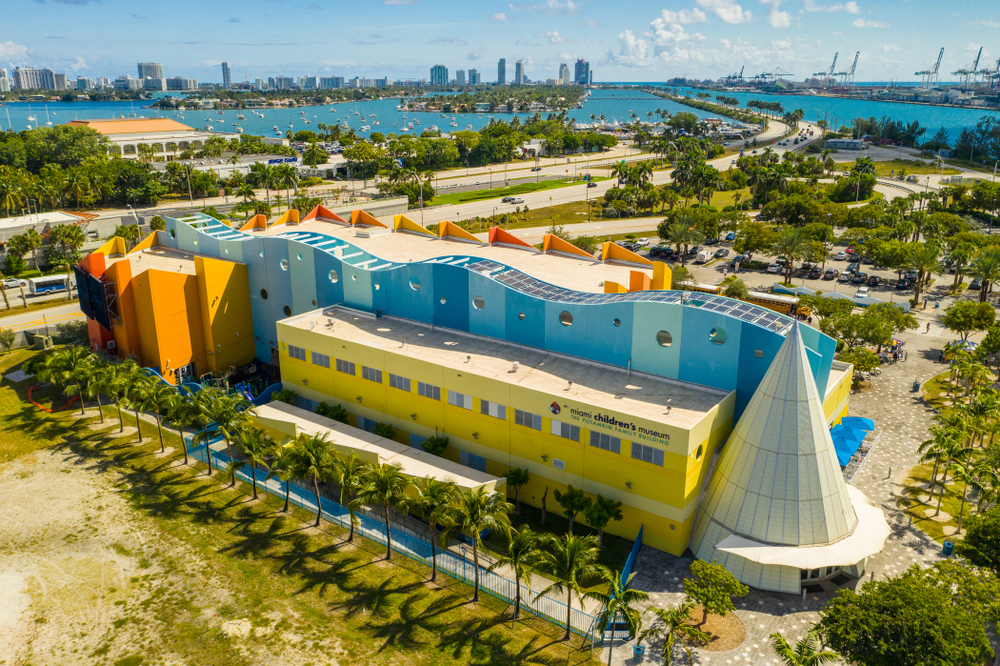 The Flamingo Gardens Wildlife Sanctuary
About an hour outside of Miami, you'll find the Flamingo Gardens Wildlife Sanctuary. Flamingo Gardens is a large 60-acre non-profit botanical garden. It also doubles as a wildlife sanctuary for native wildlife. So over 3,000 injured or endangered animals call the garden home.
There, they are protected or rehabilitated until they are healthy enough to return to the Everglades National Park. While they are in the garden, you can see many of them walking around. But, remember, they are wild animals, so keep a respectful distance.
Three times a day, the kids can take part in a wildlife encounter show. Naturalists in the garden will teach the kids about the different animals that call the garden home. They'll also get to see many of them up close. But the biggest draw of the Flamingo Gardens Wildlife Sanctuary is the flamingos.
At the flamingo pond, you'll see a large flock of these big bright pink birds. The kids can even feed them at the pond if they'd like! There is so much to do and see at the Flamingo Gardens, and it's one of the most fun things to do with kids in Miami.
Get Your Tickets Here: Getyourguide.com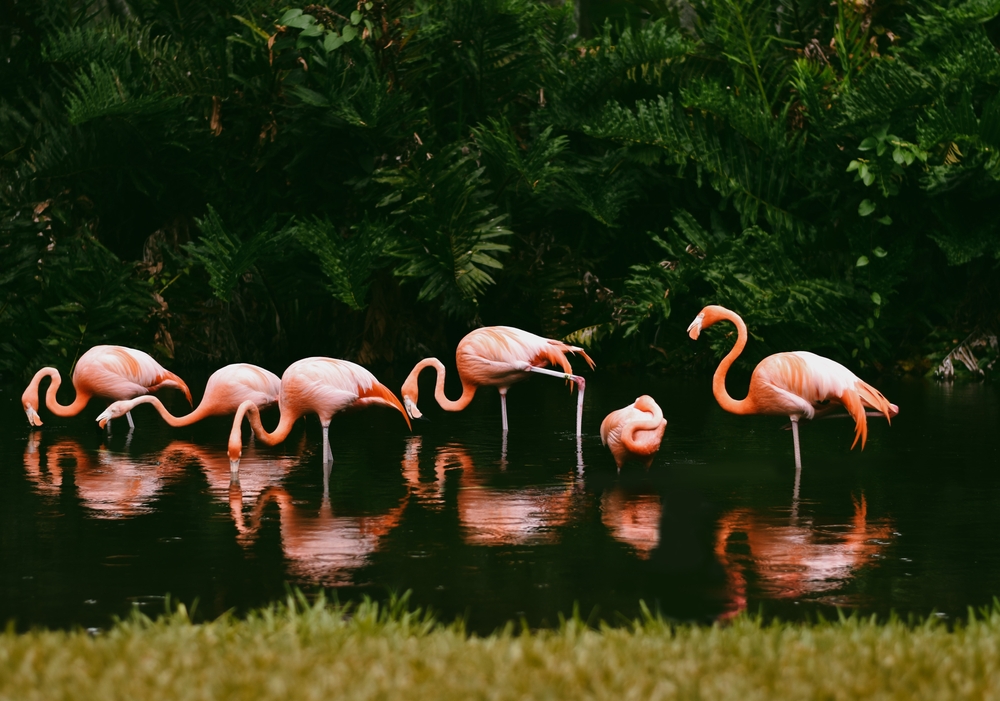 Take A Sightseeing Bus Tour
When you need a break from walking around but you still want to see the city, take a sightseeing bus tour. There are several different sightseeing bus tours available. We like the sightseeing bus tour on the big open-top bus. When you ride it, you'll get to enjoy the beautiful Miami sunshine. Plus, you'll get panoramic views of the city.
Along with the sightseeing bus, some tour companies offer a combo package that includes a bay cruise. The bay cruise is really fun and gives the kids an opportunity to get out onto the water. It's also a great option for a more low-key family activity in Miami when the kids are starting to run out of fuel. They can rest up a bit and you can enjoy the views and learn a little bit more about the city. It's a win-win!
Get Your Tickets Here: Getyourguide.com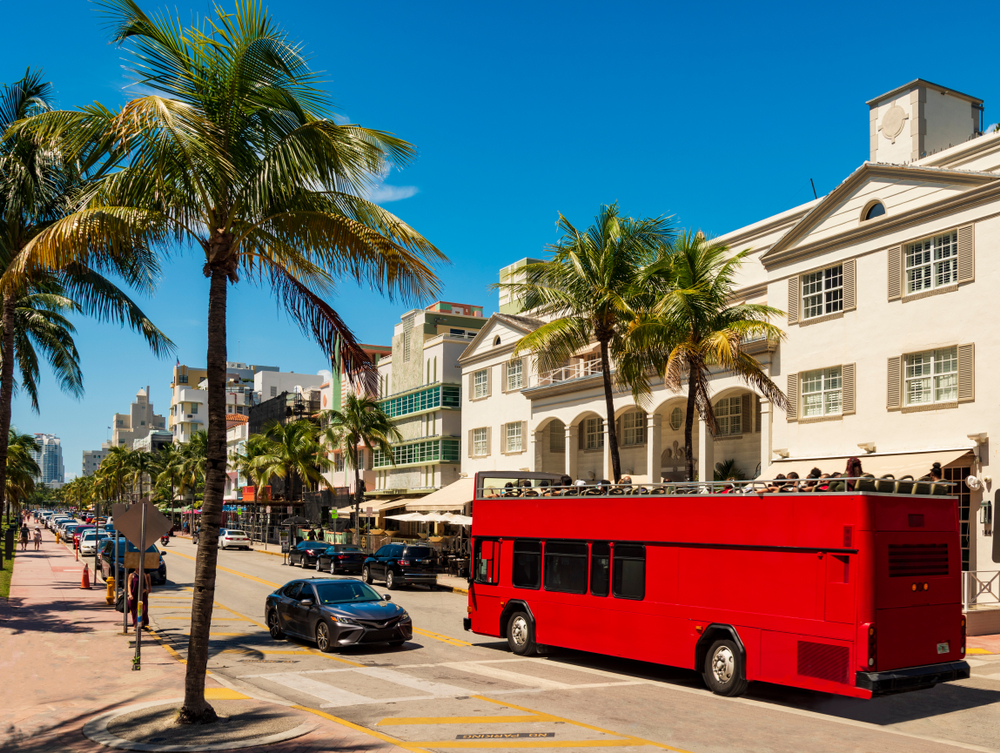 Swim In The Venetian Pool
The Venetian Pool is a famous historic pool located in Coral Gables, Florida. It's just a short 20-minute drive from the heart of Miami. Getting to swim in the Venetian Pool is one of the coolest things to do in South Florida. The pool was originally built in 1923 and is fed from spring water from a natural underground aquifer. It's a pretty large pool, with two waterfalls and cave-like grottos as well.
Every few years, the pool closes for a few months for renovations. These renovations make sure that the pool can be enjoyed by the public for another 100 years. So, if you're planning to visit, make sure the pool is open and running. There is an admission fee, and it's good for the whole day as long as you don't leave the pool grounds.
While this is one of the best places to visit in Miami with kids, they do have a few rules and regulations. One of their biggest ones is that kids must be over 3 years old and 38 inches tall. This is for their safety, but it's something to keep in mind if you plan to swim in the Venetian Pool.
Spend The Day At Surfside And Sunny Isles Beach
Two of the best beaches in Miami are Surfside Beach and Sunny Isles Beach. Both beaches are also super family-friendly. They are both at the northernmost point of Miami but are still considered Miami beaches.
Surfside is a beach town that has a charming small-town retro vibe that is a ton of fun to explore. The beach itself is also gorgeous with pristine white sand. Surfside Beach also has trails that are perfect for a leisurely stroll or a jog along the beach. Sunny Isles Beach is very similar but also has a large park known as Heritage Park.
Heritage Park is a 4-acre park right on the beach. It has two playgrounds, a dog park, a splash pad for the kids, and a large open lawn. It's the perfect place to bring the kids to enjoy a sunny Miami day on the beach! A day spent at either beach is easily one of the best free activities for kids in Miami!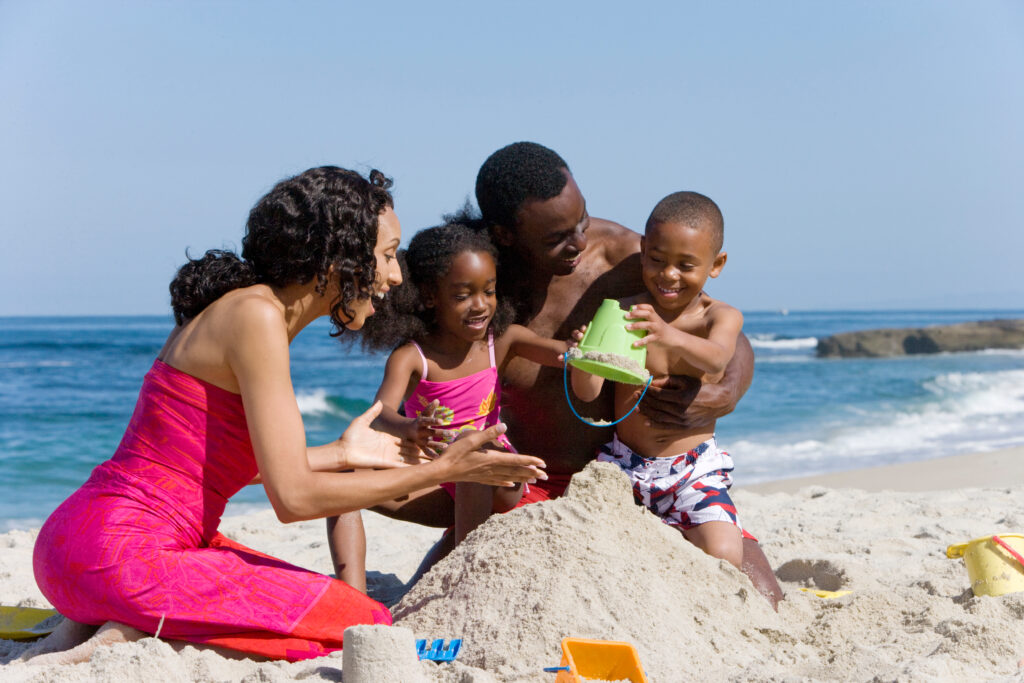 Visit The Philip And Patricia Frost Museum Of Science
The Philip and Patricia Frost Museum of Science is a large family-friendly museum in Miami. If you're traveling with older kids or even younger kids that love science, then this is one of the best activities for children in Miami. The museum is huge and also has a planetarium and an aquarium inside it.
Inside, kids will get to see giant dinosaur skeletons, get to explore how our bodies work in a hands-on exhibit, and learn about wooly mammoths. And that's just a few of their many exhibits! While the museum is definitely aimed at older kids and adults, the exhibits are very cool and interactive. So even smaller kids will have fun, even if they aren't totally sure what the exhibits are.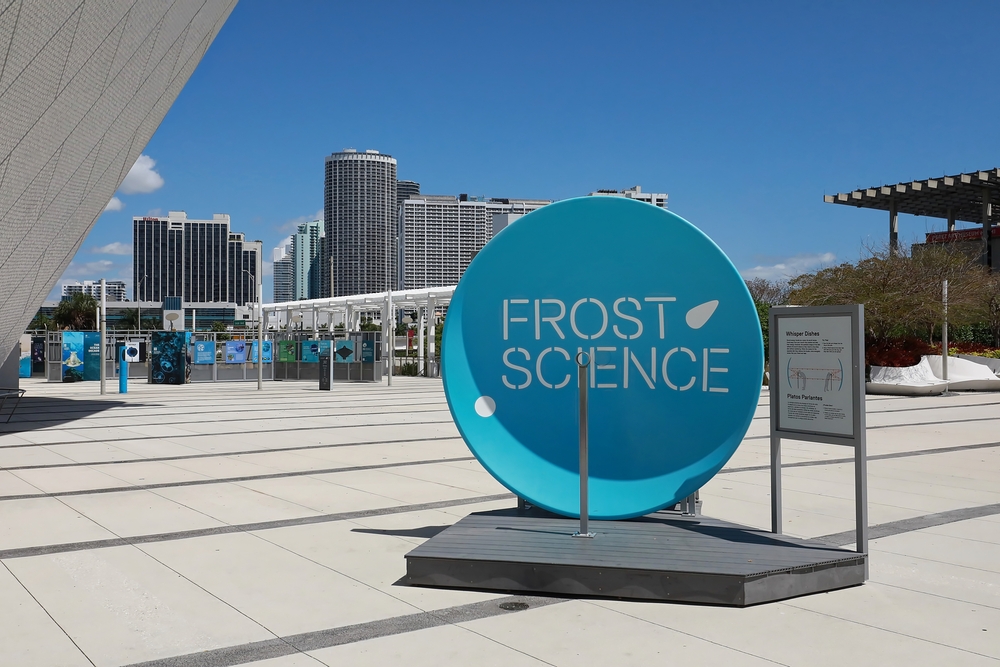 The Miami Seaquarium
If you're wondering what to do in Miami with kids that are a little younger, but still interested in science, you may like the Miami Seaquarium. The Miami Seaquarium is a large park with a 38-acre oceanarium on Virginia Key, just outside of Miami. It was founded in 1955 and is actually one of the oldest oceanariums in the country.
Inside the park, you'll find a ton of different things to explore. You can swim with dolphins or seals, learn about a variety of different sea turtle species, and even pet a stingray. They also have shows with dolphins and seals, the opportunity to meet a penguin, and lots more. It's one of the best activities with kids in Miami and everyone in the family will have a good time!
Get Your Tickets Here: Getyourguide.com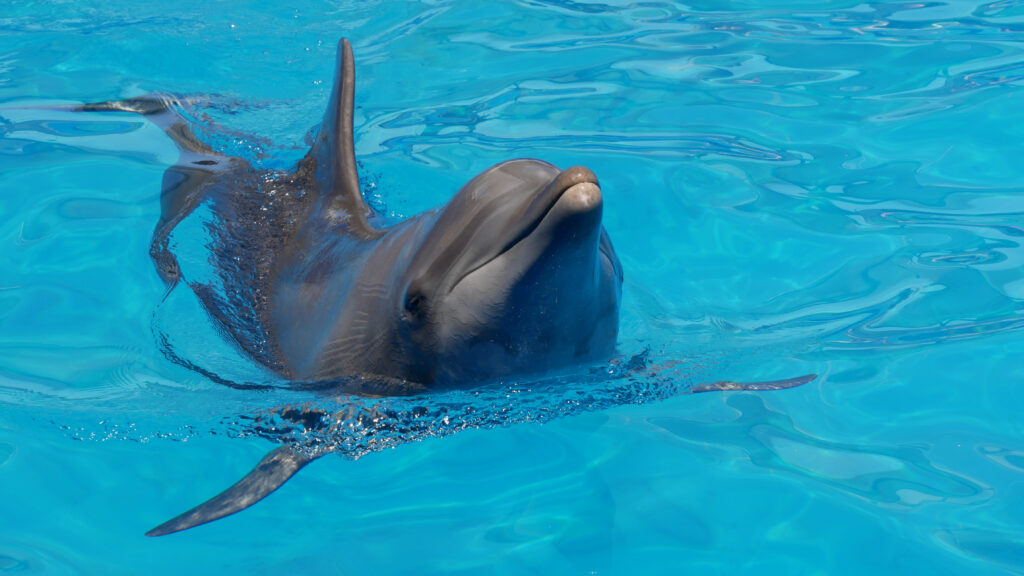 Go On A Pirate Adventure Sightseeing Cruise
What kid doesn't want to get to be a pirate for a few hours? On the Pirate Adventure Sightseeing Cruise, kids get to dress up like a pirate and ride a pirate ship around the bay. When the kids step on board the ship, they'll get their own pirate hat and a face paint mustache if they want one. Then, the boat sets out and sails around the Venetian Islands, Star Island, Port of Miami, and South Beach.
The tour is about 80 minutes long and includes a guide. As the boat sails around, the guide will teach passengers about the area and point out any wildlife they see. While you're on the boat, you may get the opportunity to see dolphins, sea turtles, or manta rays! The Pirate Adventure Sightseeing Cruise is easily one of the coolest Miami kids activities!
Get Your Tickets Here: Getyourguide.com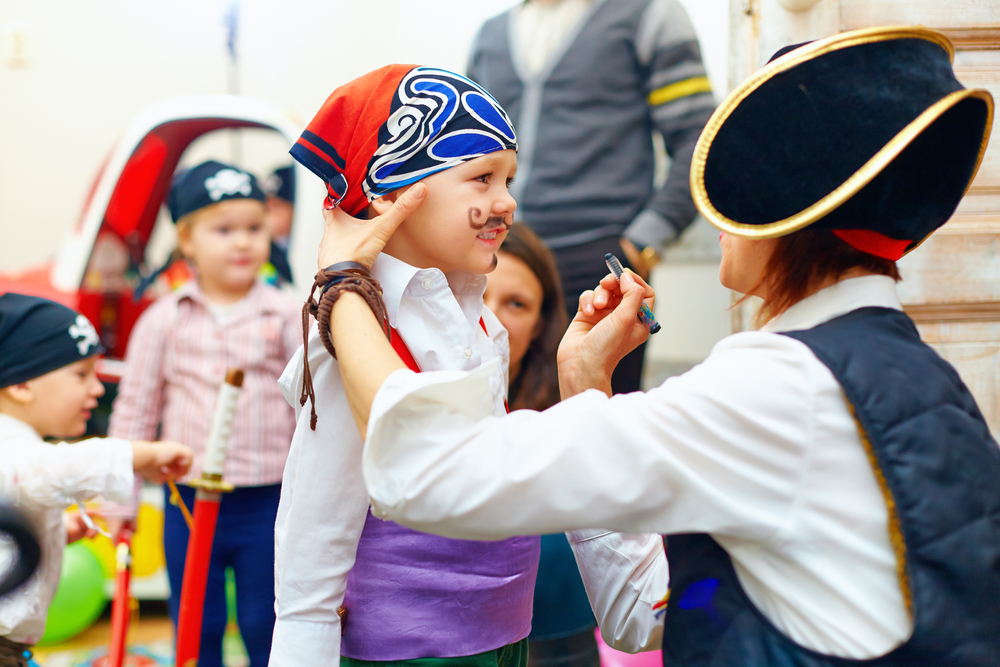 Visit Jungle Island
On Walton Island, in Miami, you'll find Jungle Island. Jungle Island is an eco-adventure park that is one of the most fun things to do with kids in Miami! Plus, it's just a 4-minute walk away from the Miami Children's Museum. So you can make a whole day out of these two family activities in Miami if you wanted to.
At Jungle Island, you'll find plenty of unique activities to take part in. The most popular activity at Jungle Island is their animal encounters. Kids over 6 can take part in all of the animal encounters. However, if you're visiting with a kid younger than 6, make sure to call ahead and see which animal encounters are safe for them.
The animal encounters include meet and greets with lemurs, sloths, flamingos, kangaroos, capybaras, and even giant tortoises! In most of the encounters, you'll get the chance to feed the animals, learn a little bit more about them, and take your picture with them. For more adventurous kids, they also have a treetops ropes course.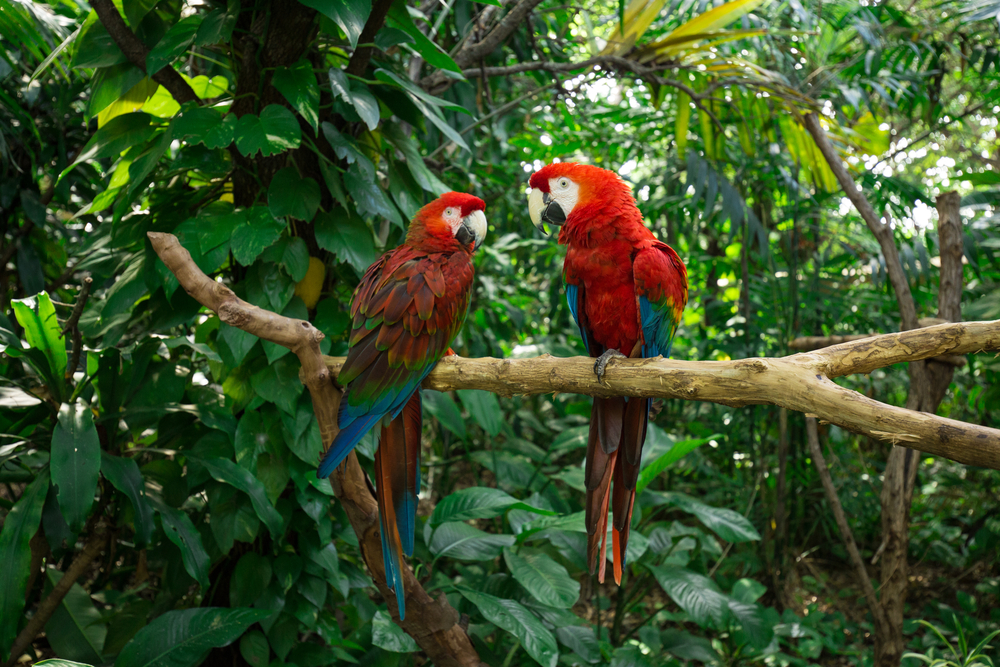 See Exotic Butterflies At Butterfly World
About an hour north of Miami you'll find Butterfly World. Butterfly World is the largest butterfly park in the world and was actually the first of its kind in the western hemisphere. So it's really unique and definitely worth the drive to visit!
At the park, there are three butterfly aviaries, a working butterfly farm, botanical gardens, and a research center. Inside the aviaries, you'll see over 20,000 exotic butterflies. Because the different butterfly species live at different times of the year, and for different lengths, the butterflies in the aviary are often changing. If you're still enough, a few butterflies will even land on you!
When you walk in the botanical gardens, you'll also see thousands of more butterflies there. The park's aim is to educate visitors about butterflies as well as protecting endangered butterfly species. So not only is it a really cool experience for kids in Miami, but it's also educational.
Take Family Wakeboarding Lessons
Is your family full of fun lovers and thrill seekers? Then you may want to book wakeboarding lessons for the whole family. This is one of the best activities with kids in Miami for those that love to try something new and enjoy being in the water.
Your two-hour wakeboarding lesson is led by a certified instructor. Whether it's your first time wakeboarding or your tenth, it doesn't matter. Skilled instructors can tailor each lesson to meet the needs of the group.
Towards the end of your lesson, you'll get in the boat and start practicing your wakeboarding skills! It's a super fun thing to do in Miami with kids if you want to have a little bit of an adventure during your vacation!
Get Your Tickets Here: Getyourguide.com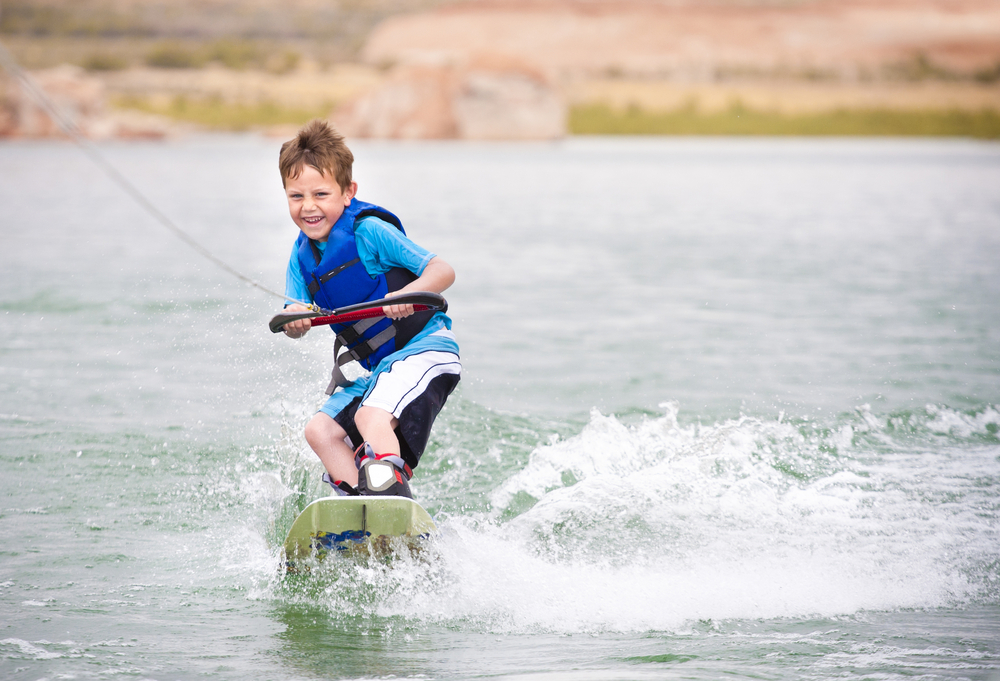 Spend The Day At The Tidal Cove Waterpark
One of the best water park hotels in Florida is the JW Marriott Miami Turnberry Resort & Spa. Admission to Tidal Cove Waterpark is complimentary with your stay at the JW Marriot Resort. But you don't have to be staying at the resort to enjoy the waterpark. You can also purchase day passes for the whole family.
At the waterpark, you'll get to enjoy lots of resort-style amenities. They have plush lounge chairs, complimentary towels, and poolside service. There are also cabanas that you can rent. In the waterpark itself, there is a large lazy river, tons of water slides, a wave pool, and an oasis pool. The whole family will have fun at this fun Miami kids activity!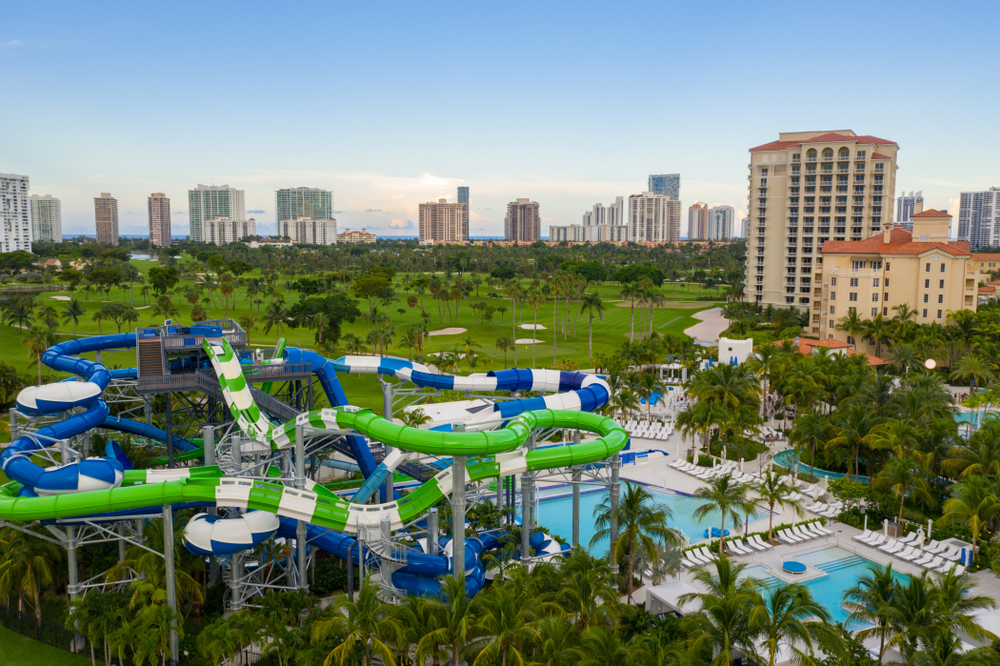 Enjoy A Sunny Day At North Beach Oceanside Park
If you want to find small beach town vibes in Miami, head to the North Beach Oceanside Park. It's a bit of a natural oasis in the heart of North Miami, and it's definitely a Miami hidden gem. On one border of the park are large sand dunes that lead out to the calm beach. The beach has lifeguards on duty and it's typically fairly quiet.
It's not a super crowded beach, so families will have plenty of room to spread out. In the park itself, there are also large pavilions, picnic tables, bbq grills, and restrooms. If the kids get bored on the beach, the park also has a small play area with swings and other playground equipment. With so many great amenities, you can easily spend the whole day in Miami with kids at North Beach Oceanside Park.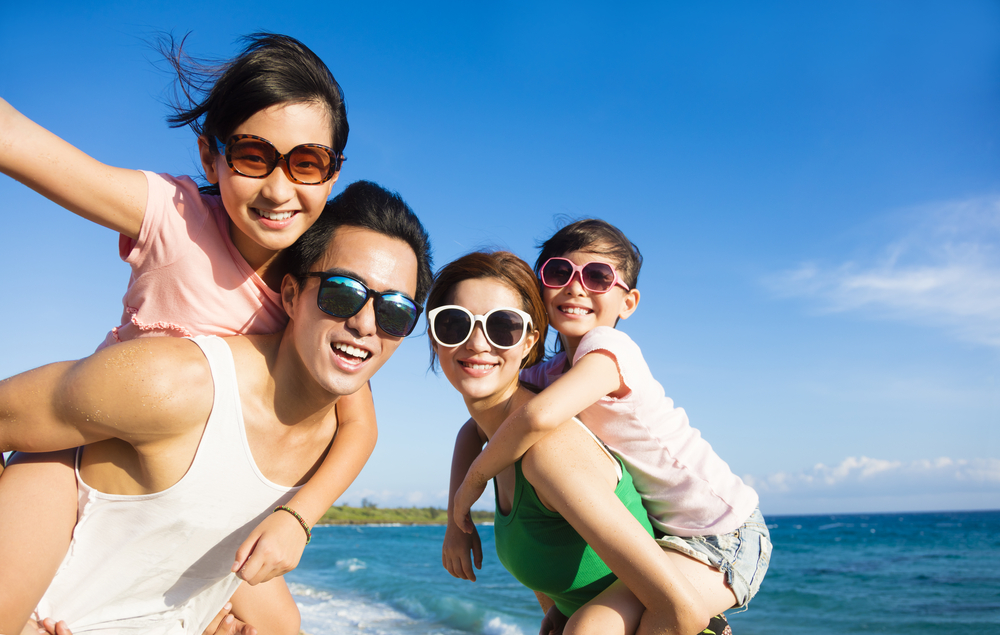 One thing is for sure, there are tons of fun things to do in Miami with kids. You just have to know what to look for. Whether you're traveling with babies, toddlers, or pre-teens, there's a fun activity for children in Miami. Has your family ever been to Miami? If so, what did you all enjoy the most about your Miami vacation? Let us know in the comments!