Are you looking for best beaches in Miami to visit? We have you covered with our list of most gorgeous beaches in the area!
Every year over 23 million people flock to Miami known for its year round sunshine from spring break to winter. Visitors come for the beaches, and nightlife. The beaches in Miami are known for their soft wide white sand and clear warm and calm Atlantic water.
With miles of coastline along the Atlantic coast each of the beaches is unique. From the glitzy Bal Harbor, popular South Beach, to nude beaches, family friendly beaches, State Parks, gay beaches and the perfect beach for curling up with a book there is a Miami Beach for everyone!
We have you covered with best place to grab breakfast in Miami before heading to the beach, or where to grab a bite to eat after spending all day at one the amazing beaches in Miami!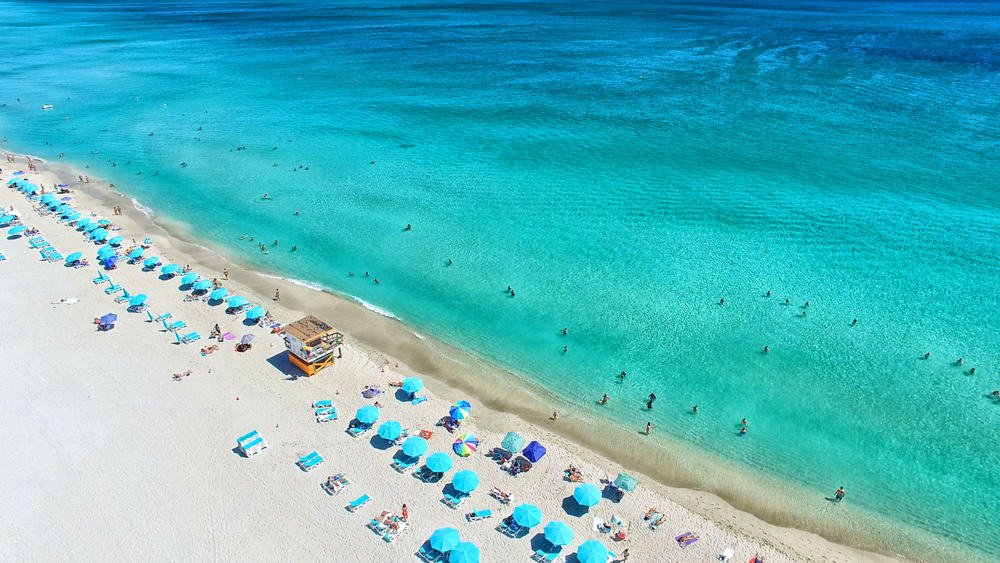 14 Gorgeous Beaches In Miami You Must Visit
Haulover Beach Park
If you're looking for nude beaches in Miami to visit as a first-timer and want a place to feel comfortable head to Haulover Beach Park in Miami!
Located along the southern side of Bal Harbour, many unsuspecting runners and joggers have been surprised as they come upon nudists sunning themselves on the beach!
At any given time, you'll find hundreds of naked sunbathers and swimmers. Trust us, they've seen it all before. Nothing phases them! Don't worry about getting comfortable at first, nobody will be looking at you.
Because the beach is in Haulover Park, you will have to park on Collins Avenue and walk underneath the road. Once you get to the best Miami nude beach make sure to check out the Nude Drum Circle and volleyball tournaments!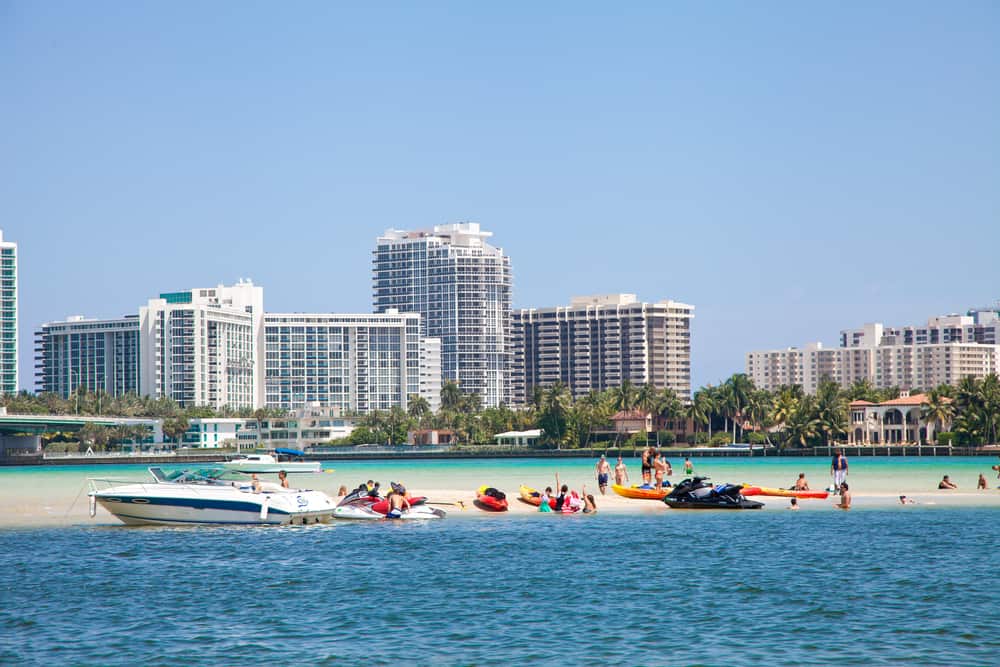 South Beach
We couldn't talk about beaches in Miami without including South Beach, arguably the most famous beach in Miami. It has the hallmarks of beautiful Floridian beaches with expansive sugary white sands shoreline and crystal-clear turquoise water making it the perfect spot for families.
Visitors and residents like flock to South Beach for its vibe and culture that is not experienced anywhere else. Known by locals as SoBe this was the first section of Miami Beach to be developed. Now the white sands are surrounded by pastel art deco masterpieces and the sight is truly breathtaking.
All topped off with the iconic colorful lifeguard stands designed by William Lane who donated his design services after Hurricane Andrew. His is lifeguard towers have become the symbol of all Miami Beach.
Some say that South Beach glitters and we couldn't agree more. South Beach is glamorous, beautiful, and lively. From tanning, relaxing on the sand, building sand castles, and soaking up some water or even renting a jet ski, there is not a dull moment here! Be prepared for crowds as it does get busy. Keep an eye out for food carts along the sands, they're delicious.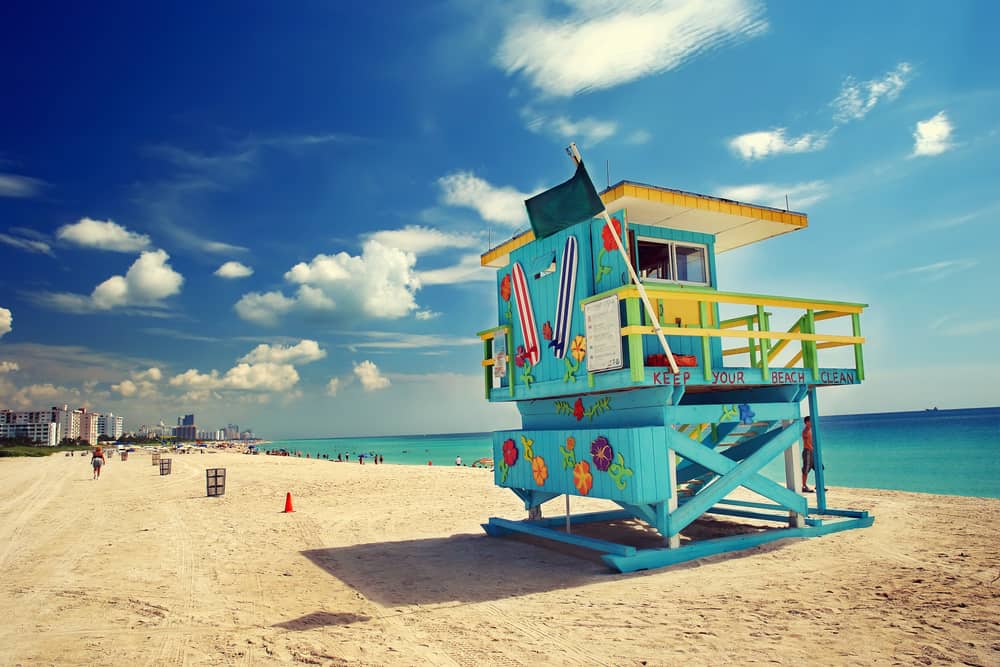 Miami Beach
Miami Beach is best known for the art deco building seen between 23rd street and 46th street and is known as Mid-Beach. This area of the beach is known for being more relaxed but just as glitzy as South Beach and a wider beach than North Beach.
Since 2008 this stretch of the beach has been resorted by the many hotels that line the beachfront, cafes, restaurants and a boardwalk that runs the length of the beach along Collins Avenue.
One of the more popular beach entrances in Mid Beach is Indian Beach Park with this section being quieter and more family friendly.Just be aware parking in this area is often difficult to find and expensive with almost no free parking!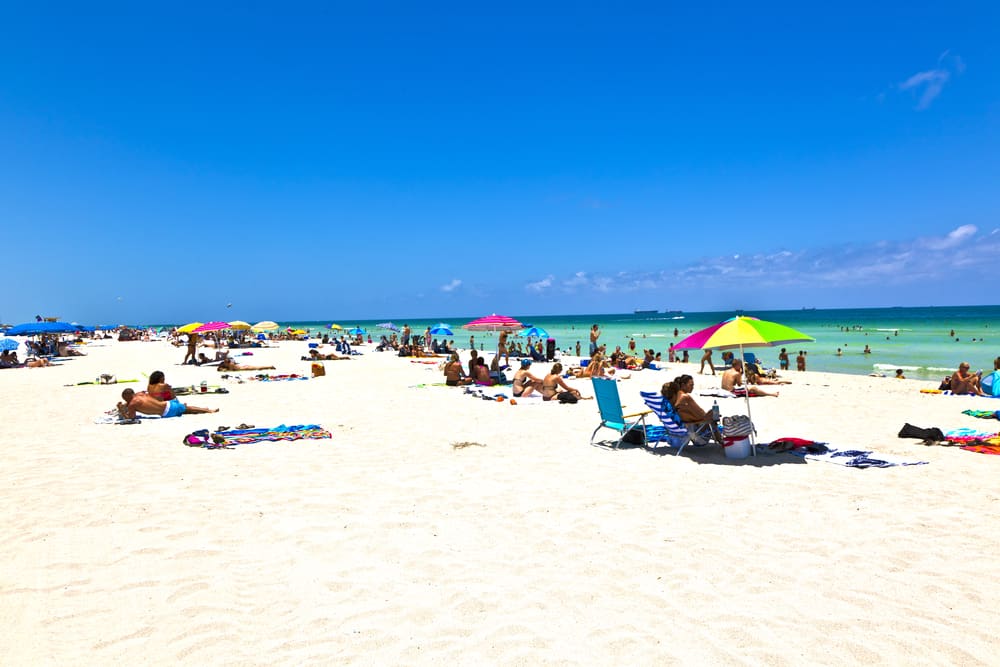 Surfside
Surfside the place to go if looking for an upscale beach feel in Miami! Situated halfway between Miami Beach and Bal Harbor, Surfside beach is an oceanfront neighborhood known for its luxury hotels and plethora of retail and restaurants just steps from the beach yet has a small town feel.
Surfside beach is popular with Europeans and South American visitors who flock to Florida for its year round sunshine. This is the place to come if you want to feel as if you have your own private area on the Atlantic coast. This beach even features large sand dunes where you can often spot runners along the beach.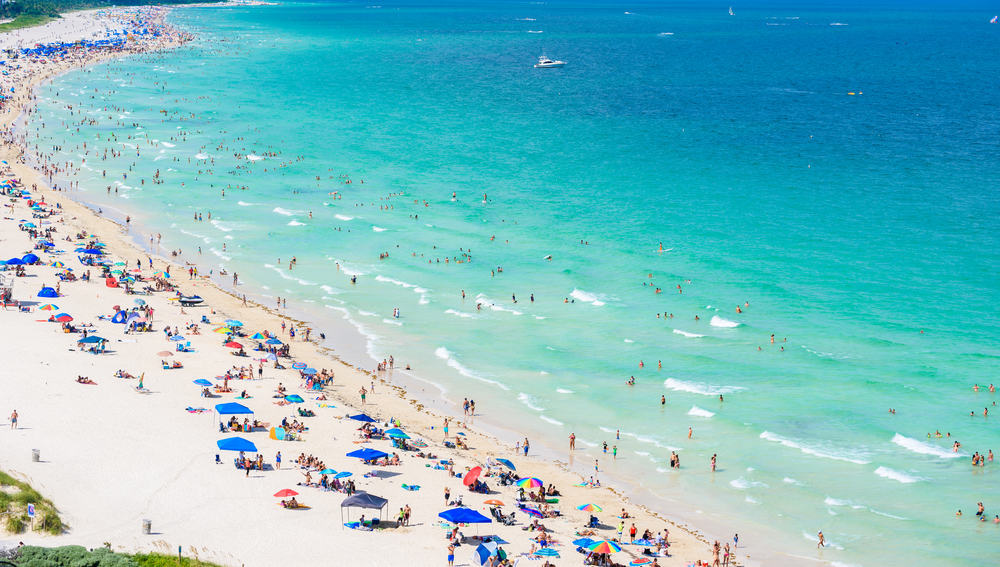 Bill Baggs State Park
Bill baggs state park is located on the tip of Miami Beach and Key Biscayne Bay. This state park is open daily from 8 AM until sunset and the costs eight dollars per car to enter.
At the beach you will find a historic lighthouse that was built in 1825 known as Cape Florida. While most known its scenic view points as well as hiking and biking trails offered the beach here is worth visiting too!
The over mile long beach is often ranked one of the best in Miami by Dr. beach. Here you can rent beach chairs and umbrellas as well as bicycles and paddle boards.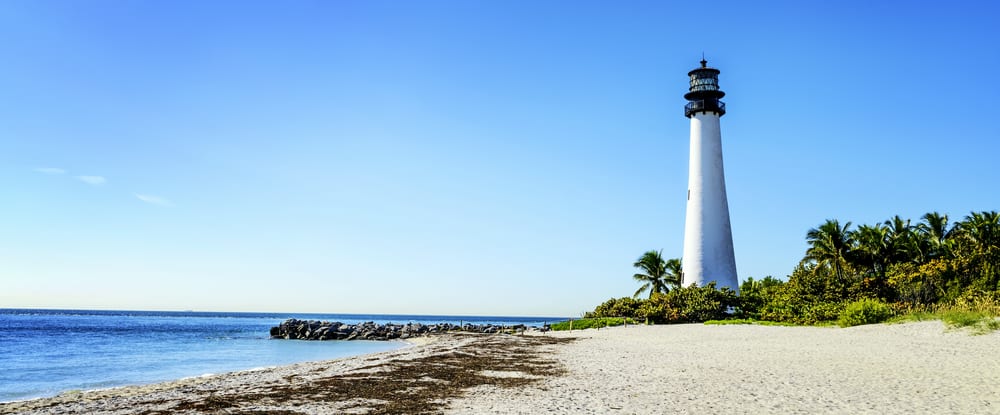 Bal Harbor
Bal Harbour is the place to go if looking for one of the upscale and swanky beach escape in Miami. Located just north of Surfside beach this town is known for shopping as well as its beach. A long beach path connects the two beaches and you will often find beach goes dressed in couture and sipping on cocktails at on the glitzy resorts.
As with all beaches in Miami it is a public beach finding parking in Bal Harbor Village can be difficult. However, well worth the extra time to find parking if you want to enjoy a quiet and calm spot in the sand. This is the beach to bring a book and relax in the sand.
If you want to the end of the beach you'll be met with an inlet and one of the best spots to catch a sunset over the Atlantic Ocean.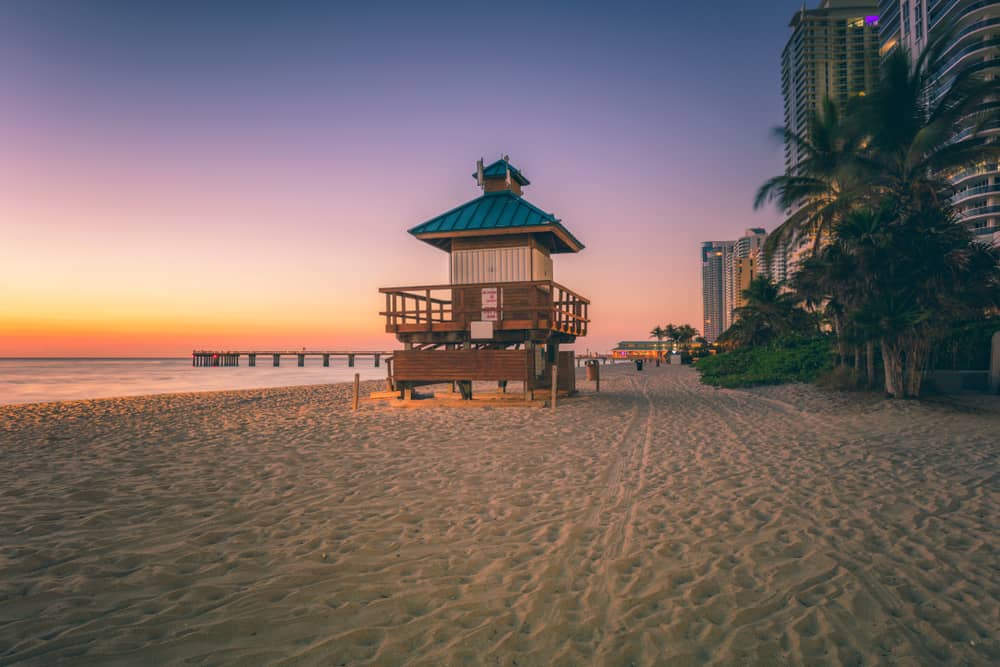 Hobie Island
Hobie Island Beach Park is one of the only dog friendly beaches in the area. It is located on Key Biscayne just over the Rickenbacker causeway and is known for being the best place for windsurfing in the area.
This is a great choice if looking for free beaches in Miami! Parking is free just have to pay the toll cost for the causeway! Just be sure to head here early on the weekends as parking fills up quickly. There are restroom and shower facilities located right off the beach.
Windsurfing equipment can be rented right from the beach and the shop has been around for over 20 years! The shop also offers lessons for those wanting to try it out for the first time. Or just relax in the shallow water off the sandy beach under the palm trees.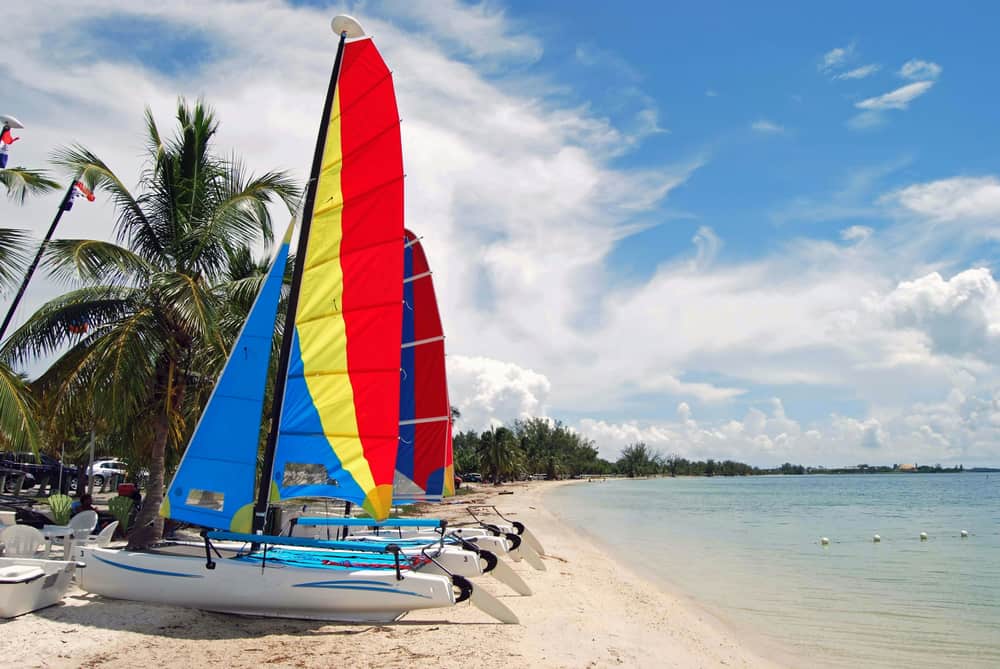 North Beach
North Beach is the beach to head to if looking for a low-key beach experience. It encompasses the beach access points between 63rd street and 87th street and is one of the North Miami beaches. Just a 15 minute drive north of South Beach.
A great beach choice for those looking for a beach that is both dog and family friendly!
In this residential area you will find a wide white sandy beach lined by palm trees, calm waters, small sand dunes and a boardwalk along the beach. The north beach is popular with visitors from Latin American and as such most of the near by restaurants served Latin American foods.
Stop by the bandshell for many open air concerts overlooking the beach. Since 1961, the bandshell has been a staple of life on North Beach. There is also a beach park with playground, dog park, picnic tables, grills, volleyball courts and walking trails.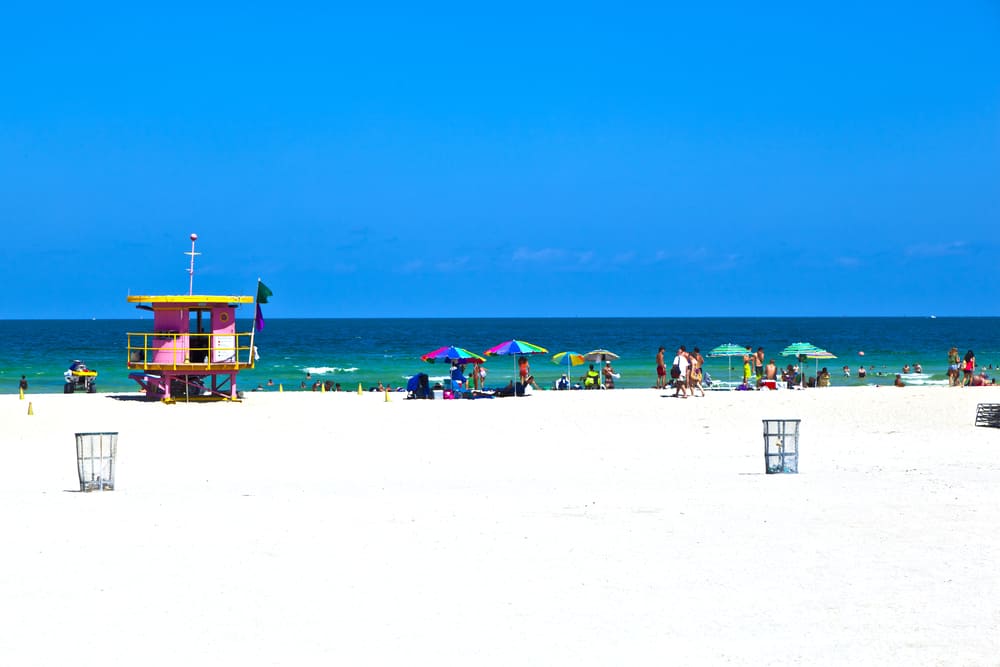 Sunny Isles
Sunny Isles beach is a two mile stretch of beach known for its wide sandy beach and crystal clear waters known for snorkeling. The beach also features the Newport Fishing pier built in 1982 featuring a fishing area, restaurant and lookout areas.
This is one of the beaches in Miami to head too if looking for close proximity to shopping, restaurants, museums, nightlife and more! Sunny Isels is often called the Florida Riveria known as the city of sun and sea.
One of the easiest public beach access spots is at Samson Oceanfront a park where parking lot is also located. There are over 10 other public access points in the area, three of which are dog friendly.
From free concerts, beach yoga, mediation, beach activities like jet skiing, catamarans, snorkeling Sunny Isles Beach offers something for everyone.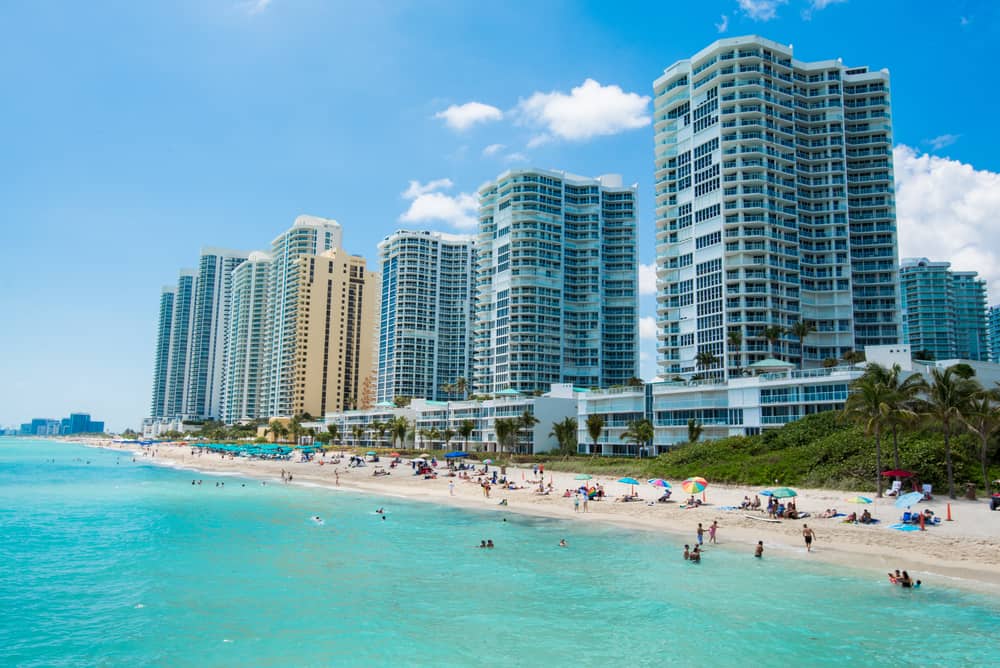 Joia Beach
Located on Jungle Island, Joia Beach is a waterfront beach club. From its tropical tiki huts, high end restaurant and bar and entertainment this Mediterranean beach club is the place to head if looking for somewhere special to head for the day.
The beach club is open from Wednesday to Friday from 4pm to 11pm and Saturday and Sunday from 1 pm to 11pm. Reservations are required! Complete with a full restaurant the beach lounge offers a relaxing oasis for those looking for an upscale beach day.
While Miami is known for its amazing white sand beaches this is the first beach club in the area. Whether you come by boat or land Joai beach club aims to be deliver the best food, cocktails and atmosphere in Miami.

Crandon Park
Crandon Park is another one of the beaches located on Key Biscayne and is an 800 acre oasis located on the country's oldest coconut plantation formally owned by William Matheson. The perfect spot if looking for a family friendly beach.
Since 1949, Crandon Park has been the perfect beach to visit if you want a beach with adventure offering tennis courts, golf courses, nature center and marina. The beach area at Crandon Park is a 2 mile wide stretch of white sand beach with calm water due to the sandbar offshore.
You can enjoy water sports like paddle-boarding and kayaking or grill out at one of the parks bbq grills or picnic area. For those not wanting to cook there is a concession stand that sells food.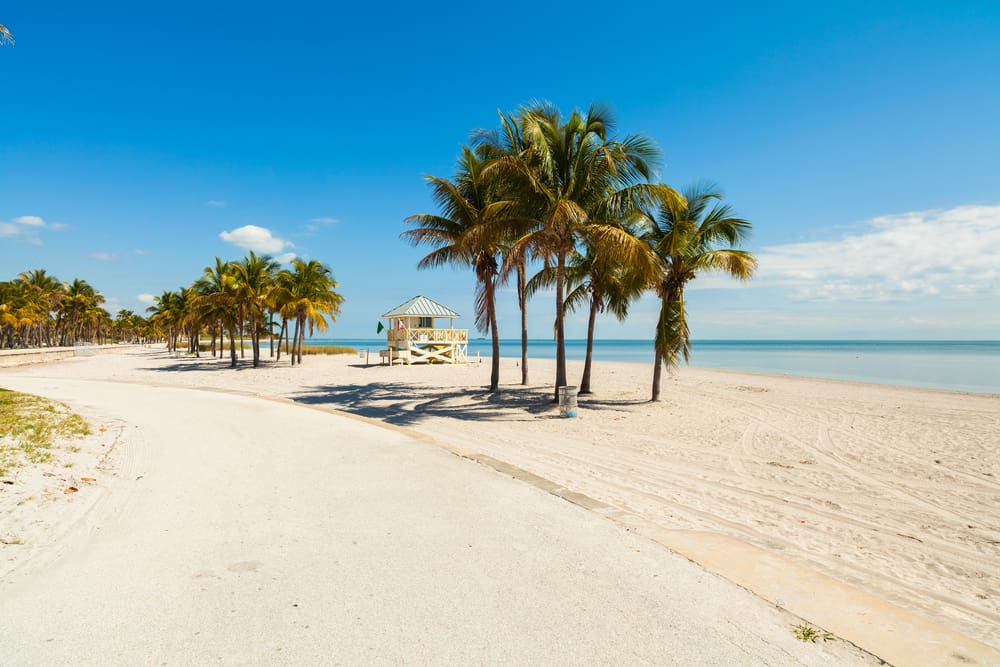 Virginia Key
Virginia Key is an 800 plus acre barrier islands located off the coast of Miami. Located near Downtown Miami this beach park lagoon is celebrating its 75th anniversary and is open daily until 5 pm and the entrance fee is $8 per car.
This beach is a natures lovers dream with a plethora of mangrove trees, mile long shoreline, a boardwalk through hammock trees all of which were restored in 2008. There is even a mini train that gives history of the beach!
Virginia Key is also a great beach to head too if looking for a place that offers beach wheelchair rentals, water sports rentals, cabanas, oceanfront cabins, biking trails and more!
12 th Street Beach
12th street Beach is the place to head if looking for a gay friendly beach. You will know you are at the right place when you see the rainbow flags flying on the beach by the lifeguard shack!
Here you will find often find women who enjoy sunbathing topless, gay men in speedos laying on the large white sand beach. You can expect this beach to be energetic with music often being played,. You can rent towels, chairs and umbrellas on the beach as well as shower and bathroom facilities.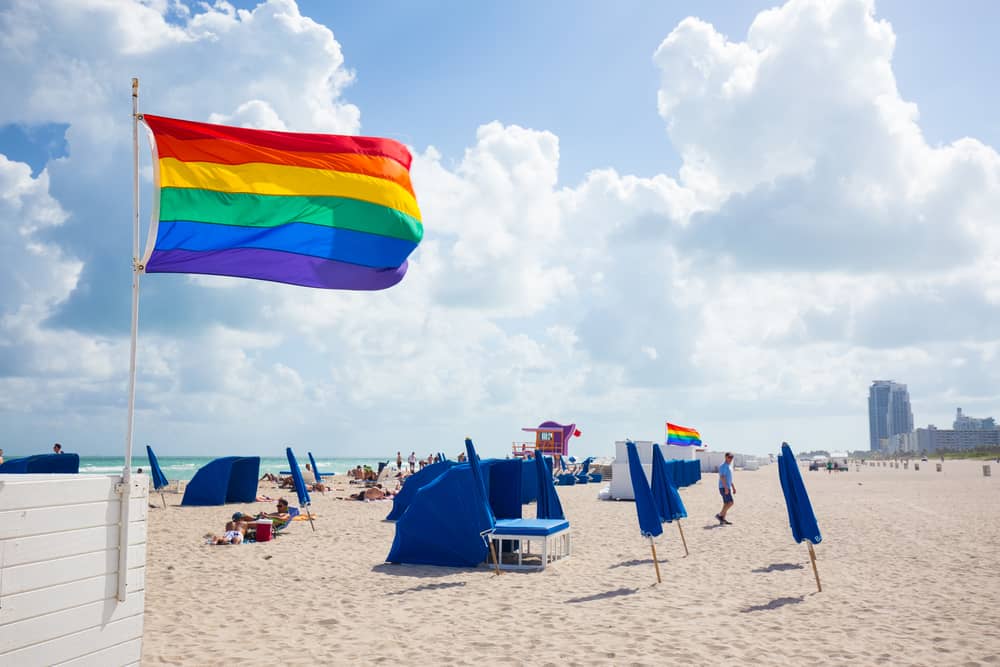 South Pointe Park
South Pointe Park is the beach known for its iconic colorful lifeguard towers. This is a great spot for families as lifeguards patrol the beach, and restrooms and showers are located right off the beach along with a cafe. there is a public parking lot and for an hourly fee of $2 on weekdays and set fee of $20 during the weekends.
Located on the southern most tip of Miami Beach this 17 acre recreational park is home one you go over the sand dunes you will arrive onto a wide white sand beach with clear water. You can take the beach boardwalk from Miami Beach to the pier. This is a great family friendly free beach in Miami with a playground located in the park area.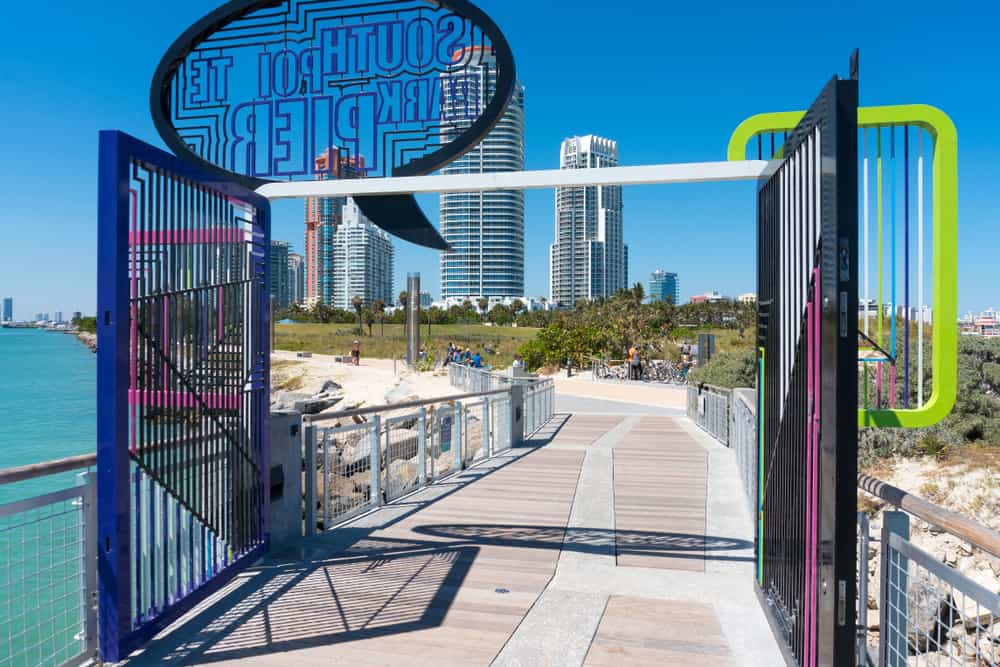 Did You Find This Post Helpful?
If so, we would love to keep in touch! We enjoy seeing photos and comments about your experiences in Florida! You can follow us on Instagram and we will repost your photos on our feed and comment too! Just tag us at @floridatrippers and hashtag #floridatrippers. We can't wait to see your travels!