Are you looking for a list of the closest beaches to Orlando? We have you covered with the best beaches close to Orlando!
While Orlando is known for its theme parks those living in central Florida are just an hour or two drive away from either the Atlantic or Gulf coast of Florida! With so many beaches near Orlando it makes sense many Orlando Families head to the coast for a day trip or weekend getaway.
Planning your trip to Orlando last minute?
Make sure to book ahead! Hotels and tours often sell out the closer you get to your trip. Here are our top picks for Orlando:
Top Experiences And Tours In Orlando:
Best Places To Stay In Orlando:
If flying into Orlando not to worry in under 50 minutes you can be sitting at the beach, enjoying the warm salt air and warm and calm waters!
Each of these beaches near Orlando have a unique and distinct vibe. From family friendly beaches, to state parks, surfing mecca's, beaches known to have it all, and small town relaxing beaches you are sure to enjoy one of these closest beaches to Orlando!
Don't forget to check out some of the Best Places To Stay In Orlando when planning your visit!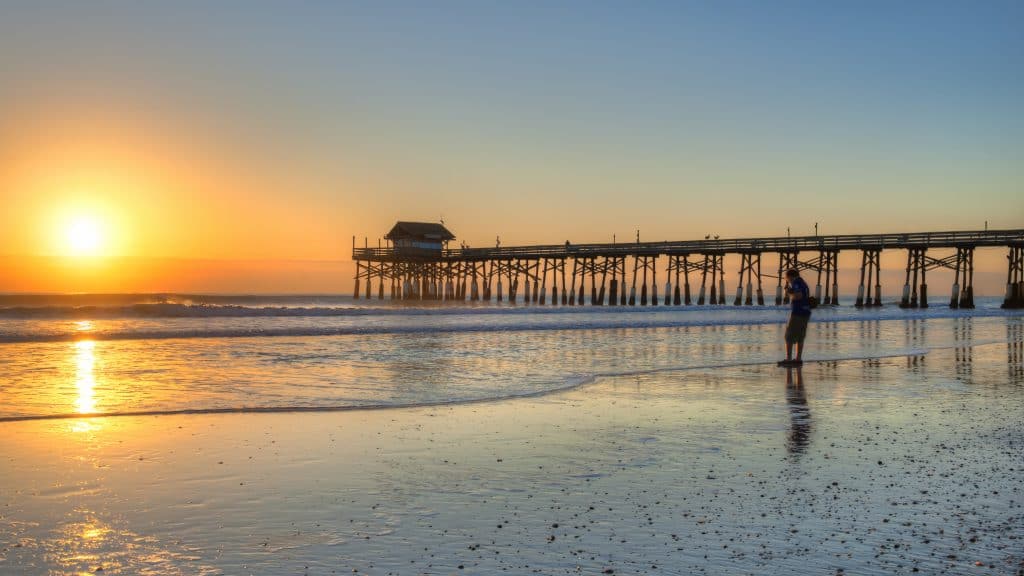 Does Orlando Have Beaches?
No! Orlando is located in mid-central Florida and is inland. But, the good news is that Orlando is located less than an hour from Atlantic Coast and just over 1.5 hours to the Gulf Coast! Making a trip to any number of the Florida beaches and easy day trip or weekend get-a-way from Orlando!
How Far From Orlando Is The Closest Beach?
The closest beach to Orlando is Cocoa Beach. Located just 60 miles or 1 hour away on the Atlantic Coast you will find one of the most popular beaches on the Atlantic coast. Great for surfing, shelling, and relaxing on the white sand beach! Perfect for those heading out of town for the day!
10 Best Orlando Beaches You Should Visit
Cocoa Beach
You must visit Cocoa Beach as it is the closest beach to Orlando airport. If arriving at Orlando International Airport you can have your toes in the sand in just about 45 minutes enjoying the warm Atlantic water on the Space coast. A great break from the hectic theme parks. If coming from Orlando you are about an hour from the beach!
Cocoa Beach is often referred to as one of the best beaches in Florida, if not the best beach in Florida. It is known for being family-friendly, great for shelling, and known for having waves great for surfing!
As home to Kelly Slater the 11-time world surfing champion, this is the beach close to Orlando to visit if you want to surf! Head to the Ron Jon Surf Shop the largest surf shop in the world, or wander around the Florida Surf Museum.
The Cocoa Beach Pier is a great spot too! Visitors can dine at any one of the restaurants, enjoy sunset drinks or shop at the boutiques while live music fills the air.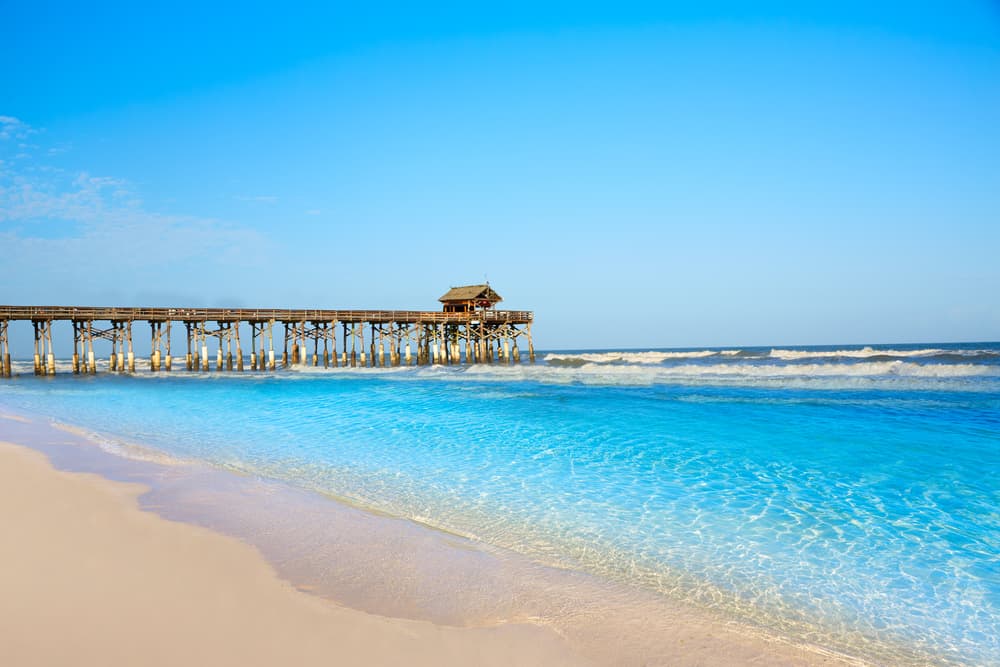 Daytona Beach
Daytona Beach is the most famous of Florida's east coast beaches and is known as "The World's Most Famous Beach". Daytona beach has a wide sugary white sand beach that you can drive onto.
Often a popular spring break destination, it can also make a great day trip from Orlando! There are over 20 miles of beaches to enjoy with activities from volleyball, jet skiing, surfing, parasailing, and bicycles you can enjoy while spending the day at the beach.
If looking to surf, Daytona Beach is a great spot for learning. As the waves are unlikely to get above 5 ft but the sandbar break means the surf is quite consistent.
At just 58 miles or an hour northeast of Orlando, Daytona beach is another one of the beaches close to Orlando with over 23 miles of shoreline making it the perfect place for families with children.
If visiting between May 15 to October 31, be on the lookout for sea turtles that flock to the sands of Daytona Beach to lay their eggs. Or pair a beach trip with one of the many events held in Daytona Beach like the Daytona 500 or Bike Week!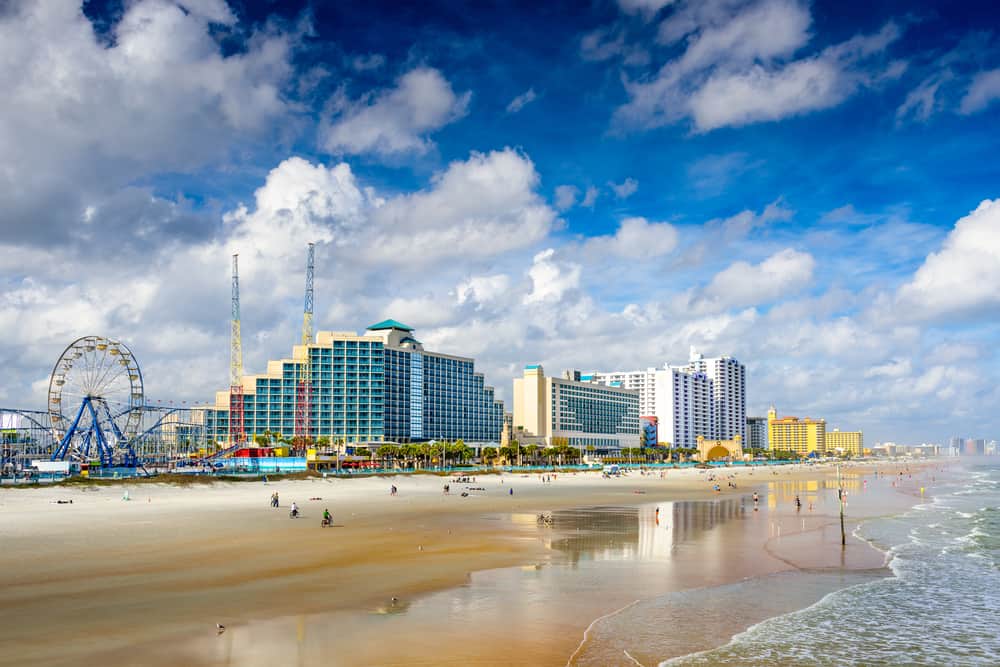 New Smyrna Beach
New Smyrna Beach is just south of Daytona Beach and is popular with locals from around the area. At just over an hour from Orlando, you can also drive onto this beach while looking for the perfect spot to unload and enjoy the beach!
This beach is a hidden gem as it is often uncrowded, unlike more popular beaches in the area. New Smyrna welcomes visitors looking to unwind and enjoy a laid-back beach city. Just park along Flagler avenue to enjoy the many restaurants and boutiques that line the beach.
At New Smyrna, the beaches are wide and flat with golden-hued sands. The town is rooted in local culture and art, full of personality. A prime location for surfers, New Smyrna Beach is perfect for families who can spend a day building an epic sandcastle or swimming in the ocean. And is dog friendly!
If looking for one of the beaches closest to Orlando known for dolphins, head to New Smyrna Beach! You can spot bottlenose dolphins right from the beach!
Paddleboarding and kayaking are very popular in this area as you can go along the Intracoastal.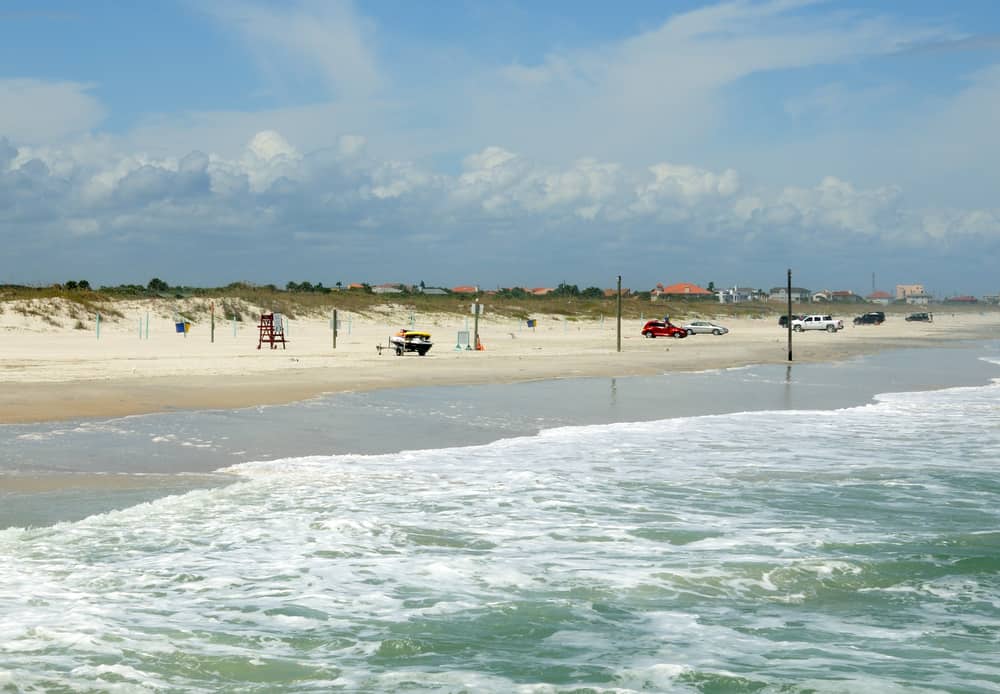 Clearwater Beach
Clearwater Beach is the first beach that makes the list on the Gulf Coast of Florida. Located about 1 hour and 45 minutes, or 108 miles west of Orlando, it is the beach that is advertised at Orlando International Airport.
Another one of the Florida beaches that makes the list of best beaches in the Nation! Clearwater Beach has been named the #1 beach in America by TripAdvisor, Dr. Beach, USA Today, and Forbes.
Visitors coming to Clearwater Beach can expect calm Gulf waters and powdery white sands. The city works hard to maintain cleanliness, raking the sand each morning to ensure the sand stays sugar-soft. Clearwater beach is also one of the few beaches where lifeguards are on duty year-round. Making this a great choice for those with families.
Clearwater Beach has some of best restaurants in Clearwater. Check out Frenchy's Rockaway Grille while you're still at the beach, Ocean Hai, or head further down the beach for a historic dinner at the Columbia.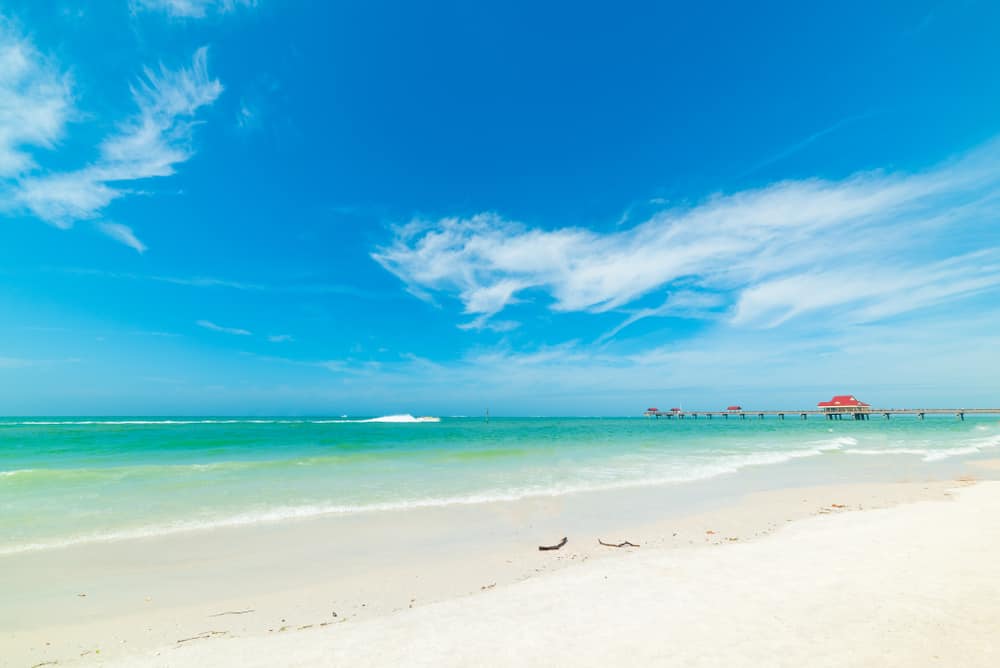 Madeira Beach
Maderia beach is located just west of St. Petersburg beach. Mad Beach as it is known by locals is home to John's Pass Village an 1100-foot boardwalk the village center is home to over 100 restaurants and shops.
About 2 hours from Orlando (111 miles), and 15 minutes west of downtown St. Pete you will arrive to a 2.5-miles stretch of powdery white sand. Perfect for relaxing on the beach or swimming in the calm clear water!
Madeira beach is a retiree community that has a laid-back vibe mixed with all things pirate. You can take daily pirate charters out of Hubbard's marina or go deep sea fishing on a charter if looking for something other than relaxing on the beach.
With only a population of 5000, this small beach town in Florida is the perfect place to escape for a weekend if looking for small town beaches close to Orlando.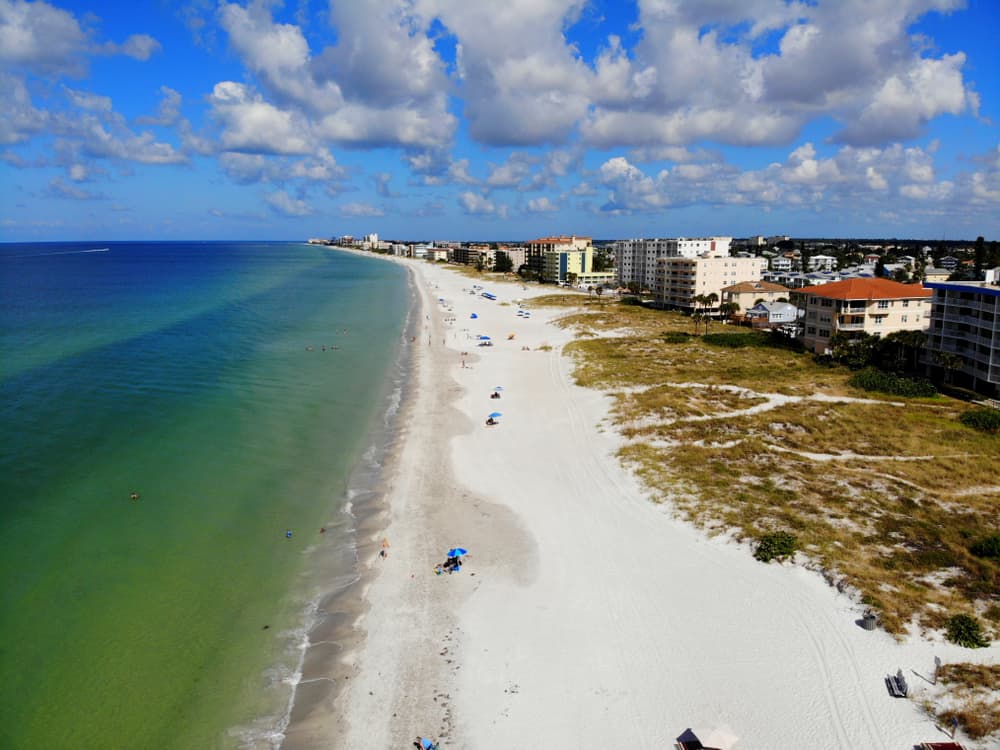 St. Pete Beach
St. Pete Beach is located just under 2 hours from Orlando and is one of the closest beaches to Orlando on the Gulf Coast. This iconic beach is recogniziable by the famous pink hotel known as Don CeSar! If everyone in your party wants something different for their beach experience this is the beach to head to!
Known as a resort area lined with hotels, restaurants and shops finding parking at this beach is often difficult, unless you come early! A free green energy shuttle known as "Freebee" shuttles guests along gulf boulevard and has numerous stops along St. Pete Beach!
With 10 public beach walkways, St. Pete beach has numerous areas to enter the beach from! From beach cabana rentals, to restaurants, bars, water sports St. Pete Beach is a full service beach. Kayaking and canoeing are popular or try speed boating, wind surfing, and parasailing for a true adrenaline rush!
The water is beautiful turquoise color, and the pristine white sand make this one of the best beaches near Orlando. For those wanting seclusion head to Upham beach on the northern tip of St. Pete Beach.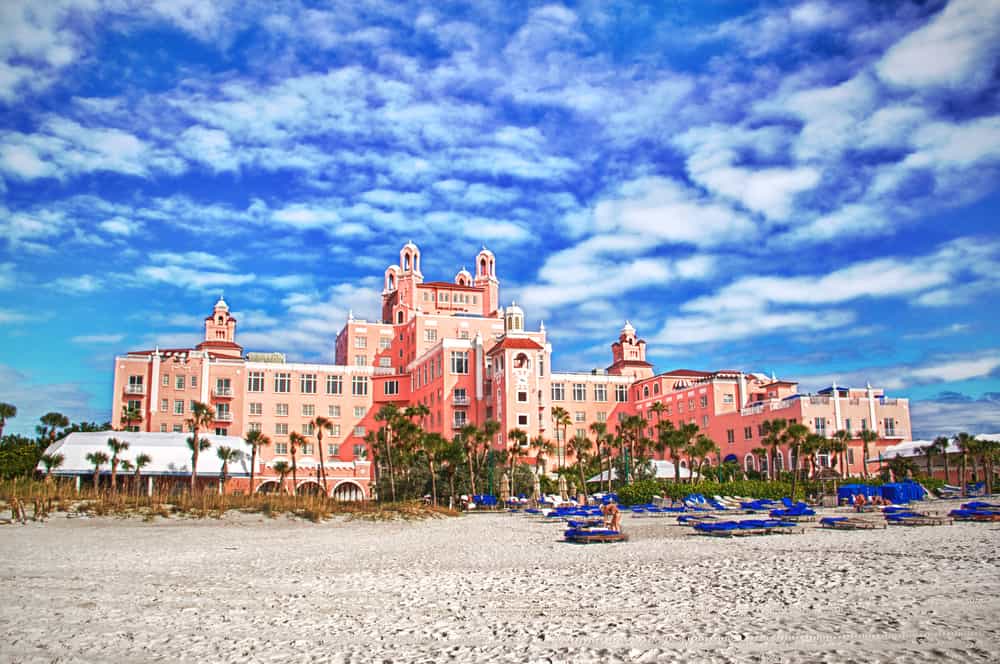 Canaveral National Seashore
Located between New Smyrna Beach and Titusville on the barrier island you'll find the pristine Canaveral National Seashore. From Orlando it is just a 1 hour 15 minute drive or 66 miles to reach this unspoiled and undeveloped area of coast line.
If you are looking for one of the nearest beaches to Orlando that provides a place to reflect and unwind while exploring nature this is the place to head! You will find many Florida endangered species like sea turtles, manatees, alligators, and birds along with over 1,000 species of plants .
Walk the Scrub Ridge Trail, which borders wetlands and ponds, where gators are always peeking out before heading to the beach!
There are many activities that you can do at this National Seashore. From strolling along the beach, to swimming in the calm and warm water, to fishing, you are sure to enjoy any time spent at this paradise.
You can either purchase a park pass at the Apollo Beach or Playalinda Beach entrance. More information on passes and fees are listed here. This is the perfect place to head for a weekend camping trip.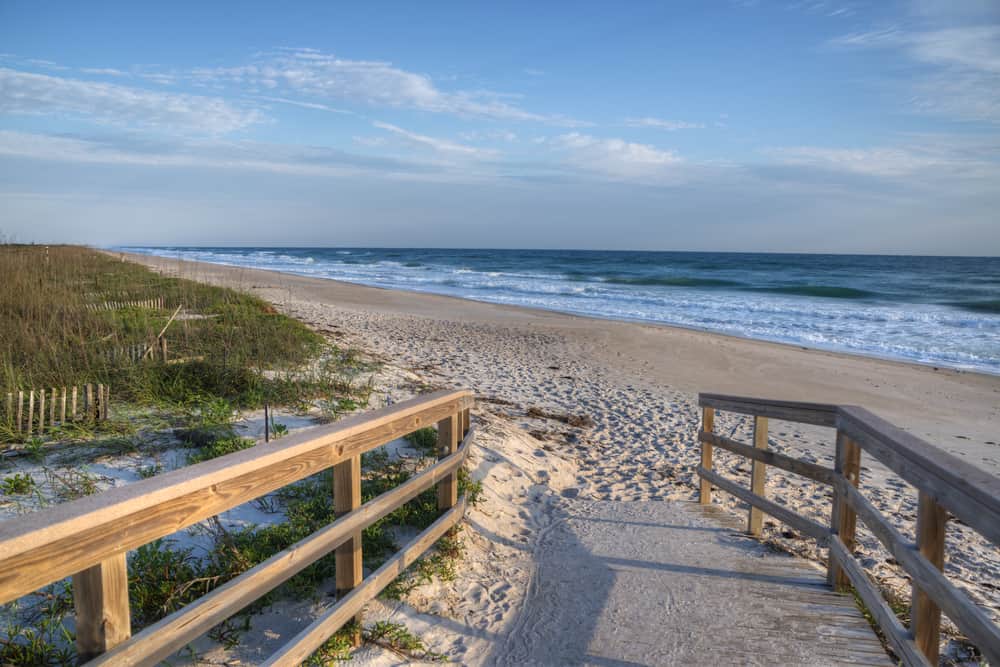 Melbourne Beach
Melbourne Beach is located about an 1 hour and 20 minutes or 76 miles southeast of Orlando. Located on Florida's Space Coast Melbourne is known as the "harbor City" and has miles and miles of unspoiled beaches. A visit here will transport you back to old Florida with a small town feel!
If looking for find undeveloped stretches of beach, good waves for surfing, and all the beach amenities you would expect this is one of the beaches near Orlando you should visit. Situated on the barrier island just across the Indian River its a great option if also visiting Kennedy Space Center.
The summer months are a great time to make the drive from Orlando as Melbourne beach is one second largest nesting grounds for sea turtles in the nation. Being on a barrier island makes the local ecosystem the perfect nesting ground! Just make sure not to disturb sea turtle nests!
If you park at Curtis Byrd Park, parking is free and you just walk onto the beach!Check out our article on the 7 Best Places To See Wild Sea Turtles In Florida. Also, this area is great for horse riding.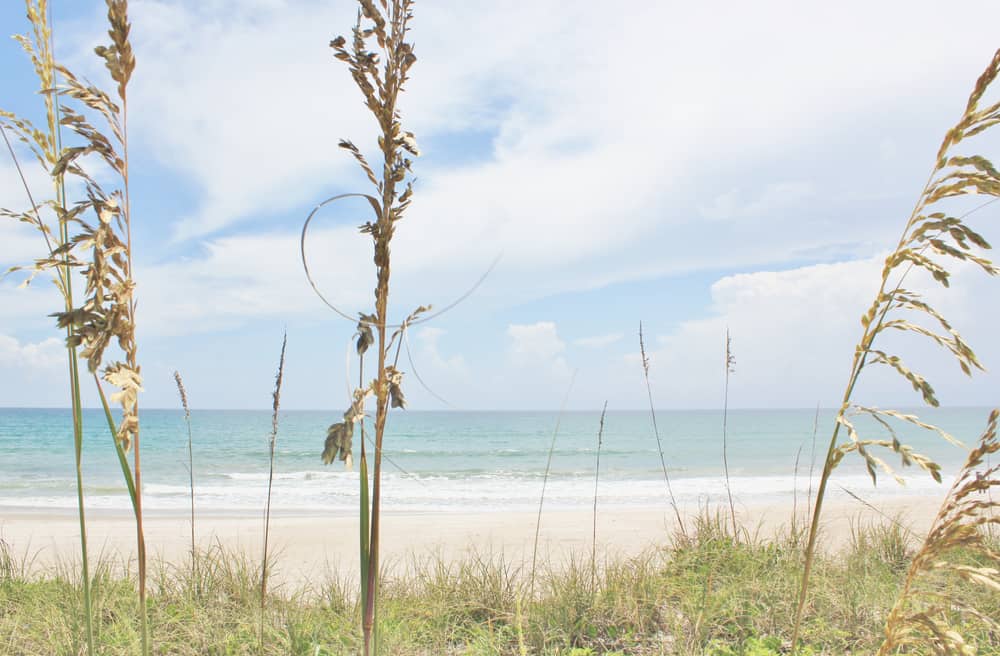 Anastasia State Park
While Anastasia State Park might not be one of the closest beaches to Orlando it is worth the drive! Located just over 1 hour and 40 minutes or 106 miles northeast of Orlando you will find Anastasia Island located near St. Augustine. One of the beaches on the over 42 miles of coastline.
As it is a state park, the entrance fee is $8 per car. Beaches, tidal marshes, and nature trails make up the grounds of this 16,000 acer preserve and is the perfect spot if looking to camp for the weekend!
You can enjoying the 4 miles of pristine white quartz sand beaches on the Matanzas Inlet. A visit here means tons of flexibility from enjoying the more calm beach inside the state park, to St. Augustine beach and several other options!
If coming during the summer season of Memorial Day to Labor Day there is a life guard on duty! This is the perfect place if looking for one of the beaches closest to Orlando for shelling!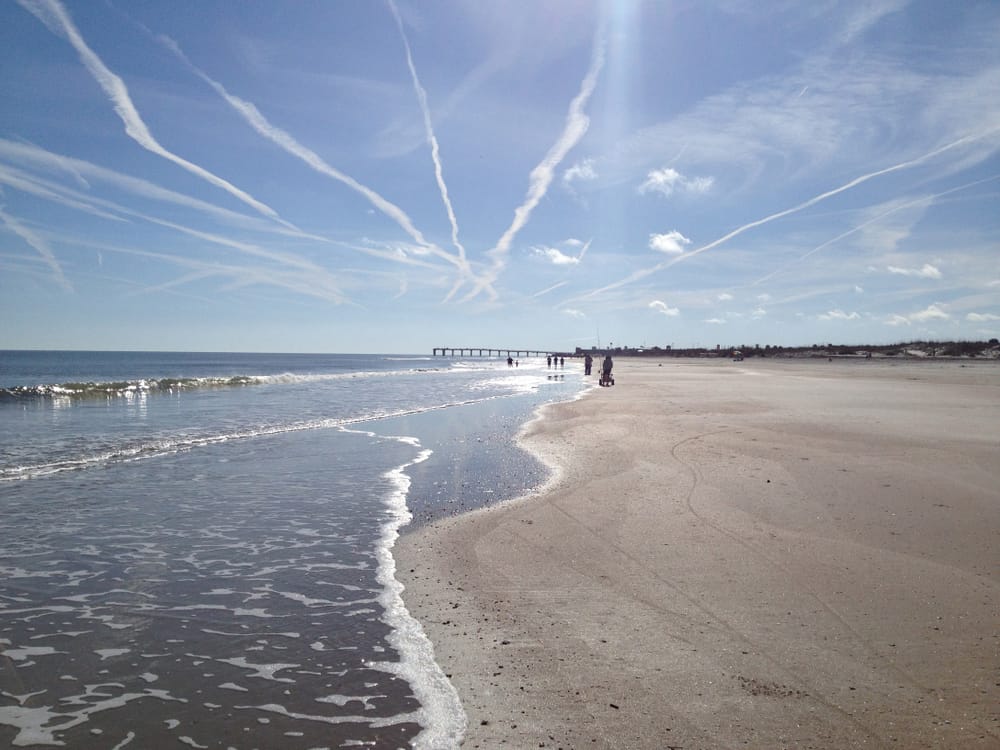 Vero Beach
Vero beach is located just over 1 hour 30 minutes or 106 miles southeast of Orlando, making it one of the closest beaches to Orlando for a day trip! The beach is situated on the Atlantic Ocean and offer over 26 miles of coastline to enjoy.
Here in Vero Beach you will find uncrowded white sand beaches just waiting for you to visit. Vero Beach is small seaside town where you can often spot sea turtles during summer months and is also a great place if looking to collect shells.
Head to the most popular South Beach with restrooms or Jaycee Park and 8 acer oceanfront park with boardwalk leading to the beach or the popular Round Island beach park area called Oceanside Park there are playgrounds, restrooms, showers, pavilions, walking trails, and picnic tables!
Kountry Kitchen With Love is the epitome of an old-fashioned diner experience. However, be aware it is cash only! If you forget though, there is an ATM located inside the restaurant. Make sure to check out our list of the best restaurants in Vero Beach!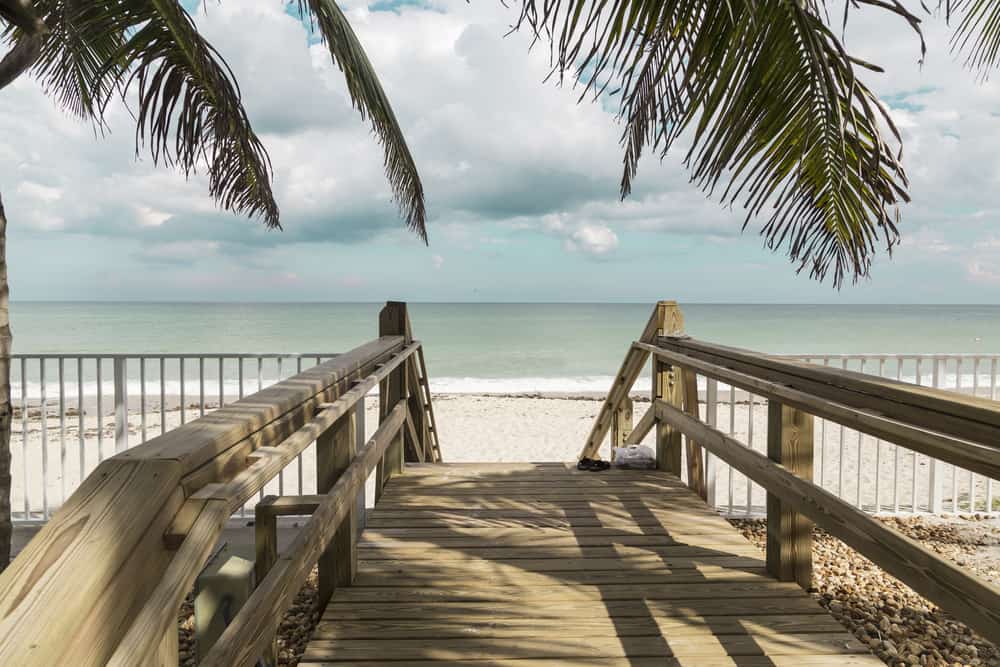 Did You Find This Post Helpful?
If so, we would love to keep in touch! We enjoy seeing photos and comments about your experiences in Florida! You can follow us on Instagram and we will repost your photos on our feed and comment too! Just tag us at @floridatrippers and hashtag #floridatrippers. We can't wait to see your travels!