You've been to Tampa, Orlando, and even the State Capitol, but how many of these small towns in Florida have you visited? We bet there are a few towns here that even the locals haven't heard of before!
Thanks to Florida's location in the country, it has one of the most diverse populations of all the states. The Sunshine State's sunny skies, clear waters, and warm weather draw in people from all walks of life. Many tourists eventually make Florida their permanent home.
When you're tired of the hustle and bustle of big cities, there are a lot of places where you can recharge their batteries. Many small towns in Florida are quaint, homey, and welcoming.
Keep in mind that small doesn't mean dull. Many of these small towns in Florida are beloved for their niche communities. You can find fishing havens, thrift shop meccas, and even Scottish villages!
We guarantee that a trip to each of these small towns in Florida will provide you with unique memories from a new adventure. So whether you're in need of an escape or just looking for something new, check out the best small towns in Florida!
Did You Find This Post Helpful?
If so, we would love to keep in touch! We enjoy seeing photos and comments about your experiences in Florida! You can follow us on Instagram and we will repost your photos on our feed and comment too! Just tag us at @floridatrippers and hashtag #floridatrippers. We can't wait to see your travels!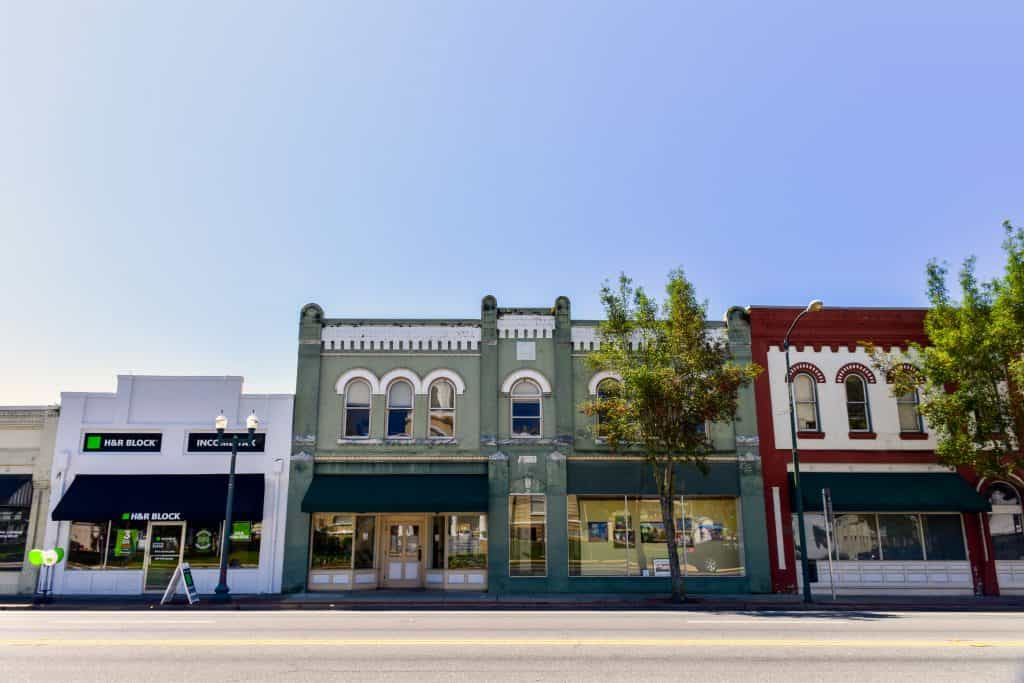 21 Cutest Small Towns In Florida
St. Augustine
A visit to the nation's oldest city has lots to offer! Founded in 1565 it wasn't until Henry Flagler transformed the city into a bustling hub in the late 1800s with his railroad.
One of the most romantic cities in Florida, St. Augustine offers something for everyone. Between castles, beaches, museums, national parks, ghost tours, distilleries, restaurants, and wineries there is a ton of things to do in Saint Augustine.
If you head just to the north, you'll find a great beach for surfing at Jacksonville Beach. Head to the shoreline to see the St. Augustine Lighthouse, featured many times in television and film.
Plan your trip well, and you can even get spooky as fall in Florida approaches! With a reputation as one of the most haunted towns, you can take ghost tours in St. Augustine that will chill you to your core!

Where To Stay in St, Augustine:
Sandy Feet Retreat: Check Rates on VRBO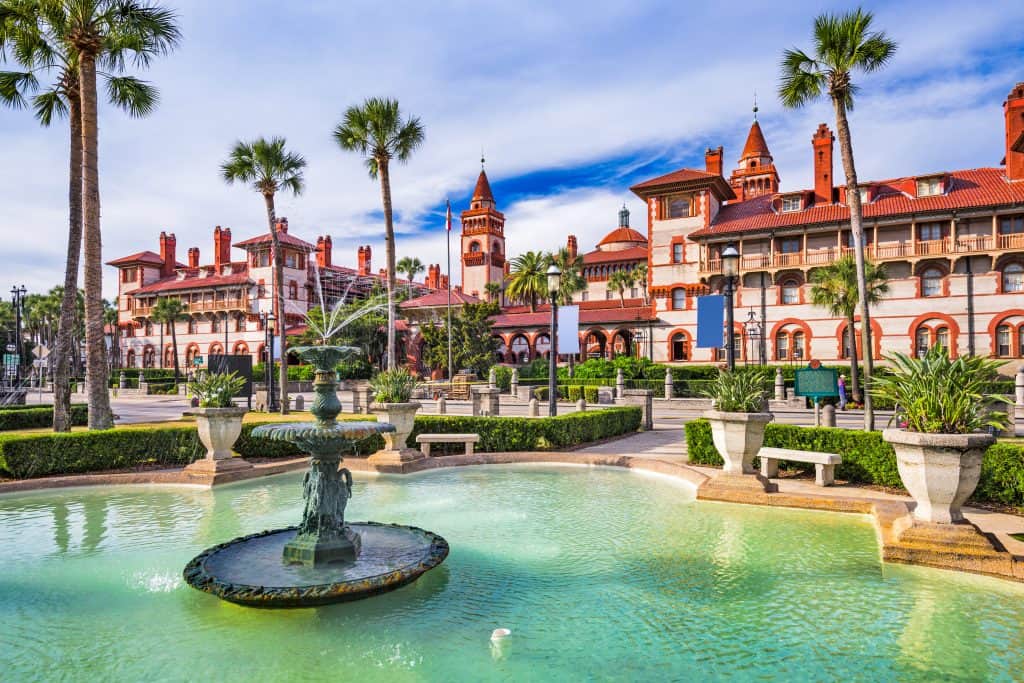 Safety Harbor
On the west shore of Tampa Bay, you'll find a small community in Pinellas County tucked away. Less than 5,000 people live here, and the town is only five square miles.
The downtown stretch of Main Street is lined with trees, family restaurants, small shops, and boutiques. This small-town feel is absent in the heavily urbanized Pinellas County, making Safety Harbor a cultural gem.
Main Street dead-ends into the Safety Harbor Resort and Spa, which offers affordable treatments using Florida's natural springs for the family. The town is so charming, Lifetime even filmed one of their movies in Safety Harbor!
Make sure to visit Whimzeyland, a small home that uses bowling balls, mosaics, and glass bottles to create a place where color explodes non-stop. This is a private residence, and while visitors are welcome to explore the grounds, please be respectful.
Where To Stay in Saftey Harbor:
Casa La Cala: Check Rates on VRBO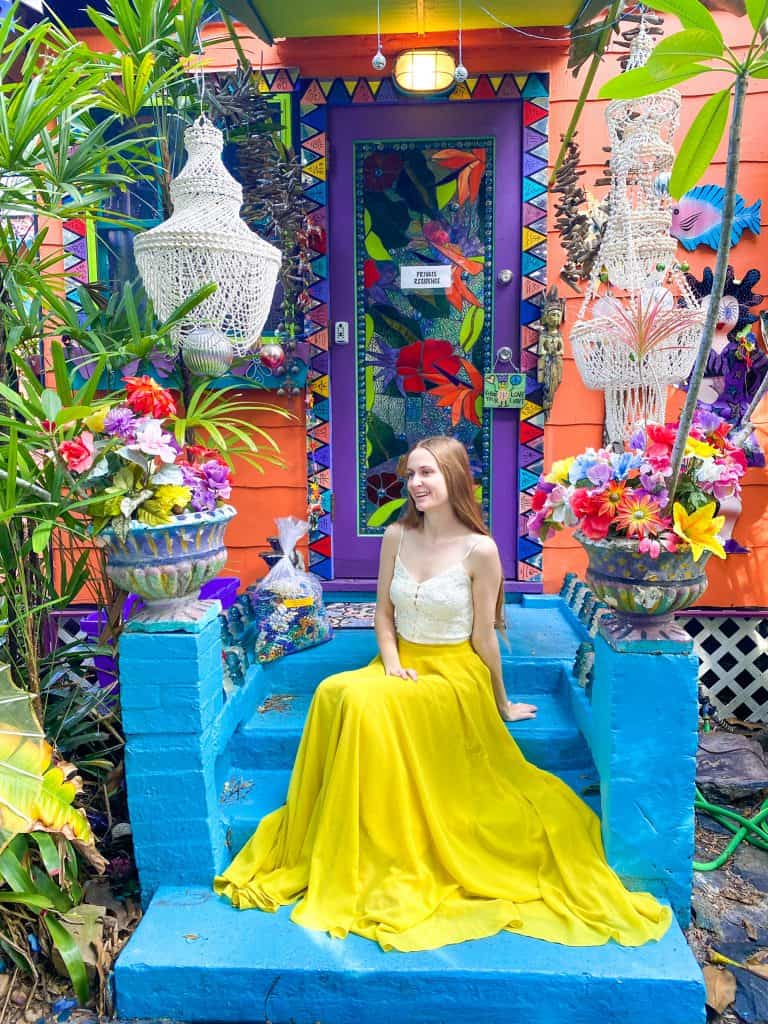 Tarpon Springs
Tarpon Springs, Florida is one of Tampa Bay's best-kept secrets and cutest small towns in Florida. Rich in history, Greek culture, great food, and natural beauty, this little coastal town is a great destination for the whole family.
Due to the abundance of Greek Immigrants brought by the sponging industry, a large number of the residents in Tarpon Springs come from greek heritage. Depending on when you visit you may find yourself walking through a massive Greek festival or in the middle of the Epiphany, a traditional Greek celebration out on the bayou.
The Sponge Dock in Tarpon Springs is a must-visit. Here you will find the largest variety of natural sponges, so fresh you can still smell the salt and sea all over them.
In addition to great antiquing, vintage shops, specialty markets, and boutiques, you can visit the Safford House Museum. Filled with original furnishings and old Safford family possessions, it remains a prime example of late 19th century Victorian architecture.
Where To Stay in Tarpon Springs:
Waterfront Home: Check Rates on VRBO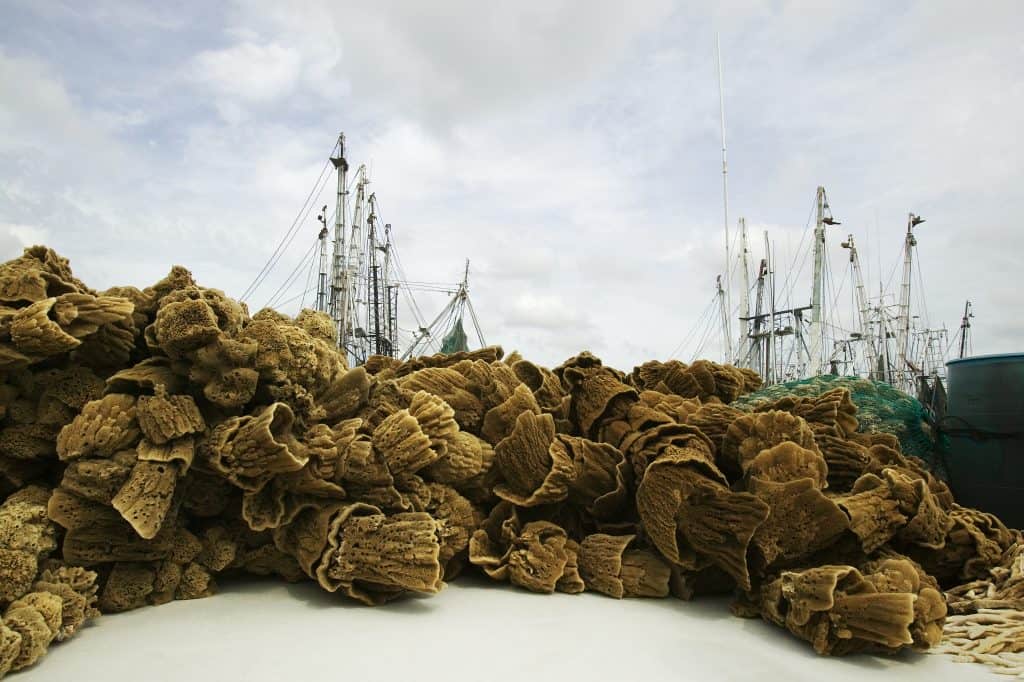 Dade City
Just a 30-minute drive from Tampa and an hour away from Orlando, a trip to Dade City is a perfect day trip or quiet weekend getaway. One of the best small towns in Florida, you'll always find something to do in Dade City.
Dade City is a quiet town full of history, native Florida wildlife, and culture. The rolling hills and pasture lands provide a beautiful backdrop for a dense suburban lifestyle in Pasco County.
Downtown is full of incredible antiquing and thrifting, perfect for a leisurely stroll. Because there are plenty of mom and pop diners and cafes to choose from, you'll always have a good homecooked meal. Life is so quiet here, motorists actually slow down for pedestrians!
Dade City is full of rich Florida history. Reenactment festivals depict battles from the Second Seminole War and the Civil War. Settled in the early 1900s by railroad workers, you can learn about Pioneer Life at the Pioneer Village and the Dade City Heritage Museum.
Where To Stay in Dade City:
Tiki Paradise: Check Rates on VRBO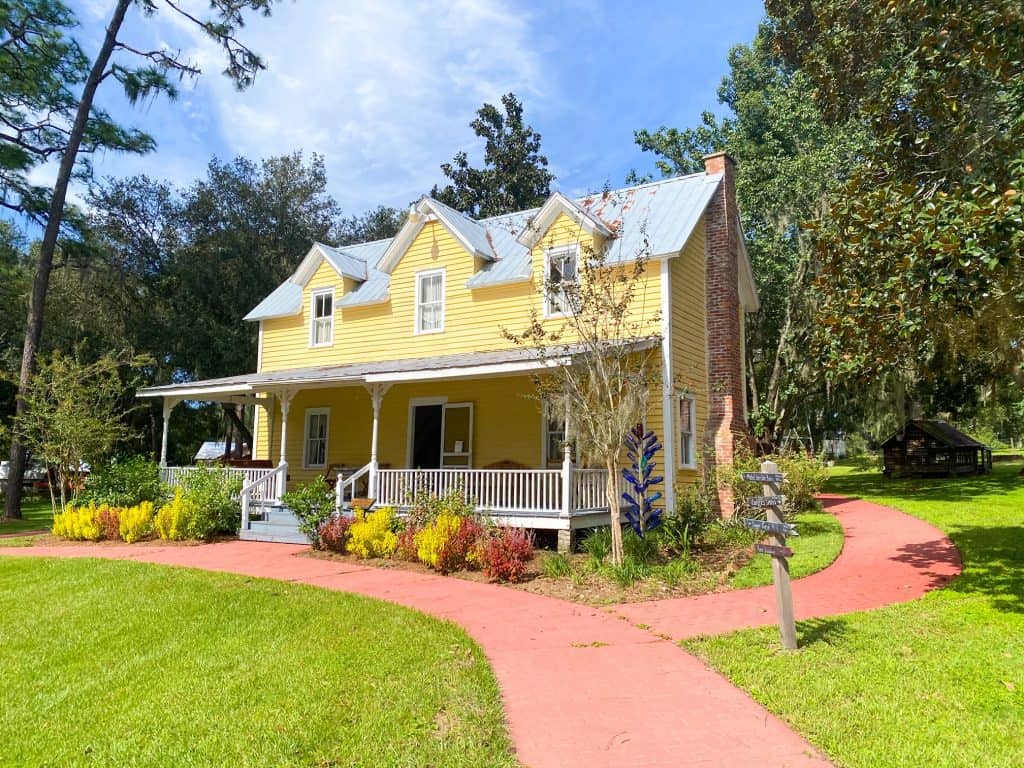 Winter Park
The next time you're near Orlando, don't hesitate to visit Winter Park. Originally a resort for business magnates, don't let its now-sleepy facade fool you. Winter Park is one of the best small towns in Florida.
The main drag, Park Avenue is lined with civic buildings, retail, art galleries, and a private liberal arts college, Rollins College. There's also museums, a park, a train station, a golf course country club, a historic cemetery, and a beach and boat launch!
Peacocks often roam around in neighborhoods, especially throughout the community of Windsong. You can find them in the beautiful, lush parks. Former President Chester A. Arthur even called Winter Park "the prettiest place in Florida [he had] seen."
Plan your visit and you can be in Winter Park for their annual Sidewalk Art Festival! Thousands of people travel from all over the world to apply to compete, and only 225 are selected per year. With that many applicants, you know you're going to see some amazing chalk art!
Where To Stay in Winter Park:
Casa Aloma: Check Rates on VRBO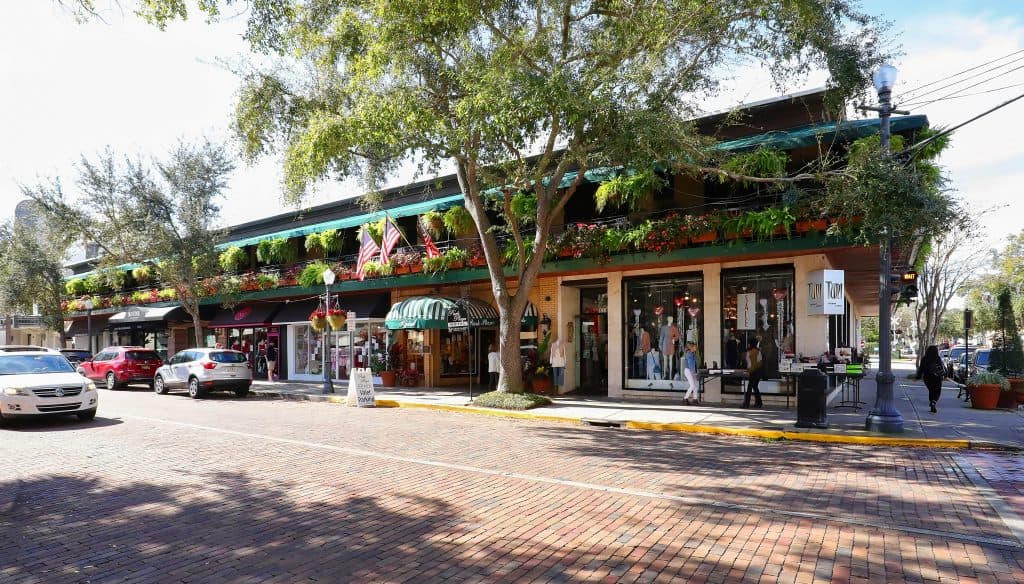 Mount Dora
Just a 35-minute drive northwest of Orlando, Mount Dora is a sleepy town known for its antique shops and the best festivals in Florida. Small enough to explore in a day, but interesting enough to lure visitors back, this is a great place to explore on a date night.
As you walk through Mount Dora, you'll notice the historic buildings downtown dotted with palm trees on the streets. Filled with boutique shops, walking tours, and art galleries, there is so much to explore.
The highlight of the town is Renninger's Vintage Antique Center & Farmer's Flea Market. Over 117 acres of scenic, rolling land are filled with vendor booths selling everything from produce, meats, cheeses, and a variety crafts.
On the second Friday of every month, catch the Mount Dora Art Splash. Walk through an outdoor art gallery, where the quirkiness of the town really shines. The shops stay open late and there is live music to enjoy!
The crown jewel of the town is Lake Dora. 6 miles long and a third of a mile wide, enjoy the sunset on the Palm Island Park Boardwalk. Take a tour of the 35-foot tall working lighthouse! There are not many freshwater lighthouses in the state, so take advantage!
Mount Dora is said to be magical, and once you visit, you'll understand why. Extend your stay with a charming Airbnb and take in the small town in all of its allure.
Where To Stay in Mount Dora:
The Carlton: Check Rates on VRBO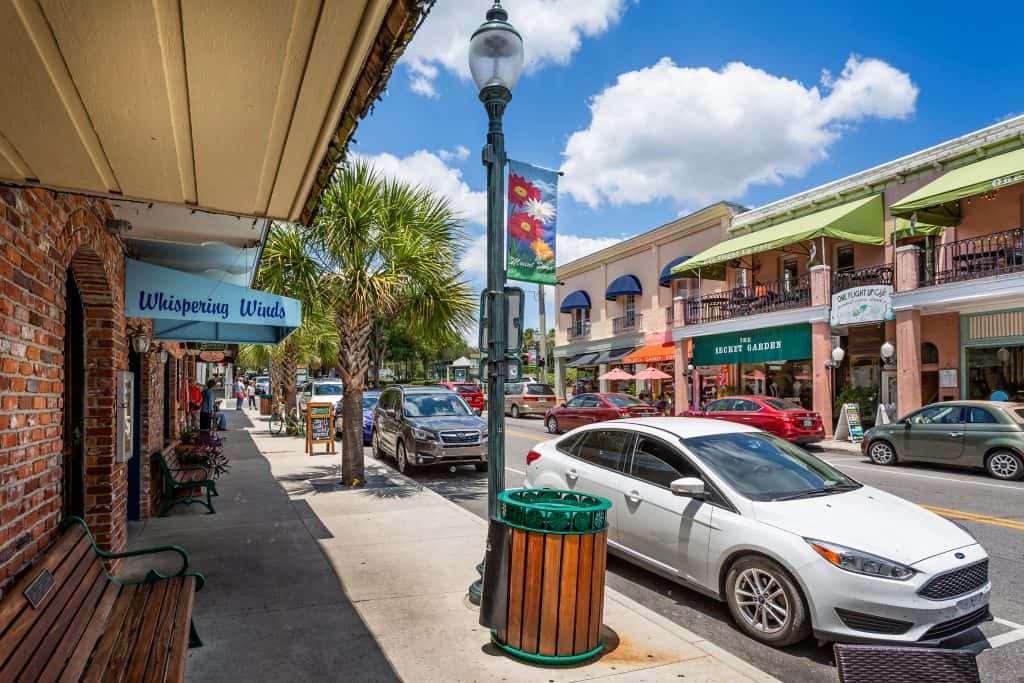 Matlacha
Adjacent to Cape Coral, you can find one of the most quaint small towns in Florida! Pronounced "mat-la-SHAY," Matlacha means "big warrior" in Seminole!
A quirky, historic fishing village, Matlacha feels like Key West, minus the crowds. The colorful charm and laidback vibe capture the essence of turn-of-the-century Florida. On a walking tour, you'll see pink palm trees, dolphins painted with polka dots, and one-of-a-kind homes painted in neon colors.
When you visit Matlacha Pass, you'll always see an angler reeling in a big catch! Known as the "World's Fishing-est Bridge," a tidal current runs beneath that sweeps in snook, redfish, and tarpon.
After, you have to pass by the "Doll Lady's" House. She decorates her front yard with her collection of "junktiques." You'll be charmed by hobby horses and rag dolls sitting in salvaged garden chairs.
Matlacha Village is also home to renowned international artist Leoma Lovegrove. Her eclectic, colorful artistic medium has influenced the entire village. In her gallery, you'll find her vibrant paintings displayed throughout a whimsical garden.
Where To Stay in Matlacha:
Waterfront Getaway: Check Rates on VRBO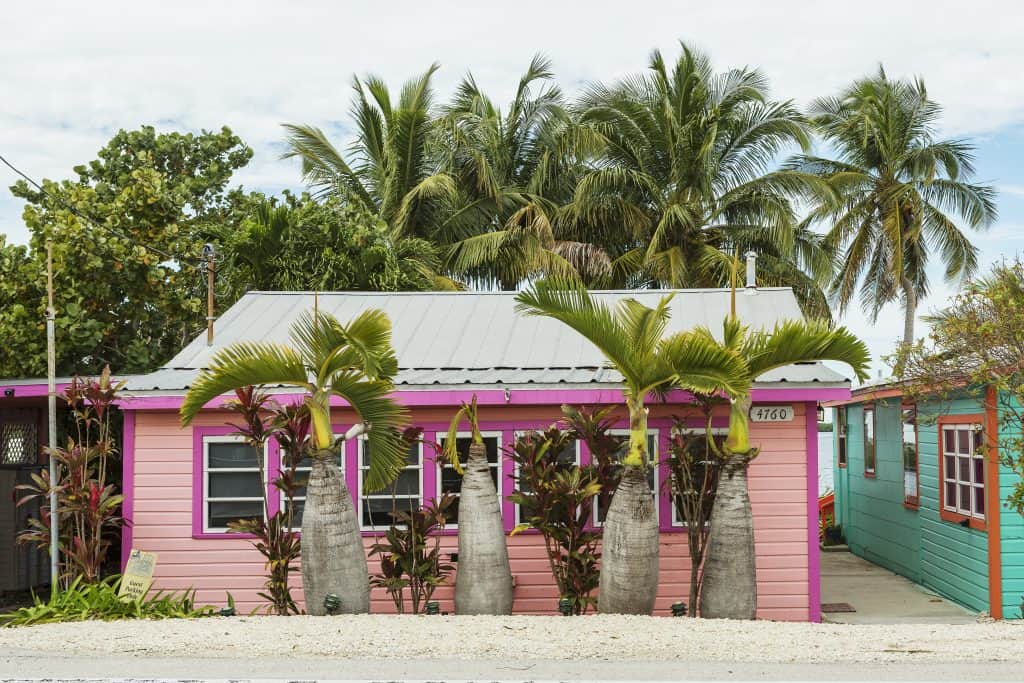 Webster
Not only is Webster one of the best small towns in Florida, it's also one of the best places to live in Florida! In Sumter County, the town boasts a population of only 726 residents!
Locals enjoy an atmosphere that is equal part suburban communities and rural Old Florida charm. With great public schools and affordable housing, many retirees and snow birds have made Webster their permanent home.
Webster is a haven for shopaholics with an enormous 35 acres of weekly open-air markets. A haven for thrifters, the town attracts more than 50,000 people every Monday to stroll the streets to attend its popular markets.
At the Webster Swap-O-Rama, you'll find over 2,000 spaces and 1,500 local vendors selling a variety of goods at this combination flea market and farmers market. Then cross the street to Webster WestSide to comb through the 500 antique and collectible dealers.
Where To Stay in Webster:
Lakehouse Getaway: Check Rates on VRBO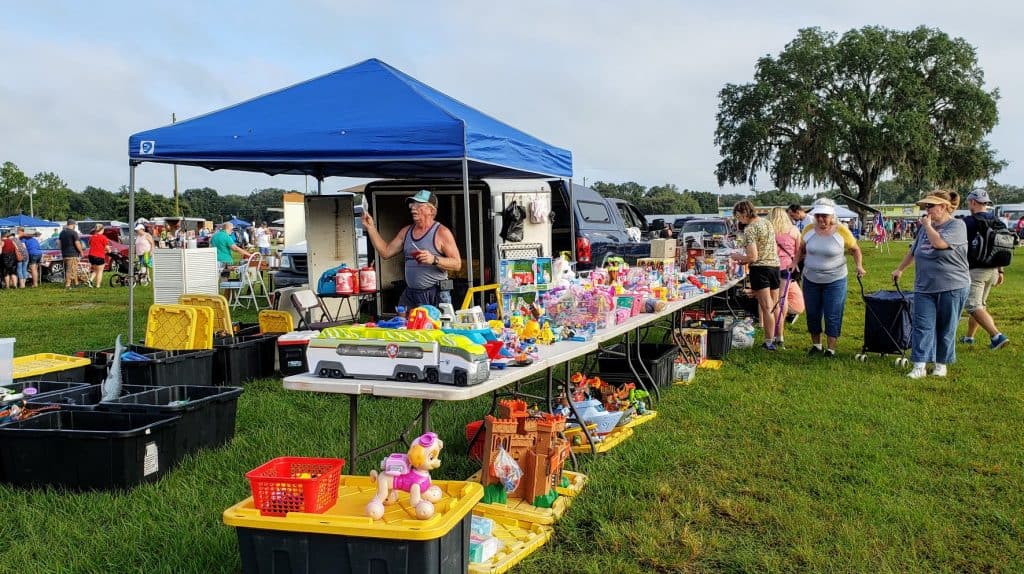 Apalachicola
Apalachicola's name derives from Hitochi Native American words meaning "on the other side," and "people." But locals will tell you it means "land of the friendly people." One of the cutest small towns in Florida, one step into Apalachicola and you'll understand why.
The welcoming port town radiates hometown charm, friendly neighbors, and rich maritime history. You'll find bustling seafood houses, weather-worn fishing boats, and impressive historical buildings.
Walkthrough the town's many parks and nature trails before taking a self-guided walking tour through the Historic District. Under the shade of lofty oak trees, you'll see the regal homes of past sea captains and river pilots.
The 900 homes you can see date back to the 1830s and are a perfect example of Victorian architecture. You can learn more about the picturesque homes and the town's diverse and colorful history on the city's self-guided walking tour!
When you need to escape to the great outdoors, the Apalachicola River and Bay boast freshwater and saltwater fishing opportunities. If you're not much of an angler, you can explore the calm waterways by kayak, riverboat, or sailboat!
Where To Stay in Apalachicola:
Rivers Edge West: Check Rates on VRBO
Mexico Beach
Mexico Beach, a seaside community, is so tiny that it has no traffic lights. There are no big chain restaurants, everything is family-owned. One of the most quaint small towns in Florida, Mexico Beach is the perfect place to relax in quiet seclusion!
With only 1,000 residents, Mexico Beach encompasses five grand miles of pristine white-sand beaches along the emerald waters of the Gulf of Mexico! With such a beautiful coastline, the opportunities for water sports and activities are endless.
From the beaches, you can enjoy easy access to artificial reefs and the historic shipwreck of the Vamar. Simply swim out to enjoy the best snorkeling in Florida!
If you're a fisherman or an angler visiting, you don't even need to own a boat! There are many fishing charters available that will take you to spots popular with Spanish mackerel and kingfish! Spear fishermen can also enjoy their sport right on the shore!
If you bring your pup along, you can head over to St. Joe's Beach. You don't have to feel guilty about leaving your pet behind on a fun beach day, because Mexico City has their own dog beach!
Where To Stay in Mexico Beach:
Beach Walk Bungalow: Check Rates on VRBO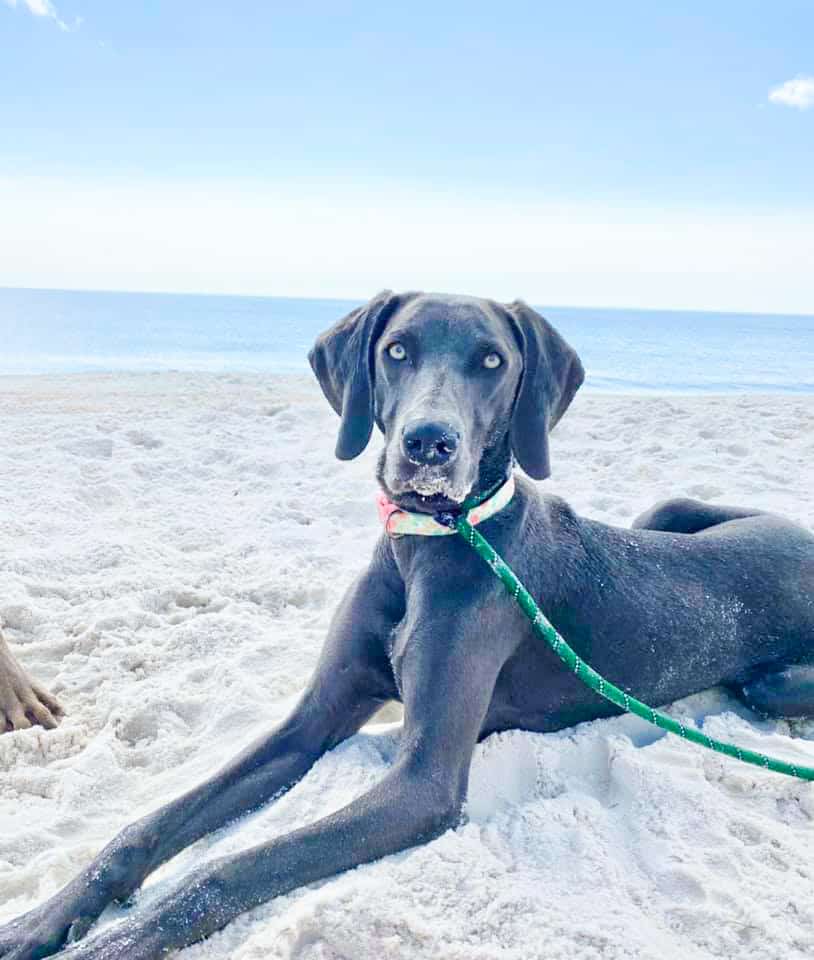 Dunedin
Normally, most people don't associate Florida with Scotland. In Dunedin, one of the oldest towns on the West Coast of Florida, you'll change your tune forever!
Famous for its quaint and walkable downtown and annual Scottish celebrations, Dunedin is one of the most quaint small towns in Florida. Its residents protect the wooded and subtropical lands, recently winning a hard-fought battle against developers.
The charming and active downtown boasts beautiful parks, history, culture, and educational opportunities. You won't find big chain food joints here, either. The Dunedin restaurant scene boasts pubs, seafood joints, and even fine dining establishments along the four miles of picturesque waterfront.
Just off the coast of Dunedin are Caladesi and Honeymoon Islands. Both absolute treasures renowned for their unspoiled beauty, make sure to look out for the hidden shell trees, where locals hang shells on branches and make wishes.
Check out our full guide for exploring Honeymoon Island!
Where To Stay in Dunedin:
Beautiful Condo: Check Rates on VRBO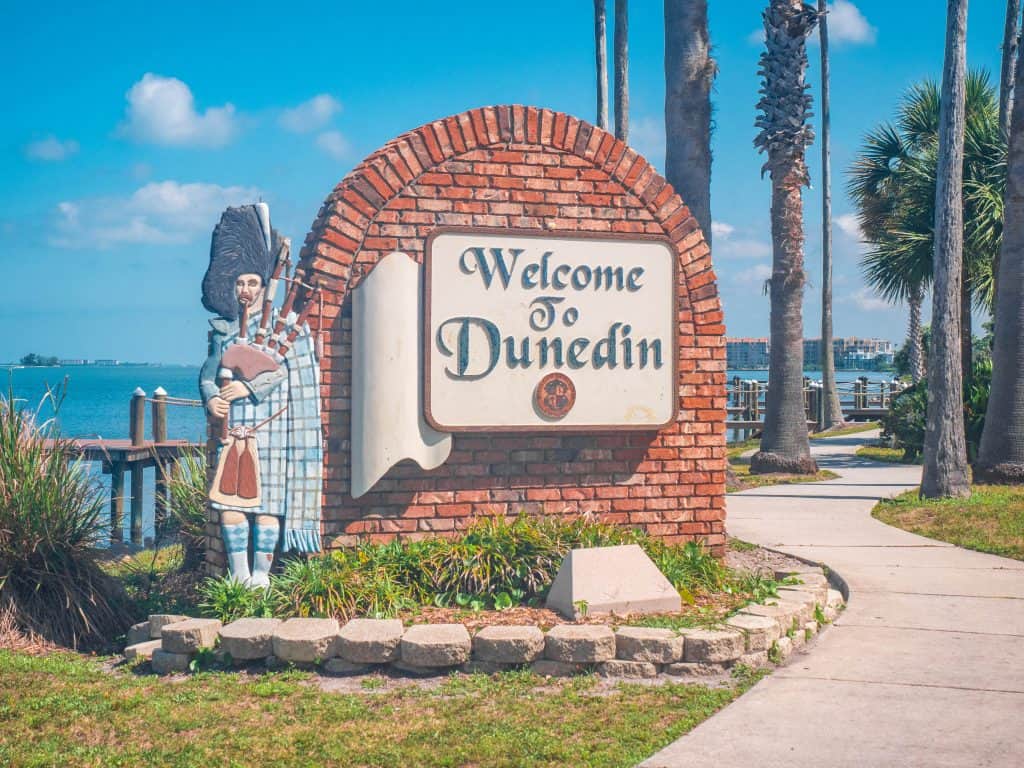 Islamorada
Sometimes the best small towns in Florida also happen to be beach towns as well! That's the case for Islamorada, found in the always beautiful Florida Keys.
Islamorada or "purple island" is located in the Florida Keys! Located 15 minutes from the local airport or just 1.5-hour drive south from Miami.
Spanning 7 miles long, Islamorada is the best small beach town in Florida if you're looking to fish. The sports fish capital of the world, you have angling opportunities on both the Atlantic Ocean and the Gulf of Mexico. You can find over 500 species of fish here. Peak season is in December through May!
No trip to Islamorada is complete without a stop at Robbie's Marina found at MM 77. You can feed tarpon for $2.25 per person, or for the more adventurous you can rent a kayak to visit Indian Key State Park.
While at Robbie's try the Hogfish Sandwich at the Hungry Tarpon. Or Chef Michael's for a more upscale dining experience.
Theater of the Sea is a great place to get up close to dolphins, sea lions, or take a glass-bottom boat ride. For those looking for an all-inclusive resort, the Cheeca Lodge will provide you with an upscale all-inclusive getaway!
Located in the 6-block cultural downtown, you will find tons of art galleries. Plan your trip correctly and you can experience Art Walk, one of the best festivals in Florida!
Where To Stay in Islamorada:
Luxurious Home: Check Rates on VRBO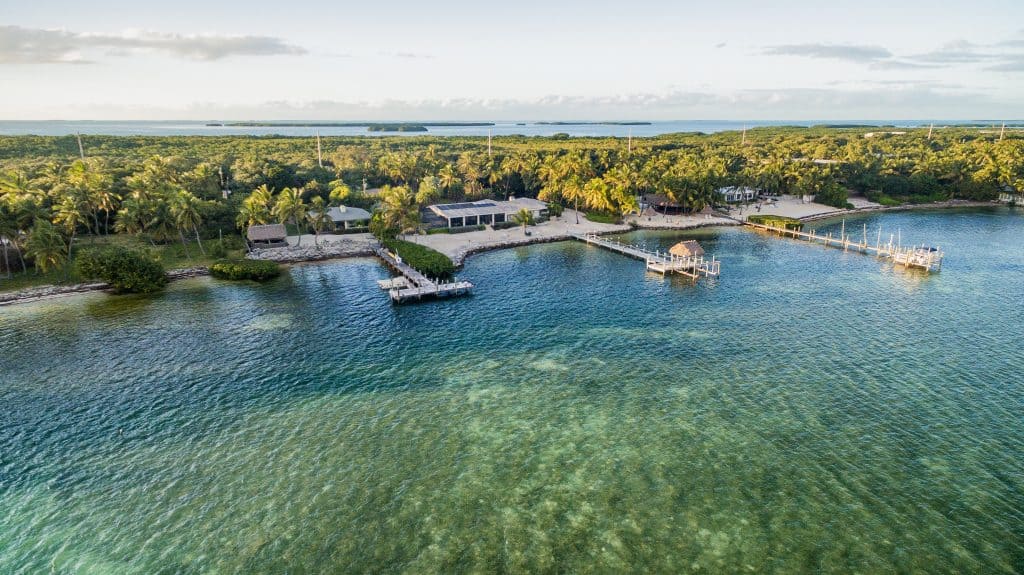 DeFuniak Springs
In 2019, MSN.com named DeFuniak Springs as the best of all the small towns in Florida. Home to just over 5,000 people, you can find DeFuniak Springs in the panhandle.
DeFuniak Springs holds a notable place in Florida's history. Here, you can find a resort and campus built during the Victorian Era. Marketed to the nation as "The Education Resort of the South," the campus was once gated and very exclusive.
A tour of Downtown will guide you through some of DeFuniak Spring's most historic sites. Make sure to stop and see the Train Depot, the old Tented Classrooms, Hotel Chautauqua, and the Wooden Sidewalks.
Come during Christmastime to see the grounds as more than 6 million lights adorn the Victorian structures. A stroll while gazing at the lights twinkling in the spring-fed lake is the perfect way to celebrate Christmas in Florida.
If you're tired of reading wine labels, then visit Chautauqua Winery! They'll help you take the guesswork out of picking your new favorite wine with all-day tastings and tours through the vineyards.
Where To Stay in DeFuniak Springs:
Secluded Waterfront Home: Check Rates on VRBO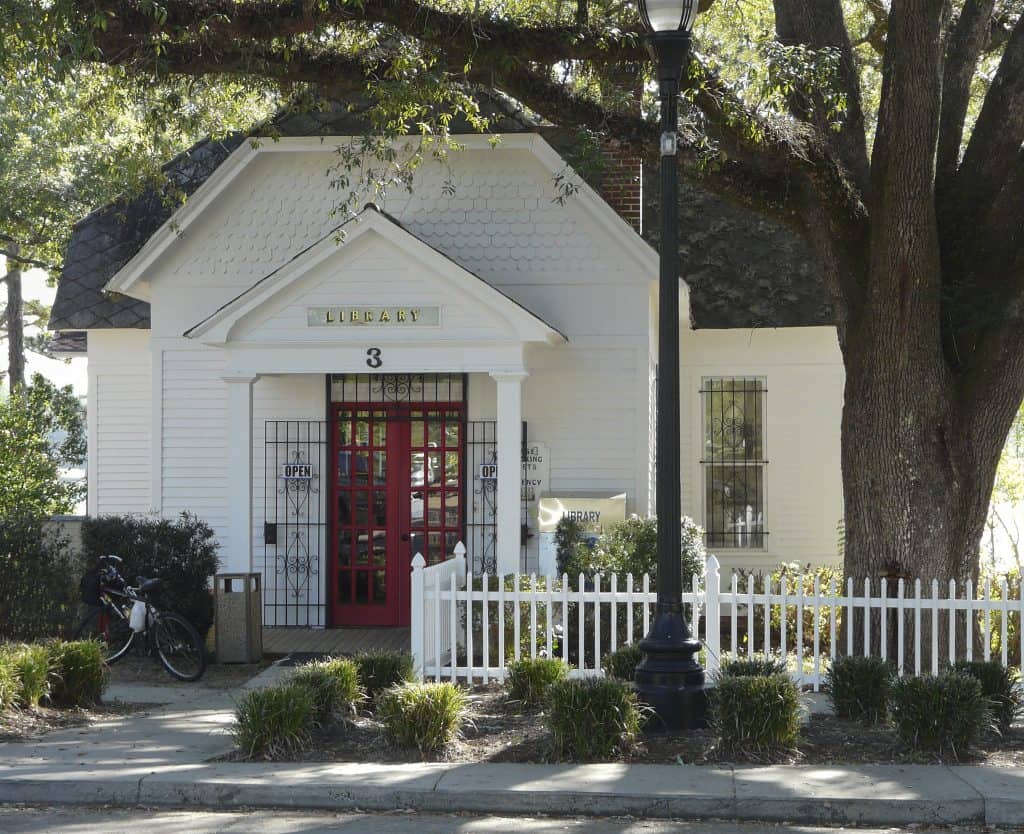 Sopchoppy
Nestled in the heart of the Apalachicola National Forest, you can find one of the most unique small towns in Florida. Sopchoppy will be your gateway into rural Florida.
Less than 500 people call Sopchoppy home. 45 minutes from Tallahassee, Sopchoppy is not just a fun word to say. It's also known as the Worm Gruntin' Capital of the World.
Every April, on the second Saturday of the month, people come from all over Florida, Georgia, and Alabama congregate. During a special festival, grunters use a specialized technique to draw earthworms up to the ground's surface to use as fishing bait.
Use those worms and head over to the Ochlockonee River State Park for a grand day of boating and fishing. Sopchoppy is actually one of the best places to go camping in Florida!
Where To Stay in Sopchoppy:
Beachfront Home: Check Rates on VRBO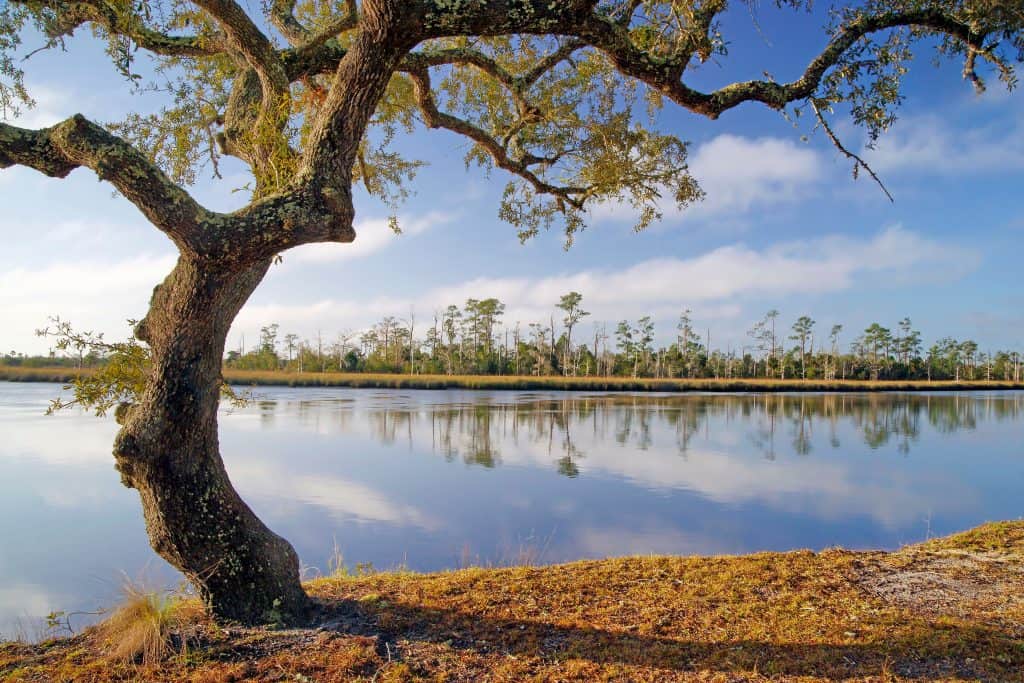 Stuart
Along the Atlantic Coast of Florida, you can find the Sailfish Capital of the World. To the north of Palm Beach and south of Vero Beach, you'll find Stuart, one of the cutest small towns in Florida.
Famed for its historic and pedestrian-friendly downtown, you shouldn't miss the Stuart Green Market. A small farmers market, you can find it every Sunday from 9 AM – 1 PM just near City Hall.
For nature lovers, head over to Seabranch Preserve State Park. Perfect for birding, you can also enjoy nature trails and even a butterfly garden! Then head over to St. Lucie Inlet Preserve State Park to observe sea turtles nesting.
History buffs will enjoy the House of Refuge at Gilbert's Bar. A restored home, it was once used as a haven for shipwrecked sailors dating back to the early 1900s. You can also find restored homes and furniture of early pioneers at the Stuart Heritage Museum!
Where To Stay in Stuart:
Private Oceanfront Condo: Check Rates on VRBO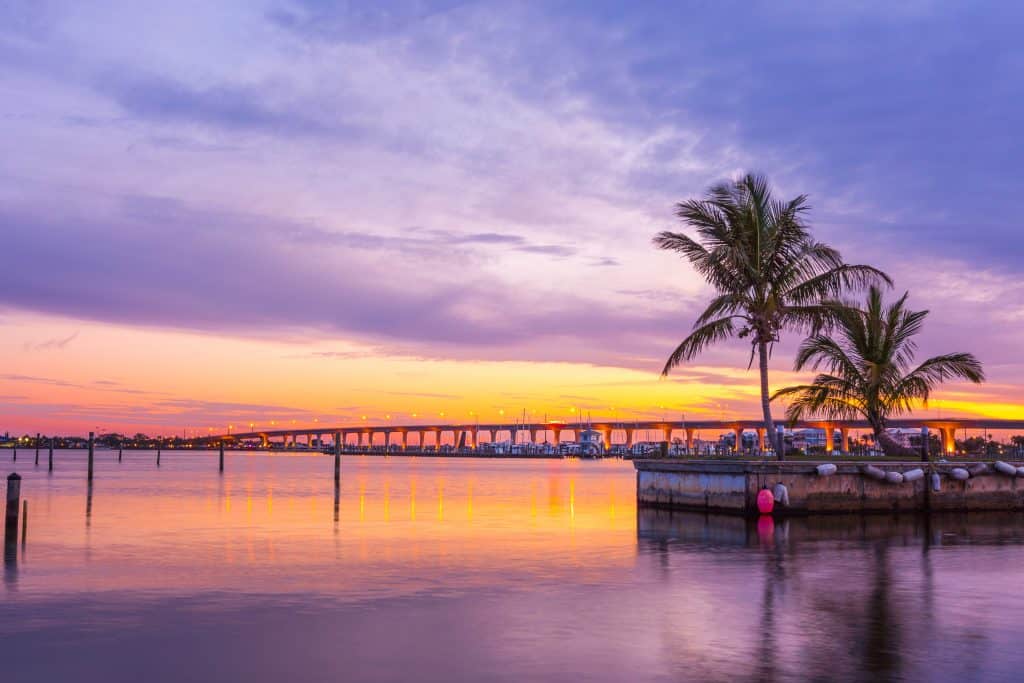 White Springs
There are many tourist attractions in Florida, but did you know the town of White Springs was Florida's first? One of the most quaint small towns in Florida, White Springs offers a quintessential look into Old Florida.
Home of the annual Florida Folk Festival, White Springs is a tourist destination famous for its historic charm, antiquing and water activities on the Suwannee River. The river cuts right through the town, creating a warm and inviting atmosphere.
The proximity of the river affords many opportunities for kayaking in Florida! Don't be afraid to bring your rods and lures along. Fishermen can enjoy catching red-bellies, brim, mullet, and catfish.
For the more adventurous, there are many natural springs that spawn off of the Suwannee River. Grab a mask and some fins and enjoy snorkeling with the manatees. Divers will love the many water caves to explore.
Where To Stay in White Springs:
Hidden Creek Cabin: Check Rates on VRBO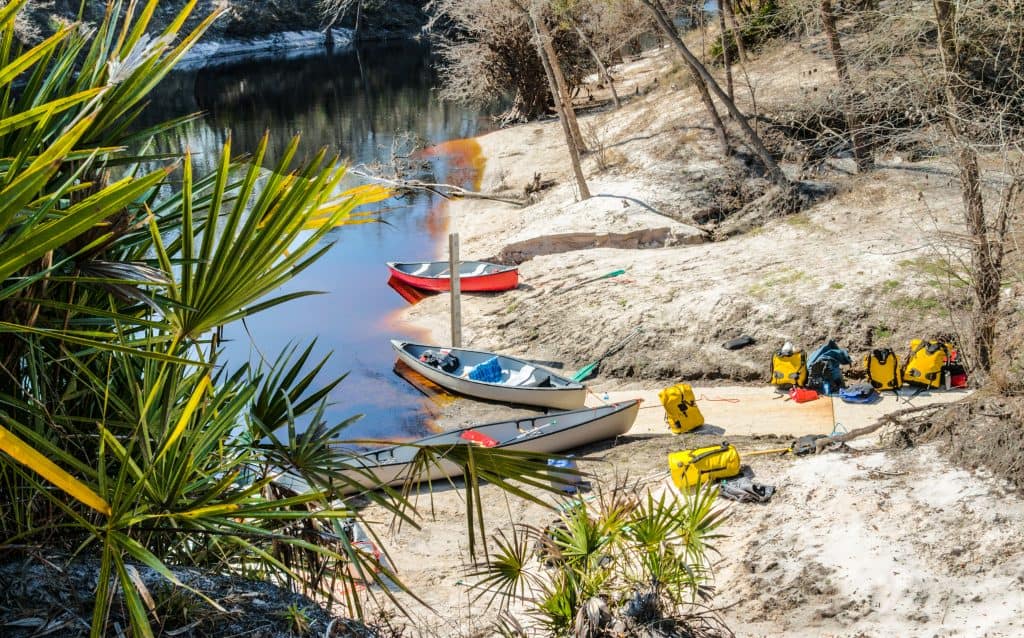 Cedar Key
Just an hour southwest of Gainesville, you'll find the tiny enclave known as Cedar Key. One of the most quaint small towns in Florida, it offers beautiful beaches, fishing opportunities, and old-fashioned, traditional Florida beauty.
With very few traffic lights, you'll stop and wave at locals as they pass you on the sidewalk. The local police ride around on spiffy golf carts. The houses and shops sit on stilts over the Gulf of Mexico.
Over the tiny keys that make up Cedar Key, you can easily find a tasty clam chowder with a cold brew to wash it down. Your backdrop? The natural beauty of the tranquil village and the almost forgotten natural Florida beauty.
Cedar Key remains a haven for artists, writers, and a special breed of tourists who seek out unspoiled environments. Join the thousand of visitors who make their way to Cedar Key for their local festivals.
The Old Florida Celebration of the Arts in April celebrates local artists, old and new. The Fourth of July party takes fireworks to a new level with the bursts reflecting in the ocean water. With no high-rises, Cedar Key is perfect for The Stargazing Party in February!
Where To Stay in Cedar Key:
Aqua Vista: Check Rates on VRBO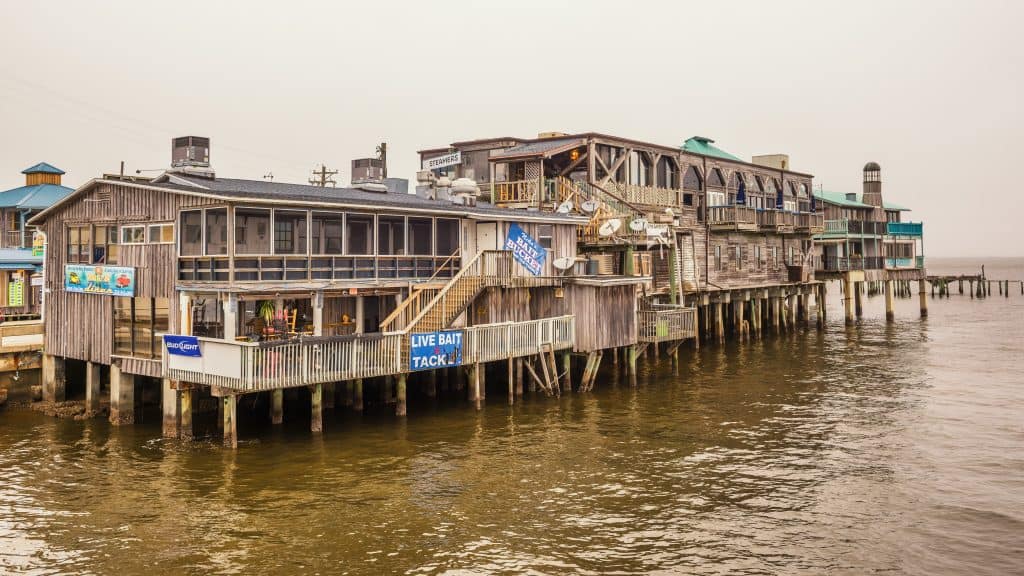 Micanopy
Micanopy holds the title of the oldest inland town in Florida. It means "head chief," a title bestowed upon the leader of the Alachua Seminoles. Micanopy, "the town that time forgot," is one of the best small towns in Florida.
Ancient oaks draped with Spanish moss line Micanopy's narrow streets. The shade is welcomed by the numerous historic homes and old cracker houses that create the picturesque warmth of the town.
Once occupied by the Alachua Seminoles, you can often see excavators and preservation initiatives searching for artifacts in residents' yards. You can learn more the Alachua Seminoles at the Micanopy Native American Heritage Preserve, which protects a Native American mound.
The town is so appealing, many films and television shows have been shot on location here, including Doc Hollywood, Cross Creek, and Top Gear! Shooting locations include the Herlong Mansion Bed & Breakfast, a Greek revival mansion.
Paynes Prairie Preserve State Park protects a massive natural basin in the "great Alachua Savannah." Here, bison and wild horses roam free in the state's largest grassland at 22,000 acres. At times, the fields are covered in wildflowers.
Where To Stay in Micanopy:
Treetop Artists Retreat: Check Rates on VRBO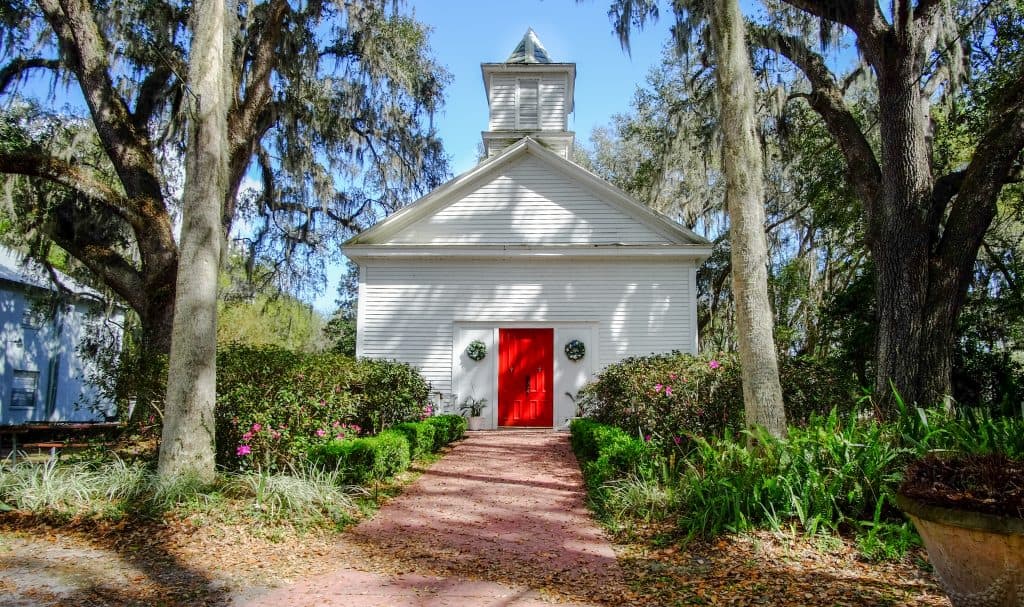 Lake Placid
Arguably the prettiest of the small towns in Florida, Lake Placid has two nicknames. "Town of Murals" and "The Caladium Capital of the World." Well, three titles if you count Reader's Digest dubbing it "America's Most Interesting Town."
Lake Placid earned its "Town of Murals" nickname because of the 49 murals that adorn commercial buildings. They tell the story and history of Lake Placid and its people.
It is also "the Caladium Capital of the World" because 70 – 80% of the world's caladium (or the colorful Heart of Jesus plant) is grown here. The Caladium Festival each summer features a massive car and motorcycle show!
Lake Placid's other attractions include 27 freshwater lakes, Toby's Clown School, and the Saturday Morning Market. Catch it on the second Saturday of each month from October through March.
The town is not without its festivals, either. Catch the annual Grape Stomp at Henscratch Farms Vineyard & Winery in August. And in February, you can attend the Arts & Crafts Country Fair!
Where To Stay in Lake Placid:
Lake View Cottage: Check Rates on VRBO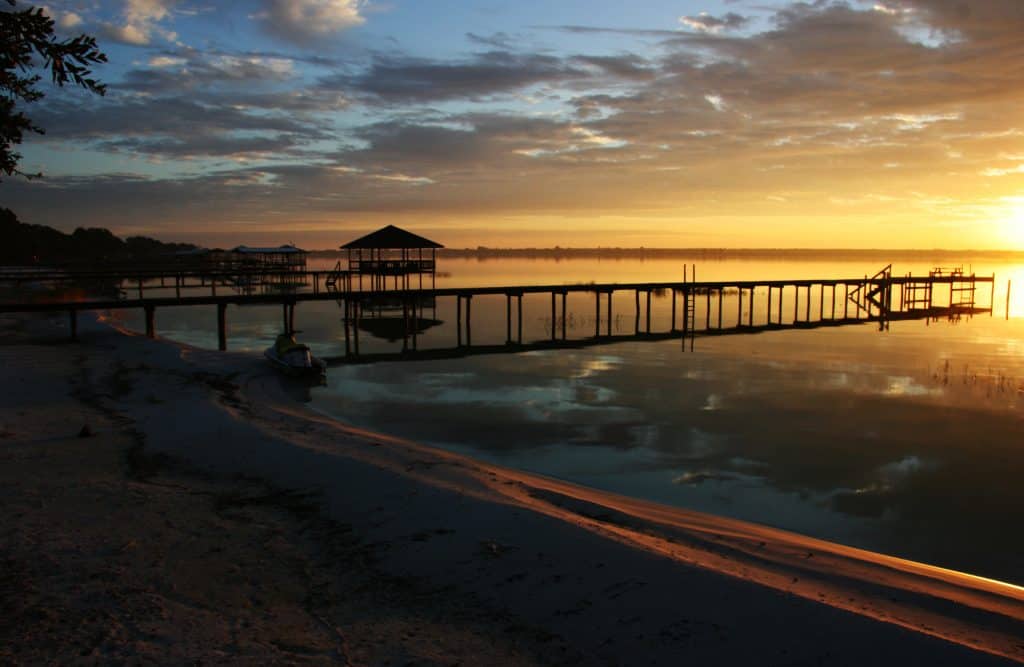 St. Marks
Known as "The Historic Town at the End of the Road," you'll dead-end into St. Marks at the end of Woodville Highway, or State Road 363. One of the cutest small towns in Florida, St. Marks is one of the oldest settlements in North America and is believed to be the third oldest in the new world.
With a population of less than 300, its historical significance in Florida remains unparalleled. Just 20 miles south of Tallahassee, St. Marks was one of the most important early ports in Florida.
While it is small, St. Marks makes up for its size with a bounty of natural attractions. Visit the archeological displays at San Marcos de Apalache Historic Park. Walk the salt marshes at St. Marks National Wildlife Refuse and take a selfie in front of the St. Marks Lighthouse!
Wakulla Springs with its wonderful swimming holes is right down the road. You can charter a fishing boat with a crew or on your own at Shields Marina!
Where To Stay in St. Marks:
Waterfront Home: Check Rates on VRBO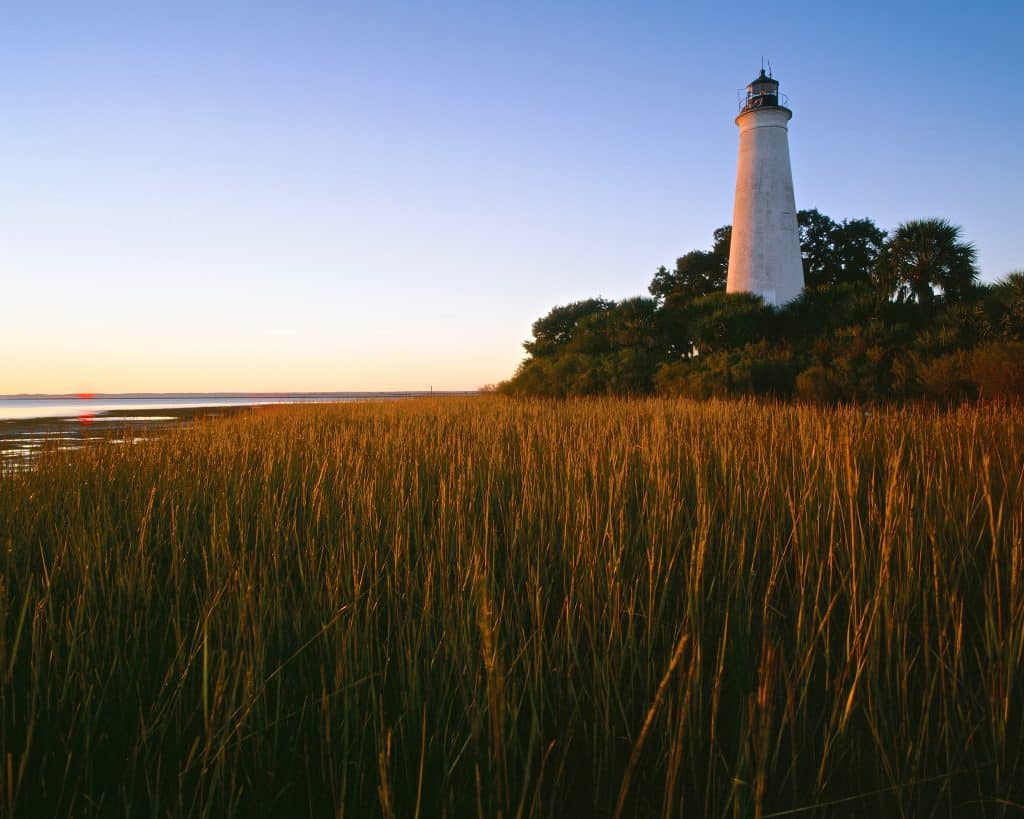 Steinhatchee
The gateway to Florida's Nature Coast, Steinhatchee remains one of the most charming fishing towns in Florida. With only 1,000 residents, Steinhatchee provides the perfect backdrop for your laid-back beach vacation.
The atmosphere in Steinhatchee is warmed by quaint landscapes of Victorian homes. Towering live oaks provide shade with Spanish moss draped over their branches.
Nature lovers will appreciate miles and miles of quiet, unspoiled country roads. You can also find miles of white sand beaches. With no noisy crowded beach resorts, the shoreline remains unspoiled and cozy.
Surrounded by gardens and lush foot trails, Steinhatchee is often referred to as "Florida's Best Kept Secret." Shhh, we won't tell if you don't!
Where To Stay in Steinhatchee:
Romantic Angels Attic: Check Rates on VRBO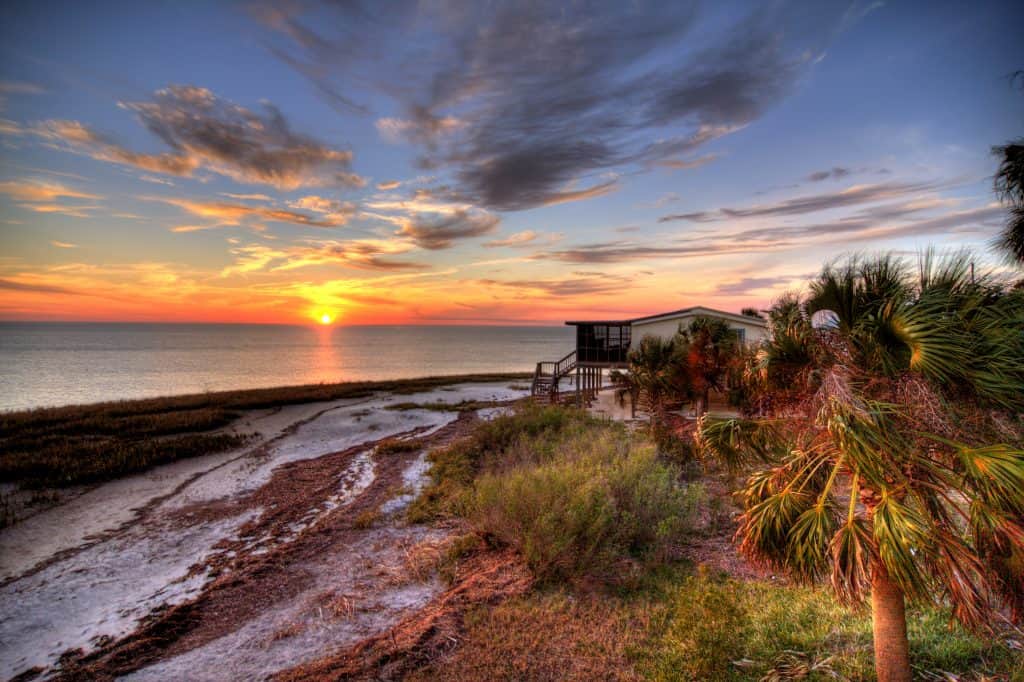 Did You Find This Post Helpful?
If so, we would love to keep in touch! We enjoy seeing photos and comments about your experiences in Florida! You can follow us on Instagram and we will repost your photos on our feed and comment too! Just tag us at @floridatrippers and hashtag #floridatrippers. We can't wait to see your travels!