Looking for the best Cabins in Florida to stay at for your next trip to the Sunshine State? We're here to help with this list of cabin rentals in Florida.
Stay in a cozy lodge nestled between the trees, or choose a riverside location where you can swim and rent kayaks. Whether you're looking for a camping vibe or a woodsy five star resort, these cabin rentals in Florida are sure to inspire your next rustic rendezvous.
Cabins in Florida are a great way to get the benefits of nature, while also having a nice indoor space to retreat to when you're done exploring the outdoors. If you like the idea of glamping, renting one of these cabins in Florida is going to be perfect for you!
We've got cabins for every budget and every traveler! No matter how much you're looking to spend or who you're looking to vacation with, cabin rentals in Florida are always a good choice.
Whether you're planning a romantic weekend, girls trip, or bringing the whole family along, you cant go wrong with these Florida cabins!
Does any of this sound good to you? If so, check out the following Florida cabins for rent.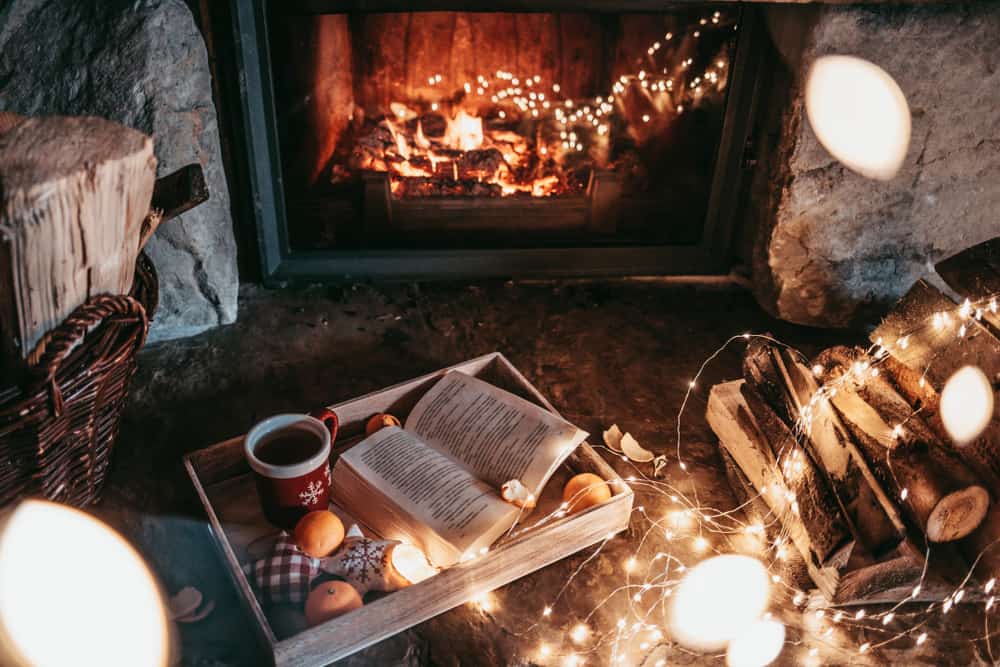 15 Coolest Cabins in Florida for a Getaway
Vintage Florida Charm
The Vintage Florida Charm is one of the best cabins in Florida if you're looking for a quiet retreat for the family that is located directly on the beach. It has a total 1000 square feet of living space and can sleep up to 6 people. Located on Indian Rocks Beach, this is the perfect cabin to enjoy St. Petersburg and Clearwater beaches.
This cabin is cozy with three bedroom and two bathrooms. There are two queen bedrooms and the third has 3 bunk beds. This offers guests a chance to escape from busy everyday life and explore nature a bit.
This home is highly rated, and very inviting. There is a large lawn leading from the home to the beach with seating, a hammock, porch swing, as well as a covered dining gazebo with large fan and a grass grill and a large outdoor wooden deck. The private outdoor shower allows guests to cool off after enjoying the beach all day.
There is tons of seating for your party, making this a great rental for friends and family. The indoor kitchen has been completely remodeled with granite countertops, stainless steal appliances and a large table. The living room is has wooden walls and ceiling with beams and tropical decor.
Click Here To Check Rates On VRBO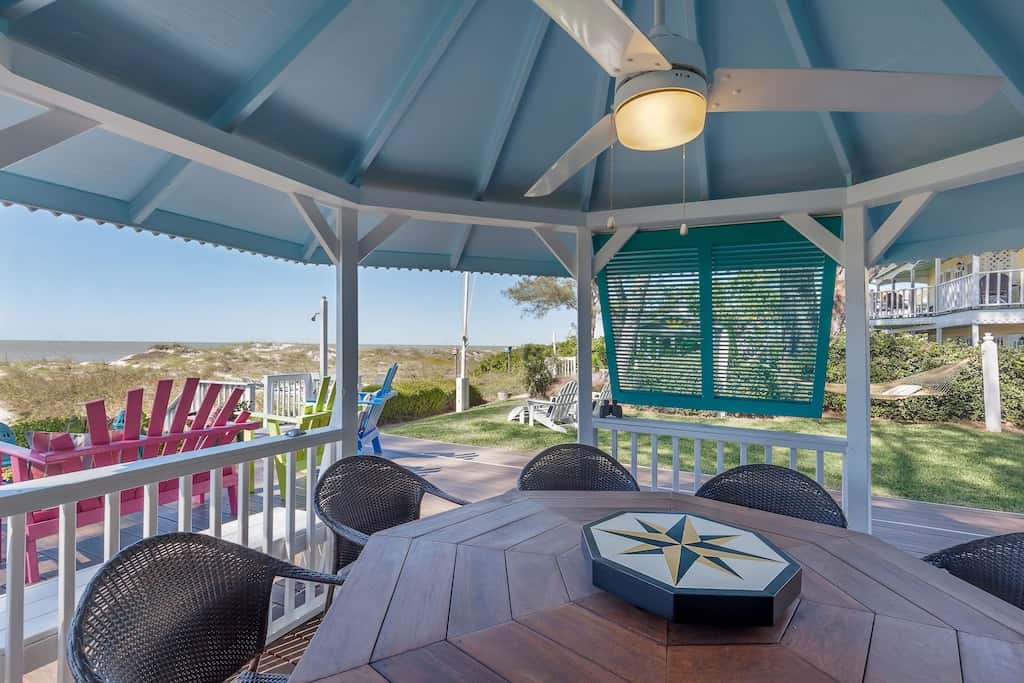 Castaway Cottage
If you're looking to stay near Anna Maria on Bean Point in your own private oasis, with a heated pool and spa just a short 4-minute walk from the beach, head to Castaway Cottage!
This is one of the best cabins in Florida for those wanting a tropical oasis. It is two bedrooms and one bath, that sleeps 5. With two queen bedrooms, as well as a pull out couch there is ample space for everyone. They hosts provide everything from beach towels, to the basics, as well as pack n'plays and strollers as well as being pet friendly!
The cabin comes with use of a street legal golf cart that seats 4, beach chairs, umbrellas, a beach wagons, as well as bikes, stand up paddle boards, a kayak can are all included. Make use of the outdoor shower , outdoor TV and outdoor seating to enjoy while in the heated pool and hot tub!
Thoughtful touches include chocolate, wine, water, coffee and tea all offered complimentary.
If you prefer eating out, just take the sandy beach path to one of the best restaurants in town Rod & Reel Pier where you can dine on fresh fish or enjoy a sunset cocktail!
Click Here To Check Rates On VRBO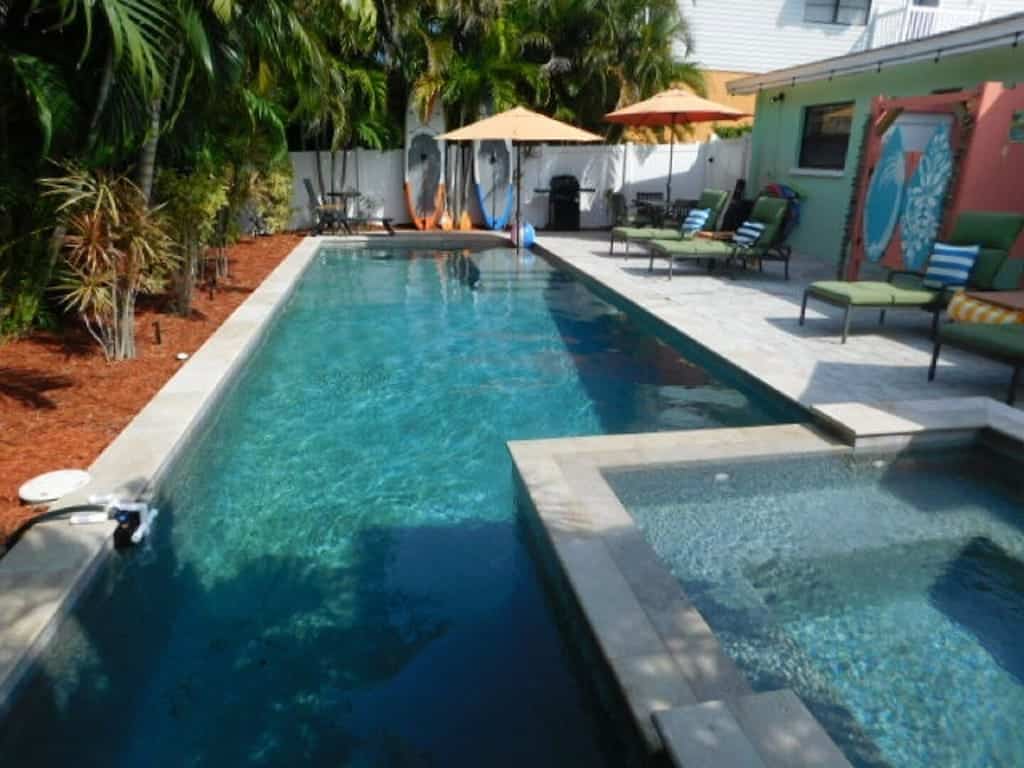 Lakefront Cabin
This Lakefront Cabin on Lake Kerr is one of the most charming Florida cabins for rent. Seriously, this place is adorable and even better is totally secluded.
There are two bedrooms and one and half bathrooms, and sleeps 6 guests. There is a bedroom facing the lake with a king bed, and the second bedroom has two queen beds. The kitchen opens towards the lake making cooking a pleasure.
The decor is exactly what you would expect a log cabin to look like. With hardwood floors, and granite countertops there is even an oversized hot tub on the deck, a fire pit and a large patio to relax on.
For those who enjoy boating you can launch your boat from the private beach directly on Lake Kerr just steps from the back door. The hosts also offer 4 single kayaks to use as well as fishing poles.
You can boat or kayak up to Salt Springs, or swim in the springs just 2 miles from the cabin.
Click Here To Check Rates On VRBO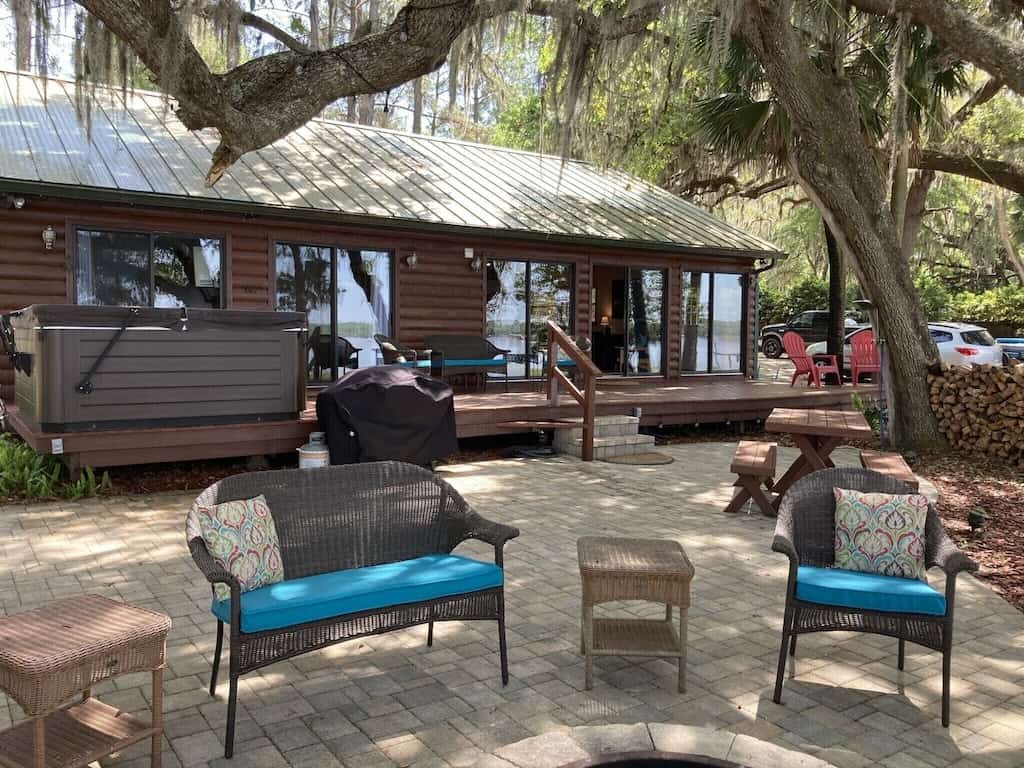 RedBird Cabin
If you're looking for cabin rentals in Florida to entertain guests, you should definitely check out The Red Bird Cabin Located in Mayo, Florida, this is the perfect place to host a cookout or go boating with all your friends. Mayo is a small town located just south of Live Oak and West of Gainesville!
This cabin sleeps six guests with three bedrooms and two bathrooms. Situated on 16 private acres you are just 450 yard to the Suwannee River. The property is surrounded by large oak trees making it the perfect spot to watch for wildlife such as deer, turkey, blue heron and more!
This property really is set up for relaxing, whether on front porch swings or the screened in sun room. With a fire-pit and grill that can be used to roast marshmallows or cozy up to at night.
This is also one of the best cabins in Florida for boating! There is a private boat landing on the property and a public boat ramp just 3 miles away.
Visit the Santa Fe River, go tubing on the Ichetucknee Springs, or Bob's River Place. All are just a short boat ride away! You can also use the area as a base for cave diving.
Click Here To Check Rates On VRBO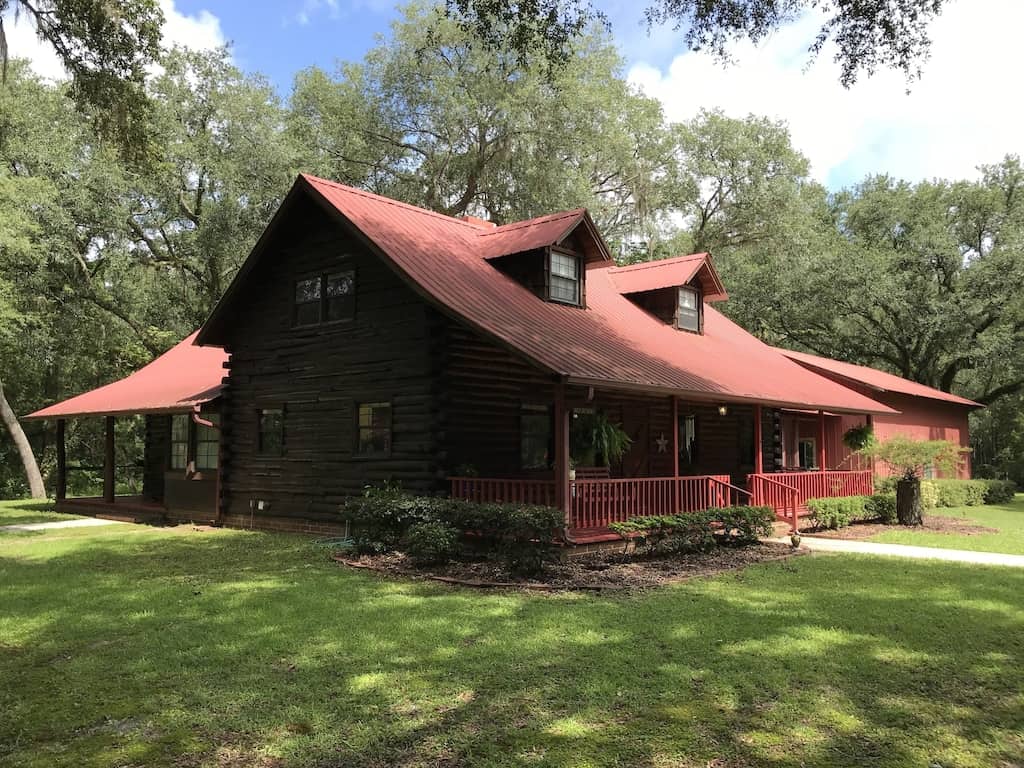 Blue Run Cabin at Rainbow River
If Florida cabins with beautiful views are at the top of your list, then this Blue Run Cabin at Rainbow River might just be the ideal place for your next vacation. Located in Dunnellon, Florida this cabin is right on Rainbow River, so you can see one of Florida's most beautiful natural landscapes right from your window.
The interior of this cabin is super cute, with a rustic theme with stone and wood accent walls, large windows in the bedroom to fully showcase the setting of this cabin. The property is bordered by the Florida State Greenway creating a peaceful and tranquil environment.
This property features two bedrooms, one of which is a loft area with two beds and can accommodate up to 4 guests as well as one bathroom and a large kitchen! From the house, you can see plenty of wildlife ranging from ducks, blue heron, otters, and even owls.
There's also an outdoor deck with grill and fire heater, fire pit, hammock near the river, screened in upper patio with dining table, kayaks, tubes and masks, and a screened in hot tub and more! Seriously this place has no shortage of amenities. Long term renters are welcome!
Click Here To Check Rates On VRBO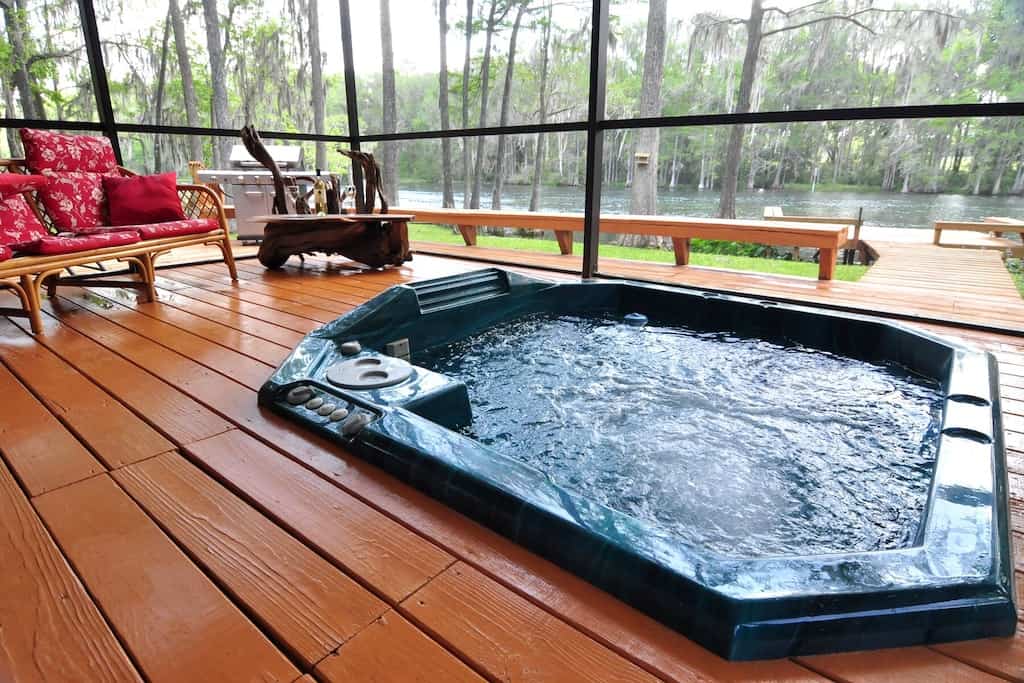 Southernmost Retreat in Old Town
Are you looking for Florida cabins in Key West to explore the Old Town District? The Southernmost Retreat in Old Town is a great choice! This historic Simonton Historic cottage is located in the historical district just two blocks from Duval Street!
This three bedroom two bathroom cottage sleeps 8 guests. Two bedrooms have queen sized beds and share an en-suite bathroom, while the third bedroom has a full size bed and its own bathroom, making this rental perfect for friends and families alike.
The kitchen comes fully equipped with granite countertops, wine glasses, cooking supplies and more. Each room has its own entrance to the cottage, but the real gem is the location!
You are just blocks from he marina, the beaches, Duval street where you will find plenty of restaurants, bars, and shops!
Click Here To Check Rates On VRBO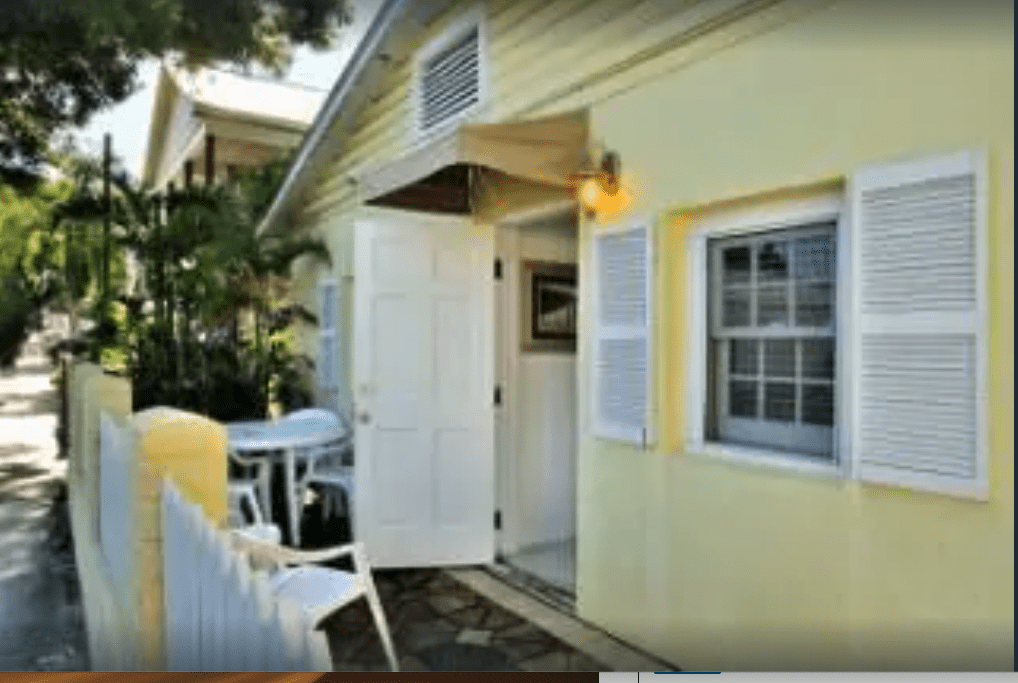 Cozy for Two
This Cozy for Two is located just a 9 minute walk to Seacrest Beach in Panama City, Florida. This one-bedroom one bath cabin is perfect for a couple's getaway. This cozy carriage home is separate from the main home of the property providing guests with complete privacy.
This cozy cabin features a full kitchen with granite countertops and a renovated kitchen, a bedroom with a king size pillow top mattress complete with two private decks. Enjoy a cup of coffee or a glass of wine in one of the rocking chairs on the covered patio or enjoy your meal at the outdoor table.
Just a short walk away you can enjoy the large community pool, or take a stroll along the tree lined sidewalk to the private beach access point! There is even a small cafe at the pool where you can order food and drinks. As well as jogging and biking trails.
Two bikes are provided for guests to use free of charge and you can bike along the A1A area, as there are over 17 miles of bike paths in the area
Check out the reviews and see for yourself at this top rated cabin.
Click Here To Check Rates On VRBO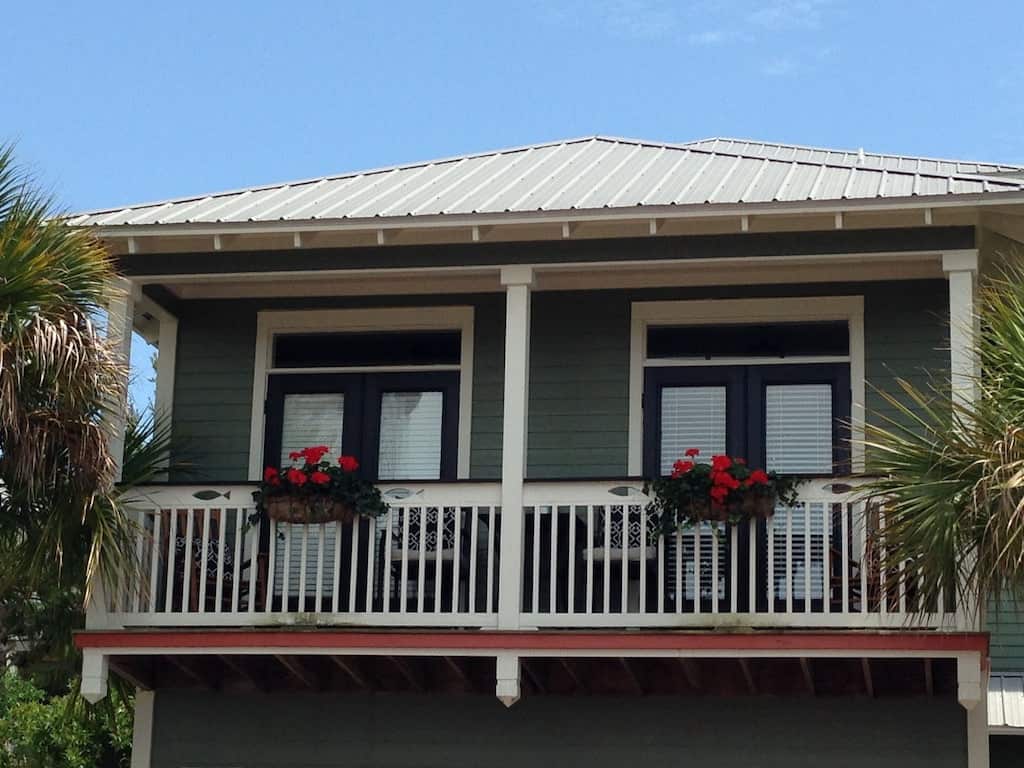 The Smith House
If you're looking for cabin rentals in Florida that offer a private oasis for friends or small families then check out The Smith House! Located in Greyton Beach on the Florida panhandle near Seaside one of the prettiest small beach towns in Florida.
At almost 1300 square feet this two bedroom, one bathroom cabin sleeps up to 5 guests. This historic home was built in 1925, and has now been renovated to include all the modern conveniences guests could want. From the vaulted ceilings to screened porch where you are surrounded by mature trees this is the place to escape it all.
There is a master bedroom with a queen bed, a double bunk bed room ( the beds are extra long for adults), as well two full sized couches with a large open plan kitchen the living room. The porch is the real show-stopper as it wraps around the house including an outdoor shower, dining table, day bed and just off the porch is a grill with picnic table.
In the shed you will find three beach bikes, a beach wagon with chairs, umbrella, cooler, beach rafts and toys and everything you could need to enjoy the beach! During spring break and summer there is a 7 night minimum stay but with everything offered you might want to stay longer.
Click here to Check Rates on VRBO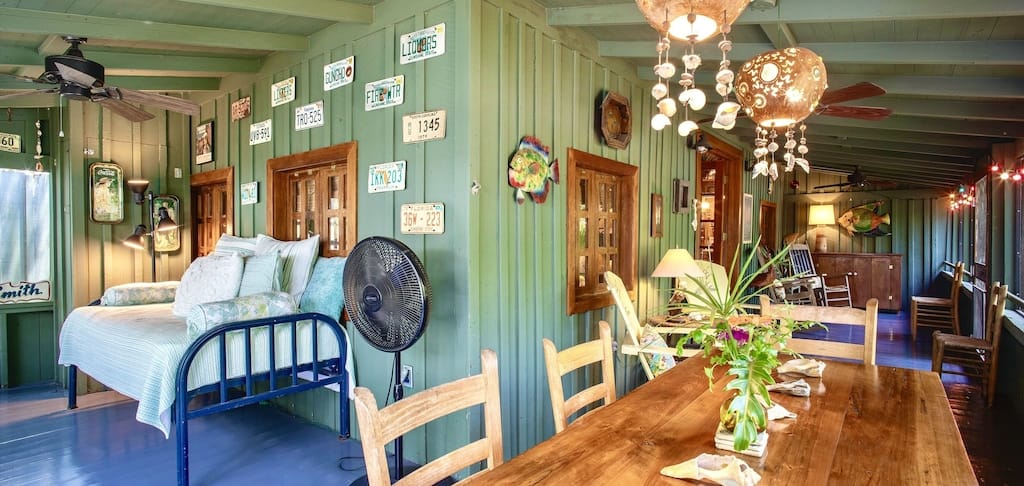 Beach Cottage in Paradise
Looking for a crazy cute beach cabin in Florida for rent for your next beach vacation? Check out this Beach Cottage in Paradise.
Located just 30 yards from the Gulf Ocean, near the popular Anna Maria Islands and Holmes Beach making this the perfect spot for a Florida beach vacation. In just two minutes walk down the road you can be on the beach relaxing in the warm Gulf Waters.
This cabin is three bedrooms, with one full bath and can accommodate up to 6 guests with a nautical theme. This space is bright and airy with an open concept with a modern kitchen with everything you would need. There is a Florida room that has been converted into a bedroom with bunk beds, a bedroom with a kingsize bed, and a bathroom with a large soaking tube perfect for relaxing after a day in the Florida sun.
There is a paved patio space to enjoy with a BBQ grill and table and chairs and a washer and dryer that is shared with cottage next door. You can rent bicycles for an additional charge, if you let them know at booking. Long term renters are welcome.
Click Here To Check Rates On VRBO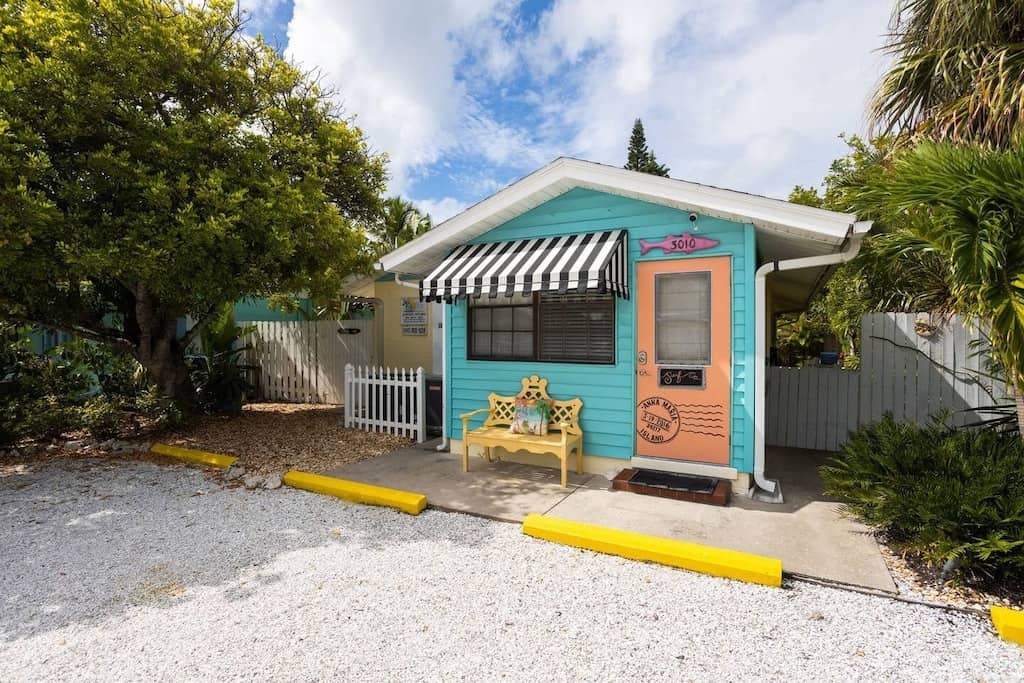 The Grey
If you're looking for cabins in Florida for a family getaway, The Grey House is perfect! This historical cabin first built in the 1900s has been fully restored and renovated. Located in Cortez, Florida on the Sarasota Bay this one bedroom, one bathroom cabin sleeps 4.
The cabin itself is absolutely adorable and features original hard wood floors, bright white walls and neural colors while having a fully updated kitchen complete with marble countertops and redone bathroom. The bedroom has a king size bed and the sofa pulls out making it a great option for families. You can observe real wildlife like birds and fish from the porch, or perhaps even spot dolphins swimming like some guests in the past!
The house has a 60 foot dock as well as large covered back deck. Both are the perfect spot for enjoying a meal, watching a sunrise or sunset. Guests are provided with kayaks that can be put in from the dock to kayak across the bay as well as fishing gear to enjoy. If you are brining your boat the deep water slip can be rented for an extra $35 a night!
Click Here To Check Rates On VRBO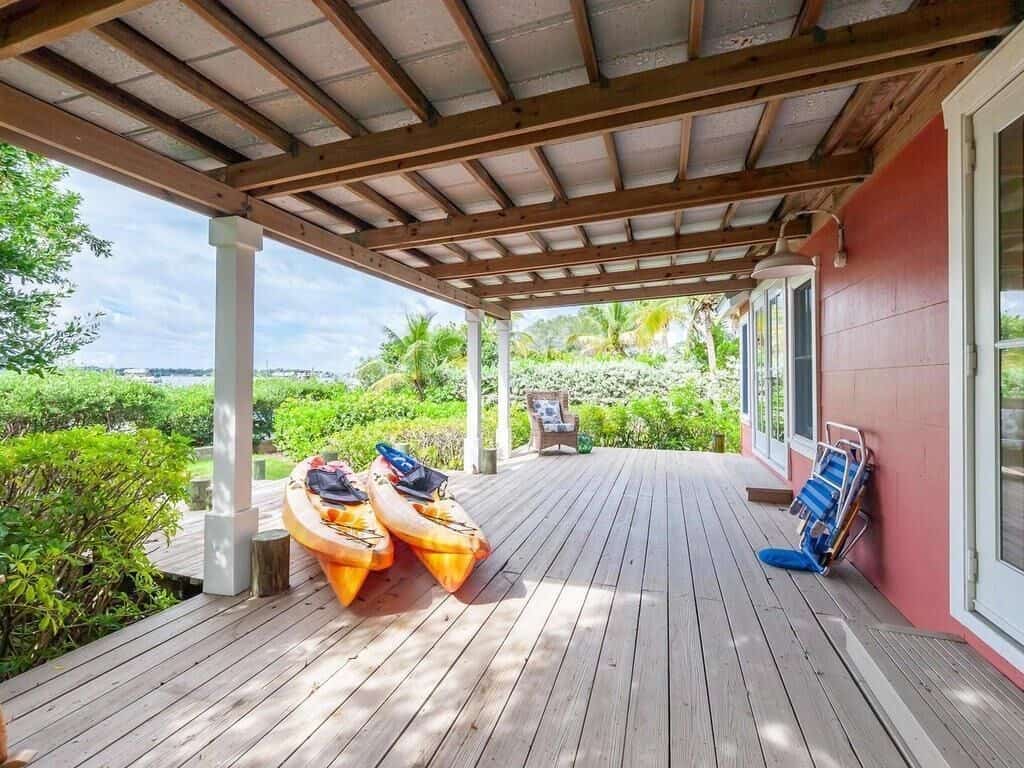 Lakefront Forest Getaway
If you are looking for peaceful lakefront cabins in Florida you will want to check out the Lakefront Forest Getaway! This two bedroom, one bathroom A-frame cabin has all the comforts of home. Plus you are welcomed with beautiful waterfront views with a dock you can relax on! It is worth noting that the bedroom does require climbing up ladder stairs to reach!
Expect to see deer, otter, sandhill cranes and more on this property. For those nature lovers and outdoor adventures this cabin is perfectly situated for hiking with the Ocala National Forest just 8 miles away , fishing off the dock or in Lake Kerr , boating, or water skiing! And even better, you can head to one of the famous Florida springs such as Salt Springs or Silver Springs just a short drive away! Or take a trip to the nearby town of Mount Dora for some antiquing or shopping!
Click Here To Check Rates On VRBO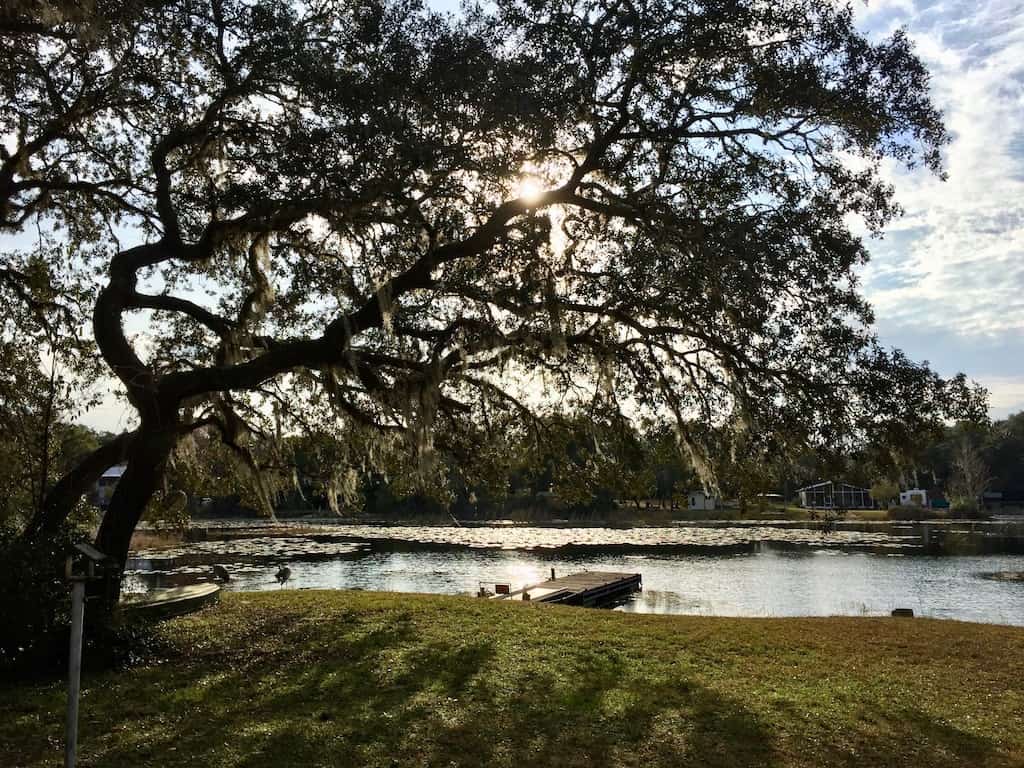 Riverfront Orlando Area Cabin In Wekiwa State Park
Riverfront Orlando Area Cabin In Wekiwa State Park is one of the best Florida cabins for family fun. It sleeps 6 people (7 if someone wants to crash on the couch) and there is an additional bungalow you can rent for 4 more guests.
This cabin is super open and spacious, and includes a large deck with plenty of seating. As you probably know, Orlando is full of things to do (especially for families), so you will have no trouble staying entertained.
In addition to being relatively close to Disney and Universal, this rental cabin is close to state parks, museums, natural springs, forests, and just steps away from kayak and paddleboard rentals! This is the perfect place to make memories and get those family vacation photos.
Click Here To Check Rates On VRBO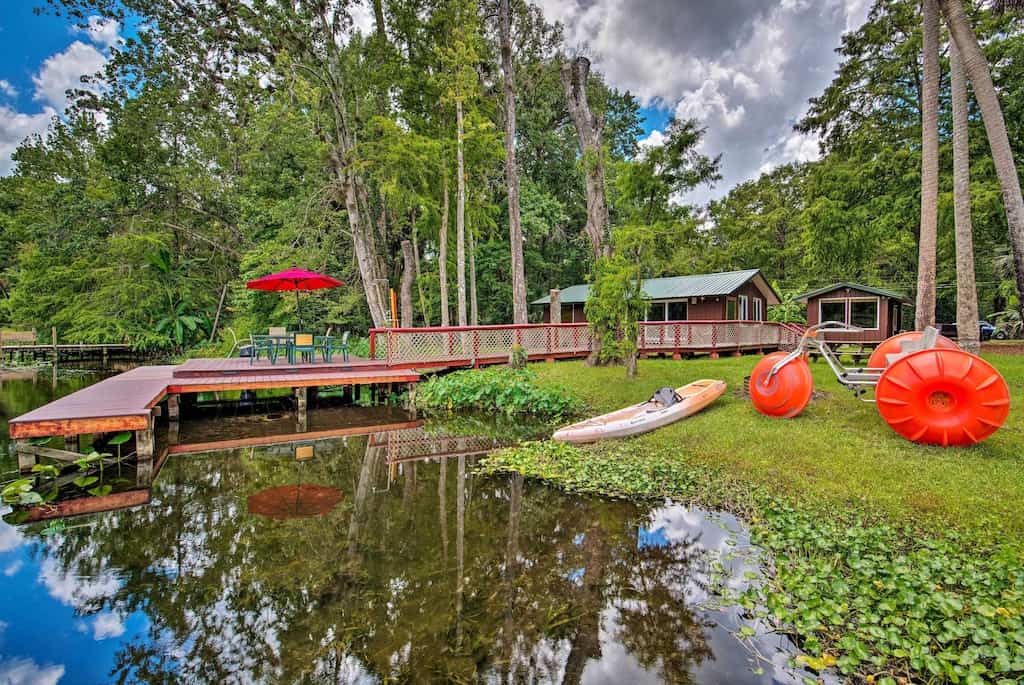 Fisherman's Dream
Are you looking for a stunning tropical oasis, if so you will want to check out the Fisherman's Dream cabin. This stunning rental is three bedrooms and three bathrooms and can sleep 6 guests. Located on the northern end of Pine Island in the upscale Bocilla Island Club near Fort Myers and Sanibel.
Across the street is a private pier that can be used for fishing, enjoying a sunset cocktail, watching dolphins or head to the Island club pools, tennis courts and clubhouse all of which can be used during your rental.
The home features tall ceilings, tropical decor, an open split level plan and is perfect for those looking for their own private oasis with all the amenities of a resort.
Click Here to Check Rates on VRBO.com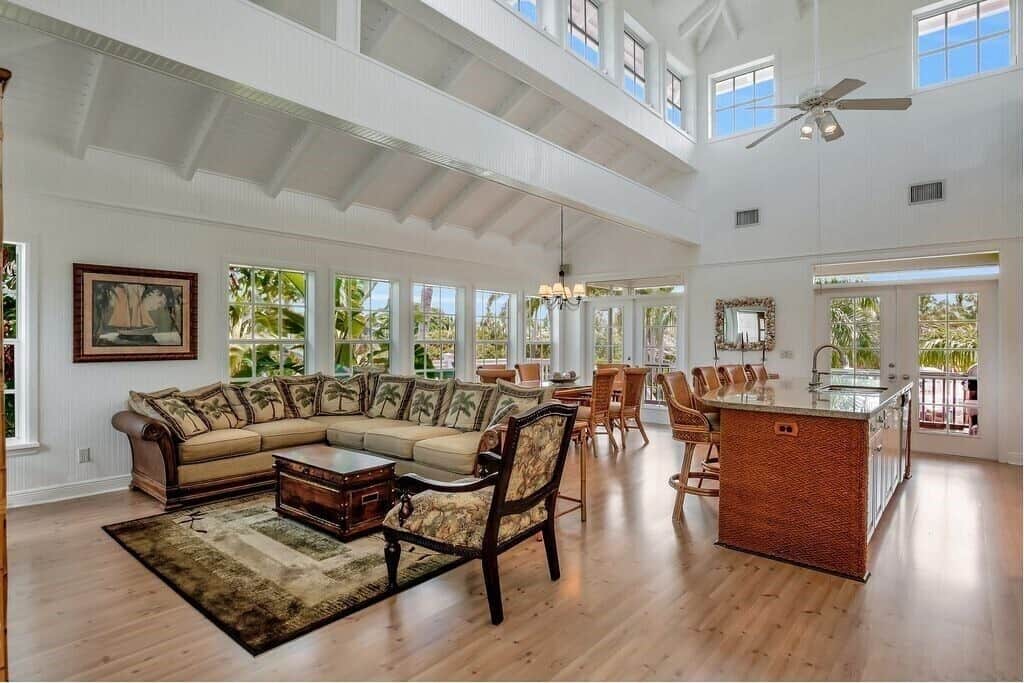 Oasis in the Woods
Oasis in the Woods is the perfect getaway for families who want their own space. This 2500 square foot cabin, has three bedrooms, one bathroom, and sleeps up to 8 guests. The cabin has natural wooden walls, and rustic furnishing but is very comfortable.
Not only that it features a private outdoor pool, and indoor swim spa with a sauna and gym, a large open floor plan with fireplace and a gourmet kitchen. The home is also pet friendly!
Located in Mcalpin, Florida this cabin is near the Suwannee River and Itchetucknee Springs making it a nature loves dream. Or you can stay put an enjoy all the amenities on site.
Click here to Check Rates on VRBO.com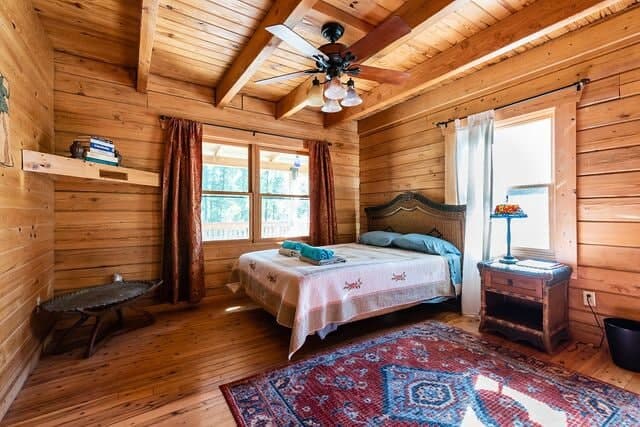 Hilsborough River
If you are looking for a unique cabin type accommodation in the Tampa area, you must check out the Hillsborough River Cabin! Completely remodeled in 2015, this home can accommodate 4 guests, with one bedroom and one bathroom.
The two story duplex features a king size bed, and a pill out sofa sleeper in the living room. The downstairs open air patio is where guest spend most of their time, either at the outdoor table or bar that overlooks the water. There is also a small dock where you can put in a kayak or canoe.
If traveling in a large group there is another house, Heaven on the Hillsborough river that can be combined to accommodate up to 9 guests.
Click here to check rates on VRBO.com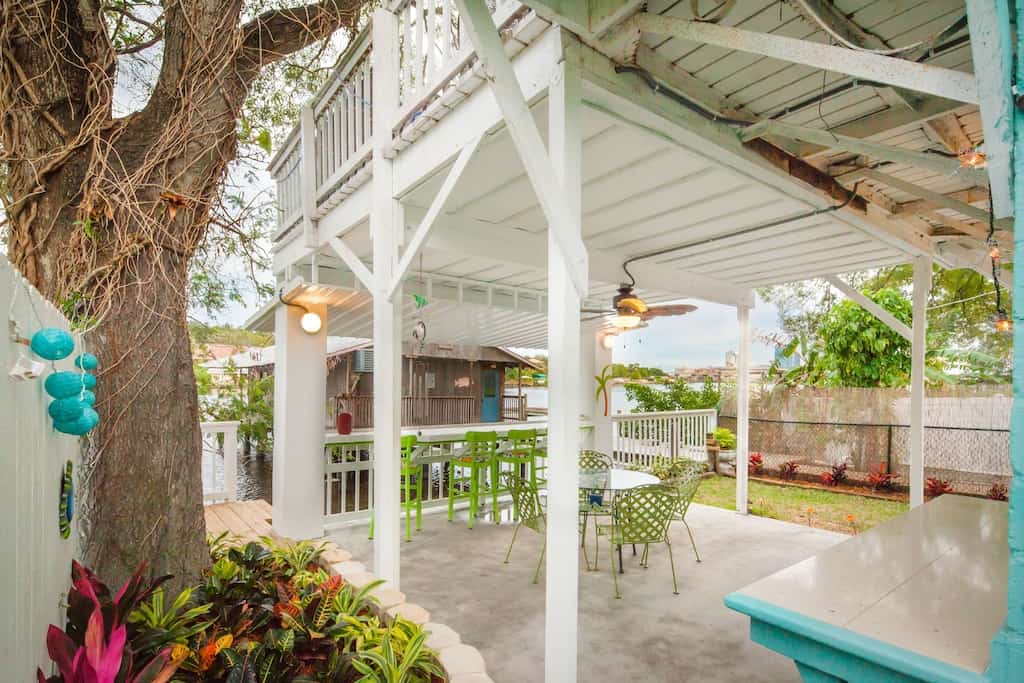 Next time you're planning a family Disney trip, couples weekend, or simply want to get away for a while, remember these cabins in Florida.
Whether it's a cozy little lodge or a luxurious poolside paradise, Florida cabins have a ton to offer.
Some of the best cabins in Florida are really close to other popular Florida attractions, so don't forget this list the next time you're planning a visit. A riverside cabin can be the perfect cherry on top to an awesome tropical getaway.
No matter which of these cabin rentals in Florida you choose, we know you will have fun exploring your wild side.
Did You Find This Post Helpful?
If so, we would love to keep in touch! We enjoy seeing photos and comments about your experiences in Florida! You can follow us on Instagram and we will repost your photos on our feed and comment too! Just tag us at @floridatrippers and hashtag #floridatrippers. We can't wait to see your travels!