Have you discovered the exciting things to do in Panama City? On the Panhandle between Pensacola and Tallahassee, you'll find a lovely beach town with sublime coastlines and pristine waters.
Families looking for a beach vacation will appreciate the family-friendly shorelines and atmosphere. Be warned, Panama City Beach is known as the number one US Spring Break destination. The beach can and will become crowded and noisy.
But Panama City is so much more than a Spring Break city in Florida. As a Gulf Coast city, scuba diving, fishing, and cruising are incredibly popular activities.
With vibrant shopping, sporting, and dining experiences, Panama City has a defined cultural vibe that has concretely forged its attention from an entire nation.
The next time you're looking for a weekend getaway, choose Panama City. Whether you're looking for a thrilling adventure or some much-needed rest and relaxation, you won't be disappointed by the wonderful things to do in Panama City, Florida.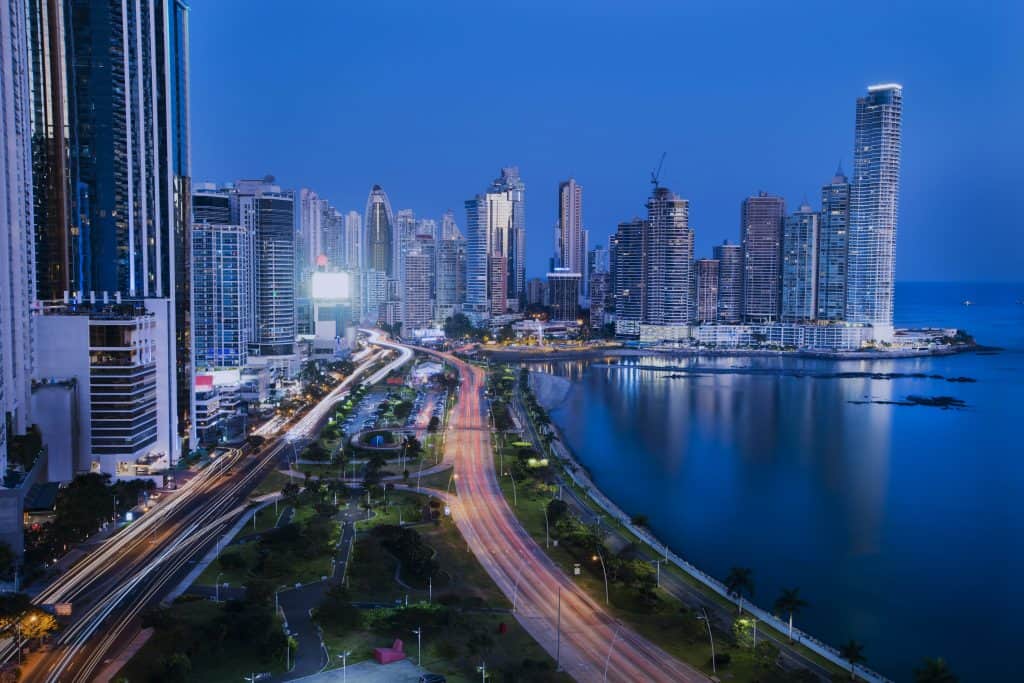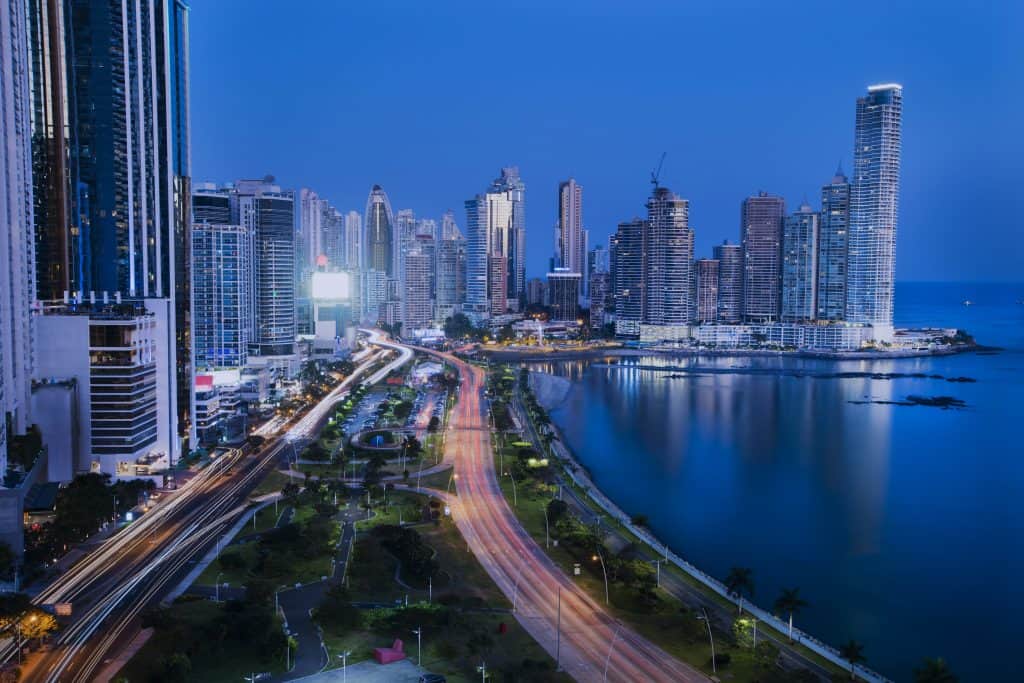 14 Best Things To Do In Panama City
Panama City Beach
Panama City is home to one of the most popular beaches in the entire United States! Just off of Highway 30A, at Panama City Beach, you'll find over 27 miles of coastline to enjoy on one of the best beaches near Tallahassee.
While inundated with college students during spring break, you'll find that Panama City Beach becomes family-friendly during the rest of the year. With white sugary sands and turquoise waters from the gulf, you'll find playgrounds and amusement parks nearby.
If your family enjoys a walk on the wild side, then get ready! Enjoy multiple opportunities for an adventure like jet skiing, parasailing, and scuba diving. You can even airboat through the marshes just beyond the shores of the beach!
Panama City Beach is also known as the Seafood Capital of the South! You're right next door to some of the best seafood joints, serving up the best daily catches. If you happen to be in town for the Gulf Coast Jam, a three-day country music festival on the beach, then you are in for a fun weekend!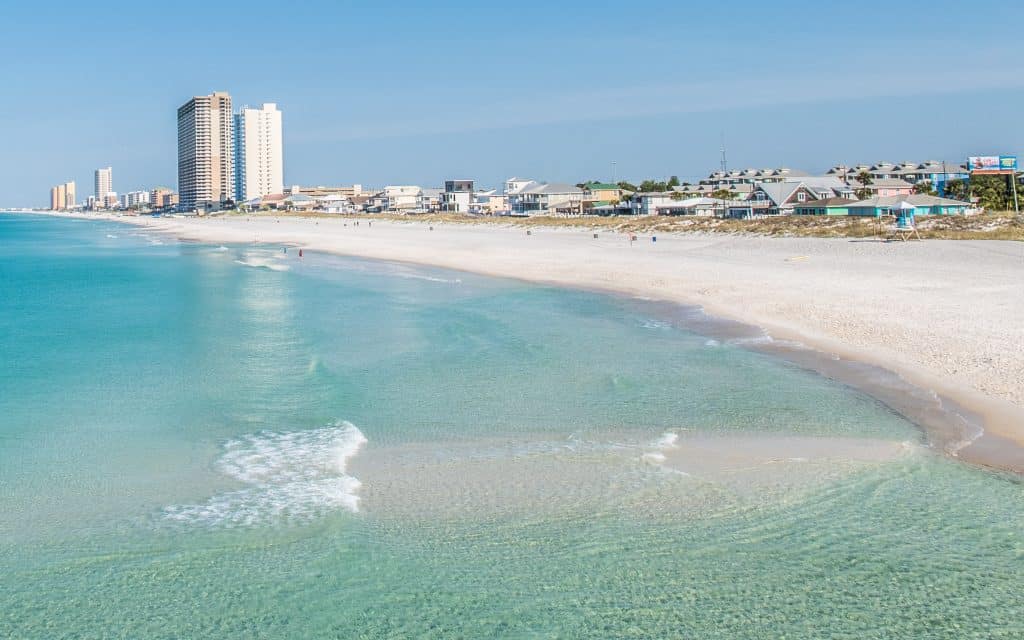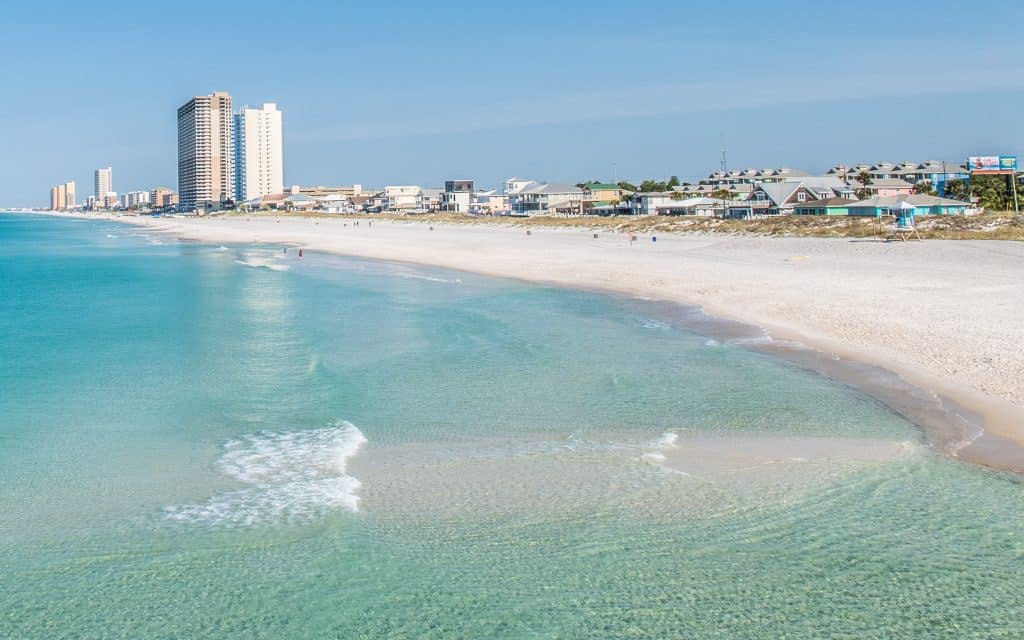 Pier Park
Found in the heart of Panama City, Florida, Pier Park has it all. Directly across from the Gulf of Mexico, Pier Park has become the go-to place for shopping and family fun.
One of the most famous Panama City attractions, you might be confused upon your first visit. As you drive under a large sign arced above the road, you might ask yourself, "Is this an amusement park or a shopping center?"
Actually, it's a little of both! With 125 shops, incredible dining options and entertainment, it is all too easy to lose an entire day here!
The complex, which opening is 2008, is over 900,000 square feet of open-air bazaar space. Make sure to wear your walking shoes!
Pier Park has both national department stores like Dillard's as well as charming boutiques. Try Andi's at the Pier for a "girlie girl boutique" or Cariloha for some bamboo-based trinkets.
Once you've shopped until you've dropped, sample the fine flavors of the Gulf Coast in Pier Park. Indulge in Southern classics at Dick's Last Resort. Or you can grab a cheeseburger in paradise at Jimmy Buffett's Margaritaville.
Pier Park is one of the best things to do in Panama City with kids, especially with its entertainment options. Catch the latest blockbuster at the IMAX Grand Movie Theatre or entertain your kid at heart on the XD Dark Ride Experience. Kids will love Pirate's Quest Laser Tag!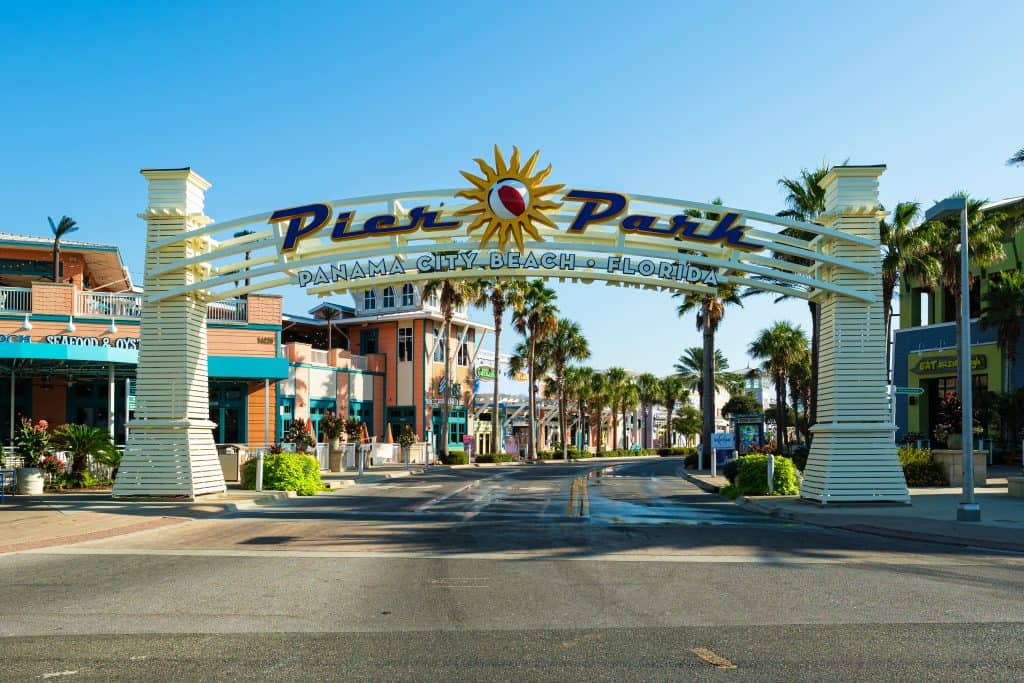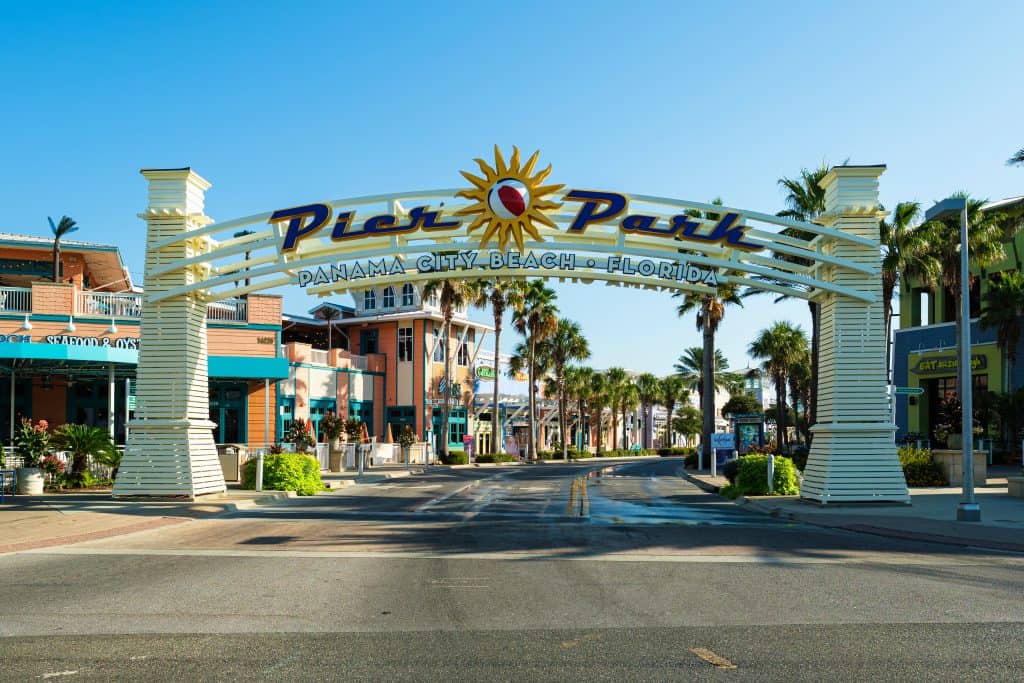 Camp Helen State Park
When you're looking for a great state park in the Panhandle, look no further than Camp Helen. One of the best things to do in Panama City, Camp Helen is one of the largest coastal dune lakes in Florida.
Bordered by the Gulf of Mexico, and Lake Powell, not only is this one of the largest coastal dune lakes in Florida, but also in the world! These kinds of lakes are rare geological treasures found only in Australia and Africa.
The joys of Camp Helen are found in its prime beach access. Walk down a breezy causeway between the waters' edges. You can even enjoy a morning sun and swim!
Don't forget to look for the creature of Powell Lake! Florida's own Loch Ness Monster, the creature was actually found a few months after its first sighting in 1958. That hasn't stopped urban legend from running wild. You can often see locals and tourists trying to catch a glance.
In addition to beach activities, Camp Helen is also one of the best places for kayaking in Florida. The park offers rentals daily from 8 AM – 5 PM, weather and season permitting.
Lace-up your boots and enjoy a leisurely walk on one of the best hiking trails in Florida. Oak Canopy Trail takes hikers through a thick canopy of maritime hammock overlooking a salt marsh.
Camp Helen State Park is open from 8 AM – sunset, 365 days a year. Entry costs $4 per vehicle or $2 per pedestrian or cyclist.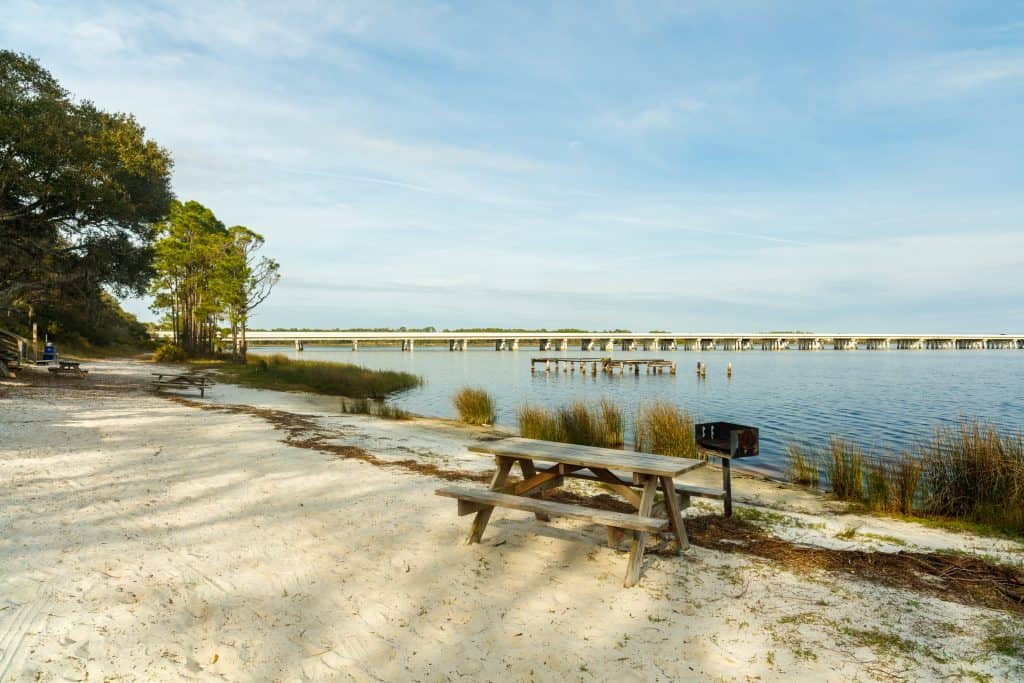 Water Planet
Florida has a vast array of native animals like manatees, alligators, and even sea turtles. What if you could get up close and personal with marine life in Florida?
Water Planet allows you to do just that. A low-impact environmental attraction, you can actually swim with dolphins on a guided boat tour!
Some facilities allow guests to with dolphins kept in captivity, but not Water Planet. Boats take guests out into the beautiful Gulf of Mexico to swim with dolphins in the wild.
With only six people on board at any given time, your trip will feel very personalized. On the pontoon, you'll be given snorkeling gear and then it's off to find the dolphins!
At various times during your trip, you'll hop in and out of the pontoon to get closer to the dolphins. Curious dolphins tend to come say hello to the visiting humans!
The Water Planet takes environmentalism very seriously. While this is a recreational trip, you'll learn a lot about the Gulf ecosystem from a knowledgable crew!
Many guests become annual return visitors, citing their experiences as meaningful, exciting, and unforgettable. It's hard not to forge a lifelong memory when you're swimming with a dolphin.
Russell Fields City Pier
Also known as the City Pier, this gem can be found right across the street from Aaron Bessant Park. You'll love the sunsets at Russell Fields, one of the most fun things to do in Panama City.
Completed in 2009, Russell Fields Pier was built to resist even hurricane-strength elements. Its legs and structure is completely made of concrete!
Because the pier juts out over 1,500 feet into the Gulf of Mexico, you won't find better fishing in Panama City. Along the pier, you'll find a bait and tackle shop.
During fishing season, anglers can expect to hook many species of fish including Cobia, King Mackerel, Spanish Mackerel, Red fish, Blue liners, Pompano, Hardtails, and more!
If you're going to Russell Fields Pier as a spectator, you'll pay a $3 fee. Fishers may obtain a daily fishing permit for $6. It's well worth the price; you're essentially just paying for maintenance.
Because the Russell Fields Pier is so popular with both locals and tourists, we encourage arriving early. The pier can and will get crowded, so you might need to secure your spot!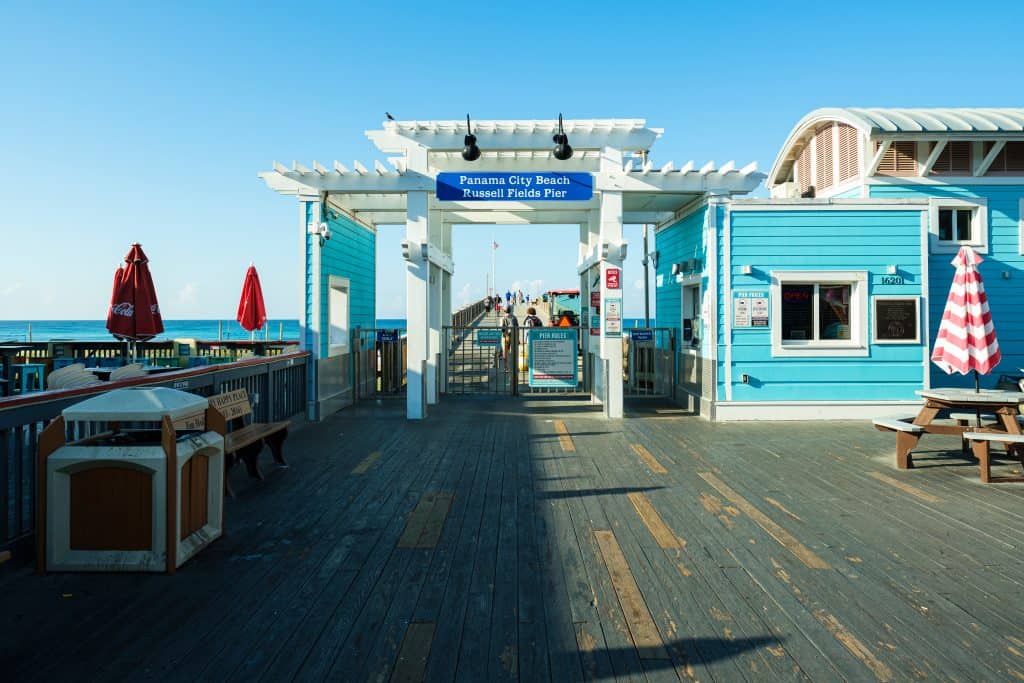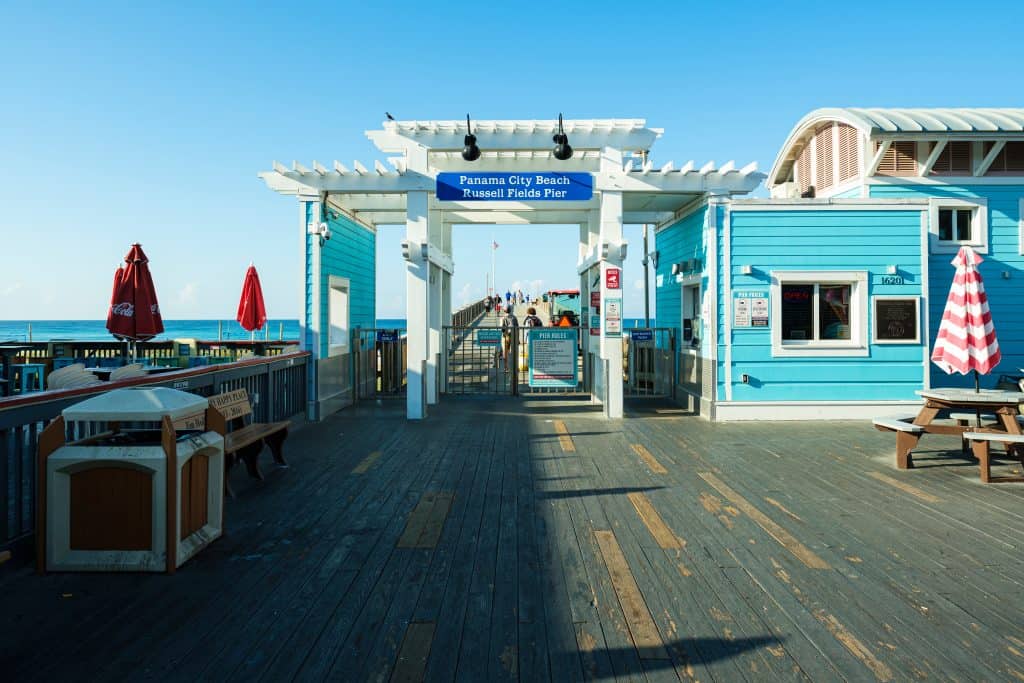 Shipwreck Island
Even though Panama City is in the northernmost part of Florida, but it still gets incredibly hot! When families need to cool off in the panhandle, they head over to Shipwreck Island Water Park!
One of the best things to do in Panama City with kids, Shipwreck Island sits on 20 acres of lush landscaping with high-energy water attractions. No matter your age, there's something fun for everyone to enjoy!
Climb aboard a giant inner tube on White Knuckle River, if you dare. You'll cascade down 660 feet of twisting and winding rapids until you splash down!
Grab a buddy and conquer your fear of heights on the Pirate's Plunge Racing Slide! You'll drop down two 60-foot high twin slides, so try to beat your buddy to the finish line!
Kids will love Skull Island with a kid-friendly slide, Lickity Split. The bravest families can brave the racing slide, Pirate's Race, together. In a fort-themed play area, a humungous tipping bucket dumps 700 gallons of water every few minutes.
Tickets to Shipwreck Island cost $38.86 for persons above 50 inches tall and $30.53 for persons below 50 inches tall. Discounts are granted for seniors.
Before you go, check Shipwreck Island's operating schedule. Generally the park is open every day from May 22 through August 8. Always check, as the park sometimes opens on weekends during April, May, and September!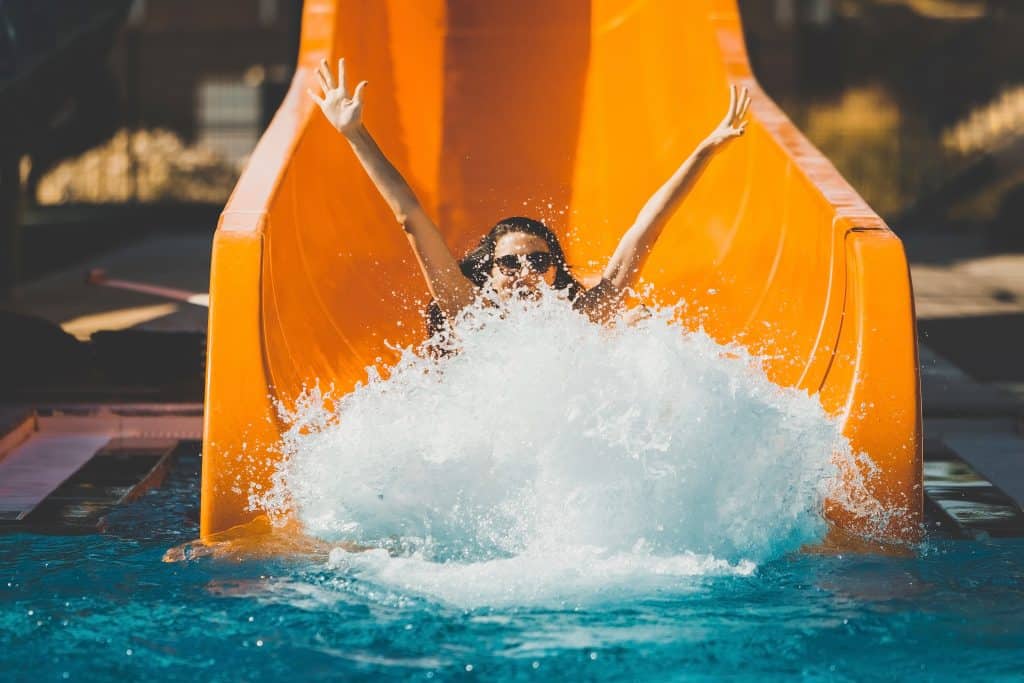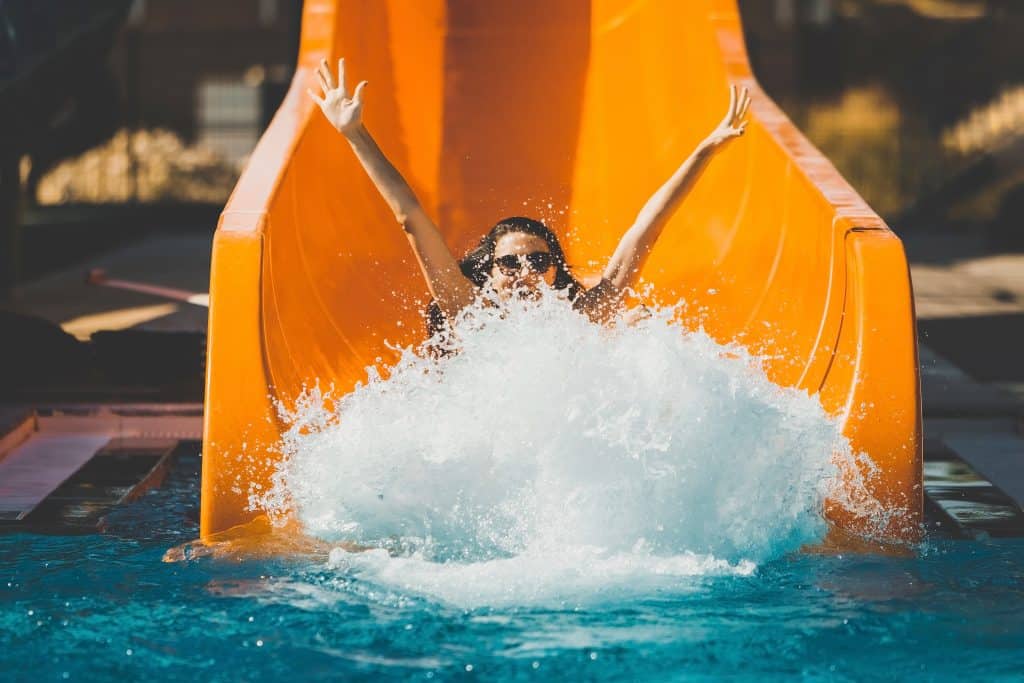 Funland Vintage Arcade
Since it opened in 1953, the Funland Vintage Arcade has been a "must" stop of Panama City Attractions. Perfect for families, this is one of the best things to do in Panama City with kids.
Family-owned for three generations, Funland reigns as the oldest arcade in northwest Florida. Locals have been lovingly supporting this arcade for over 65 years.
Funland has over 100 arcade games, and what a selection! You'll find vintage games, the latest video games, and even games suitable for small children!
The arcade may be vintage, but that just applies to the games! Instead of fussing over tickets and tokens, you'll dispense and recharge credits on your own RFID card.
Some of the vintage games don't run the RFID cards, and you will need to play with quarters or tokens. You can get some at a special station in the arcade, don't worry.
To play like a winner, you need to eat like a winner. Funland Vintage Arcade also serves breakfast, lunch, and dinner! You can also indulge in ice cream delights at the Dairy Bar.
Funland is currently closed for the season, but will reopen for spring and summer in February 2021.
Scuba Diving
Panama City holds the title of "home of the world's most beautiful beaches." Along these beaches, explore under the Gulf while scuba diving, one of the best things to do in Panama City.
Of course you can admire the Gulf by just swimming in Panama City's emerald-green waters. but when you scuba dive, you discover a world of marine life and artificial coral reefs.
The artificial reefs have been installed to increase and rehabilitate marine life. The addition of the 5 Super Limestone Reefs has been a boon for divers and fishermen alike.
When you dive, you'll swim through 18-foot tall reefs built in a pyramid shape. you might even see rare larger species drop by like amberjack and wahoo.
Panama City is also one of the top five diving destinations in Florida, second only to the Florida Keys. Dubbed the "Wreck Capital of the South," you'll find many shipwrecks hiding beneath the water's surface.
Of the wrecks, you'll want to see the 465′ Empire Mica. Once a British Ocean tanker, this ship was torpedoed and sunk in World War II!
You can of course charter your own boat and explore on your own, but there are many dive companies that will train you and take you out on the water! We recommend Dive Locker or Panama City Diving!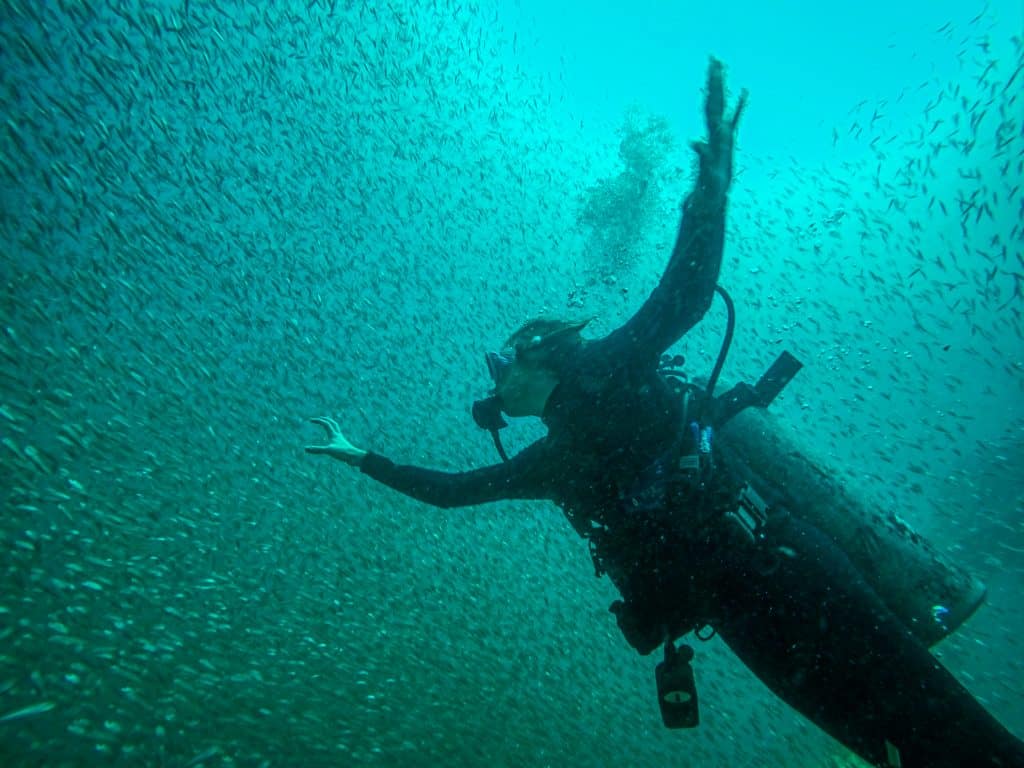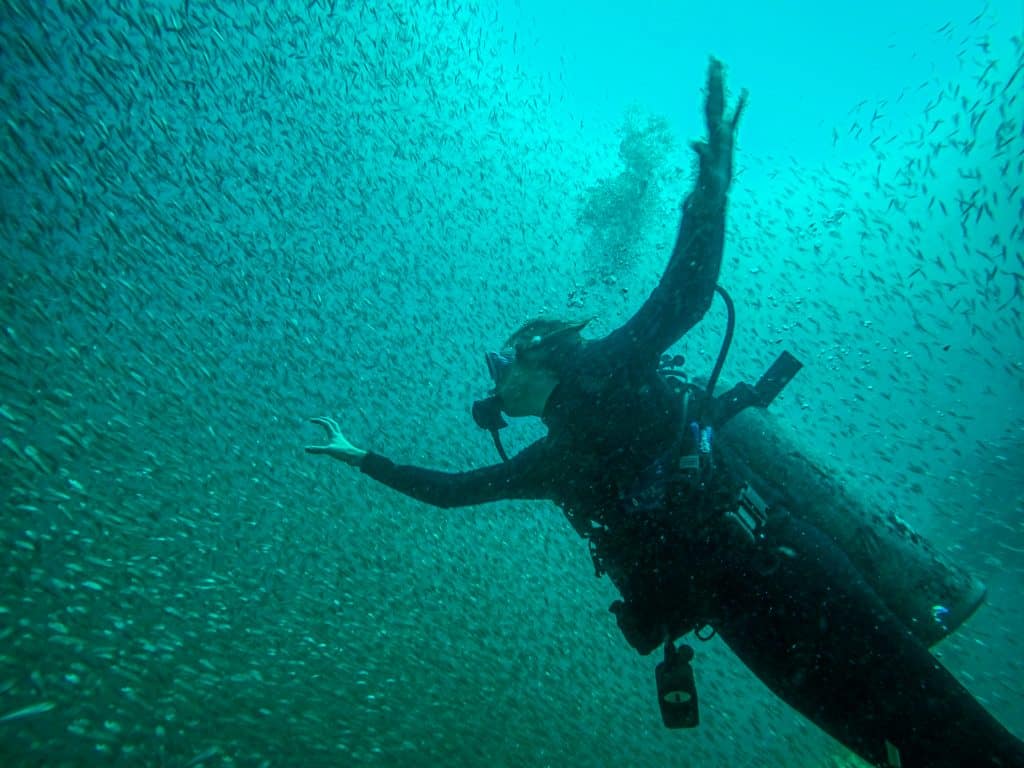 Try a Cajun Boil
Panama City can be found directly in the middle of Florida's northern Gulf Coast, so you know the seafood has to be good. You absolutely must try a Cajun boil, the pinnacle of Florida cuisine.
If you've never attended a Cajun boil, you're missing out! Usually, large amounts of seafood like crawfish, shrimp, and crab are boiled in a gigantic pot. Many communities in the South sponsor Cajun boils as fundraisers or mixers.
Because Florida's Gulf Coast is flush with shellfish, you can find the freshest, most authentic Cajun boils in Panama City. For a portion that isn't so large, head on over to Dee's Hangout!
A quaint restaurant, Dee's Hangout serves the freshest seafood! In addition to Cajun boils, you can find delicious fish tacos, po'boys, and oysters! Don't forget the Key Lime Pie!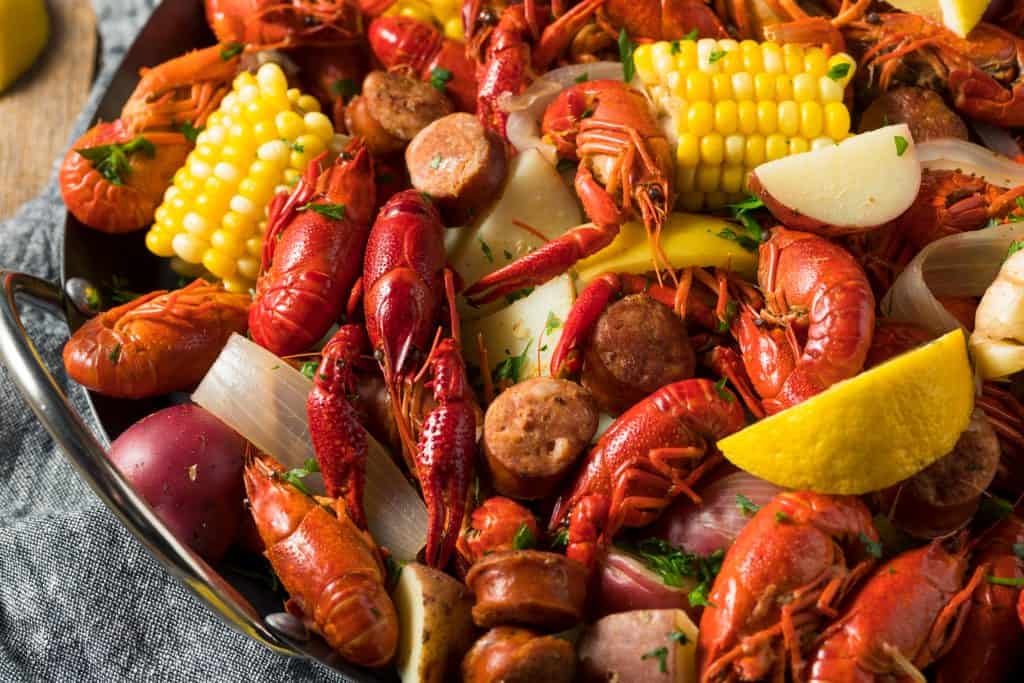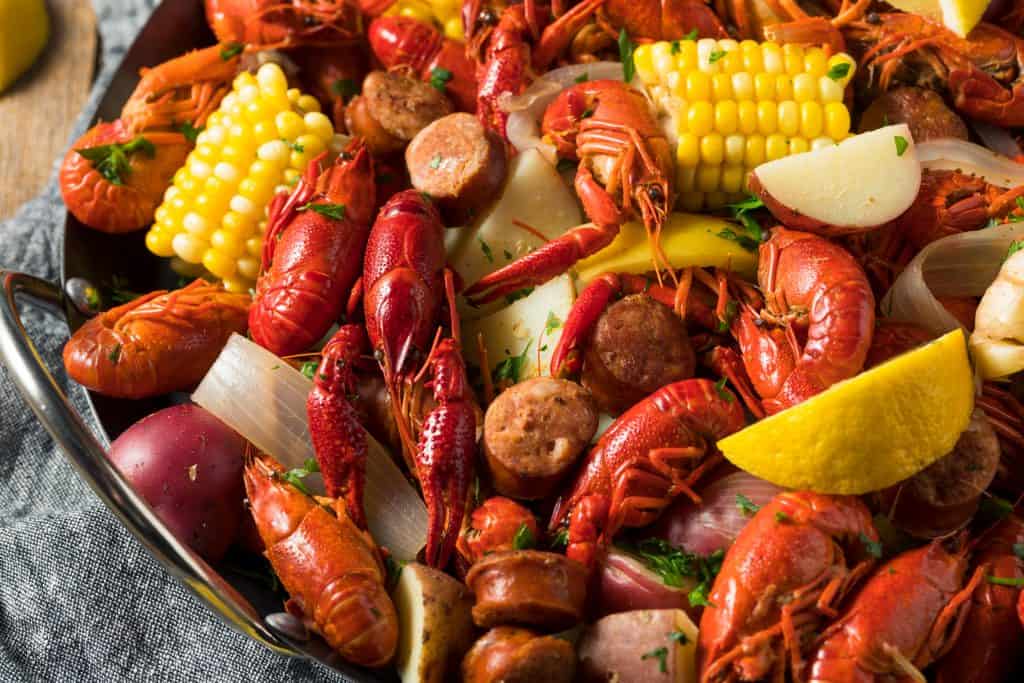 Ecofina Recreation Area
When the hustle and bustle of city life gets to be too much, it's time to unplug and unwind in nature. A visit to the Ecofina Recreation Area is one of the most relaxing things to do in Panama City.
Within 41,363 acres, the Ecofina Recreation Area offers opportunities for paddling, hiking, camping, horseback riding, fishing, and hunting. There's something for everyone here!
Because the Ecofina River Recreation Area is so expansive, the closest Panama City attractions are Pitt and Sylvan Springs! Like all of Florida's natural springs, the waters are crisp, clear, and cool.
Pitt and Sylvan Springs are among the most popular areas on the grounds. Through limestone that in some places creeps above the water's surface, bubbles up through the vent underneath.
You can swim in a 40-foot diameter pool with water that flows from the vent. You can even rent a tube to float and relax in the always-72-degree water.
When you're not cooling off in the water, you can enjoy a 10-acre recreation area. When you need to dry off, take a walk on some of the best hiking trails in Florida.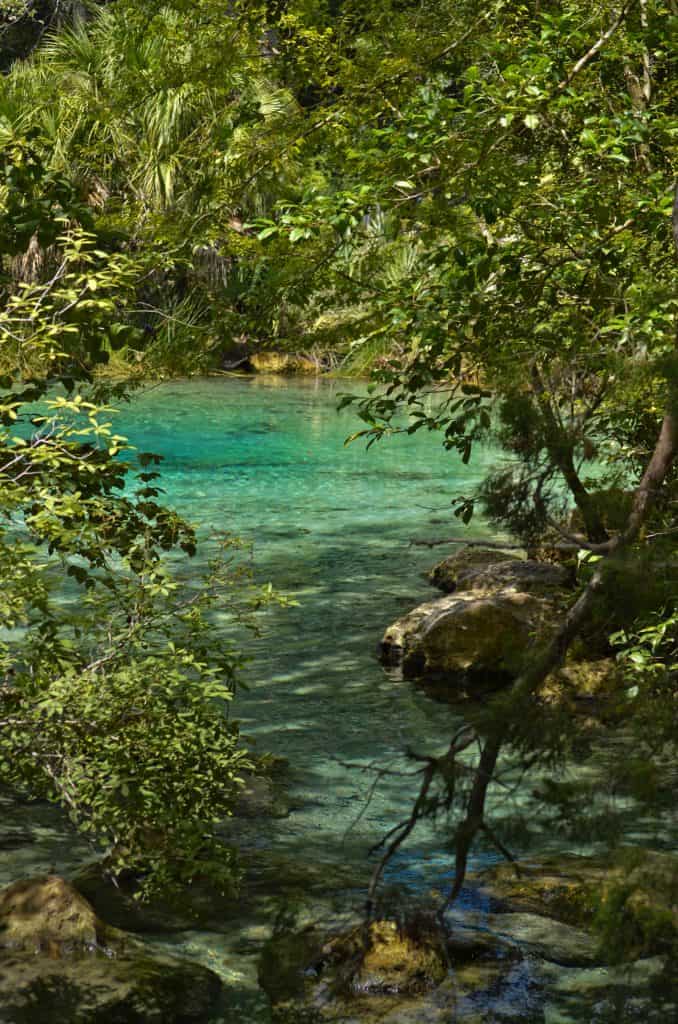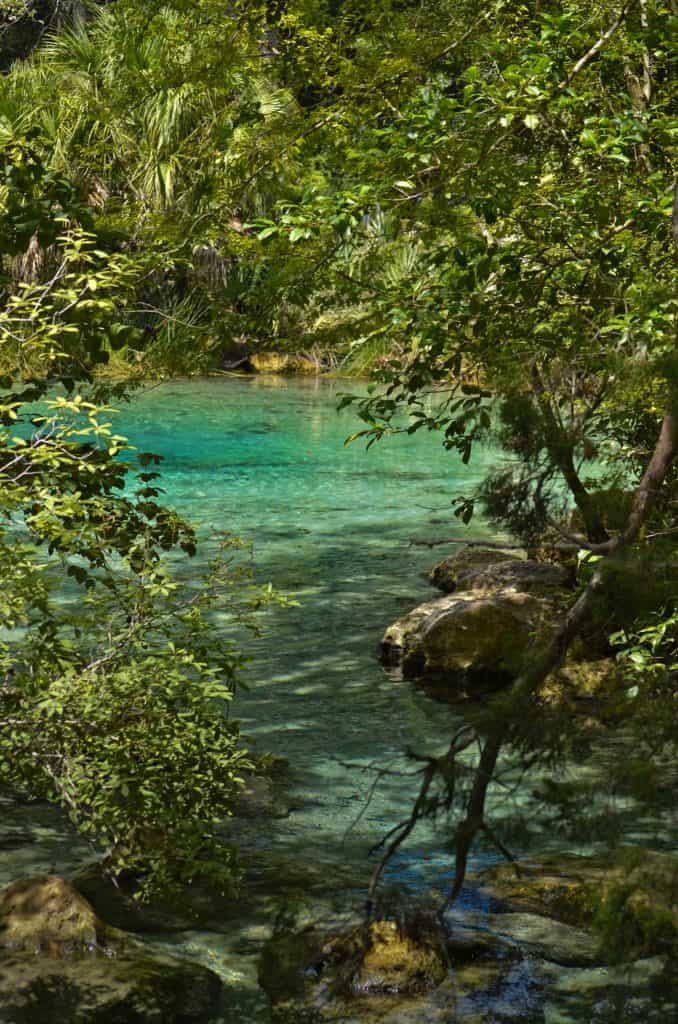 The Yard
Sometimes, you just gotta satisfy your sweet tooth. The next time you're on vacation, you absolutely must visit The Yard, one of the best things to do in Panama City.
The Yard is a full milkshake bar found in Pier Park. A small chain founded in 2017 in Gulf Shores, Alabama, the Yard has now expanded with locations in Alabama, Texas, Florida, and Massachusetts.
Famous for their skyscraper milkshakes, The Yard was a business featured on ABC's hit show, Shark Tank! They eventually made a deal with Mark Cuban, and he is still instrumental in their growth today!
Each of The Yard's towering creations are served in a huge glass mason jar. Depending on the milkshake, the toppings are piled over the top of the jar! When you're done, you can take your jar home!
As an example, the classic Birthday Cake milkshake starts with The Yard's Birthday Batter ice cream. The top of the mason jar is dipped in vanilla icing and then rainbow sprinkles. The milkshake is topped past the jar's rim with a mountain of whipped cream and then a full-sized cupcake sits on top.
Even after you've gone home, you can order from The Yard online long after your vacation is done. You can't get a milkshake delivered, but you can pick out decorative sprinkles and edible cookie dough in a variety of flavors!
St. Andrews State Park
Three miles to the east of the city's beaches, you'll find a 1,200-acre state park that caters to everyone in the family! St. Andrews is one of the most beautiful Panama City attractions.
Flanked by the Gulf of Mexico on one side and St. Andrews Bay on the other, St. Andrews State Park features many different ecological landscapes in one stunning location. Experience white sugar sand beaches, dense pines, and coastal dunes all in one day!
Water sports enthusiasts rejoice! With a full mile and a half of pristine beaches, St. Andrews has it all. Enjoy boating, paddling, and swimming! More adventurous explorers can try snorkeling and scuba diving!
St. Andrews State Park also has one of the best beaches for surfing in Florida. The waves here are just perfect for beginners. Experienced surfers swear by the break on this beach. It is the most consistent in Panama City with the most even waves.
Take the shuttle over to see the beautiful, undeveloped Shell Island! Completely unspoiled, the emerald-green waters and coastal scrublands are a haven for Florida native wildlife.
St. Andrews State park is open from 8 AM until sundown, 365 days a year. Admission costs $8 per vehicle and $2 for pedestrians and bicyclists.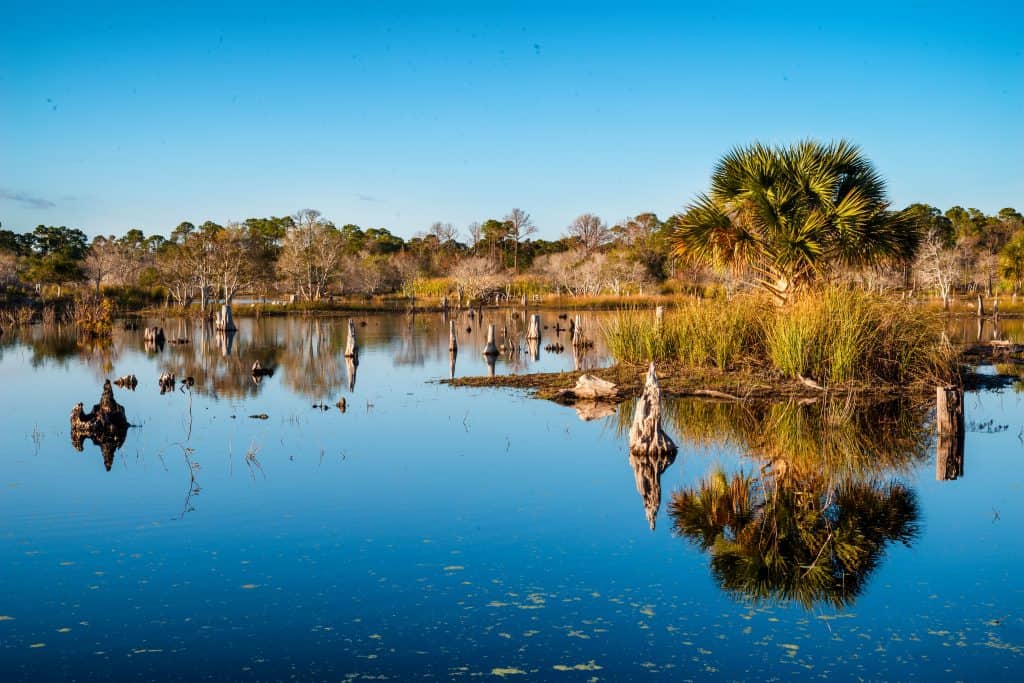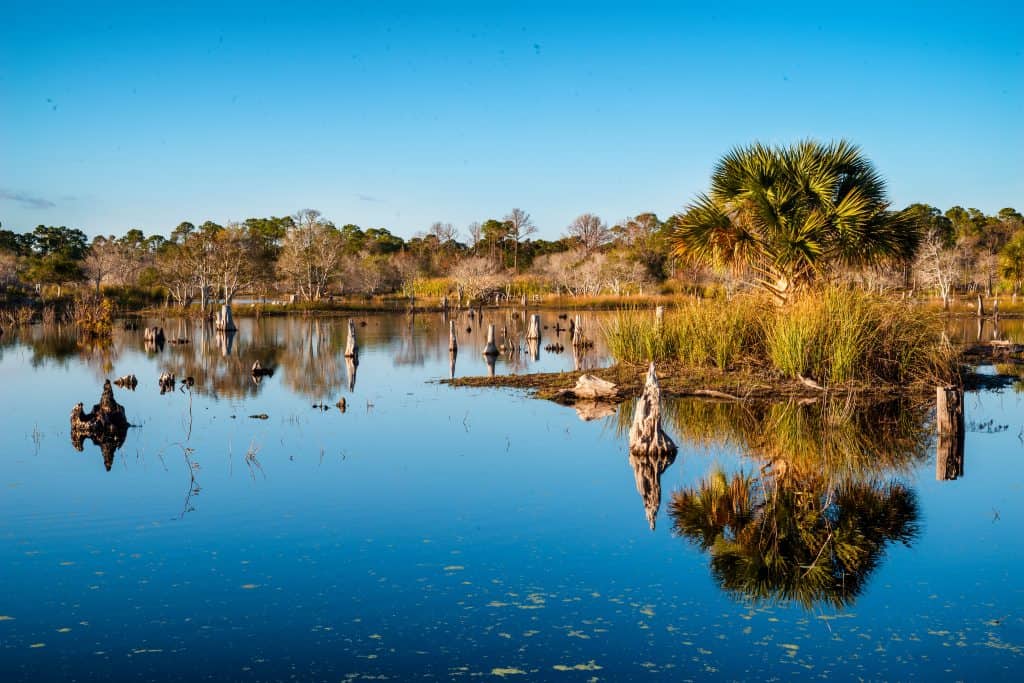 Panama City Beach Winery
Put the kids away with a sitter once it's time to indulge in adult beverages! For an exciting change of pace, head to the Panama City Beach winery, one of the best things to do in Panama City.
All of the wine at Panama City Beach Winery is made with 100% real fruit from the best Florida groves. No artificial sugars or flavorings are added to the wine.
During normal business hours, stop by the shop! Complimentary wine tastings are held daily so you can discover which kinds of wine you would like to take home. A trained sommelier can help guide you!
Best sellers include a white Hurricane Class 5 Sangria and Mamma Guava, made from guava fruit. Other fruits used include peach, passionfruit, mango, blackberry, blueberry, and many more!
The Panama City Beach Winery can be found in St. Thomas Square. Hours are Monday through Saturday from 10 AM – 5 PM.
Signal Hill Golf Course
Dad especially needs some time on vacation to recharge, so why not send him to one of the best golf courses in Florida? The Signal Hill Golf Course is one of the best things to do in Panama City.
How many golf courses have you played that are directly across from the beach? Signal Hill sits across from the Gulf, so even on the hottest of days, you're still getting a coastal breeze here and there.
With 18 holes, Spring Hill Golf Course boasts terrific views and challenging play for golfers at every skill level. The well-groomed fairways make the course difficult, but friendly staff will always give you tips!
Afterward, head to the Snack Bar! After a day on the green, you'll need a cool drink and maybe some food over which to discuss your last game. Signal Hill proudly serves breakfast and lunch.
You can find Signal Hill Golf Course right next to St. Andrews State Park. you must reserve your tee time in advance. 18 holes of golf with no cart rental costs $34 from 6 – 11 AM, $29.50 from 11 AM – 2 PM, and $25 from 2 PM – close.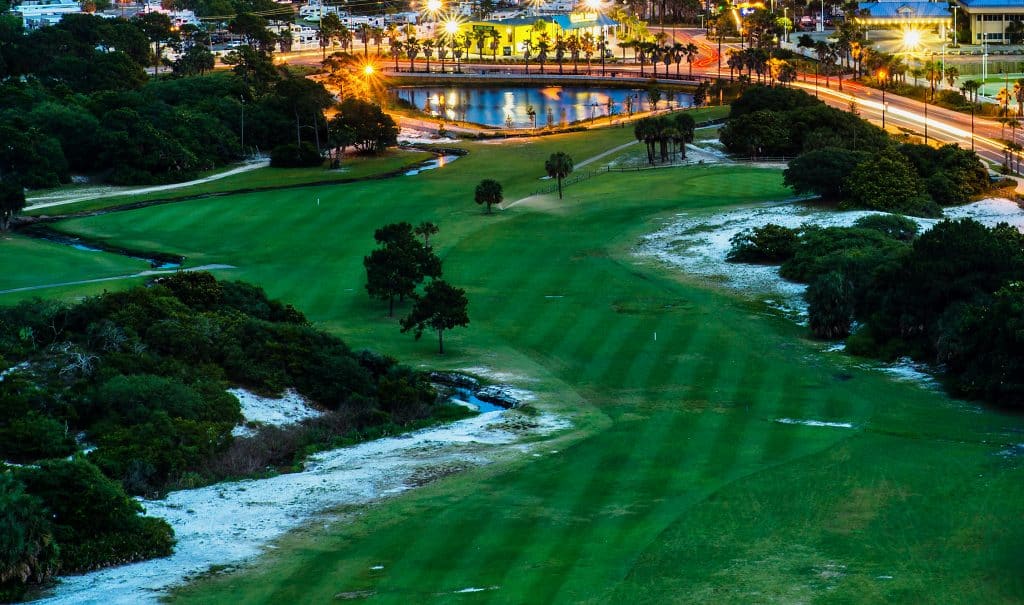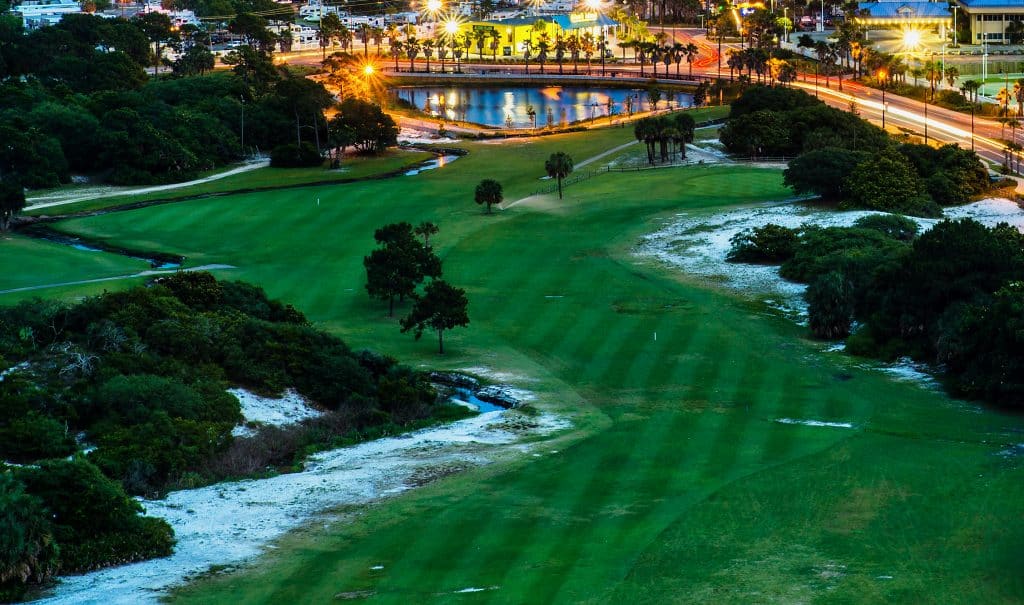 Did You Find This Post Helpful?
If so, we would love to keep in touch! We enjoy seeing photos and comments about your experiences in Florida! You can follow us on Instagram and we will repost your photos on our feed and comment too! Just tag us at @floridatrippers and hashtag #floridatrippers. We can't wait to see your travels!