Are you searching for interesting Florida day trips to plan your next adventure? We have you covered on all the best ideas. Whether you are looking for enchanting gardens, crystal clear waters to dip your toes in, or a boat tour through Florida's most wild lands, you'll be sure to find something perfect for your next day off.
Florida holds some of the most diverse wildlife. It is surrounded by the Atlantic Ocean on its east coast and the rest of the state hugs the Gulf of Mexico. Florida is home to incredible creatures like the endangered Florida panther, manatee, and the leatherback turtle. It also holds mystery in the swamps of the Central Florida Everglades. Many Floridian hidden gems include artsy oasis.
If you're looking to do something different than theme parks and want to reconnect with nature, we have Florida day trips for that too. We've got you covered on a variety of activities and places so that you can plan an interesting way to spend Florida day trips. This article will help find day trips in Florida to visit near North, Central, and South Florida.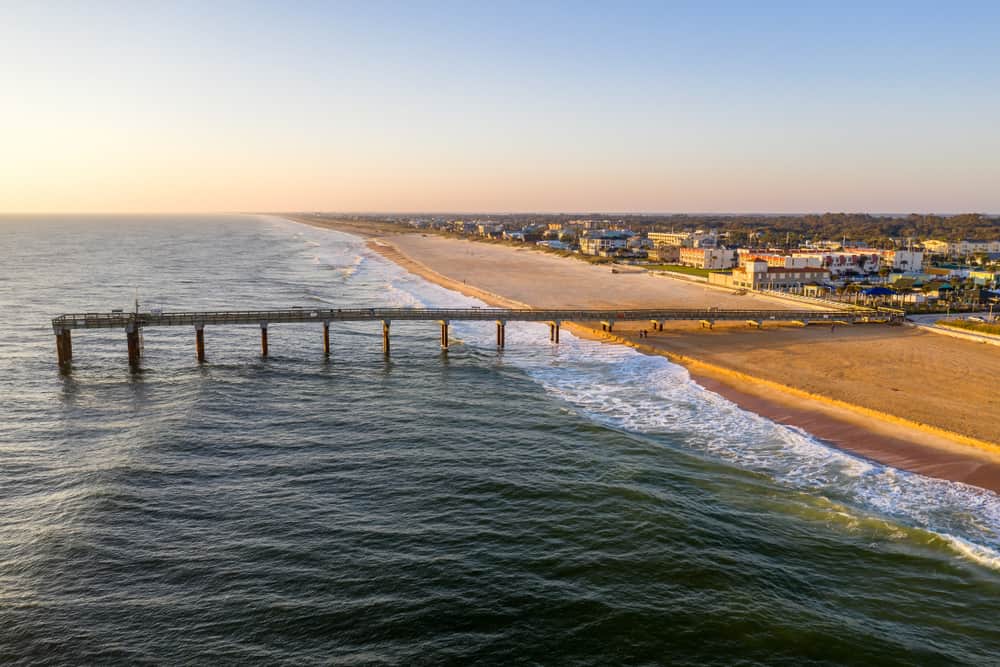 Best North Florida Day Trips
Ginnie springs
Nestled into the Santa Fe River, Ginnie Springs is the perfect place to take a well deserved Florida day trips to. Ginnie springs holds some of the most beautiful waters in the entire state. This first magnitude spring is a hot spot destination for swimmers, snorkelers, scuba divers, and those who love kayaking.
Ginnie Springs is a great choice among the Florida springs because it has 7 springs that you can choose from. Each spring is unique. Some are deep and wide, while others are shallow and narrow. All of the springs are connected to the underwater cave ecosystem here. Miles of mapped out underwater cave exploration awaits the serious cave diver.
Fill the day trip with a dip into the waters, a volley ball match with friends, a fabulous cookout, and relaxing on the shores. Once you experience Ginnie Springs the first time, you'll want to come back and camp here. Ginnie Springs is one of the best Florida springs with camping.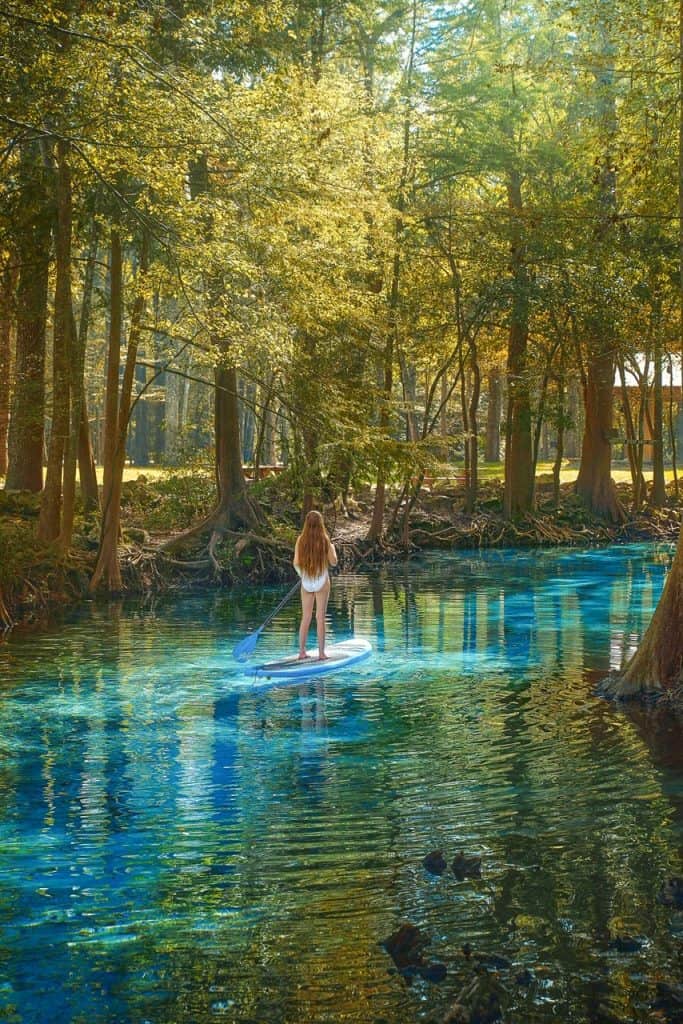 Amelia Island
One Florida day trips needs to be spent at Amelia Island. Since the year 1000, this island has been well loved by its visitors. Today, the island consistently ranks among the "Top 10 U.S. Islands" as voted by the Condé Nast Readers' Choice Awards panel. It is bound to be one of the best Florida day trips ever. Amelia Island is one of the prettiest islands in Florida to escape to hands down.
Amelia Island offers 13 miles worth of pristine beaches with great opportunities for beach combing. Due to the upkeep and care of Amelia Island's preservation, wildlife can easily been seen here. In fact, you may even see evidence of the wildlife in the form of shark teeth washed up on shore!
Amelia Island is the perfect place to take a Florida day trips for much needed relaxation. After the beach, head to one of the Island's World-Class spas and finish the day with a delicious meal from one of their great restaurants. Or spend the day on a guided horseback riding tour on the shores.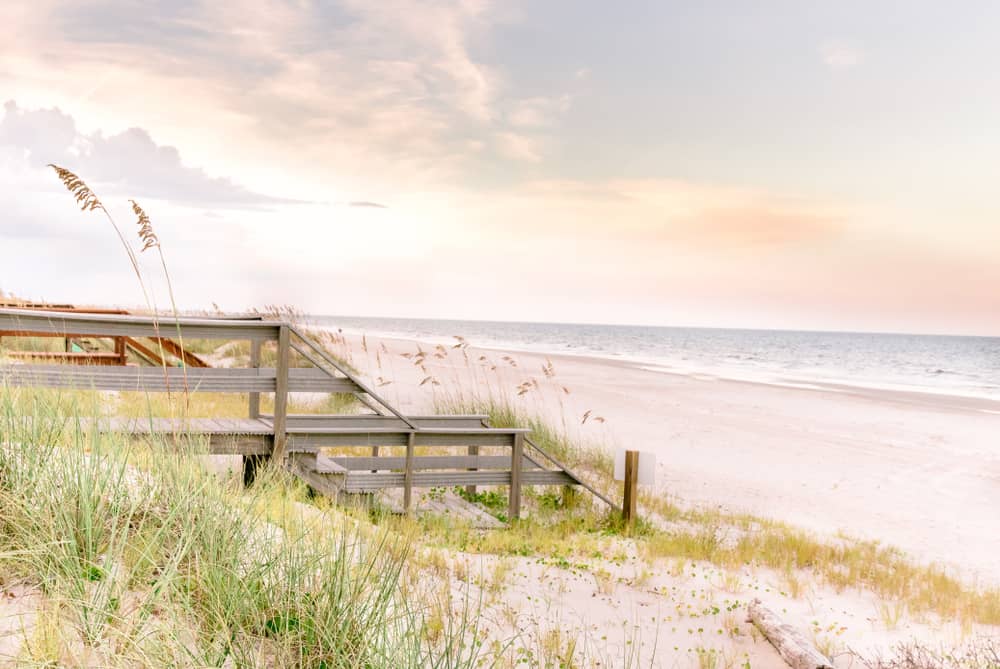 Washington Oak Gardens State Park
Washington Oak Gardens State Park is beautiful and it is one of the best Florida day trips from Jacksonville. Located on the Palm Coast, these gardens are just an hour drive south of Jacksonville. Well known for their lush gardens, this state park preserves the original habitat of a Florida barrier island.
This park is so great because it is essentially a two for one. The formal gardens are stunning with a showcase of lush native Florida plants, winding reflection ponds, and groomed walking trails. Because the park sits on the coast, you also get the beach. Washington Oaks has a unique shoreline of coquina rock formations. The waves from the Atlantic crash against these rock formations and it feels like the cover of a romance novel.
Spend the day at Washington Oak strolling among pristine gardens. Go beachcoming for seashells on the seashore. Explore tidal pools among the ancient rock formations. Take memorable vacation photos with friends or a partner. Break out the binoculars for great bird watching. Go fishing on the beach. Sit in one of the serene gazebos and read a book. Whatever you do, just have fun.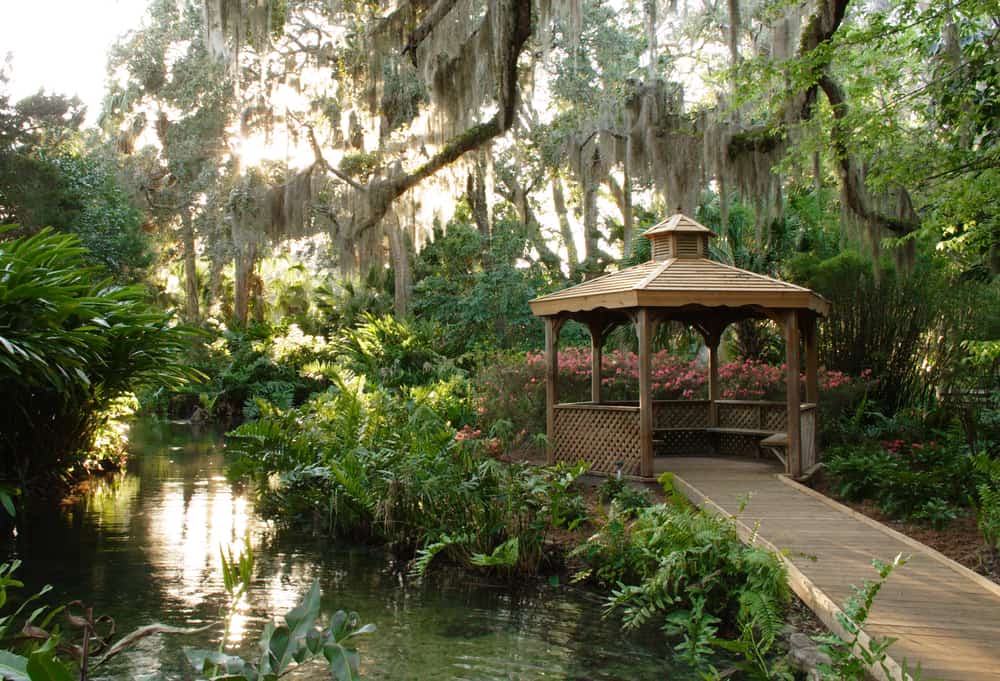 Crab Island
Plan a few Florida day trips to Crab Island in Destin, Florida. Nestled in the heart of the Emerald Coast, this gem is a fan favorite of locals and well, the world. Crab Island has made a name for itself time and time again with features on Good Morning America, HGTV, and many other travel magazines and publications worldwide.
Crab Island is loved by many as one of the best North Florida day trips for the beautiful emerald waters and the shallow sandbar below. At times, the sandbar will have as little as one foot of water, and the deepest it gets is four feet. With gorgeous sunsets and a high likelihood of seeing dolphins, Crab Island is popular by demand.
The tradition of Crab Island is to reach it by boat, anchor, then spend the day playing in the water. Though the island is not far from shore, it is best enjoyed by boat or by floating tiki bar. Yes, you can drive a floating tiki bar to Crab Island with all your friends.
Visit Crab Island between the late spring through the early fall months. With other fun things to do in Destin and great restaurants to try, you'll want to keep this day trip on repeat.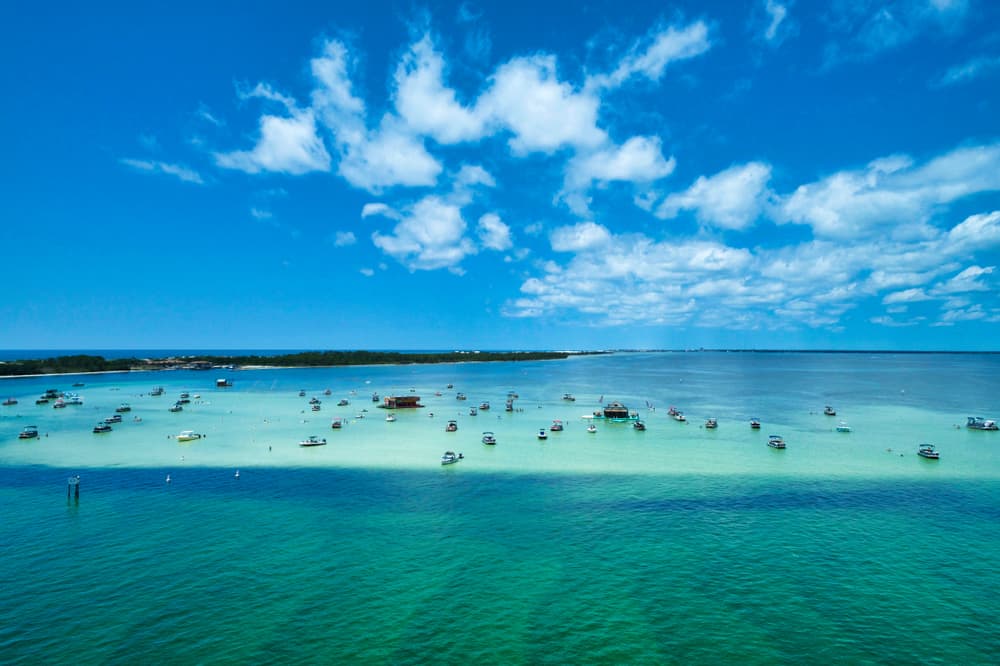 The City of Pensacola
Mark the day's itinerary for a visit to Florida's interesting City of Pensacola. We love the Florida day trips spent in Pensacola for the history, beaches, and the city's celebratory heavy culture. There is always something to do in Pensacola.
Start the morning with a visit to the Naval Air Museum, then look out from one of the coolest lighthouses in Florida nearby. Grab lunch from one of the downtown restaurants after you explore the history museums, art galleries, and specialty shops that sit on Palafox street. Head to the National Seashore 15 minutes away to visit Fort Pickens. Catch the sunset from one of Pensacola's best beaches and end the night with star gazing under these skies.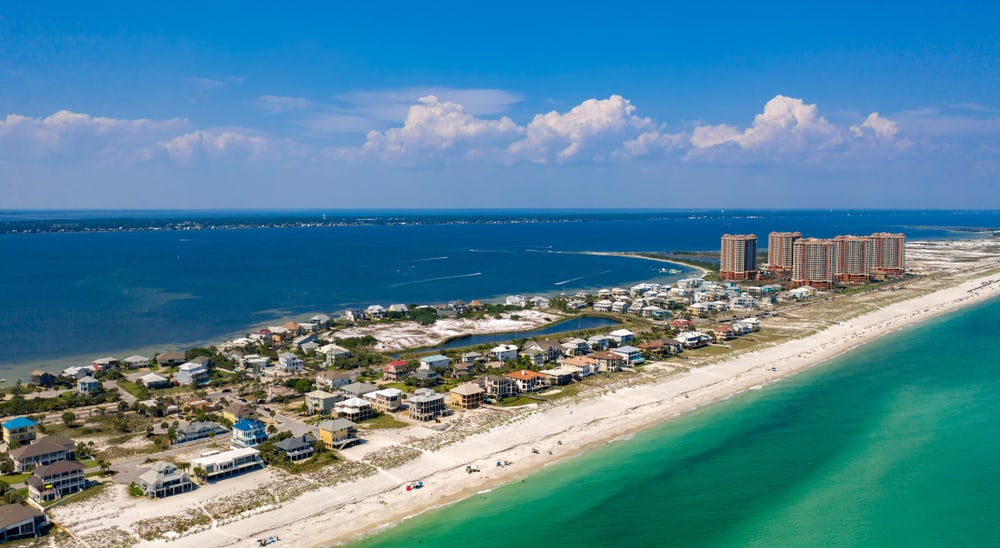 Vortex Springs
Vortex Springs makes for an interesting North Florida day trips. The Springs are home to the largest diving resorts in the state. It is also home to the founder of the scuba flag. Vortex hosts a massive underwater cave system that attracts scuba divers all over. Though miles of the caves have been mapped out, there are still many many more miles unknown.
Swimmers, snorkelers and scuba divers are in for a treat as they will get the chance to swim up close with the friendly wildlife that inhabits these waters. Rumor has it that the fish here are so tame that they will eat out of your hand! You'll see fish such as Blue Gill, Koi, and American Eel. This is one of the best natural springs in North Florida.
Best Central Florida Day Trips
Rock Springs Run State Reserve
Rock Springs Run State Reserve is a true Floridian Oasis. Lush greenery surrounding rock springs run sets the scene for the perfect place to relax for Florida day trips. The best part about the reserve is the natural lazy river run that you can tube or kayak down for miles!
Over 26,000 gallons of water per minute bubbles from the spring's head which is located within Kelly Park part of the reserve. The waters stay a refreshing 68 degrees year round so you can make this trip anytime of the year. If the water is not your thing, you can explore the miles of trails within the reserve by hiking, mountain biking, or horseback riding!
All of this is just a short drive from Orlando. With just 40 minutes of driving, you'll find yourself among gorgeous crystalline water. To further plan your trip to rock springs, check out our complete guide to this Florida Oasis.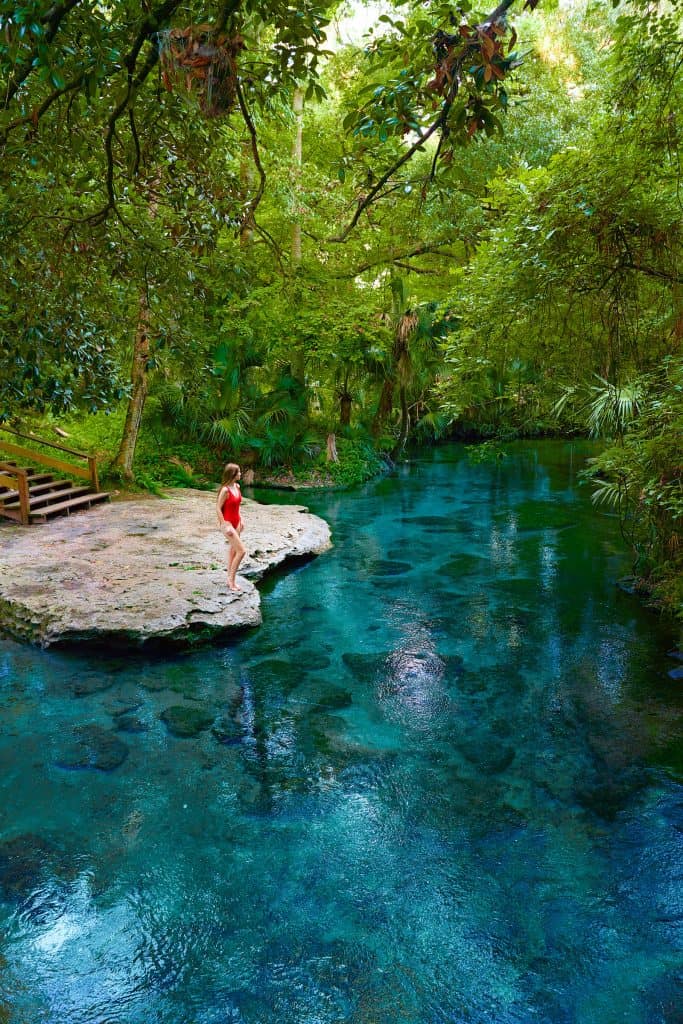 Beer Can Island
Beer Can Island is downright magical. When planning Central Florida day trips, set the itinerary to go to Beer Can Island. It will feel like you have been transported to an oasis that nature took over. Huge old tree "bones" that are half sunken into the sands make up this enchanting shoreline.
Fun fact: there are two Beer Can Islands in Florida. The one worth going to the Beer Can Island that is also known as Greer Island. Located near Longboat Key by Sarasota, this Florida day trips is perfect for relaxing, taking photos and climbing on old trees. Some of the old trees are sturdy enough to string a hammock from to enjoy the rolling waves.
Be sure to take care of the land when visiting. As Beer Can Island hosts a very fragile ecosystem that needs help protecting. This means pack your trash out and leave no trace aside from footprints. That way Beer Can Island will live on like the tree bones that mark this shore.
To help plan this Florida day trips, read our detailed list of tips for Beer Can Island which talks about parking, how to get there, and more!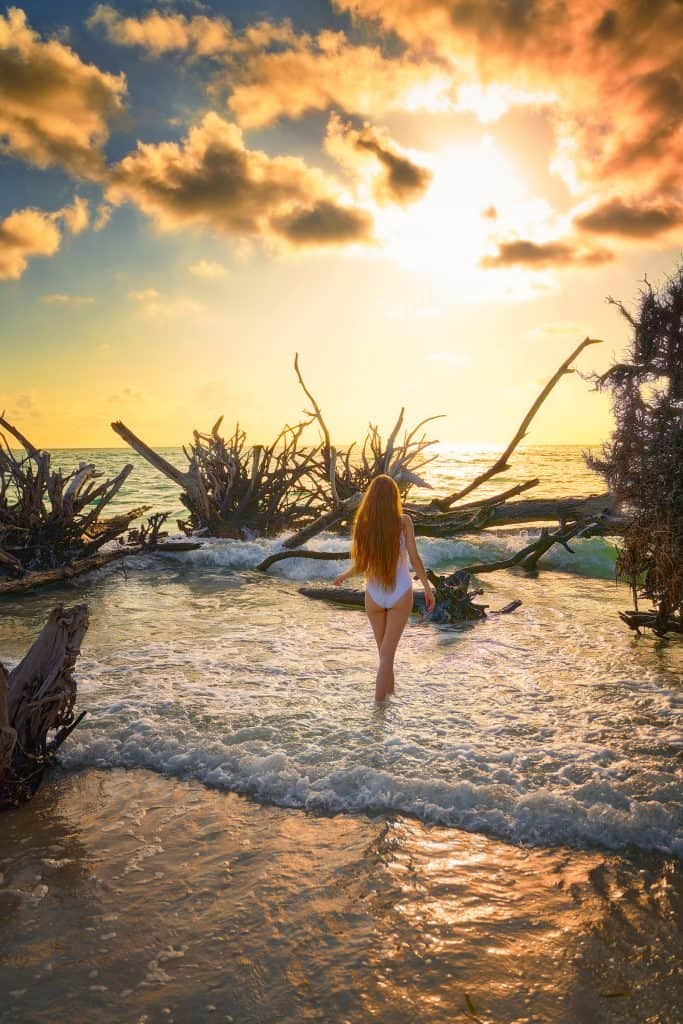 Bok Towers
If you are looking for exquisite beauty and a perfect place to relax, visit Bok Towers. The famous Bok Towers were built by Edward Bok who wanted to create an enchanting meditative garden. Today the meditative garden and reflection pond now doubles as a bird sanctuary.
Be sure to explore the paved and mulched trails to see the native Florida plants. These paths will lead you to the Tower which is actually a Carillion, a type of bell tower that can be played like an instrument. Go at 1:00 PM or 3:00 PM to hear the Carillion's daily concerts. If you can't make those times, you will still be able to hear the tower's music playing throughout the grounds every half hour.
Bok Towers is "a spot of beauty second to none in the country", which makes it the perfect place to plan a quick and easy Florida day trips to. This place is also a stop on the Great Florida Birding Trail. With over 126 species of birds, you'll want to bring the binoculars to spot them all!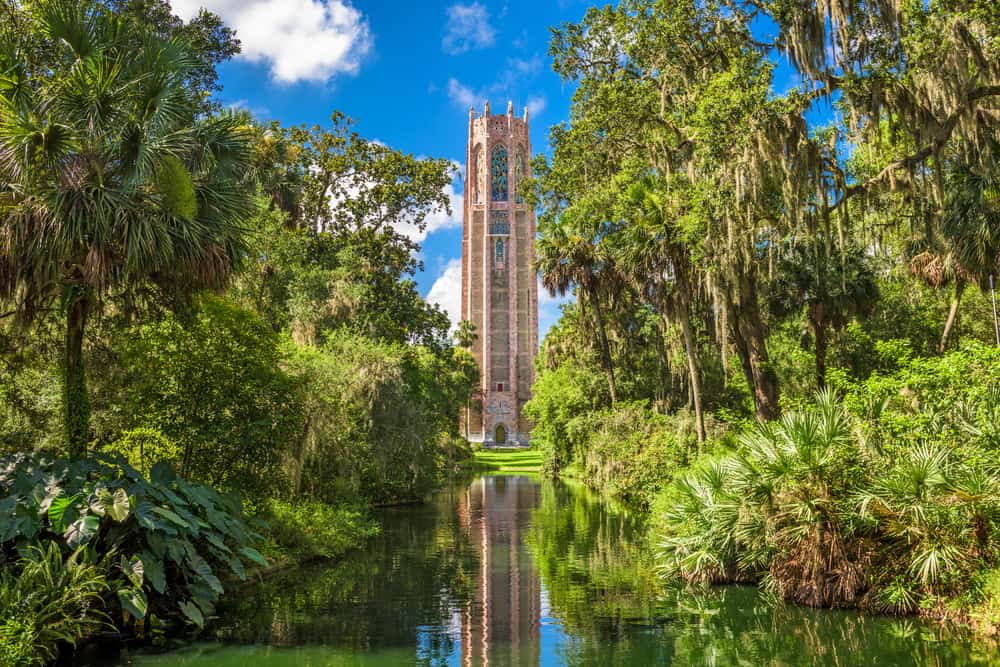 Saint Pete Sunken Gardens
The perfect Florida day trips are the ones that you can do easily. Saint Pete Sunken Gardens is that place and much, much more. You'll be astonished when you pull up to this century-old hidden gem that is stack dab in the middle of the city. Yes, its true! However, these gardens are completely encased by plants so you won't feel like you are in the city at all!
These picturesque grounds showcase the best of Florida's native plants and animals. Because the garden is all about crafting an otherworldly type of beauty, a few exotic plants and animals can be found here too. Take a walk over the bridge that hangs over Koi pond, or check out the pink flamingos here. Its no wonder why the sunken gardens are one of Florida's best photo spots for Instagram.
There are many winding pathways to explore, so you will want to plan to walk them all. Otherwise, you might miss out on something! It truly is the best way to fall in love with the grounds and only takes a little over 1.5 hours walk. There are plenty of sitting spots to rest in along the way.
With so much to offer, Saint Pete's Sunken Gardens are the perfect Florida day trip from Tampa to take friends and family to. If you want to know more, read our guide on what to expect at Saint Pete's magical Sunken Gardens!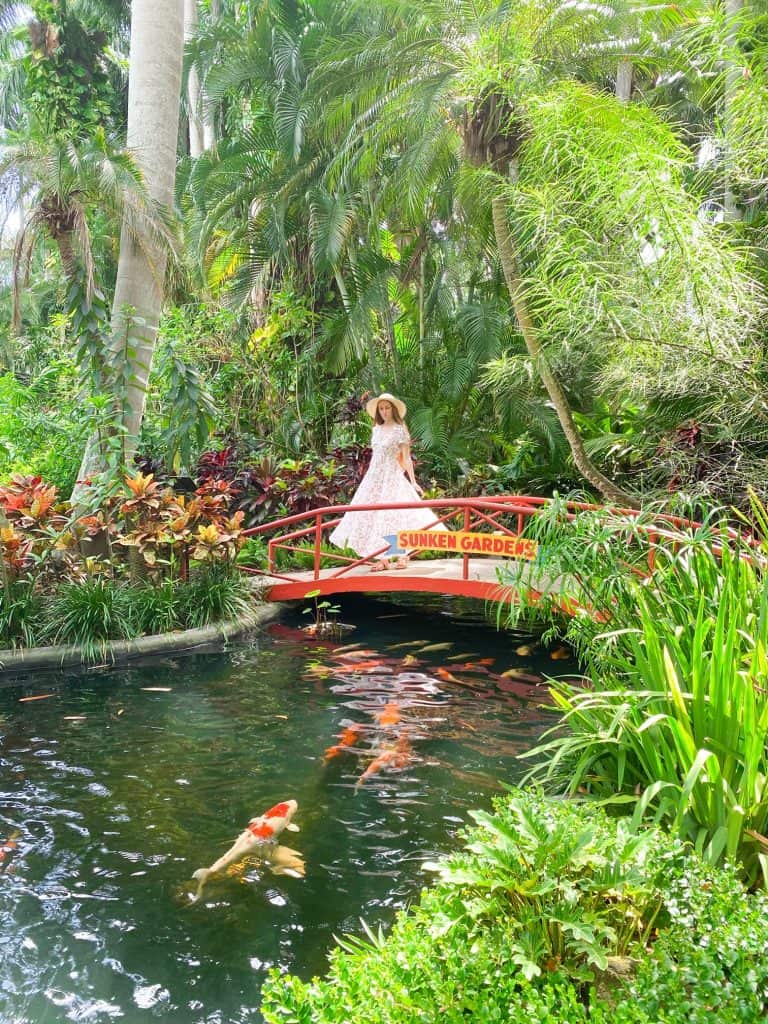 Bioluminescent Kayaking Tour
One of the coolest Florida day trips that can ever be experienced are the bioluminescent kayaking tours offered in the state. With that said, plan for a trip to Florida's East Coast near Central Florida.
Many people don't know about the bioluminescent secret that is hidden in Florida. These tiny lights shine bright blue in the water. A lot like fireflies, bioluminescence is light produced by a living organism. This natural phenomena is downright magical to experience and totally bucket list worthy.
The presence of bioluminescence in the water is never a guarantee, but it is worth every effort to see. There are three places we love to take bioluminescent kayaking tours: BK Adventure, Florida Adventurer, and A Day Away Kayak Tours.
For the best chance to see bioluminescence, plan for this trip between May and October. Since these organisms emit such low levels of light, you'll want to be sure to see them two hours after the sun goes down. The dark will really make the shine come to life!
For more information on how to witness this wonder, read our detailed guide!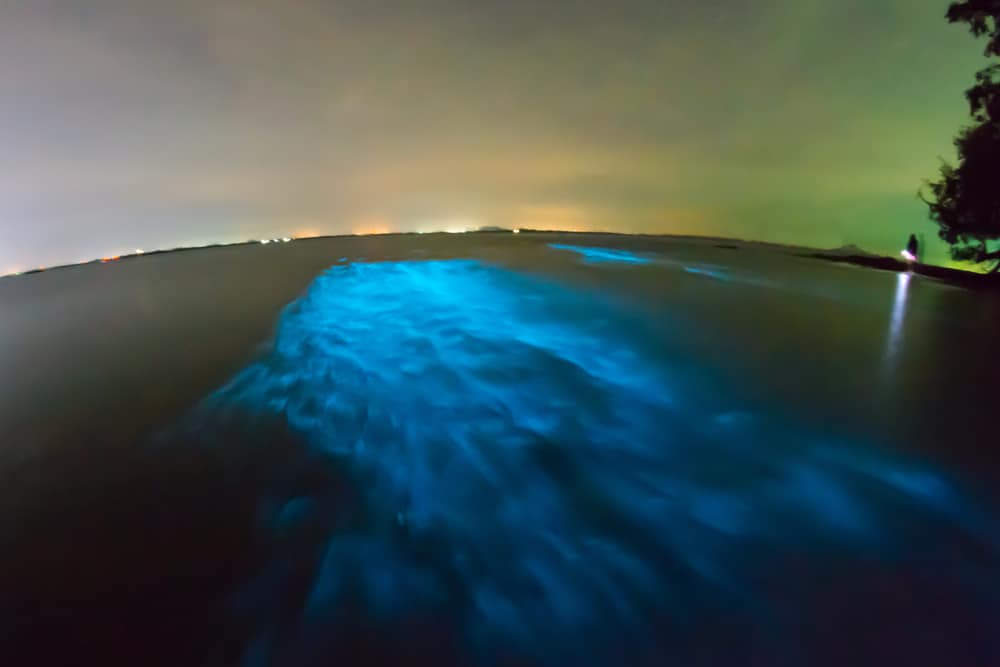 St. Augustine
For a fun filled day trips in Florida, visit Saint Augustine. There is so much to do here to keep the day interesting. Walk a guided ghost our at night with your friends. Take a dip in the Atlantic waters at the beach, and spend the day beachcombing. Look out to the horizon from the heights of the St. Augustine old fort. Drink at century old pubs and hear the stories about the history that marks Saint Augustine's streets. Go visit the Fountain of Youth nearby where the waters were once believed to be enchanted with the powers to give immortality and prevent aging.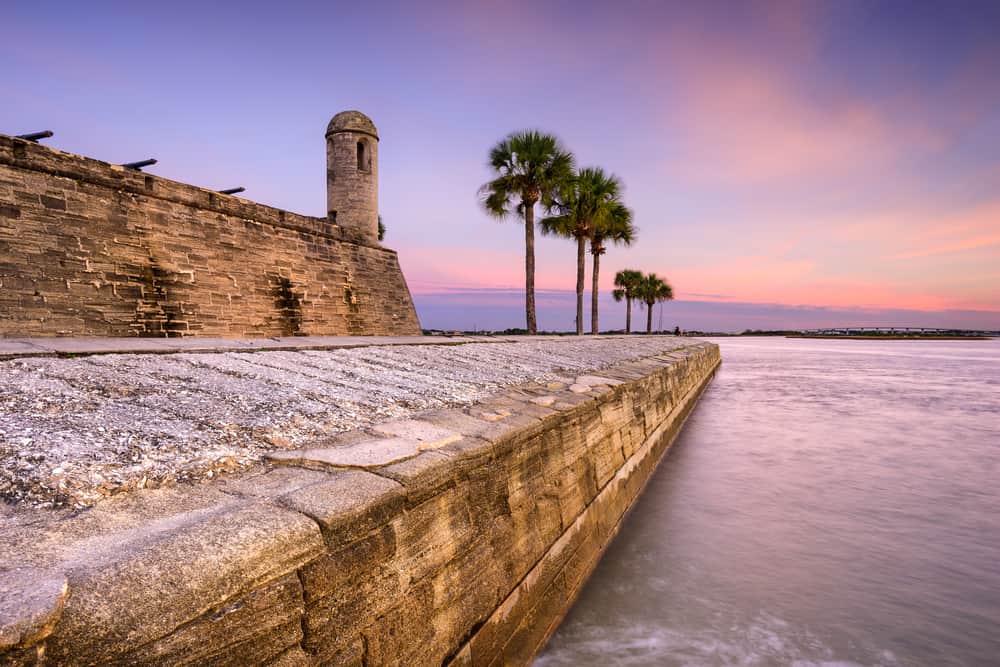 The Dali Museum
For an interesting and art filled Florida day trips one can take, set aside a day for the Dali Museum in downtown St. Petersburg. The works of Dali are unlike others. The building alone is worthy enough for a visit, let alone the art within. And trust us, you'll want to spend the whole day here since this is one of the coolest museums in Florida.
Take pictures with "The Enigma", the geodesic glass bubble as a backdrop for a photo session with a bestie. After all, it was labeled as one of the "top buildings you must see in your lifetime" by AOL News. Check out the Dali neoart commemorated in the melted clock park benches that honor his memory in The Persistence of Memory.
With over 2,400 works of art, you'll have a day filled with beauty. If you need a break from glancing at photos, take a seat among the tranquility gardens outside. It's the perfect way to spend a simple Florida day trips.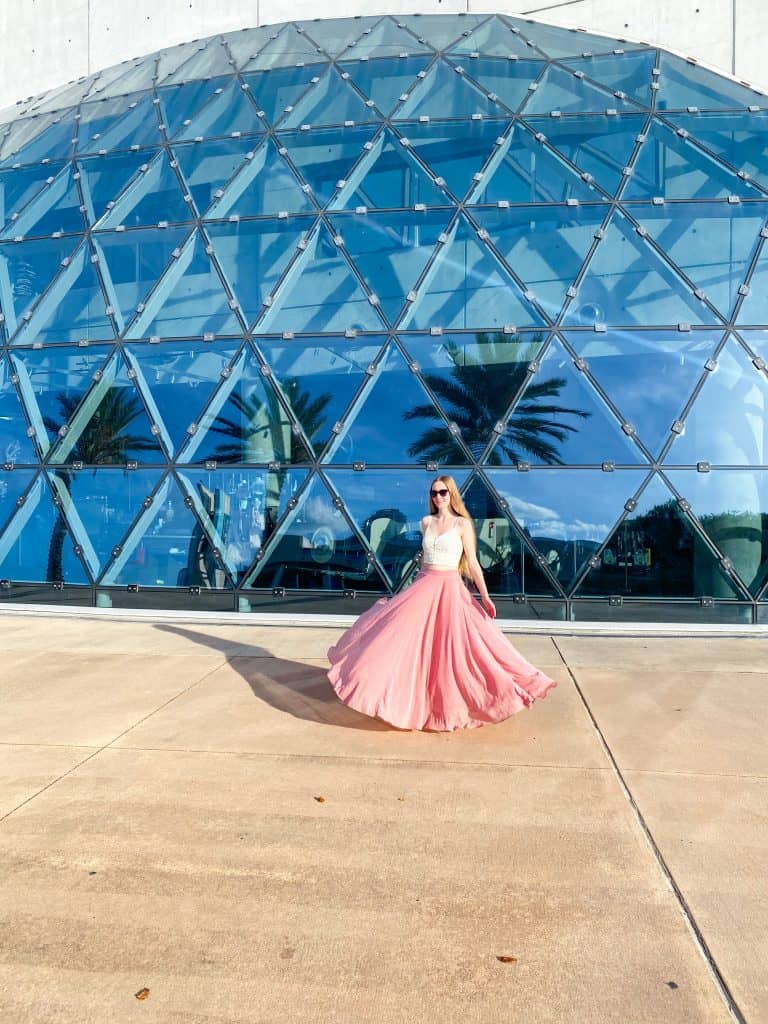 Best Day Trips In South Florida
Dry Tortugas
The Dry Tortugas is the perfect Florida day trips from Key West. This 100-square mile park is home to 7 islands and is part of the Gulf of Mexico. Known for the mighty Fort Jefferson and the tropical paradise feel, this place is sure to be a crowd pleaser for the entire family.
Dry Tortugas is even more unique than it looks. In fact, the Dry Tortugas is the only tropical reef in the States! It is also the third biggest tropical reef in the world! These beautiful clear blue and green waters will make you want to jump in and discover the reefs for yourself.
Discover how history and nature blend as one in the Dry Tortugas. Hear the true tales of pirates and the treasures found among the waters. Walk through the guided tour of Fort Jefferson, visit the Tortugas Harbor Lighthouse, swim with fish among the reefs, or go snorkeling for sunken pieces of history.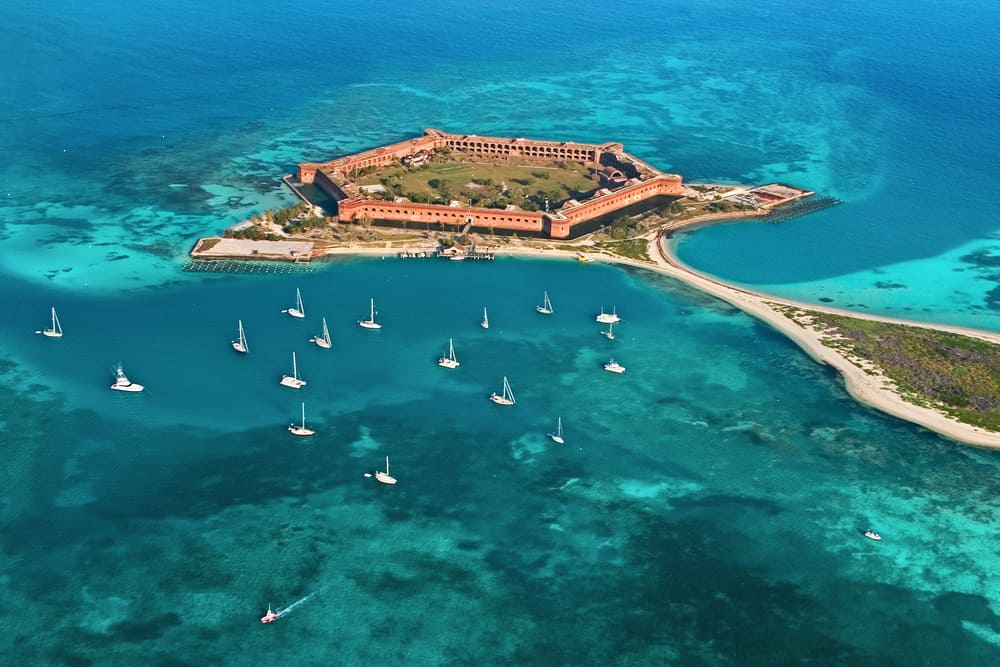 Everglades Boat Tour
Mark an Everglades boat tour on the list of fun Florida day trips. The Everglades is home to a diverse ecosystem with wild animals like alligators, manatees, and the endangered leatherback turtle. Air boat ride is by far the best way to explore these coastal and sawgrass marshes.
Which airboat tour is best? It depends on what you want. Read this complete guide to find what best suits your perfect Florida day trips. We love the variety of airboat tours to choose from because they are so specific to meet every need. Some are lead at night which allows you to glide across the water under the starry skies. Some come included with live alligator handling shows! Others are smaller group sizes for a more personal experience.
Be sure to pack sunscreen, bug spray, and lots of water for this fun experience. There is so much to learn about the Everglades that you'll want to come back for even more South Florida day trips.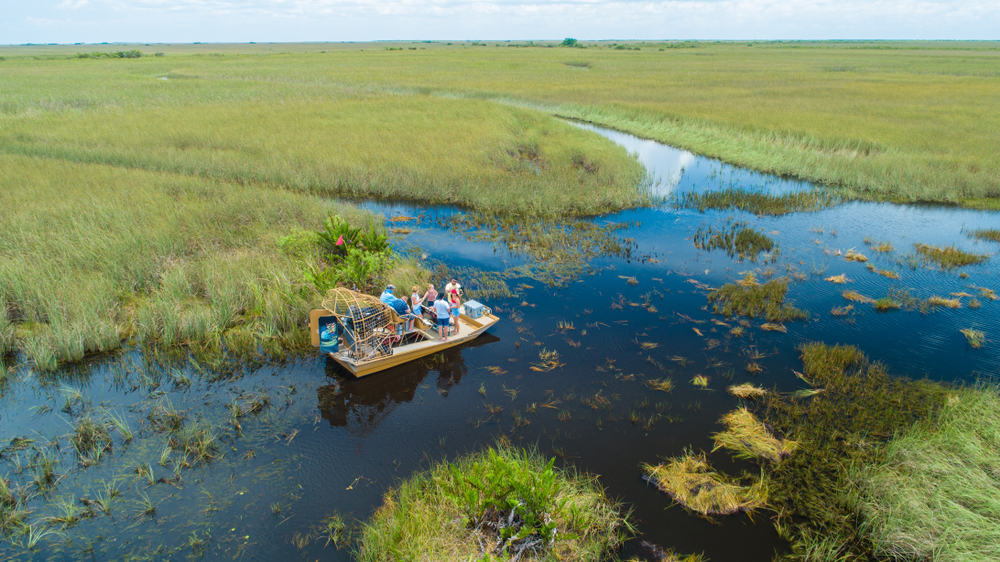 Blowing Rock Preserve
Visit the Blowing Rocks Preserve for Florida day trips all about relaxation. As one of the most picturesque beaches in Florida, it won't be hard to find what is so serene about this beach. Discover mangroves, dunes, and the unique limestone rock formations that paint this beautiful coastline. It's the perfect place to put a beach chair in the sand, or read a book.
Blowing Rocks Preserve is a unique Florida day trips to the beach. That's because it holds one of Florida's rarest surviving landscapes: an intact Florida dune habitat. Walk beside the beach dunes. See the goregous native plants like sea grapes, beach sunflower, and gumbo limbo trees.
Pack a camera to take full advantage of this place's incredible beauty. The crashing waves against the limestone rock formations is best photographed during low tide. Pose in front of a rock formation for stunning portraits!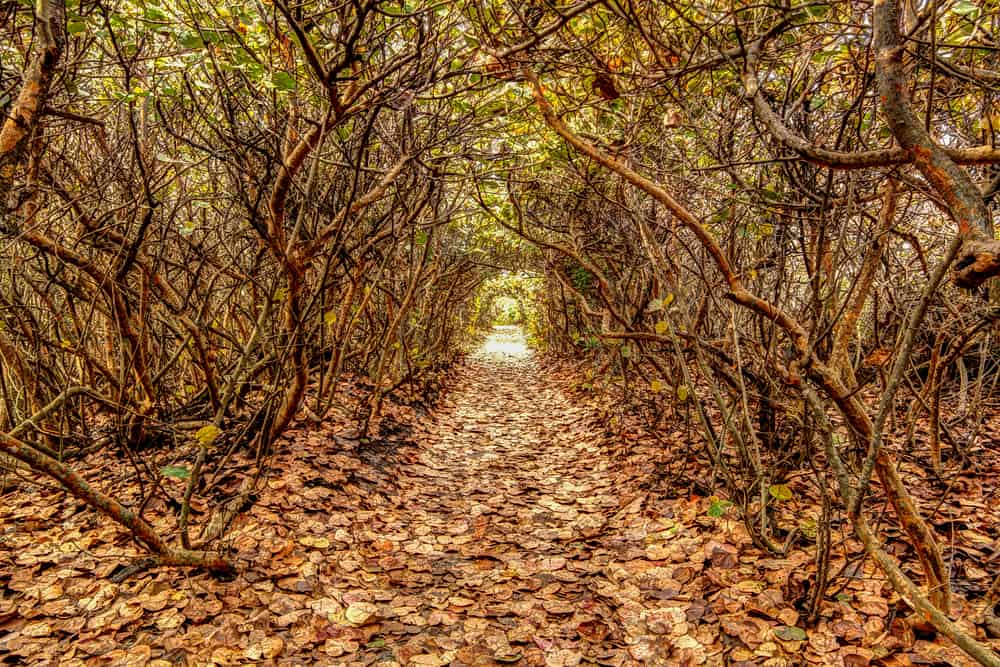 Wynwood Miami
Of all the most interesting Florida day trips, Wynwood Miami has to be in the top. The Wynwood Walls is a must see for artists and art lovers alike. Take a South Florida day trips to see the raw street art that paints the beauty found in Miami's unique and colorful culture.
This is the perfect Florida day trips to go on with friends, family, or even dates. Take one of the many tours if you want. They have everything from the Wynwood graffiti golf cart tour, the informative Miami food and art walking tour of Wynwood neighborhood, and even a graffiti bar tour.
To check out more of the recent additions, visit the Wynwood Doors as well. There you will see a beautifully transformed park with boulders, trees, and of course: art. Read more about how to best explore these artsy grounds with these great tips!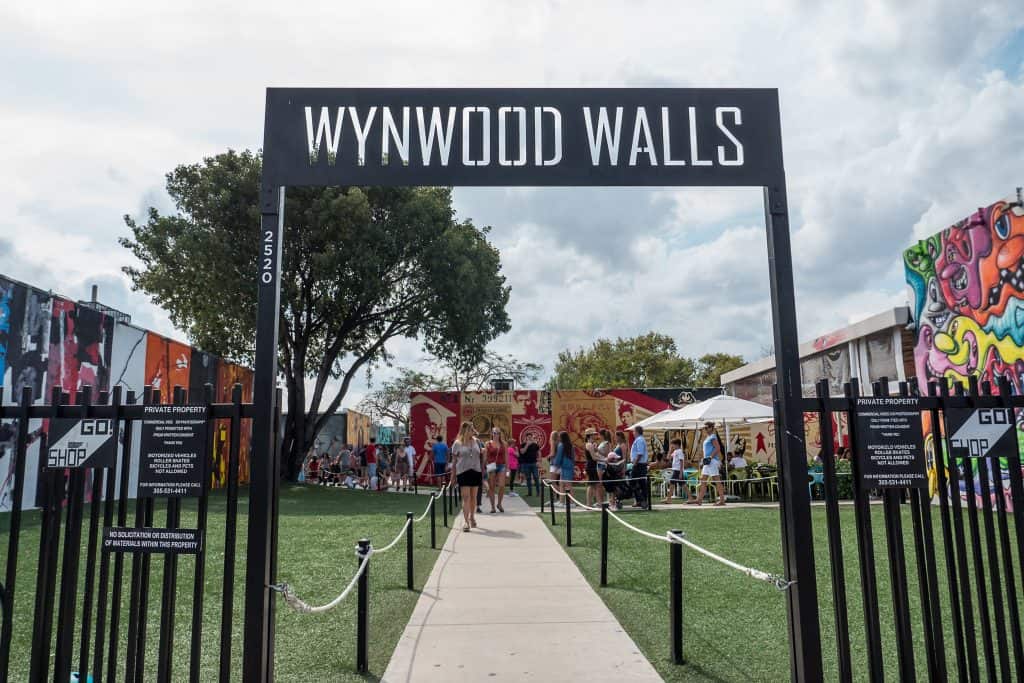 Coral Castle
The mystery of Coral Castle is one of the most interesting Florida day trips. Let me be upfront. Coral Castle isn't actually constructed of coral, nor is it an actual castle. However, the construction of these stones have been compared to the mysteries of Stonehenge and the Great Pyramids of Egypt.
The reason why these stones are just as mysterious is because they were constructed by one man. Scientists say its improbable and some even claim it to be impossible! So how can one man move more than 1,000 tones of limestone into such shapes and sizes? Discover sundials, crescent moons, chairs, and much more.
For more castles in Florida, you can read our blogpost here. It will be sure to make for a more interesting Florida trip to be able to see castles among the Floridian jungles!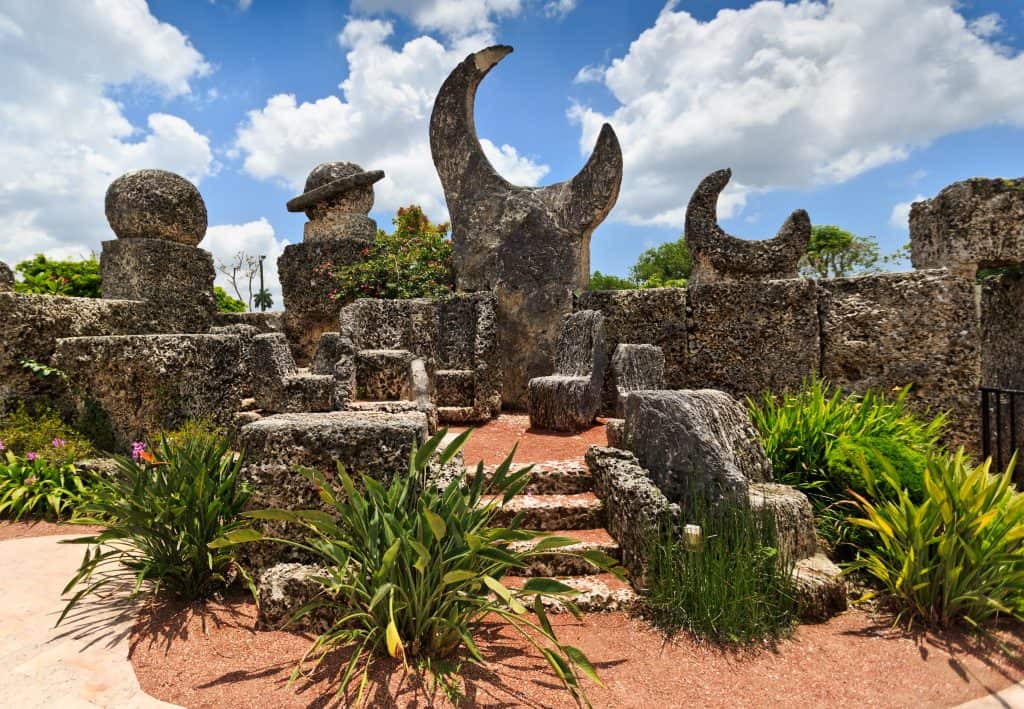 Ringling Museum
Another interesting Florida day trips worth doing is visiting Ringling Museum. It's only an hour away from Tampa in Sarasota. It's a great place to take portraits outside the museum, then go inside to gaze upon other pieces of art. If you plan to visit, don't forget to check out our Tips For Visiting The Ringling Museum!
Art lovers will love spending the day gazing at John Foundling's personal art collection. The collection includes works from artists such as Velázquez, Rubens and Veronese. Even the outside of the building is a piece of art with its architecture. It sets a great backdrop for a photo opportunity. It gives Wes Anderson vibes within a classic renaissance style with its renaissance-inspired pink courtyard.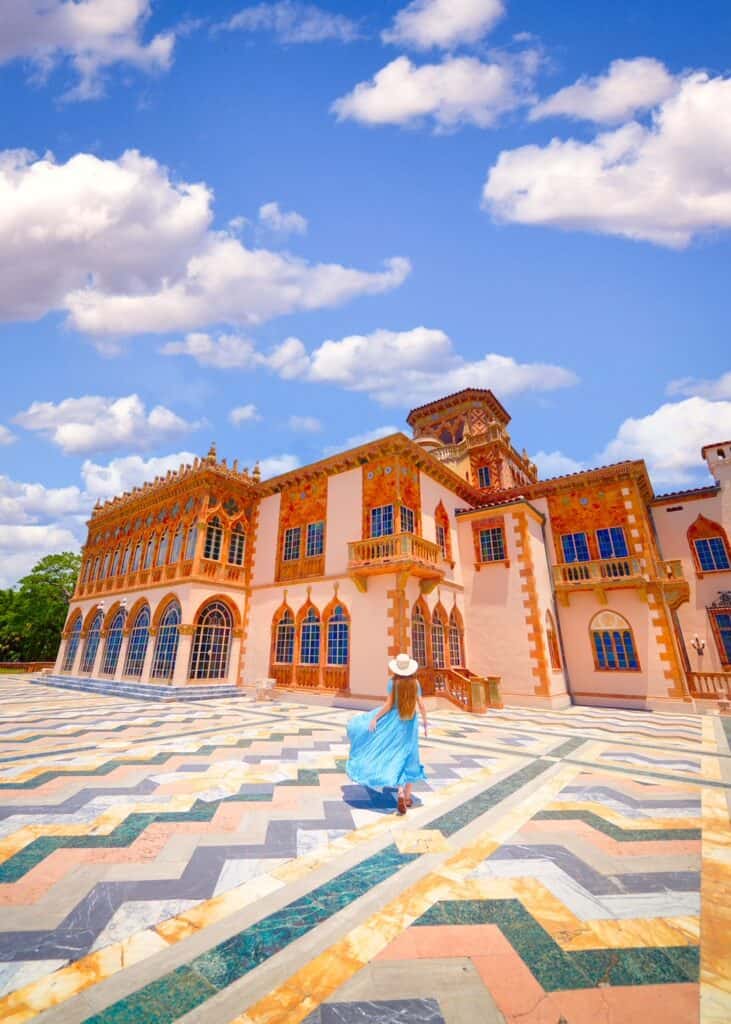 Fairchild Tropical Botanic Garden
For interesting Florida day trips, go to the extensive Fairchild Tropical Garden. Spanning over 80 acres, you'll find endless beautiful panoramic views. You'll see the life at these bustling gardens like palm tree glades, butterfly gardens, and tropical fruit conservatories. There is so much to explore that tram rides are also available for a non walking tour of the gardens. Go on a day where these gardens are hosting an event for even more fun. You might be able to catch some events such as watercolor classes, live music nights, or even ice cream making.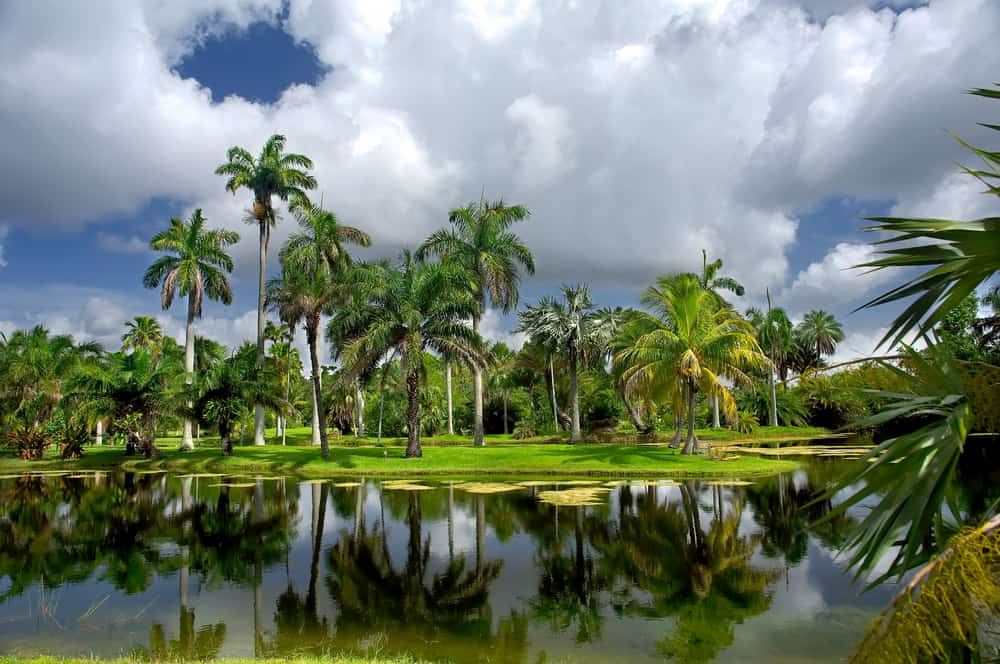 Retreat to sunken gardens, experience the magic of bioluminescence, and visit the stunning old fortresses on emerald waters. Use this list to help plan the best Florida day trips for yourself and friends. These spots are bound to make great memories!
For even more ideas on how to best explore Florida, check out our tips for awesome activities, nightlife, and restaurants you must try.