It's finally Christmas in Tampa and it's time to celebrate! The cooler weather is upon us, and Floridians can finally start to really feel like it's time for Christmas in Florida!
Once you've decked the halls, decorated your tree, and wrapped your presents, it's time to go out and celebrate with your beloved friends and family! So what is there to do during Christmas in Tampa?
From tree lightings and boat parades to drive-in movies and visits to Santa, Tampa won't let you down. The Big Guava, as it's affectionately called, knows how to cater to the needs of its devoted people!
This Christmas season, take a breath and treat yourself to some holiday fun this year. Celebrate Christmas in Tampa in style this year, and don't forget to leave some cookies for Santa.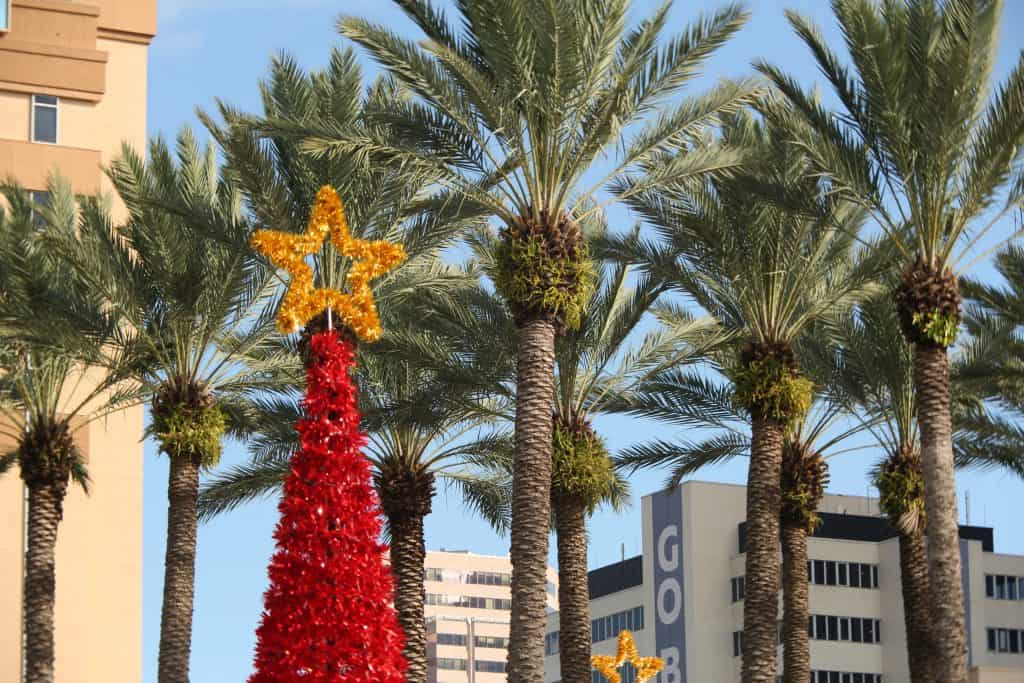 14 Festive Ways To Celebrate Christmas In Tampa
Busch Gardens Christmas Town
One of Christmas in Tampa's most nationally-revered attractions, Busch Gardens has something for everyone. So naturally, the beloved theme park's team goes all out for the holiday season.
If you haven't been to Christmas Town, you're missing out. During the holiday events season, the jungle/wilderness-themed park turns into a complete Winter Wonderland.
We've never seen so many Christmas lights in one place! The palm trees glitter with lights and create an atmosphere that will make you feel like you're in the North Pole!
Of course, you can still ride the signature thrill coasters at night. We recommend Cheetah Hunt in particular. The roller coaster sacrifices dizzying heights for dazzling sights throughout the length of the park. In the dark, it can't be beaten.
Of course, no celebration is complete without a spectacular fireworks show. Head to the open grounds near the soon-to-be-open Iron Gwazi to get the best view.
Don't miss the Christmas On Ice show, a figure skating spectacular designed to make you feel merry and bright. Once housed in a stuffy indoor theatre, the ice rink has been moved outside, so you can experience the show outdoors!
This is truly one of the best Christmas events in Tampa!
Make sure to check out our master post on the Best Time To Visit Florida including a breakdown by month, weather, events, and more!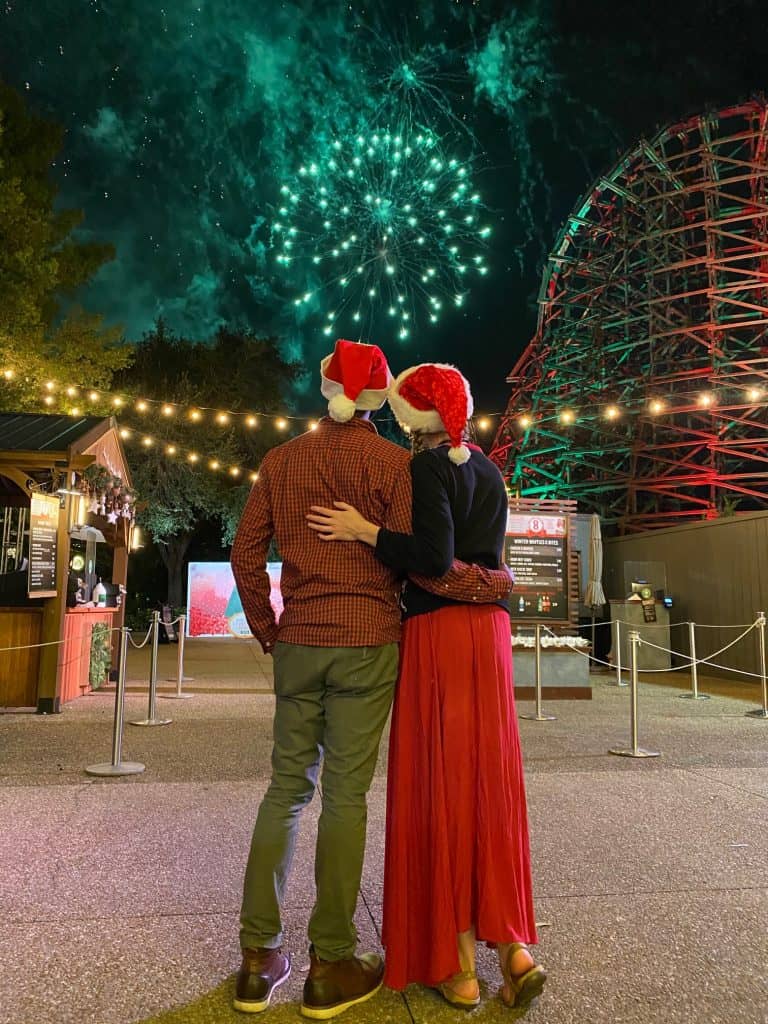 Tampa River Lighted Holiday Boat Parade
What's better than celebrating Christmas in Tampa for free? At the Tampa River Lighted Holiday Boat Parade, you can celebrate with your family absolutely free of charge!
Simply line up on the actual Tampa Riverwalk or an establishment that affords great views of the Hillsborough River like Curtis Hixon Park or one of the best restaurants in Tampa, Ulele.
This holiday event includes an extended route where you can see boats lit up for the holiday season. The entire route is 3.5 miles long, so you can actually view the parade from land or by sea if you choose!
This is truly one of the best ways to Celebrate Christmas In Florida and you can do it right here in Tampa!
Winter Village at Curtis Hixon Park
If you're looking to celebrate Christmas in Tampa, the best place to head is of course downtown. The Winter Village at Curtis Hixon Park is one of the best ways to ring in the holidays!
Just along the Tampa Riverwalk, Curtis Hixon Waterfront Park is known for hosting events for every holiday of the year. Christmastime in Tampa is no different for the dedicated public servants who bring this event to life.
At Christmastime, Curtis Hixon Park transforms into a winter wonderland complete with the sights, sounds, and activities of the holidays for children and adults of all seasons.
Most exciting of all, you can ice skate on downtown Tampa's only ice rink! With views of the beautiful Tampa Riverwalk and Hillsborough River, you Wcan ice skate in Florida paradise. It is almost like a Christmas village in Tampa!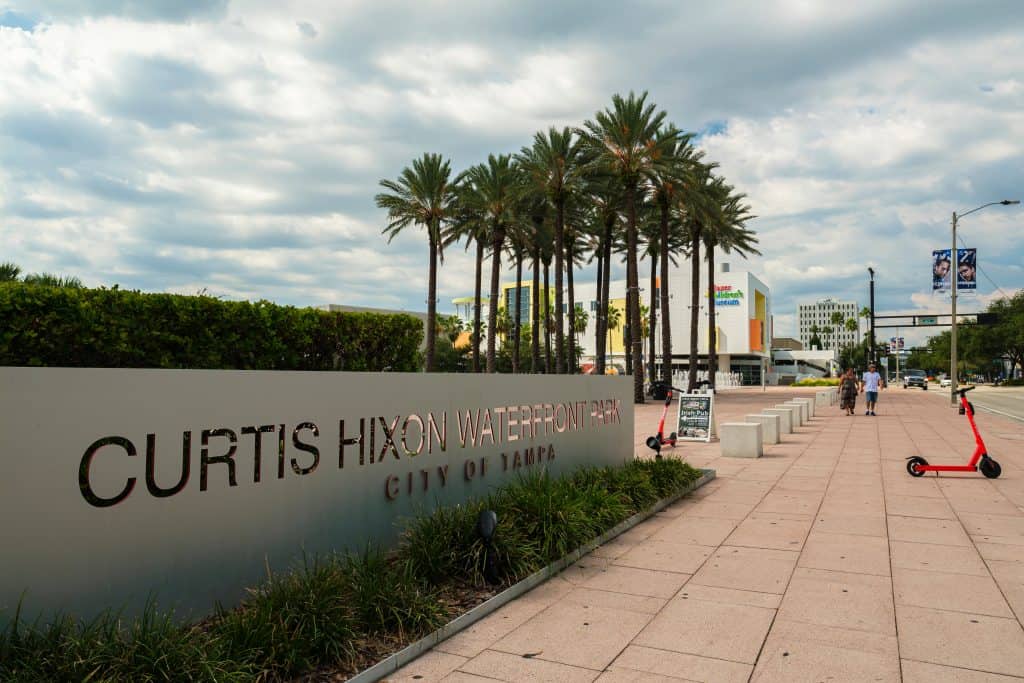 Watch Holiday Movies In Style
If you're a Tampa aficionado, then you already know that Armature Works holds the title of hippest spot in the city. But did you know that Armature Works hosts holiday celebrations?
Because of social distancing restrictions, Armature Works has created its own drive-in movie experience. To suit the times, of course, you'll be able to view many Christmas classics.
If you're looking to cuddle up under a blanket with a loved one, then pull your car up and watch some classics like Elf, Love Actually, The Holiday, Home Alone, A Christmas Story, National Lampoon's Christmas Vacation and more for one of the cutest Christmas things to do in Tampa!
Holiday Spectacular
If you want to see the sights of Christmas in Tampa but aren't really a boat person? The Holiday Spectacular is waiting for you!
In downtown Tampa for Christmas, you can find the Holiday Spectacular from November 26 through January 2. Bring the family to see incredible holiday displays complete with twinkling lights and holiday music!
You won't forget the 35-foot tall LED-lighted Christmas tree that floats in the harbor! Not to mention the lighted displays of the barges floating on the river.
Make sure to look out for special deals sponsored by the hotels, restaurants, and bars along the Tampa Riverwalk. Look out for the red bows to know where you can find a good deal.
All of these cute events are why Tampa is one of the best Christmas Towns in Florida!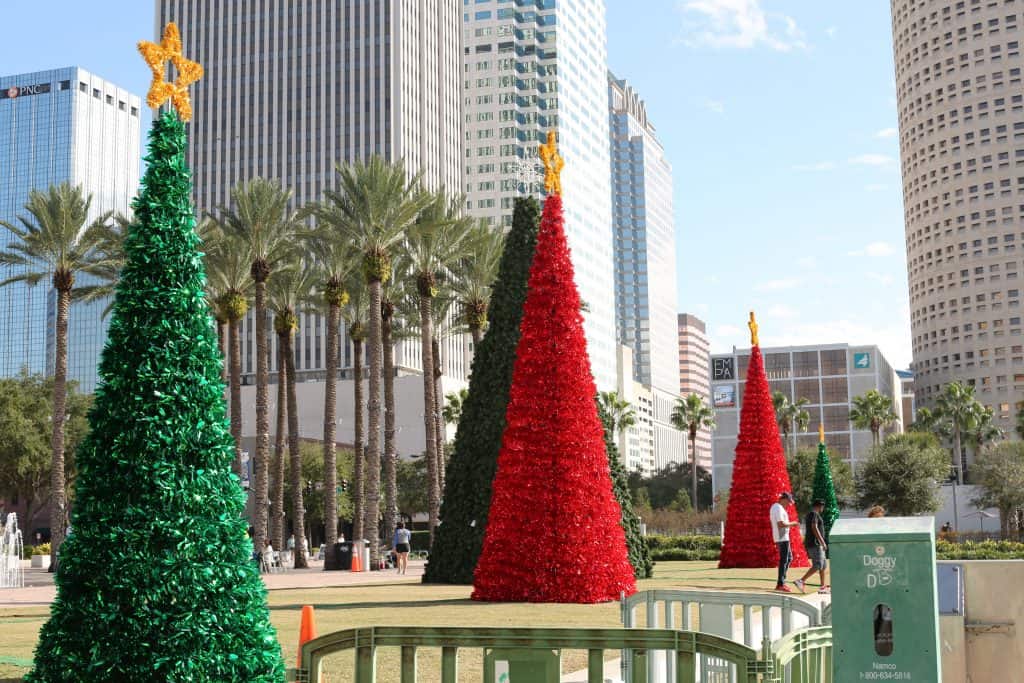 The Nutcracker
Are you looking to infuse the arts into your family celebrations? This year, see a Christmas classic at one of the best downtown Tampa Christmas events!
From the NEW outdoor Riverwalk Stage, you can see Tschaikovsky's The Nutcracker. Performed by Next Generation Ballet, enjoy a traditional holiday favorite!
Hosted by Tampa's premier arts house, STRAZ, you'll be watching the most magical Sugar Plum Fairies and Mouse Kings. Just make sure to dress warmly, the theatre is outdoors after all!
The entire immersive experience will be even better with a special visit from Santa! But shh, we didn't tell you. Wink.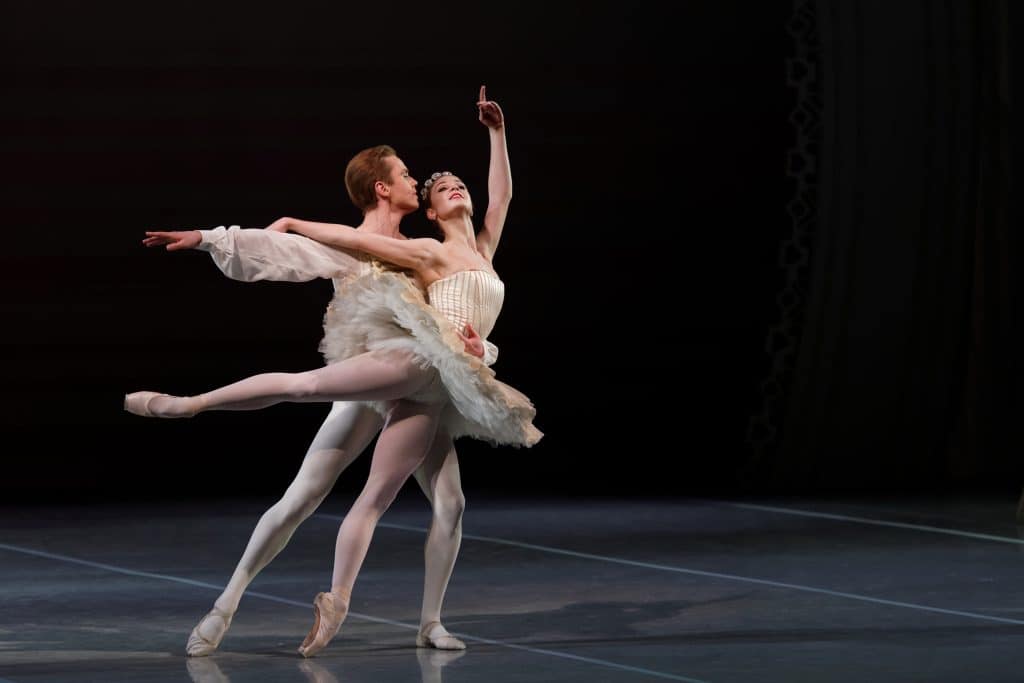 Victorian Christmas Stroll
If you've never been to the Henry B. Plant Museum in downtown Tampa, you absolutely need to go, no matter the time of year. One of the best museums in Florida, you can learn about the railroad magnate that put the state on the map.
Originally opened in 1891 by railroad magnate Henry B. Plant, the Tampa Bay Hotel was one of the most affluent hotels in the entire state of Florida. With 511 rooms, a bowling alley, a racetrack, a casino, a golf course, and an indoor heated swimming pool, the Tampa Bay Hotel also had the first elevator ever installed in Florida.
This year, take a Virtual Victorian Christmas Stroll Tour. Hosted by Tampa Mayor Jane Castor, the tour highlights previous strolls and looks back at previous years.
This is such a unique way to celebrate Christmas in Tampa and a good way to learn about the past.
Gingerbread Village at Glazer Children's Museum
One of the best museums in Florida, the Glazer Children's Museum in downtown pulls out all the stops when it comes to Christmas in Tampa! Bring the kids for a day of holiday fun at the Gingerbread Village!
From November 21 – January 3, you and your family can celebrate the holidays in a gingerbread-inspired wonderland. Sponsored by Macy's you'll walk through into the sweetest of holiday delights!
The village is made completely from recycled materials like pipe cleaners, bottle caps, cardboard and more! You can create your own gingerbread house with materials provided and help the village grow a little brighter at this Tampa Christmas event.
You'll find the Gingerbread Village found on Level 2 of the museum. Access is included with museum admission, but you do need to call and make reservations in advance to celebrate safely!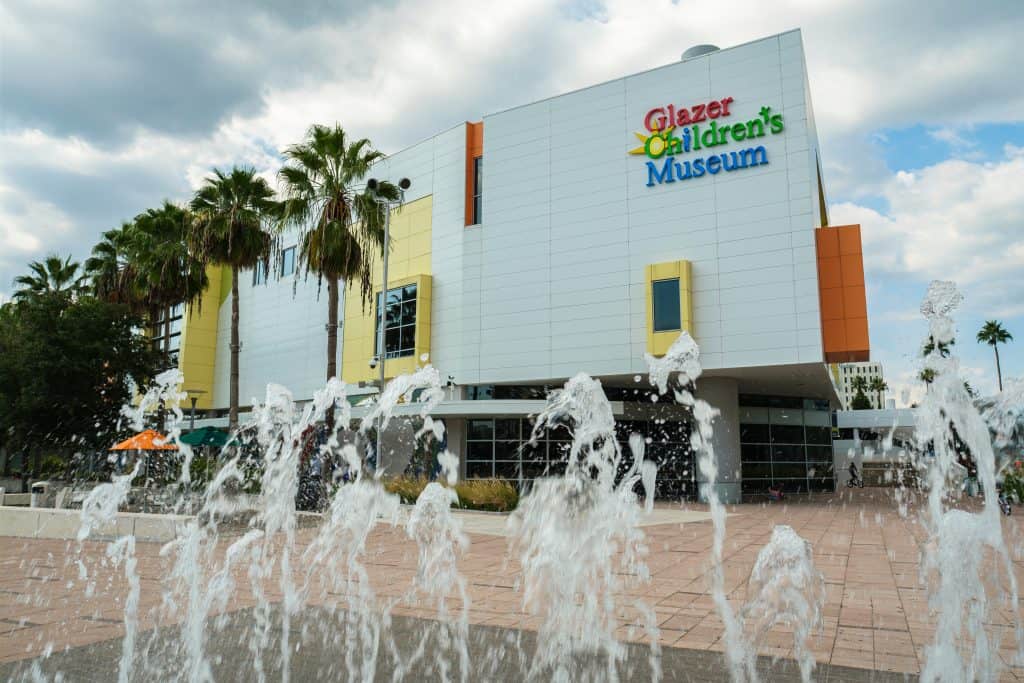 A Pirate's Christmas
If you've ever been to Tampa in late winter in Florida, you'll know that pirates are a big deal here. Every year, pirates take over Tampa Bay during Gasparilla, one of the best festivals in Florida.
At Christmas in Tampa, join them for A Pirate's Christmas! Until January 3, take a 45-minute family cruise from Sparkman Wharf. You'll be aboard the Lost Pearl for a swashbuckling holiday celebration in Tampa!
As sailors, you'll be taken by Holiday Island to get a closer glimpse at Tampa's largest floating Christmas tree! Make sure to wear your wacky holiday sweaters for great photo opportunities!
Cruises launch every hour, on the hour from 6 PM – 9 PM every night. You'll love singing Christmas carols and playing pirate games complete with temporary tattoos and face painting! Celebrate like a pirate with one of the best things to do in Tampa in Christmas.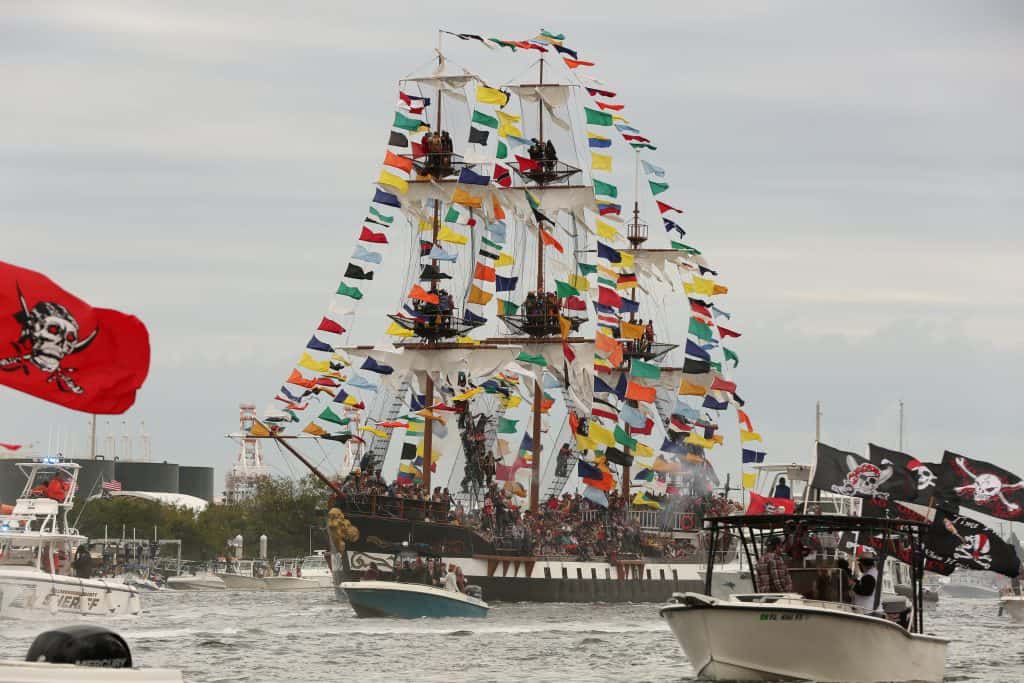 Oakdale Christmas House
Putting up Christmas lights in Tampa is a total hassle, and while it may be worth it to see your house look like a twinkling paradise, sometimes it's easier if somebody else does all the work.
The Oakdale Christmas House is a perfect way to see all those sparkling holiday lights without having to do any of the work! A residential house in St. Pete, the Oakdale Christmas House is one of the best things to do in St. Pete.
This humble house has been named "one of the top displays in the nation" according to ESPN. Taking up half an acre, the display features thousands of Christmas lights!
Active for 42 years straight, here you'll gaze upon a 70-foot tall Christmas tree. Don't forget the manger scene with over 150 pieces.
Because the Oakdale Christmas House is a private residence, please be respectful. Be prepared to walk a bit as parking nearby may be hard to find. Find the house at 2719 Oakdale Street S. Admission is free to the public.
Wesley Chapel Holiday Tree and Light Display
For a true holiday festival showcasing the best Christmas in Tampa has to offer, you can't miss the Wesley Chapel Holiday Tree and Light Display. Don't write it off, this is one of the biggest celebrations in the area!
The holiday tree and light display makes use of over 1,000,000 twinkling lights to illuminate even the iciest hearts during the Christmas season. The Grinch wouldn't stand a chance here!
After wandering through the lights, walk the grounds to find 20 acres of carnival rides, live music, and even opportunities to meet Santa! One of the best holiday festivals around, you'll love playing like a kid again!
Find the Wesley Chapel Holiday Tree and Light Display at 5268 Village Market Drive through January 3. The event is ticketed, with many options for access and pricing to fit your needs! It is one of the cutest Christmas events in Tampa.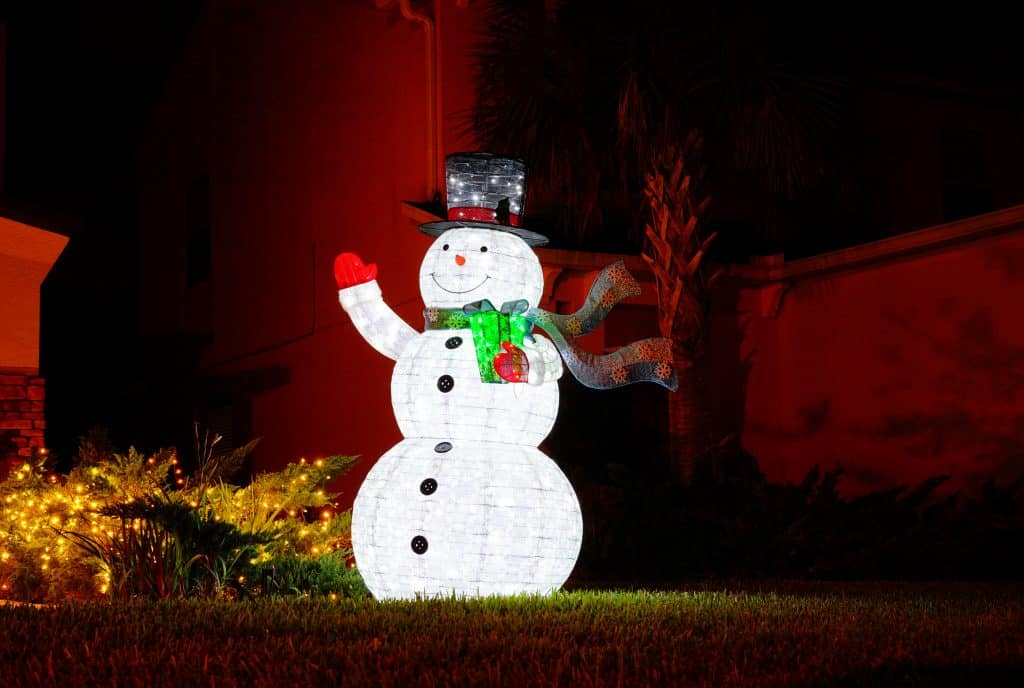 The Christmas Trail
In Plant City, there's no better way to experience the great outdoors in holiday style than by walking the Christmas Trail! Filled with fun and festive activities, this is one of the best places to see Christmas lights in Tampa.
First, walk the always lovely Tampa Christmas Light Walking Trail! You'll be surrounded by a bevy of decorations. Don't forget to find the Secret Trail, complete with dancing Christmas Trees!
Then catch the Jack Frost Ice Show which will leave you delighted as live snow flutters to the ground around you. Afterward, take pictures with Santa at the Santa Claus experience! You can also take great pictures at the Jack Frost Throne Room Picture Op!
If you're looking for more adventure, you can find it at "Naughty or Nice," a complete Christmas-themed escape room! Or you can get lost in the Walk To Bethlehem, a nativity light maze.
Don't fill up on too much dinner beforehand. You can choose from an assortment of concessions like hot chocolate with marshmallows along the trail and throughout the experience!
Find the Christmas Trail from December 11 – December 23 at 2837 South Frontage Road. If you are on the hunt for festive Christmas events in Tampa, look no further than this one.
This is one of our favorite places to see Christmas Lights In Florida!
12 Days of Christmas on Clearwater Beach
Is it really even Christmas in Florida if you're not on the beach? Now you can celebrate the 12 Days of Christmas right on Clearwater Beach, one of the best beaches in Tampa Bay.
With a variety of Tampa Christmas activities happening each night, there's something for everyone to enjoy. Each night features something different, so you can always come back for more and something completely different.
Events include Christmas caroling, taking holiday photos with Santa, a full Christmas parade on the beach, and of course the annual Christmas Tree Lighting at Pier 60.
Find the activities every night on Clearwater Beach on Causeway Boulevard from December 12 – December 24. Admission is free, just look for the twinkling lights near the water if you want to celebreate Christmas in Tampa!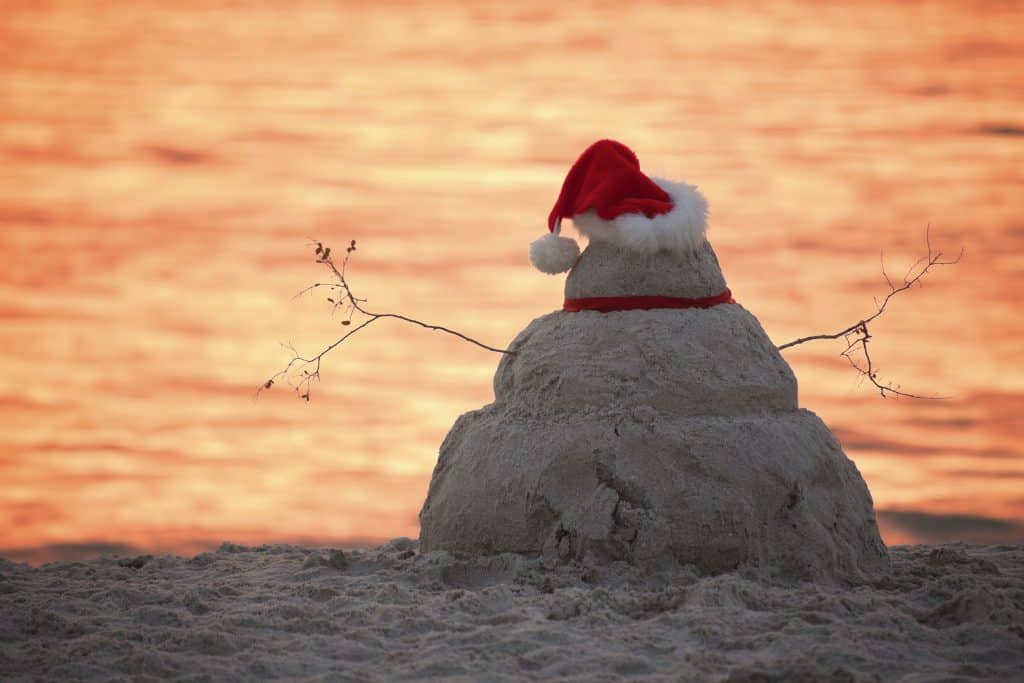 Sonder Social Club's Santa Pop-Up Bar
Dunedin has some of the best restaurants, and a lot go all out for Christmas in Tampa. Sonder Social Club does it best with their Santa Pop-Up Bar!
Through December 26, the Sonder Social Club is covered in holiday decorations sure to get you into the Christmas spirit. Don't let the decorations fool you, this is not an event for children!
You can try signature drinks like the Milk + Cookies cocktail. The fun concoction uses oat milk, milk infused with Golden Grahams, mellow corn whiskey, marzipan, chocolate, banana, and pimento dram. It all comes together in the form of a gooey chocolate chip cookie!
Even if you're not partaking in the Christmas "spirits," you can enjoy Christmas movie trivia! Don't forget drunken gingerbread house building for ultimate holiday fun at this Christmas event in Tampa!
Find Sonder Social Club at 966 Douglas Avenue in Dunedin.
Did You Find This Post Helpful?
If so, we would love to keep in touch! We enjoy seeing photos and comments about your experiences in Florida! You can follow us on Instagram and we will repost your photos on our feed and comment too! Just tag us at @floridatrippers and hashtag #floridatrippers. We can't wait to see your travels!