Are you looking to go kayaking in Miami, Fl? If so, we have you covered with all the best places to go kayaking in the South Florida area!
Miami is known for offering a ton of things to do for visitors. One of the few places in America with a year-round subtropical climate, Miami has the prettiest beaches in Florida, and endless activities to enjoy. We think one of the best ways to see what Miami has to offer is to see if from the water! So why not go kayaking in Miami?
Kayaking, canoeing, and paddle boarding have become popular. Rent a single, tandem or even a glass bottom kayak to start your adventure. Whether you choose a self-guided tour or a guided tour we have options for you!
And best of all the calm clear waters of Miami make this the best place to enjoy. Head to one of the parks around Miami such as Crandon or Matheson hammock park, where you have stunning views of the Miami Skyline. Or head out to Biscayne National Park or Everglades National Park to spot alligators.
For those looking to go kayaking with manatees head to either Black Point Marina or Virginia Key. No matter what you are looking for, day trips, a quick paddle or an overnight trip we have you covered with different options. So grab your sunscreen, some water, and lunch, and head to one of these amazing places on our list.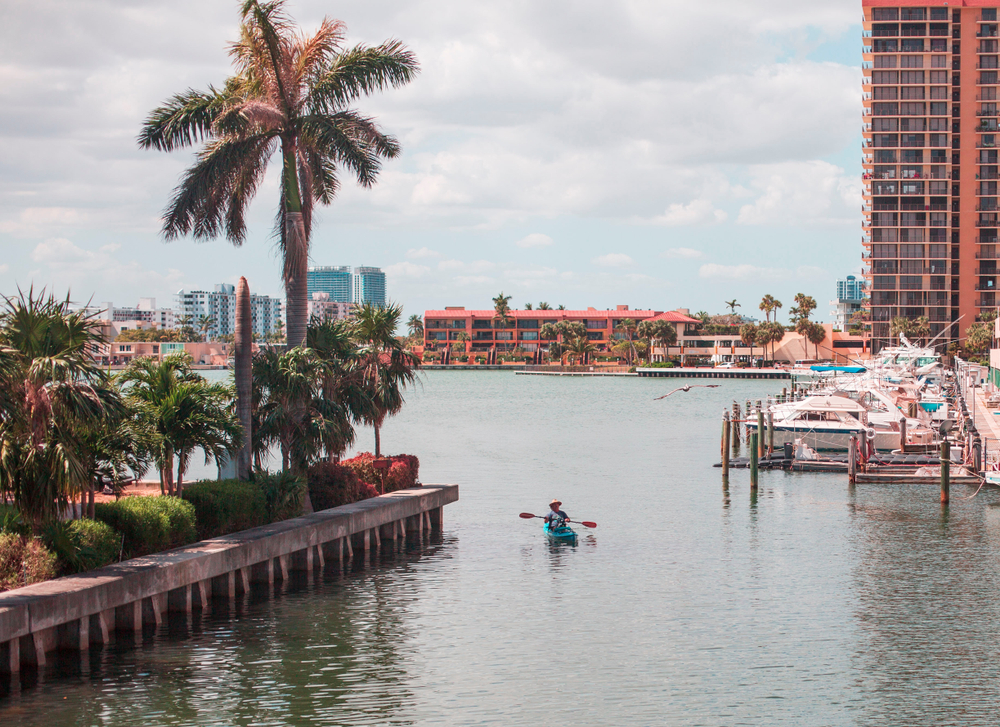 8 Best Places For Kayaking In Miami (And Nearby!)
Crandon Park
Crandon Park Beach is famous for having some of the calmest and clearest water in Florida! Meaning this is an option for where to go kayaking in Miami, this should be one of our top choices. Located on Key Biscayne it is an 800-acre oasis located on the country's oldest coconut plantation formerly owned by William Matheson.
From Crandon park, either stay close to shore and go paddle boarding in Miami. Or head out in a canoe or kayak and explore the mangroves. Why not paddle out and go snorkeling in the crystal-clear water? Keep your eyes out for the plethora of wildlife such as birds and fish who love to nest in the mangroves away from beachgoers.
In addition, for those not wanting to do a self guided tour, there are several tour operators who give tours of this area. Take a kayaking and snorkeling tour with a naturalist guide, or head out on one of the spectacular sunset night kayaking in Miami!
For those interested in kayak rental in Miami, Crandon Park Nature Center offers kayaks and canoe rentals. The cost is $25 per hour, or $35 for 3 hours, and are available from 9 am to 3 pm. Please note that the only way to launch kayaks from the beach is by renting via EcoAdventures concessions.
Finally for those looking to rent glass bottom kayaks in Miami, rent one of the see-through kayaks to kayak over the sea floor and see the fossilized reef and underwater life without getting into the water. Please note there is also a parking fee at Crandon Park.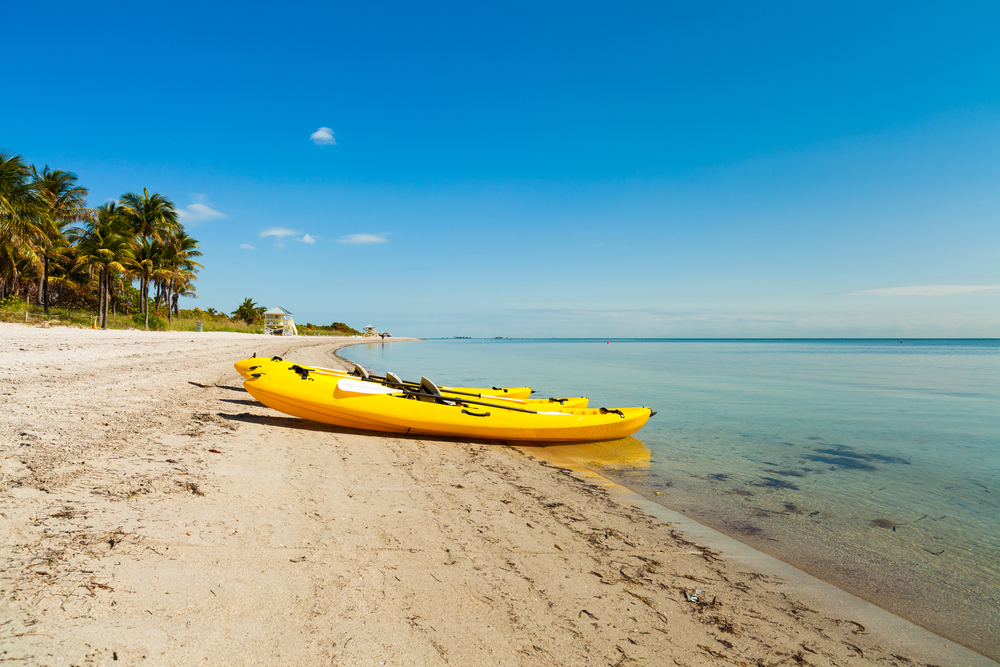 Virginia Key
Are you looking at options for kayaking around Miami? The Virginia Key outdoor center is a great option. The best part about a trip here is it is easy to access from pretty much anywhere in Miami.
In addition, they also offer kayaking tours through the 2 mile long Matheson mangrove kayak trek. Virginia Key State park charges $8 for admission on weekends.
This eco-getaway features a calm lagoon that leads out to the ocean. Perfect for renting a kayak or paddle board, or taking a sunset Saturday paddle tour, and even manatee kayak tours from November through mid-april.
Furthermore, bioluminescence summer tours are offered. Paddle around Virginia Key and Key Biscayne and discover the unique and breathtaking bioluminescent that light up the water. If you are looking for a fun workout class, try paddleboard yoga.
Best of all no reservations are needed. Miami kayak rentals range from $25 for kayak, $25 for tandem kayaks, and $45 for clear bottom kayaks. Stand up paddle boards are $30 for the day.
The setting is picture perfect with the background of the Miami skyline with popular sights like Rickenbacker Causeway, and downtown Miami as well as quiet mangrove lagoons. After kayaking or paddle boarding, enjoy the beach as well as the picnic area.
End the day at the Miami Aquarium one of the best things to do in Miami with kids.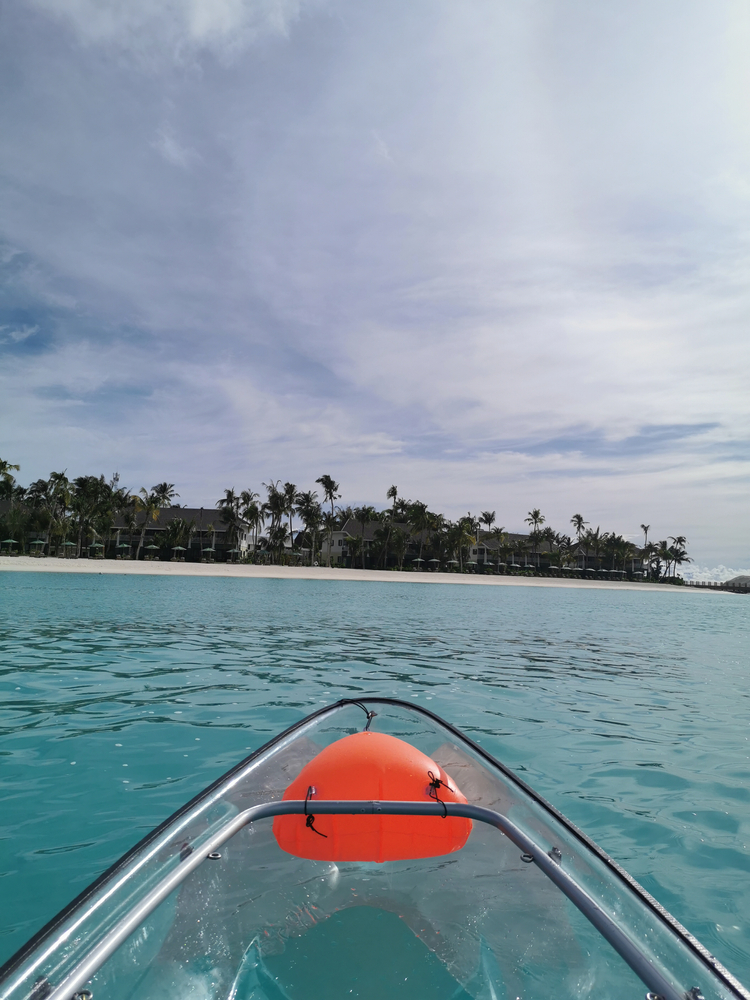 Matheson Hammock State Park
Matheson Hammock State Park is located in the Coral Gables area of Miami. It is open daily from sunrise to sunset, and does have an entrance fee of $5 on weekdays and $7 on weekends.
This 630 acre park is known for featuring mangroves and hardwood forests, as well as Fairchild tropical gardens. Head to the marina concession stands to rent stand-up paddle boards, canoes, and kayaks to use while exploring Biscayne Bay.
Best off all this is the perfect place for kayaking in Miami for beginners as the seawall keeps the tides gentle, shallow and calm. Kayakers are awarded breathtaking views of the Miami skyline. Plus, it is one of the best beaches in Miami!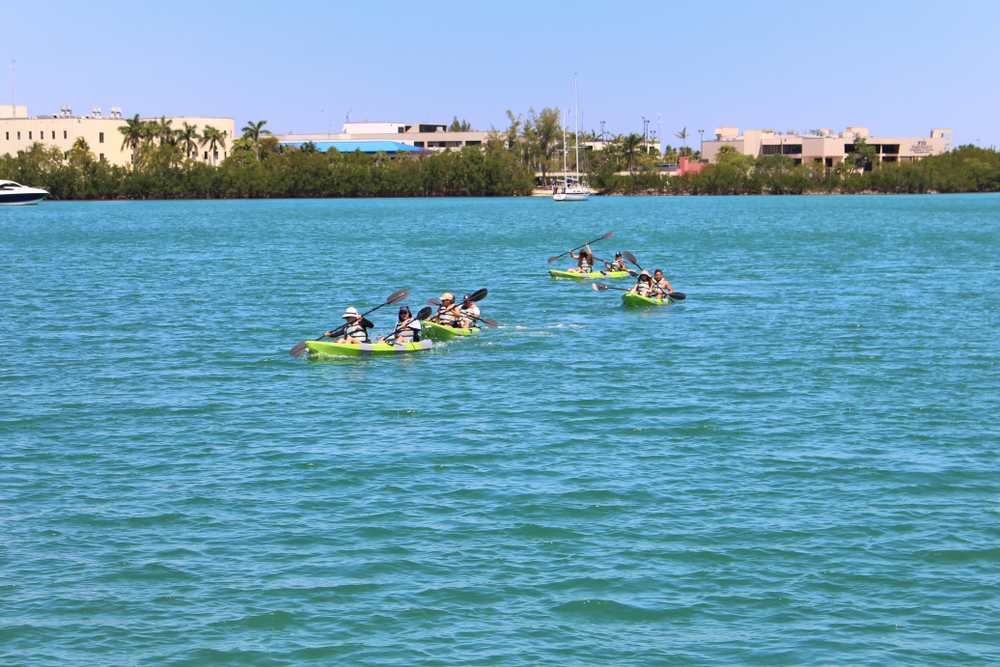 Oleta River State Park
Oleta River State Park is a great option for kayaking in South Florida. This State park charges $6 admission fee per car, and is open daily from 8 am to sundown. Located just 30 minutes from downtown Miami, this amazing park is divided by the river that winds through this natural oasis.
Why not try paddle boarding through the lush mangrove forests, in Florida's largest urban park? For experienced paddlers, this is part of the 1,515 mile Florida circumnavigational Saltwater paddling trail.
Explore an area that is so vastly different from the typical Miami! Escape onto the Oleta Rivers natural habitat with the flat quiet waters of North Biscayne Bay and the Intracoastal waterway. Bring you own kayak, canoe or paddle board. As well as rent from BG Oleta River Outdoors where guided tours, sunset tours and full moon tours are offered.
The Oleta sunset tour runs from 6:30 pm to 9: 00 pm and the monthly full moon tour runs 7:30 pm to 10 pm. A guide transports you through the Intracoastal waterway to see the park's hidden treasure known as Sandspur Island under the light of the moon. Take a break halfway through where refreshments and s'more are served around a campfire.
This area is so special because it was a forgotten development site that sat empty and untouched until the 1980's when the state of Florida acquired the land and wanted to return it back to its natural habitat.
Kayakers can often spot manatees making this the perfect spot for kayaking with manatees near Miami. Please note it takes about 30 minutes to reach Sandspur Island. A second launch spot is at the Blue Marlin Fish house. Please note there is a small fee to launch non-rented kayaks here.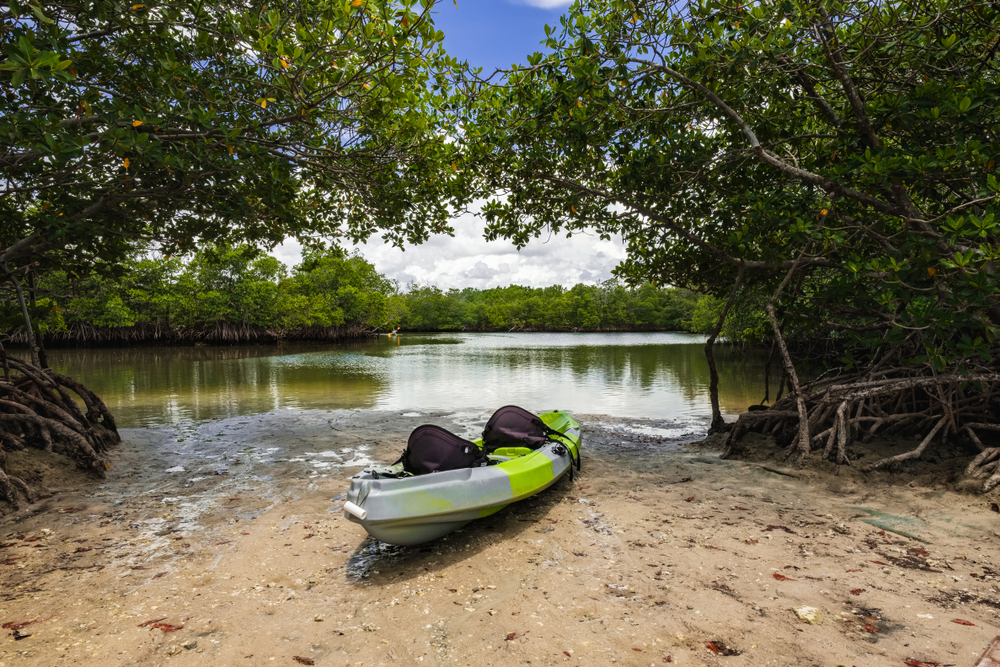 Biscayne Bay National Park
We think everyone visiting Miami should visit Biscayne Bay National Park during their visit. Biscayne bay is actually the start of the Florida Keys and you can tell from the gorgeous calm turquoise waters. There are 33 islands, and a 28 mile long reef to explore within the National Park for those looking at kayaking in Miami.
We suggest launching from Adams Key, as you can use this island as a basecamp for exploring lagoons, creeks and shallow mangrove tunnels. Jones lagoon is the place to go if you want to see rays, jellyfish, and other shocks of fish!
Additionally, for more experienced kayakers looking for Miami kayaking, explore the over 7 miles of kayaking areas.
Finally, kayak out to Stiltsville what is left of the home but on the water and lighthouses. Hurricane Creek is the perfect spot to kayak or canoe as it offers spectacular snorkeling to see underwater marine life.
For the most experienced paddlers take the 7 mile kayak across the entire bay. For those not wanting as advanced of a paddle launch from the Dante Fascell visitors center or book a tour of the mangroves and seagrass meadows tour!
Rent canoes, paddle boards and kayaks here starting at $25 for 90 minutes.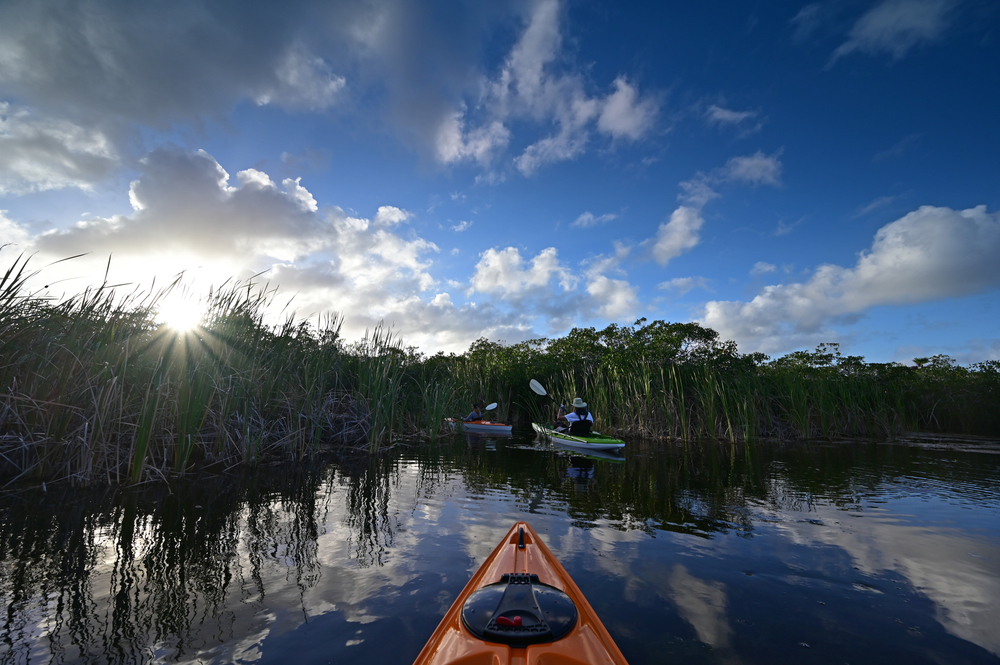 The Everglades National Park
The Everglades are one of the most unique and dynamic ecosystems in Florida. And lucky for visitors of Miami just over an hour away, making it a great spot for kayaking near Miami! While airboat tours might be your first thought, you can actually kayak in several areas throughout the Everglades.
Canoe and kayak trips in the Everglades can range from a few hours to overnight trips. The length of the trip is totally up to you. It offers some of the best kayaking in Miami. Experience the Florida wildlife and landscape all while experiencing the exhilaration of kayaking or canoeing in the Everglades.
Options include bringing your own canoe or kayak or launching from one of the various rental sites that offer rentals and tours with a guide. Just keep a look out of alligators, as the Everglades is one of the best places to see alligators in Florida.
Beginners can head to Flamingo Padding trails, located about 40 miles from the Homestead entrance.
First is the nine-mile pond here is a 5 miles loop. Second, the Noble Hammock is a 2 mile loop through shady mangrove-lined creeks and small ponds and is a day kayak. The third option is the Sandfly Island loop which gives you a small taste of the ten thousand islands with a saltwater kayak open water trip.
While more advanced kayakers and canoes can head on an overnight trip to the ten thousand islands of the 99 miles mutiny wilderness waterway trip! If doing one of the overnight or multi-day trips planning is necessary including applying for permits.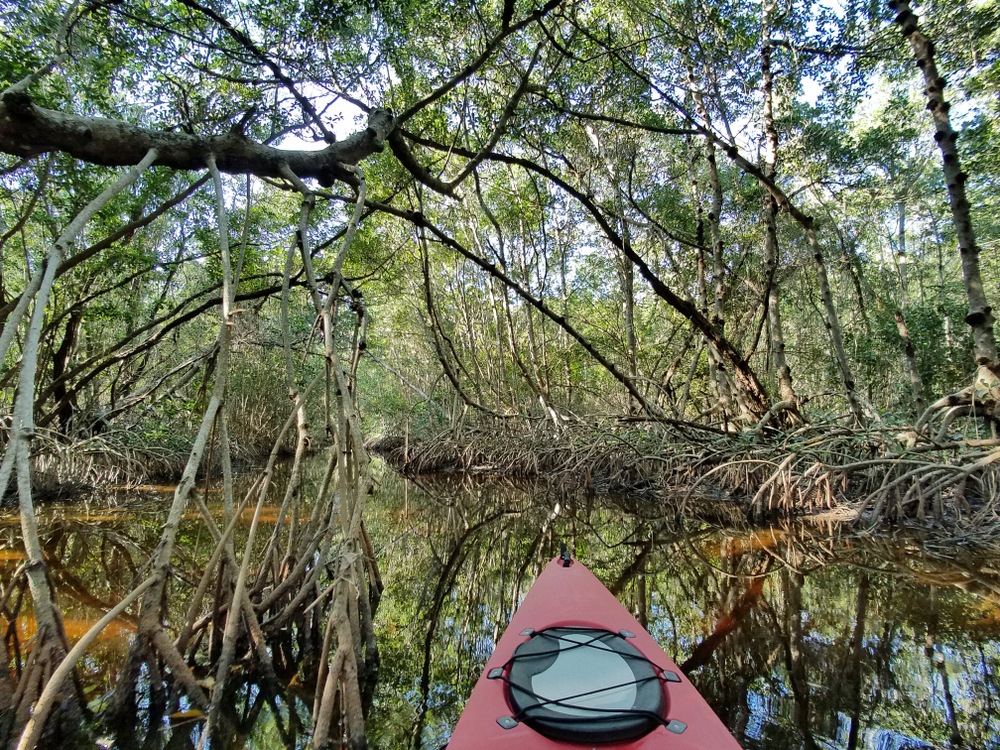 Loxahatchee River
The Loxahatchee River is a 260-acre ecosystem that is a unique treasure featuring a freshwater creek, a brackish estuary, and the Atlantic Ocean. Visit over 10 different habitats, including a peaceful sow flowing river, one of only 2 in Florida! Located north of Miami in Palm Beach ( about an hour's drive from Miami) this is one of the spots for canoeing in Miami.
The Northwest Fork it is Florida's first federally designated wild and scenic river, before it forks to a brackish area, and the final fork is the saltwater of the Jupiter Inlet. Choose from two different routes depending on the amount of time you want to spend canoeing.
There is a 1-2 hour route or an all day route. The 2 -hour route winds through cypress forests and is one of the most popular kayaking and canoeing routes. It is here clear orange water greets paddlers. Spotting fish, turtles , deer and alligators is common here.
The longer of the two trips is an 8.3 mile trip. Paddling against the wind makes it best for more experienced paddlers. As often times you have to exit your kayak or canoe and drag it over logs to get down the river. As well as drops making this an exciting adventure for those who are experienced.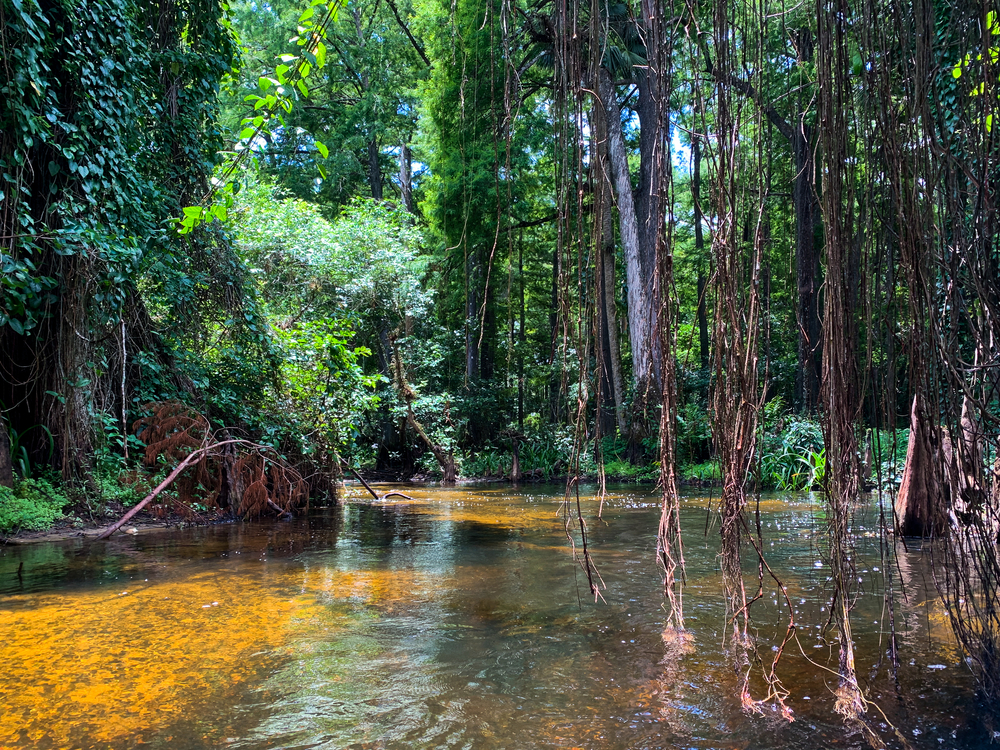 Black Point Marina
Black Point Marina is another spot for kayaking in Miami Florida. Located just south of Miami in Homestead. This is the start of the Biscayne National Park! And the perfect spot to enjoy a day out on the water.
Rent kayaks, and canoes right from the Marina, and put in at the boat ramp. The big draw here is kayaking with manatees! They are a common site along the docks and shallow waters around the marina.
Furthermore, kayak or canoe along the unique ecosystems of the mangrove shoreline. The crystal clear calm waters make the perfect home for tropical fish and birds.
Tours leave daily at 9:30, 12:30 and 3:30 from the visitor's center. A guide leads paddlers for the first 30 minutes, and after paddlers have an hour to explore on their own.