Are you about to go vacationing and wandering where has the clearest water in Florida? You have come to the right place. In this article, we will walk you through where to find crystal blue water in Florida, which are the beaches in Florida with the clearest water, and blue beaches in Florida. 
Florida has long been known for its incredibly clear water and white sand. With over 700 miles of incredible beaches, it's hard to know which to choose.
While most of the Floridan beaches are beautiful some are more beautiful than others and not all have the clear water in Florida you might be after. Take Clearwater for example, while you might think it has the clearest water on the gulf coast, it doesn't live up to its name in comparison to some others.
And it's not just beaches that have the clearest water in Florida there are also countless spas, rivers, and watering holes where the water is crystal clear. There is nothing like a day at a beautiful beach or one of the Floridian springs enjoying the sun and the bluest water in Florida.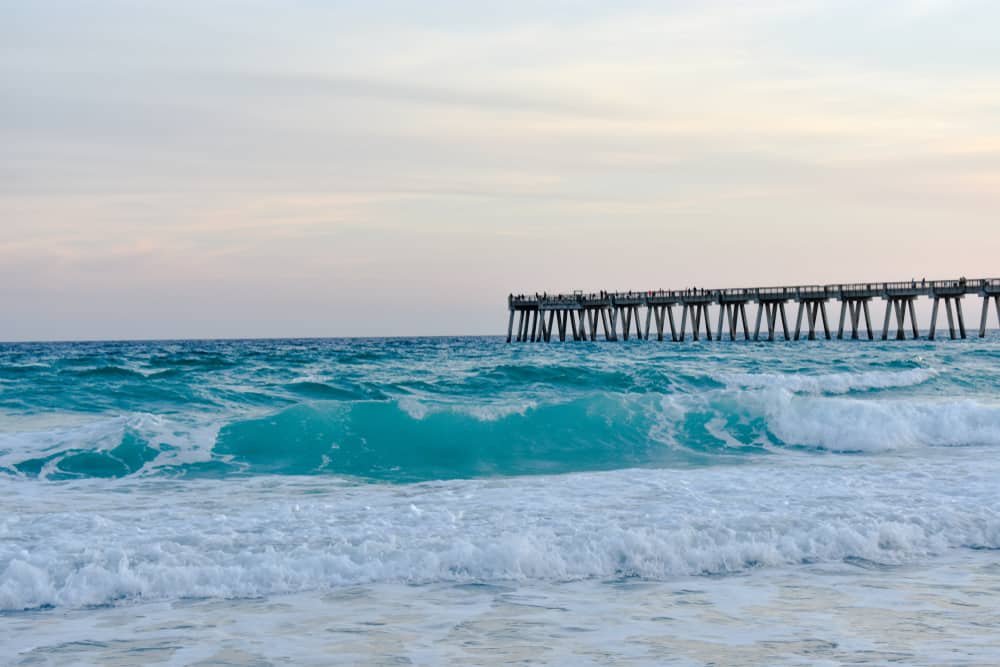 Why do we have the most beautiful water in Florida?
Water clarity is affected by a lot of things. Wave action, wind, rain runoff, and sediment all play an important part.
Florida is known in places for light winds and smooth sea conditions. When this continues for days it clarifies the water turning it into the bight blue and emerald waters this area is known for.
The time of year can play a part in water clarity too. The waters in Florida tend to be clearer in the spring and fall.
Ocean currents and the positioning of the bay seem to play the most important role in Florida beaches with clear water. For this reason, the beaches on The Florida Panhandle tend to have some of the best beaches with clear water in Florida. This area doesnt get the name The Emerald Coast for nothing.
The Gulf Coast and The Space Coast also have some of the clearest ocean water in Florida. And we can't forget the crystal clear springs that are in Florida too. They are always places to see clear water in Florida.
And while we have included here the beaches with the clearest water in Florida, It's important to note that the water isn't always like that. After a storm, the water gets churned up and the sediment dispersed throughout making the water murky. It often takes a few days to settle back to its beautiful clarity.
Are you ready to find out which are the best places to see clear water in Florida? Grab a drink and a seat and let us walk you through a little taste of paradise.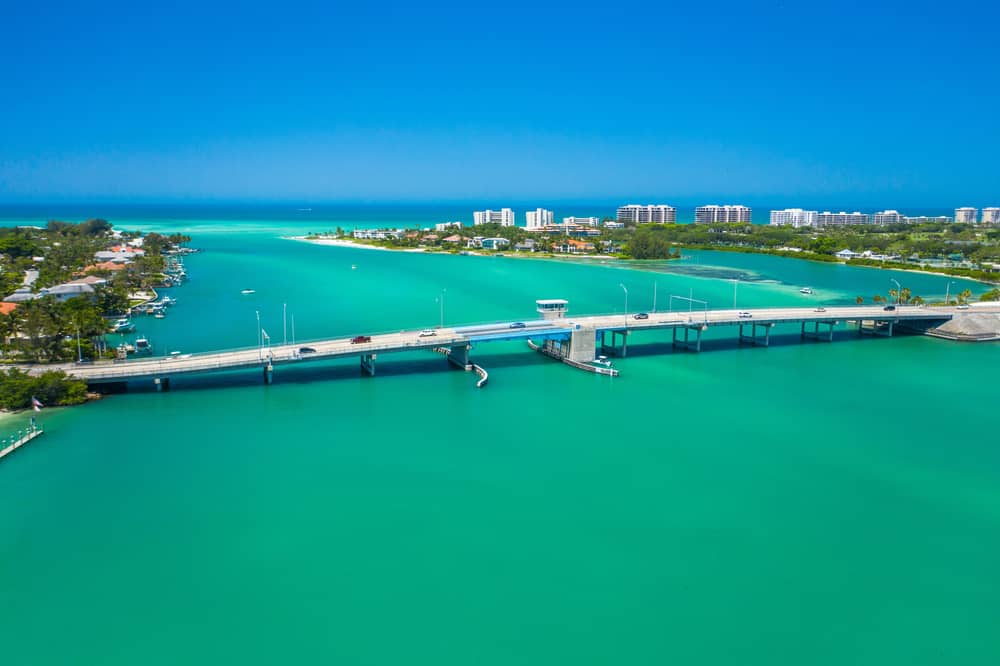 15 Places With The Clearest Water In Florida (Beaches, Springs, and More!)
Dry Tortugas
70 miles west of the coast of Key West in the Gulf of Mexico The Dry Tortugas islands have some of the most beautiful water in Florida. Now you will need to get there by boat, ferry, or plane but if you are looking for blue beaches in Florida and some isolation believe us it is well worth the trip.
Dry Tortugas National Park is a 100-square mile park with seven small islands and is a tropical paradise. Declared a national park in 1992 the water is the clearest water in Florida and the sand is white and pillowy.
The waters are also home to the only tropical reef in the States and the third-largest in the world. Snorkeling or Scuba Diving here is a must.
Visit between November to April when the winds are less stronger and thus the water clearer. And due to its remoteness, you will always be able to find a spot all to yourself.
Don't forget to check out our list of the Best Florida Keys Beaches for some more ideas of places to visit!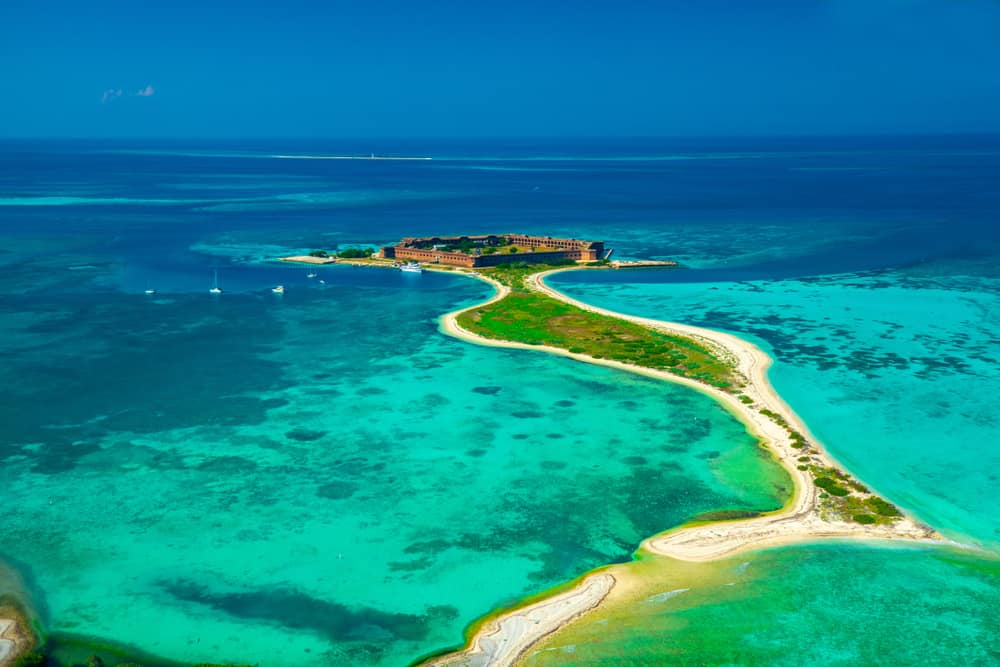 Ginnie Springs
If you want to guarantee clear water in Florida, then the best thing to do is head to Ginnie Springs. The water here is a beautiful turquoise and a constant 72F/22C so It's a great place to cool down from the Floridian heat.
While swimming in the clearest water in Florida is a must there are also many other water activities to be enjoyed. Paddling boarding, tubing, canoeing, and kayaking are all fun things to do here.
And if you are a certified diver here there is an incredible underwater cave system to explore here. In fact, the water is so clear here you can see the openings of the caves from above the water.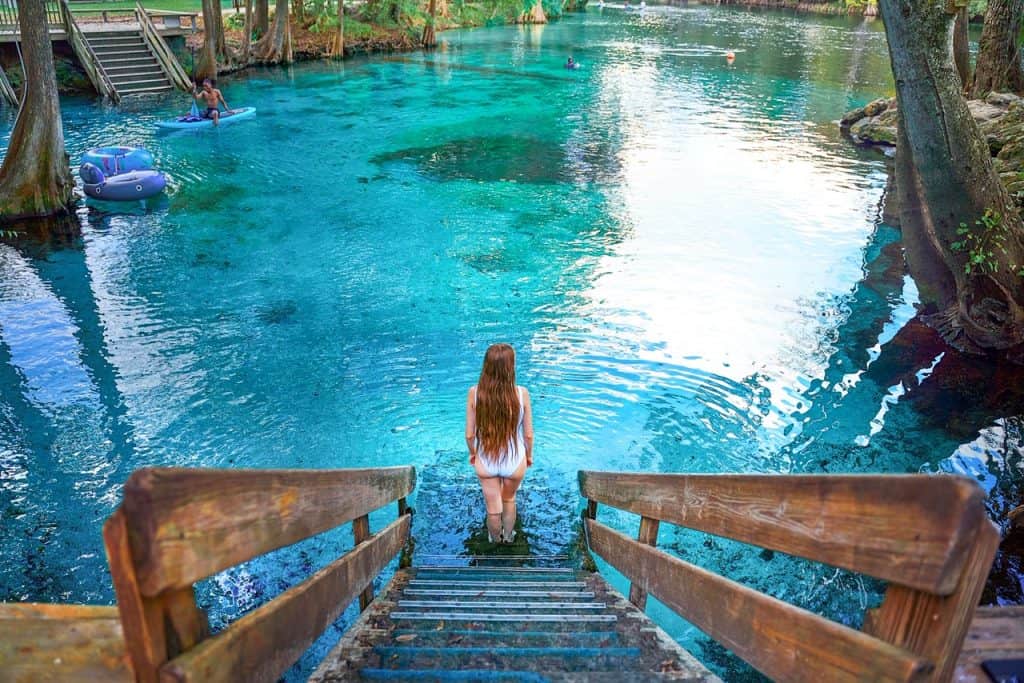 Beer Can Island
Beer Can Island is somewhat of a hidden gem having an almost remote and magical feel for it. When we go here we feel like we have visited somewhere truly tropical.
It's a secluded getaway with some of the clearest water in Florida you will find in this area. It's not the easiest place to find so make sure you read our tips.
Let me tell you Beer Can Island is a photographer's dream. Not only are the waters crystal clear, the sand pure white but the driftwood on the beach just seems to make this place look like a dream deserted paradise.
There are two Beer Can Islands in Florida and just to be clear I am not talking about the party island off the Tampa Coast. This Beer Can island is located in Sarasota in the northern part of Longboat Key.
We can't talk about this place enough it truly is so lovely and well worth a trek off the beaten path for.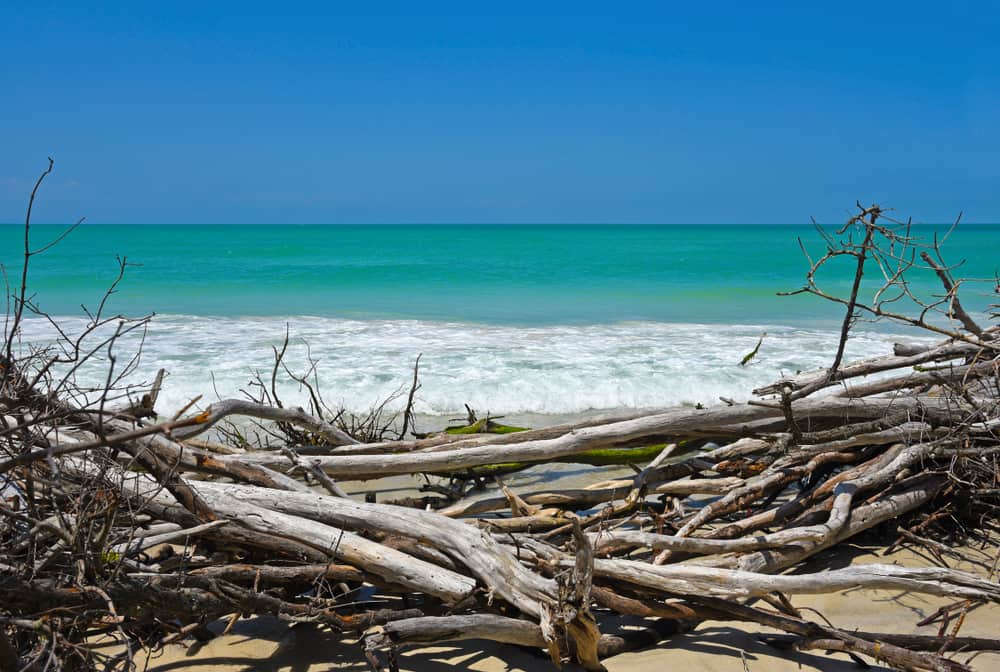 Rock Springs
Just 40 minutes outside Orlando you will find Rock Springs which are located in Kelly Park. If you are looking for the perfect central Floridian Oasis you have found it.
The water here is of course some of the bluest water in Florida. And the park the spings sit in is large offering plenty to do, so why not camp and stay a few days.
This is one of those places where you really feel like civilization is miles away. It's a great place to relax and just enjoy your environment.
There is also the perfect lazy river here which is shaded and intimate. The Rock Springs Run is about a 30-minute relaxing bob-along the river.
Outside of the tubing area you can launch a kayak or paddleboard and explore one of the clearest rivers in Florida. If you are thinking of visit take a look at Rock Springs Guide for tips on how to make the best.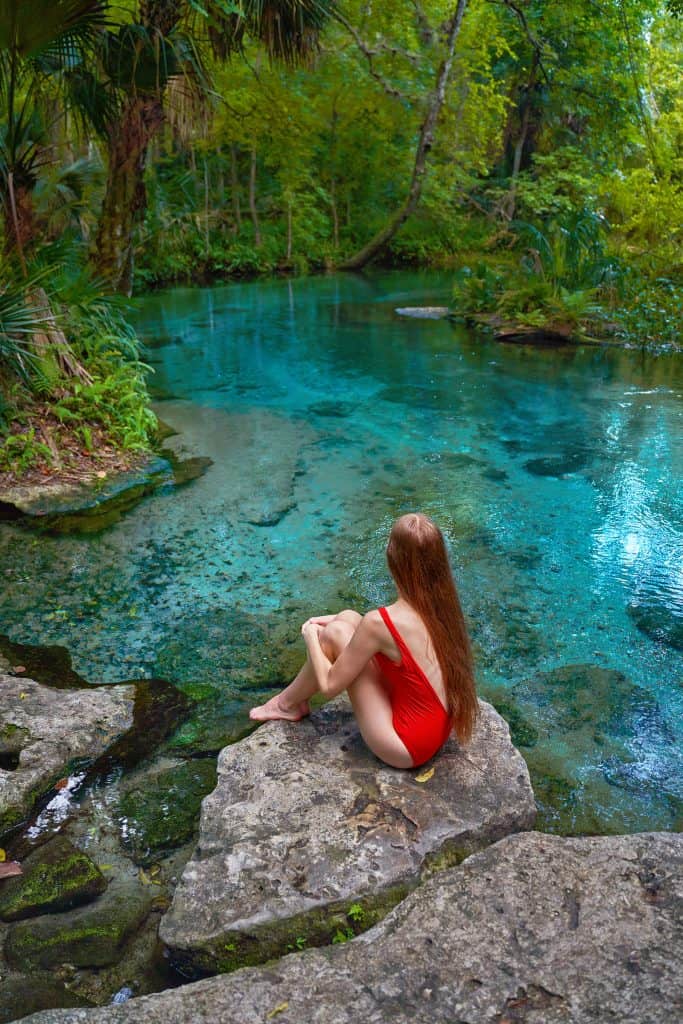 Navarre Beach
If you are in the Pensacola area and are looking for beaches with clear water in Florida then look no further than Navarre Beach. It's on the east end of the Pensacola barrier island and is truly stunning.
It's a beach that has escaped commercialization giving it a somewhat natural and rugged charm. It's laid back, relaxing, and has unobstructed views. And of course, the water is some of the clearest water in Florida.
It also has Floridan's longest Pier at 1500 feet long. It's a perfect place to really see how clear these waters are as you marvel at the sea life below.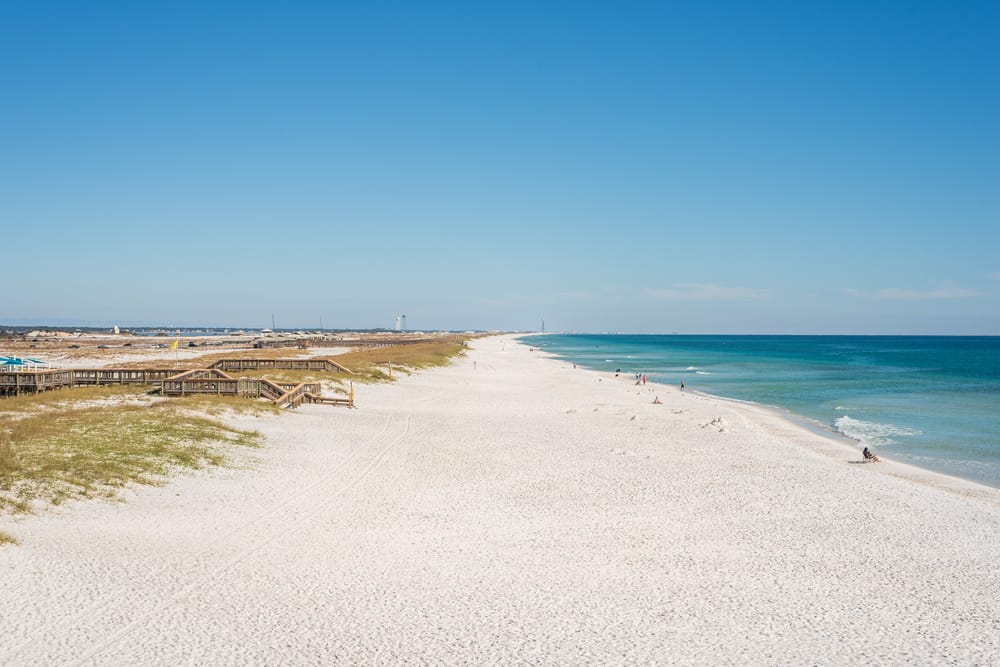 Crab Island
If you are feeling adventurous and are up for something a little out of the way then try Crab Island. Let us tell you the waters here are just divine.
Crab Island is off the coast of Destin more specifically on the north side of Destin Bridge. Now it's called an island but don't let that fool you it's actually a sandbar. There is no actual land but it's incredibly shallow which is a very strange experience as you are in the middle of the ocean.
The place is so unique its actually been featured on HGTV, Good Morning America, in various travel magazines and publications across the globe.
The bright blue water goes from one foot to four feet deep depending on the time of day and year. You will need a boat to get here but there are shuttles and tours that also go here.
We really recommend giving Crab Island a try it is a unique experience.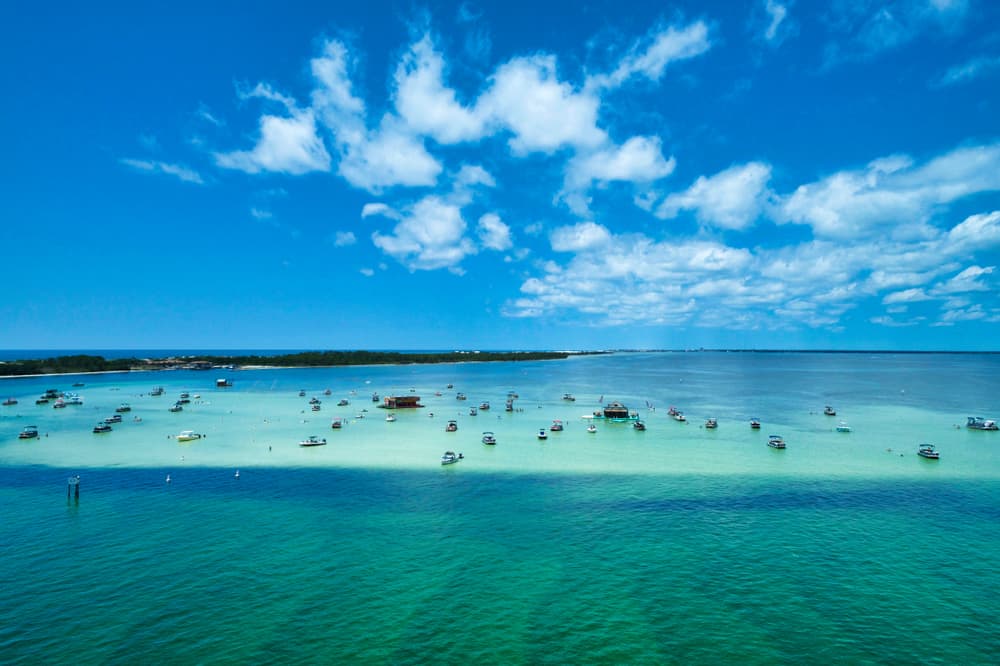 Gilchrist Blue Springs
Florida's newest state park Gilchrist Blue Springs is about 40 minutes northwest of Gainesville and about an hour south of the Florida/Georgia border.
It's a second magnitude spring pumping out 44 million gallons of freshwater each day. The water is of course some of the clearest water in Florida.
It's a great place to kayak, canoe, or paddleboard, and of course, swim. And if you want to make a few days of it you can also stay here.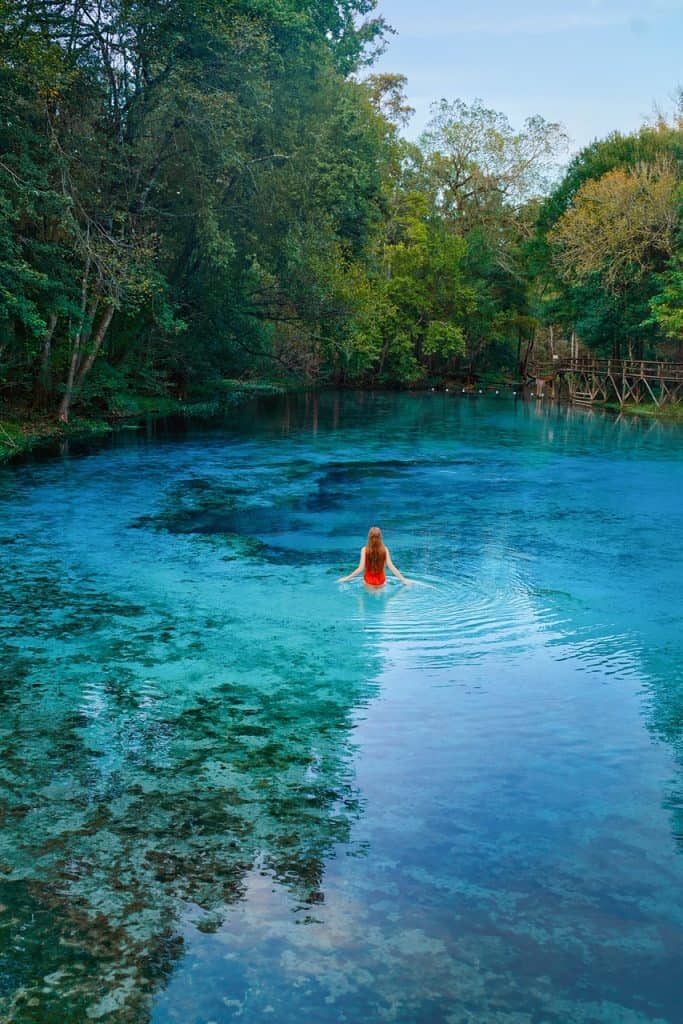 Destin
Situated on the Florida Panhandle if you are looking for a beach that looks like it's straight out of a tropical paradise you can't get much better than Destin.
The sand is pure white, and the water is the clearest ocean water in Florida. The water here is so clear as nearby Choctawhatchee Bay filters it before it reaches here.
Many say this beach has the clearest water in Florida. The water is so clear that strolling along the jetty here is a real dream. Honestly, we are not sure that water gets much cleaner than this.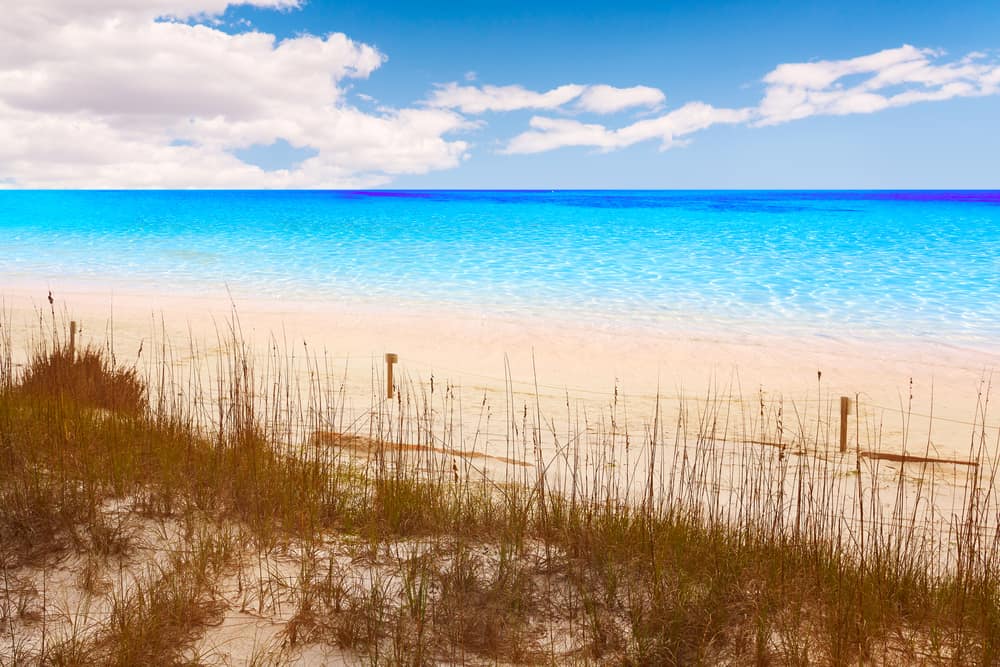 Siesta Key
If you want a relaxing day out at a wonderful beach but don't want to forgo all the amenities then Siesta Key might be perfect for you. The sand is powdery white, the breeze soft and the water some of the most crystal blue water in Florida.
This beach has a lot going on from free morning yoga to all kinds of water sports. Whatever you like doing Siesta Key most likely offers it.
At night the beach bars go into full swing and live music fills the air. While it is busy here is never feels really packed.
There is a nice friendly laid back atmosphere all the facilities you could wish for.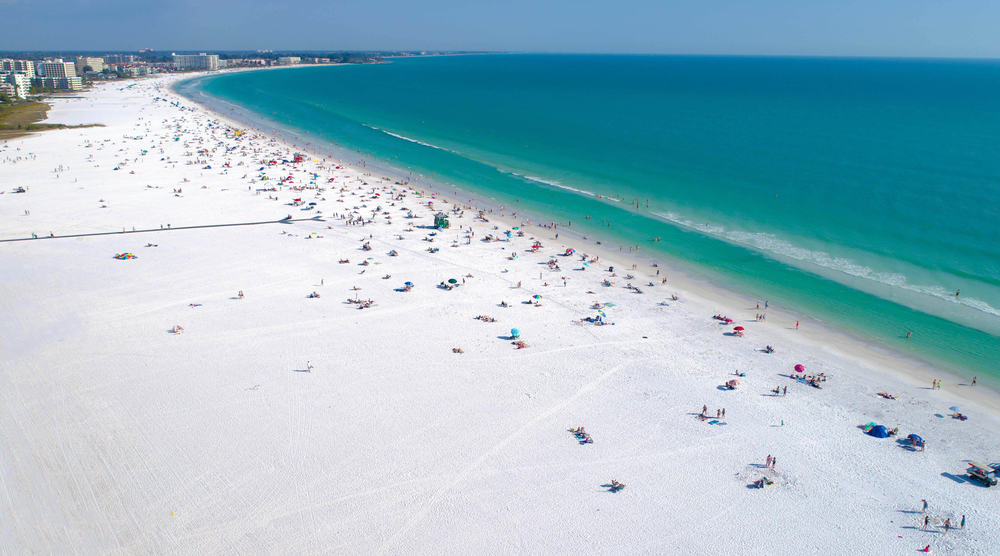 Smathers Beach
While Key West has many beaches Smathers Beach is one of the only sandy beaches in the area. Key West beaches are not normally sandy in fact the sand here was imported in.
What all Key West beaches have though is the clearest water in Florida and Smathers Beach is no exception. It's the largest best and has the activities and all the amenities you would expect.
Despite it being busy it's always clean and there are many places to grab some shade if you need to. There is a laid-back feeling here as there is in most of Key West.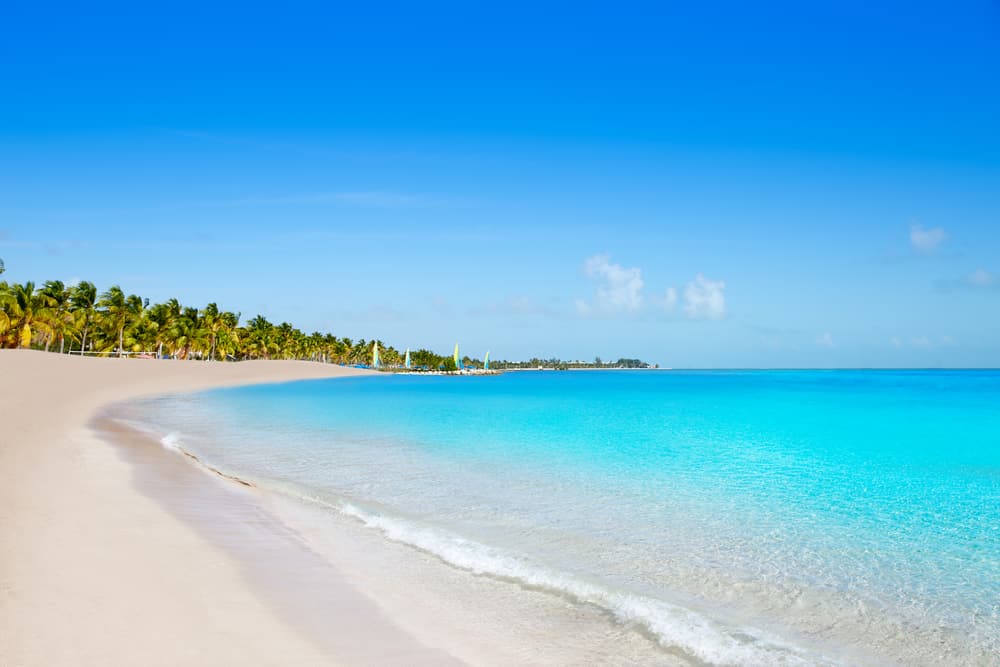 Anna Maria Island
Just south of Sarasota Anna Maria Island is a very family-friendly and fun beach to spend some time at. It's on the quieter side and it feels more like a private getaway than a public beach.
It is one of the beaches in Florida with the clearest water, so clear you can see the ocean floor easily. And the beach is huge more than 22 across to explore here.
The atmosphere here is much quieter and slower it's perfect for a family-friendly holiday or a romantic getaway.
If you are going to visit one beach while in the area make it this one.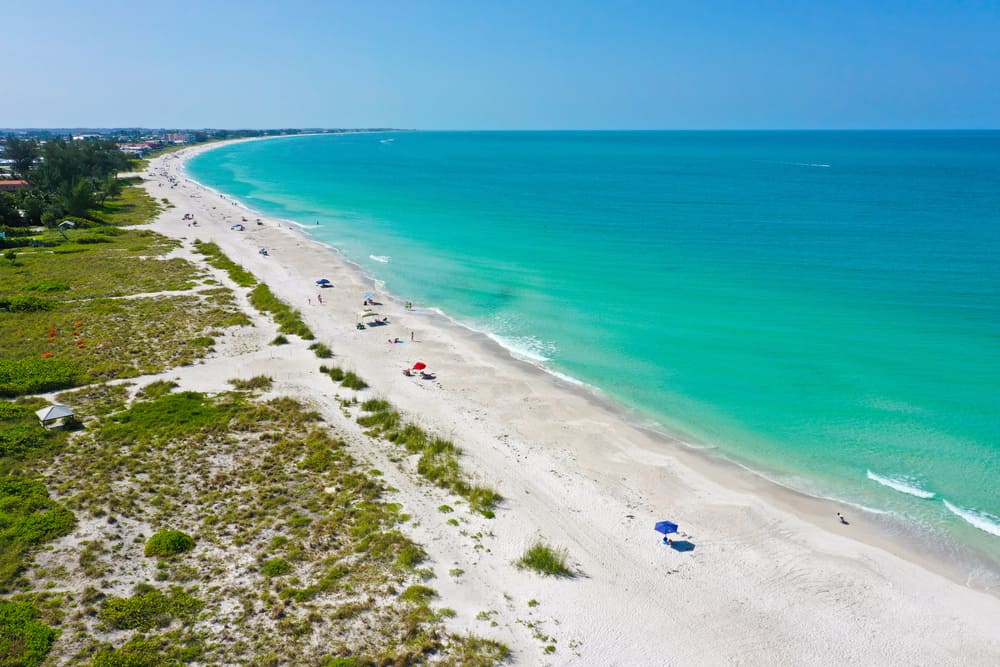 Crystal River
Located in northern Florida in what is known as the manatee capital of the world Crystal River is well worth a trip. There is a reason the manatees love it here it's one of the clearest rivers in Florida.
You can rent, paddleboards, and tubes here which are a great way to explore the river. One of the easiest access points is through Three Sister Springs.
If you don't fancy getting in the water there is a boardwalk that has several outlook posts where you can stop and marvel at the crystal clear water below.
Guided tours of the area are also available. If you go in manatee season please be respectful of these wonderful creatures and make sure you follow the manatee code.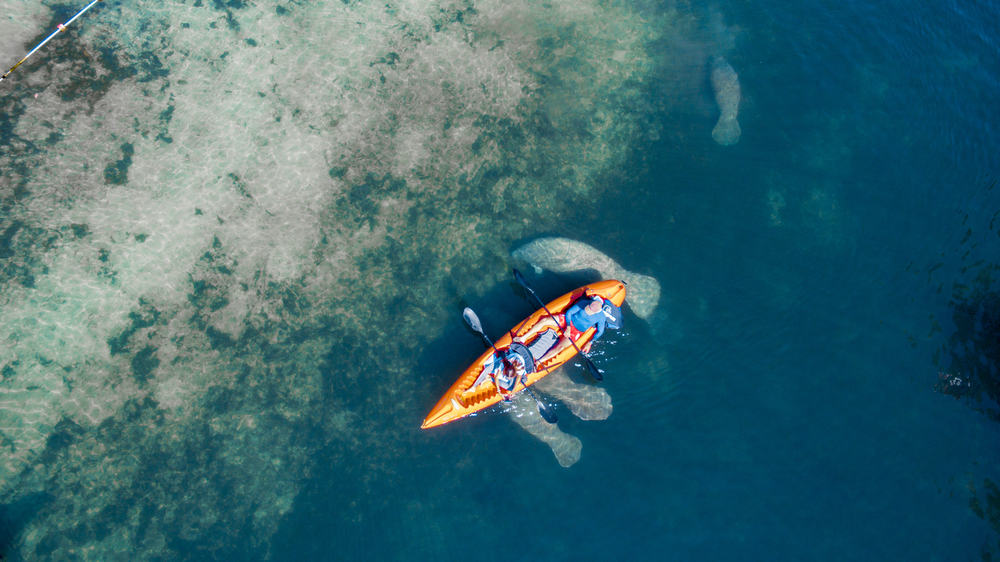 Devils Den
This is one for all the drivers out there. If you are looking for the clearest water in Florida to dive in then Devils Den is absolutely stunning.
It's a privately owned prehistoric spring that is enclosed minus a natural sunroof that shines light onto the underground river. It's truly a spectacular sight and a real hidden gem.
Located in Wilston it's a great place to explore a truly unique underwater river system. You can only enter in scuba gear or snorkeling attire.
If are looking for something a little different then this is it it really is a Bucket List experience.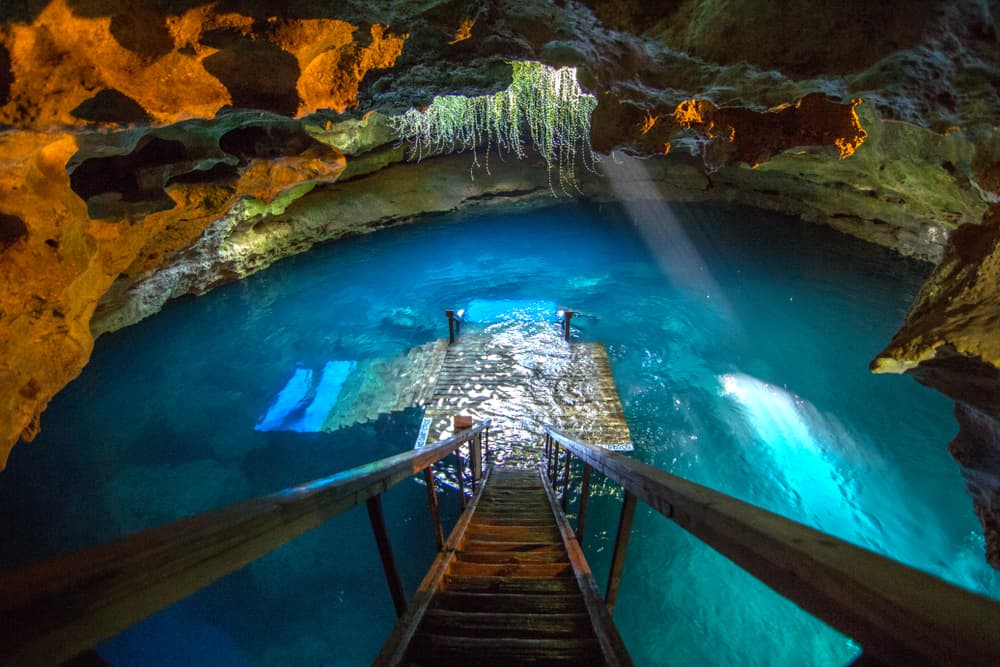 Jupiter
If you like warm and beautiful water then head to Jupiter. The gulf stream waters keep it a comfortable 78 degrees all year round.
Jupiter is known for its watersports perhaps because the waters are so calm and clear. Paddleboarding, surfing, and snorkeling all take place here.
Just north of Miami Jupiter has a certain charm about it that is hard to really put into worlds. It's gentle, relaxing surrounded by nature, and has some of the clearest water in Florida.
The beach is split into sections with six overall each offering something a little different. Whichever you chose though we guarantee the sand will be white the water the crystal blue water in Florida you have come to expect.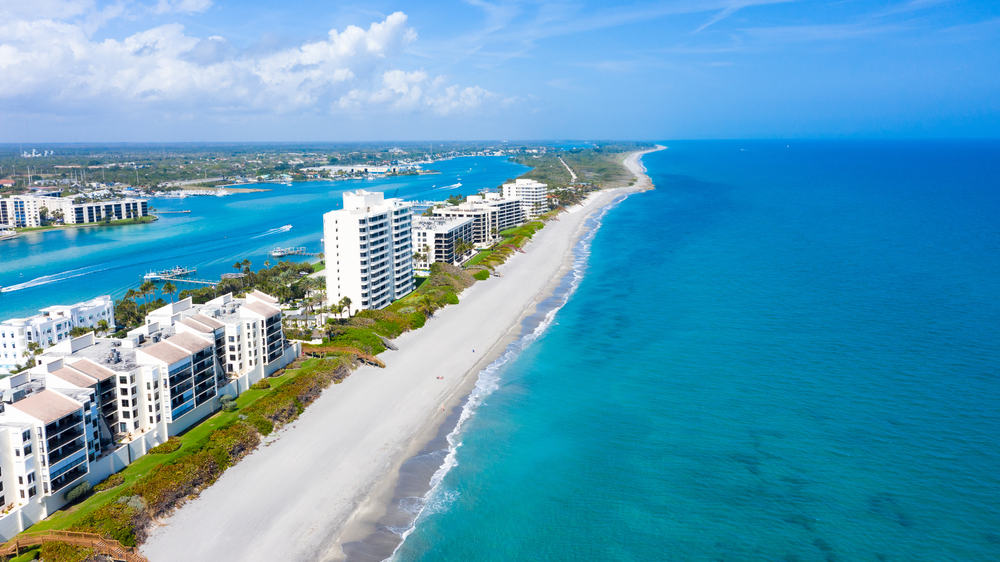 Rosemary Beach
Not a particularly well know Floridan beach but it is gaining popularity. Less than an hour from Panama City the sand is soft and water is the most beautiful water in Florida.
The first thing to know is this is not a public beach however if you are staying in the area or a resident you do get access. In our opinion, a stay in this area and a visit to this beach is a must.
It never gets particularly crowded, is always clean, and has beach chairs available. What more could you ask for?
And the town is just as beautiful as the beach with wrap-around porches, shuttered windows, and candy-colored homes.
There is a beach a mile away which is public, Inlet Beach but if we were in your shoes we would bite the bullet stay in the area and spend a day at this fantastic beach.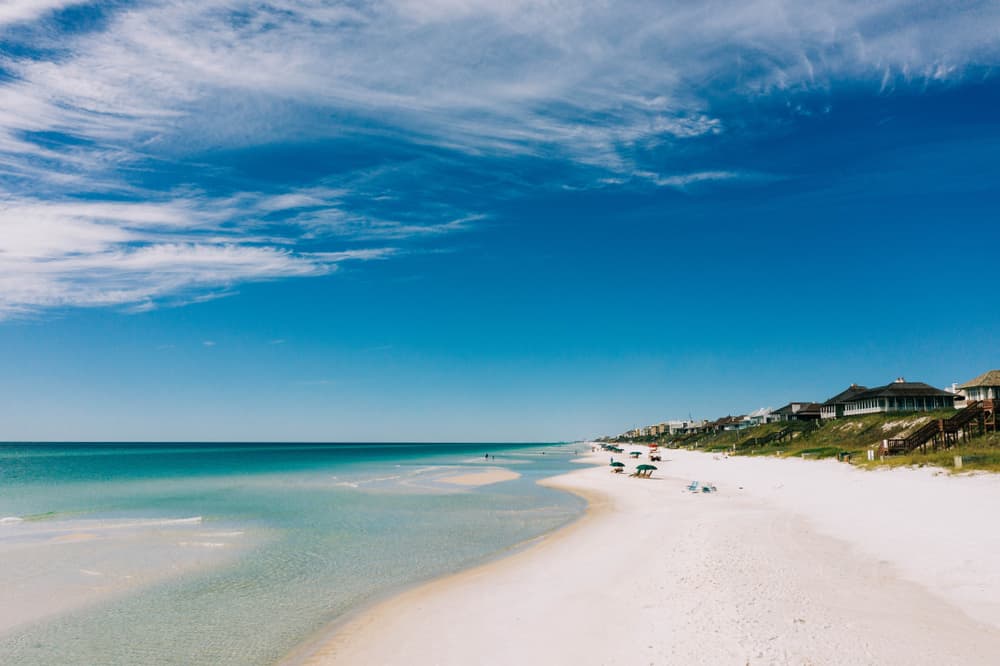 As you can see when it comes to finding the clearest water in Florida there are so many options. When it comes to Florida beaches with clear water you really do have so many choices.
Whichever of these blue beaches in Florida you visit you will find the clearest ocean water in Florida and the most beautiful water in Florida. We hope you have an amazing time whichever you visit and please come back and tell us all about it.