Are looking for a list of the best things to do in Crystal River Florida? We have you covered with the best places and attractions to visit while in the area!
Located about 90 minutes north of Tampa Bay, Crystal River is actually a large network of about 40 natural springs. Originating in King's Bay before emptying into the Gulf of Mexico.
Crystal River has earned its nickname as a "water lover's paradise" with a multitude of activities and wildlife to see. It is also the manatee capital of the world and home to the only manatee wildlife refuge in the US.
The waters is the perfect mix with warm Gulf Water mixes to cold spring-fed water, making it perfect for all those water centered activities. From boating to kayaking to swimming and snorkeling explore the to natural springs and ocean water.
From museums, state parks, breweries and wineries to restaurants there is so much to do to entertain yourself here. Why not enjoy one of the hiking and biking trails, or spend the day at the beach these are the best places to go in Crystal River, Florida!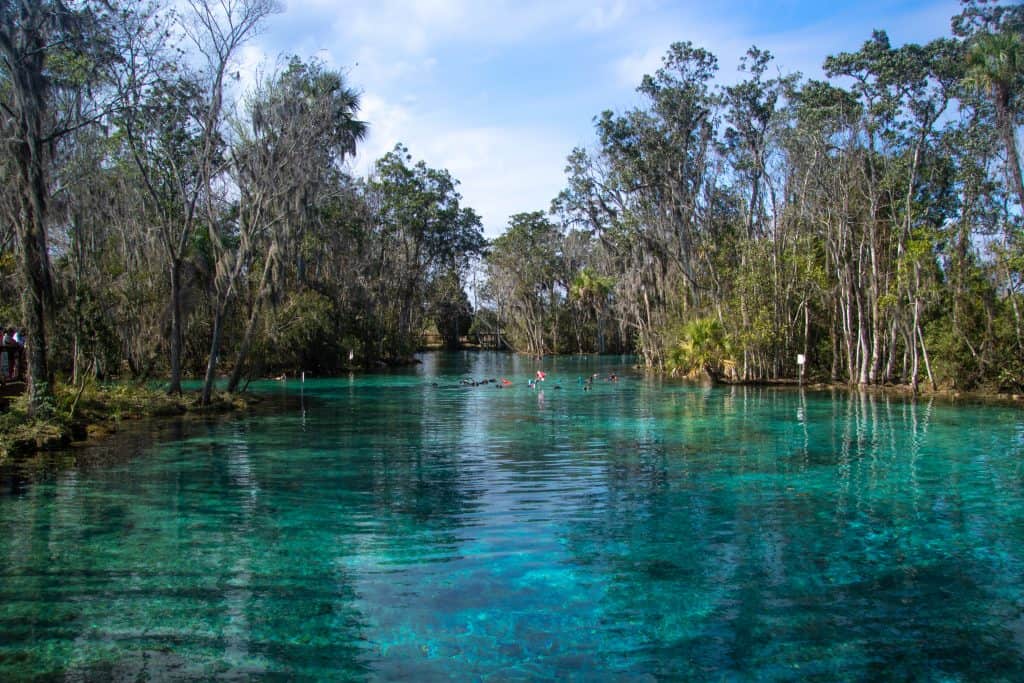 12 Best Things To Do In Crystal River FL You Shouldn't Miss

Three Sister Springs
Three Sisters Springs is one of the best springs in Florida to visit! Best of all, its is the perfect day-trip from Tampa. A network of over 40 natural springs makes up the area of Crystal River, and is where you can find Three Sisters. If visiting during January, you can spot wild manatees at the Florida Manatee Festival!
This is one of the few places to visit in Crystal River that you can still swim with manatees!Take a walk along the boardwalk circling this one-acre springs complex allows for incredible views of the crystal clear water, where you can also spot various wildlife and birds.
There are endless activities in Crystal River to do here. However, to enter the water you have to access the public boat or kayak launches on Kings Bay and take the springs run into the park!
There is an admission fee as Three Sisters Springs is inside Crystal River National Wildlife Refuge. The fee includes the trolley/shuttle to and from the refuge. During the summer months, adult tickets are $12.50 and in the winter $20. Children 6-15 pay $7.50 year round while children under 5 are always free.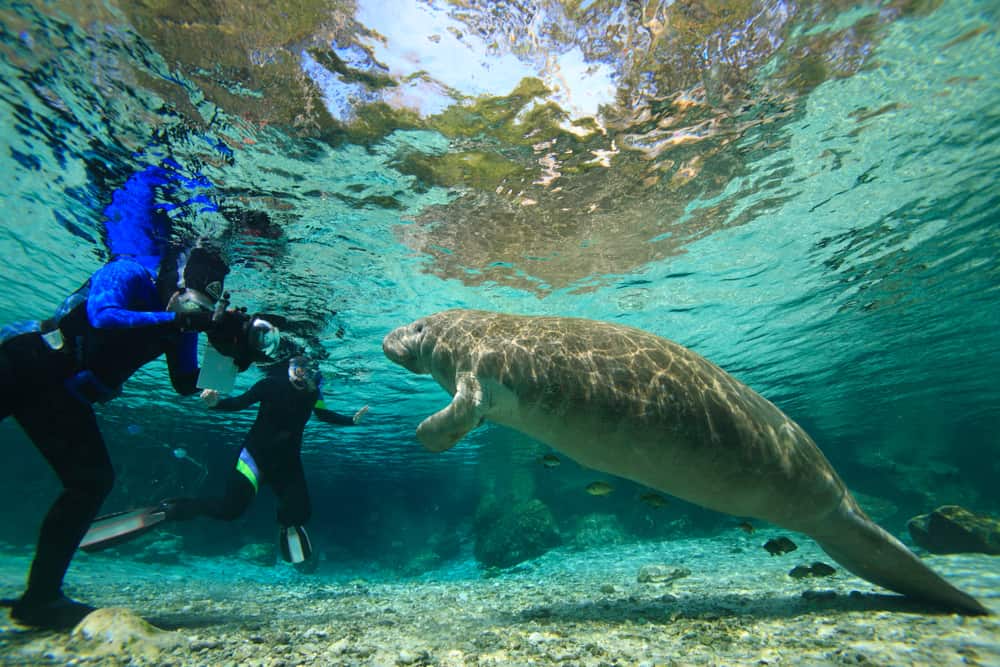 Hunter Springs Park
Hunter Springs Park is a must of the best things to do in Crystal River Florida for those who want to enjoy a beach day. IT is also one of the most accessible of the King Bay springs.
The park consists of a sandy beach area where locals and visitors alike enjoy basking and playing in the sand, an area were you can kayak or canoe, boardwalk, a swimming area with fresh water, playground, picnic tables with BBQ grills and restrooms.
You can often spot manatees here as the water sis super clear and they come right up to the swimming area. It is a also a great spot to launch your kayak or canoe to nearby Three Sisters Springs.
There are several free lots near the park that you can use, or if you want to park directly at Hunter Springs there is paid parking. On the weekends and holidays it gets very crowded so arrive early to reserve your space on the sand.
Crystal River Archeological State Park
Crystal River Archeological State Park is one of the educational activities in Crystal River Florida. This 61 acre National Historic Landmark is a six- mound Columbian complex with a burial site, temples and platforms situated on a costal marsh. It is the longest occupied site in Florida for over 1600 years.
The museum the perfect choice for attractions in Crystal River to see artifacts and learn about prehistoric life along the costal town. Next, climb the 51 steps to the top of temple mountain where you can stand and admire the view knowing for thousands of years people have stood and lived at the same spot.
There is a $3 admission per vehicle, the park is open 8 am to sundown everyday while the museum is open 9 am to 5 pm Thursday to Monday.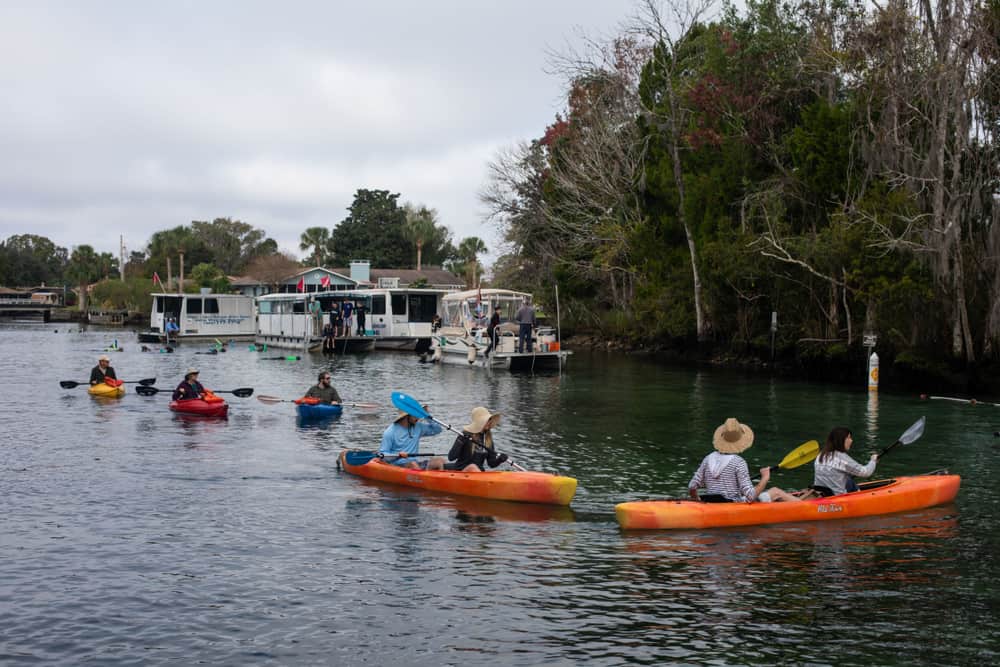 Churchhouse Hammock Trail
If looking to visit outdoor places in Crystal River take a trip to Churchhouse Hammock Trail. Right across from the mall you will find a wooden boardwalk known as the "pathway of the Past".
This is one of several trails located throughout the Crystal River Preserve State Park. A walk on this 1.2 mile trail is great things to do with kids in Crystal river, as they will get to explore the biodiversity of the area.
From a forest to a grassland estuary that borders the water on Kings Bay you will have the opportunity to see wildflowers and wildlife. There are covered picnic tables along the path making it a great spot to pack a picnic lunch and head out for the day.
But, make sure to wear appropriate footwear as once the boardwalk ends the trail can be wet and muddy! For visitors in springtime you will be surprised to see the numerous wildflowers that grow in the area making it a beautiful colorful hike.
Seeing Manatees
Crystal River has one of the largest populations of wild manatees in the world, and it is also the Manatee capital of the world! Manatees flock here in the winter months for the warmer water of the springs.
There are 70 springs in this 600-acre bay. It is believed as many as 800 manatees arrive here in the winter months. November 15 to March 31 is manatee season.
During peak manatees months you can not kayak in the springs however you will see manatees in other areas. They are a protected animal, and as such you should never touch them if you see them in the areas you are swimming or paddling through!
There are several companies in the area that rent kayaks, paddle boards, and tubes that are perfect for enjoying Crystal River area. Rent a kayak and explore the rivers in the area! Kayaking is a great way to explore the various river runs and less crowded areas.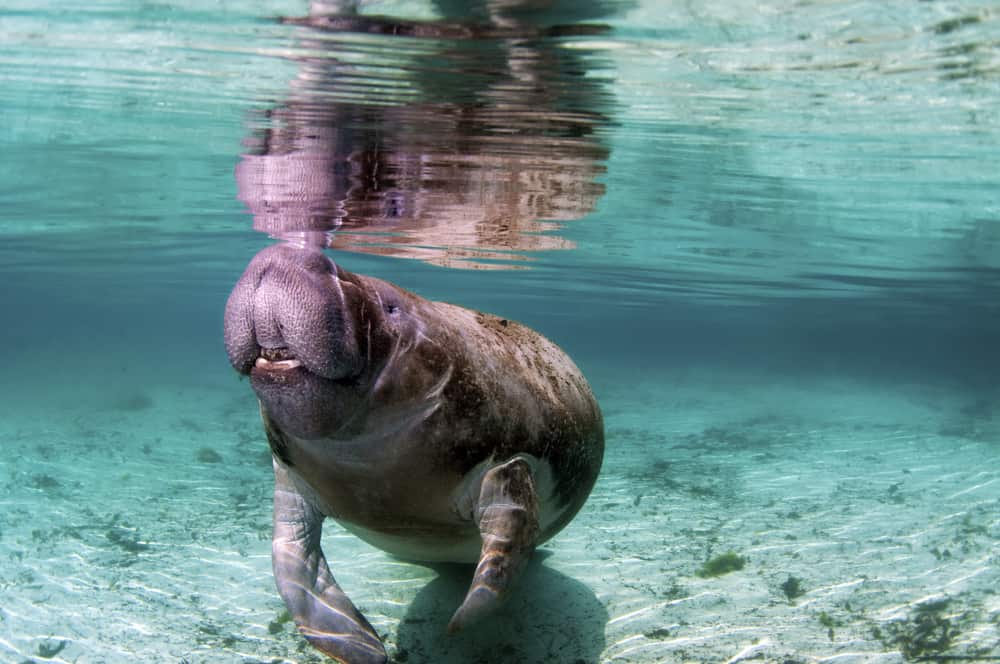 Crystal River Preserve State Park
Crystal River Preserve State Park is one of the places to go in Crystal River to discover the biodiversity of Crystal River area. This 27,500 acre preserve features fresh spring fed rivers, salt water Gulf of Mexico, hardwood forests, mag, and more all in one area. Plus, it is one of the free things to do in Crystal River Florida.
For outdoor adventures, you can hike the eco-walk 2 mile look that has 11 discovery zones to teach about the trail. Or bike the seven mile loop trail to explore each of the biodiverse ecosystems within the preserve. It is almost like you are stepping back in time in this undeveloped area of land.
There is an option twice a month on Friday evenings to take a sunset cruise from the casters center dock for $25 for adults and $15 for children where refreshments and snacks are provided.
Copp Winery and Brewery
For those looking for things to do in Crystal River for adults a trip to Copp Winery and Brewery is a must! Located in historic area of Crystal river this is actually the only winery in florida that doubles as a brew-pub! Opened in 2007, all wines are hand crafted on site by winemaker Donna Copp they began producing beer in 2011.
This is the place to come in Crystal River for those looking to unwind with local made wine and beer in a relaxing environment. Best of all you can take a growler or two to enjoy at home or on the boat! Closed on Monday and Tuesday, they are open rest of the week in the afternoons and evenings. Check out their Facebook page for updates and specials!
For wine lovers, head here for the wine tasting sampler of 3 wines for only $3! Why not try them all. From traditional wines to the famous apple and cranberry wine, citrus mango white wine, or a açaí berry red! Beers on tap include Southern Grit pint for $4, an English ESB, a Canadian Creeper, and Roggenbier style.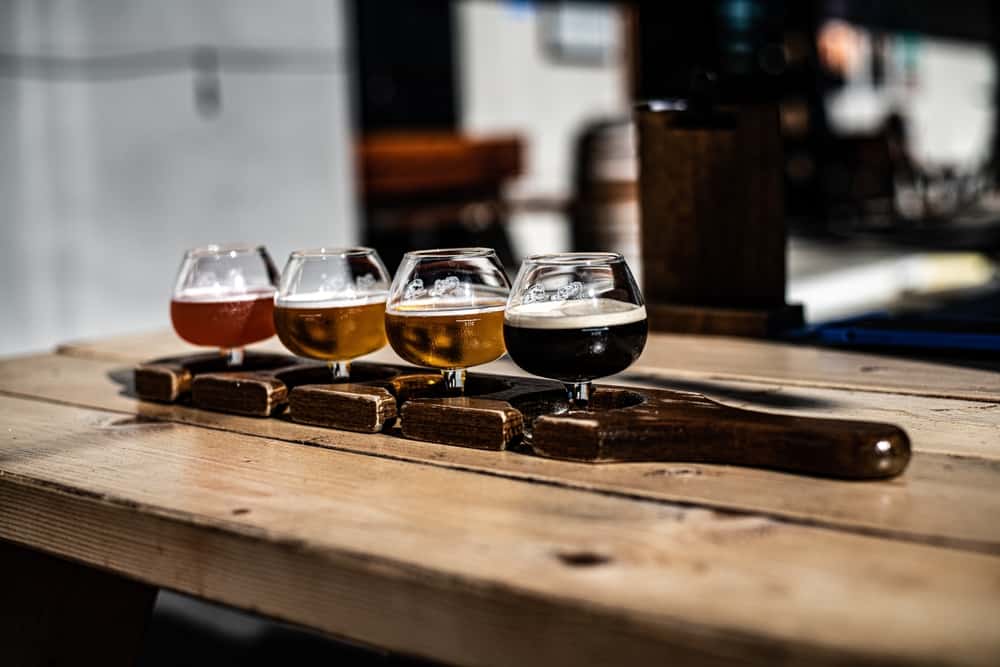 Fort Island Gulf Beach
If on your list of what to do in Crystal River is a fun beach day, you will want to head to Fort Island Gulf Beach. Here you will find a large sandy beach, with an area of fish, a pier and boardwalk and a boat ramp.
Featuring all the amenities you could want from bathrooms, showers, picnic tables, a grass area and free parking! Enjoy the Gulf of Mexico and Crystal River. In the swimming area you can snorkel, paddle board or kayak the beautiful water.
The beach area is located at the very end of the Fort Island Trail, with over 1000 feet of beach with calm water and lifeguards making it the perfect family day.
Scalloping
For those visiting Crystal River Florida during the summer months, scalloping is a very family friendly Crystal River activity. Best of all you will only need a mask and snorkel to start, and many local restaurants will cook your catch for you!
The scalloping season runs from July until early September. There is a limit to 2 gallons of scallops per person per day! There are plenty of chartered trips offering visitors the opportunity to enjoy scalloping.
If you are unsure what scalloping entails, it is often described as an underwater Easter egg hunt. Scallops love the grassy bottom of the ocean, and as you float along the top of the water all you have to do is pick them up and place them in your dive bag.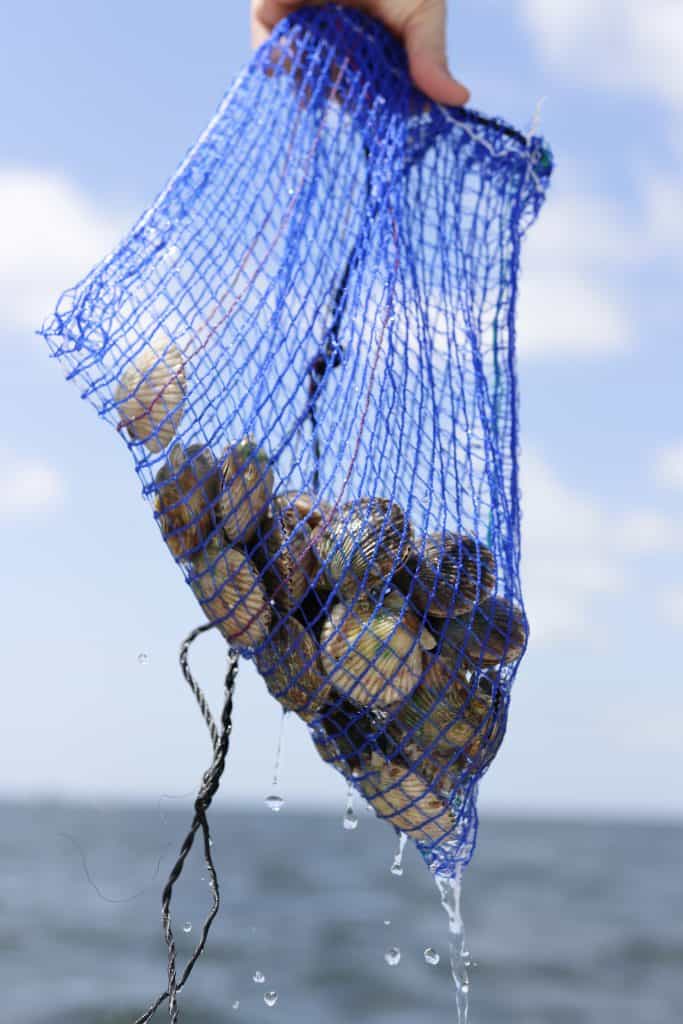 Coastal Heritage Museum
The Coastal Heritage is one of the Crystal River activities for those looking to learn about the history of Citrus County. Located in the old city hall building the museum features exhibits and pieces from the history of area. This is another of the free things to do in Crystal River Florida, and is open Wednesday to Saturday from 11 am to 3 pm.
For families looking for educational places to go in Crystal River for kids, the museum will show what pioneer life was like. Step into the jail room, browse pictures of the area from different time periods, or visit the museum store to take home a memory of the area!
Crackers Bar and Grill
Crackers Bar and Grill needs to be on your places to go in Crystal River for dining. After a day of exploring all that Crystal River has to offer, Crackers offers waterfront dining serving fresh seafood and live music! There is a large wooden dock area perfect for enjoying the view while dining al Fresco.
Live music is performed on the weekends under the tiki hut while you dine on casual and fresh seafood. Try the gulf grouper fingers, scallops, fish dip, gator bites and more. They also serve burgers, salads, fish tacos, chicken sandwich and the Cracker's club!
Ellie Schiller Homosassa Springs Wildlife State Park
Ellie Schiller Homosassa Springs Wildlife State Park is one of the best places to go in Crystal River for those looking to see wildlife. Here you will be able to see manatees, endangered Florida panther, hoping cranes, bears, bobcats, wolfs, assorted fish and gators!
The park is open daily from 9 am to 5:30 pm and admission is $13 for adults, $5 for children 6 to 12, and free for those under 5.
There is a paved trail and boardwalk perfect for those in wheelchairs or strollers that want to explore the natural habitat of wild animals. There is also a fish bowl underwater observatory that gives a close up view of the manatees on a live feed tv screen. For those into birding walk along the Great Florida Birding Trail.
There is a restaurant located at the parks entrance – called Wildside cafe with indoor and outdoor dinging area.