Are you looking for the best things to do in Marco Island? You've come to the right place!
The largest of 10,000 Islands, the mangrove-lined estuaries of Marco Island lie just south of Naples. Because of their location on the Gulf of Mexico, Marco Island's beaches and surrounding sandbars offer some of the best shelling in Florida, if not the world.
Perfect for a spot of fishing, you can reel in snook, tarpon, and trout. After that, visit the weekly Farmer's Market to snag local ingredients to create a true Gulf Coast meal!
Marco Island has a rich history as the home of the remnants of the Caxambas Clam Colony and the Witch Watchtower. Once inhabited by the Calusa Native Americans, you can explore their history on many historical sites around the island.
With community parks, nature preserves, festivals, and museums, there's something for everyone to enjoy! So if you're still trying to decide on what to do in Marco Island, check out our suggestions!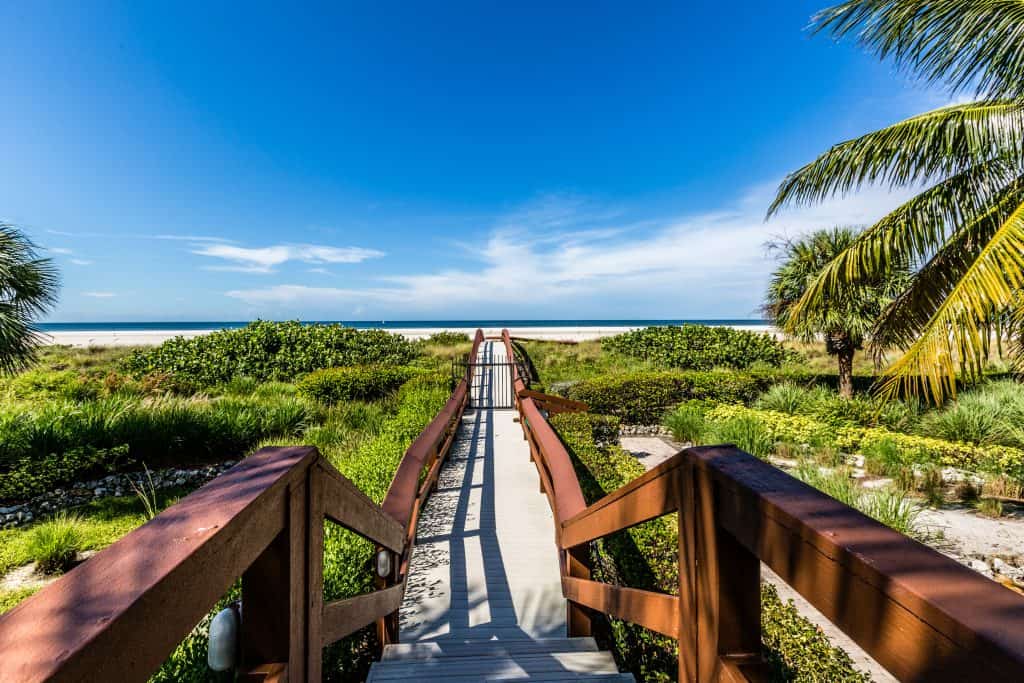 16 Very Best Things To Do In Marco Island
Marco Island Historical Museum
It's always nice to learn about the area you're visiting. To learn more about the island's past, head to the Historical Museum, one of the best things to do in Marco Island.
Since its doors opened in 2010, the Marco Island Historical Museum has been exploring and educating about the area's indigenous Calusa tribe. You'll get to see what life in Florida was like long before colonizers arrived.
Unearthed from archeological digs, artifacts are displayed from as early as the late 1800s. One room has been transformed completely into a life-size replica display of a Calusa village.
Other permanent exhibits chronicle the area's history from its beginnings as a Native American settlement, a fishing village, a pineapple plantation, and a clam cannery until rapid expansion began in the 1960s.
Make sure to take a few moments to relax on the grounds of the complex. Landscaped with ponds, waterfalls, and native plants, take a seat in the gazebo, where you can see a large bronze replica of the "Key Marco Cat."
Check the Museum Gift Shop for daily selections added to the lineup. Look out for artwork, jewelry, clothing, local and regional historical books, and many souvenirs to take home.
In the museum complex, you'll also find the beautiful Rose History Auditorium where seminars may be given. The facility is also available to rent for a variety of public functions.
Florida Domes
For one of the more unique Marco Island activities, check out the Florida Domes. Once the home of a millionaire seeking the serene beach life, these unusual-looking domes now provide shelter for birds and aquatic life off the Gulf Coast.
The domes are only accessible by boat and are now part of a wildlife preserve. Years of erosion have slowly engulfed this structure and it is nearly fully reclaimed by the sea. But although the interior of the home is now beneath the water, it makes an artificial reef for fish! (You might spot some locals using it as a fishing spot.)
Located in Cape Romano, this hidden gem is one of the best things to do near Marco Island. It definitely is a sight to see and provides a great glimpse into the power of nature and climate change.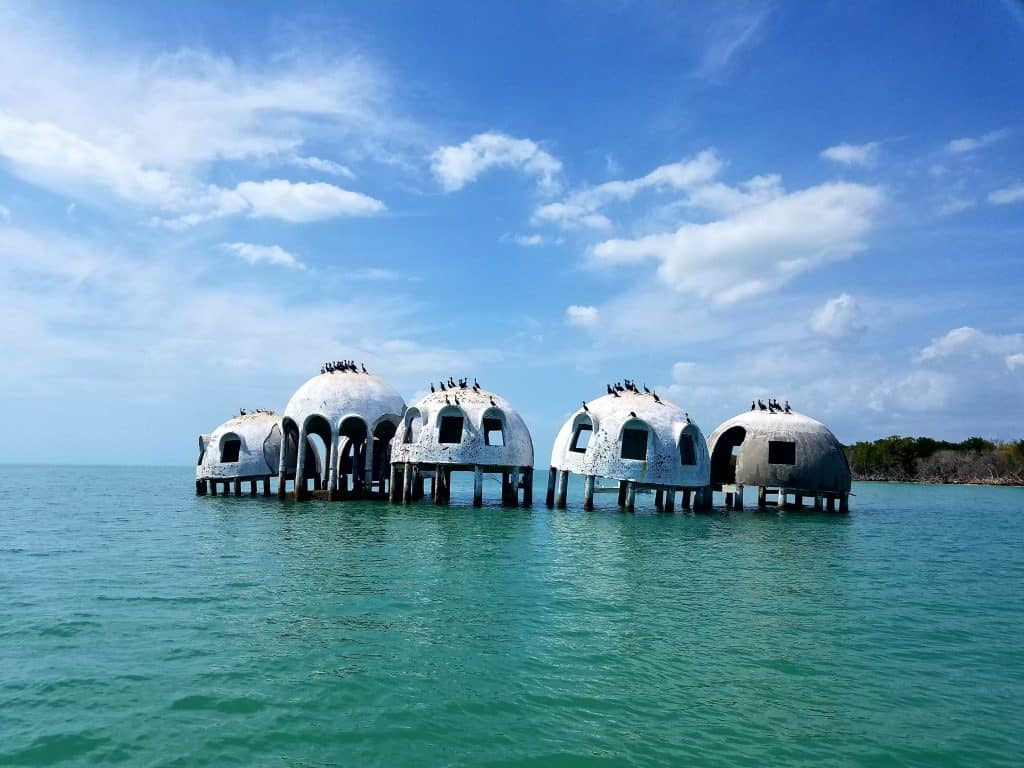 Otter Mound Preserve
Known to locals as Indian Hills, head to Otter Mound Preserve to relax and see Marco Island's history in nature. One of the best things to do in Marco Island, at Otter Mound Preserve you'll see a midden created by the Calusa.
For hundreds of years on what is now Marco Island, the Calusa Native Americans piled all the discarded shells from their meals. The huge heap of shells once grew to cover over 80 acres.
Even after a tropical hardwood hammock grew over the mound, archeologists were able to unearth ceramics, bones, and stone tools, and all of them were well-preserved.
Today, visitors can visit the 2.5-acre preserve and walk the shady hiking trails through gumbo limbo, strangler figs, and yellow elder trees. Look out for native Florida wildlife like opossums, armadillos, and the occasional bobcat.
Keewaydin Island
If you're looking for a private beach escape, head to Keewaydin Island. One of the best things to do in Marco Island, treat yourself to a mini-vacation!
Only reachable by boat, Keewaydin Island makes the list as one of the best beaches in Naples with nearly 8 miles of untouched, pristine beach. 80% of the land is untouched while the rest is dotted with private homes.
To get to one of the most beautiful islands in Florida, you'll have to catch a ride on the Hemingway Water Shuttle. The shuttle departs seven times a day daily for drop-off and pick-up.
Otherwise, you can rent a boat from the marinas in Naples and on Marco Island. Several sightseeing boat tours also make a stop here because it is great for shelling!
If you want to bring your furry friend along to the beach, you're in luck! The Hemingway Water Shuttle and Keewaydin Island are both pet-friendly! Parks and Recreation only ask that you clean up after your pet and keep them on a leash at all times.
Keep in mind that Keewaydin is undeveloped, so there are no restrooms or shower facilities. So plan accordingly!
You have the option of packing a cooler to bring with you, but you can also catch the "Burger Barge." Dropping anchor on the east side of the island, you can grab hot dogs, sandwiches, ice cream, and frosty beers!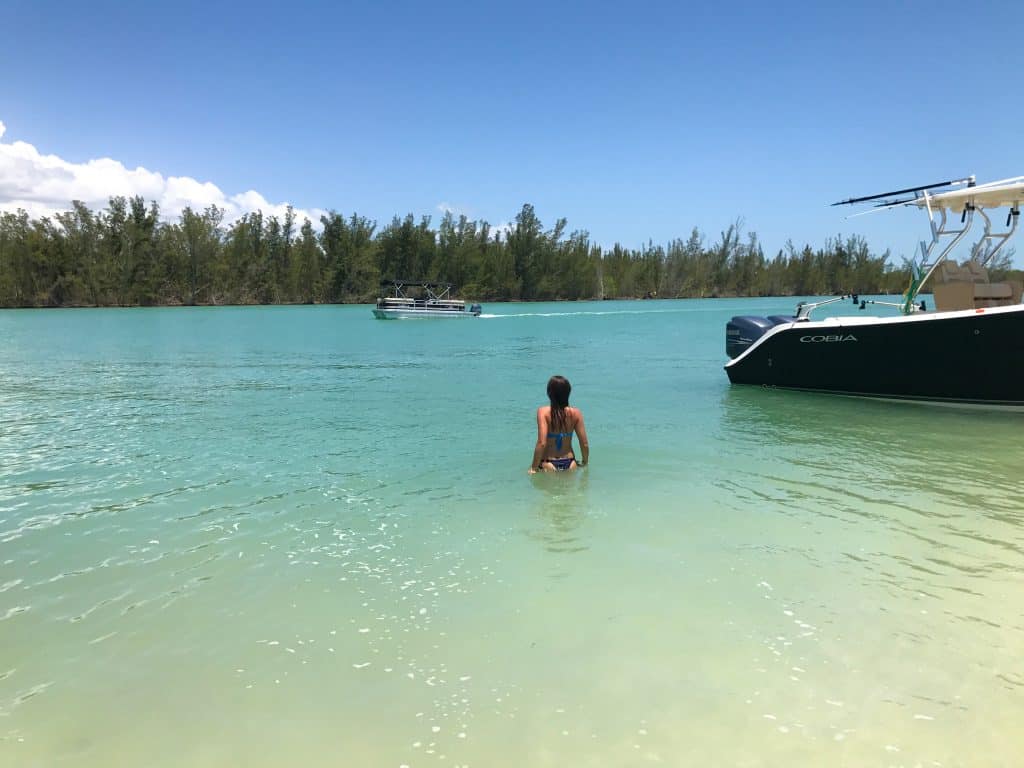 Frank E. Mackle Jr. Community Park
Known to locals as Mackle Park, this is one of the best things to do in Marco Island. Putting the park in "Parks and Recreation," Mackle Park has something for everyone!
Welcoming Florida families for over 20 years, Mackle Park resembles the idyllic community parks you see on television. With many Marco Island attractions, you'll always see families out on the grounds.
A gigantic lawn can host a multitude of outdoor sporting activities including ping-pong, walking, jogging, shuffleboard, and also "lawn bowling" or bocce.
In the middle of the park sits a small, manmade lake. At the center, a series of fountains spray water. Paved walkways circle the lake. Enjoy catch and release fishing or sitting on the benches to people-watch.
In Kid's Cove, you'll find a colorful impressive play area. Children will love the rock-climbing wall, swings and slides, and even a splash water park with jets for cooling off during the summer months.
There are always events happening at the park, a community hub. Check the calendar to find everything including Movies in the Park, Easter Egg hunts, visits from Santa, arts and crafts festivals, and more!
Make sure to make use of the games room in the Mackle Park Community Center! It has billiards tables, an X-Box, foosball tables, ping-pong tables, and even a gymnastics area!
Shelling Tours
If you've ever been to the beaches of Sanibel Island, then you're familiar with the "Sanibel Stoop." you can take a charter boat tour to reclaim it as the "Marco Island Stoop!"
While not as plentiful as Sanibel, the beaches of Marco Island are plenty good for shelling! In fact, shell seekers and collectors flock here from all over the world!
Marco Island is part of the expansive Ten Thousand Islands. Made up of mangrove forests, sandbars, and barrier islands, there are too many shelling spots to choose from!
When you take a shelling tour, you don't have to worry about finding the secret shelling shores! You don't have to worry about lugging all your stuff to and from the beach, either! Let the crew handle the heavy work and just take you to the fun!
It's not just shelling, you'll enjoy seeing the gorgeous natural flora, pristine sands, and glistening ocean waters. Keep your eyes peeled, you might even see a dolphin jumping many feet into the air right next to your boat.
Of all the tours on Marco Island, we recommend Sand Dollar Shelling. Not only do they offer shelling tours, but also dolphin and fishing tours!
Sand Dollar Shelling has also found more Junonia Shells than any other company. Those that know about shells will know the Junonia is the most coveted, valuable shell, incredibly difficult to find.
Make sure to check out some of our favorite Beach Resorts on Marco Island!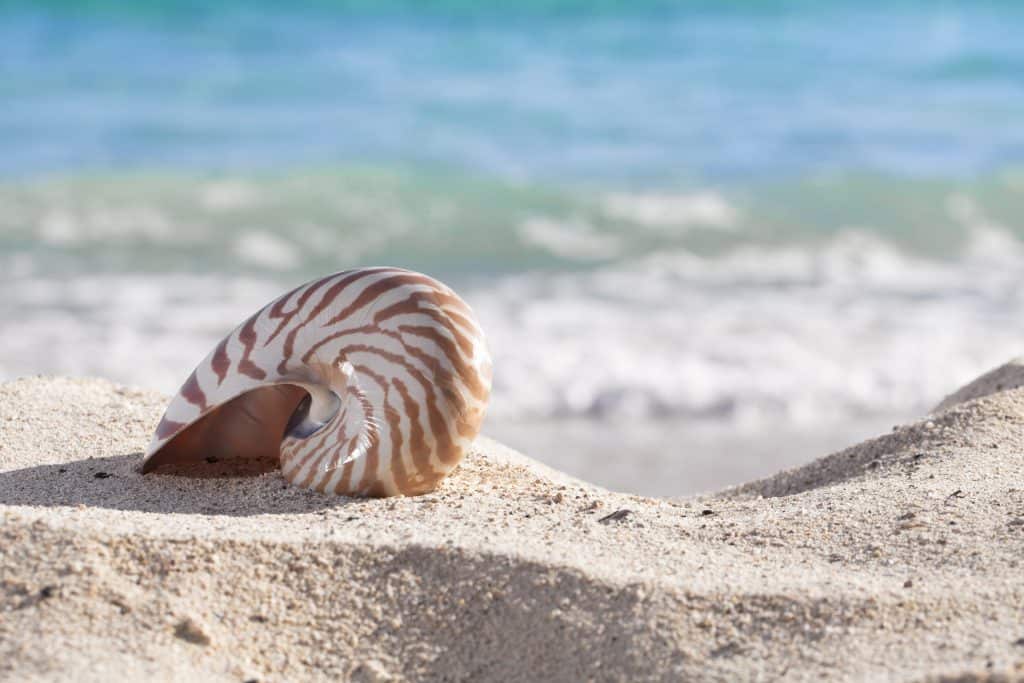 Marco Island Farmers Market
For one of the best seasonal festivals in Florida, you can't beat the Marco Island Farmers Market. Running on Wednesdays from mid-November to mid-April, discover one of the best Marco island activities.
From 7:30 AM – 1:00 PM every Wednesday, you'll find a fresh slice of Florida paradise. Not only will you be visiting one of the best Farmers Markets in Florida, you'll also be able to support your local businesses, farmers, and artists.
One of the best things to do on Marco Island with kids, there is something for everyone to enjoy when you browse the booths and stands. From housewares to edible treats and from flowers to crafts, it will be hard to leave with only what you need.
Vendors sell wares like fresh fruits, garden vegetables, herbs, fresh flowers, seafood, baked goods, honey, sauces, kettle popcorn, chocolates, soaps, exotic jewelry, and art!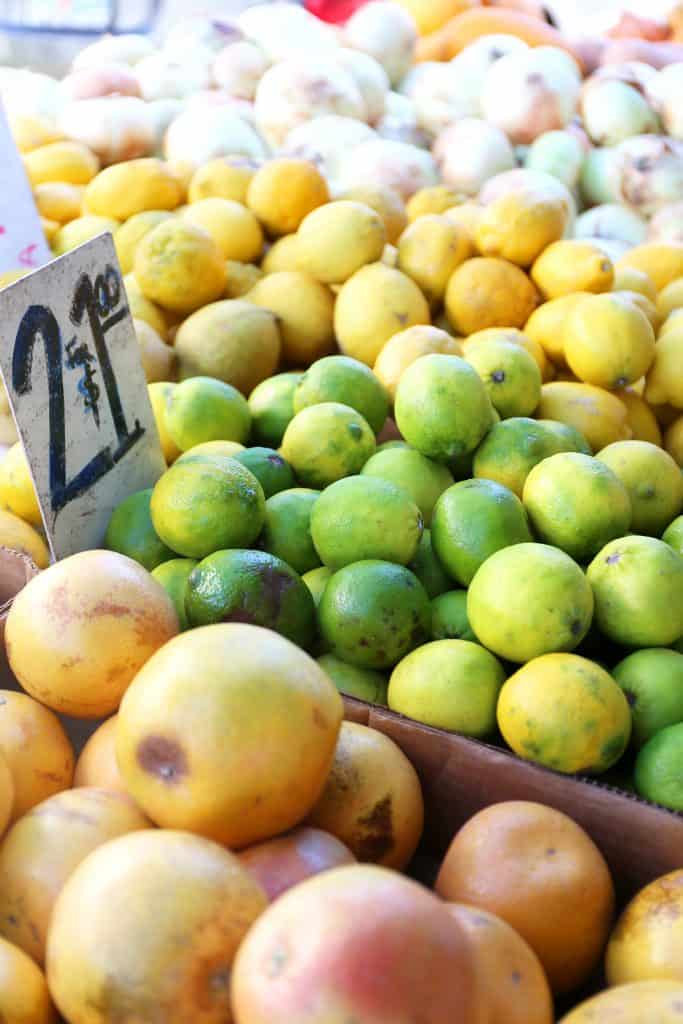 Hibiscus Golf Club
Did you know that there are over 90 golf courses in the Marco Island area? This is why people love to retire here! Unfortunately, only 30 are open to the public. One of the best golf courses in Florida is the Hibiscus Golf Club, and hitting the tees there is one of the best things to do near Marco Island.
Hibiscus Golf Club's 18 holes cater to high and low handicap golfers. Here you'll find wide fairways, bunkered greens, and numerous lakes and streams. 18 holes run you $45, while 9 holes will only run you $25.
The club also offers instruction via Dennis Meyer's Golf School. A PGA professional, Meyer was named Teacher of the Year in 1999 and 2016. He offers instruction to novices and advanced players! You'll practice on one of the few private practice facilities in the state.
After you're done golfing, relax at Erin's Isle Restaurant and Lounge. You'll come for the green but stay for the ambiance. Enjoy brunch specials and happy hour with nightly entertainment!
Tin City
If you're looking for some retail therapy, then visit Tin City, one of the best things to do in Marco Island. For a more eclectic and obscure shopping experience, Tin City is waiting for you!
An open-air specialty shopping district, you can easily spend your entire day exploring all of Tin City. Waterfront shops are divided into four buildings where you'll find food, crafts, antiques, seashells, wine, mood rings, and more!
Tin City is the perfect place to grab a souvenir for your family back home or a swimsuit to hit the beach right afterward! (To test out that new swimsuit, hit up Cruise Naples to get a boat tour of Naples or charter your own boat!)
While there are 30 boutiques at Tin City, that's not all they have to do. Visit 1500 South, by celebrity chef Art Smith, for Southern fare, cocktails, and wine. Then head back to enjoy a frozen treat at Tin City's ice cream parlor.
Tin City has a partnership with Slidr. Scooters and shuttles are available if you plan on drinking and want safe free transportation!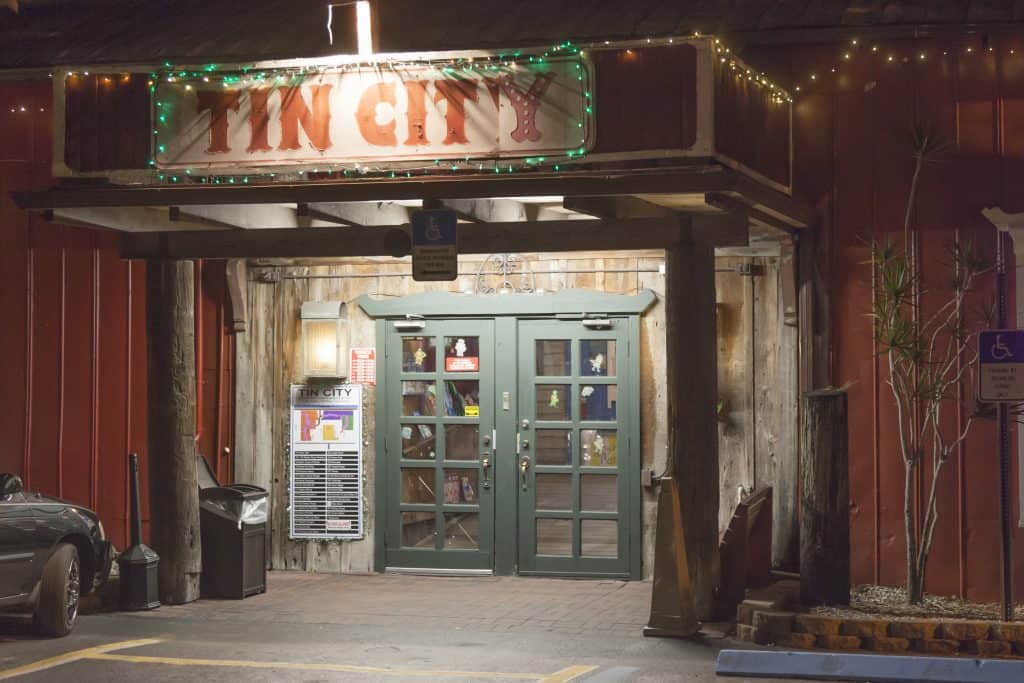 Captain Horr's Pineapple Plantation Historic Site
You'll find many different attractions and historic sites, but to see history up close, you need to check out Captain Horr's Pineapple Plantation. One of the most exciting things to do in Marco Island, explore a 19th-century plantation house!
Visiting Captain Horr's Plantation is the best way to explore the deep and rich history of Marco Island. Horr remains the most important modern contributor to the development of the island!
Both the former vacation home and the surrounding grounds are available to tour. Captain John Horr built the home in 1877 upon the ancient shell mounds.
You will have to go through a gated community to access the historic site, but don't worry. Just ask for a pass and you will be let in to see the ruins! You'll also notice the pineapple has become a welcoming symbol of their local community.
Fifth Avenue South
If you're looking for high-end shopping, head to Fifth Avenue South just a short drive north to Naples. One of the nation's most exclusive addresses, here you'll find the eclectic shopping experience that catapulted the area to fame.
Stretching from Tamiami Trail to the Gulf of Mexico in Old Naples, Fifth Avenue South's historic and modern architecture meet. The result? A blend of a glamorous but still laid-back vibe.
Among the shops on Fifth Avenue South, you'll find fashion boutiques, custom jewelry stores, fine-dining options, and entertainment. The art galleries here helped Naples become the #1 small arts town in America.
We personally love stepping into Lovejoy Antiques, where you never know what great find is just around the corner. Then Alberto's on Fifth always hits the spot for a fine, Italian meal. After dinner, check out art galleries like Cocoon or Roots Studio!
Fifth Avenue South also hosts some of the best events in the area! Evenings on Fifth showcase a variety of live musical performances on the sidewalks. During the annual Christmas Walk, enjoy the tree lighting ceremony and long-table dining in the streets!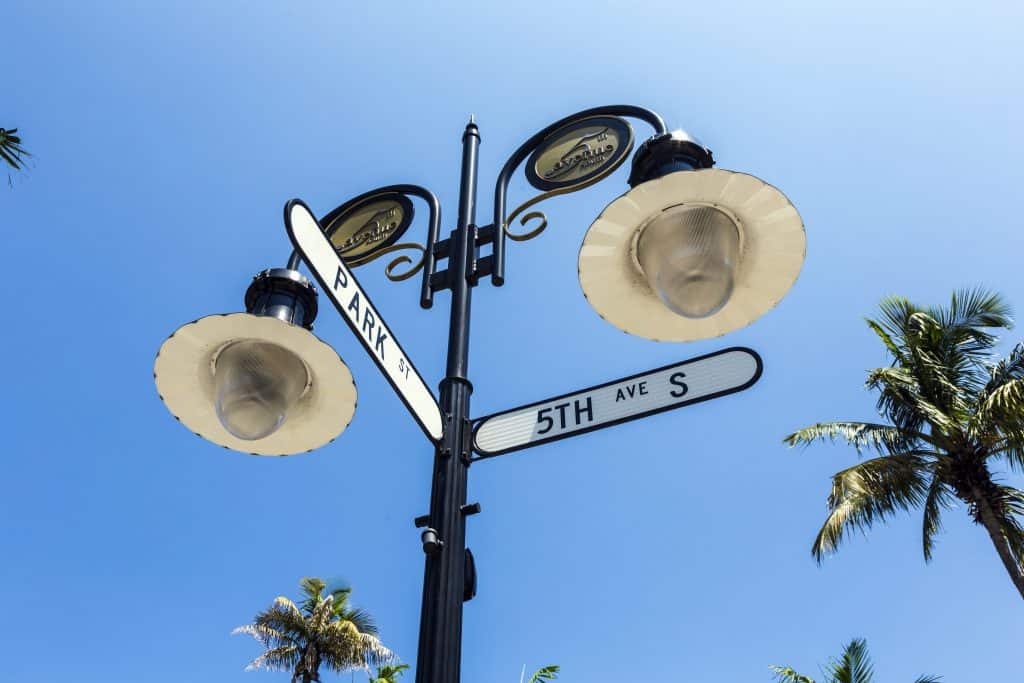 Everglades National Park
Often compared to a grassy, slow-moving river, the Everglades National Park is one of the best National Parks in Florida with 1.5 million acres of coastal mangroves, sawgrass marshes, and pinewood flats.
Because the Everglades are so expansive, a wide variety of wildlife makes the marshes and swamps their home. You'll find everything here from the endangered Leatherback turtle, Florida panthers, and manatees. The Everglades is one of the best places to see wild alligators in Florida, as well.
Because the park is so huge, there are three separate entrances in three different cities. For the purposes of this article, we'll be discussing the entrance in Collier County.
Take exit 80 from State Road 29 and drive for about 20 miles to reach the Gulf Coast Visitor Center. The park's western salt-water gateway should be your first stop to get oriented with the attractions in this area.
Climb atop Shark Valley's 65-foot observation tower for a bird's eye view of the land. Paddle through the mangrove forests in the Nine-mile pond. Or simply take an easy hike along the Anhinga Trail to see turtles and herons!
Make sure you bring your own water and snacks and leave nothing but footprints. You must arrive by car as many of the Everglades' points of interest are many miles apart!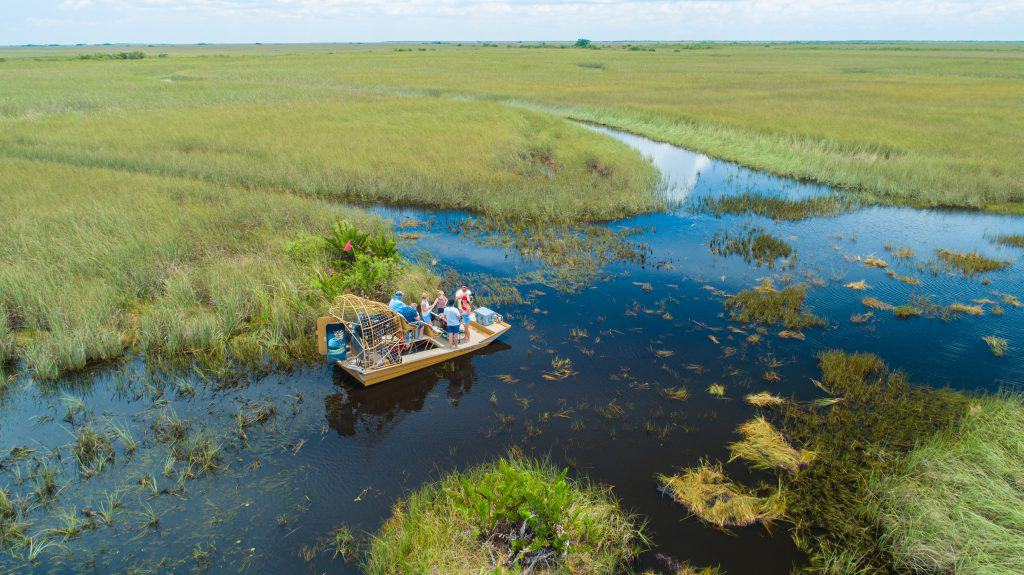 Marco Island Brewery
When it's time to abandon the kids to grab some adult beverages, head to Marco Island Brewery. More than just another brewery, enjoy one of the most fun things to do in Marco Island.
Owned and operated by the LaCava Family and Jones Restaurant Group, this brewery feels as much like a family-friendly restaurant as it does a beer house. Taste Marco Island Brewery's signature bottled beer label!
Guests will find a vast selection of beers on tap, 40 flat-screen TVs, and creative pub grub. This spot can't be beaten as it's Marco Island's largest sports bar with full-service bars indoor and outdoors.
Craft beer is incredibly popular with the Marco Island residents and the proof is in the tap selection. Over 40 different beers are available on tap and by-the-bottle from all around the globe.
The menu features dishes always made fresh including everything from pizzas and sandwiches to local grouper and homemade meatballs. The menu bursts with flavor!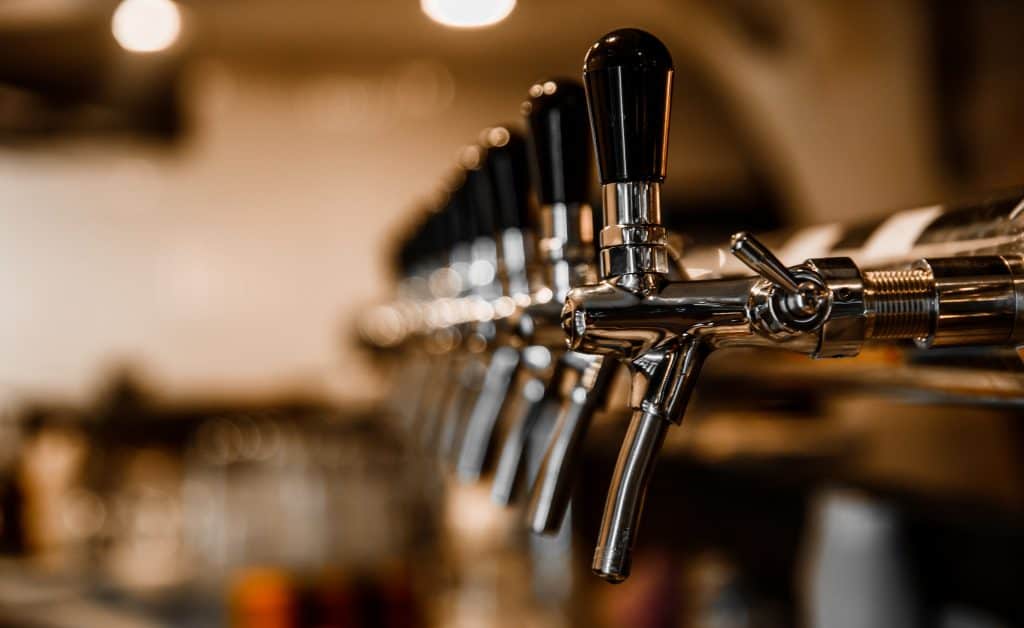 Marco Island Seafood and Music Festival
If you're heading to Marco Island for a weekend getaway, try to coincide your trip with the Marco Island Seafood and Music Festival! One of the best things to do in Marco Island, you'll get a full weekend of fun!
Held in Veterans Park, the Marco Island Seafood and Music Festival takes place on a Friday through Sunday weekend in March. The weather begins to get warm from winter in Florida, so the festival is held late in the month.
In addition to a music festival featuring the best local and regional talent, all your seafood specialty favorites will be available! Indulge in grouper, crab cakes, stone crab claws, shrimp, crawdads, chowder, and more!
Landlubbers, never fear, there's always an assortment of foods that aren't fish for those with shellfish allergies! Don't forget a variety of beer and wine to quench your thirst!
You'll also love the vendors that sell arts and crafts! But spend your money wisely, there were over 60 vendors last year, and there are bound to be more in the years to come!
Deposit your children in the kid's zone to expend their energy! They'll have a blast on the bounce house, slide, rock-climbing wall, and trampoline!
Admission to the Marco Island Seafood and Music Festival is $10 per day and $16 for the entire weekend. Kids under 12 enter free!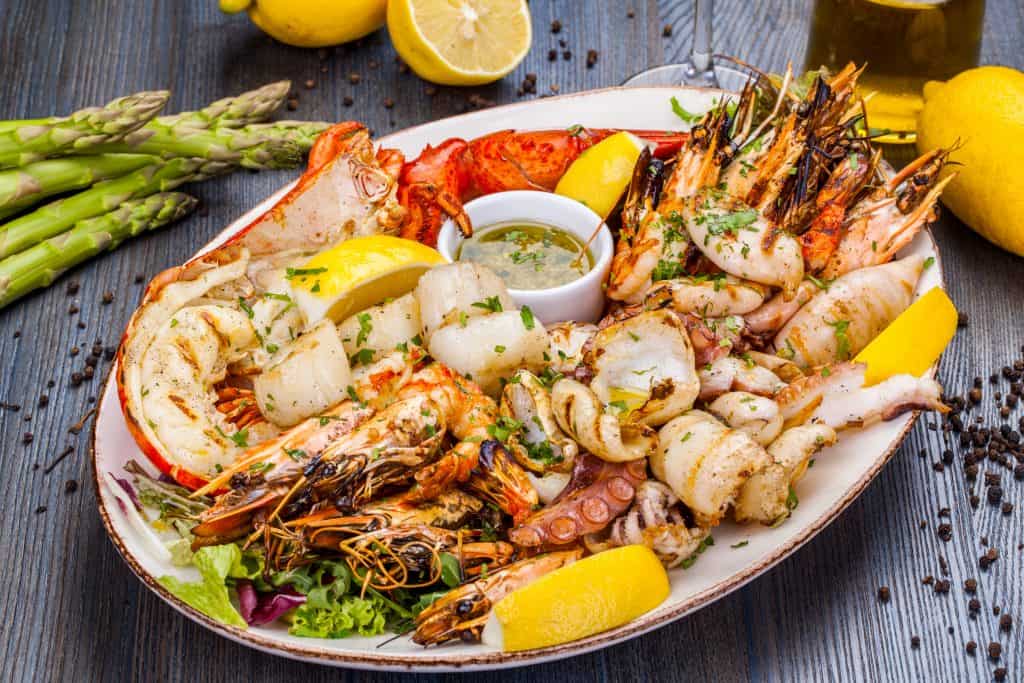 Tigertail Beach
For a bit of adventure, one of the best things to do in Marco Island is to find your way to Tigertail Beach. Located on the northwest corner of the island, Tigertail Beach was once a sandbar but is now one of the lesser-known best beaches in southwest Florida.
When you arrive at the parking lot of Tigertail Beach you'll find a concession stand, playground, and restrooms. You can rent kayaks and standup paddleboards on which to paddle around the beautiful blue water. "But where is the beach?" you may ask.
The trick to getting to Tigertail Beach is that you have to wade through a lagoon before you reach the three miles of beautiful, white sand. Be prepared to get wet; depending on how high the tide is, you may have to hold your stuff above your head! The payoff though is a lovely beach prime for shelling, and where you might even see dolphins swimming offshore.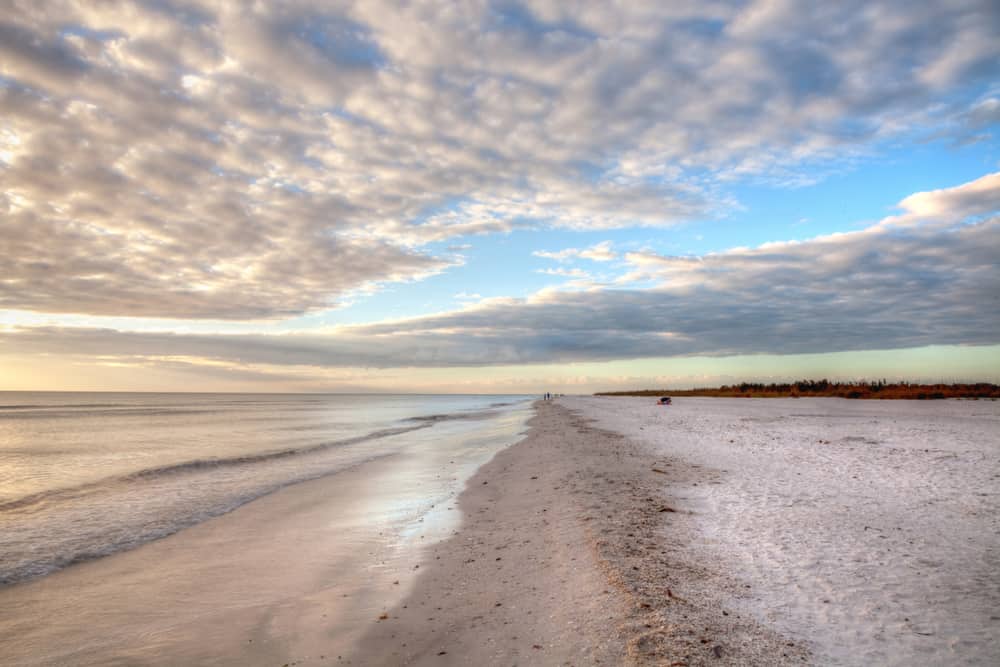 Briggs Nature Center
One of the best things to do in Marco Island for nature lovers is to take a walk along the boardwalk at Briggs Nature Center. Just a fifteen-minute drive north from Marco Island will bring you to this nature preserve for some peace and quiet.
Discover the different ecosystems within Marco Island, from mangroves to marshes, as you wander the 0.6-mile loop. There are benches along the way if you need to rest or want to watch for wildlife.
Briggs Nature Center is committed to preserving habitats for Florida's natural wildlife. On your walk, you might see turtles, ospreys, and eagles. Make sure to stay on the elevated trail, as there may be alligators in the water as well!
Snook Inn
While Marco Island has plenty of beachside bars and restaurants at which you can kick back, at the north end of the island you'll find the longtime establishment of Snook Inn. Having a drink or a meal there is one of the best things to do on Marco Island if you want to feel like a local! (If you have a boat you can pull right up to the dock.)
Serving up seafood classics and island specialties, Snook Inn is known for its grouper sandwich, snook platter, coconut rice, and their complimentary salad bar, as well as iTS fun atmosphere. Enjoy delicious drinks like frozen margaritas and rum runners, especially at happy hour.
Established over thirty years ago, Snook Inn has become a Marco Island landmark. They have indoor and outdoor seating right on the Marco River. Watch boats (and possibly dolphins) go by, watch the sunset, and enjoy live music every night!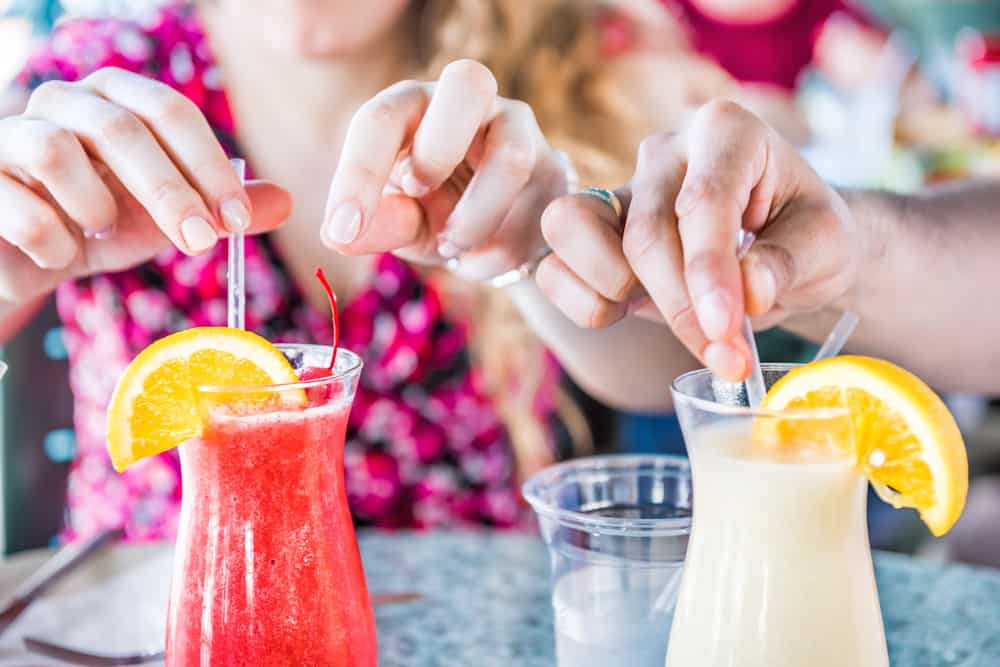 Marco Island Center for the Arts
For art lovers, or anyone who just needs a little bit of culture, one of the best things to do in Marco Island is to visit the Marco Island Center for the Arts. This colorful art center on Winterberry Drive features monthly exhibits of visual art, with receptions on each second Tuesday of each month.
Marco Island Center for the Arts' mission is "to promote education and appreciation of the arts". Because of this, the art center is open daily and is free to visit.
Not only can you view art by local artists, but you can learn how to become one yourself! Marco Island Center for the Arts offers many classes for both adults and children, in many different mediums, including clay, paints, drawing, and stone.
If you have some budding artists, it's one of the fun things to do in Marco Island with kids!
Dolphin Tour
There are several spots on Marco Island where you might see dolphins, but if you want to make sure you see these lovable creatures, try taking a dolphin tour! It's one of the best things to do in Marco Island for animal lovers.
Board a small tour boat and discover the Ten Thousand Islands National Wildlife Refuge. There you'll meet a resident pod of bottlenose dolphins, from a respectful distance, in their natural habitat.
You might also see manatees, stingrays, and sea turtles as well!
As a bonus stop on your tour, you'll be able to stop at a barrier island where you can go for a swim, relax on the sand, and take in the natural beauty around you.
A dolphin tour is one of those activities in Marco Island that is sure to create lasting memories!
Book here: Marco Island: Guided Dolphin Tour with Beach Stop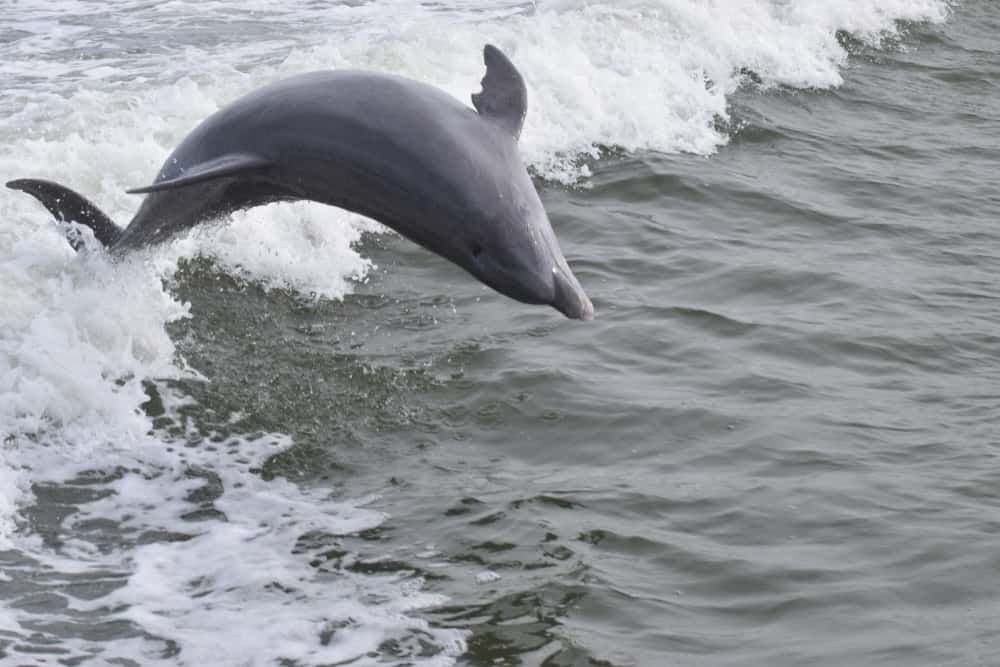 Sunset Cruise
One of the best things to do in Marco Island for couples is to go on a sunset cruise! For a romantic evening, book a sunset dinner cruise and spend several hours on the water as you wine and dine and watch the sunset over the Gulf of Mexico.
One of the most well-known of these sunset cruises in Marco Island is the Marco Island Princess, on which you can enjoy a lunch or dinner cruise. Meals are prepared on board, and there are two cash bars.
For another fun sunset cruise, catch a ride on a catamaran, like "Cool Beans" based out of Naples. Enjoy glasses of champagne as you take in the views, setting sun, and local wildlife.
Times for sunset cruises vary, depending on the time of year, so be sure to check their schedules.
Book here: Sightseeing and Sunset Catamaran Sailing Excursion
Did You Find This Post Helpful?
If so, we would love to keep in touch! We enjoy seeing photos and comments about your experiences in Florida! You can follow us on Instagram and we will repost your photos on our feed and comment too! Just tag us at @floridatrippers and hashtag #floridatrippers. We can't wait to see your travels!