When you think of wine, your mind might go to California and Oregon, but did you know that there are beautiful wineries in Florida you can visit today?
Visiting a winery and taking a tour of the vineyards is a perfect way to escape the big crowds. Especially if you live in a big city, a winery will take the hustle and bustle out of the equation.
If you're over 21, a visit to any of the wineries in Florida will offer you wine tastings. You'll have a chance to get a close-up, in-depth look at the wine and the people who created it. You'll also learn about the vineyard in which the grapes were grown.
While some wineries in Florida offer food, the ones that don't will allow you to pack a picnic and eat on their porch. After your tasting, buy a bottle, sit on the deck and soak in the beauty of the surrounding vineyard!
After a visit to some of these wineries, you'll emerge a new-found oenophile! You will be a connoisseur of fine wine and can even impress friends and family with your newfound knowledge. Perfect for a day trip or even a romantic date night, discover the beauty of vineyards in Florida.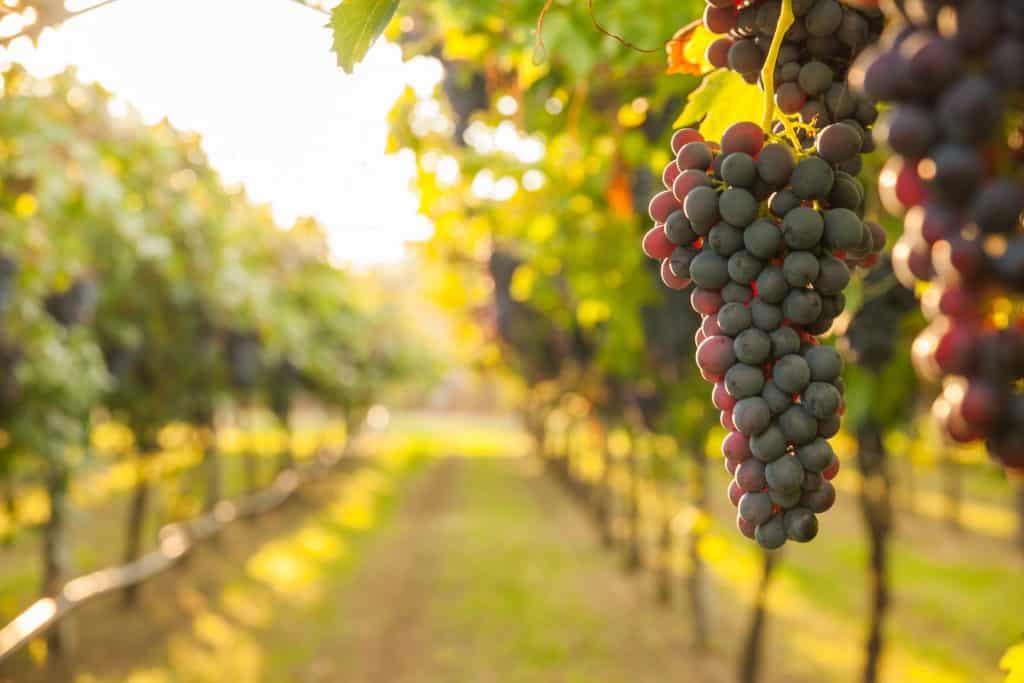 10 Beautiful Vineyards And Wineries In Florida
Chautauqua Winery
DeFuniak Springs holds a notable place in Florida's history. Once an education hub with many Victorian structures still standing, this charming small town is home to one of the best wineries in Florida!
Chautauqua Vineyards spans over 50 acres and is Florida Farm Winery Certified! The wine comes from Carlos Muscadine and Noble Muscadine grapes, growing since 1979!
Arrive during the harvest season from late August to September to wander through ten rows of wine. Spend a perfect fall in Florida day picking actual grapes from the vine for free and pop them into your mouth!
Chautauqua Vineyards allows persons under the age of 21, although they will be served juices! Pets are also welcome, but are required to be leashed or held. Make sure to check out the gift shop and the tasting bar that overlooks the stainless vats where the wine is made.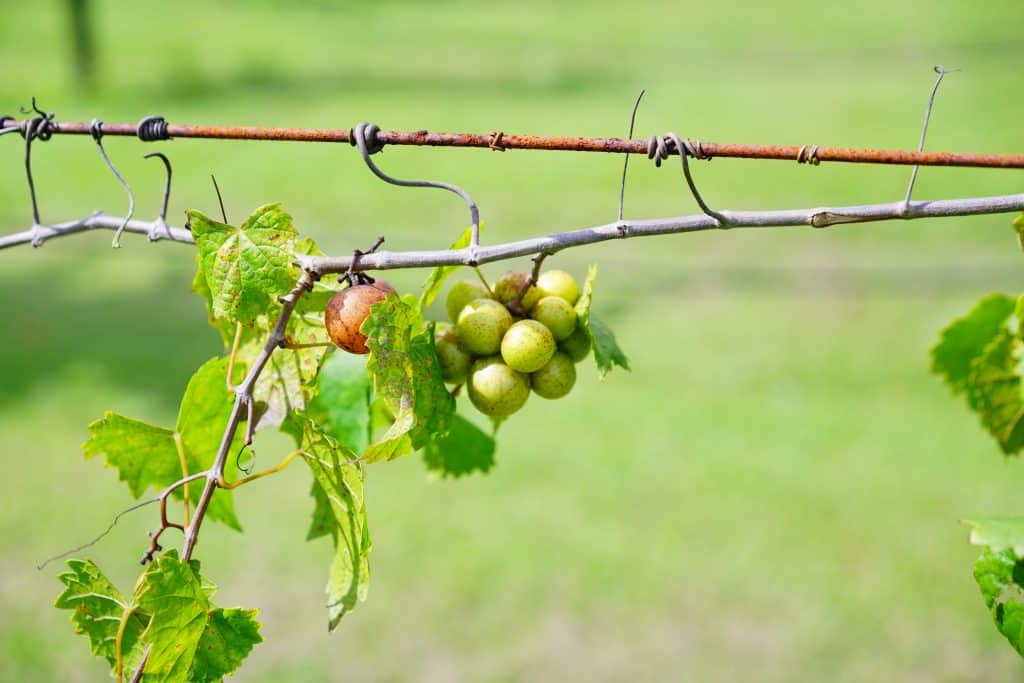 San Sebastian Winery
In downtown historic St. Augustine, you can find one of the best wineries in Florida in an old East Coast Railway building. Founded in 1996, San Sebastian Winery creates American wine, whose practices date back to 1562.
When you arrive at San Sebastian, you will first watch a short movie before embarking on a guided walking tour. Through the 18,000 square-foot facility, you will discover the art of winemaking. The 5,000 gallon stainless steel tanks will tower next to you as they ferment the grapes.
Then you'll move onto the rustic and authentic Barrel Room. It is here where the wine ages after it has fermented in the steel tanks. Then you will be treated to the wine tasting experience!
San Sebastian's actual vineyard is known as Lakeridge Winery & Vineyards (but we'll get to that later). They also grow native varieties of the red Noble and bronze Carlos and Welder Muscadines in the Panhandle.
Afterward, check out the Wine Shop. Here you'll find a variety of wine accessories and gift items. Look out for glassware, cooking items, and gourmet foods that pair well with their famous Florida wine!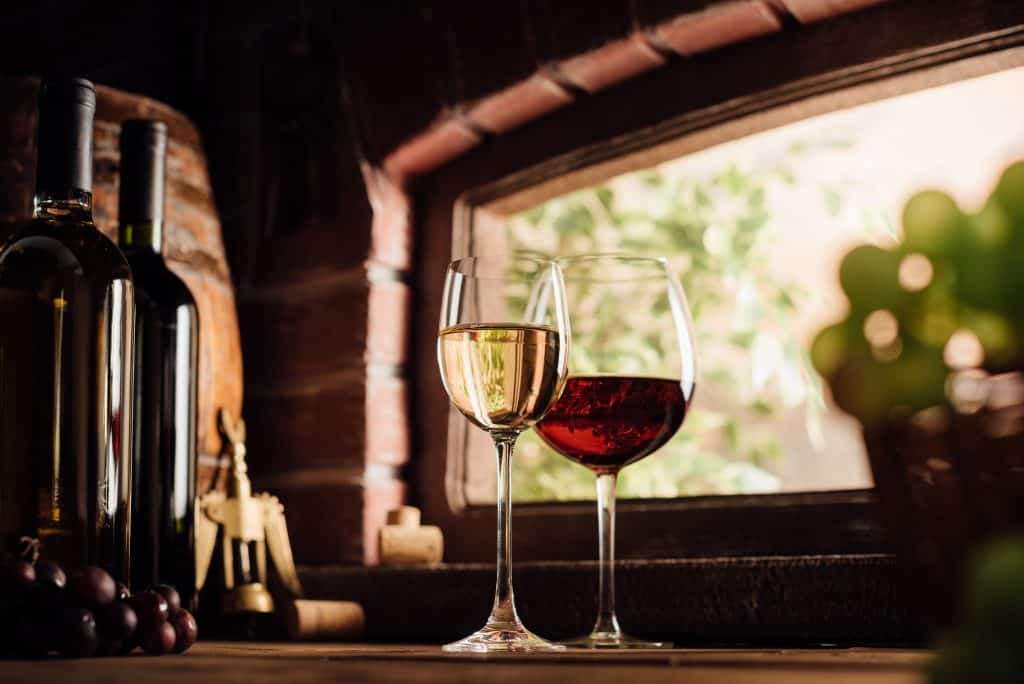 Keel & Curley Winery
One of the most romantic date nights in Tampa is to venture a little outside of town to Keel & Curley Winery. One of the best wineries in Tampa, here you'll taste wines made from blueberries!
It all started in the spring of 2003 when blueberry farmer Joe Keel needed to find something to do with his end of crop berries. That first foray into wine-making has turned into a state phenomenon.
On a tour of the winery, you and your partner will walk through the fields where the blueberries are picked. Afterwards, taste the blueberry-infused wines that range from sweet to semi-dry to dry, no matter your preference. Tours are offered every hour on the hour from 1-4 PM for $5 per person.
After your tour, sit down and enjoy a meal together at the restaurant at the winery. Enjoy American fares like nachos with mojo pork and a variety of cheese plates. Next to a quaint lake, you might even see a family of otters playing.
Make sure to taste the winery's ciders and beers as well. The ciders are made from New York apples infused with Florida fruits. Try beers like the Mango Guava IPA or the romantic Valentine's stout with chocolate and strawberry notes.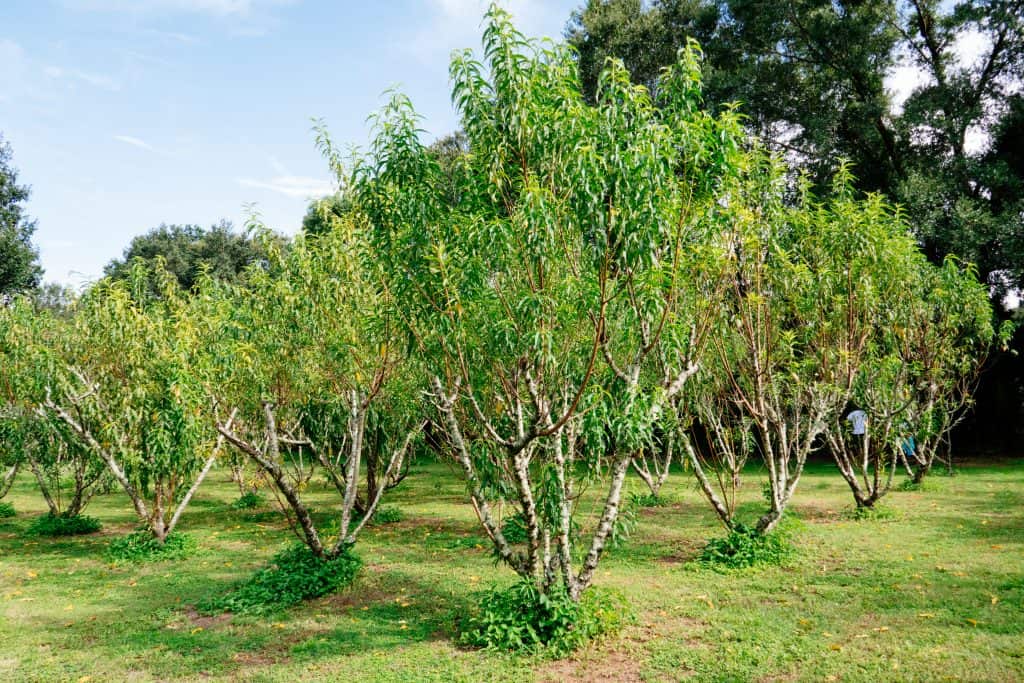 Bluefield Estate Winery
Just outside of Gainesville, you can taste the fruits of a small family's labor. Bluefield Estate Winery, one of the best Central Florida wineries, has an acre of blueberries and 1.25 acres of muscadine grapes!
Found on the original grounds for the University of Florida, Jennifer and Bradley Ferguson started making wine in their kitchen from their farm's blueberries in 2006. After perfecting their process, Bluefield Estate Winery was born!
Now a commercial winery, this is the perfect place to come and enjoy nature and taste some wonderful wines. No pets are allowed. While there is no wheelchair access, the owners will give priority and accommodate tasting areas for disabled guests.
Head over for a tasting on Thursday and Friday from 11 AM – 5 PM or on the weekends from 9 AM – 6 PM. Taste four wines for $5 or eight wines for $8! While reservations are not required, space is limited and large parties are requested to call in advance.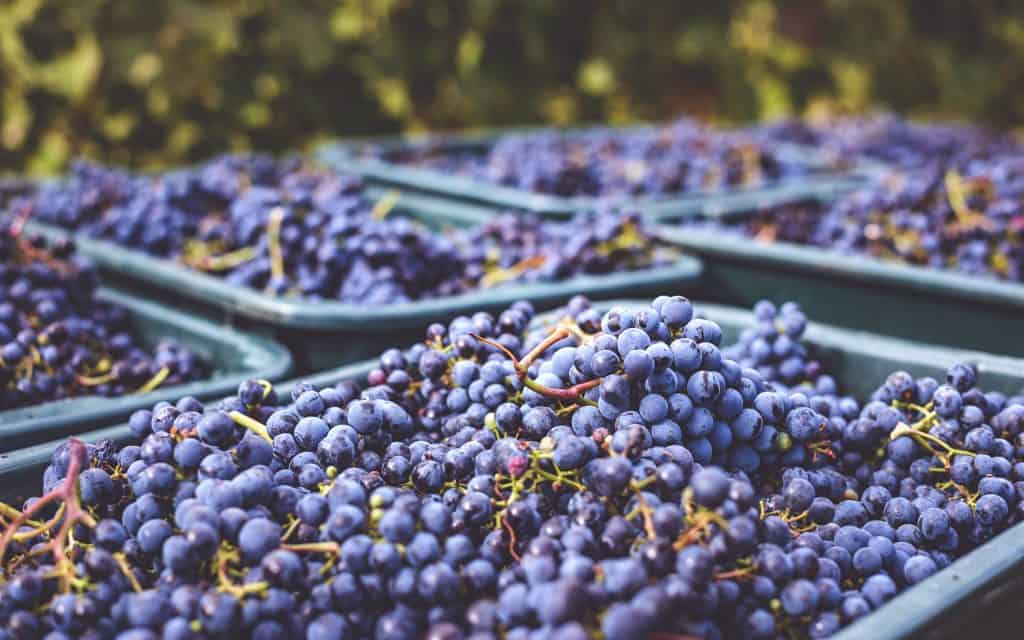 Schnebly Redland's Winery
In Miami, you can discover the Southernmost Winery in the United States. At Schnebly Redland's Winery, you'll taste a variety of exotic tropical fruit wines at one of the best wineries in Florida! Not all wine has to come from grapes.
Everything about the grounds screams Miami luxury. As you pass through the grandiose double doors, a lush courtyard and coral waterfalls surround you and transport you into the Schenbly's world of wine!
This will be your backdrop when you tour the grounds. As you walk through the beautiful estate, you'll learn the history of the Schebly family and every step of their wine making process!
On Sundays, enjoy a Bottomless Mimosa Brunch for only $25! Mimosas are made freshly from the finest Florida citrus and of course, Schnebly champagne. Look out for other specials for couples on holidays!
You can even stay to watch the Movie on the Lawn! Tickets start at $10 and one to two films are shown every Saturday and Sunday. Films include cult favorites like Idiocracy, classics like the Star Wars saga, and family-friendly flicks like The Last Airbender.
Make a weekend getaway of your visit and stay in a 1969 Vintage Airstream for a luxurious glamping experience. Check Airbnb rates here!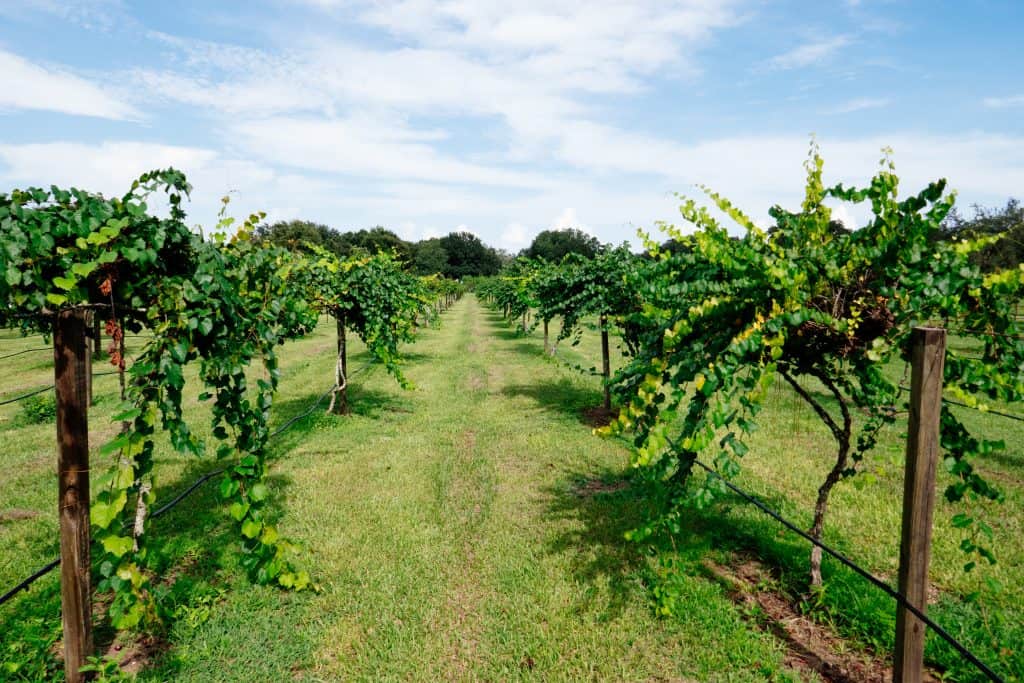 Maestro Winery
Discover your inner "maestro" at one of the newest wineries in Florida. An arts-inspired urban concept in St. Augustine, you'll indulge in wines made from the most exotic fruits!
The "Maestro" at the winery is Christopher Gugel, hailing from Nebraska. The lead winemaker, several of his wines have won various wine making competitions. He sports the gold for red muscadine, chocolate orange, and rose petal wine.
Your experience at Maestro will take place in an arts immersed environment. The winery offers arts education, performances, and retail shopping in a quaint gift shop. The arts experience is enhanced by the boutique wines of the winery!
Right now, you can sample wines made from blueberry, cranberry, grapefruit, and strawberry. Available still but in limited supply are loquat, pineapple, and chokecherry wines! Once their grapes are harvested, you can also try Red Muscadine, White Muscadine, as well as traditional red and white wines.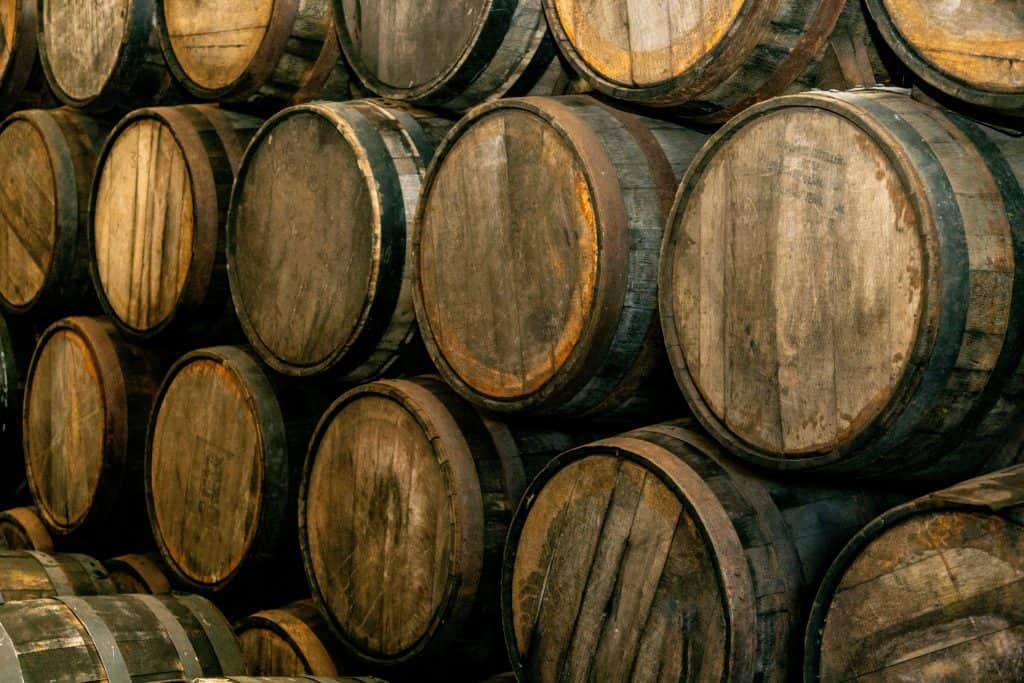 Summer Crush Vineyard and Winery
If you've ever thought that wineries in Florida can be a bit stuffy, boring, or snobbish, then you need to head to the Summer Crush Vineyard and Winery off of Florida's East Coast. Summer Crush celebrates wine: the Florida way!
A family-owned sun and fun boutique, Summer Crush is the brainchild of vintner Gary Roberts. His love of Florida history and surfing collided with native muscadine and fruit wines to create a one of a kind Florida winery experience!
Tour the 10-acre vineyard and afterward, you can sample all their handcrafted Florida Wines. Simply purchase a Summer Crush souvenir wine glass for $8!
Every Saturday and Sunday, Summer Crush hosts special events where guests can come and celebrate on the lawn. Join the festivities at Car Shows, Woodstock Tribute concerts, Motown concerts, and even an Easter Party complete with a Crazy Easter Hat Contest!
During public events, you can find food vendors from the best local food trucks. You can come out and picnic whenever there are no events as well. Bring your own basket, or build your own charcuterie board from Boar's Head products offered by Summer Crush!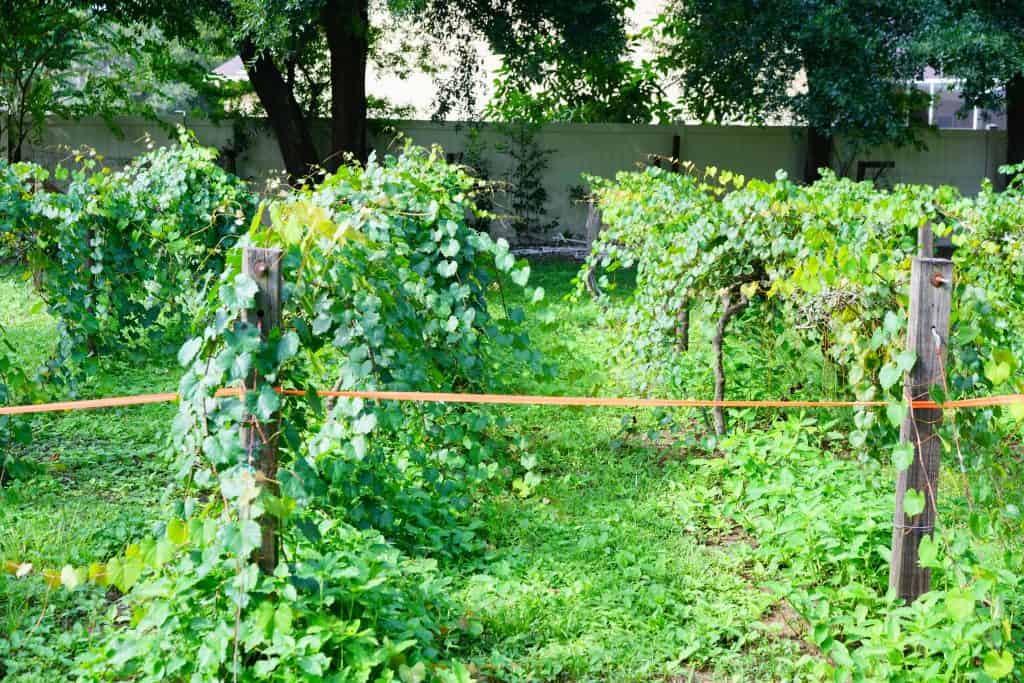 Lakeridge Winery and Vineyards
Making for a perfect day trip from Orlando, Lakeridge Winery and Vineyard sits in gently rolling countryside just 25 miles west of the City Beautiful. One of the best wineries in Florida, Lakeridge is Florida's largest premium winery.
In Clermont, you can wander the 127-acre estate, the center of the state's grape industry. Lakeridge remains Florida's pioneer in the development of premium and sparkling wines using native Florida grapes.
You can tour the 80 acres of planted vineyards. Here you can get a close-up look at the production of native muscadine grapes. At harvest, you can see the abundant crop growing and pick the grapes to eat!
On weekends, come out to the expansive vineyard green to enjoy delicious food from local food trucks. While enjoying live entertainment, enjoy your favorite Lakeridge wines by the glass at the outdoor bar. Make sure to bring your own lawn chairs on weekends from 12 PM – 4 PM.
Come out and enjoy our expansive vineyard green, including delicious food from some of the area's best live entertainment, food trucks, and of course your favorite Lakeridge wines by the glass at our outdoor bar. Rain or shine, we're here to pour you a glass of wine. Be sure to bring your own lawn chairs.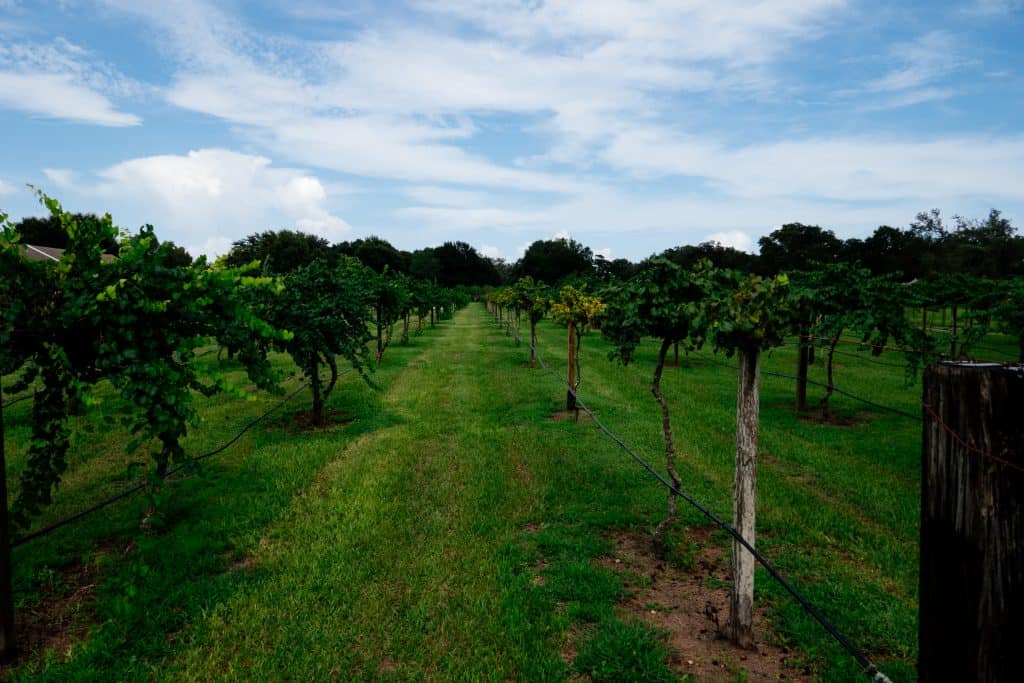 Henscratch Farms Vineyard and Winery
In the quaint small town of Lake Placid, you can find Henscratch Farms Vineyard and Winery, one of the cutest wineries in Florida. Here you won't find just a vineyard, but also a farm that is home to 200 free-range chickens!
Henscratch began in August 2003 when their first batch of muscadine and scuppernog grapes were crushed by foot from their own vineyards! Some of their varieties are still foot stomped today!
In August and September, you can stroll the vineyards to pick the biggest grapes you've ever seen! Take a bite and the sweet nectar will dribble down your chin. The bronze fruit is honey and musky while the black grapes are sweet and fruity.
Make sure to visit Henscratch's Country Store. Designed in the Old Cracker style, you'll be stepping into Old Florida with its raised floor, sliding barn doors, and an open breezeway.
Inside you'll find homemade jams, jellies, sauces, and syrups matching Henscratch's harvest seasons. There are even jams and jellies to taste and tempt you! Pick your own dozen eggs and grab a jug of raw honey. A favorite is the infused grapeseed oil!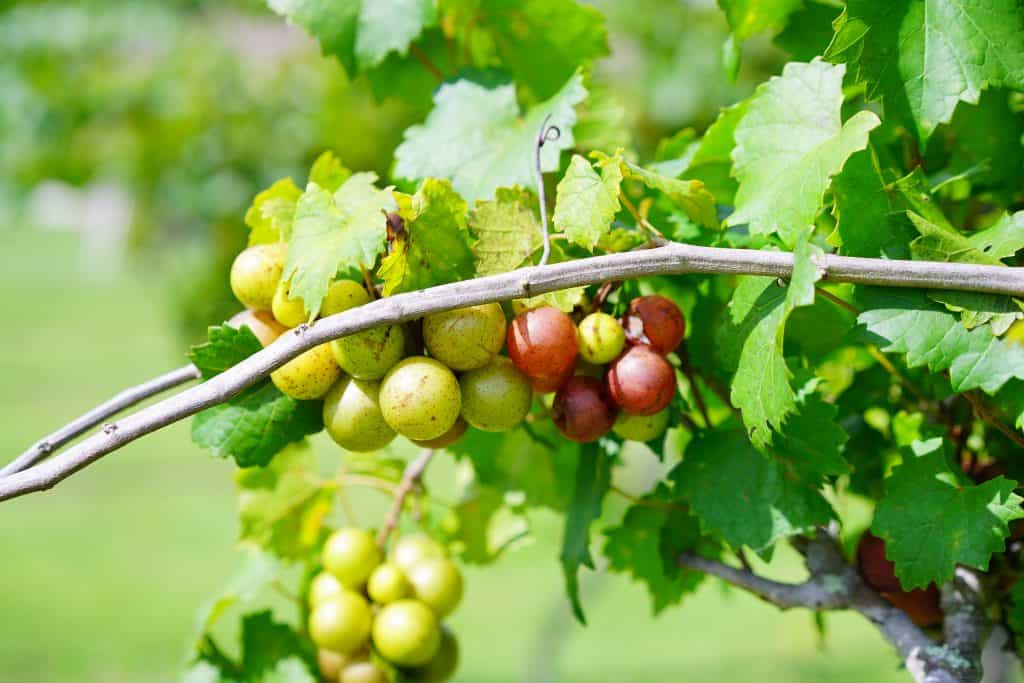 Strong Tower Vineyard and Winery
In Spring Hill, just to the west of Dade City, you can find the Strong Tower Vineyard and Winery. One of the best wineries in Florida, this quaint farm celebrates happiness and healthiness in their tours and events in the vineyard.
The wines of Strong Tower are created from three different varieties: Norton, the sweet Ison and Carlos Muscadines, and fruit wines when in season including blueberry, strawberry, and watermelon!
Now a certified Florida Farm Winery, you will savor the walk to the vineyard when you arrive. You'll be able to smell the wine on the vines! Visit during harvest season to enjoy picking grapes from the vine and popping them into your mouth.
Then in the tasting room, you can tour the processing plant and then enjoy your afternoon while sitting out on the veranda. Check out the Strong Tower Store before you head home to pick up some wine, wine accessories, and gifts!
On select Saturday mornings, bring a mat or beach towel and enjoy an all-level yoga class! One hour-long, the class happens in the center of the vineyard. Afterward, bring snacks for a picnic social and wine tasting compliments of Strong Tower!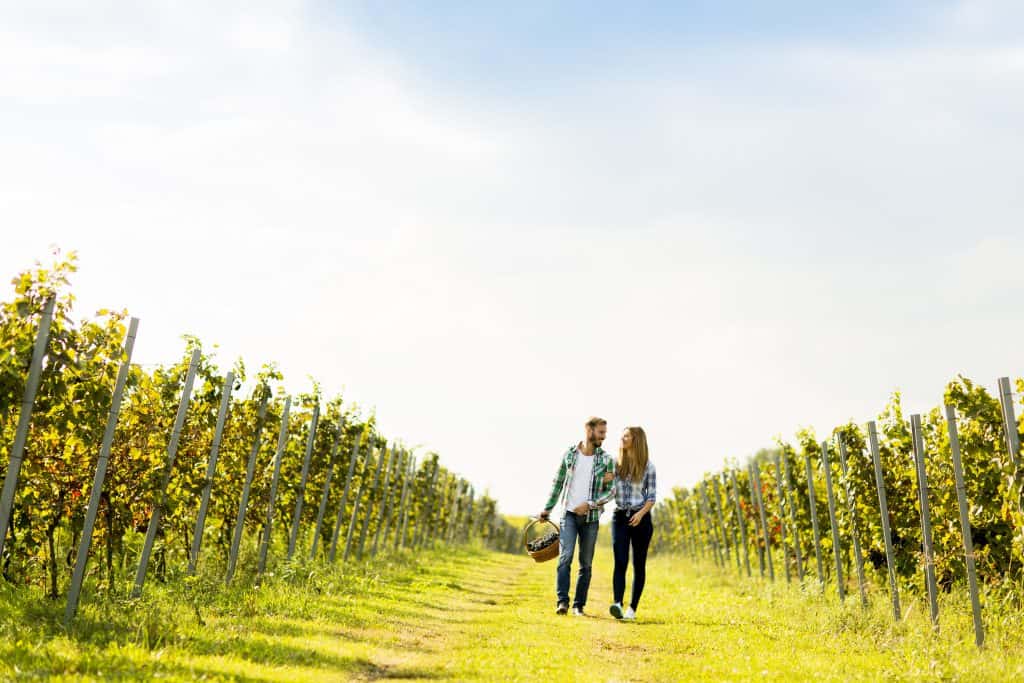 Did You Find This Post Helpful?
If so, we would love to keep in touch! We enjoy seeing photos and comments about your experiences in Florida! You can follow us on Instagram and we will repost your photos on our feed and comment too! Just tag us at @floridatrippers and hashtag #floridatrippers. We can't wait to see your travels!