Are you looking for all-inclusive resorts in Florida? We have you covered!
In this article, we are going to walk you through the best all-inclusive family resorts in Florida, the best all-inclusive Florida resorts, and the best adult-only resorts in Florida.
After you read this article, you will know everything you need to about the top all-inclusive Florida resorts.
Despite what you may think, Florida actually doesn't have that many true inclusive resorts. In fact, very few.
While a lot, especially Disney Hotels, offer dining packages or coupons to use in the hotel, not many offer a full all-inclusive experience.
The resorts we have included in this article offer more of what you think is a full all-inclusive experience.
Get ready for some relaxation!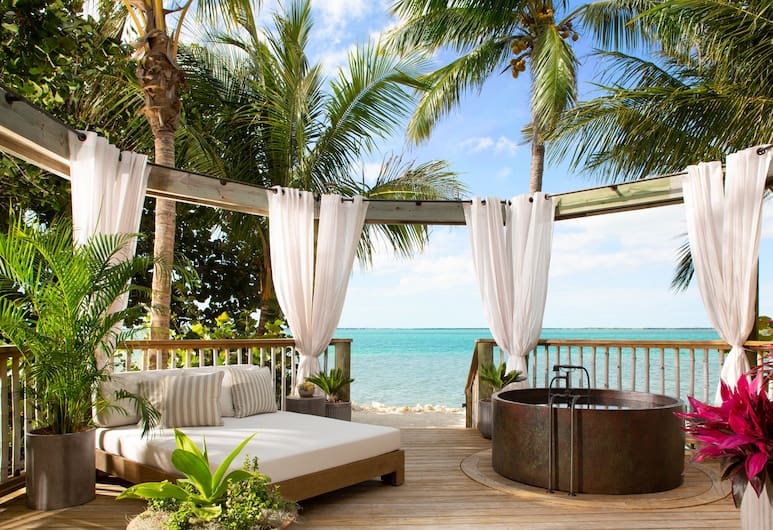 Why Stay At An All Inclusive Resort In Florida?
From my experience, we love all-inclusive resorts in Florida since there are so many benefits to them. It's such a great feeling knowing everything is taken care of and you are not reaching for your wallet or purse wondering how much those two cocktails are going to cost.
Staying at an all-inclusive resort in Florida allows you to budget. The last thing you want to worry about is money. Florida is all about having fun and relaxing and when you know everything is taken care of that's so much easier to do.
When these resorts talk all-inclusive, they mean all-inclusive, many including all the water sports and other activities you can think of as well. You won't also find yourself with a surprise daily resort fee which a lot of the Floridian hotels charge.
However, what I love most about all-inclusive hotels in Florida is that you can eat what you want, when you want. If you are a fussy eater, it doesn't matter as you have so much to choose from.
If everyone in your party fancies something different to eat, it's not a problem. And if your child has dropped their soda 20 times in an hour, no worries, another isn't going to cost you anything.
Are you ready to leave your wallet at home, eat when you want and not worry about how much that jet ski rental will cost? Maybe one of these all-inclusive resorts in Florida is just what you are after.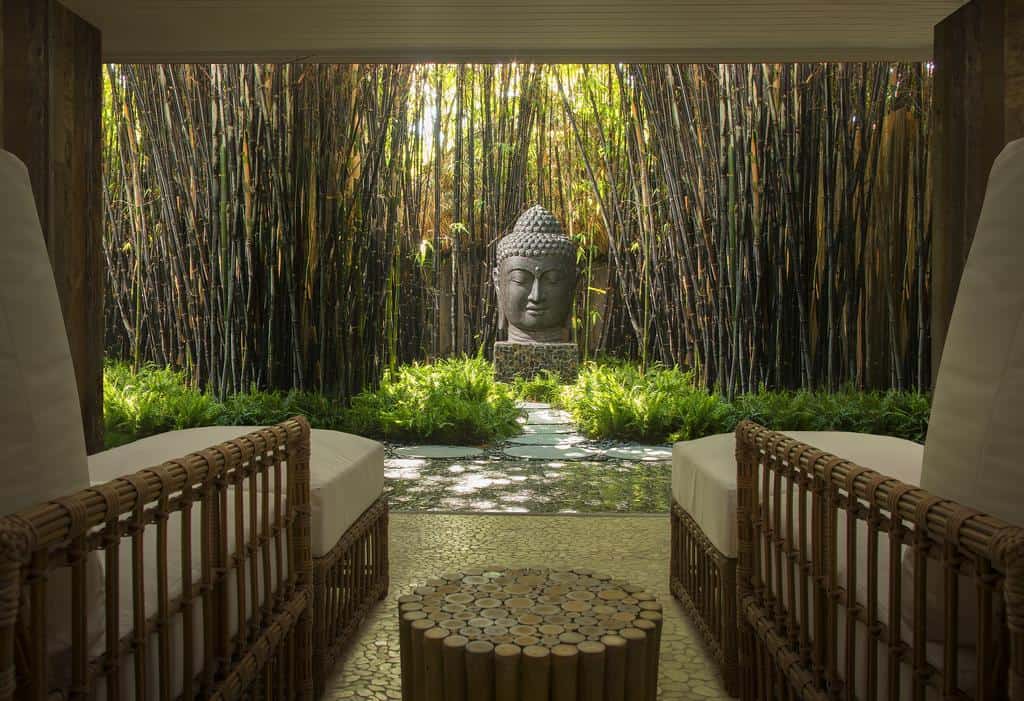 Best Time to Stay at a Florida All-Inclusive Resort
There is really no bad time to stay at an all-inclusive Florida resort. However, the season you choose to visit will affect the weather, temperature, crowds, and other aspects of your trip.
Summer means family vacations which leads to high prices and large crowds in some areas. However, many spots outside of major cities become less crowded as snowbirds head north.
This is when the weather is at the hottest and most humid with a high chance of thunderstorms. If you want to swim, though, the water temperature is perfect for diving in.
On the other hand, Florida in winter means the snowbirds return as well as vacationers seeking better weather. However, after Christmas Florida festivities, tourist crowds can diminish.
The weather is warm and there is no need to worry about snow disrupting plans. Leave your coat at home and soak in the sun. This is also the driest season. The water will be chillier, but still decent in South Florida.
Overall, though, no matter when you book your all-inclusive Florida vacation packages, you will have an amazing time!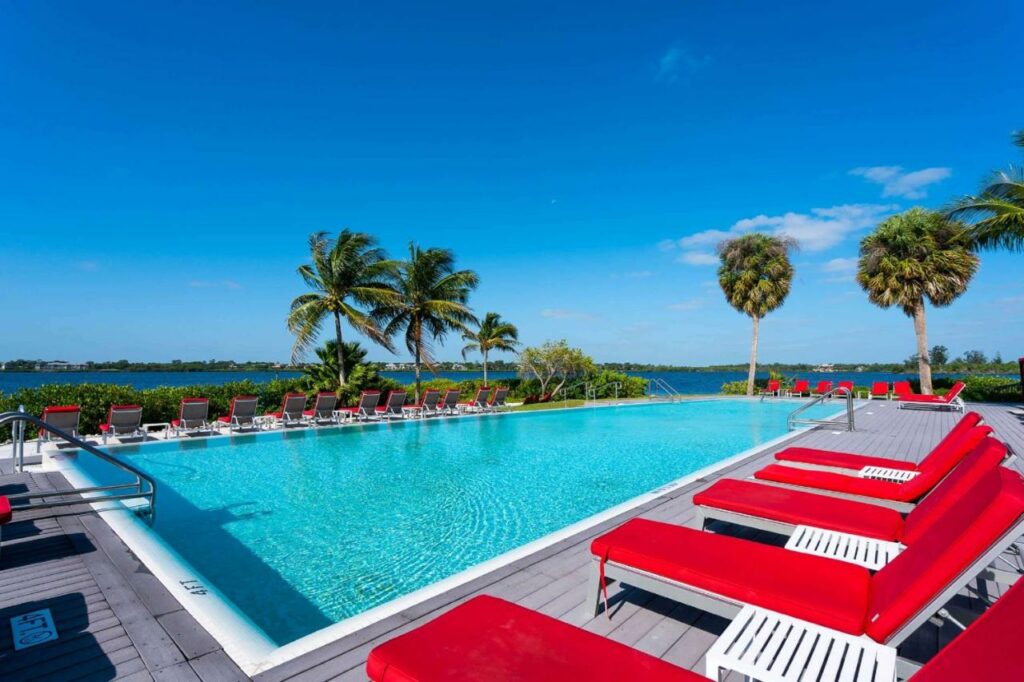 5 Best All-Inclusive Resorts In Florida (Couples + Families)
Bungalows Key Largo – All-Inclusive In The Florida Keys
If you are looking for Florida Keys' all-inclusive resorts then you are going to love Bungalows Key Largo. Nominated for Condé Nast Traveler 2021 Readers' Choice Award for Best Hotel/Resort, this resort is stunning.
Before we go any further, let me tell you this resort is one of the all-inclusive adults-only resorts in Florida, so if you are taking your children with you this place is not for you. You have to be over 21 to go to this resort. From my experience, this is one of the best in all the USA!
This is one of our favorite luxury adults-only resorts in Florida!
The resort itself is within a botanical garden and has 1000 feet of ocean shoreline, two pools, floating tiki boats, a spa, several restaurant options, and much more.
The location is truly stunning and the garden and oceanfront bungalows are the definitions of luxury.
This is Where To Stay In Florida if you are looking for something unique!
All-inclusive here means all-inclusive! The pricing covers all meals and top-shelf beverage options at one of three restaurants and two bars.
You also get access to morning yoga classes, paddleboards, kayaks, and Peloton equipment at the Fitness Tiki Hut.
A few things cost extra like spa treatments, float trips on a tiki boat, diving, and island-hopping by seaplane but these are things you would expect to be extra. Tips are not included however so keep that in mind.
As the name suggests, this all-inclusive resort in Florida is in Key Largo, an island in the upper Florida Keys, and is one of the northernmost of the Florida Keys.
It's also known as the Diving Capital of The World with the living coral reef only a few miles offshore. Many say that this is the prettiest of all the keys and it is one of the best places for snorkeling in Florida!
There are many things to do in Key Largo! It is a beautiful and accessible place to spend some time and this resort will make that stay all the more special.
If you are looking for where to stay in the Florida Keys, this is one of the top romantic all-inclusive resorts in Florida that are adults-only.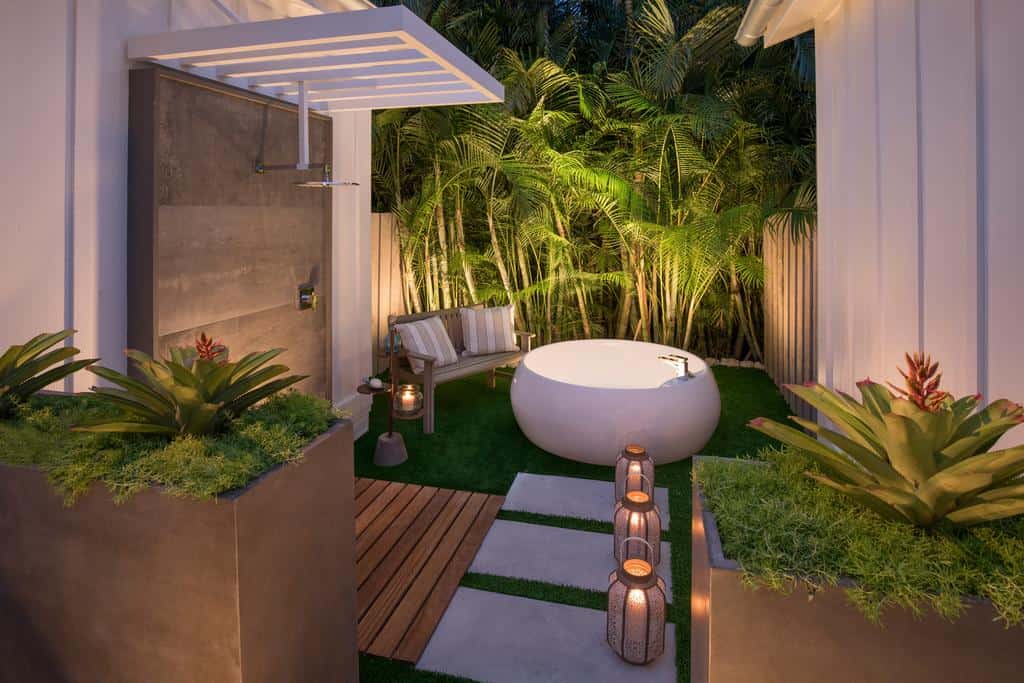 Club Med Sandpiper Bay – All-Inclusive Near West Palm Beach
If you are looking for all-inclusive beach resorts in Florida then Club Med Sandpiper Bay is the one for you.
A stay at this resort includes meals, accommodations, water sports, kids' clubs, entertainment, and more. All-inclusive here means that even tips are included.
This resort is tucked away along the St. Lucie River and sits on a beach nearly 400 feet in length.
The activities you can take part in here are too numerous to mention and include things like paddle boarding, tennis, trapezing, and circus school. You and your children will not run out of things to do here!
The resort is between Miami and Orlando about an hour north of West Palm Beach. So it's easy to visit the attractions if you want to and come back to your little oasis when you have had enough.
You have six eating establishments to choose from, three outdoor pools, and even a sports academy.
If you really want a carefree family vacation with your children then I don't think all-inclusive resorts in Florida get much better than this one.
When it comes to all-inclusive vacations in Florida, this one has it all!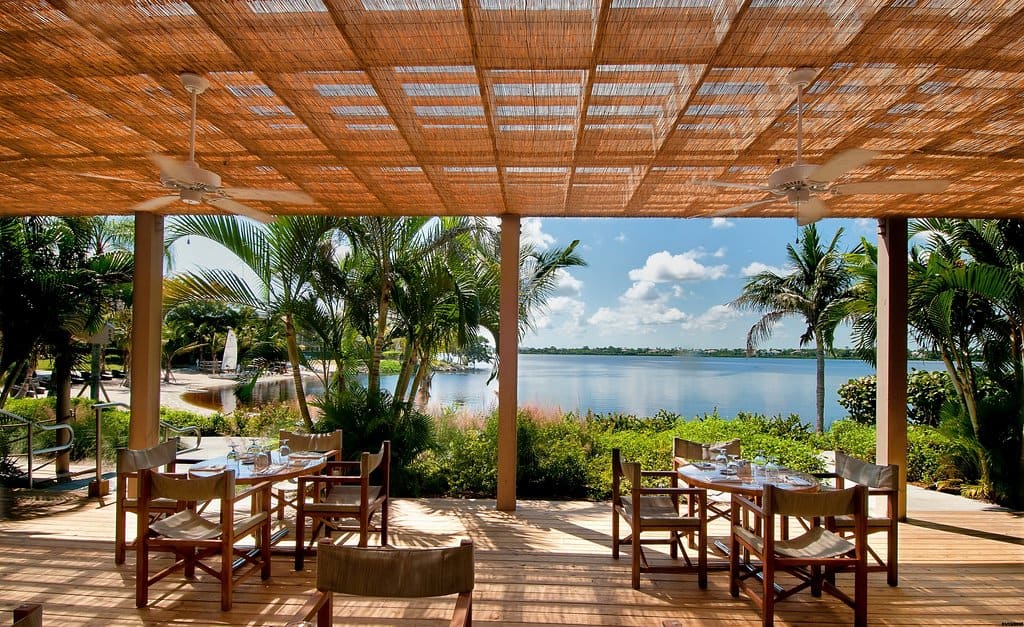 Sirata Beach Resort – All-Inclusive Near Tampa
On the west coast of Florida in the beautiful St. Petersberg Beach, this hotel offers dining packages versus a typical all-inclusive rate.
Sirata Beach Resort is directly on the beach and features three swimming pools and two beach bars. It has a casual, fun, and friendly atmosphere, making it perfect for families.
While here you have access to volleyball courts, beach and pool cabanas, a children's playground, and fun activities such as water balloon darts and scavenger and seashell hunts.
You will never be without something to do here and to cover this, the hotel does charge a resort amenity fee. The activities are constantly changing, and they have a calendar of events on their site.
This is a fun, vibrant resort that has a cool and laid-back feel. The meal packages are something we recommend you ask about or book on request.
While this resort does offer what has become known as an all-inclusive package it is quick to point out it is not an all-inclusive hotel.
The best thing about this hotel though is the location and it's proximately to so many other attractions such as the incredible beaches and Fort De Soto.
You'll agree this is one of the best all-inclusive hotels in Florida on the beach!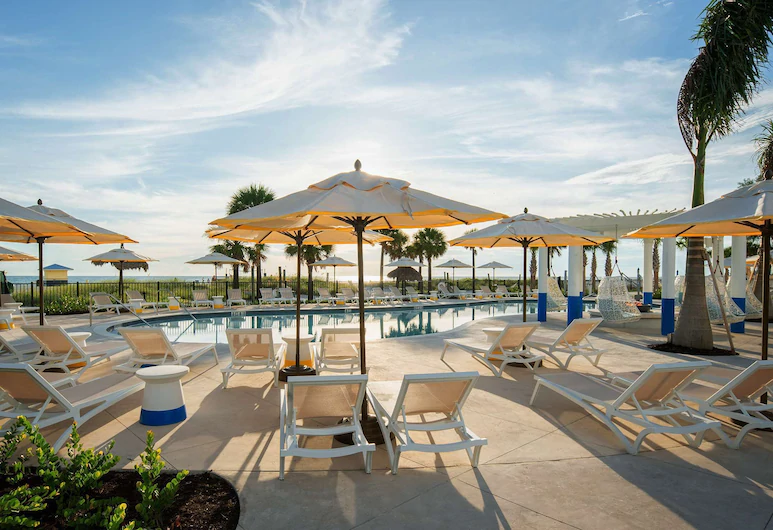 Little Palm Island Resort & Spa – All-Inclusive In The Florida Keys
If you want your all-inclusive resort in Florida to be the very best then it has to be Little Palm Island Resort & Spa.
The resort sits on its own private island and is only accessible by yacht or seaplane. You have to be over 16 to visit this resort.
An all-inclusive makes perfect sense here because there is little else around. The peace and solitude make this one of the best all-inclusive Florida resorts for couples.
The Culinary Paradise Package includes breakfast, lunch, dinner, a welcome bottle of champagne, and a spa credit. We really recommend going for this if you are staying at this hotel.
This lush, private island is stunning and covered with crushed seashell paths and tropical foliage. It really is a unique and beautiful destination.
Every inch of this resort is thoughtfully designed and luxurious. The resort is dotted with thatched bungalows and walkways leading to hidden spots.
The accommodation here is just breathtaking with the island romance suites having exclusive beaches and outside copper bathtubs.
Each bungalow feels very private and far away from any neighbors. The landscaping, the beach, and the pool are all stunning
If you are after something truly special then this is the place for you. It's a resort you switch off in. In fact, telephones and television are not in guest rooms for this reason.
Little Torch Key itself is a small island about 24 miles from Key West. It's one of the quieter keys. It's a place to stay to be away from the hustle and bustle of some of the busier keys.
If you are looking for Key West all-inclusive resorts this is as close as you will get.
The resort does also charge a daily resort fee so be aware of that.
Make sure to check out our list of the Best Resorts In The Florida Keys! There are some really epic resorts featured for couples, families, and more.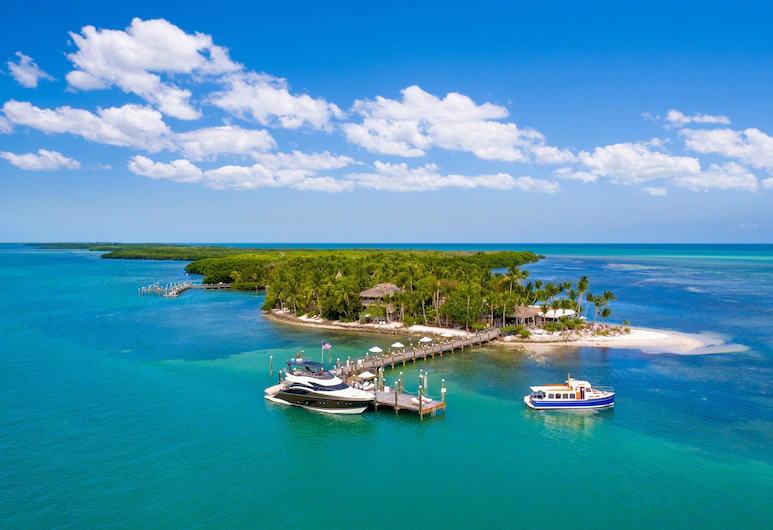 LEGOLAND Florida Resort – All-Inclusive in Winter Haven
The LEGOLAND Florida Resort in Winter Haven, outside of Orlando, is truly one of the best Florida all-inclusive resorts for families. Kids will love living in the Lego world!
This hotel has one of the top all-inclusive Florida vacation packages for theme park fun. There are three LEGOLAND hotels to choose from: Pirate Island Hotel, LEGOLAND Hotel, and Legoland Beach Retreat.
The all-inclusive package includes tickets to LEGOLAND Florida Resort Theme Park as well as the Water Park, and the Peppa Pig Theme Park. The In-Park Photo Package is part of the deal too.
All meals are included as well. You can eat breakfast and dinner at the hotel while lunch can be enjoyed at any of the theme park restaurants.
When you are not at the theme parks, you can play a free game at Florida's Wild Side Mini Golf, swim in the beautiful pool, or grab a drink from the Bricks Beach Bar.
This all-inclusive package also includes some LEGO-themed activities and goodies. Each day there is an in-room treasure hunt with a LEGO prize. You'll also get the chance to join the Master Builder Workshop.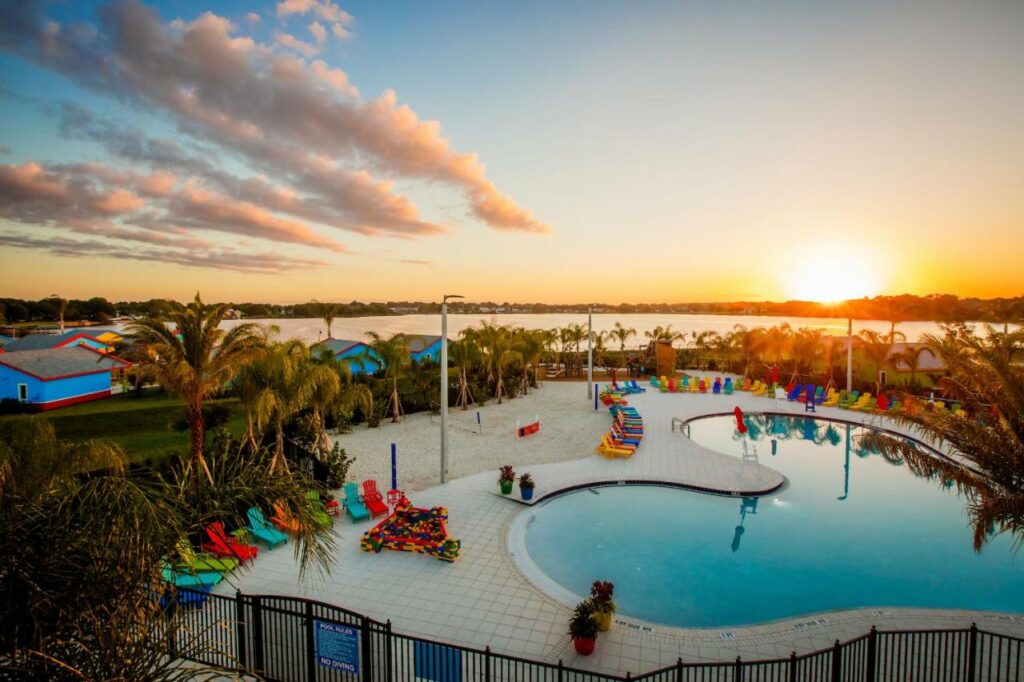 Whichever of these all-inclusive resorts in Florida you choose, we know you will have an incredible time.
Whether you stay in one of the all-inclusive family resorts in Florida or the adults-only all-inclusive resorts in Florida, we hope you love Florida as much as we do.
Please come back and tell us all about your stay. We would love to know how your vacation went. Have a great time wherever you are going.