Are you looking for the best things to do in southwest Florida? Look no further, this is the perfect place for you!
Just like a parent isn't supposed to have a favorite child, we try to avoid saying one area is completely superior to another in Florida, but southwest Florida is so darn happening that it's hard not to!
Whether it's Disneyland in Miami, gorgeous gardens and everglades in Naples, or magical antique mansions turned museums in Sarasota, a lot of the best things to do in Florida are already in the southwest area of the state.
It can be a little overwhelming when planning a trip, so we packed together all of our favorite stuff in one place to try and make it a little easier!
Make sure to check out our master post on the Best Time To Visit Florida including a breakdown by month, weather, events, and more!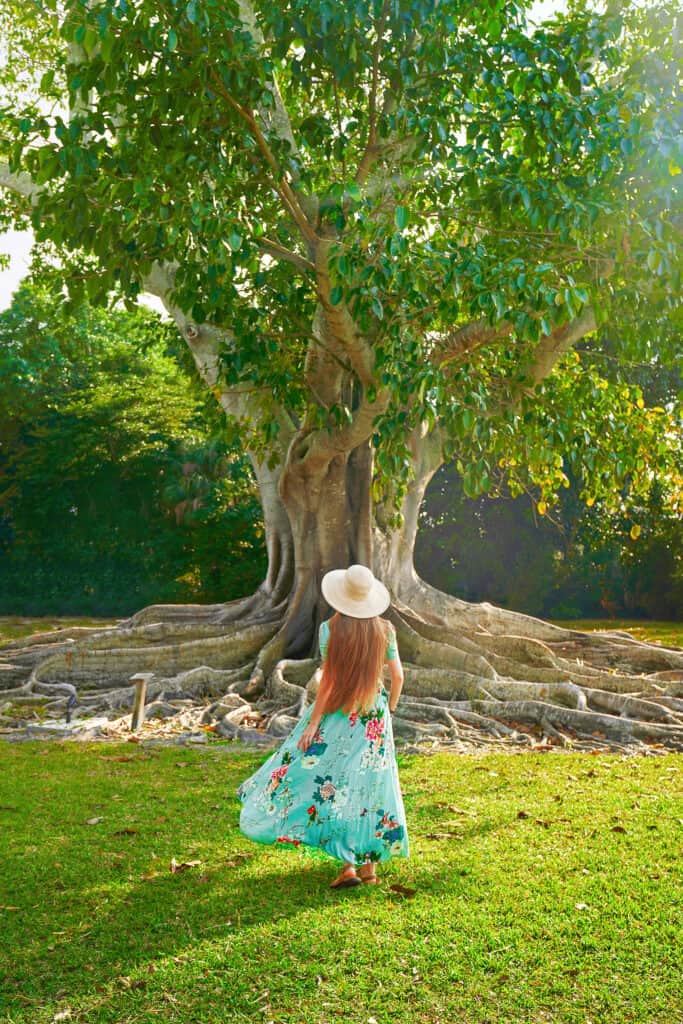 16 Best Things To Do in Southwest Florida You Shouldn't Miss!
Visit Sanibel and Captiva
Are you looking for a gorgeous beach that is absolutely lousy with shells, or are just a sea shell enthusiast in general?
Then Sanibel and Captiva is one of the best places in Southwest Florida for you!
The area is comprised of two medium sized keys, respectively named Sanibel and Captiva, and it is a shell lover's absolute paradise, making it one of the best places to visit in southwest Florida!
The beaches have tons of shells that are completely free and legal to take because of Florida's relaxed policies towards wildlife and that environment.
The shell themed fun doesn't stop there though, there is even a shell themed MUSEUM!
For more gorgeous beaches where you can go shelling, check out our post on Best Beaches for Shelling in Florida, your shell collection will thank you!
For more ideas about how to spend your time in this gorgeous area, check out our post on the Best Things To Do in Sanibel and Captiva Islands!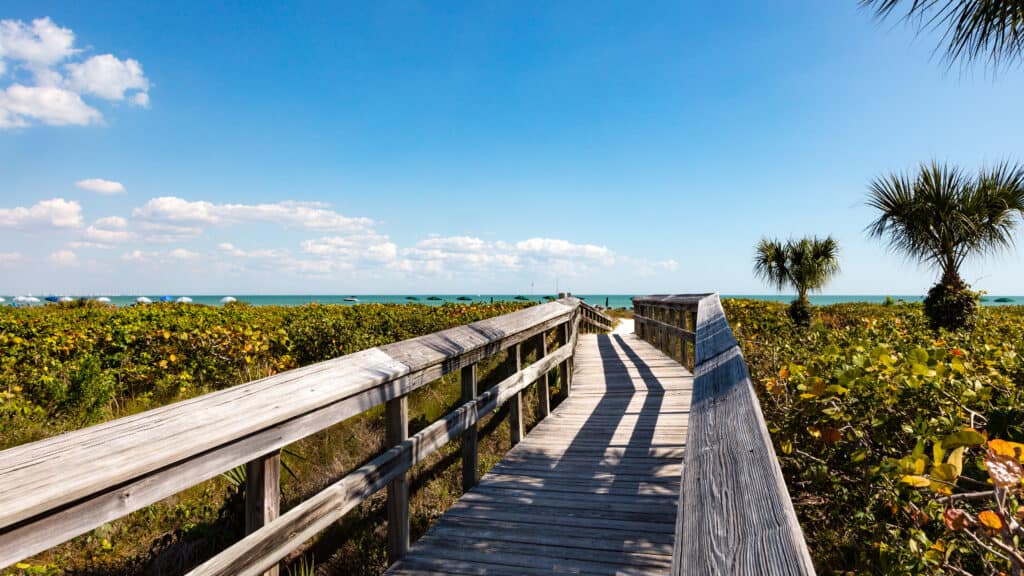 Edison and Ford Winter Estates
Do you love the old money mansions that have been turned into museums? We sure do! If you're like us, then one of the best things to do in southwest Florida for you!
The estates were both built near the end of the 19th century by the two innovators, Ford and Edison!
Edison found the affordable property in Fort Myers perfect for a relaxation haven away from his regular life, and then a few years later he convinced his friend Ford to follow in his footsteps.
Since both of these men were quite wealthy, you can see what the elite of the time liked in their living spaces in terms of decorations and aesthetics.
Through the generosity of Edison's widow and some hand changing on the real estate market done by Ford's property, both houses are now open to the public!
The estates' property is on 20 acres of gorgeous land that's packed with gardens, Edison's botanical research laboratory, a museum, and of course the actual Edison and Ford residences.
Whether you're coming for the history, the gardens, or the vintage aesthetic, there is no shortage of things to appreciate about this very special destination which is why it's one of the best places to go in southwest Florida!
While you're in the area, why not check out what's around you, there is some really Fun Stuff To Do in Fort Myers Florida!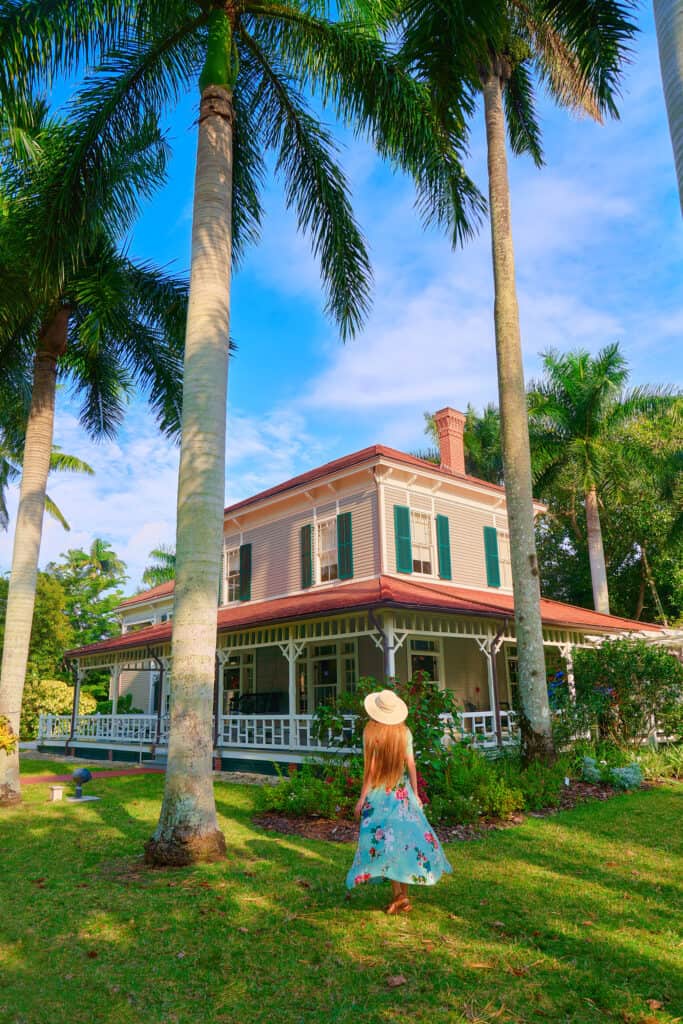 Visit Everglades National Park
Are you excited about exploring a unique ecosystem that occurs nowhere else on earth while on vacation?
Then visiting the everglades is one of the best things to do in southwest Florida for you!
If you're wondering if that's really right, nowhere else on earth? Seriously, the everglades are a unique gem in the crown of this beautiful planet! Make sure to put this on your list when doing a Florida Keys Road Trip!
There are several modes of transport with which to enjoy the swampy uniqueness of the everglades, our favorites are boats
It's not really recommended to just wander around in the everglades by yourself unless you have your own boat and a guide, so check out our post on the Best Everglades Tours to make sure everything goes without a hitch!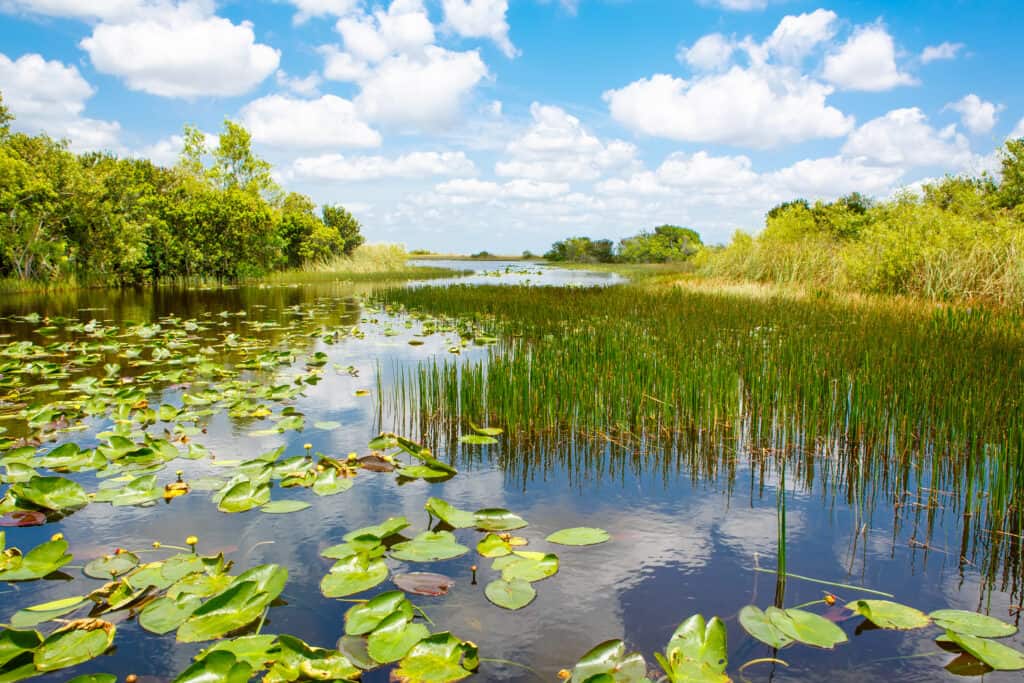 Visit the Ringling Museum
Continuing on in the vein of gorgeous old mansions with epic history that have been repurposed as museums for us the public to enjoy, we present: The Ringling!
If you've ever been to a circus in North America back when they were a huge sensation, there is an overwhelming likelihood that it was part of the absolutely massive circus conglomerate created by Mr. Ringling!
Originally starting from less than ideal means, Mr. John Ringling eventually created an empire in a field of business that he perfected and industrialized like no one before him: the traveling circus!
Even though he created a massive fortune over the years, it disappeared in what seemed like a blink of the eye. Mr. Ringling's life and stability were plagued with euphoric highs and tragic lows.
We won't spoil too much of the story for you other than promising that it has a happy ending!
Today the grounds of Mr Ringling's estate have been transformed into a beautiful experience for the public to enjoy.
The grounds include a massive art museum, a circus museum, a perfectly preserved antique mansion with steps into the the literal ocean, and a stunning giant walking garden.
Spending a day at this historic site is one of the best things to do in southwest Florida!
If you're lucky to be there while the rose garden is in bloom, the perfume of the flowers mixes with the peppers that are grown elsewhere in the garden creating a beautifully sweet and spicy aroma to enjoy while exploring the grounds!
We would argue Sarasota is one of the best destinations for fun things to do on the Gulf Coast!
Since there are some quirks to the property, we have a whole post on Tips and Tricks for the Ringling Museum to make sure to everything goes as smoothly as possible!
Sarasota is really a hidden gem of Florida, they have a great symphony and there are tons of Fun Things To Do in the area so check out our post for some great ideas!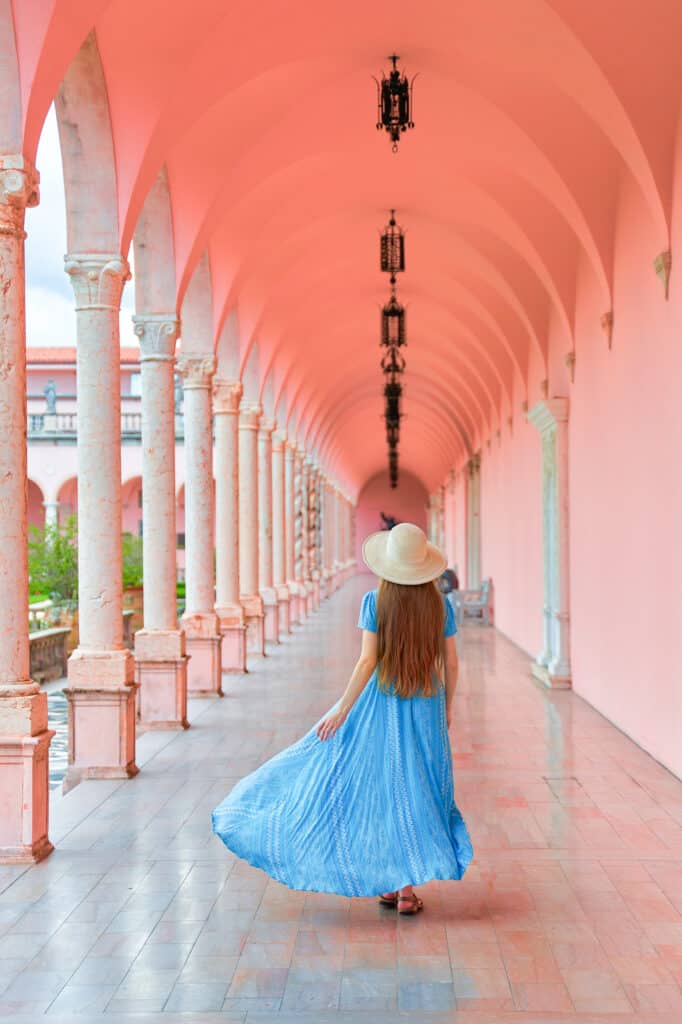 10,000 islands
Do you absolutely love the everglades but want something that is a little more expansive and open-world feeling?
Fear not, this is sure to be your favorite of activities in southwest Florida!
10,000 islands State Park is going to be right up you alley, it is an absolutely massive state park that as, as the name suggests, a staggering amount of small islands!
The mangroves create a beautiful maze to explore, but even the website itself says it can be a bit confusing so make sure you have a compass, a map, and ideally a guide who knows the are.
Visiting this state park is another one of the best things to do in southwest Florida, but it's also something that our post on Best Everglades Tours would be super helpful for!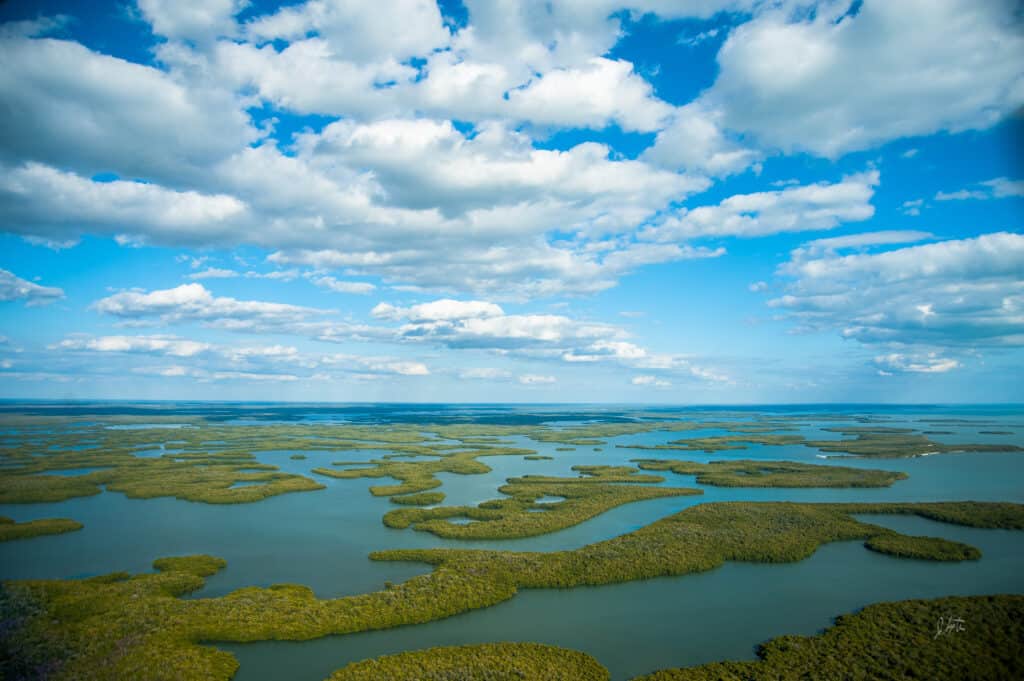 Naples Botanical Garden
If after being in the unique swampy paradise that is the everglades you're looking for a more manicured nature experience, then this is one of the best attractions in southwest Florida for you!
When we say this is the disneyland of botanical gardens, we aren't joking! The botanical gardens occupy a staggering 170 acres, and has been honored with some of the most prestigious awards that a garden can earn! Don't forget to check out the best things to do in Naples while you are here!
Ground was first broken in 1993 and due to the garden's non-profit status and robust donor base, it has flourished since! The botanical gardens see upwards of 220,000 people a year, which is no doubt because it is one of the best things to do in southwest Florida!
The botanical gardens encompass several themed gardens, which include educational content about the cultures that the plants are from: these gardens include plants from Brazil, the Caribbean, Asia, native Florida plants, and even more!
The sunshine state is an absolute paradise when it comes to botanical gardens, there are so many good ones that we have a whole post on the Best Botanical Gardens in Florida!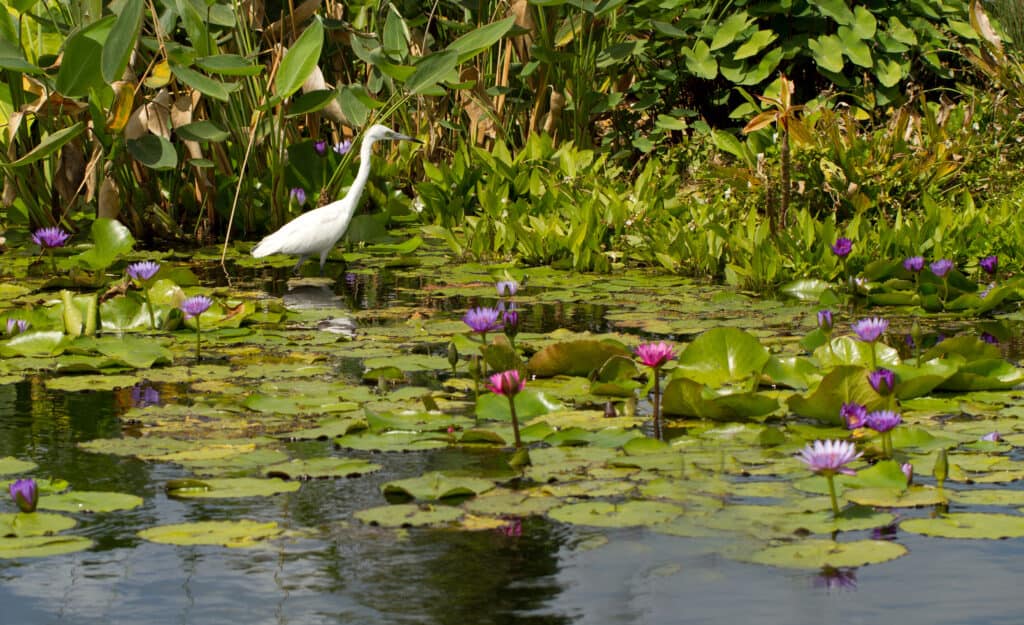 Look for Manatees
These gentle cows of the sea are a beauty to behold, and if you've ever seen one in person it's easy to understand how these critters were once believed to be mermaids!
Now thanks to conservation efforts, manatees are not currently considered endangered anymore which means there is an abundance of places to see them
We have two posts on where to find wild manatees, and where to kayak to find manatees in Florida aswell to make it easy!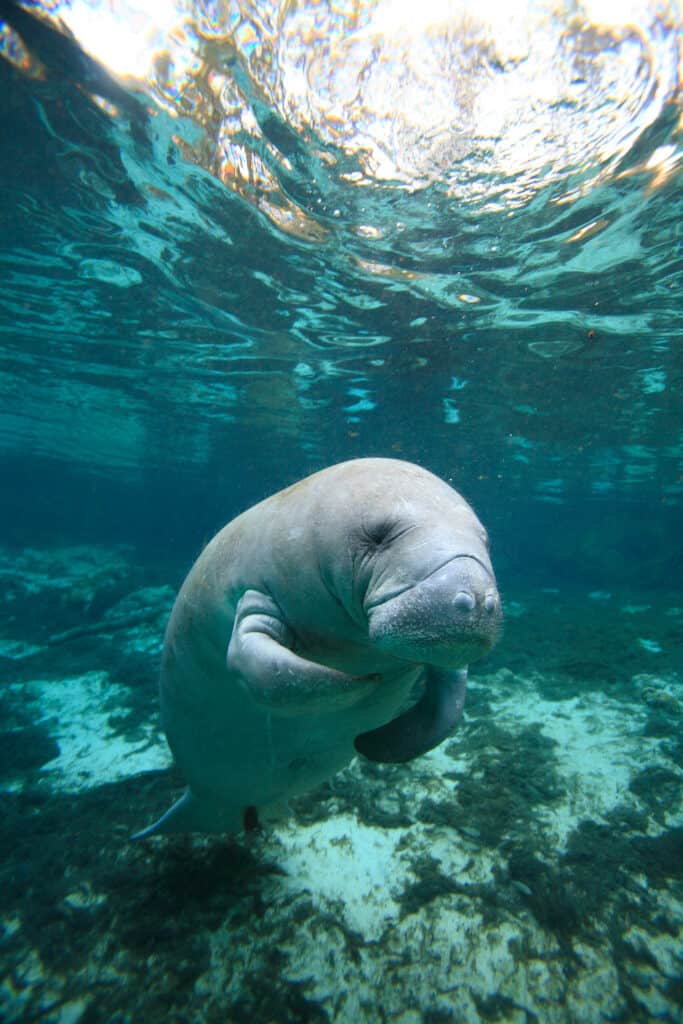 Explore Marco Island
Do you like the 10,000 Islands area, but want something a little bigger and more centralized? This is your perfect choice of all the destinations in southwest Florida in that case!
Marco Island is actually the largest of the 10,00 islands, and some might argue that it's also the best of all the Islands too, especially if you love shelling!
The island is regularly mentioned in all of the lists of best places to go shelling in the US, because it truly is one of the best places to visit in southwest Florida for shelling!
While you're in the area, you should check out some of the Best Restaurants in Marco Island for some truly epic eats!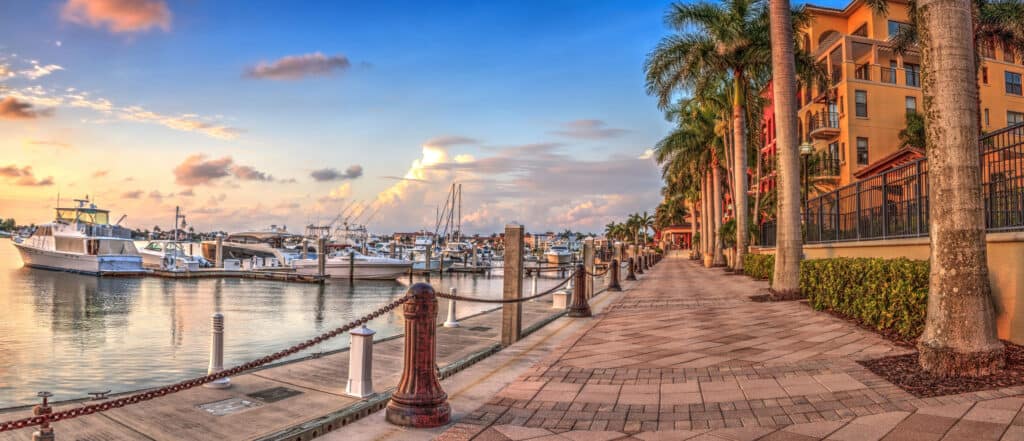 Find the Dome Houses
This unique landmark was once supposed to be an opulent beach home for a member of the upper crust – however today all that remains is the signature domed ceilings of the now eroded foundations.
If you want to see the domes up close, make sure you book a tour or have a way of accessing a boat because now they're mostly underwater now.
The eroded home now is a lovely place for the local flora and fauna to take over, and it's also one of the benefits of seeing it in person!
Marco Island in general is a super fun area, with tons of Fun Stuff to Do, check out our post for some top tier suggestions that will surely be a highlight of your vacation!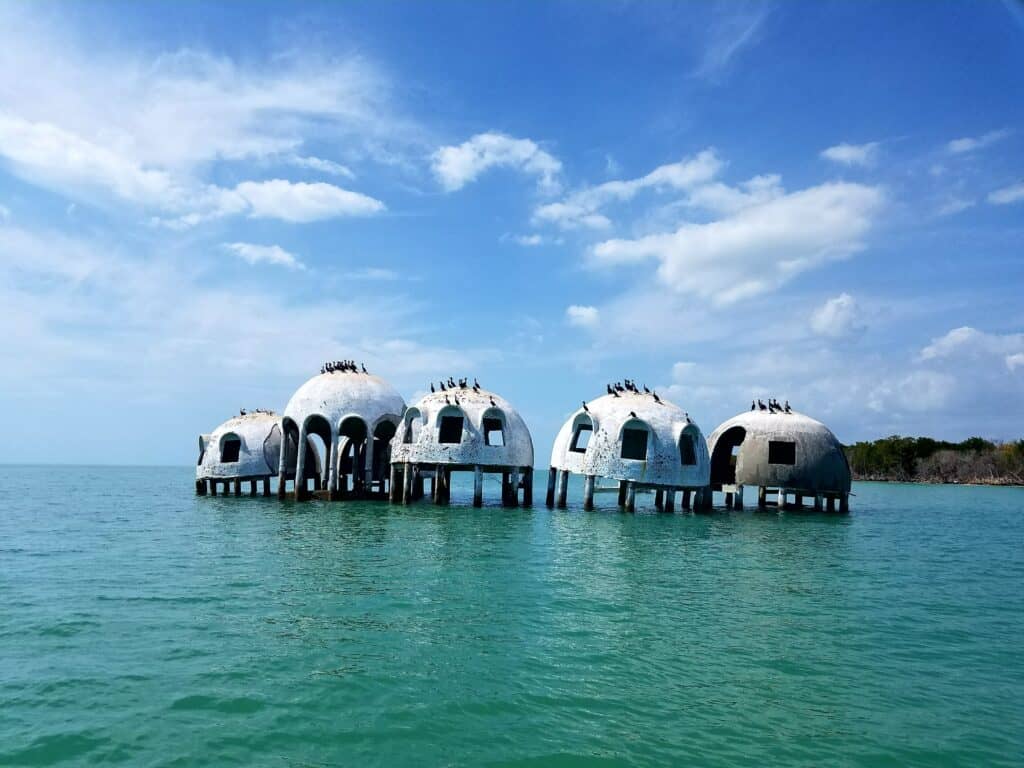 Myakka River State Park
Are you looking for a gorgeous nature experience that is super close to what the conquistadors and indigenous people of the US would have seen back in the old days?
This is the state park for you then!
Myakka River State Park one of the best places to go in Southwest Florida, it's also one of the oldest and biggest state parks in the entire state of Florida!
There is ample exploring to do just about anyway that you can think of, there are almost 40 miles of hiking trails and 14 miles of bike trails!
That's not all though, there is lots of exploring to be done in the water!
Check out the state park's website for more info!
Florida is a complete treasure trove of gorgeous State Parks, and we did the hard work of find the best ones for you in this post on the Best State Parks in Florida!

Try Some Handmade Local Rum Punta Gorda
Rated as the number one thing to do in Punta Gorda, Alligator Bay Distillery is one of the best places to visit in southwest Florida!
The newer distillery is making a big name for themselves, and it's not hard to see why!
The focus of this distillery is to create rum that is made from 100% ingredients in Florida, making for a small batch artisanal rum experience that is sure to leave you wanting more!
The cane used for the rum is sourced from less than 80 miles away, truly making good on a claim being a local gem.
The Distillery offers free tours with FREE (yes seriously) rum tastings, how could you say no to that!
Making a visit to this truly exceptional breweries is one of the best things you can do in southwest Florida! Especially if you aren't tethered to any tiny humans while on vacations.
Book a tour for yourself to see why it's one of the best free things to do in southwest Florida!
Punta Gorda has some amazing restaurants, we made a list of the most delicious ones in our experience so take a look at our post of the Best Restaurants in Punta Gorda!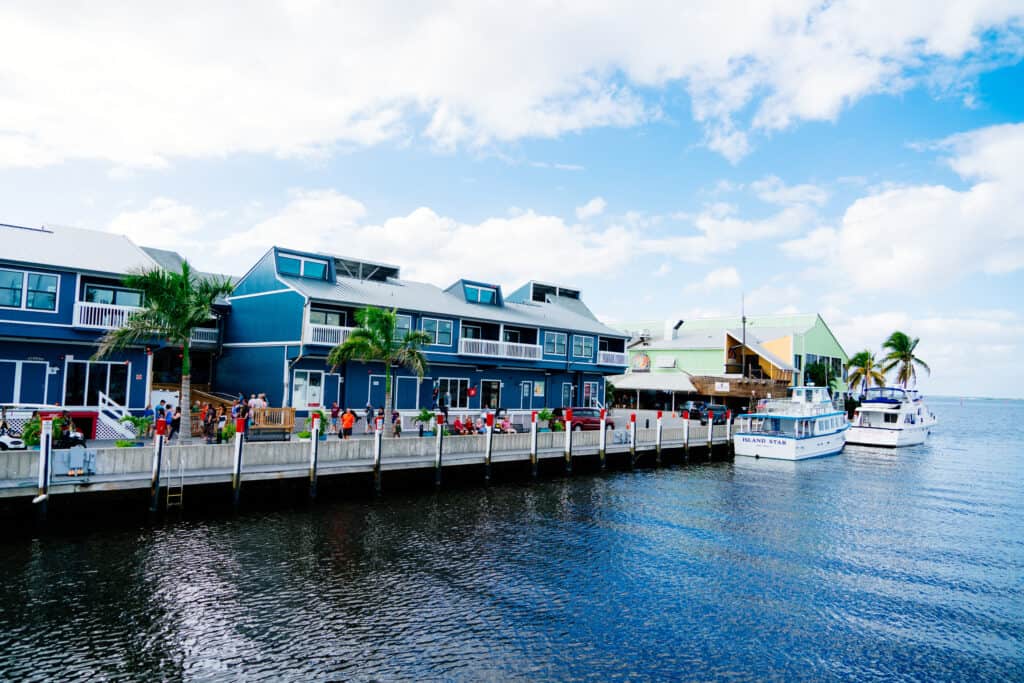 Asolo Repertory Theatre
Are looking for a great place to see local theatre in Sarasota? This is your spot!
Seeing a show at the Asolo theatre is one of the best things to do in southwest Florida!
Asolo is one of the biggest theaters in Florida, and also one of the biggest repertory theaters in the nation, which guarantees that you'll have a top tier entertainment experience!
The name comes from a village that inspired the founding director back in the 60's in Italy, and what an inspiring place it must be!
The theatre is still going strong after more than 60 years, and it's because its one of the best places to go in southwest Florida to see a live theatre show by a long shot!
For before the show, why not do some perusing of our list of the Best Restaurants in Sarasota!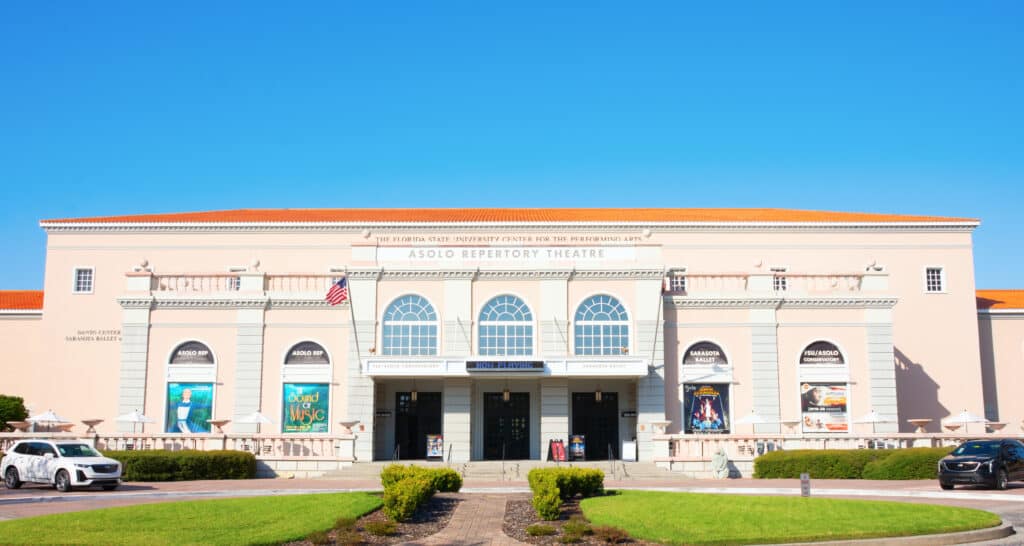 Naples Train Museum
Do you have a little person coming along with you on your Florida trip? Then visiting the Naples Train Museum is one of the best things to do in southwest Florida with kids by far!
The museum features a dizzying array of different model trains, and also has a ton of model train landscapes set up.
The museum also features an outdoor train that you get unlimited rides on, which is perfect for those little people in your life who like trains.
The train museum also features a brick walkway that you can put a brick with your name into! This is by far one of the best things to do in southwest Florida with kids!
Naples is a foodie haven, so take a look at our list of the Best Restaurants in Naples!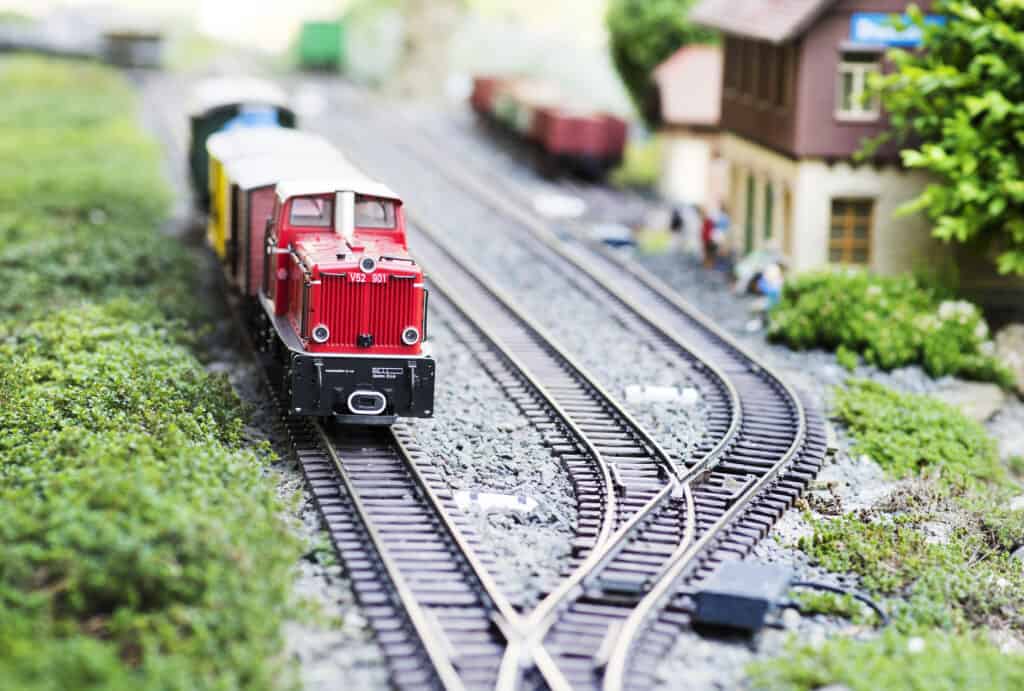 Enjoy Siesta Key
Are you looking for a place that has amazing shopping, great restaurants, and one of the most gorgeous beaches in Sarasota?
Look no further, we have all of that in one spot at Siesta Key, which is one of the best places to go in southwest Florida!
When it comes to beach towns that have it all, visiting Siesta Key is always at the top of the lists of the best things to do in southwest Florida!
Siesta Key has so many offerings when it comes to fun things to do, we made a whole list of the Best Fun Things to Do in Siesta Key!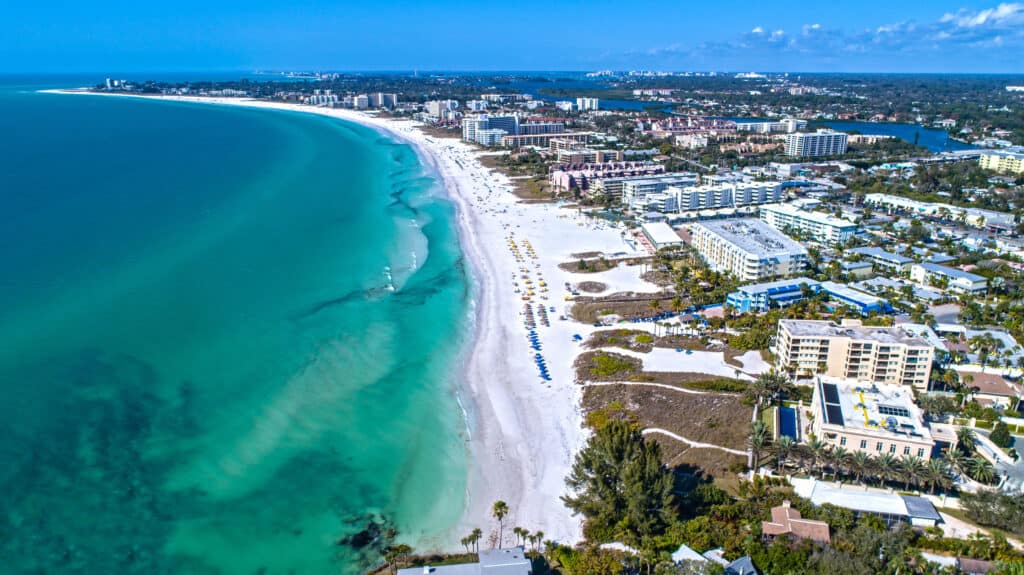 Watch the Sunset OR Sunrise at Naples Pier
Naples is of course an ocean-side town, and with that usually comes having at least one or two piers!
Rated as the number one place to live on the beach, Naples pulls people from all over the world both to live and to visit!
The town itself can be a bit pricey, but not to worry, this is one of the best free things to do in Naples!
The naples pier extends very far out into the sea, and if you go all the way to the end, it almost gives the illusion of being in the middle of the ocean!
This illusion makes for a truly one of a kind sunrise or sunset experience that you won't soon forget!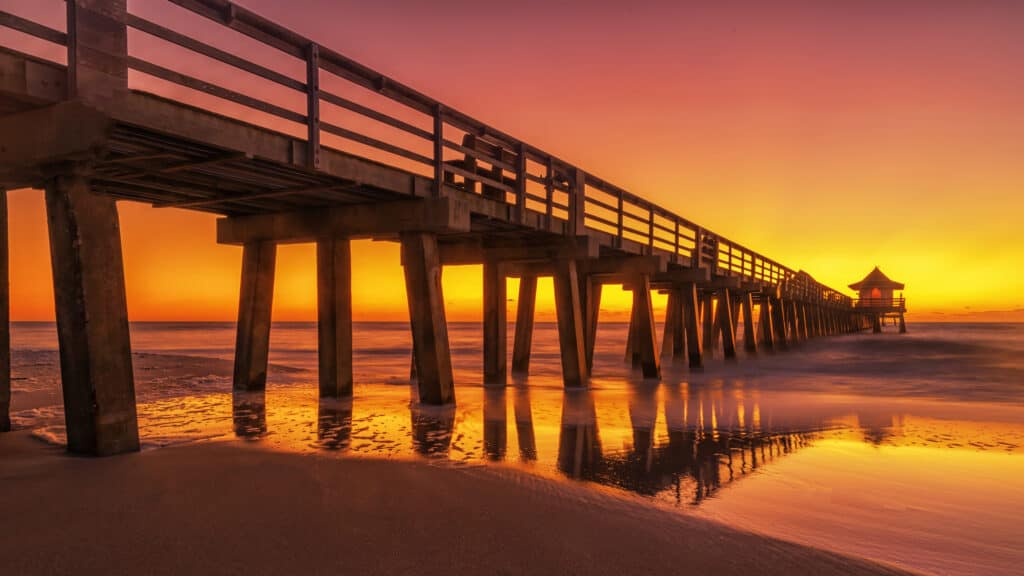 Visit Third Street South
Located in the Historic Naples area, walking around and soaking up the cool vibes of third street south is one of the best things to do in southwest Florida!
Picture south beach miami, but with a more highbrow golf aesthetic, with tons of amazing restaurants, stores, and even live entertainment.
During the holidays all the trees are covered in bright lights, which makes the bustling area even more cheerful.
Third street south is unbeatable when it comes to a pre-dinner walk and cozy vacation atmosphere, making it one of the best free things to do in southwest Florida!
Naples is one of the best places in the entire country to go on a boat tour, so take a look at our post on the Best Boat Tours in Naples!!