If you are looking for the best, most beautiful beaches in South Florida, then you have come to the right place! Are you planning a beach getaway in Florida but aren't sure where to start? We have you covered! Keep reading to discover some awesome Florida beaches!
Planning a Florida road trip? Then you are sure to see a ton of beautiful beaches! With the ocean on the east and west side, Florida is the place to be for a beach vacation.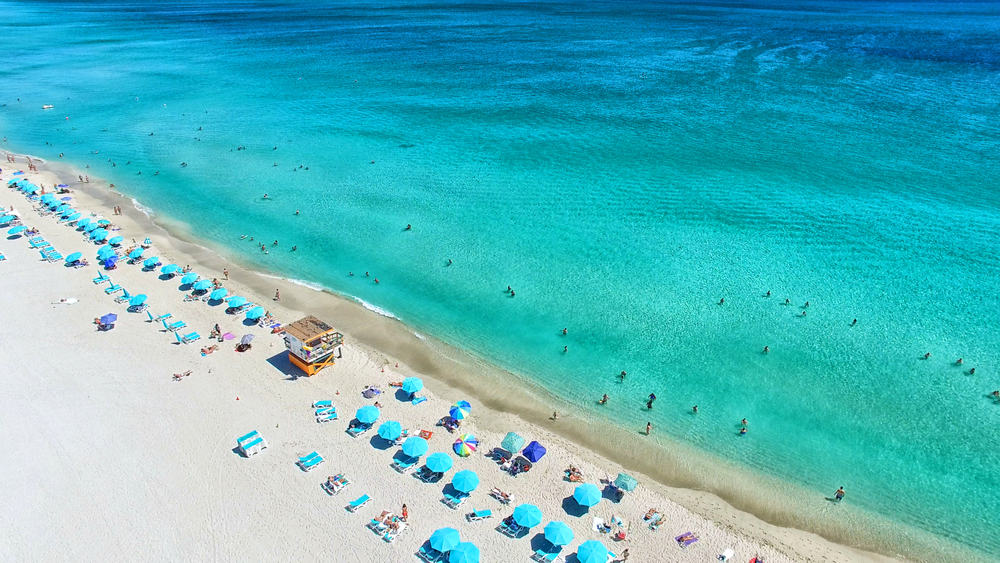 14 Stunning Beaches In South Florida You Must See
Naples Municipal Beach
The Naples Municipal Beach is a lovely beach perfect for watching the sunset. The one thousand-foot pier adds a cool element to any photos you take and is a great place to spot dolphins.
The pier is also a great place to cast a line if you like to fish. You really couldn't ask for a more scenic area to relax. Even if the fish aren't biting, you can enjoy the ocean breeze as you watch pelicans and other sea birds soar.
This Naples beach is also a great place to swim, search for seashells, or lay out a blanket to work on your tan. When you are done at the beach, check out the many nearby restaurants. This is truly one of the best things to do in Southwest Florida!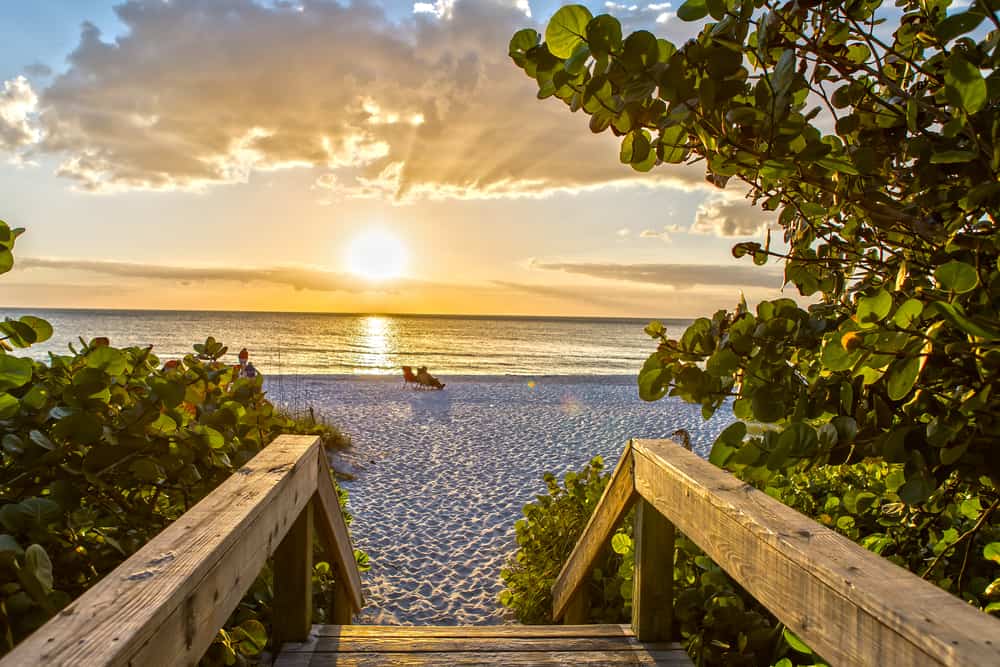 Marco Island
Off the coast of Naples is Marco Island, the largest of the 10,000 Islands. There are a couple of public beaches here as well as some Florida hidden gems to discover. If you are looking for beaches that are less crowded, come here!
The first beach here is South Marco Beach, but the better one to visit is Tigertail Beach. This is a beautiful beach encompassing many nature aspects. A variety of bird species can be spotted here. This is also one of the best places to comb for shells.
This beach includes a bath house, restrooms, and plenty of boardwalks. There is a concession stand where you can get snacks or rent beach equipment. Overall, this is one of the best beaches in South Florida for a family day in the sun and surf.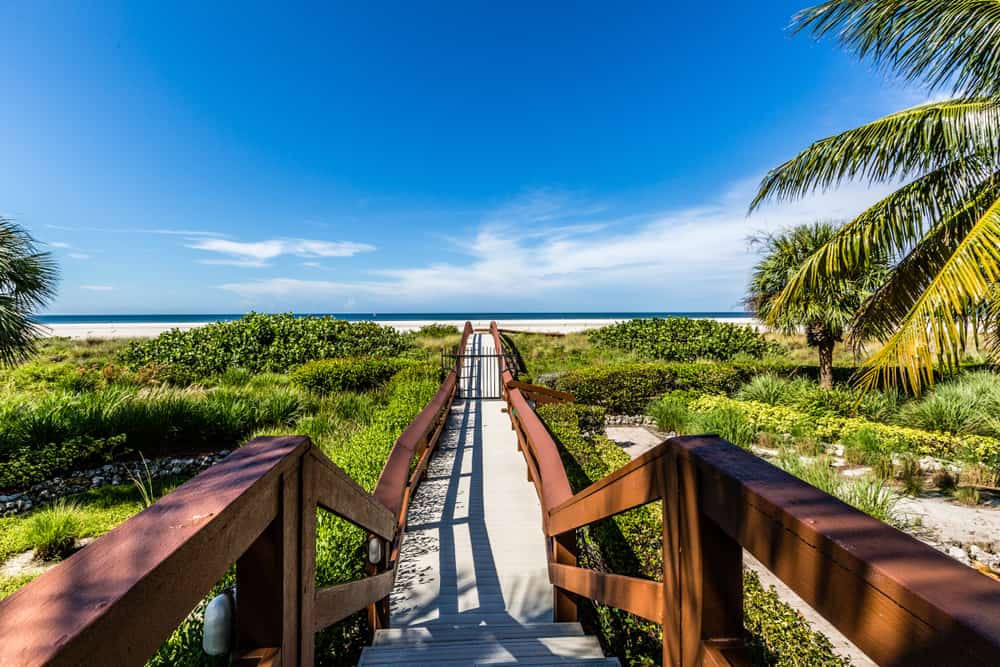 Lighthouse Beach
Sanibel Island has a ton of great beaches to choose from, and Lighthouse Beach is one of them. This is a beautiful place to take pictures, especially if you want a cool, industrial lighthouse in the background. This metal lighthouse has a long history that goes back to the Civil War.
With gentle currents and pretty white sand, this beach is a great place to bring the family swimming. Or find a private corner to cuddle with your partner on a blanket.
There is also a fishing pier with superb views. If you want to get some exercise after lounging for a few hours, check out the hiking and biking trails.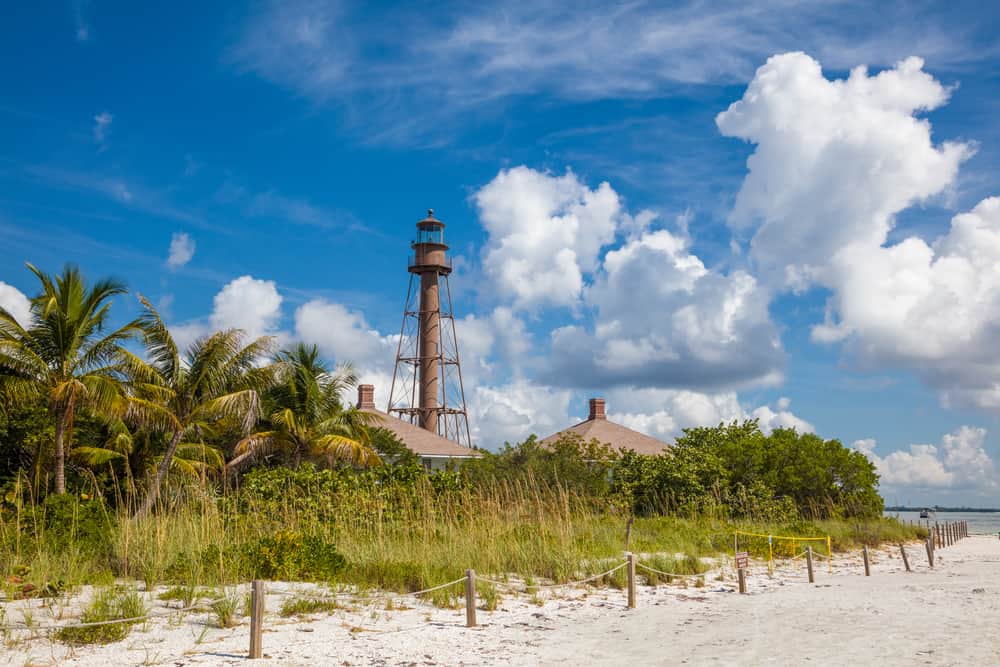 Captiva Beach
On Captiva Island, you will find the secluded Captiva Beach, perfect for a romantic afternoon spent watching the waves lap against the shore. If you want to stay longer, there are plenty of accommodation choices. Besides the South Seas Island Resort, there are many beach cottages, cabins, and glamping options.
Though this beach is not super big, it does provide amazing, panoramic views of the ocean. This makes it one of the best places to be for sunset. You'll have a fun time here taking couples photos as the sky changes colors.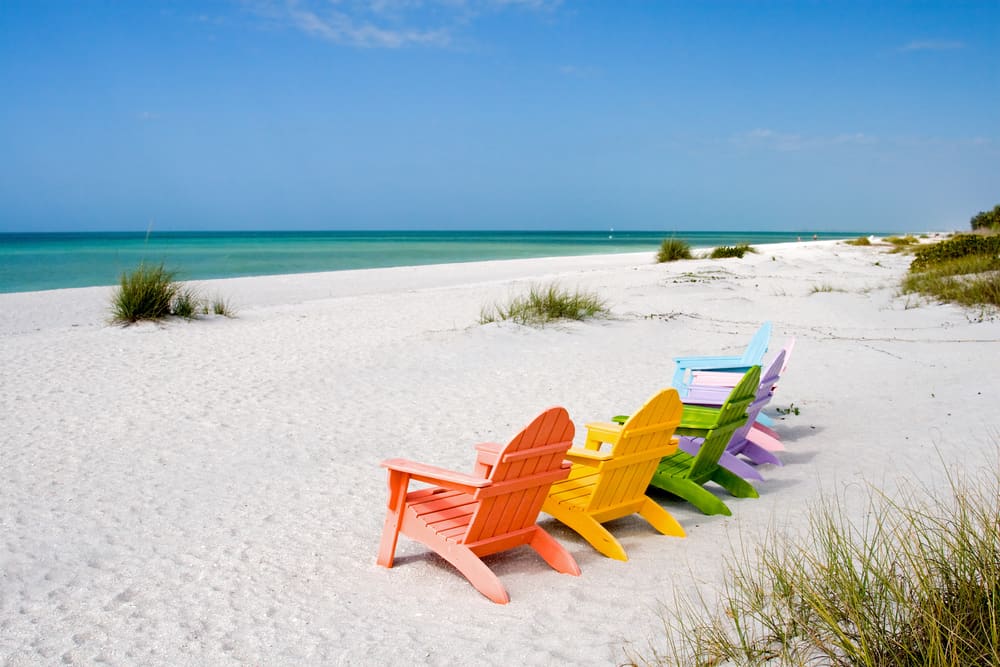 Delray Beach
Delray Beach is right down the coast from West Palm Beach and is perfect if you are looking for great east coast beaches in Florida. This cute beach town has a vibrant atmosphere and enough shops and restaurants to fill a day trip.
Head to the beach and get ready to lay back and relax! Or rent some gear like paddleboards and get out into the surf. If you like snorkeling, there are really cool rock reefs here to explore. If you don't find any marine life while swimming, go to the Sandoway Discovery Center for a close-up look up at many aquatic animals.
Fort Lauderdale Beach
Fort Lauderdale has miles of great beaches ideal for a break from city life. There is a wonderful pedestrian beachfront promenade with plenty of shops, cafes, and restaurants to check out. When you aren't eating or shopping, lay back on the shore and soak in some rays.
For some added adrenaline, why not try some water sports? Fort Lauderdale Beach is known as a great place to go jet skiing or windsurfing. For something a little calmer, go boating or fishing. This is a great jumping-off point for a deep-sea fishing charter.
If you want to get in the water, you can enjoy snorkeling or scuba diving. When back on dry land, you can play beach volleyball. Fort Lauderdale Beach was once a hotspot for spring breakers, but the party scene has died down, so don't worry.
Don't forget to check out our list of the best Beachfront Resorts In Fort Lauderdale for your trip!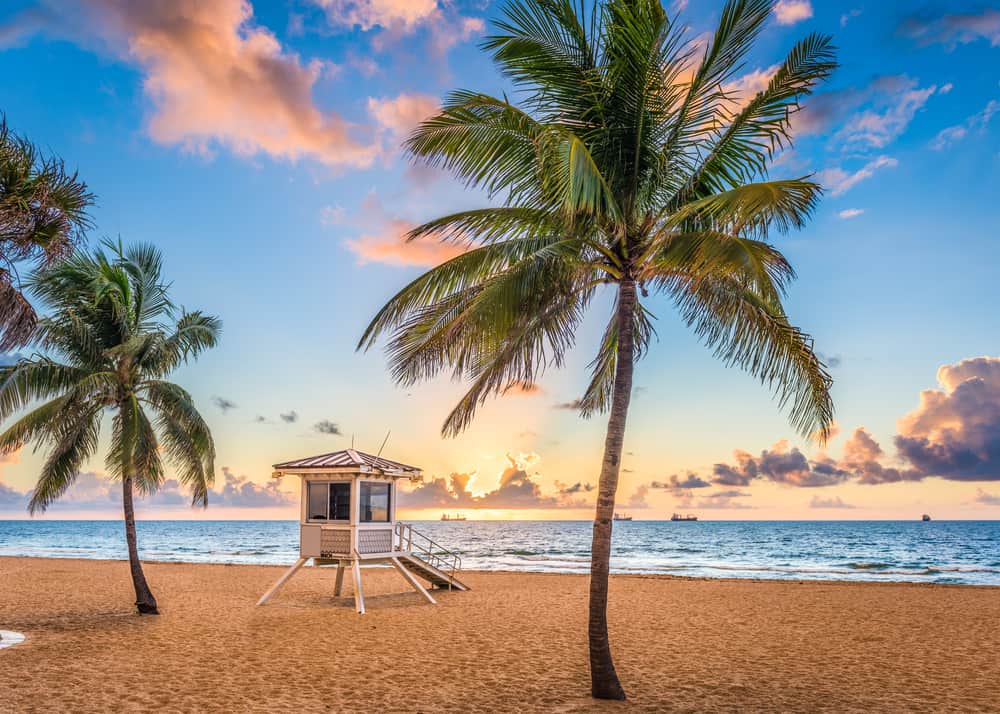 Sunny Isles Beach
Let's head into the Miami area where there are a ton of beaches to enjoy! First up is Sunny Isles Beach. This beach in South Florida features two miles of sand and crystal clear water. The water is so clear, it is ideal for snorkeling.
The beach's Newport Fishing Pier is a good location to fish or find nice lookouts to the ocean. There is also a restaurant were you can enjoy a meal with a view. From here, you can watch people jet skiing or boating before going out to have fun yourself.
There are also fun activities hosted at this beach, including concerts. If beach yoga or meditation sounds relaxing to you, then come here to experience this tranquil pastime.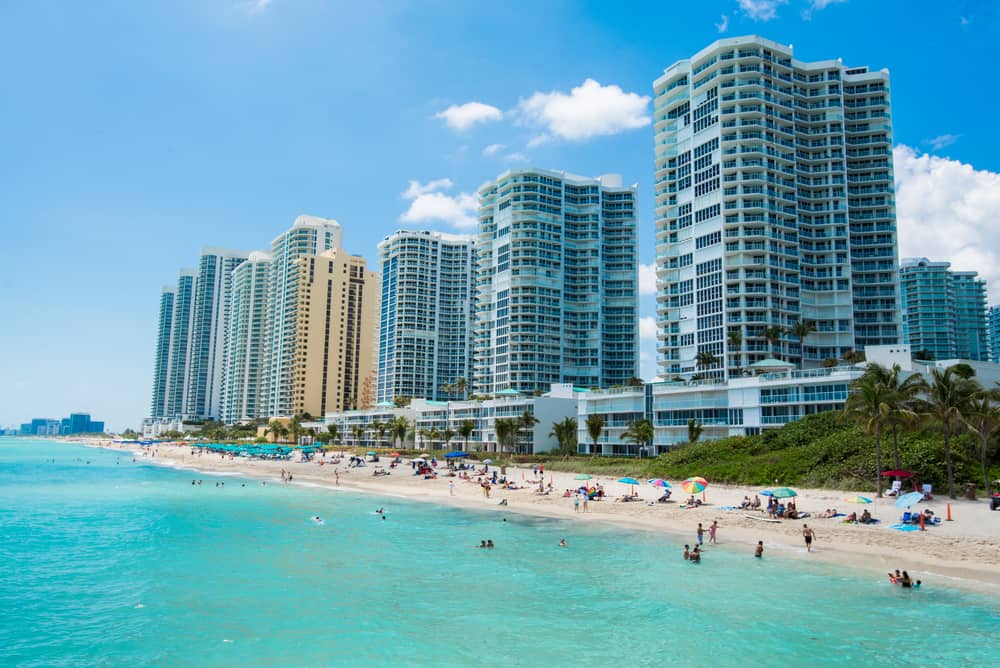 South Beach
South Beach is probably the most famous beach in Miami and one of the best beaches in Southeast Florida. This is a very family-friendly beach and is sure to be the location of many fond memories. With white sand paired with turquoise water, South Beach is rated one of the best beaches in the world.
This beach is in a hip neighborhood so it is worth a visit just to experience the lively vibe. There are many cool art deco buildings along with amazing restaurants and cool shops.
If you visit Miami, you will want to come to South Beach and see what it is all about. Make sure to snap some photos of the cool lifeguard stations.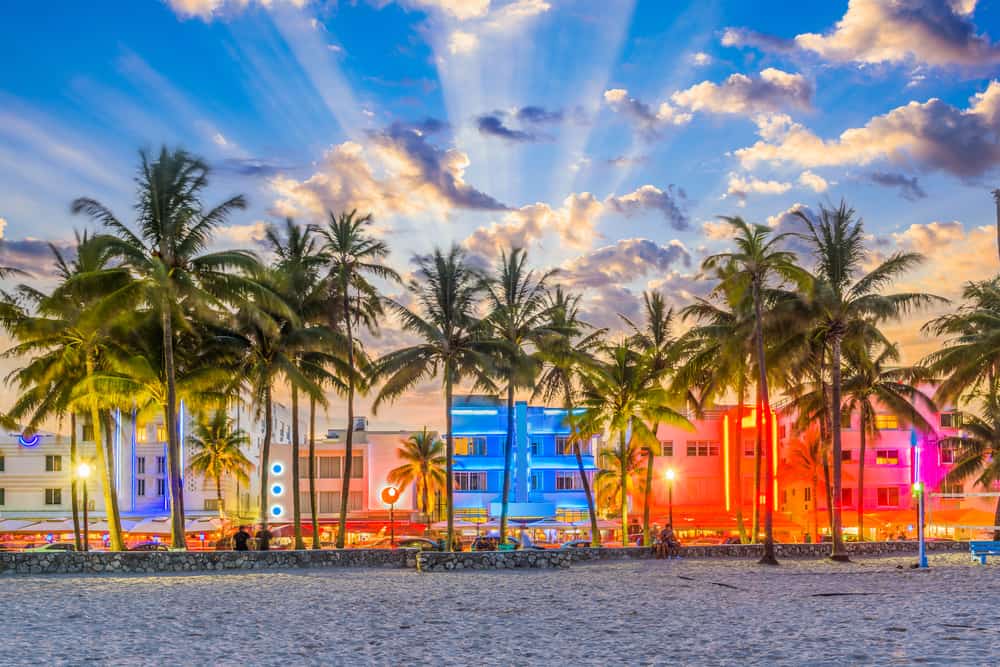 12th Street Beach
12th Street Beach in Miami is one of the best gay beaches in Florida. While it is technically part of South Beach, it deserves its own mention. If you are searching for an LGBTQ-friendly beach, this is the one for you. When you spot the rainbow flags, you will know you have arrived!
This is a lively and fun beach perfect for a day of chilling or hanging out with friends. If you like your beaches energetic with music to dance to, this is the one to visit. There is also beach gear to rent.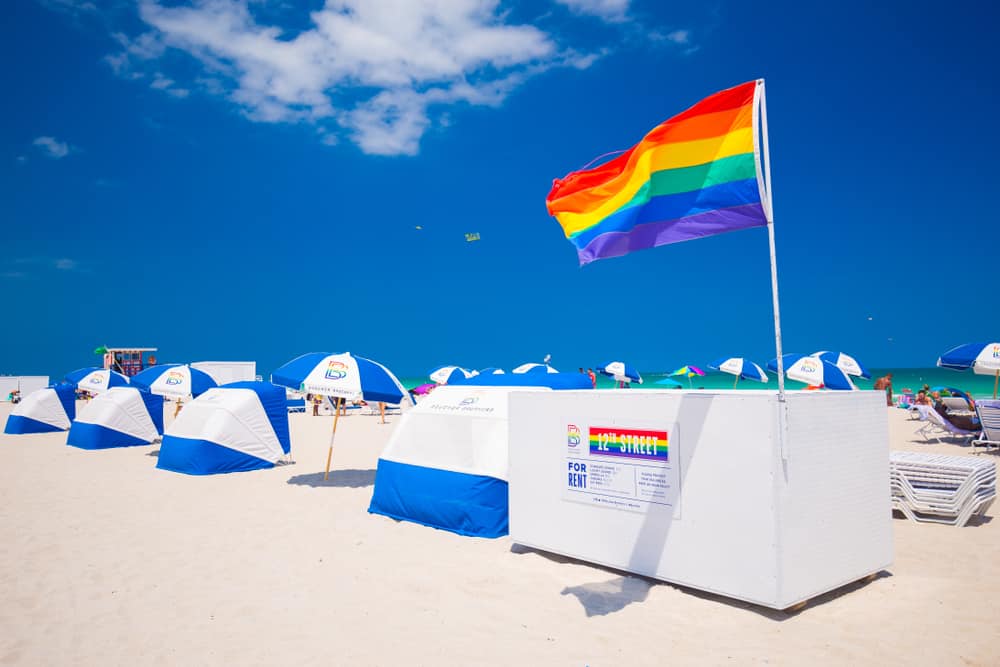 Crandon Park Beach
Crandon Park Beach is found on the northern side of Key Biscayne, just outside of Miami. This South Florida beach makes a great weekend getaway from the city. Come here to enjoy small-town beach vibes with fewer crowds than in Miami.
This beautiful beach encompasses a two-mile stretch of white sand and calm water, making it a great place in Florida for a family outing. Make sure to pack a lunch to enjoy in the shady picnic area.
Along with the beach, Crandon Park also includes hiking trails, tennis courts, golf courses, and a skating rink. There is also a cool fossilized reef to check out.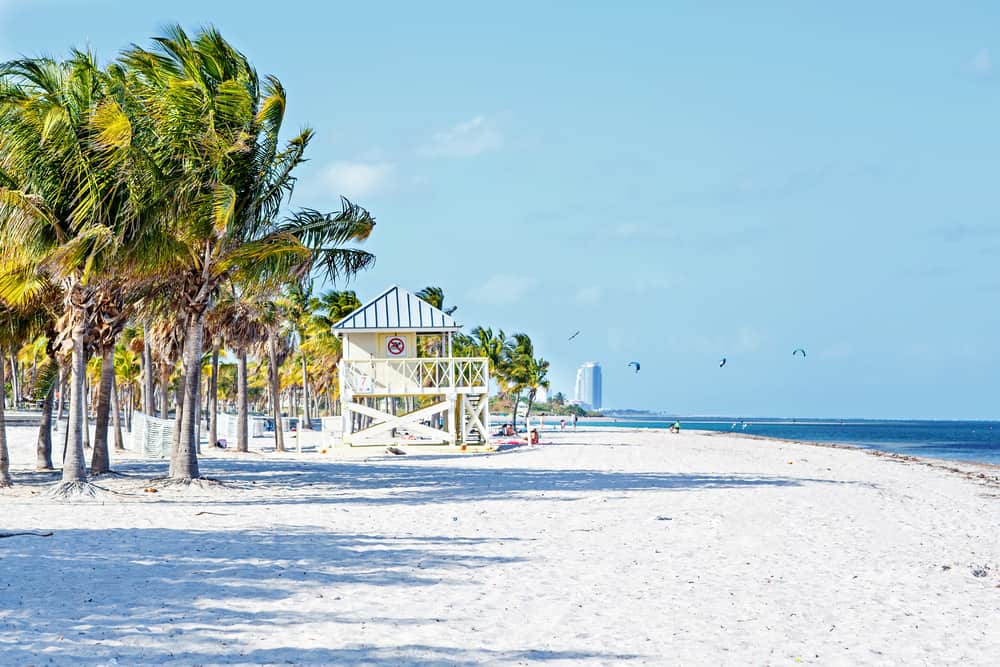 Bill Baggs Cape Florida State Park
When you get to the southern tip of Key Biscayne, you will find Bill Baggs Cape Florida State Park. With two of the best beaches in South Florida on Key Biscayne, this scenic island is definitely worth a visit!
The beach at this Florida state park is a relaxing and calm place to visit. There is a fishing pier and a birding trail for some outdoor recreation. You can also rent bikes to ride around the park.
Interestingly, the oldest structure in the Miami-Dade County is found here as well. The Cape Florida Lighthouse dates back to 1825 and offers amazing views to visitors.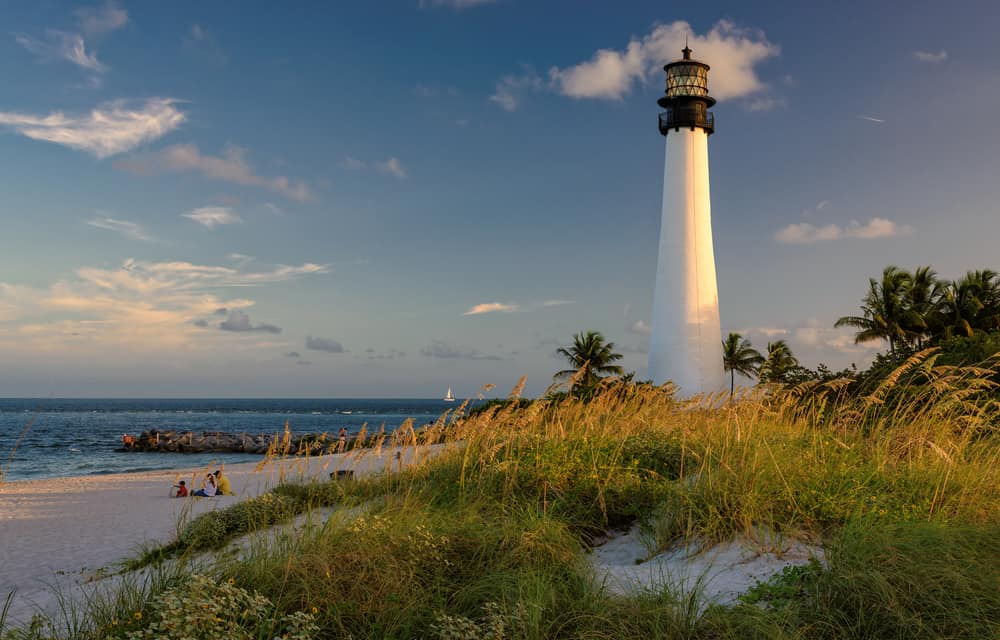 Bahia Honda State Park
Now let's move even farther south to the Florida Keys. This beautiful string of islands has plenty of beaches to discover if you know where to look. Probably the most famous beach in the Florida Keys is found at Bahia Honda State Park, just past the Seven-Mile Bridge.
There are two beaches here, both of which are super pretty with bright, blue water and plenty of palm trees for shade. The water is so clear, it is a great place for snorkeling.
The most prominent feature at Bahia Honda is the iconic Old Bahia Honda Bridge. This historic bridge adds a cool element to any picture you take of the beach.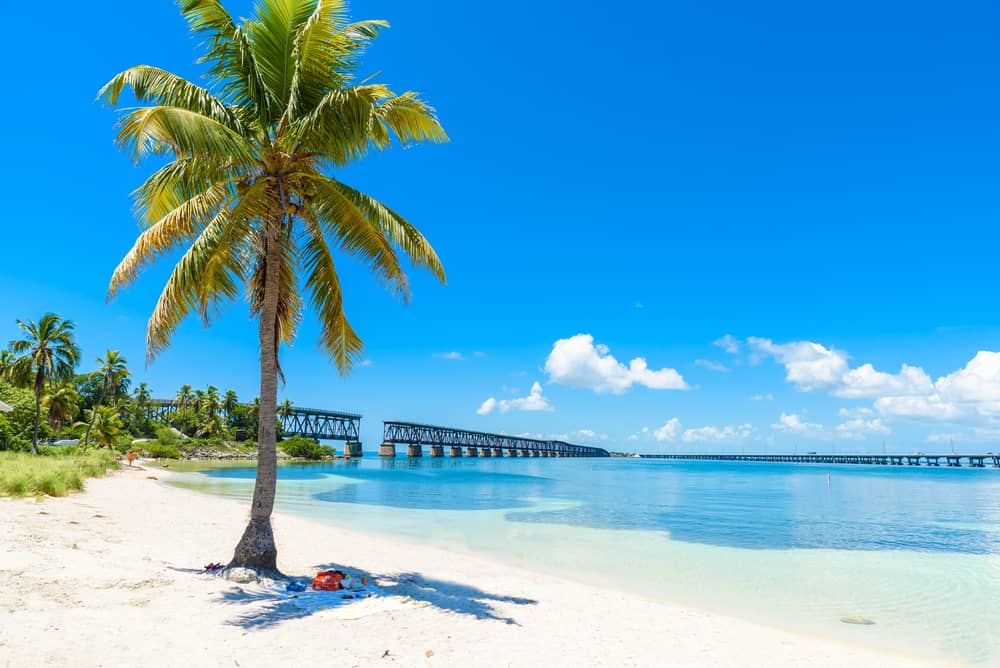 Smathers Beach
Once you arrive in Key West, the southernmost city in the continental U.S., you will want to get out of the car and stretch your legs. Smathers Beach is the largest of the beaches in Key West and a great spot to sunbathe. Even though this is a manmade beach, it is just as pretty as any natural one.
You can also enjoy some water sports here or you can get a workout playing beach volleyball. Cool off in the water with a swim or try to find cool underwater sights with snorkeling gear.
This is a great South Florida beach for families as well. The picnic tables give you an area to create a place for yourselves. The beach slopes into the water at a shallow angle, so it is great for younger swimmers or wading.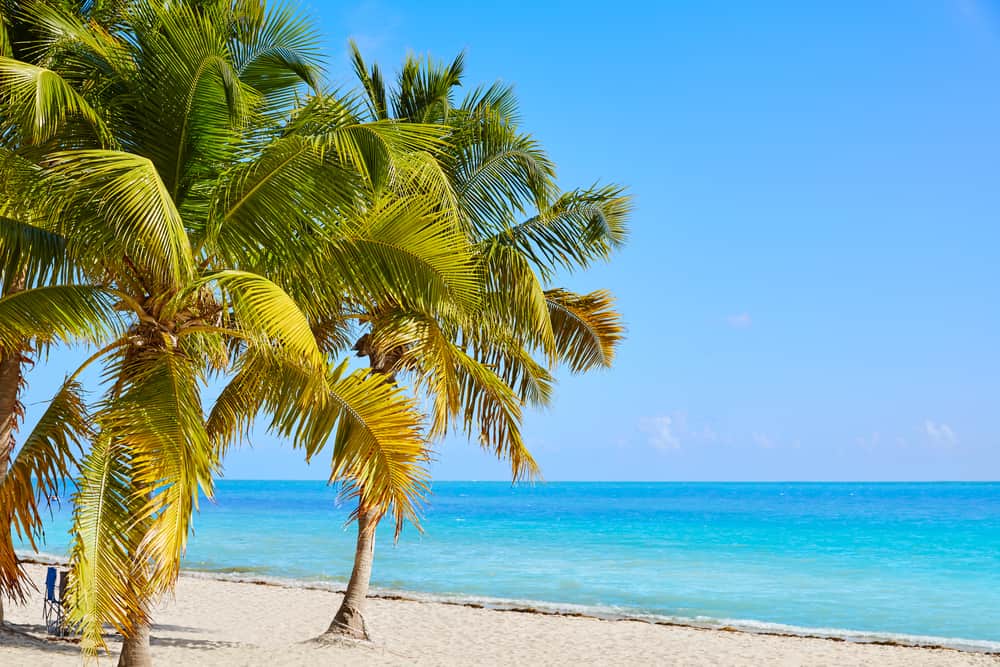 Dry Tortugas National Park
From Key West, you can take the ferry or a seaplane to Dry Tortugas National Park. This is a bit of a Florida hidden gem just because of where it is located. While the main draw of this National Park is the historic Fort Jefferson, there are also a good amount of beaches considering how small the island is.
Check out each beach and figure out which one you like the most. You can easily walk between all of them as you enjoy the scenic area. Or consider renting a kayak and paddling to each beach.
Snorkelers will want to come to Dry Tortugas just to swim at the South Coaling Dock Ruins and other snorkel-designated areas. If you don't have your own snorkel gear, don't worry! You will be provided some when you arrive!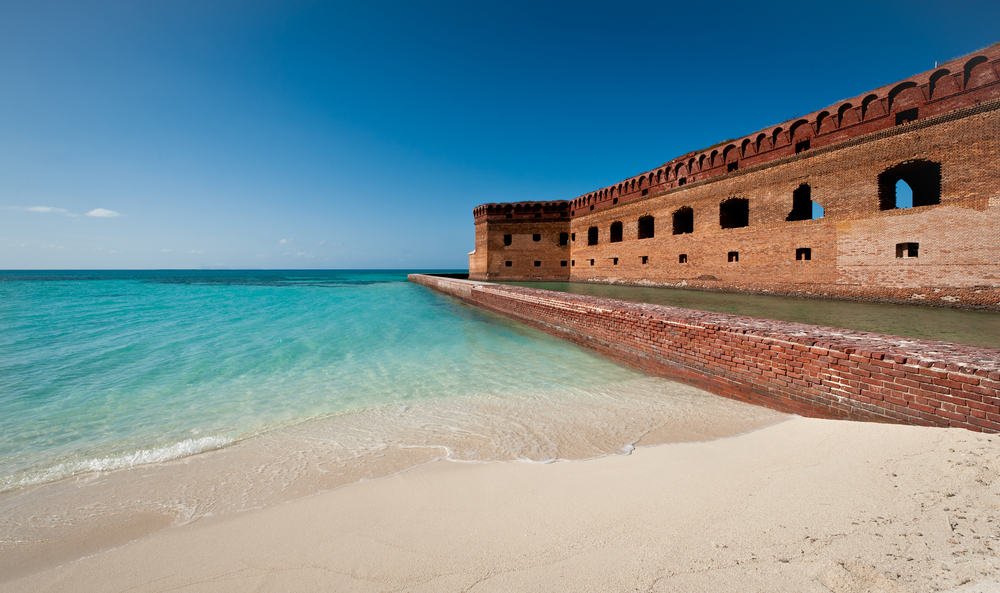 There are so many awesome beaches in South Florida, and you are sure to want to see them all. From cool party scenes to family-friendly hangouts to peaceful and secluded corners, there is a beach for every type of vacationer. Make sure you bring along some reef-safe sunscreen and a camera to capture all of your Florida beach memories.
Did You Find This Post Helpful?
If so, we would love to keep in touch! We enjoy seeing photos and comments about your experiences in Florida! You can follow us on Instagram and we will repost your photos on our feed and comment too! Just tag us at @floridatrippers and hashtag #floridatrippers. We can't wait to see your travels!