Built to be a "water wonderland," there are plenty of amazing things to do in Cape Coral! Just adjacent to Fort Myers, this quaint Florida beach town is more than just a mile marker on your road trip to Miami.
Renowned Gulf beaches, verdant golf courses, and popular family attractions all make Cape Coral an appealing destination for visitors. With so many activities on the shoreline and waterways, many anglers and boaters have chosen to make this paradise their home.
Cape Coral boasts 400 miles of canals, boating, fishing, and water spots! That's the most miles of navigable waterways in the entire world! Venice can put that in its pipe and smoke it!
Just minutes away from Captiva Island and Sanibel, Cape Coral is central to many of Florida's most beautiful beaches. If you're not covered in sunscreen and sand from the beach, you're doing it wrong!
Cape Coral is also home to a variety of native Florida wildlife! With so many nature preserves and state parks, here you'll find the largest population of the adorable burrowing owls! Cape Coral is also one of the best places to see manatees and alligators in Florida!
With great museums, a water park, and plenty of public amenities, Cape Coral is a perfect family vacation with something for everyone to enjoy! So make sure to hit all of our favorite things to do in Cape Coral, listed below!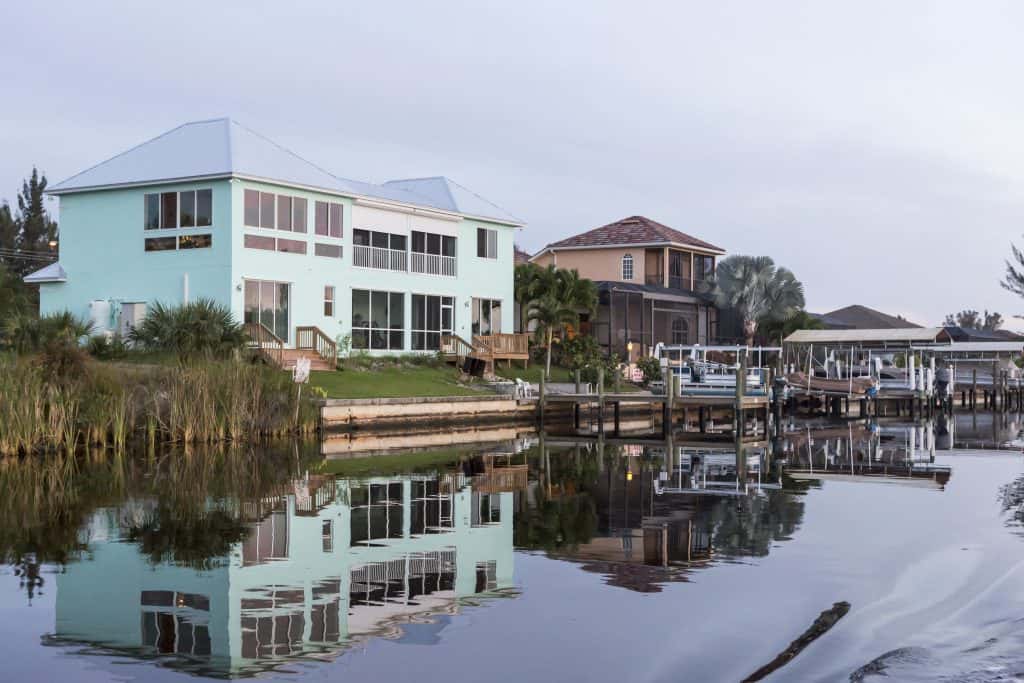 16 Fun Things To Do In Cape Coral Florida
Sun Splash Family Water Park
We get it, summer in Florida is hot! So the next time an insufferable heat wave hits, head to one of the best Cape Coral attractions, the Sun Splash Family Water Park! The perfect place to splash all summer long, cool off while enjoying one of the best things to do in Cape Coral!
Sun Splash Family Water Park offers 14 acres of summer fun activities, the largest water park in Southwest Florida. Just north of the Veterans Parkway, the park opens on selected dates from June to September. Check their calendar for the complete, updated schedule.
Get your adrenaline rush on scream-inducing slides like the Cape Fear, Fun-L-Tunnel, Zoom Flume, and the 457-foot Electric Slide and Power Surge! Not enough? Free fall down 5 1/2 stories on the Thunder Bump, Terror Tube, and X-Celerator.
If a lazy river is more your speed, relax on the gently drifting Main Stream River Tube Ride. For little swimmers too small to go on the big slides, send them to the Pirate's Cove.
Recharge and rehydrate with a variety of food, snacks, and treats found throughout the park. The Calypso Cafe serves combo meals with hamburgers, hot dogs, and wraps! Hit the Tiki Express for ice-cold beer and an assortment of wines. Cool off with Italian Ice and ice cream at the Ice Cream Shoppe!
Rotary Park Environmental Center
One of the best things to do in Cape Coral is to unplug and explore nature! At the Rotary Park Environmental Center, Cape Coral and the Department of Environmental Protection have created a reserve that preserves beautiful marshlands and wetlands!
Over 97 acres large, walk down the rugged trails and even a boardwalk at Glover Bight. As you wander through the mangrove wetlands and shallow flats, you'll see wading birds, snakes, and gopher tortoises. This is also one of the best places to see wild alligators in Florida.
Climb up to one of two observation towers to get a bird's eye view. At low tide, you can see the broader area, full of oyster bars and shallow flats. Walk quietly for your best chance to see wildlife. Because it can get humid in the summer, wear bug spray to protect against mosquitos!
Make sure to visit the Tom Allen Memorial Butterfly House, open since 2019. Housing and providing sanctuary to butterflies native to Florida, take a guided tour for free! Access to the house is limited to Monday, Friday, and Saturday at 10:30 AM.
Rotary Park Environmental Center is also home to Cape Coral's only dog park! At Wagging Tails Dog Park, your pup can interact with other dogs in a 1.25-acre fenced-in area! Owners can sit on several shaded benches. Registration is required for entry!
To get closer to nature, rent a kayak and hit the marshlands! Rentals are available at the EcoPreserve and include single and tandem kayaks! Keep in mind the kayak launches are only open from November through May.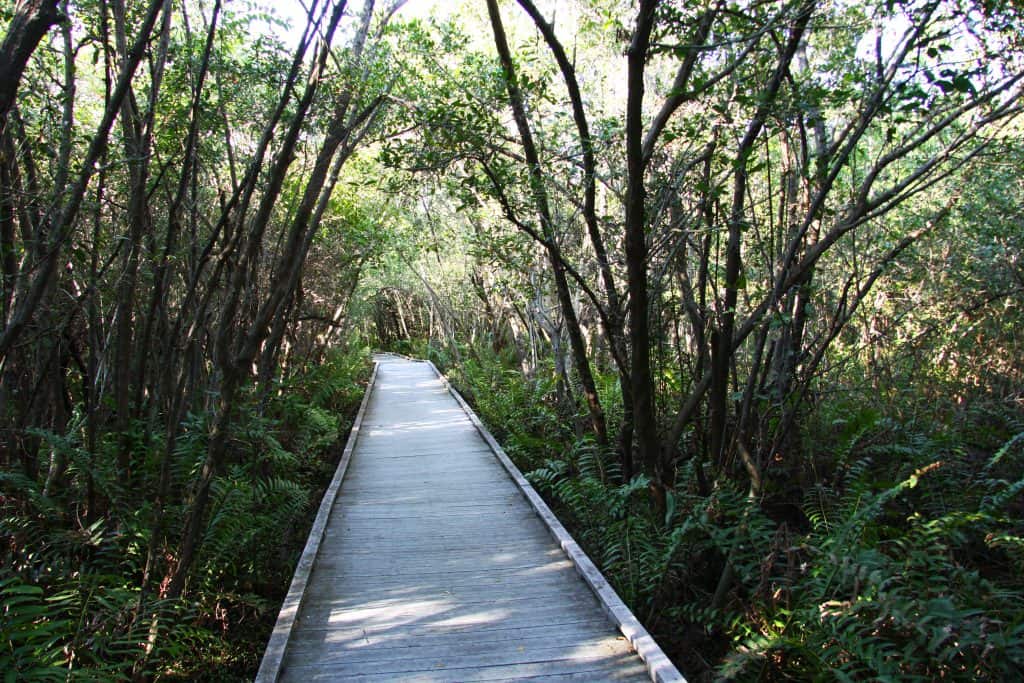 Cardboard Boat Regatta
A long-standing tradition in the community, the Cardboard Boat Regatta is one of the most fun things to do in Cape Coral! Since 1994, the entire town gathers along the banks of Seahawk Park's canal to see who will swim or sink… literally.
The Cardboard Boat Regatta pits racers against each other who create boats from cardboard. Students, families, friends, clubs, and businesses build the boats using only the approved materials: corrugated cardboard, glue, and tape. Decorations can't help support the boat's structure or aid flotation.
As for the design? Reach to the corners of your wildest imagination and multiply that times ten! Recent years have included dragons, Viking ships, and yellow submarines! Participants are encouraged to make their designs colorful, crazy, and of course, seaworthy.
An average of 3,000 spectators come to see which boat will win the Regatta. Awards are also given to the longest time to get around the course and most spirited team. If your boat sinks, don't worry! You could take home the coveted "Titanic Award" for the most spectacular sinking!
While the Cardboard Boat Regatta is free, the event raises money for the Club's many service projects through t-shirt, beer, and food sales. An average of $8,000 is raised every year and goes directly to fund dictionaries for kids, taking visually impaired people boating, and picnics for foster kids.
Cape Coral Festival of the Arts
Brought to you by the Rotary Club of Cape Coral, comes one of the best festivals in Florida! For the past 35 years, the Cape Coral Festival of the Arts brings together the works of over 300 artists and artisans from across the country.
Usually taking place the second weekend in January, the city gathers on Cape Coral Parkway for Lee County's largest special event. Over 120,000 visitors browse the arts and wares of the vendors!
The main event is a first-class, juried art show. If these artists travel to Cape Coral from New York and California, it's probably worth your time to meet them there! See six categories of works represented: painting, photography, digital art, mixed media, sculpture, fine arts, and jewelry.
In the Marketplace section of the festival, vendors line up on Cape Coral Parkway. Browse the booths to score one-of-a-kind finds like jewelry, home decor, and paintings! Don't forget to fill up on food provided by local vendors.
Cape Coral Festival of the Arts is also a music festival! Musicians come from all over the nation to play the stage here. You'll hear every genre from rock and roll, hard rock, and country to blues, jazz, and gospel! Nearby bars and restaurants run drink specials while you lounge.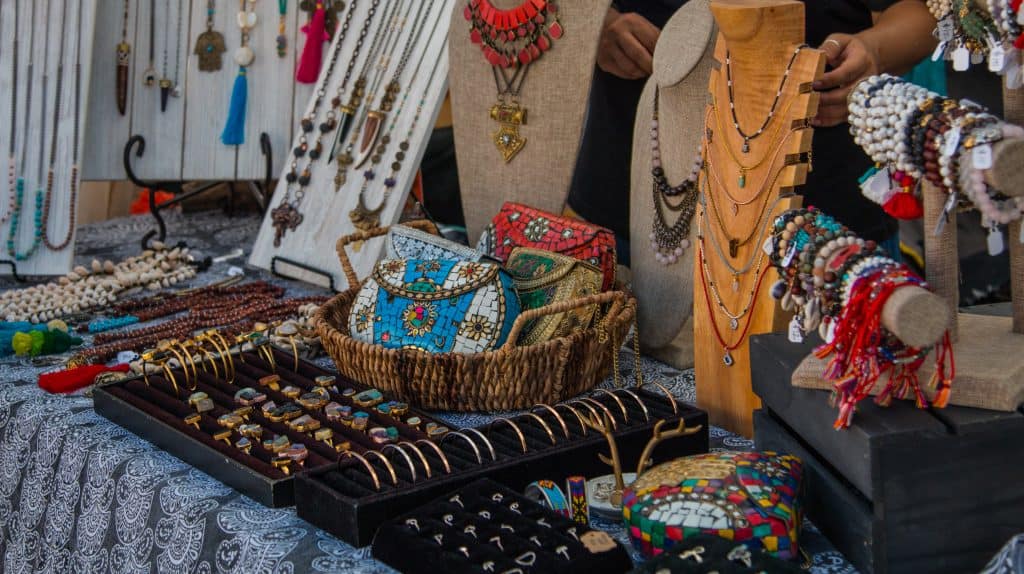 Fossil Expeditions
Florida emerged from the Atlantic Ocean about 30 million years ago. While that was after the dinosaurs became extinct, that doesn't mean Florida didn't have prehistoric creatures! That's right, at one point, Florida was home to giant sharks, massive mammoths, and saber-toothed tigers!
Today, you can still find fossils of those creatures! While you need a permit to start your collection, bypass that and attend a guided Fossil Expedition. Join a professional guide along the Peace River, just 30 minutes north of Cape Coral.
Search for fossils by using a shovel and screen to sift through the sediment. You might just discover Florida's ancient past in the river beds! It's not difficult, and kids can even do it!
Walk-In trips allow you to park and fossil-hunt within walking distance of your vehicle! You'll meet at a pre-arranged location and spend 5-6 hours fossil hunting. All tours are set up by reservation, just email through the guide's contact form!
If you like to canoe or kayak, then go on a river expedition! On a canoe, you'll be able to access more remote and less-collected locations. You'll also be able to take in more wildlife and beautiful scenery!
Matlacha
For something truly out of the ordinary and one of the most fun things to do in Cape Coral, head over to Matlacha Village! Pronounced "mat-la-SHAY," Matlacha means "big warrior" in Seminole!
A quirky, historic fishing village, Matlacha feels like Key West, minus the crowds. The colorful charm and laidback vibe captures the essence of turn-of-the-century Florida. On a walking tour, you'll see pink palm trees, dolphins painted with polka dots, and one-of-a-kind homes painted in neon colors.
When you visit Matlacha Pass, you'll always see an angler reeling in a big catch! Known as the "World's Fishing-est Bridge," a tidal current runs beneath that sweeps in snook, redfish, and tarpon.
After, you have to pass by the "Doll Lady's" House. She decorates her front yard with her collection of "junktiques." You'll be charmed by hobby horses and rag dolls sitting in salvaged garden chairs.
Matlacha Village is also home to renowned international artist Leoma Lovegrove. Her eclectic, colorful artistic medium has influenced the entire village. In her gallery, you'll find her vibrant paintings displayed throughout a whimsical garden.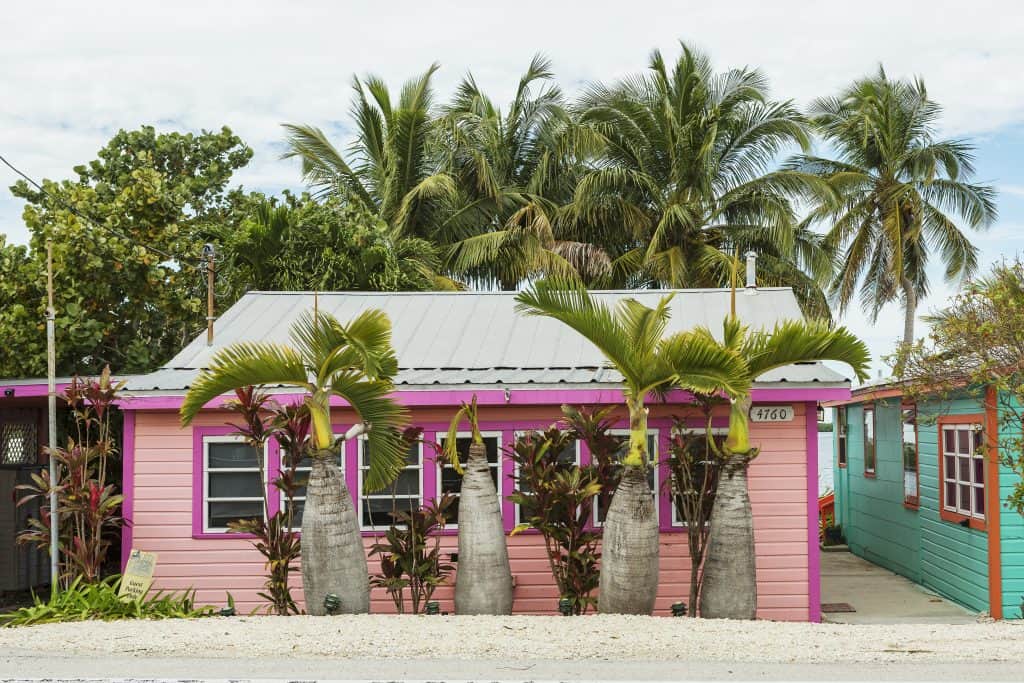 Cape Coral Farmers Market
One of the best Cape Coral activities is to pay a visit to the Farmers Market. Not just one, but three markets provide you with the best fresh, local, and healthy produce in the area!
The Downtown Farmers Market is held in Club Square every Saturday from 8 AM – 1 PM. Check out the Surfside Sunshine Market every Tuesday from 9 AM – 1 PM at the Shops at Surfside. Seasonally from May through September, you'll find the Cape Harbour Farmers Market in the shopping district on Sundays from 9 AM – 1 PM.
While all three markets share similarities, the Downtown Market features the most fresh produce and veggies. At the Sunshine Market, you'll find more homemade products like jams, jellies, sauces, honey, bread, pastries and more!
At the Cape Coral Farmers Market, you can always find live entertainment on either the West End of East End Stages. The Cape Coral Farmers Market showcases the best of local musicians! Featured acts include Charlier Kuchler, Dave Lapio, and John Friday.
Four Mile Cove Ecological Preserve
A hidden gem in a forest of mangroves along the Caloosahatchee River, you'll find one of the best things to do in Cape Coral. The Four Mile Cove Ecological Preserve is the second largest in Cape Coral, spanning 365 acres.
Hikers will enjoy the 1.2-mile loop trail through the mangrove fringes. From the Visitor Center, a boardwalk runs into a rare coastal prairie with benches, perfect for bird-watching! Make sure to look out for burrowing owls!
As the boardwalk winds through needlerush marshes and shaded corridors of saltbush, you'll emerge in an area with giant leather ferns. Before the trail loops back, you'll be afforded great views of Thomas Edison's winter home across the river.
Once you've walked the trail, rent a kayak from November to May on the weekends! Launch your boat into a puzzle of waterways that elegantly snake through the mangroves.
If you're an angler, head to the observation deck near mile marker 0.2. From here, you can cast your lines into the Caloosahatchee River. Make sure to check with the land manager before you fish. Algae blooms may be flushed down periodically from Lake Okechobee.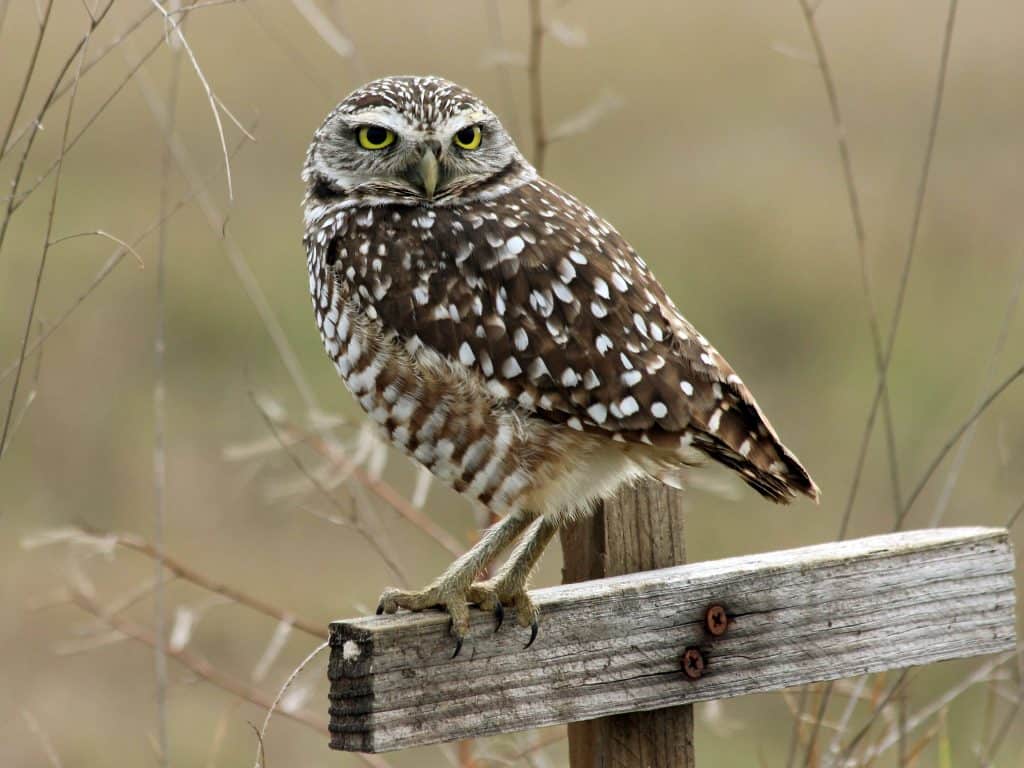 Southwest Florida Military Museum and Library
Dedicated to honoring the military and preserving and displaying artifacts, the Southwest Florida Military Museum and Library is one of the most sobering things to do in Cape Coral.
With displays ranging from the Revolutionary War through the Afghanistan conflict, the museum educates the public about our nation's military heritage! You can see war propaganda, preserved newspaper headlines, war vehicles, and over 60 fully dressed mannequins.
These artifacts help to give visitors a better understanding of the subject and period customs they are viewing. With so much attention to detail, this Military Museum is one of the best museums in Florida.
Learn about the history of Cape Coral's Iwo Jima statue at Echo Park in a 23-minute video in the Michael Geml Theater. A second video honors Capt. Daniel Eggers, a Cape Coral native killed in Afghanistan in 2004.
The Library section of the museum offers a collection of history reference texts, rare books and documents, and periodicals. While these are used mostly for scholarly research and education study, it's fascinating to peruse the collection.
The Southwest Florida Military Museum also hosts many events like the Mural Walk! Artist Mary Anne Passatore creates mural of battle scenes to be viewed during a wine tasting.
You can also attend auctions featuring items from the Civil War, WWI, and WWII ranging from artifacts, coins, jewelry, and more!
Shopping and Dining at Cape Harbour
Built as a "water wonderland" and boater's paradise, the heart of Cape Coral lies in Cape Harbour. In its prime location surrounded by 7,00 acres of nature, Cape Harbour is one of the best things to do in Cape Coral with elegant shopping and dining options.
Whether you arrive by car or dock your boat at the marina, you'll breathe in the heart and soul of of the Cape Coral community. You'll get a taste of the Mediterranean in the Harbour's architecture. Elegant gables, arched entrances, and wrought-iron grill work create a sophisticated ambiance.
Among the waterfront shops, you'll find everything you could possibly want and more! Spend the day window shopping along the promenade. It will be hard not to bring home trinkets from Fetch Dog Boutique and the adorable Wish List Gift Shop.
Once you've shopped until you've dropped, enjoy a meal, cocktail, or an indulgent gelato while reclining by the water. Choose from four restaurants: Rumrunners, The Joint, Pignoli, and Run Agrounds Coffee Shop.
There's always something going on at Cape Harbour! Join a zumba class, dolphin boat tour, or poker tournament. You can watch live music, rowing, and 36-hour fishing tournaments. Make sure to join the "Volksfest" of Bavarian activities during Oktoberfest!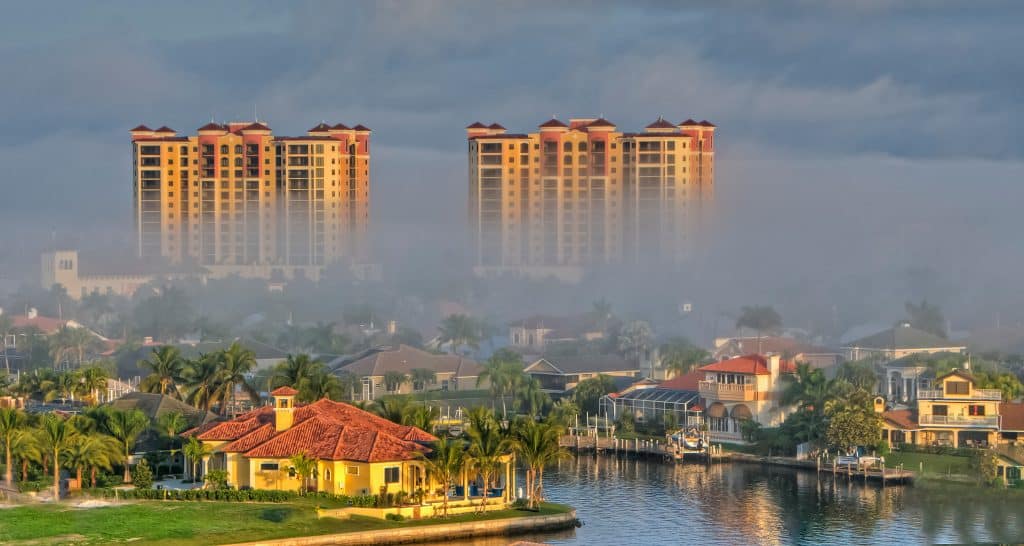 Caloosahatchee Regional Park
The Caloosahatchee River connects Lake Okeechobee to the Gulf of Mexico, suffering from government attempts to channelize its waters. Today, the natural habitats of the north shore have been preserved into a 768-acre state park!
Still under the management of Lee County today, the park protects the last wild wetlands in the area. One of the best things to do in Cape Coral, here you'll find an extensive trail system for exploring the subtropical habitats.
Separate trails make up 4.3 miles of adventure. Always check the weather, as during the rainy season, the river may flood. As a result, the trails will be impassable.
When hiking with small children, we recommend sticking with the River Hammock or Overlook Trails. You'll plunge into a dark hammock with tail cabbage palms. Make sure to look out for the rare tropical plants like marlberry and wild coffee. You'll recognize them with their shiny leaves.
Once the trail ends after a mile, you'll have reached your reward. Overlook Trail will spit you out onto an expansive observation deck. Here you'll get the best views of the Caloosahatchee River. Velvet-blue waves wash up along the unspoiled northern shoreline of the river.
Yacht Club Community Park
Locals have been enjoying the waterfront amenities of the Yacht Club Community Park since it opened in 1962. The original waterfront landmark of the town, the Yacht Club is one of the best things to do in Cape Coral.
At the Yacht Club Community Park, you'll find one of the best beaches in Cape Coral on the banks of the Caloosahatchee River. Swim and splash around and then enjoy a cookout on the barbecue grills and picnic shelters.
Right next to the beach, you'll find an expansive fishing pier open to anglers 24/7! Sports enthusiasts will also be pleased with the shuffleboard, pickle-ball, racquetball, and lighted tennis courts!
Get your cardio on in a heated, public Jr. Olympic swimming pool! Open 7 days a week, you can take swim lessons, attend water exercise programs, time yourself during lap swimming, and even attend summer youth camps. You'll also find two high-diving boards and a separate kiddie pool with an interactive dewdrop fountain and underwater bubblers.
The activity calendar is always full of events for all ages! Families can enjoy Holiday Light Cruises, a kid's Fishing Derby, and a Holly Jolly Breakfast with Santa! Adult Programs include Dueling Pianos, Comedy Nights, and a monthly Sunset Celebration featuring live music on the beach and arts and crafts.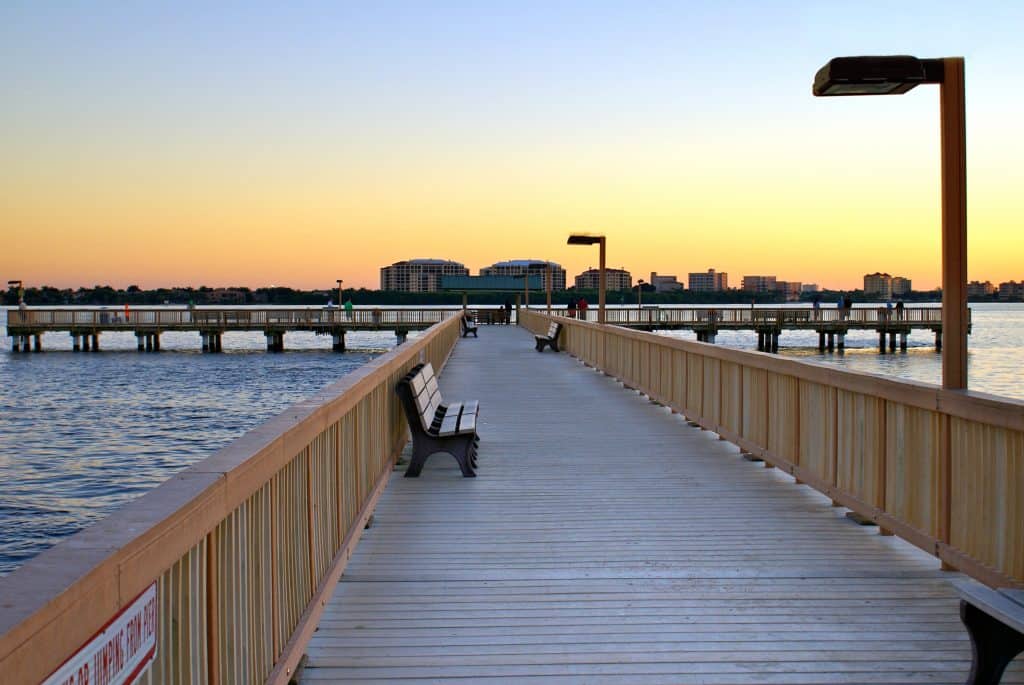 Coral Oaks Golf Course
Southwest Florida is home to some of the best golf courses in the state, but many of them are private, available only to locals. Luckily the Coral Oaks Golf Course is public, one of the best things to do in Cape Coral!
Designed by Arthur Hills, the championship course at Coral Oaks was built within a century old oak hammock. Along the 18 holes, you'll find TifEagle greens, contoured fairways, and gorgeous natural surroundings. With 8 lakes and 37 bunkers, this may be a challenge for any golfer, no matter their skill level.
In addition to the par 72 course, you'll also find one of the largest practice facilities in the area. Warm up on the driving range with both grass and artificial turf, a chipping area, and putting green. You can even take golf clinics from PGA professionals on staff.
After you've hit the links, stop at Knickers Pub, an essential part of the Coral Oaks Golf Course experience! Order breakfast or lunch all day at a reasonable price. Or you can just lounge at the bar with a cocktail and relive the highlights of your rounds.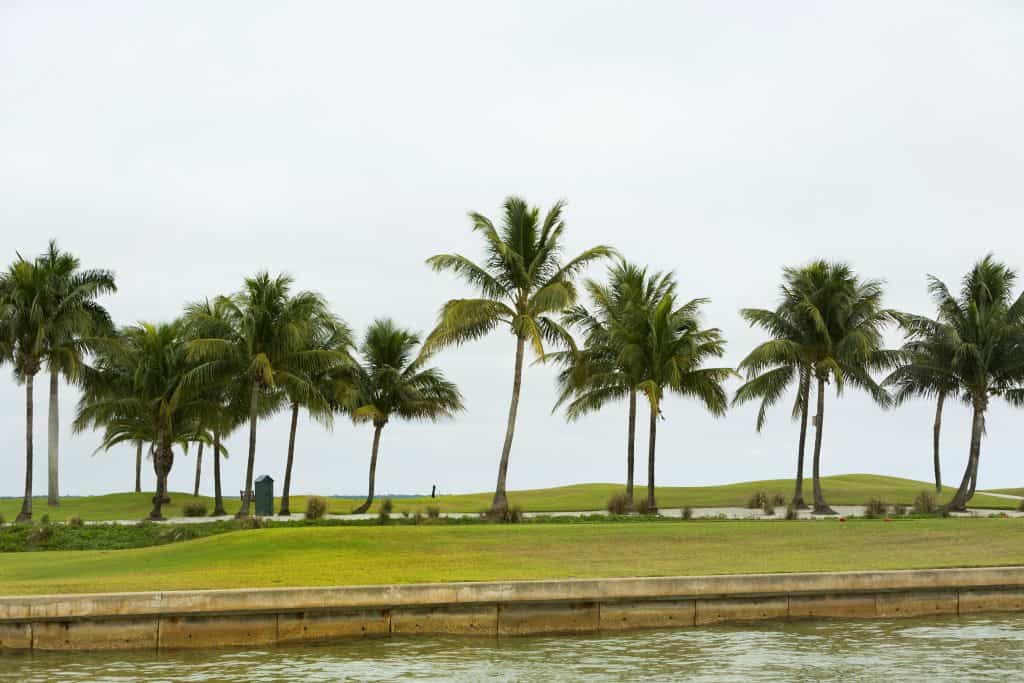 Eagle Skate Park
If you're more of a Tony Hawk than a Tony Bennett, then you're in luck! Eagle Skate Park is one of the best things to do in Cape Coral, whether you're a skater or just a spectator.
Right next to the William "Bill" Austen Youth Center, the Eagle Skate Park offers extreme fun for adrenaline junkies. It's also the largest skate facility from Tampa to Miami. Bike, scooter, and skateboard enthusiasts can drop in and enjoy the best skating park in Central and South Florida!
Built by the Amperica Ramp Company, you'll find a 27,000 foot skating surface. Among the surfaces, you can skate on ramps, rails, half-pipes, and a large bowl!
After your session, head to the Skate Park Building to cool down with free wi-fi as well as concessions like ice cream, milkshakes, and sundaes.
All skaters must sign a waiver before entering. Children under the age of 18 must have a parent/guardian sign their waiver. Safety is the park's top priority, so helmets are required at all times. Entry is $5 for skaters and $1 for spectators per session.
If you're an absolute novice and want to learn how to skate, you're in luck! An experienced instructor can teach you the fundamentals needed to perform a variety of street and ramp tricks. You'll be sure to impress your friends and family!
Sanibel and Captiva Island
Just off the coast of Cape Coral, you'll find one of the prettiest islands in Florida waiting for your escape to paradise. Sanibel and Captiva Island are all about the outdoors. As a result, you'll feel the magical current in the air through the island's slightly off-kilter vibe.
Because Captiva boasts some of Florida's best beaches, you'll find some of the clearest waters for swimming, scuba diving, and parasailing. Head to Bowman's Beach, one of the best dog beaches in Florida! Additionally, Turner Beach is great if you don't want to travel by car.
The area also boasts many natural and historical walks and tours! You can see lots of animals at the Clinic for the Rehabilitation of Wildlife! Then visit Chapel By The Sea, a tiny, historic one-room schoolhouse!
For the most unique dining experience that captures the quirky vibe of Captiva Island, you must visit the Bubble Room. Because it is decorated as a Florida Christmas Wonderland, palm trees are strung with lights year-round. You'll also always see a tiny model train running through the themed rooms.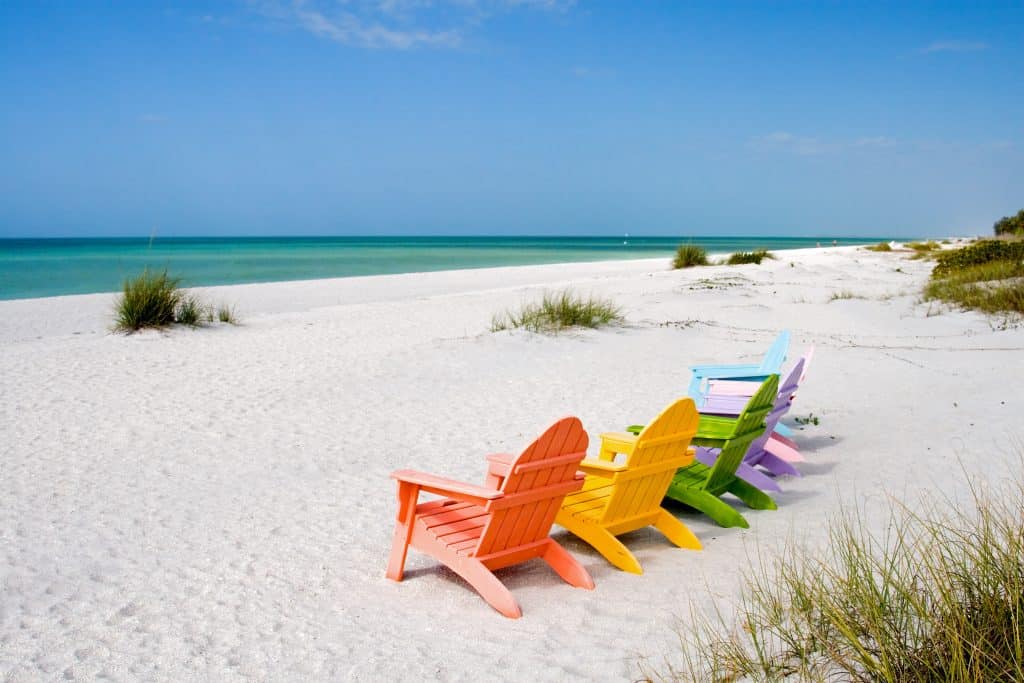 Boat House Tiki Bar & Grill
Adjacent to the Yacht Club Community Park, you can experience the most fun bar and grill experience on Florida's Southwest Coast! Leonard and Jack Rosen marked the plot of land by throwing coins out of the window of a plane.
One of the best things to do in Cape Coral, the Boat House Tiki Bar & Grill sits on a waterfront paradise. It has even been featured on the Travel Channel Show "Food Paradise." On the show, it was praised for its delectable menu and unbeatable surroundings.
Nestled along palm trees and the Caloosahatchee River, this local landmark offers unmated beautiful sunset views, access to a private beach, multiple seating levels, and two full service bars. With over 400 feet of dockage, you can boat up to the restaurant and refuel while you eat.
Boat House is famous for its authentic Cuban Sandwich, as seen on TV! Their version switches things up by adding pepperoni and using a peppered mayo. Other favorites include the Grouper Bites Basket, Shrimp and Grits, and the Boat House Caribbean Wings.
While Boat House is one of the best restaurants in the Fort Myers area, it also has an unmatched cocktail menu. Try the Redfish Margarita with Tres Agave Organic Tequila. The Sex on the Boat uses Wicked Dolphin Coconut Rum! Our favorite is the Leaky Tiki with Don Limon and Pineapple and Blue Curacao.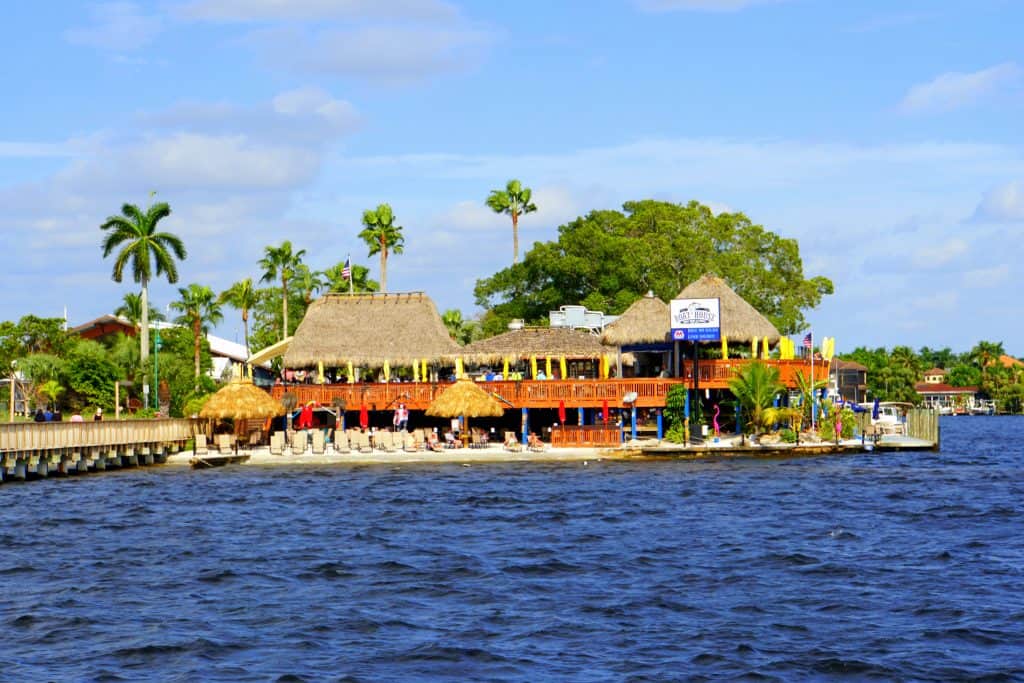 Did You Find This Post Helpful?
If so, we would love to keep in touch! We enjoy seeing photos and comments about your experiences in Florida! You can follow us on Instagram and we will repost your photos on our feed and comment too! Just tag us at @floridatrippers and hashtag #floridatrippers. We can't wait to see your travels!