Are you taking a trip to soon, and need a tried and true list of the best places to visit in Miami? Good news, you're in the right place!
Miami is a veritable beach paradise, but that doesn't mean should just do whatever you find first, take a look at our list of best places to visit in Miami and you'll be sure to find the perfect activities to make your trip one to remember!
Being such a large city, there is an attraction or something to do for just about anyone on this list who is looking for the best activities in Miami! Whether it's museums, national parks, amazing restaurants, or historic ocean-side mansions you're looking for, we have it all!
Miami is the eighth-largest metropolitan area, and third-largest skyline in the United States – this makes for an abundance of fun stuff which can be a little overwhelming if you don't know what you're looking for, which is why this list is the perfect compilation of the best places to visit in Miami!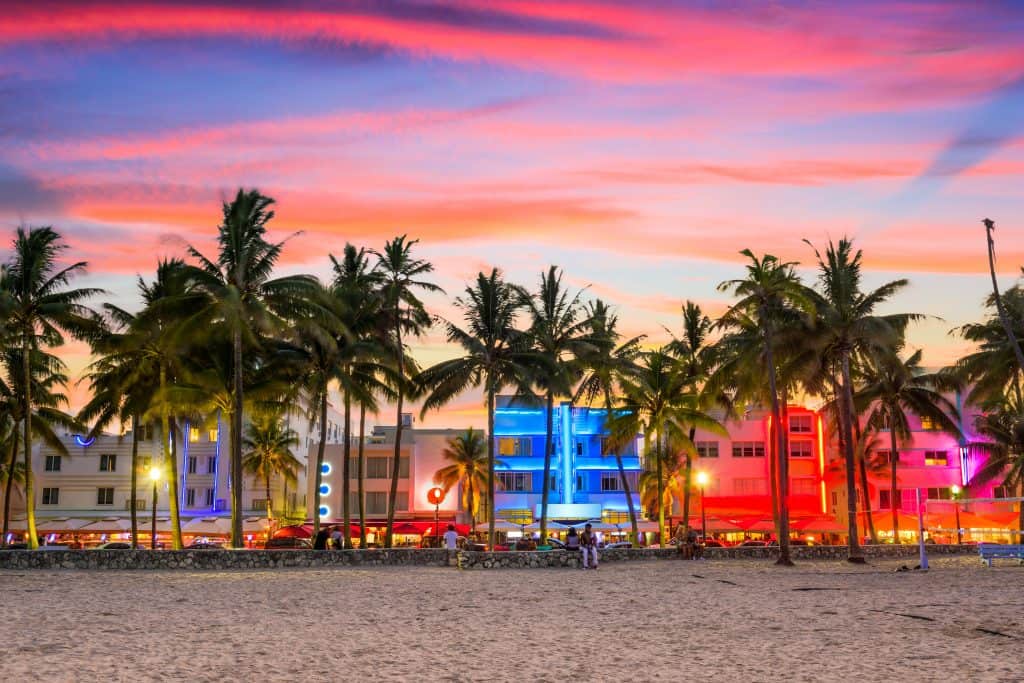 17 Best Places To Visit in Miami (+ Unique Vacation Spots)
Vizcaya Museum
The Vizcaya Museum and gardens is the winter estate of the Late industrialist James Deering, and is one of the best places to visit in Miami!
Paul Chalfin, the director of design for the Vizcaya had an timelessly iconic sense of style, making this one of the most beautiful places to see in Miami.
Vizcaya was built in the early 1900's, using Italian villas from the 1700's and the lush tropical landscape as sources of inspiration. The house was cutting edge at it's time of construction, blending old things such as baroque style with the newest technologies such as water filtration systems and ventilation/heating.
In addition to the cool high tech gadgets installed, there are also old school magical things hidden all over the place such as a secret staircase that you open by pulling a book in the library!
One of the crown jewels of the Vizcaya is the pool grotto: this magical room was meant to make guests feel like they're submerged underwater, this illusion is achieved with the breathtaking plaster artwork of the American artist Robert Winthorpe Chanler, and the reflections of the water in the pool.
Due to the extremely antique nature of the estate, sadly no, you cannot swim in the pool!
There are certain spots that are off limits to visitors in an effort to preserve all the natural beauty, however there is still plenty to see and enjoy with the massive estate gardens and extensive art collection.
If you absolutely loved this museum then you're in luck, because Florida has so many interesting museums all over the state! If want to see what other kind of museum experiences Florida offers, check out our post on cool museums in Florida you must visit!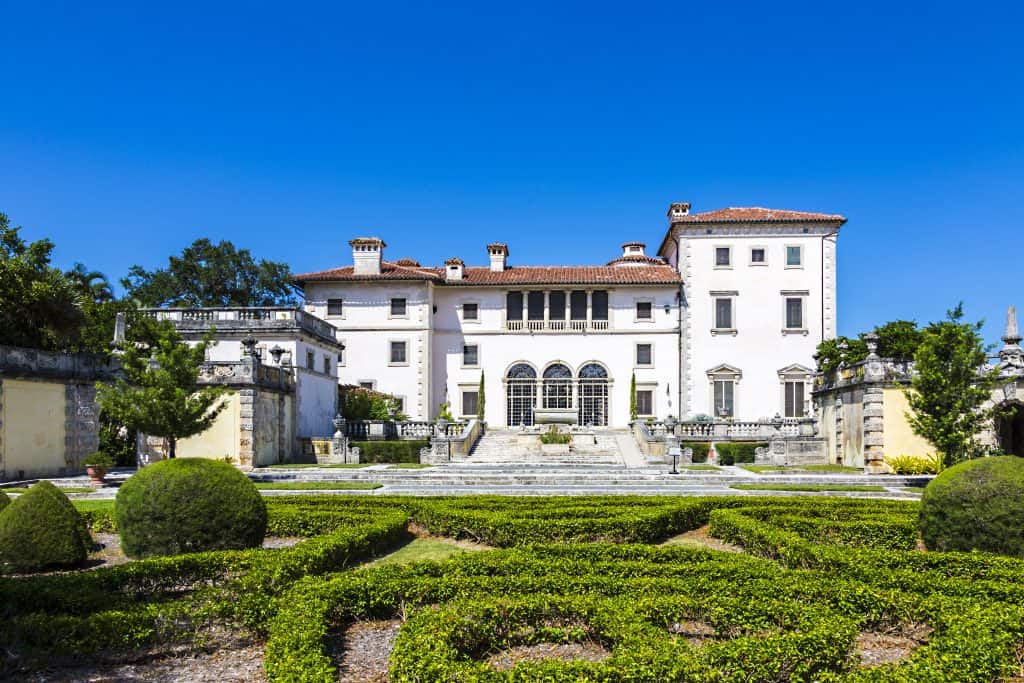 Wynwood Walls
If you're into art, especially open air art, then we have just the place for you: the Wynwood Walls! The walls are a series of murals in the warehouse district of Miami, and it's one of the biggest open air art installations in the world, making it one of the best places to see in Miami!
The walls were born from the vision of the late artist Tony Goldman, who instead of seeing ugly warehouses saw blank canvases ready to transform into art.
Tony Goldman's iconic eye-catching style drew attention quickly, alerting other artists of the possibilities with this new untouched area – which exploded into a community project.
This experiment in art was so successful in fact, that the are has expanded to include Wynwood Walls Garden, which is a community garden space for events – sometimes they even have food trucks!
Goldman laid the foundation for what is now one of the most happening art districts and one of the best places to see in Miami!
For more in depth details about visiting the walls, head over to our ultimate guide to exploring the Wynwood Walls!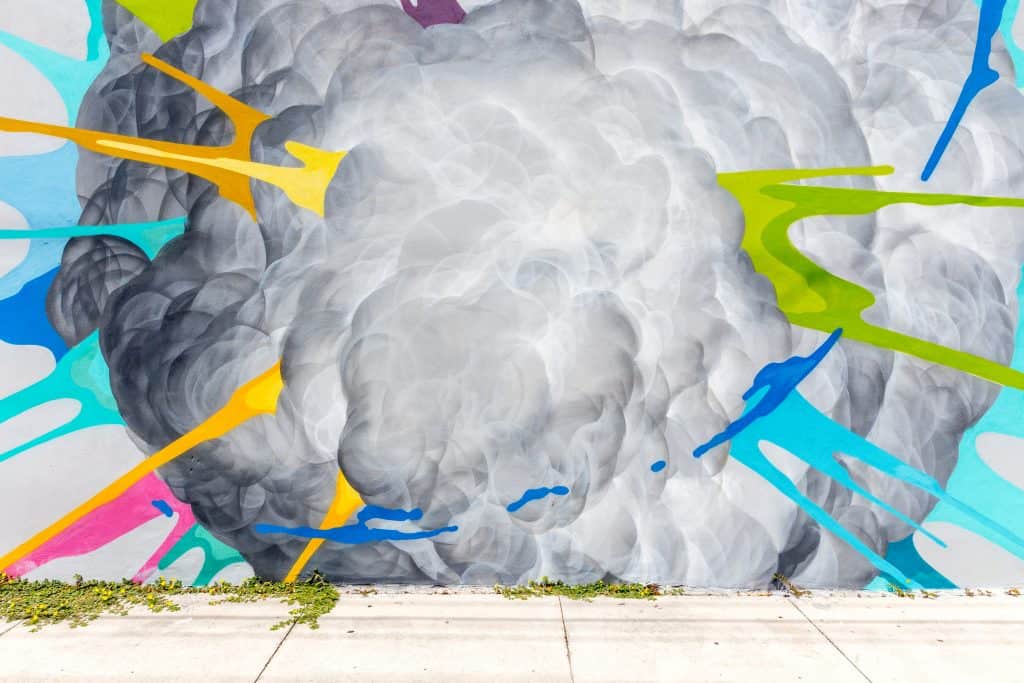 Biscayne Bay National Park
If you love exploring the native species of the Miami area, or just love nature in general, then Biscayne Bay National Park is your best place to visit in Miami!
Biscayne Bay is a gorgeous expanse of land has emerald waters that are truly magical – and thanks to savvy conservation and protected status, it all exists close to the city!
The geological location of the bay creates a shallow estuary, which allows a mixing of freshwater and saltwater.
The estuary gives the area an abundance of nutrients for plants and baby sea animals alike, which makes for a beautiful place to scuba, take boating tours, take a canoe, or even fish.
The national park is quite expensive to camp overnight, however for a day trip there is no fee to enter the park !
The lack of entrance or parking fees make it one of the most cost effective activities in Miami!
For even more amazing ideas on! how to spend the time on your trip take a look at our post on Best day trips from Miami.
Additionally, if you're really loving the national park experience, we have a whole post on The best national parks to explore in Florida!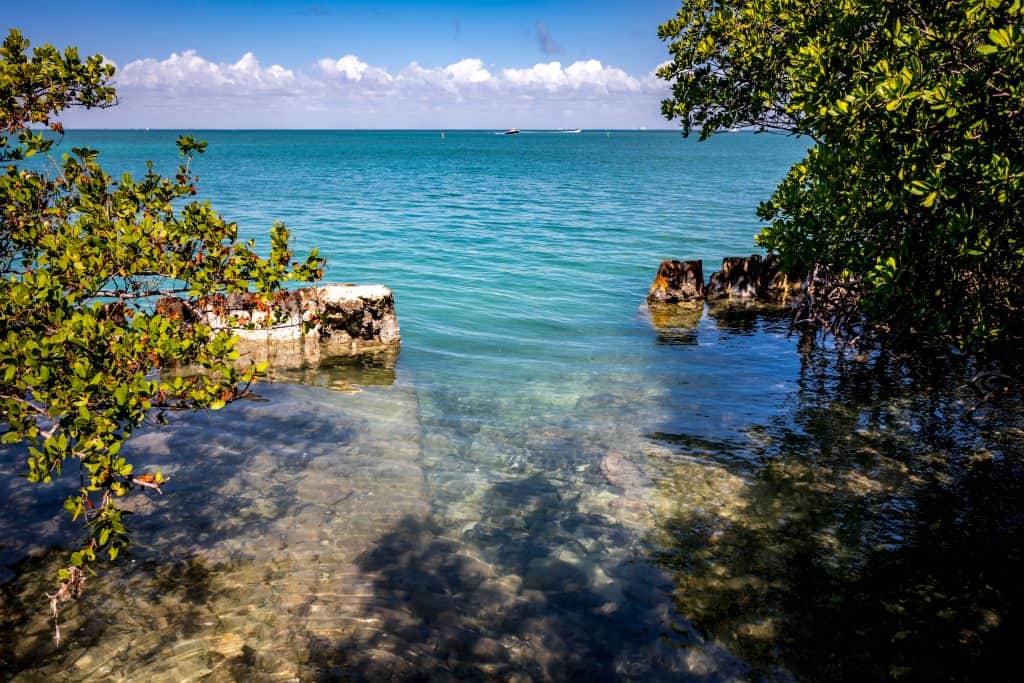 Art Deco Historic District
If the metropolitan vibe of Miami is more your speed than the national parks, there is all kinds of gorgeous architecture around the city. This is truly one of the Best Places To Stay In Miami!
One particular stretch of Miami beach you can't miss is the Art Deco district!
The Art Deco district is home to houses, hotels, restaurants and apartments between 5th and 23rd street that are built in the colorful and flamboyant style that dominated the early 18th century between 20's and 30's.
Art deco style is known for features of sharp lines, bold colors, and a re-imagining of neoclassical style that is truly iconic, making it one of the top places to see in Miami!
The Art Deco district has a Visitor Center that offers tours most days, as well as lectures, presentations, and a museum with a gift shop!
Tours offered include a general public tour, or also private tours that focus on different aspects of the district, if you're looking for more fun stuff to do in Miami, check out this list!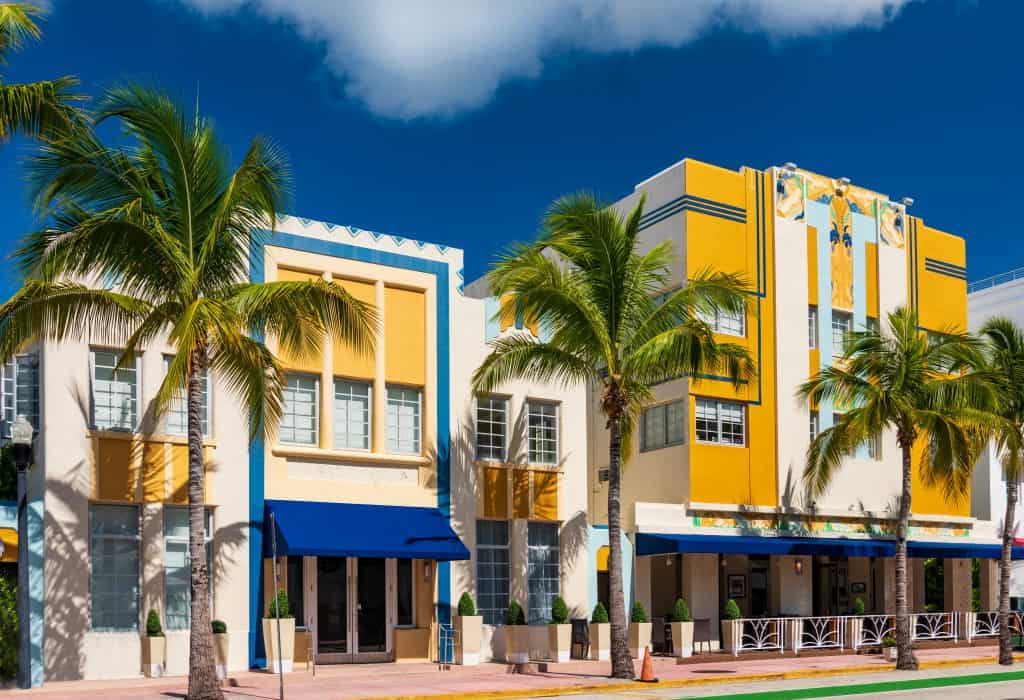 Sugar Miami
For a truly once in a lifetime dining experience, Sugar rooftop is the best place to visit in Miami!
On top of the high-rise East Hotel, this one of a kind Asian-inspired rooftop garden bar is not something you want to miss!
Once outside of the elevator you'll be transported to a tropical forest with lush greenery, you'll feel like you're somewhere else entirely!
The menu boasts cuisine that borrows from Korean, Japanese, and Malaysian flavors, making it uniquely and internationally delicious!
On top of the great food, the bar features drinks that showcase East Asian fruits like Lychee and classic Miamibar standards like the Pastelito
Check out our post on the Best rooftop bars in Miami for even more info on the coolest spots to get a drink in the gorgeous open ocean air! This is truly one of the best things to do in Miami at night!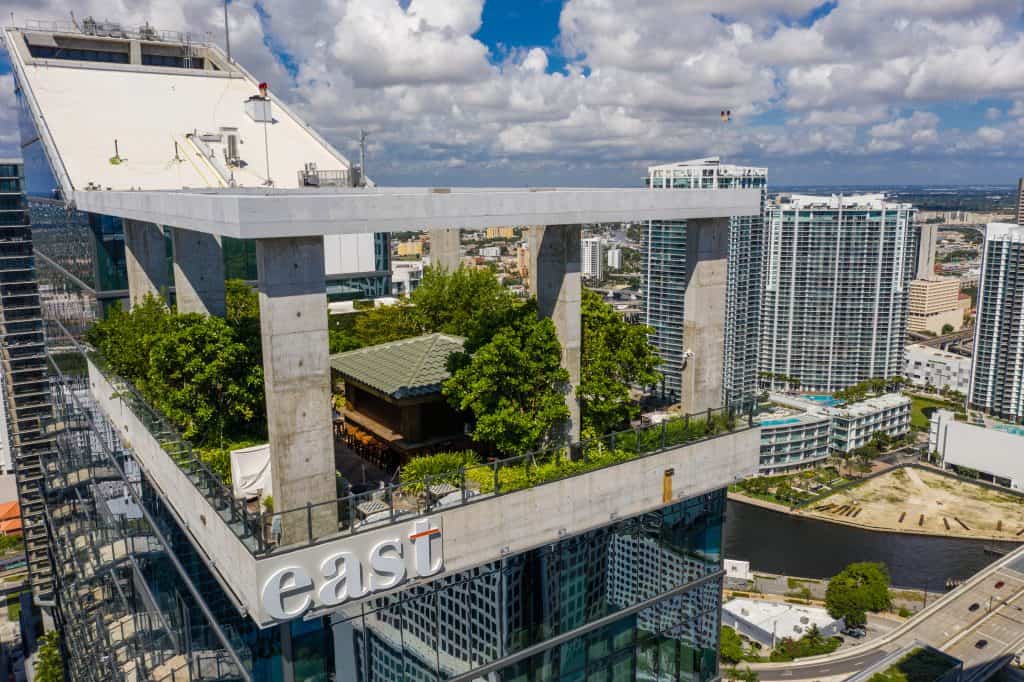 Limoncello Miami
A brand new contender in the Miami scene, Limoncello is quickly becoming known as one of the best places for southern Italian style food.
The restaurant is located right in the heart of Miami Beach, making it a perfect place to go on your Miami Vacation!
Limoncello's food menu is centered around traditional southern Italian-style cooking staples such as pasta dishes, wood-fired pizza, and fresh seafood – and the restaurant's atmosphere is a careful balance between warm and modern.
The drink menu features both classic and new takes on the cocktail of it's namesake, as well other fruit-forward cocktails like tequila-cantelupe.
More excellent Italian restaurants in Miami and Miami beach can be found here!
Check out their menu for more info and see why it's one of the best places to visit in Miami!
Dalia
For the people on Miami vacation who love fresh seafood, but are wanting something different than Italian: meet Dalia!
The restaurant's menu is based around Mediterranean flavors, developed and created by Chef Patrick Ochs. There is also a high emphasis on fresh ingredients, making it one of the best places to visit in Miami!
In addition to the Mediterranean classics such as baba ghanoush and muhamarra, Dalia has a raw bar to showcase the fresh flavors that are abundant in an ocean-side city like Miami.
Check out this list for even more amazing dining options for you Miami vacation!
Dalia is under the INK umbrella, a company responsible for some of the best restaurants in Montreal and Miami which are two metropolitan cities with impeccably high standards for dining experiences.
With a proven winner in the restaurant game like INK, a place like Dalia is the perfect addition to your Miami vacation!
Planta
All of the restaurants so far have had plant based options for those of us who don't eat animal products, however this restaurant puts that diet front and center!
Planta is a restaurant with a mission: to showcase how amazingly delicious a plant-based diet can be. As it is right in the Miami Beach area, Planta is the perfect addition to your Miami Vacation
The highlights of Planta's menu are the vegan sushi made from watermelon or heart of palm, as well as vegan poke bowls and coconut ceviche!
On top of the excellent 'seafood' options there are heartier options such as burgers, pizza, and even lasagna!
For an exhaustive list of the best plant-based options for dining in Miami check out this list!
While you are in town, don't forget to check out our list of Best Places For Brunch in Miami!
South Beach
South Beach is the formal name of the neighborhood of the ever famous Miami Beach! Hands down this is one of the best places to see in Miami for several reason!
The Art Deco district is in south beach, which attracts people from all over the world and makes for especially excellent people watching opportunities.
Not only is South Beach aplomb with gorgeous buildings and interesting people, it really is the heart of Miami, making it an absolute must-see area for your Miami vacation!
For those who don't want to even plan a single thing, and want to completely take out the guesswork for your Miami trip, we have taken the time to create the ultimate 3-day Miami weekend itinerary to ensure that everything you could possibly think of has been handled and planned ahead of time!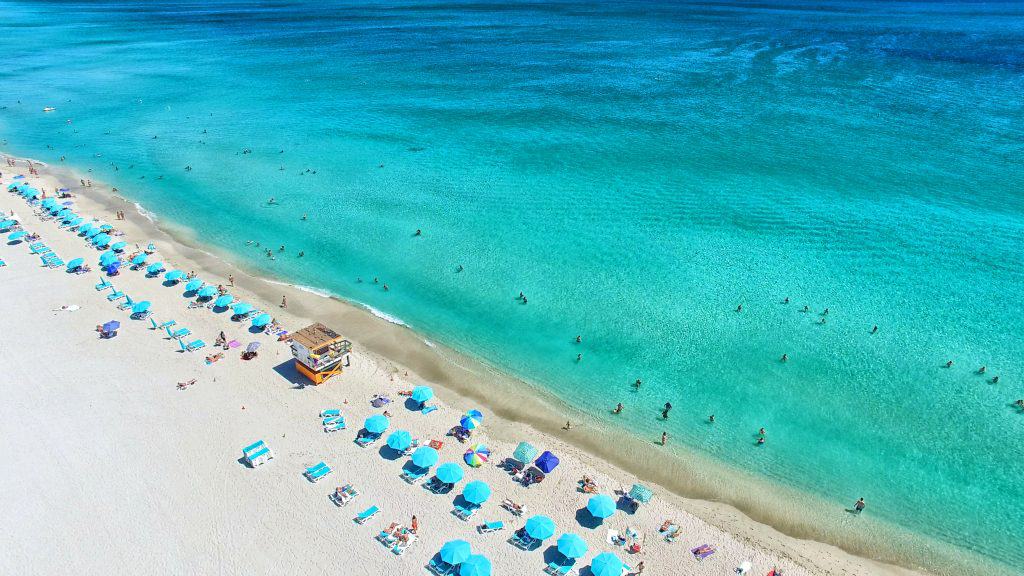 Miami Beach
No trip to Miami would be complete without stopping by arguably one of the most iconic beaches in the United States, this is THE best place to visit in Miami!
Whether you're looking for tours, shopping, dining, people watching, or even just a walk along the beach, this is the best place to do any of them!
Miami Beach's vibrant energy is the perfect crown jewel to add to your Miami vacation!
Check out our post on even more fun things to do in Miami!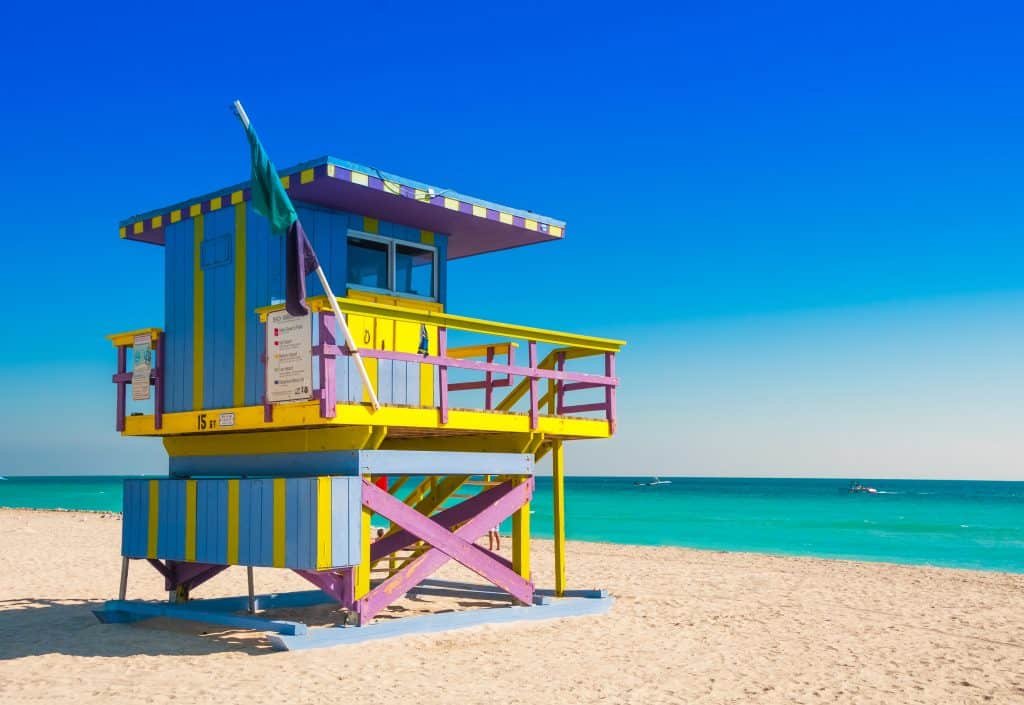 Surfside Beach
If you're looking to enjoy the natural beauty of Miami's oceans, but the Miami beach scene is just a little too much for you, this is a perfect beach!
The semi secluded nature of the beach is well suited to those looking for a clean beach that's a little more quiet, and is one of the best places to go in Miami for those who hate the big crowds!
While Surfside has great well-kept facilities one might expect from a large tourist beach, it has maybe half the amount of people
The beautiful trail and small crowds make Surfside beach the perfect place to go in Miami if you're looking for a more quiet Florida beach experience.
In addition to the facilities there is also a lovely trail away from the sand that's perfect for walks or a bike ride!
If you don't want to bring your own umbrella or chair not to worry, there are rentals available!
Check out our post for even more gorgeous beaches in Miami to visit on your next vacation!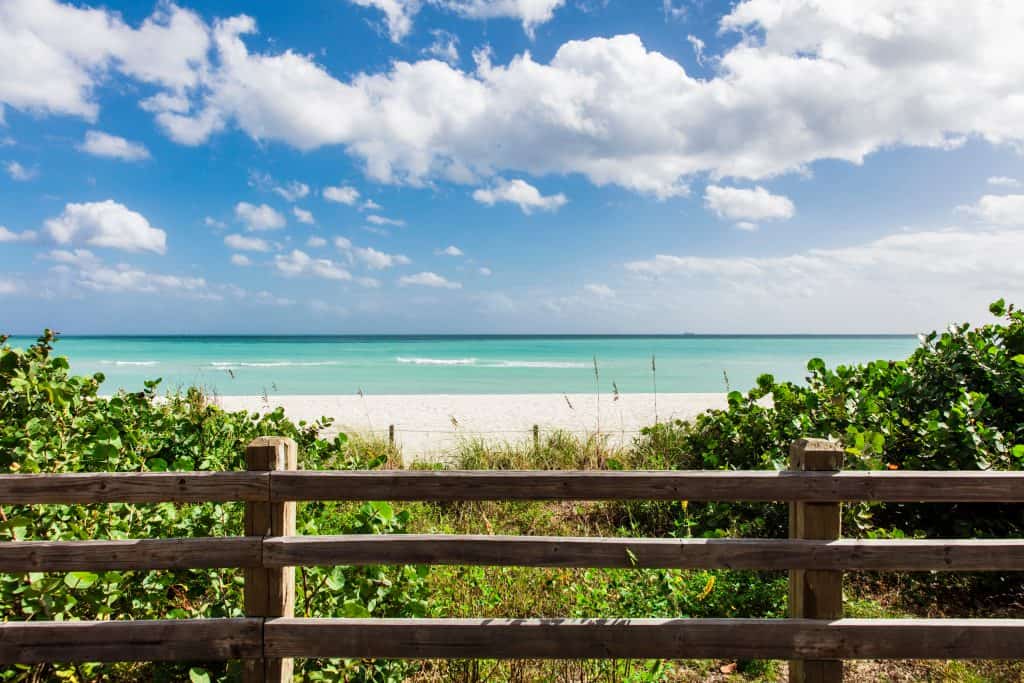 Bill Baggs Cape Florida State Park
This beautiful state park is the location of the original "Cape Florida" named by Ponce De Leon in 1513, and to this day remains one of the most loved beaches in Miami.
The beach is quite busy in the summer months, so if this is on your list of places to see in Miami then make sure you're there nice and early!
The park offers rentals for bikes and large quad bikes, beach chairs, and umbrellas in case you don't want to bring your own.
If you're looking for a beach-adjacent place for a large gathering, Bill Baggs state park is a perfect option because they have pavillions for rental that can accommodate up to 40 people!
Bill Baggs park is on completely flat terrain making it a truly delightful place to take a bike ride and enjoy the ocean air.
This state park is one of the most inclusive state park experiences, making it one of the best places to visit in Miami!
Check out our list of other gorgeous national parks to visit in Florida!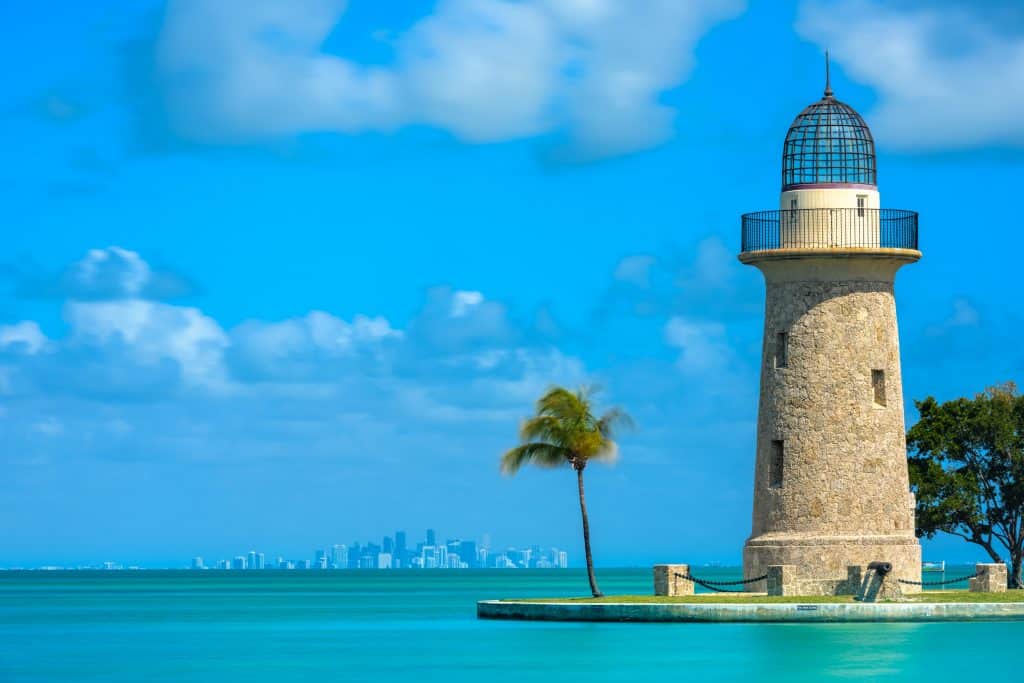 Coral Castle
Made as a tribute to his lover who cancelled the wedding the day before, Coral Castle is one of the coolest places to go in Miami!
To this day, the exact method the builder(and owner) Edward Leedskalnin used to make this magnificent castle is still unknown! What we do know however is that it took him almost thirty years to build, starting in 1923 and finishing just after 1950.
The castle itself and the surrounding rock garden are all carved out of coral, which Leedskalnin carved himself – he said he used "the secrets that built the pyramids" however what exactly that means in modern terms is still up for debate!
The rock gardens feature beautiful bougainvillea trees and rocking chairs made from carved coral stone with a peaceful atmosphere, that make it one of the best places to go in miami!
For even more castles in Florida check out our post!!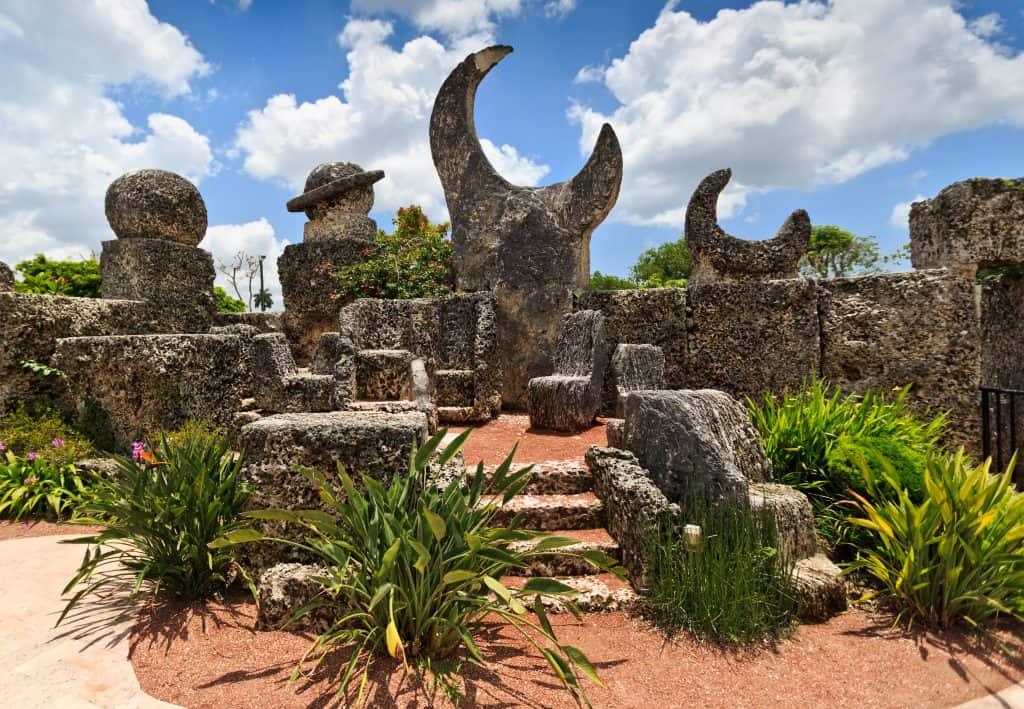 Deering Estate
Similar to the Vizcaya, the Deering Estate is a 1920's mansion belonging to a rich industrialist that has been beautifully preserved and turned into a museum for everyone to enjoy! Charles Deering made his fortune in Chicago at the head of his family's farm equipment business
The mansion is one of the crown jewels that Florida Contributes to the National Registry of Historic Places, and is one of the best places to visit in Miami!
Being a man of such considerable wealth, Mr. Deering was an avid philanthropist, nature enthusiast, art collector, and preservationist. Today we are able to see the fruits of these passions, and it is an experience you will not want to miss!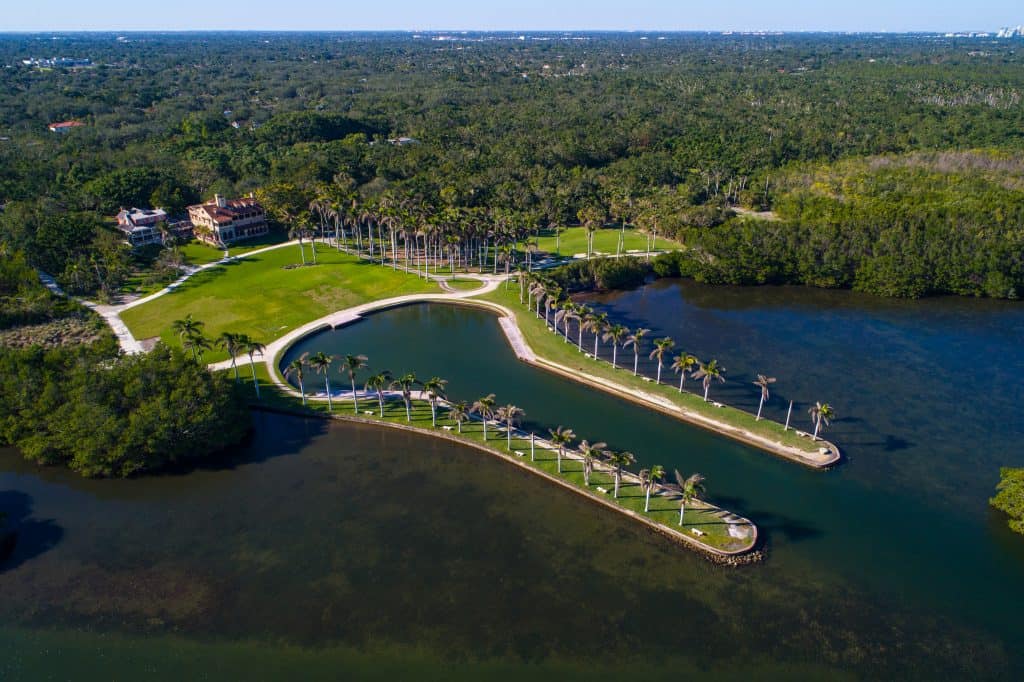 Morikami Museum and Japanese Garden
Unbeknownst to most, there was once a small Japanese colony in what is now the Miami-Dade county area!
The Morikami Museum's architecture is inspired by the Japanese style of villa, which features rooms that center around an open-air gravel garden. This stunning estate is one of the best places to visit in Miami!
The museum features over 7,000 cultural items such as art and tea ceremony items, which help the museum achieve its mission of presenting Japanese culture to the general public for education and dialogue.
In addition to the museum's main building, the estate features 16 acres that have been transformed into a snapshot of the history of Japan's gardens. Each garden reflects the style of a certain period, starting with the 8th century all the way up to present.
The gardens are a great place for reflection, especially if you're looking for some calm after a crazy night out in Miami beach!
If you're on the hunt for more flora-based fun and enjoyment, check out our post on prettiest botanical gardens in Florida for even more gorgeous green spaces!