Are you looking to visit some breweries in Gainesville? We have you covered with this list of the best breweries in Gainesville!
Gainesville is located in North Central Florida about an hour and a half southwest of Jacksonville, and about two hours north of Orlando and Tampa!
Gainesville is known for more than the University of Florida and Gator Football. Much like Orlando and Tampa's the craft beer scene in Gainesville is constantly expanding with breweries located throughout town. Each brewery is unique but share the idea of giving back and conservation!
Many of the breweries in Gainesville host weekly events such as yoga, trivia, run clubs and live music!
If visiting Gainesville check out our list of interesting things to do! After a trip to the springs, museums, botanical gardens, and nature preserves head to one of the breweries in Gainesville if wanting to enjoy a beer, cider or non-alcoholic seltzer. Many are family friendly perfect for local families looking for something to do! And don't forget many are pet friendly as well!
If looking for a unique way to visit the breweries in Gainesville try the Gainesville Brew Bus! Where you can book your own private open air bus tour of Gainesville's craft breweries.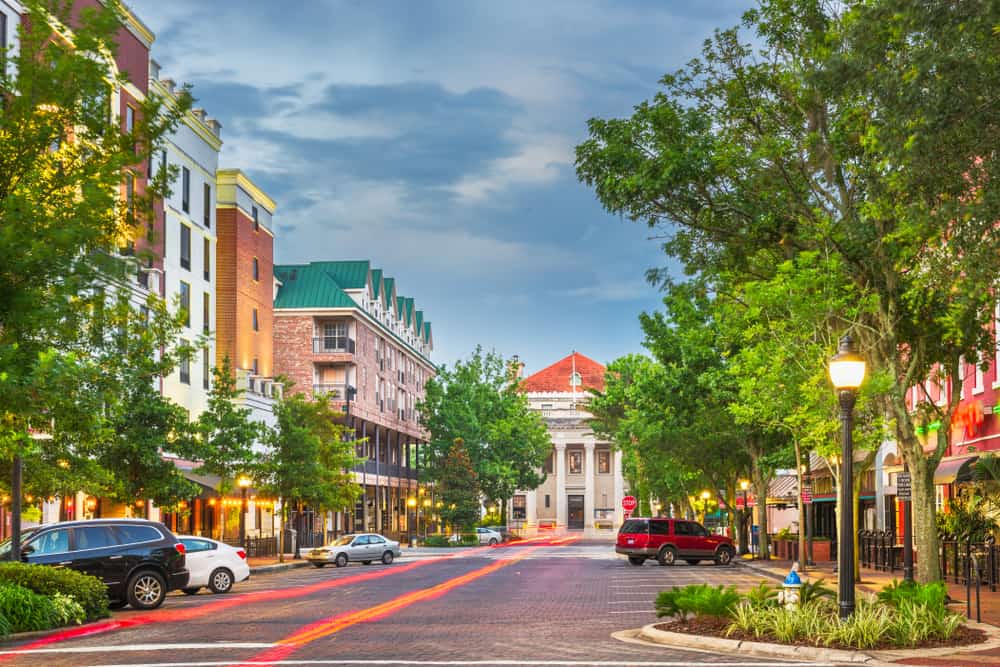 9 Best Breweries In Gainesville You Should Visit
Swamp Head Brewery
Swamp Head brewery was one of the first breweries in Gainesville. Opened in 2008 by Luke Kemper in an industrial park they call themselves "Florida's Brewery". Swamp Head strives to use local ingredients in their beer such as blueberries, spices, coffee and honey. It is so much fun and also one of the best bars in Gainesville!
The Brewery's tasting room is called the The Wetlands opened in 2012 and is a large open space with tons of tables, outdoor covered seating and a large grass lawn. You can take brewery tours on Tuesdays at 6:30 or Saturday and Sundays at 3 pm, 4pm, and 5pm. Tours are only $5 (cash only!).
While the brewery does not serve food they partner with various local food trucks nightly. Check their website for a schedule. Try Wild Night a light honey cream ale, Big Nose and IPA with nectar, Stump Knocker a Pale Ale and Midnight Oil an oatmeal coffee stout. They also release beers yearly such as Lemon Days a Berliner Weisser, Pumpkin Spice Latte or Devil's Nettle.
Swamp Head as won numerous awards and the beer is widely distributed. The brewery focuses on sustainability and partners with local charities. Come visit for a pint, or attend one of their yearly events like Swamp Fest the yearly anniversary event, Harry Potter Birthday special release beers, and Oktoberfest!
Blackadder Brewing Company
Blackadder Brewing Company is one of the breweries in Gainesville that is locally owned by Chris and Sissy Hart. They turned their home brewing where they won over 30 awards into opening Blackadder. In 2019 they won a Best Florida Beer medal as well! This is truly one of the best things to do in Gainesville.
Opened in 2014 this Gainesville craft brewery atmosphere is that of an English pub with board games, darts, picnic tables indoors and outdoor seating as well. They host various food trucks such as FTG catering, Twisted Tikka and Strega Nona pizza on Fridays, book clubs and trivia on Wednesday night which can also be played online while you drink growlers from the comfort of your home!
Try one of there twelve own brewed beer such as Vegan Barbeque a Rauchbier, Snow Gose a sour, Because and IPA, The Pink Rider a Saison, It Takes a Hermit IPA, Why Not a Belgian Pale Ale, The shadow a Stout, and My Blondest Friends a Hefeweizen. Blackadder now serves light snacks as well at the bar!
With over 40 taps they also serve Cider, wines, and other popular beers. If in town during winter try the warm mulled wine! If playing trivia for every two beers purchases you earn a wooden nickel that can then be donated to the partner charity or be exchanged for a free beer.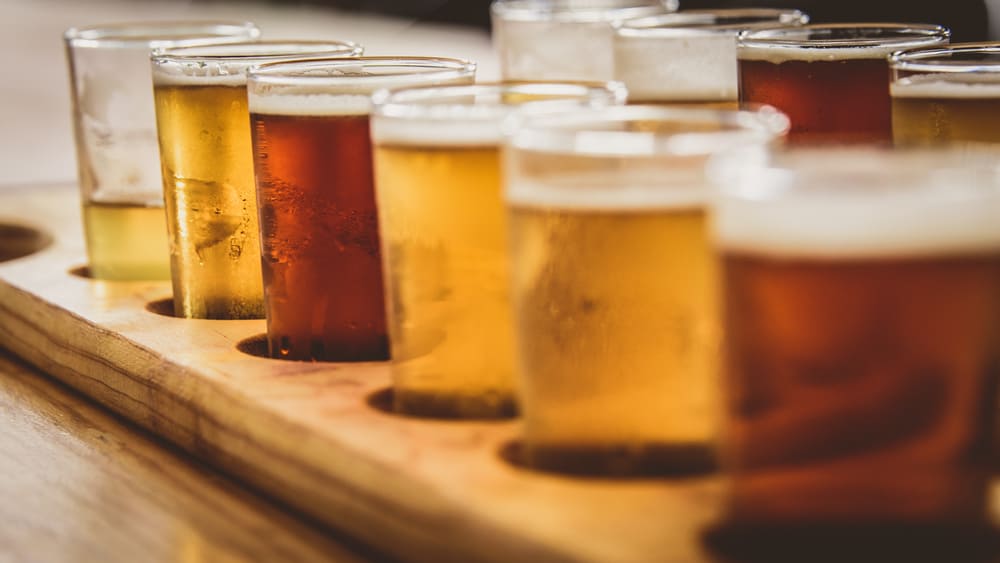 First Magnitude Brewing Company
First Magnitude was formed by four friends back in 2012 who wanted to make great beer but also build awareness for Florida springs. The brewery is located in downtown Gainesville and is open Tuesday through Sunday.
The brewery believes in giving back doing river cleanups and the 7.2K spring run. The logo is the first magnitude star with a mermaid. The taproom features an outdoor beer garden with picnic tables and lights, a covered patio area with giant jenga,scrabble corn hole and foosball, and have various food trucks on different nights.
The tap room features house brewed Kombucha, soft drinks as well as cider and wine. Try any of the year round First Magnitude Beers Such as Vega blonde ale, Ursa an IPA, 72 an American pale Ale, Wakulla a Hefeweizen and Drift a Session brown Ale. Special Release beers include Coffee Invasive a Coffee and Vanilla Stout, Saltwater Intrusion a Punch Bowl Gose and Mango Lassi.
The is one of the Gainesville breweries that holds tons of events such as trivia, yoga, run clubs, and live music. They host events with Florida Museum of Natural History to host virtual events like Science off Tap and annual Hogtown brewers club school backpack drive!
Cypress & Grove Brewing Company
The idea behind Cypress & Grove brewing began over 20 years ago in Patrick Burger's garage. However, this is one of the newest breweries in Gainesville. The names stems from the location on the corner of Cypress and Grove intersection and it's a modern brewery and pub concept despite the historical building.
The taproom is a relaxing place to hang out and enjoy a beer. While Cypress and Grove is a Gainesville craft brewery they do offer fruity beers, and non-alcoholic drinks so that there is something for everyone to enjoy. Try one of their crafted seltzers and kombucha.
The beers at Cypress and Grove are Germany inspired holding to purity standards only using four ingredients of Florida aquifer water, barley, hops and yeast. Try the Blonde Ale, Pale Ale, IPA's, Porter or Stouts all uniquely flavored! The 15 barrel brewery is a neighborhood brewery.
Or limited release such as White Crane a Japanese Style Lager, Chocolate Cherry Porter, Kolsch, Citra Session Pale Ale. Ask for a tour of the brewery if visiting on the weekend.
The brewery hosts weekly events such as the Grove Street Farmers Market on Monday from 4pm to 7 pm as well as various food trucks throughout the week. Or you can enjoy the large grassy outdoor area with picnic tables.
Big Top Brewing Company
Big Top Brewing Company was started in Josh Wilson in Sarasota Florida, and has now grown to three locations in Sarasota, Pensacola, and Gainesville.
Every Tuesday Big Top hosts a Beer Bingo Trivia at 7 pm. Try one of the core beers like Circus City IPA, Intercostal Amber a Red Ale, Wellyz a Lager, Okobee a Pale Ale, Ashley Gang an IPA, Conch Republic Key Lime a wheat beer and Pumpkin Stilts a 8.9% ABV pumpkin ale.
They also have speciality releases such as Taking Bock Sunday, Strawberry Kiwi Sour, Panhandle Kolsch, Blue Candy Tearjerker a hard seltzer, and Hawaiian Lion a Coffee Porter. In addition they serve wine and spirits.
The taproom is large and airy with community tables and outdoor patio seating. The in-house menu is very large, try house made pretzel bites, Wings, Buffalo Cauliflower bites, house burger, burritos, chicken and waffles and daredevil totchos. They also serve vegan menu options like stir-fry and tightrope empanadas.
Big Top Brewing offers lunch time special of buy 10 lunches get one free! Grab a punch card and join the lunch club!
High Springs Brewing Company
High Springs Brewing Company is located about 30 minutes north of Gainesville in downtown High Springs. With a large outdoor covered patio with tons of picnic tables facing a large grassy area where you can normally find children playing. This family owned brewery is very family and pet friendly!
Opened in 2019, they offer food trucks and live music. It is owned by four friends and is located in the old Archie Knowles welding shop. For those who want something other than beer they offer cider, non-alcoholic craft sodas, slushees and wine.
The brewery has around 7 of their own beers on tap and a few guest beers. Try the Das Floof an IPA, Heritage a wheat beer, Honey Do a Kolsch, Midnight train a porter, Smoke Wagon a Lager, Tango and Cash a IPA tangand Spelt and Rye a Farmhouse Saisson.
Check their website for events like goat yoga and brew, Tuesday Trivia, live music events on Saturdays, and open mic nights!
This is a great brewery to checkout if you are in the area exploring Ginnie Springs or tubing down Ichetucknee Springs both of which are some of the best springs in Florida. And if needing a place to stay try our suggestion for some glamping at Rum Island Cabin in High Springs!
Tipples Brews
Tipples brews is not one of the breweries in Gainesville but it was voted one of the top 50 beer stores in the United States and top beer store in Florida by Men's Journal! Located in Haile Plantation area they specialize in selecting the best wines and beers from around the world.
Stop in for Thursday run club and enjoy a wide variety of beers after, Monday's home brew beer tastings, or local food trucks like Monsta Lobsta, Stega Nona Pizza or Sublime Taco on Thursday's through Saturdays. There are tables inside and outside to enjoy a beer!
If looking for beers on tap try the Sixpoint Puff Puff and IPA, Wyerbacher pumpkin, Infinite Ale works Maginta Dragon, or check website for whats on tap!
This is a great neighborhood locally owned store to come enjoy a beer with friends or meet new friends! With coolers full of unique beers as well as local brews you can come here to try all of Gaineville's brewed beers.
Every week a Jack Tipple's Year of Beer Challenges chooses favorites like Anderson Valley tropical Hazzy Sour and 7venth Sun Brewery Headbanger IPA.
If interested in wine check out their extensive collection or ask staff for help choosing a wine! They host a virtual wine tasting on Tuesdays where every week a new wine is selected!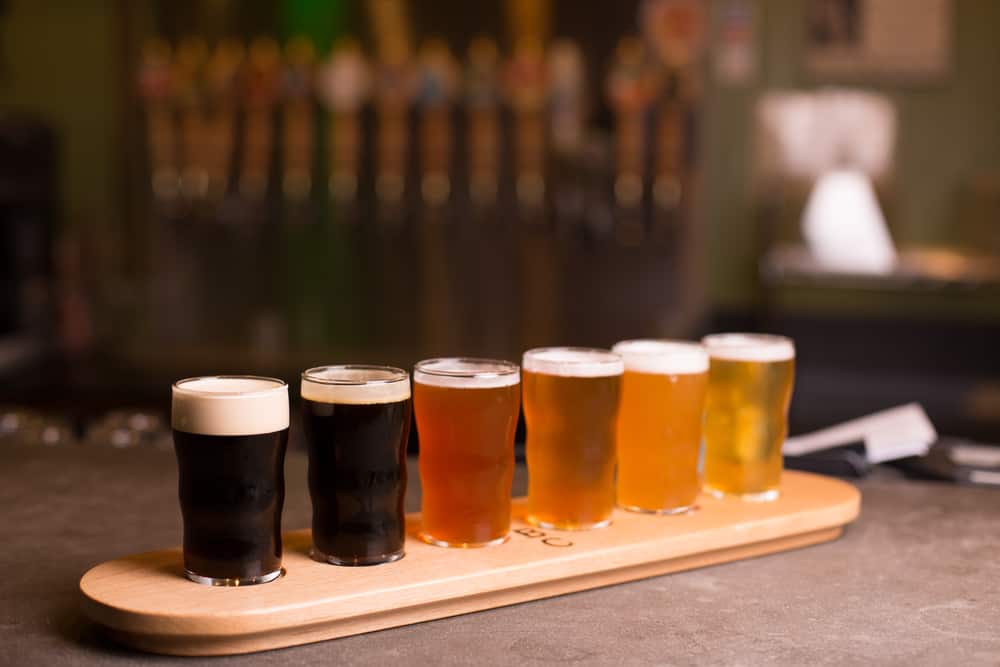 Crafty Bastards
Crafty Bastards owners Pat and Betty Brunson opened their pub the Crafty Bastards in 2015. Located in the Millhopper Area of Gainesville Florida near I-75 and centrally located from pretty much anywhere in town!
While not a traditional brewery they have over 60 craft beers on draft and are constantly rotating the selection to allow patrons the opportunity to try something new. Another great place to check out several of the breweries in Gainesville's beer selections in one place!
In addition to beers on tap they have a large variety of over 750 bottled beers, and even the crafty bastards restaurant to enjoy a homemade bite to eat with your brews. With a large bar area seating, tables and a bottle shoppe to browse beer selections it the perfect neighborhood spot to checkout!
Specials include Monday all you can eat wings, Tuesday trivia night, Wednesday karaoke and live music Thursday through Saturday! They host a Thursty Thursday free craft beer tasting every week from 6pm to 8pm.
Food menu includes homemade soups and salads, burgers, sandwiches, meatloaf, St. Augustine style shrimp and more. They even have lunch specials Monday through Friday from 11am to 4 pm.
This is a great place to hit up after visit Devil's Millhopper one of the prettiest waterfalls in Florida!
Gainesville House of Beer
Gainesville House of Beer or HOB for short is located in downtown Gainesville and is a craft beer bar serving 40 beers on tap. The original location opened in Dunedin, Florida in 2009.
They serve beer from some of the best breweries in Tampa as well as several breweries in Gainesville. They host Happy Hour on during the week until 7 pm with $1 off drafts, Tuesday and Thursday is 50% of pitchers 7 pm to close, Wednesday is 50% wine glasses and bottles from 7 pm to close.
On tap you can try Big Nose IPA or Midnight oil from Swamp Head or HOB brewing out of Dunedin like WTF happened Stout, Kiddie Pool IPA, Golf Cart Amber.
While this craft beer bar does not serve food you can order from several restaurants around the area! Live music is offered on Friday's by local bands and musicians from around town!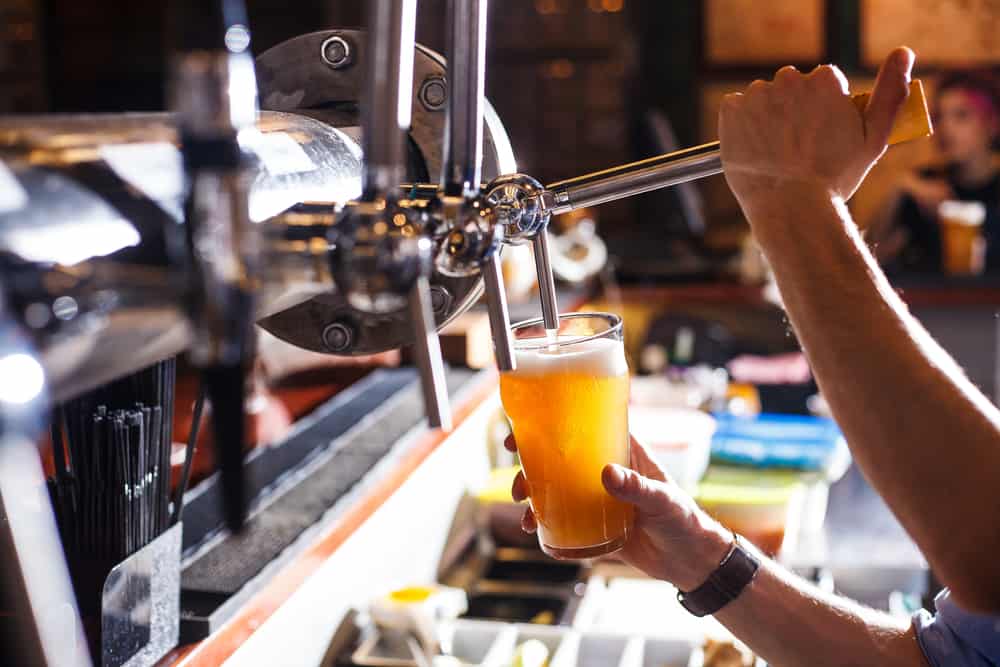 Did You Find This Post Helpful?
If so, we would love to keep in touch! We enjoy seeing photos and comments about your experiences in Florida! You can follow us on Instagram and we will repost your photos on our feed and comment too! Just tag us at @floridatrippers and hashtag #floridatrippers. We can't wait to see your travels!