Are you looking for a list of beaches in Siesta Key, Florida? If so, check out our article below for all the best beaches in the area that you must visit!
Siesta Key has become one of the best small beach towns in Florida due to its beautiful beaches, amazing restaurants, shops and proximity to major towns in Central Florida such as Tampa and Sarasota.
From family friendly beaches , to spring break beaches, to snorkeling, adventure and eco-tourism, and gay beaches in Siesta Key! The calm inviting waters of the gulf mixed with white sand make up the iconic shoreline of Siesta Key Fl. It is easy to see why Trip Advisor ranked it as the #1 beach in Florida! So make sure to checkout our list of the 7 best beaches to visit in the Siesta Key area!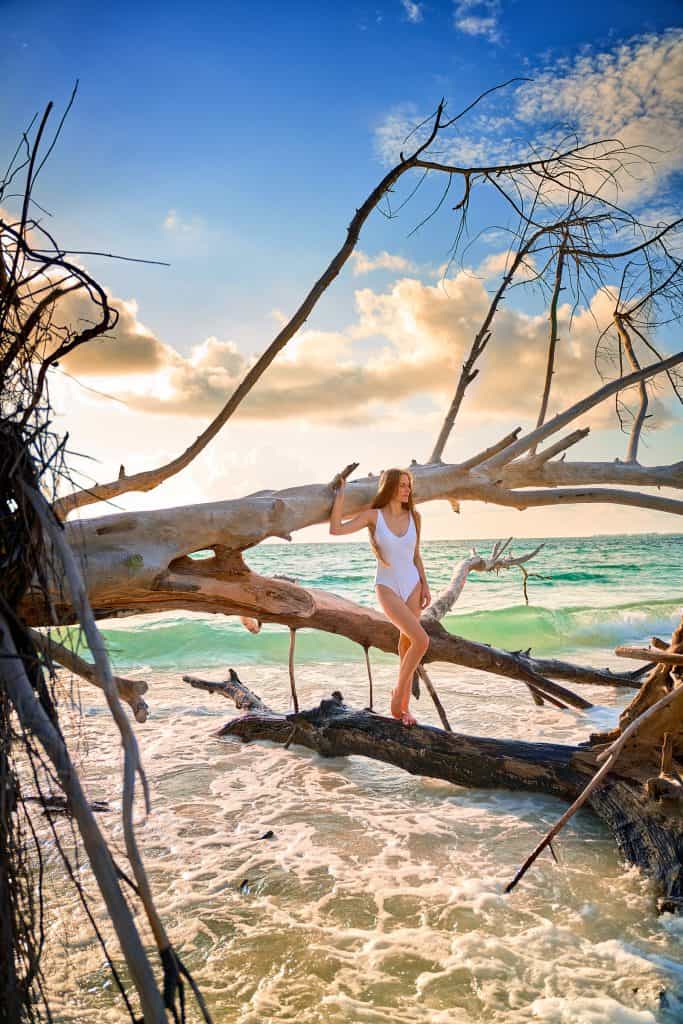 Does Siesta Key have good beaches?
YES! Siesta Key is known to have a beach for everyone! The are several different beaches in Siesta Key to choose from depending on what you want your beach day to look like! Just a short drive from Sarasota to the barrier island of Siesta Key you will find great beaches in Siesta Key!
The weather averages 70 to 80 degrees making it the perfect temperature to relax and bask in the Florida sun.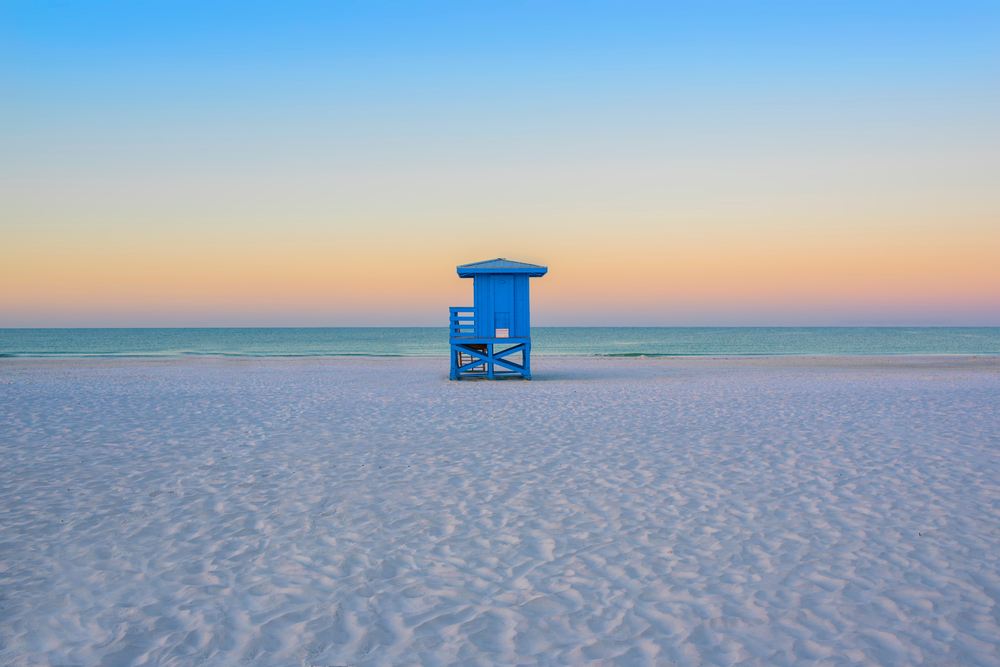 Why is Siesta Key so popular?
Firstly, the reason that Siesta Key is so popular is that the Gulf Coast is known for its beaches featuring amazing powdery white quartz sand that stays cool in the Florida sun, warm calm turquoise water, and great amenities nearby.
Secondly, the 8 mile long Siesta Key area provides a ton of options for dining, shopping, nightlife, activities, and beaches for visitors to enjoy. Come enjoy a variety of Siesta Key beach vacations! Don't forget to stay for one of the sunsets over the turquoise waters of the Gulf Coast.
Furthermore, there is so much more to Siesta Key than the gorgeous white sand beaches, so check out our post on the best Things to do in Siesta Key !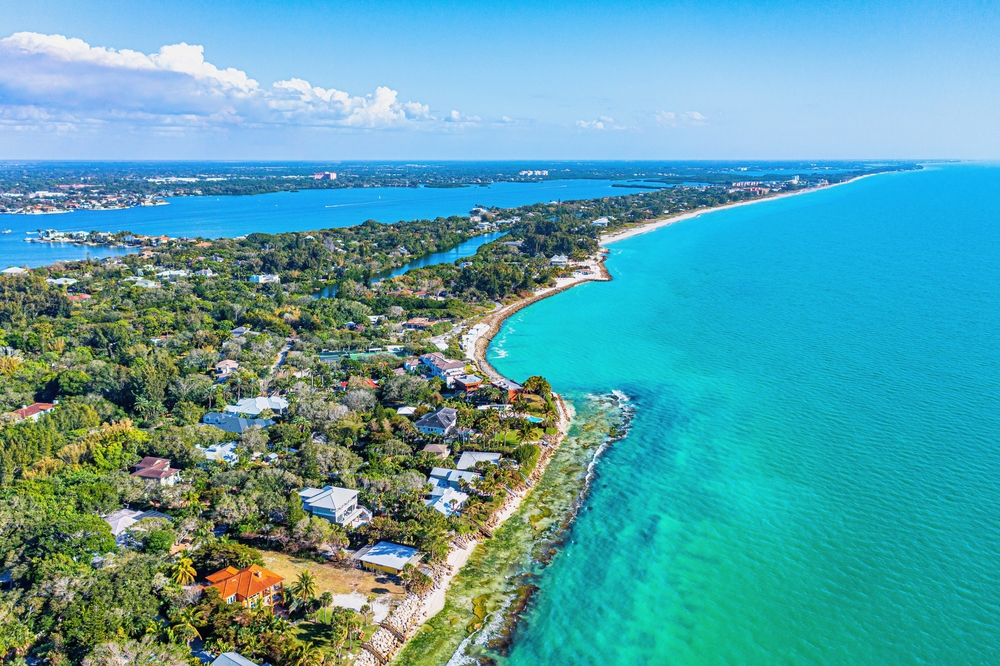 7 Best Beaches in Siesta Key FL
Siesta Key Beach
Are you looking for the best Siesta Key beaches? Well, Siesta Key beach is the best beach to visit in the area ! There is a reason it was ranked #1 Beach in the US by TripAdvisor in 2020. Pair the vast powdery sand with calm clear waters visitors and you will see why visitors continue to return here year after year.
Mainly if you are looking for amenities this has to be one of the best beaches in Siesta Key. From a large parking lot ( plus a trolley stop that connects to Siesta Key Village), life guards, concession stand, toilets and showers, volleyball courts, and beach rental equipment, everything you could imagine is here. There are even beach wheelchairs offered!
One of the best things about this beach is that the white sand stays cool because it is made of 99% quartz. It also extends a long way out from the shore with shallow water making the beach area calm and family friendly.
Along the beach visitors can be seen running, playing volleyball, throwing frisbees, building sandcastles, and just relaxing in the sand or wading in the water.
In the evening there is an active nightlife, with beach bars and pubs and restaurants. If you happen to be in the area on Sunday evening there is a Drum Circle, come join in on the dancing while watching a sunset. This is the perfect spot for one of your Siesta Key beach vacations!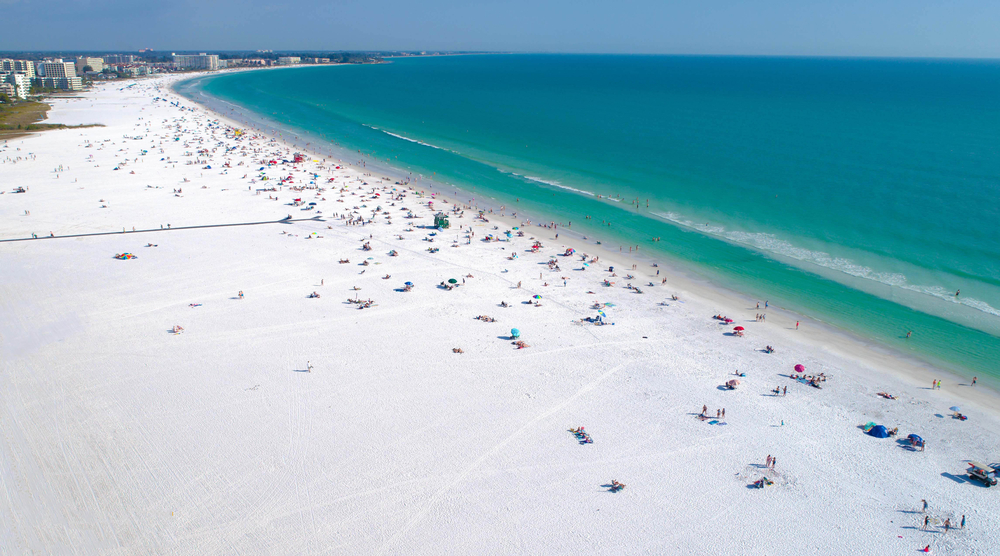 Turtle Beach
Turtle Beach is another one of the beautiful beaches in Siesta Key. Located on the very south end you will find Turtle Beach. This beach has about 3 miles of beachfront access and visitors can take the free Siesta Key trolley to the beach right from the village.
As you might guess, the beach is named after a sea turtle nesting habitat. This is one of the best Siesta Key beaches for nature lovers. There is a natural mangrove lagoon where you can rent kayaks and paddle through the shallow calm waters.
Furthermore, other amenities at the beach are grills and picnic areas, a playground , and even a campground with direct beach access for those looking to vacation in Siesta Key. Please be aware that no lifeguards are at the beach. But there is a volleyball court, horseshoes, outdoor showers, and restrooms offered on site.
For those looking for quieter beach spots in Siesta Key this is the place to come! Known for its amazing shelling, as the sand is darker and coarser than nearby Siesta Key. The water stays shallow for quite a way offshore making it perfect for wading or relaxing in the water.
Finally for visitors coming to the beach from May to October you can experience green turtle and loggerhead nests in their natural habitats. It is truly one of the best places to see wild sea turtles in Florida!
Crescent Beach
Just south of Siesta Key Beach is Crescent Beach, another of the popular Siesta Key beaches! It is located about 2 miles south of the iconic Siesta Key beach, and runs all the way to Turtle beach. The name comes from its perfect crescent shaped 1.5 mile of beachfront access.
Crescent beach is known for having a wide array of vacation rentals making it one of the best vacation beaches in Siesta Key. And caters to active beach goers.
On the beach you will find visitors playing frisbee, volleyball, or other games on the beach, and the water is filled with people surfing or boogie boarding in calm water. Furthermore jet skiing, parasailing and other water sports are also popular in this area of beach.
But, you will also find plenty of people just lounging on the soft sand basking in the warm Florida sun. It is also great for those who love to stroll along the beach, or just enjoy the sand and the waves. In the evenings you will be greeted by that gentle gulf breeze and the spectacular sunsets.
Please note that there are no amenities or lifeguards on duty as this is one of the beaches in Siesta Key Fl that mainly caters to those who are staying nearby. However, we still rank Crescent beach as one of the nicest beaches in Siesta Key for families. As the water is shallow and calm. And the powdery quartz white sand is so soft that people often compare it to powder rather than sand.
Although, if not staying in one of the condos along the shore, there is a public access point just south of Stickney Point with a small parking lot. This is one of two public access points in the area. The south village is where you can find restaurants and little shops as well as rentals for beach activities.
Siesta Key is one of our favorite Gulf Coast Islands In Florida and shouldn't be missed!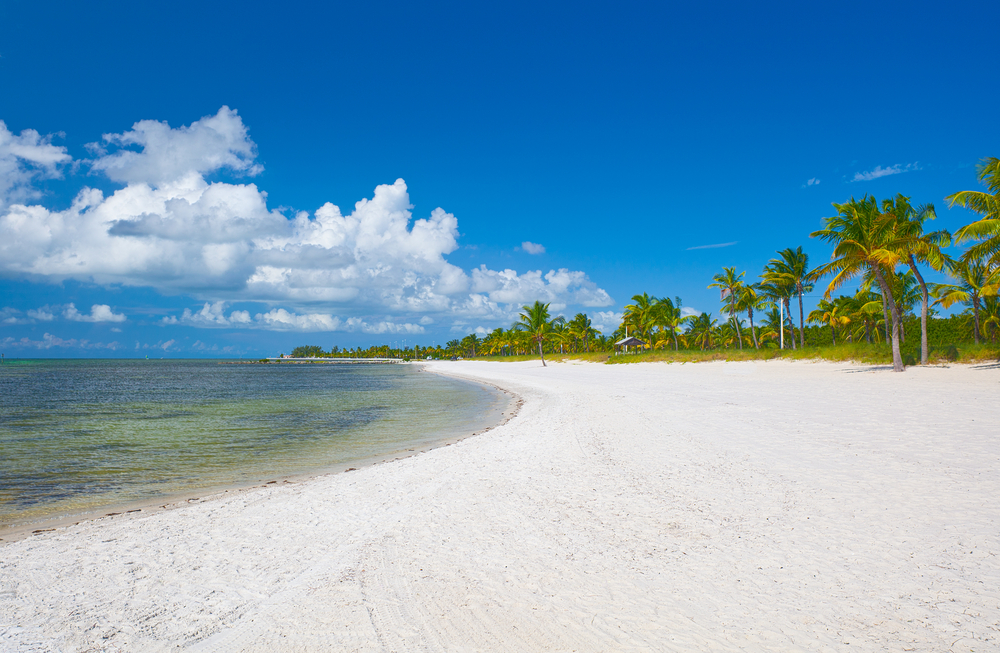 Point of Rocks Beach
If you are looking for the best beach in Siesta Key for snorkeling head to Point of Rocks Beach! Actually part of nearby Crescent beach you will want to walk towards the southern end where you see jetted rocks. Walk down on the rocks and around the corner until you arrive at Point of Rocks. The best place to enter is at beach access 12 or 13 to get here.
What makes this beach perfect for snorkeling is the unique 4300 year old rock formations found just off shore. These smooth flat rocks begin on shore and extend out almost 300 feet from shore. It is actually the only place on the west coast of Florida like this! From limestone and quartz formations you are sure to be delighted with the clarity and calmness of the water, making it one of the best beaches in Siesta Key to snorkel.
Moreover, will be delighted with seeing plenty of ocean life with a variety of fish, dolphins, sponges and unique features just under the water. The average depth here is 6 feet but depth can reach 20 feet! If snorkeling is not your thing, not to worry as this area also makes for a picturesque background and one of the most popular beaches in Siesta Key!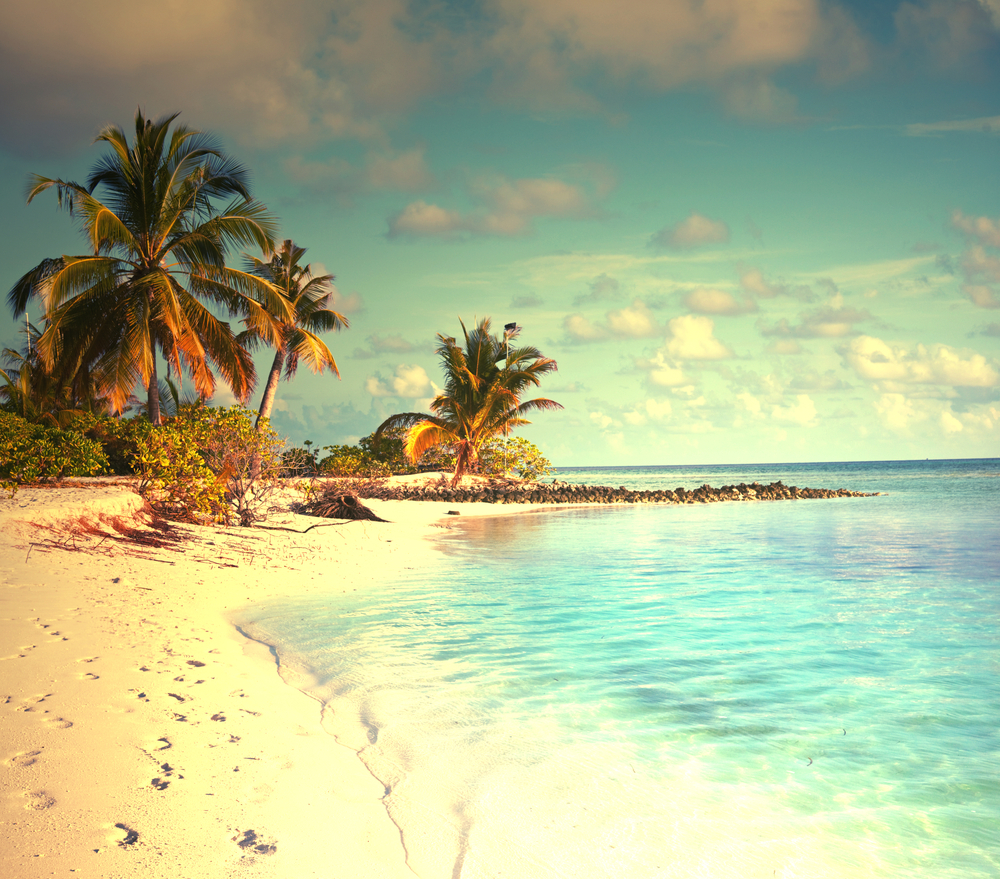 Lido Key Beach ( nearby)
Lido Key Beach is another of the nearby Siesta Key beaches that is worth a visit! Known as an eco-sanctuary there are tons of activities to take part in. The amenities offered at Lido Key Beach include Sea breeze concession stand, picnic pavilions and BBQ grills and a heated pool area ( $4 for adults and $2 for children).
Located right off of John Ringling Blvd and a half mile from St. Armands Circle.The area provides visitors with an assortment of resorts, restaurants, and boutique shops when you want something to do after relaxing on the beach.
Firstly, if you are looking to do more than relax in the sun, why not try eco-paddling? Visitors can rent kayaks or paddle boards and make their way through the unique wild mangrove reserves. Or you can fish off the beautiful Florida gulf waters.
Furthermore, beachgoers can expect to find a large sandy stretch of beach, with calm and warm water. Not as crowded as other beaches in the area, this is perfect for families and spring breakers alike!
The beach here is flanked by dunes and trees making it feel more isolated and quieter the more north you go. And North Lido Beach is known for being one of the best gay beaches in this area!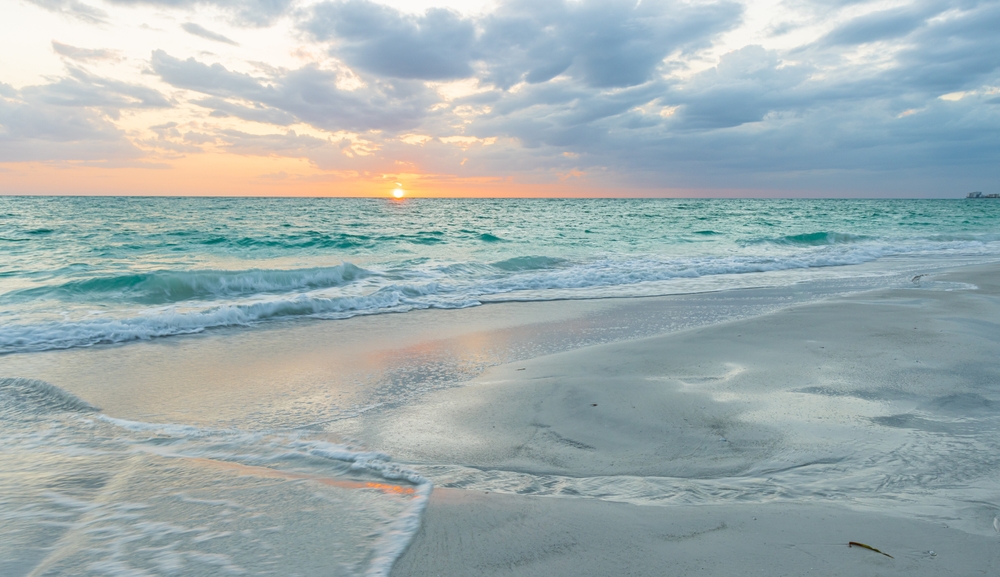 Nokomis (nearby)
Nokomis Beach is one of the best beaches near Siesta Key. Located on Casey Key about 30 minutes south this is actually Sarasotas oldest public beach! For those families looking to avoid the crowds of the more popular Siesta Key beaches this is the beach to visit.
Originally opened in the 1950's, the facilities were renovated in 2008. The public beach offers everything you could need. From a concession and restaurant, to bathrooms, showers, picnic pavilions, life guards. As well as a playground , boat launch area, and a jetty to fish and plenty of parking.
Similarly you can expect to find shell filled sand, and gorgeous calm turquoise waters. This is one of the beaches in Siesta Key Fl that features a more natural landscape with dunes, grasses and palm trees.  And for those who love shelling in Florida, keep an eye out for shark teeth on the beach!
This beach is a great option for those looking for a quieter and more relaxing beach day. But, it does get more difficult to find parking after 10 am on weekends or holidays. The area is more undeveloped than other Siesta Key beaches. Meaning you can often walk to find spots that are almost your own private beach ( over 10 miles of shoreline here).
If you love outdoor activities head to this beach! For those who love biking and walking you can follow the Legacy trail that runs from Venice to Sarasota. Or take out a kayak or canoe and paddle around the Lyons Bay and Intercostal area. Why not try fishing off the pier ! End your day watching one of the amazing sunsets the Gulf Coast beaches are known for.
Longboat Key and Beer Can Island ( Nearby)
Longboat Key is one of the great beaches in Siesta Key area. Beer Can Island is actually one of Terrence's favorite places for photography and he has been coming for over 10 years! Not to be confused with Beer Can Island in Tampa though.
Located about 40 minutes north of Siesta Key, Beer Can Island is located at the northern part of Longboat Key. Now, finding the beach is a little tricky but well worth the effort. You will have to look carefully for the path and you will want to walk into the mangroves. After a 5-8 minutes walk the path opens up to dead driftwood and trees that the area is known for.
Once you arrive be prepared for one of the most picturesque backgrounds in the area. You will be greeted with large driftwood trees and roots right on the beach. Making you think you have been transported to a magical place. Relax in the sand, or have a photoshoot with the driftwood trees. You can even bring a hammock to hang from the trees while you bask in the sun.
Weekends are the busy time along with sunsets for photographers so be prepared for crowds. There are no lifeguards, bathrooms, or trash cans at Beer Can Island! We think this is one of the hidden gems of the west coast!