Are you looking to see which Florida Airports rank best and worst? We have you covered with our list of the major airports in Florida ranked!
The Points Guy and traffic-analysis firm INRIX rank America's 10 best and worst airports, based on travel time, late departures and lack of amenities. The categories are broken up into Amenities, Accessibility and Timeliness. Factors that go into ranking include how long it takes to reach the airport, flight departure on-time rating, cleanliness, food and shopping pre- and post-security, lounges and amenities.
On our list we have chose some of the best Florida airports like Florida Tripper favorite Tampa International, as well as other central Florida Airports like Orlando International, St. Pete Clearwater, and others. These airports are easy to navigate, have TSA lines that are efficient, tons of food and shopping options and ontime departures.
For the list of worst airports in Florida, are two south Florida airports known for not many food options, constant construction and lack of food options and amenities.
There are a ton of Florida Airports to fly into and out of and this list will help you narrow down the airports you should try and the ones to avoid! From big International Airports to smaller regional airports there is probably an airport closer than you thought! After all you want to begin your trip as stress free as possible at the airport!

How Many Airports Are There In Florida?
While it may be surprising to hear Florida has 131 public airports, 365 private airports and 24 international airports! The airports range from wide known International airports like Miami, Orland and Tampa to smaller regional airports and general aviation airports you might not have heard of before!
Florida is actually the 4th most populous state in the United States and therefor has the need for many airports as it sees a ton of traffic in and out of the state. Orlando ranked the busiest airport in Florida for 2019 with over 50 million passengers.
What Is The Cheapest Airport To Fly Into?
Fort- Lauderdale International Airport is often considered the cheapest airport to fly into in Florida. Located just 30 miles north of Miami. The reason being is many low-cost carriers call Fort-Lauderdale International home and many flights often have unusual flight times and long layovers.
What Is The Smallest Florida Airport?
If you are wondering what the smallest airport in Florida is that would be Vero Beach Airport. Just over 10,000 people fly through the airport in a year. There is one commercial flight on Monday and Friday to Newark, New Jersey on Elite Airways. There is also a seasonal flight to Portland Maine.
If you do ever find yourself flying out of Vero Beach Airport parking is free for up to 14 days! Something you won't find at any of the bigger airports.
Best Airports In Florida
Tampa International Airport (TPA)
Tampa International Airport is Florida Trippers favorite airport! First, off you do NOT have to go through TSA with everyone for every flight, you go through TSA after your cross into your terminal and it is very relaxed experience! They offer Global entry and TSA pre-check and lines are never long.
Tampa ranks our number one best airport in Florida for the sheer ease of getting around, it was also just named the best airport in North America for its size! Tampa International strives to provide guests with the highest level of customer service and delivers the best experience to passengers.
There are high speed trains that transport passengers from economy parking (just $10 a day) to the main check in area, and then again to individual terminals ( A, C, E, and F).
Tampa is home to a wide variety of airlines like low cost carriers Frontier, Silver, Southwest, Jet Blue, Spirit, Sun Country and Norwegian to legacy carriers like Alaska, Air Canada, British Airways, American, Delta, Lufthansa, and United.
Tampa serves nonstop flights to destinations Internationally such as Frankfurt, Grand Caymen, London Gatwick, Montreal, Zurich and more. And a ton of non-stop domestic flights all over the United States.
The airport offers a wide range of dining with local restaurants operating within the airport like Ulele, Cigar City Brewing, Columbia Cafe, and shopping and even offers shopping and dining passengers for those wishing to just visit the airport without flying.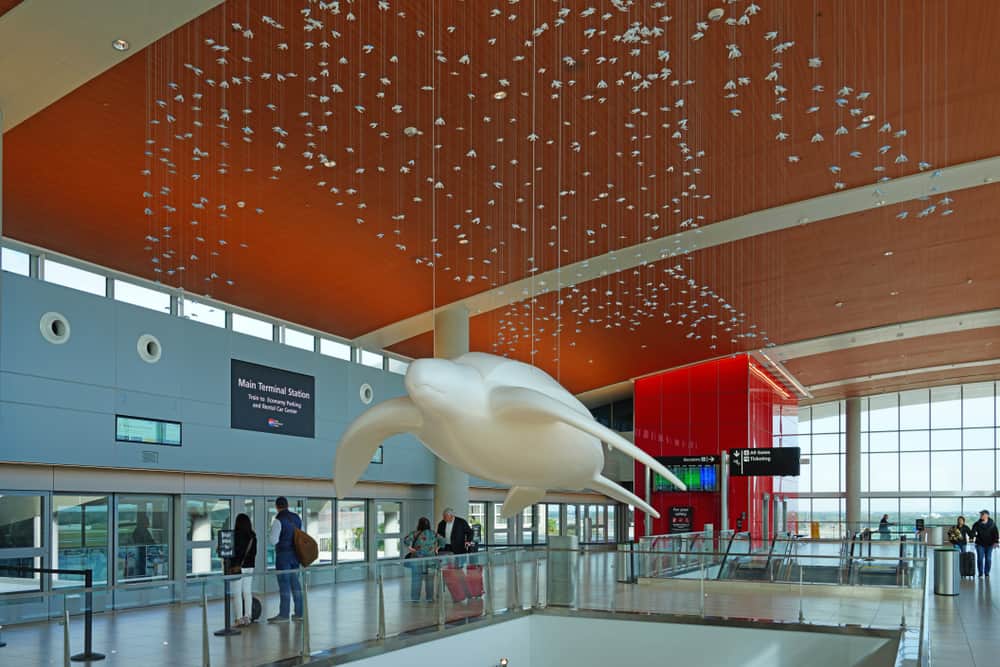 Palm Beach International Airport (PBI)
Palm Beach International airport serves over 34 destinations in the US, Canada and the Caribbean on over 200 daily non-stop flights. The airport is located about 3 miles west of downtown West Palm Beach and just 4 miles west of Palm Beach.
This Florida airport has a long list of airlines that operate. Air Canada with non-stop flights to Montreal and Toronto, Allegiant, American, Bahamas Air to Marsh Harbour, Delta, Frontier, Jet Blue, Southwest, Spirit and United Airlines. Last year the airport served more than 3 million passengers.
The airport is divided into main terminal area with a Starbucks, Sam Snead's, Rooney's Pub, a 9 hole putting green ( just $3.20 to play), and shops like Brooks Brothers, PGA, Brighton, and more. Then Concourses B with Flaglers Gourmet Market, Starbucks, Sam Adams Brew House and Stinger Rays and Concourse C with a Nick's Tomato pie, Chilli's, Blu2o, and Flagler Gourmet Express.
If you have an American Express Platinum card you can gain free entrance to the Escape Day lounge where all food is made from scratch like butternut squash soup, bananas foster pancakes and beer and wine are sourced locally. Otherwise a day pass is $40.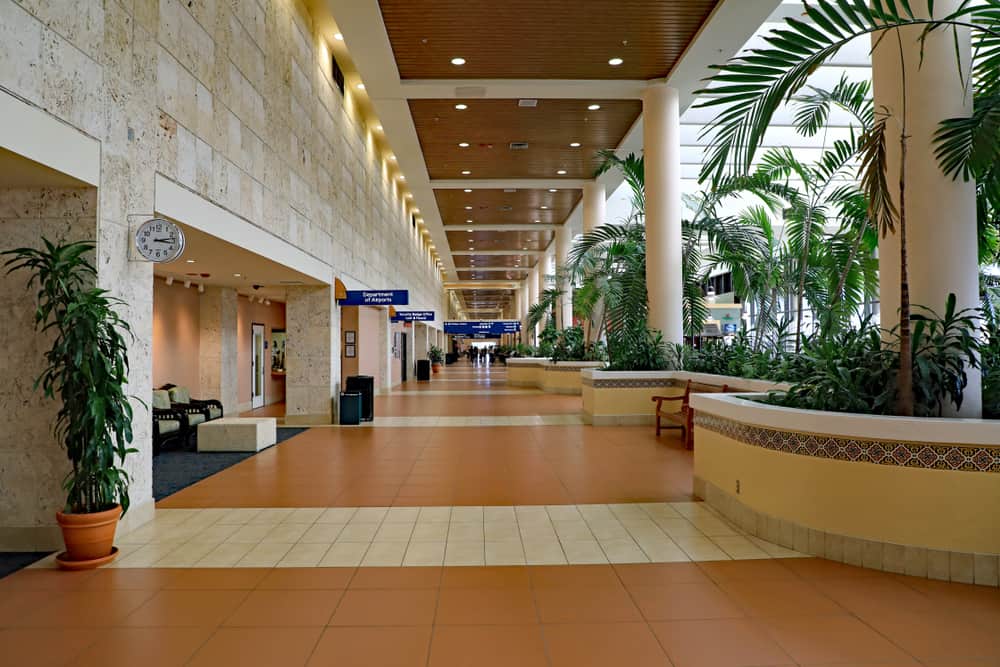 Jacksonville International Airport (JAX)
Jacksonville International Airport is one of the airports located in North Florida, located about 15 miles North of Jacksonville. It is a very easy airport to navigate! And one of most efficient TSA security airport lines with an average wait time of less than 3 minutes!
Unlike other larger Florida Airports, Jacksonville Airport is all one long terminal split into Concourse A and C with one point of TSA entrance in the middle! JAX, has been ranked as one of the top 3 medium sized airport in the United States for customer service!
Jacksonville Airport is very relaxing with a calm vibe and has exhibits that feature local artists, history about Jacksonville and history of aviation in the area. And serves around 6 million passengers each year!
While the name Jacksonville International Airport suggests international flights, they strictly fly domestic routes! With carriers such as Delta, American, Southwest, Jet Blue, United and low cost carriers Allegiant and Frontier you can find non-stop flights mostly along the Eastern Seaboard, Eastern Mid-West, Texas and Denver. No flights to the West Coast.
There are several shops such as PGA tour shops as golf is big in the area, Brooks Brothers, Brighton, Amelia Island Marketplace and a Best Buy Marketplace.
Restaurant options include Firehouse Subs, Sbarro Pizza, Starbucks, Shula Burgers, Sam Snead's Tavern,Vino Volo. There is even a Delta Lounge for those who have access.
Orlando International Airport (MCO)
Orlando International Airport is the one of the most popular airports in Central Florida with over 50 million passengers in 2019! It is often ranked as one of the best large airports in the USA! And is located 6 miles southeast of downtown Orlando.
While the airport can be very busy there are two sections of TSA for security gates 1 -59 and 70-129. You will then take a train to one of 2 terminal areas within your gate section! Be prepared for long security lines here, although the clear and pre-check lines move quickly!
What makes Orlando International Airport a great choice is that there is an airport hotel inside the Airport – the Hyatt Regency MCO great for those with super early morning flights or late night arrivals!
The main terminal is broken up into an A side and B side within the main terminals with a ton of shopping and a large food court as well as restaurants with plenty of seating! And more shopping and dining options once within your gate area like Cash and Larder, Outback, Hemisphere and more!
Orlando International airport is a great choice for both International and domestic flights. There is a large list of airlines serving the airport: Aer Lingus for flights into Ireland, Alaskan, American, AeroMexico, British Airways, Copa for South America, Swiss, Delta, Emirates for the Middle East, Icelandair for Iceland, Hawaiian Airlines, Frontier, LATAM for South America, Norwegian, United, Spirit and Southwest, Virgin Atlantic to Europe, and Jet Blue.
If you happen to have a Priority Pass membership from one of your credit cards, there are two The Club lounges at MCO one for airside 1 for gates 1-29 and one airside 4 gates 70-99!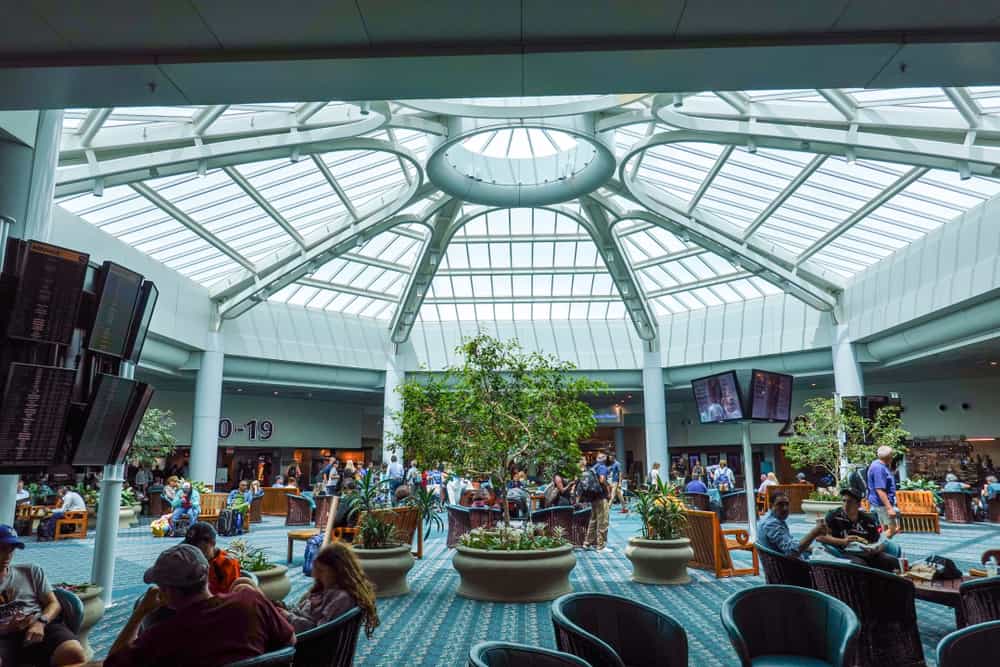 St Pete- Clearwater International Airport (PIE)
St. Pete-Clearwater International Airport is the second airport in the Tampa Bay Area. Although lesser known then the more popular Tampa International Airport, is located in Clearwater 9 miles north of Downtown St. Pete.
Low-cost carriers Allegiant Air, Sun Country and Fly Sunwing operate out of the St. Pete Clearwater Airport. Together the airlines operate non-stop flights to 53 cities in the US and Canada, making this both a domestic and international airport!
While Allegiant runs most of the routes out of PIE, there is a Beau Rivage charter flight to Biloxi Resort and Casino, and Sunwing flies to Halifax in Canada and Sun Country also flies to Biloxi. The airport has two departure areas for Gates 2-6 and Gates 7-11.
While the airport is small there is a Hudson Dunkin Donuts, a Market 361 shop, Mazzaro's Italian market, District Pub and 3 daughters brewing who just opened!
Something unique about this smaller airport is they have a Pets Uplifting Program where service dogs greet travelers as part of their training and there is a few Park Parks set up for those traveling with dogs! You can be at a dog friendly beach within 20 minutes!
Northwest Florida Beaches International Airport (ECP)
Northwest Florida Beaches International Airport is a public airport located about 12 miles from Panama City Beach, meaning you can be at the beach ( over 27 miles of white sand beaches) within 20 minutes of landing!
With non-stop service to over 12 US cities on American, Delta, Southwest and United you can escape across the US with connecting flights as well. While the name suggests international flights, this airport only services domestic routes.
As there are several US military bases in the area this Florida Airport is home the Military Welcome Center open 8 am to 8 pm daily serving snacks, drinks and has a lounge area complete with children's play area.
For dining your options include Emerald Coast Pub, Beach Time Grill. Grayton Beer Landing Strip and Espressology.
Sarasota- Bradenton International Airport (SRQ)
The Sarasota- Bradenton International Airport is located just 3 miles from Sarasota and 6 miles from Bradenton and was designed to be a convenient airport without stress! The airport strives to make passenger experience seamless with everything located a short walk from the main terminal – from parking, baggage, and checkin and gates.
The airport strives to incorporate local flare into the airport with artwork by local artists, a waterfall that also helps cool the airport and furniture by local Sarasota manufactures. On the second floor, you will find a 6,000 gallon salt water aquarium.
At just 14 gates all located within each other and Gate 8 being used for International flights there are 41 destinations in the US and Canada that are served. While no flights to the west coast are available there are plenty of options to the Eastern US and Eastern Mid-West. Airlines include Air Canada, Allegiant, American and Delta.
Restaurants include Dewar's Clubhouse, Freshens and Dunkin' pre-security and post-security there is a Starbucks, Gulf Breeze Cafe, and Beach Market Cafe.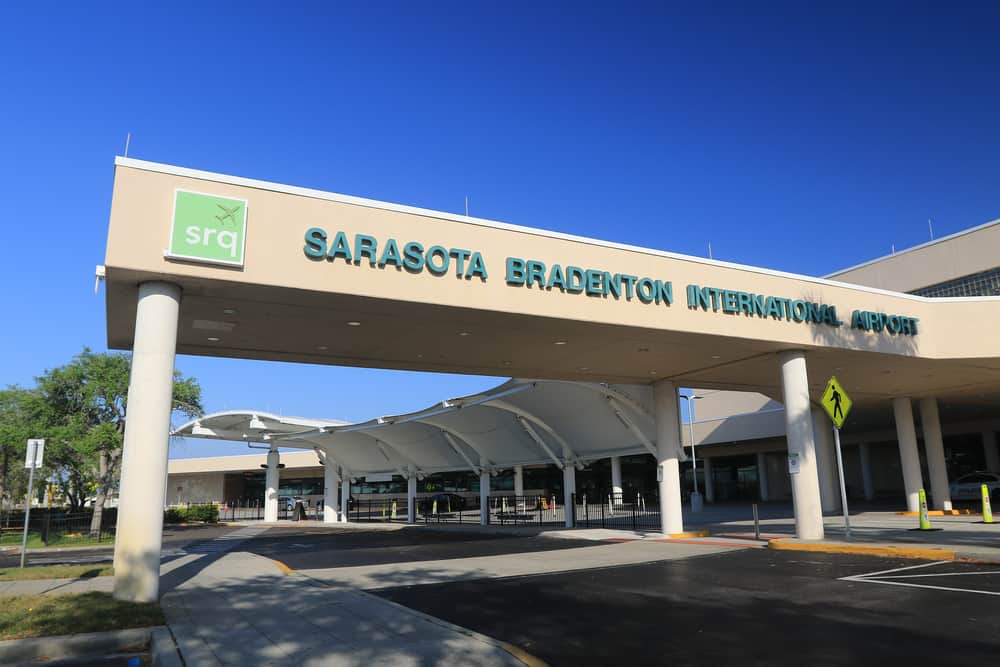 Key West International Airport (EYW)
Key West International Airport is located in the southern most city in the United States. While many flights are routed through Miami International Airport just 180 miles away, major carriers include American Airlines, Silver Airways, Delta and United as well as charter flights to the Bahamas.
This is one of the airport in Southern Florida that has non-stop flights to 14 destinations across the US on American, Delta, Silver and United airlines.
Restaurants include food with a local flare like the Conch Flyer, First Call Beach bar pre-security and Last Call Beach bar post-security. Set on Smather's Beach you will feel like you are in paradise and not at the airport!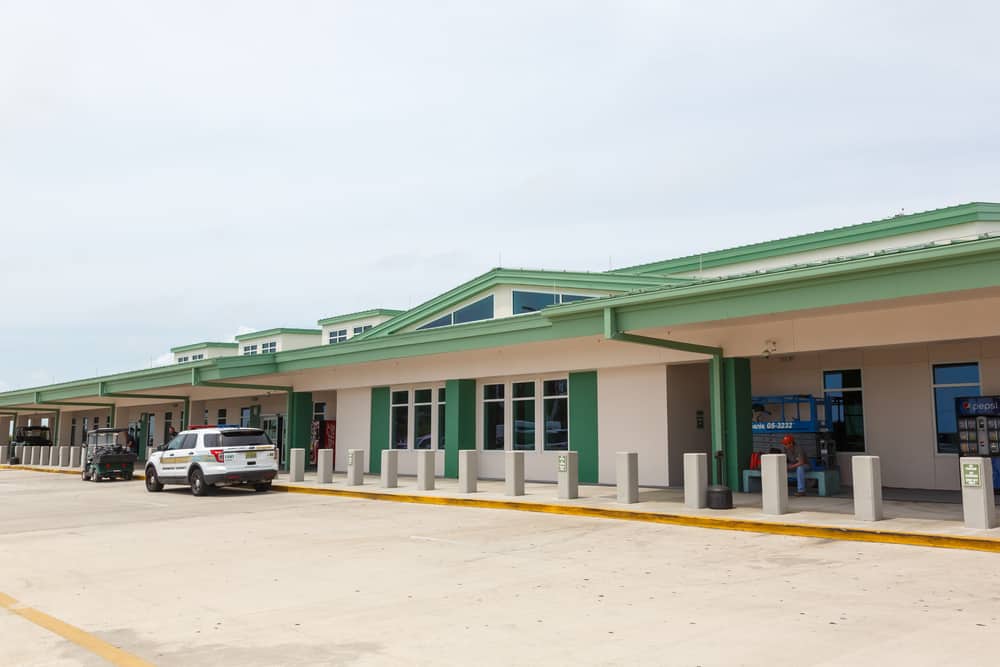 Orlando Sanford International Airport (SFB)
Orlando Sanford International Airport is located just over 30 miles to New Smyrna Beach, one of the best surf towns in the United States. This is another one of the airports in Central Florida and was originally built as a Naval Air Station.
Orlando Sanford does serves as an international airport serving The Netherlands, the United Kingdom and Scotland with airline TUI, and Allegiant airlines serves over 73 destinations across Central-Eastern US and has its hub here. Over 3 million passengers used this Florida Airport in 2019!
The airport has to terminals A and B, they have several restaurants to chose from American Grill Port Paradise and Cheeseburger Cheeseburger, Ritazza, Starbucks and a Sanford Market. The airport is in the middle of a 60 million dollar renovation to renovate and expand the airport!
If you have a priority pass you can head to the Royal Palm lounge to relax before your flight .
Worst Airports in Florida
Fort Lauderdale- Hollywood International Airport (FLL)
Fort Lauderdale-Hollywood International Airport makes our list of one of the worst Florida Airports for a number of reasons including food choices, no budget food and shopping, and constant construction. While there is less congestion and passenger volume than nearby Miami the lack of food choices outside fast food and construction add to the airports troubles.
In fact, it ranks the 24th out of 27th large airport for customer satisfaction and also one of the worst on-time arrival rates. It also ranked 48 out of 50th making it one of worst airport in the US with an average flight delay of 64 minutes.
Unlike Miami International Airport there is no public transportation option to Fort Lauderdale Airport, which is a big negative for cruise passengers heading to the Port.
The constant construction to update and modernize the terminal means that restaurants and shopping areas are often closed and choices are often limited to fast food options within the 4 terminals. The terminals are all spread out from each other requiring a-lot of walking.
Restaurant choices include Air Margaritaville, Shula Burger, Rocco's Tacos, Aunt Annie's, Shake Shack and more.
This Florida airport has international and domestic routes. With airlines such as Southwest, Azul serving Haiti, Jet Blue, Spirit, Air Canada, Silver Airways, American Airlines, Norwegian and British Airways. Flight service includes routes to Europe, South and Central America, Canada, Caribbean, and US.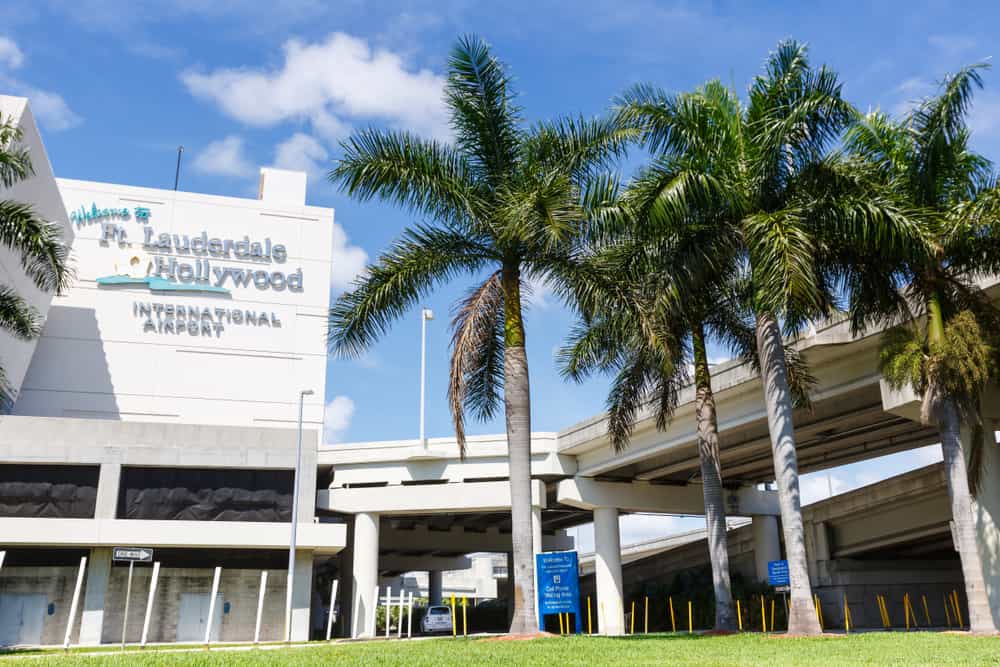 Southwest Florida International Airport (RSW)
Southwest Florida International Airport is located near Fort Myers, and is a convenient airport for those wishing to visit Sanibel area. This Florida airport makes the list as one of the worst in the US.
RSW has no lounge for business travelers and lacks amenities as well as low on-time departures. With-construction that is ongoing and over 10 million passengers a year the airport needs expanded offerings. However in 2018 it did rank 3rd in the nation for medium sized airports!
Unlike other smaller airports in Florida, Southwest Florida International does serve the west coast with flights to both Los Angeles and Seattle as well as a ton of other destinations within the US. Air Canada, Alaksan, American, Delta, Frontier, Jetblue, Southwest, Spirit, Sun Country, United and West Jet all operate flights from RSW.
There are international flights to Canada and Germany as well. Most food options are fast food such as Nathan's Hot Dogs, Quiznos, Starbucks, Dunkin, Burger King, Beaches Boardwalk Cafe, Sbarro, and more across the 4 concourses.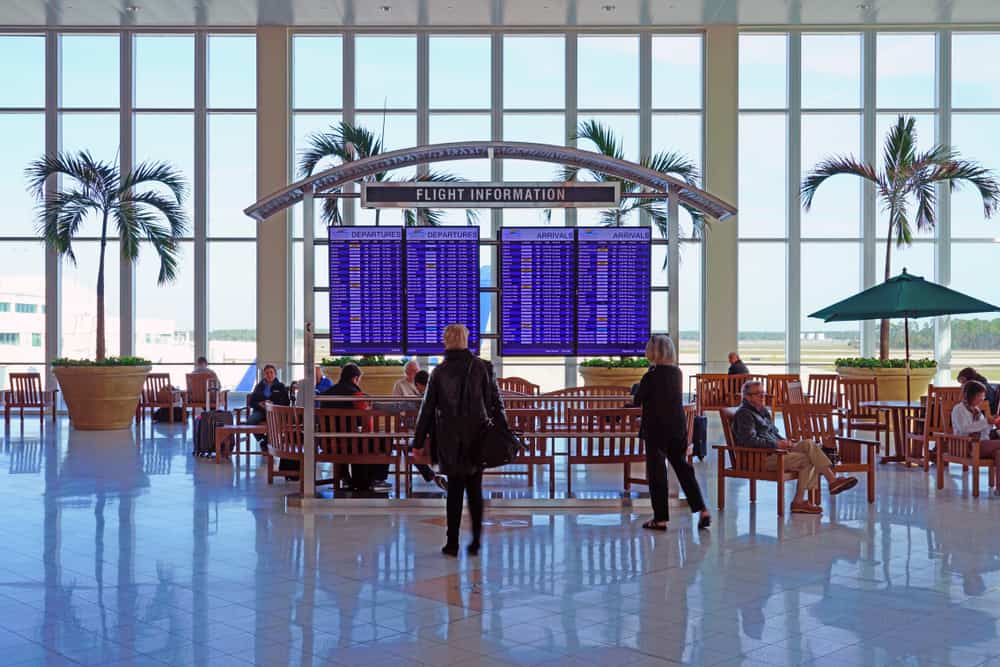 Miami International Airport (MIA)
What puts Miami International Airport on our list of the worst airports in Florida is the lack of vegan or vegetarian food ( in fact we spent over 30 minutes looking at options in different terminals), and the airport is large and very spread out.
This airport also ranks 5th worst for flight delays – over 68 minutes on average, and has extremely long security lines. Be prepared to arrive early to have extra time in security lines. Pre-check and clear lines do more a little quicker.
On of the few positives is the centurion lounge in D terminal for those with an American Express Platinum card as well as-great public transportations options to and from the airport. Options include the metrorail, Tri-rail, and Brightline.
The airport is broken up into the North Terminal ( D gates), Central Terminal (E, F, G) and South Terminal (H and J), and you need to be prepared to walk between terminals!
In D gates there is an sky-train that services the 60 D-Gates with 4 station stops. Miami International Airlines has over 1,000 daily flights with over 160 domestic and international destinations across the world. From Asia, Middle East, Europe, Central and South America and more. And carried over 46 million passengers last year.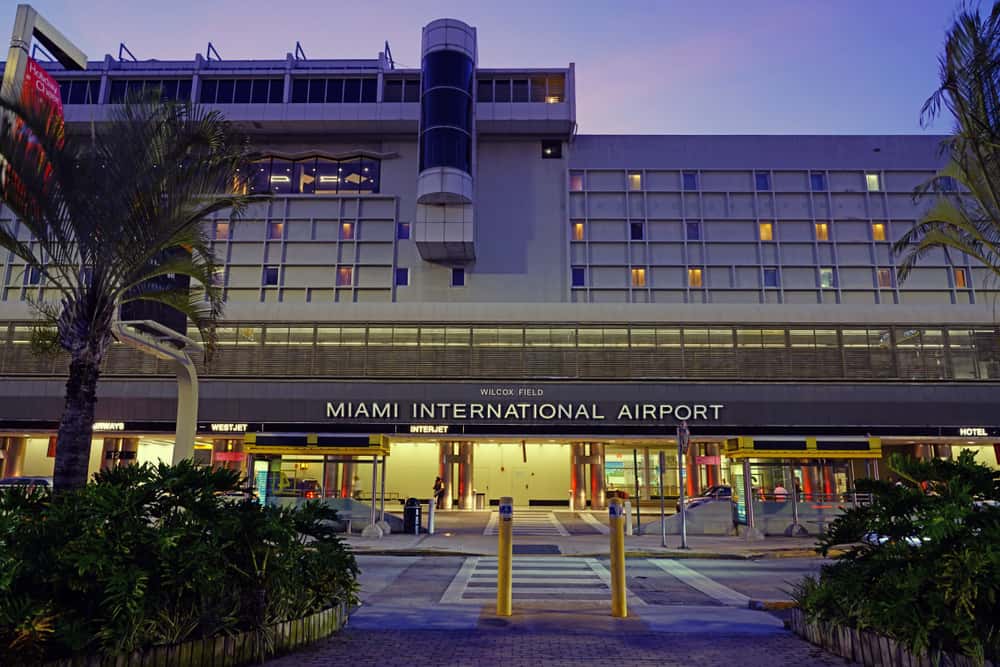 Did You Find This Post Helpful?
If so, we would love to keep in touch! We enjoy seeing photos and comments about your experiences in Florida! You can follow us on Instagram and we will repost your photos on our feed and comment too! Just tag us at @floridatrippers and hashtag #floridatrippers. We can't wait to see your travels!