Are you thinking of visiting Florida in April? If so you are in the right place. In this article, we will walk you through all the things to do in Florida in April so you can plan accordingly.
As Floridian natives, we think this state is great to visit at any time. However, we know the best time to visit Florida is up for debate and is a personal decision.
Some people love this state in winter, some in fall but most agree that spring is a great time to visit. Florida's weather in April is warm and dry which is perfect for most people.
Traveling to Florida in April gives you the best of both worlds you get the heat but not the stifling temperatures of summer and the days are mostly dry. It is also one of the least crowded and cheapest times to visit if you miss out on the spring break/Easter period.
April in Florida also sees the festival season in full force with so many unique events to visit which only happen in this month. If pushed we might even say April is one of the best months to visit Florida for so many reasons.
So are you ready to see why we feel traveling to Florida in April is perfect? Grab a chair get a cold drink and let us walk you through why we think Florida in April is absolutely perfect.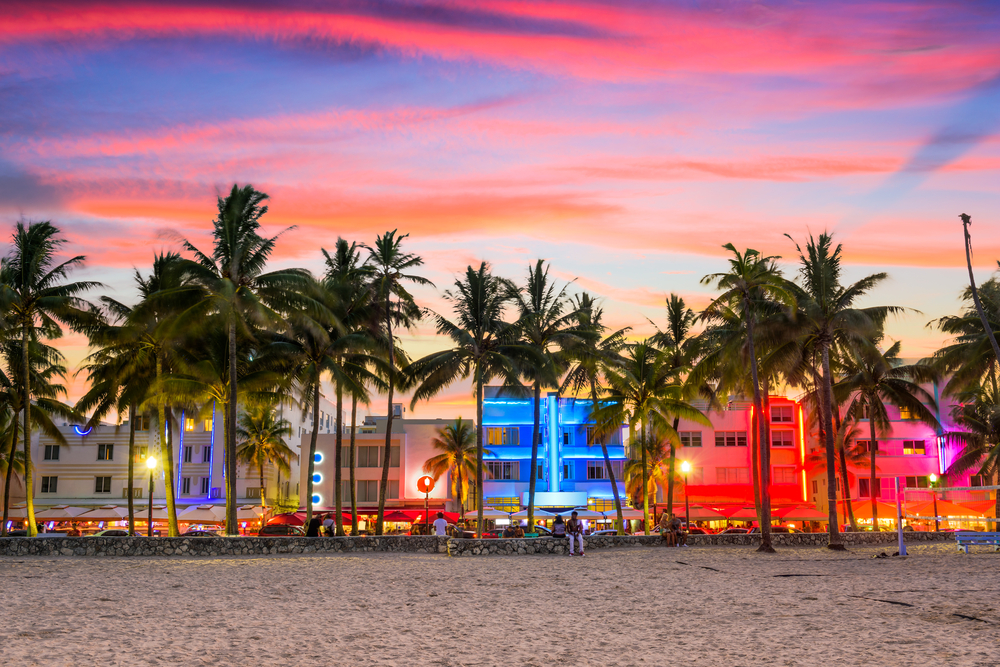 7 Things To Know Before Visiting Florida In April
Florida Weather In April Is Warm And Dry
The weather in Florida in April is absolutely perfect. You have warm days followed by cooler nights. It's not as oppressively hot as it can be in the summer and as the nights are cooler it feels like there is an escape from all the heat.
You will find less fog and wind as there can be in the proceeding months and more sunshine and breeze making it perfect beach weather.
April is also the last month in the dry season and rainfall is low. If it does rain it's normally very brief. The average rainfall is 2.3 inches and never exceeding 5.5 inches. The rain also tends to be more isolated to the areas on the Gulf Coast.
Average temperatures in Florida in April are between 55° – 85° F (12°-29° C). This varies depending on where you are. The southern and inland areas tend to be hotter. The overall average temperature is 71° C, 21° F. Humidity tends to be around 69-72 %.
The weather in Florida in April is a perfect mix. It's just right for almost any activity, especially outdoor activities. The warmest cities tend to be Miami, Tampa, and Orlando.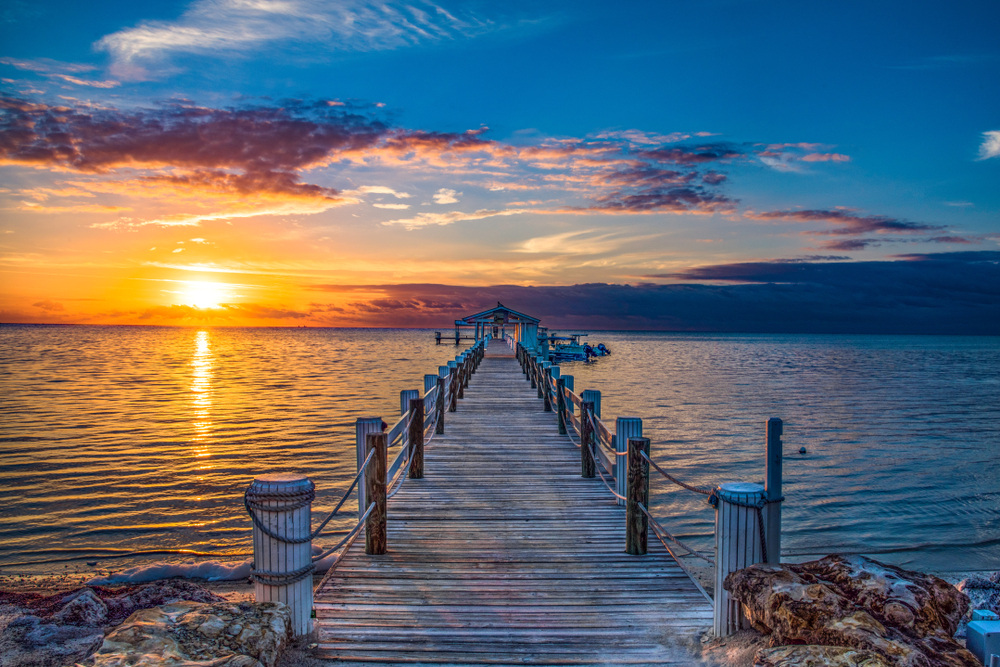 It's A Great Time To Visit The Springs.
We call this month the spring season but not because it is in the spring season. It's because April is the perfect time to visit one of Florida's many natural springs.
Most people are unaware of the many springs in Florida but there are over 700 natural freshwater springs in the state. The springs are formed by the natural underground aquifer and the water temperature is at a constant 72° F, 22° C.
The reason April is such a great month to visit is that it's a month where the air is colder than the spring water making them feel quite warm as compared to how cold they feel in summer against the hot air. The weather in Florida in April makes a trip to one of the natural springs perfect.
The springs tend to also be less crowded this time of year.
Some of the clearest water is found at Ginnie Springs in High Springs. For more seclusion head to Ichetucknee Springs State Park and for family fun head to Blue Springs Park.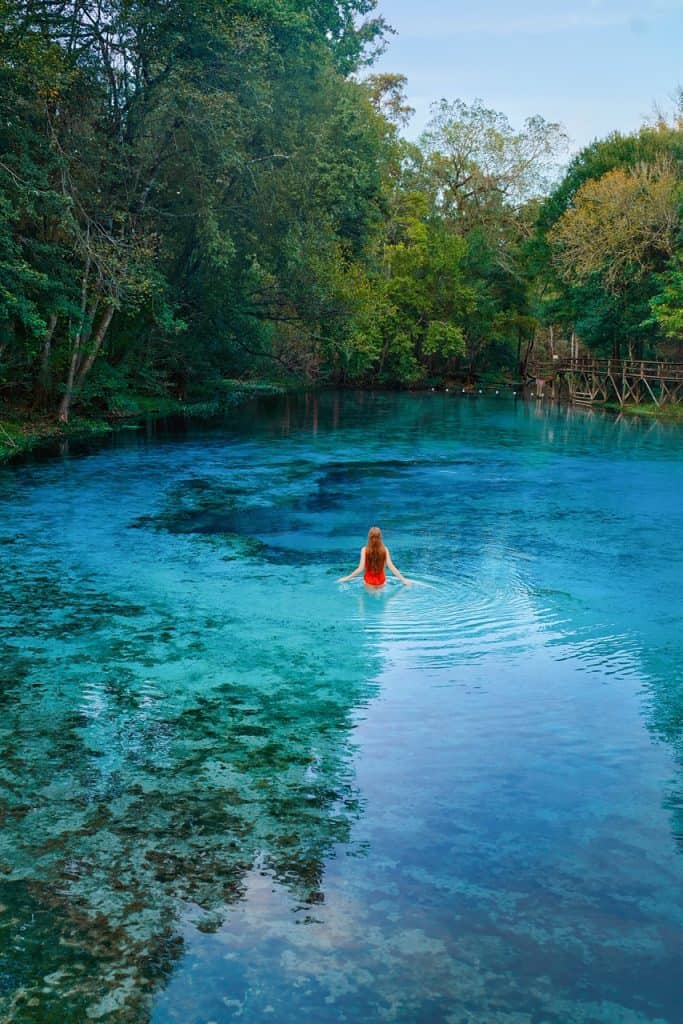 Fort Myers Is The Warmest Place In Florida In April If You Want The Sun
Miami and the Fort Myers area tend to always be some of the warmest places in Florida. The temperatures in Fort Myers can reach 85°F, 29° C in April.
For the heat and the sun, the best places to visit in Florida in April are southern and inland areas. Key West and West Palm Beach see temperatures reaching 82° F, 28° C while Tampa, Orlando, and Daytona see temperatures of around 80° F 27° C. These are all some of the warmest places in Florida in April.
Nowhere is cold in April but the further north you are the less likely you are to see the higher temperatures. Temperatures and conditions vary but Fort Myers is the warmest place in Florida in April. The beaches around Fort Myers are perfect this time of year.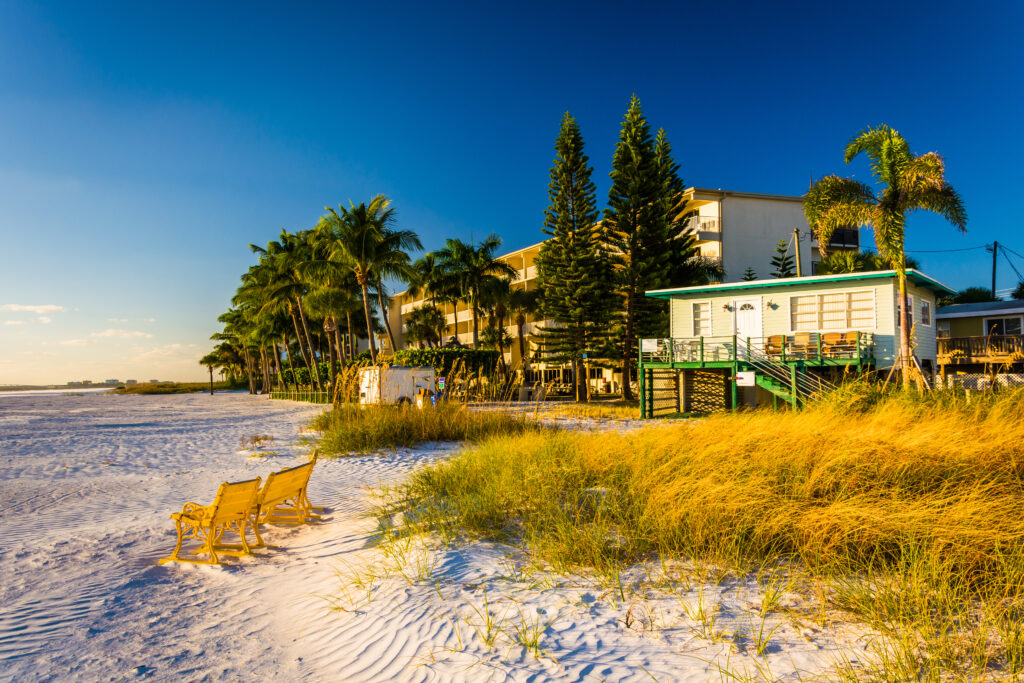 Key West Is The Best Beach To Visit In Florida In April
April in Florida is perfect beach weather the sun is out there is a breeze and the water is just beginning to heat up. But where is the best beach in Florida in April?
Now clearly this depends on what you want out of a beach. If you go by the average temperatures in Florida in April then Fort Myers and the beaches in Miami come among the top but they can tend to be busy.
The Treasure Coast just above Miami is not as popular and has great weather. Beaches here include West Palm, Delray, Pompano, Palm Beach, and Boca Raton.
There is so much to do in West Palm Beach and Boca Raton has some great restaurants.
The beaches on the Paradise Coast tend to be popular for those that want some peace and love nature and animals. Bird-watching here in April is fantastic.
The Space Coast Beaches are also great places to go when visiting Florida in April, they are a little cooler but still have warm temperatures.
However, considering all this we feel that the beaches of Key West or anywhere in the Keys are where you will find the best beach in Florida in April. The temperatures are in the low 80° F, and high 20 ° C and the area tends to be a little quieter during April. You will also find some of the warmest water here.
April is also a perfect time for scuba diving at Bahia Honda State Park or visiting Dry Tortugas National Park. These are some of the best places to visit in Florida in April as the weather is perfect the crowds aren't excessive and the water temperatures are warmer.
All these places make great vacation spots in Florida in April.
The Water Temperature Is Still Quite Chilly
Most people believe the water here is always warm and I can assure you that is not always the case. April in Florida can see the water colder than you might expect.
Water temperatures can vary a lot depending on where you are in the state and the body of water you are in. Florida is surrounded by the Gulf of Mexico and the Atlantic Ocean and temperatures between the two can vary significantly.
The Gulf of Mexico beaches tends to have warmer temperatures with the average being approx 71° F 21° C. The Atlantic Coast has an average of 63° F and 17° C.
The warmer the air temperature the warmer the water so the warmest places in Florida in April tend to see the warmest water temperatures. Miami and Key West have water temperatures of approx 78°F, 25° C this time of year.
Naples and St Petersburg on the Gulf Coast have water temperatures in the mid-70s and Daytona and St Augustine on the Atlantic Coast have temperatures in the low 70s.
Now obviously whether you feel the water is warm is all relative. To us April water temperatures are cold but if you live somewhere cooler they are likely to feel warmer.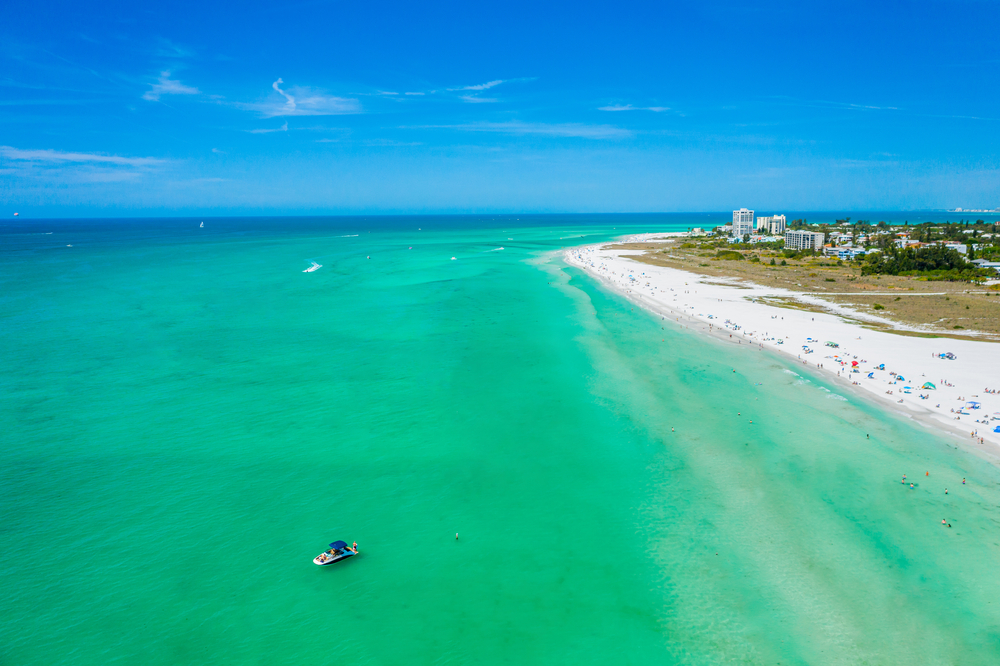 April In Florida Is Perfect For Outdoor Pursuits.
While Florida might not be known for its outdoor activities April is a great time to explore some of the beautiful places that Florida has to offer.
The cooler temperatures mean that you can enjoy hiking in Florida a pursuit you wouldn't want to attempt in the warmer months. The Ocala National Forest has over 360,000 acres of land to explore and Big Shoals State Park has some great incredible viewpoints.
The Florida State Parks also make perfect picnic destinations this time of year. Just pack a picnic, get in the car, park up and enjoy the scenery while sharing some great food with your loved ones.
Camping in Florida is also perfect in April, the cooler nights make sleeping outside bearable. You can camp in one of the State Parks, In one of Florida's Natural Springs, by the Beach 9where permitted) or go primitive at Dry Tortugas.
Dry Tortugas is a really unique place to visit and camp. Here are some mistakes to avoid at Dry Tortugas to make the most of your stay there. Dry Tortugas are one of the things to see in Florida in April.
It's also a perfect time to Kayak in Florida some of the waterways without getting sunstroke. The Florida springs are perfect places as the water temperatures are assured but there are some other great spots such as John Pennekamp Coral Reef State Park in Key Largo.
If you are visiting Florida in April we highly recommended you get out and about in nature if you can.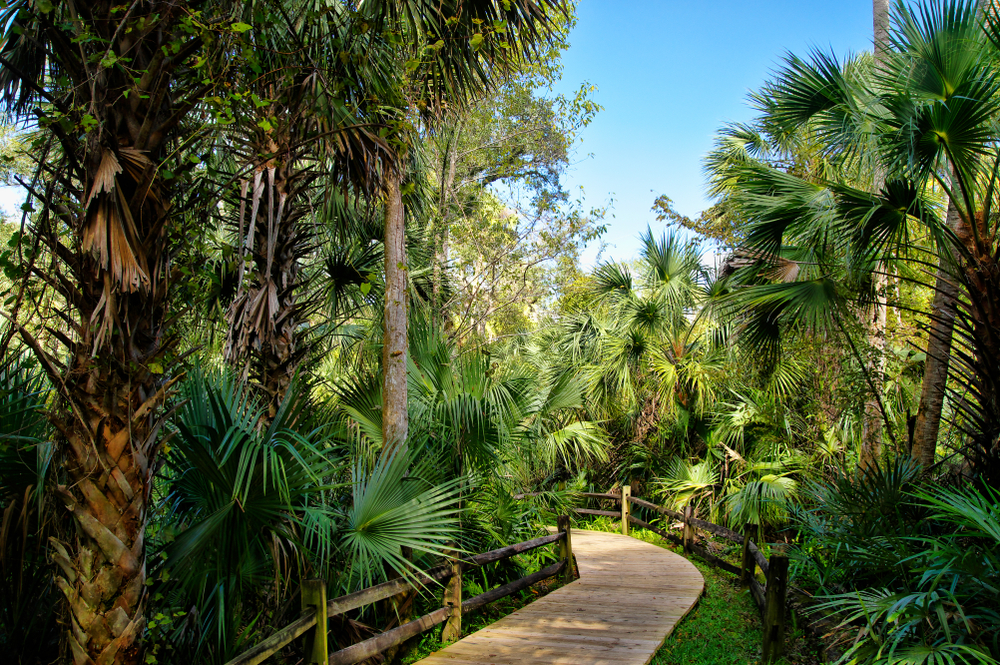 April Is Festival Month In Florida!
Visiting Florida in April means you get to see some of the amazing festivals that this State has to offer. There is always something happening in Florida but in April the state goes all out.
Let's start with theme parks. The Epcot International Flower and Garden Festival is in full swing in April. This festival is breathtaking and is one of the things to see in Florida in April. The Walt Disney World Resorts are also in full bloom displaying over 30 million blooms.
At Universal, it's all about Mardi Gras. You will find parades, music, food, and performances on select dates in April.
Music Lovers can head to Springing the Blues Festival in Jacksonville. This is a free outdoor event the first weekend in April and features blues artists from across the globe.
For the film buffs head to the Florida Film Festival which takes place in Maitland in mid-April. In previous years they have shown over 160 films and 25 world premiers.
Other things to see in Florida in April include Island Fest in Islamorada which takes place in early April and features a little bit of everything. Several Pioneer Days take place in April such as one in High Springs.
If you are traveling to Florida in April make sure you check one of these festivals out.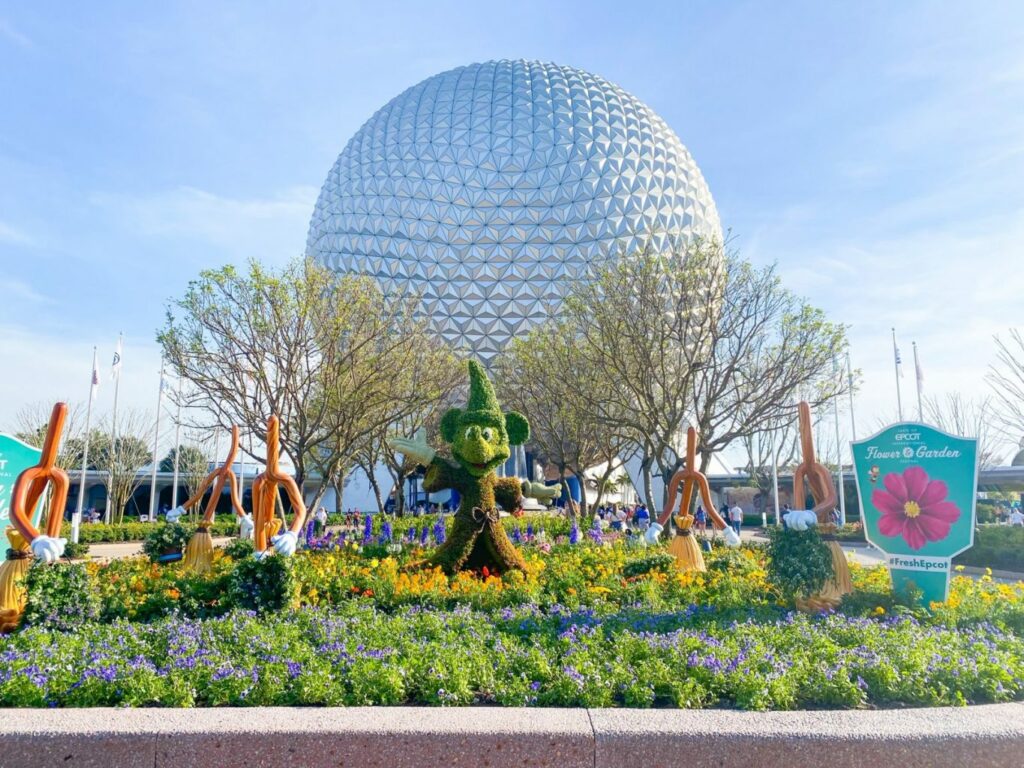 As you can see Florida in April has so much to offer. From warm temperatures to fewer crowds and cheaper prices it's a perfect time to visit.
The average temperatures make it perfect for a day at the beach or some outdoor pursuits. Whichever part of the state you choose to visit we hope you have a great time.
Please come back and tell us all about your experience and what you enjoyed doing.