Are you looking for the best cities in Florida? We have you covered with our list of the most vibrant cities in Florida that you must visit!
Florida is one of the most popular states in the United States due to its amazing weather, almost year-round sunshine, and diverse set of Florida cities and towns. Over 131 million visitors flocked to Florida last year!
From South Florida, Central Florida and North Florida to everywhere in between no matter where you are located there is a vibrant city waiting to be explored! Try one of our road trip suggestions across Florida for a fun get-a-way!
Visit the numerous beaches across Florida from the Atlantic to the Gulf Coast, state parks and nature preserves, museums, restaurants, craft breweries, golf courses and more!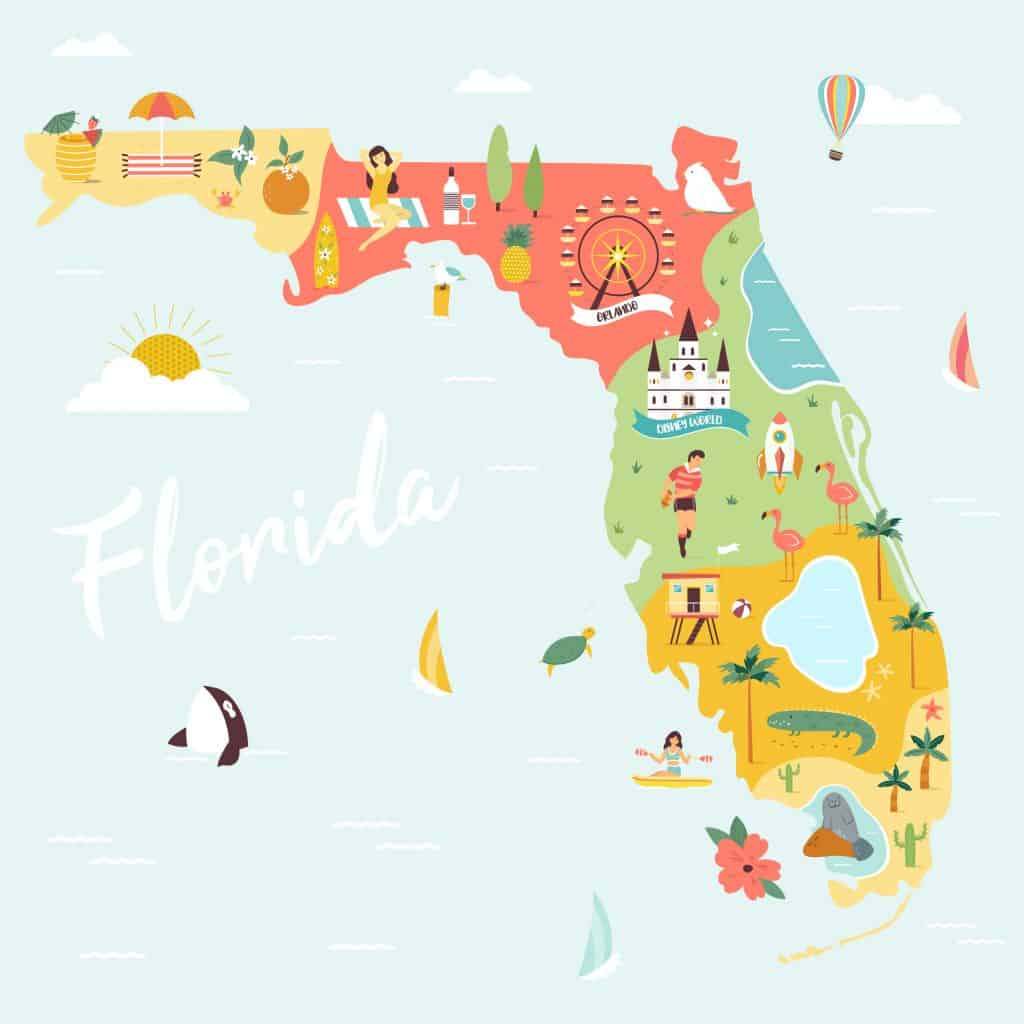 14 Vibrant Cities In Florida You Must Visit
Tampa
Tampa is home to our favorite Florida airport, and is located in Central Florida! While it does not draw as many visitors as other cities in Florida, the nearly 20 million visitors are awarded with an energetic and vibrant city for families and tourists alike.
Tampa is a city that has something for everyone! This is the place to head if looking for a memorable adventure.From getting outdoors and going on hikes, to visiting one of Florida's natural springs, or heading to some of the best beaches or even dog friendly beaches.
From the newly revitalized Tampa Riverwalk, museums like MOSI, temples such as the Hindu temple, the Florida Aquarium, breweries, Busch Gardens and more are just a few of things to do in Tampa!
If looking for a foodie destination, Tampa is quickly becoming a top food destination in Florida! From amazing dining downtown, to vegan restaurants, coffee shops there is something for everyone! Try Columbia the oldest restaurant in Tampa.
We even have a list of the best airbnbs in Tampa if you are looking for unique places to stay while visiting!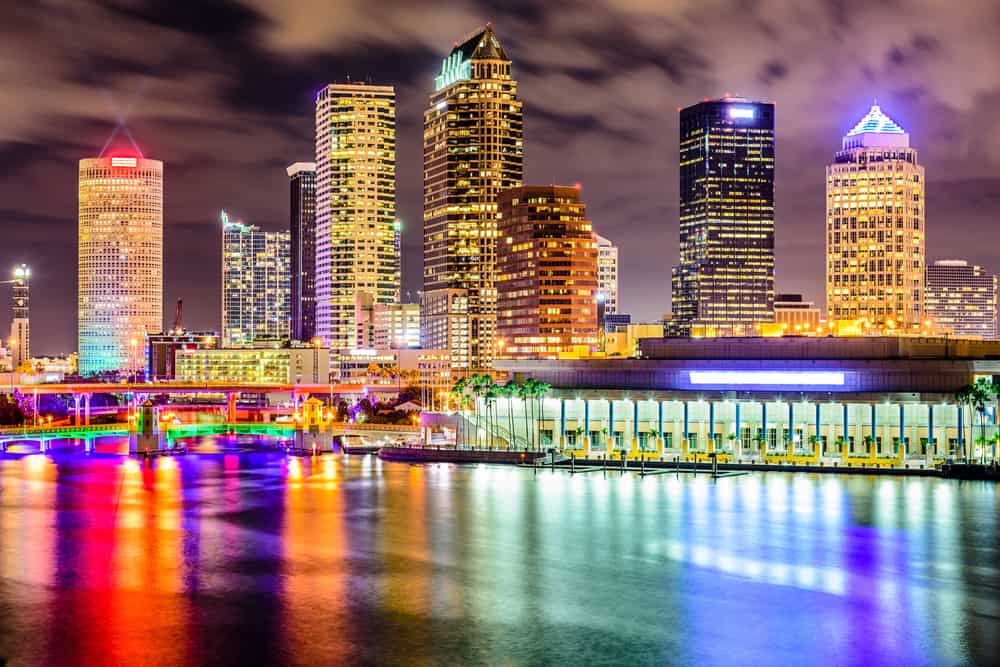 Miami
With over 23 million visitors each year, Miami is one of east coast Florida cities known for its melting pot of culture! You can always find unique and fun things to do in Miami year round.
While many visitors flock to the iconic beaches of Miami with its year round warm weather there is more to than lay in the sun! With art galleries in the Wynwood art district, museums, Vizcaya Gardens and Mansion, Everglades National Park, Jungles Island or take a tour of the Cuban culture in Little Havana and more there is no shortage of things to do in Miami!
Miami drips with chic ambiance for its incredible restaurants to rooftop cocktail bars. Paired with glamorous accommodations the opulence in Miami will having you want for nothing more. Check out our post of the ultimate 3 day Miami Itinerary!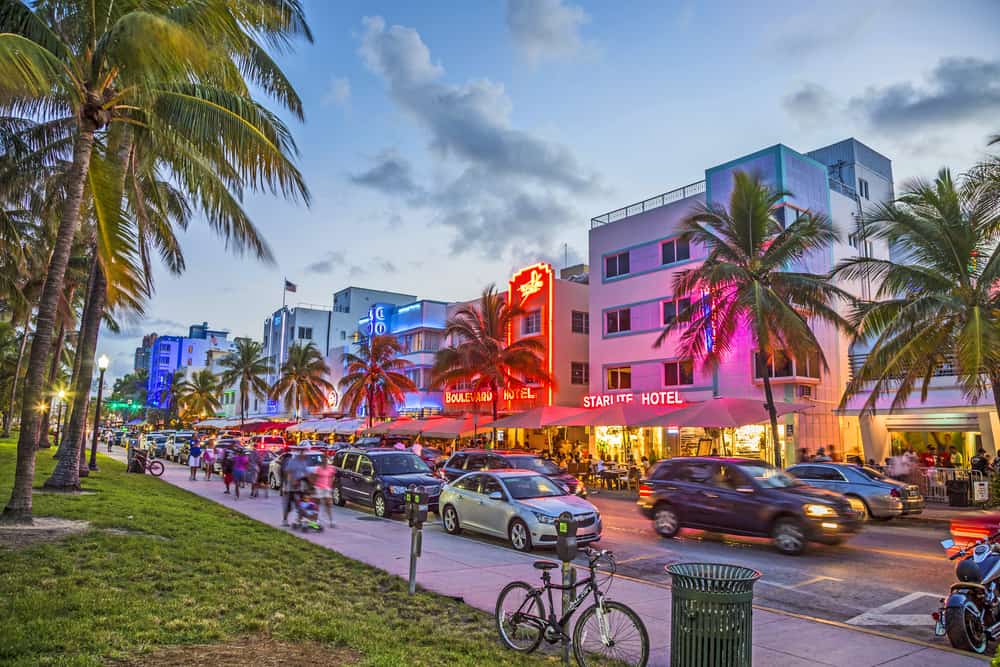 Clearwater
Every year tourists and residents alike flock to Clearwater Florida for its amazing beaches, beautiful sunsets, fun attractions, and more. The clearwater Marine Aquarium is home to the famous dolphin Winter from the movie Dolphin tale.
If looking for the best beach we suggest heading to Sand Key park instead of the more touristy Clearwater beach. Although Clearwater beach is ranked as one of the top beaches in Florida so it is worth a visit too if you don't mind crowds. At Sand Key you will be rewarded with almost no crowds, pristine white sand beaches, beautiful sunsets over the Gulf, picnic area and more!
Clearwater has an established dining scene boasting amazing spots for not only seafood but pretty much any cuisine you could want. You can check out our list of the best airbnbs in clearwater if looking for a place to stay!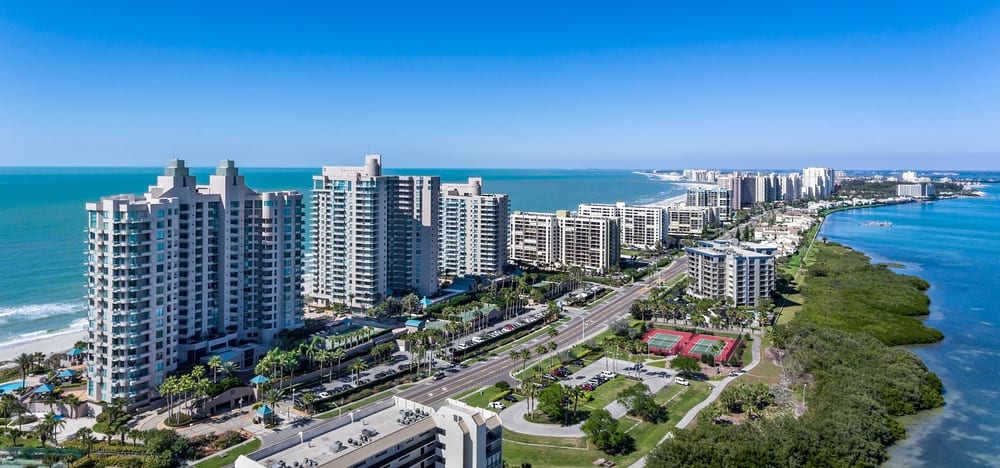 Saint Petersburg
Saint Petersburg is one of the beach cities in Florida on the gulf coast. Located just across the Tampa Bay from Tampa, St. Pete is known as the sunshine city with almost year round sunshine!
While there are tons of beaches you should visit close by, St. Petersburg offers much more than a day in the sun! One of the best places to visit is Sunken gardens a hidden tropical oasis that is the oldest living museum with over 50,000 plant species!
If looking for unique things to do in St. Pete head and check out the the over 90 murals in the arts district or visit the Dali, Chihuly or Holocaust museums.
There is also Fort De Soto, dating back to the civil war that you can now visit located on 7 miles of waterfront, with hiking trails and more or take a visit to the Boyd Hill Nature preserve a 245 acre preserve on Lake Maggiore.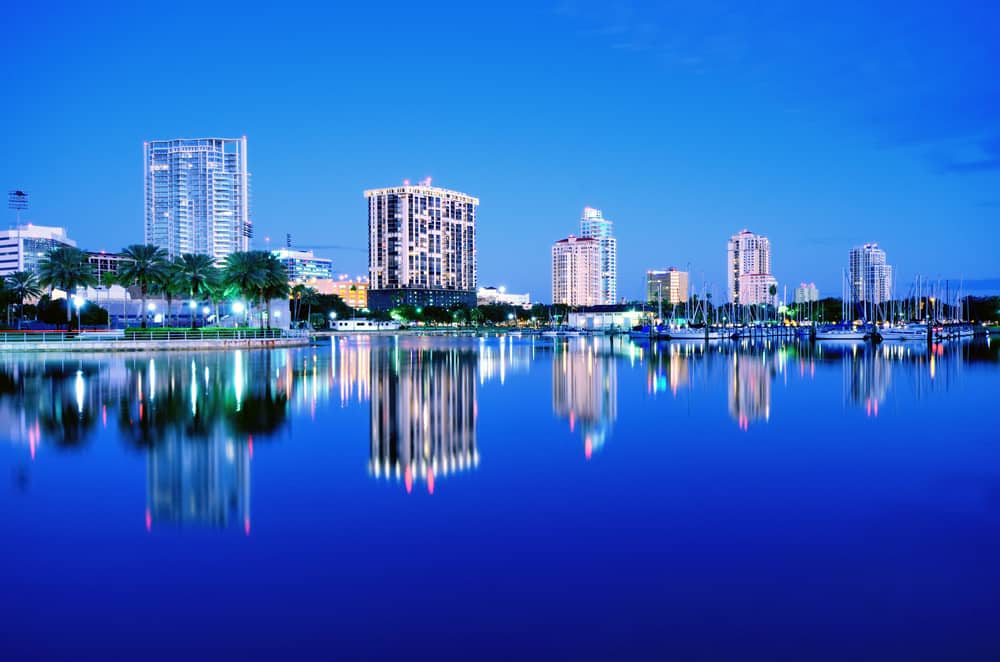 Gainesville
Gainesville is located in North Central Florida as is probably best known for being the home of the University of Florida! Not to worry, Gainesville has much more to offer than the university.
From museums like Natural history museum, Harn Art Museum, and Cade Museum, to pristine 72 degree year round springs such as Ginnie Springs and Devils Den to nature preserves, gardens and state parks there is always an activity going on in this town.
Gainesville is known as a craft beer town with breweries located throughout town the perfect place to grab a drink after exploring all gainesville has to offer. After head to one of the many restaurants in the area!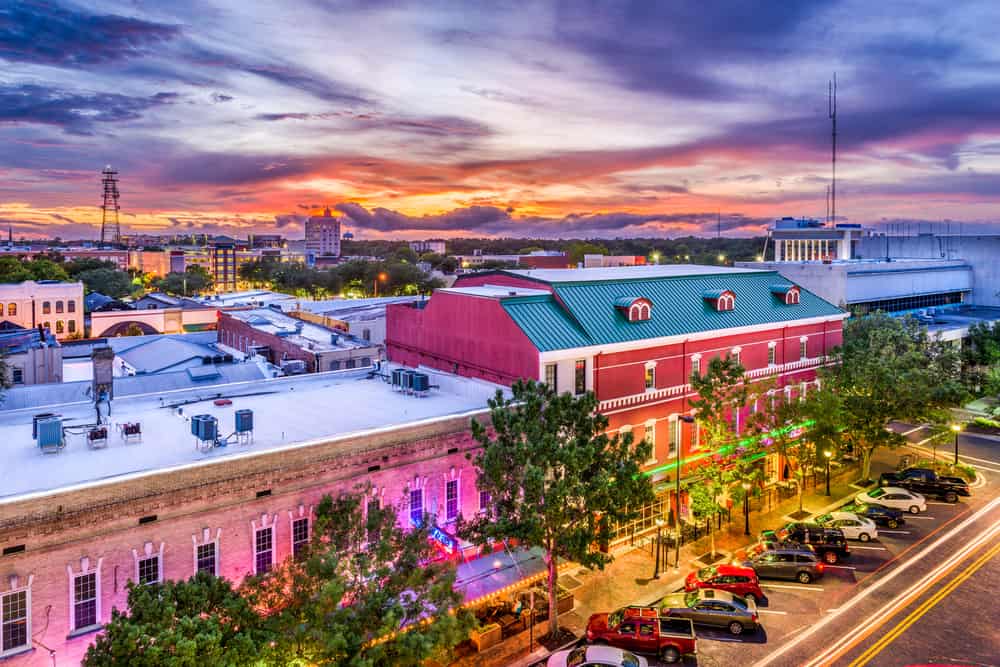 Jacksonville
Jacksonville is located in Northeast Florida, and is the largest city in the United States measured by area at over 840 square miles!
Situated on the Atlantic coast with over 22 miles of beachfront Jacksonville was first colonized in 1564 by the French and was re-colonized by the United States in 1822.
Home to the Jacksonville Jaguars, there are many things to do in Jacksonville from beaches, State parks like Big and Little Talbot that you can explore, a zoo, museums, gardens, and historical and ecological preserves!
After enjoying a day exploring Jacksonville or hanging on the beach head to one of the many restaurants for a delicious meal where after you can head to one of the rooftop bars to watch the sunset.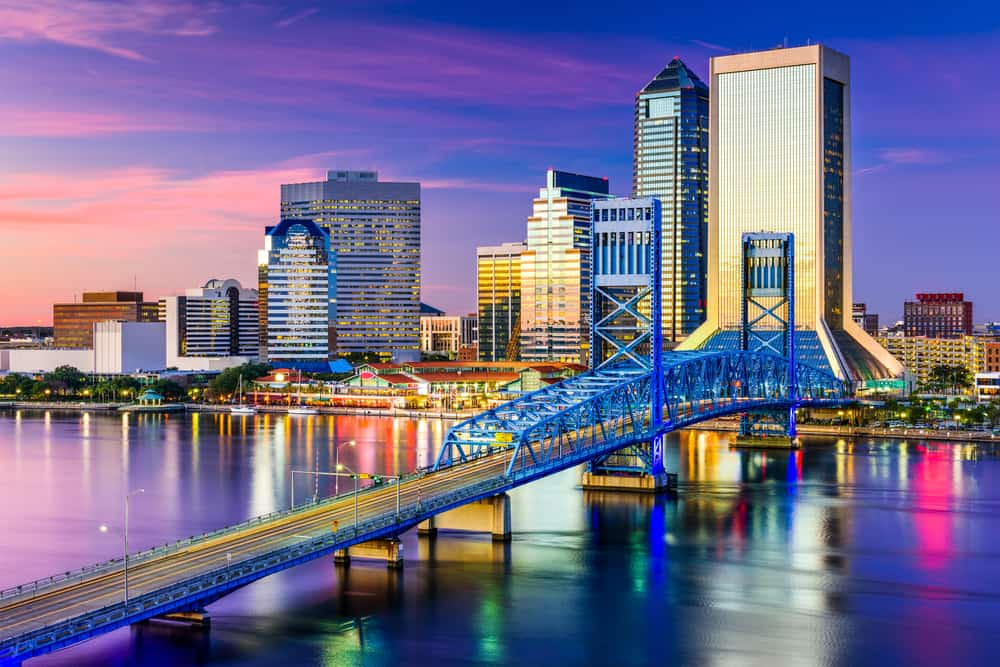 Pensacola
If you are looking for gulf coast Florida cities in the panhandle you will want to visit Pensacola. It is the westernmost city in the Florida Panhandle and is known for white sand beaches, historical monuments, festivals, state parks and more!
Navare beach is one of the most popular in the are with its recognizable 1,545 foot boardwalk and Pensacola beach that is eight miles long this and surrounded on both sides by the federally protected Gulf Islands National Seashore! It is also one of the best gay beaches in Florida!
After spending all day working up an appetite at the beach in Pensacola, touring the lighthouse or shelling, visit one of the many restaurants in Pensacola!
Check out our Airbnb's suggestions for unique places to stay such as the Sanctuary of Light Cabin, the Pelican Retreat Cottage or the Waterfront Cabin on the Bay just a few minutes from Pensacola Beach!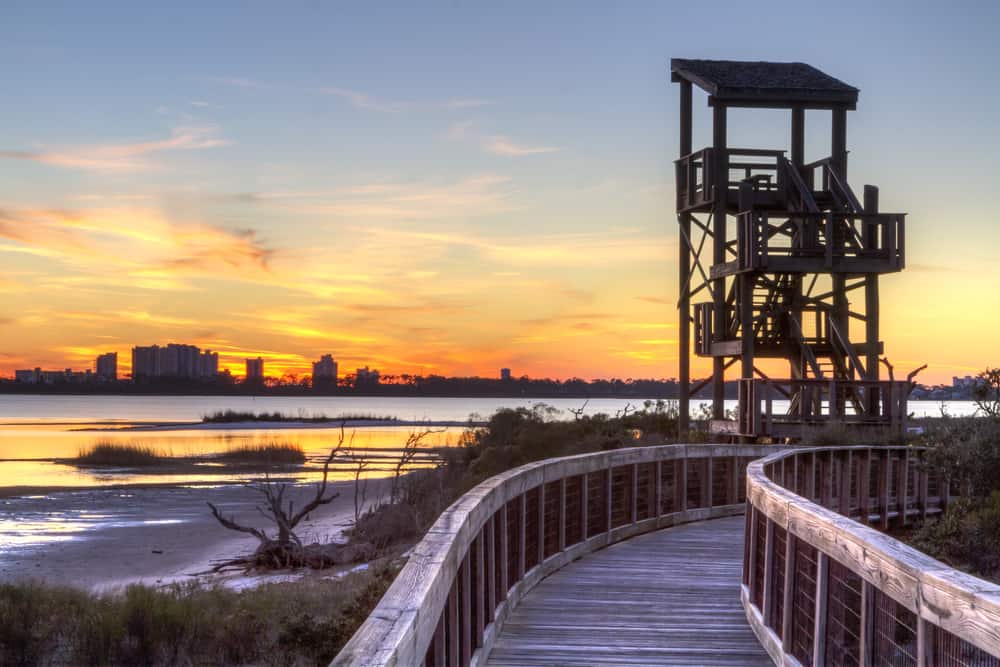 Tallahassee
Tallahassee is Florida's Capitol city and there is tons to do here! If you love the outdoors this is the Florida town for you! Unlike in South Florida, Tallahassee has seasons, making it the perfect place to visit in fall!
There are over 700 miles of trails to explore, historical plantations, a large lake just north of downtown called Lake Ella, rolling hills, large oak lined streets, beautiful state parks and museums to explore.
If looking for more hustle and bustle head towards Florida State University for restaurants, boutiques and nightlife!
While Tallahassee is landlocked many residents and visitors also flock to the nearby beaches for a day trip! You will find amazing Gulf Coast beaches just an hours drive away!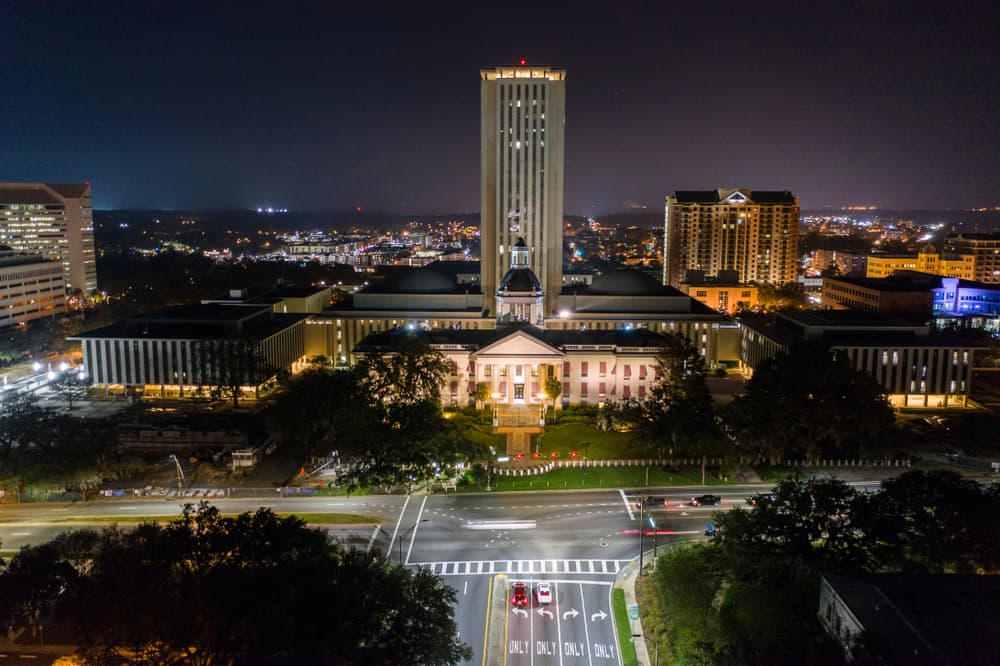 Orlando
Orlando is one of the most popular cities in Central Florida with over 75 million visitors. Making it one of the top destinations in not only Florida but, the United States. Widely known for its 12 theme parks, the city has much more to offer!
Known as "The City Beautiful" this hub has a constant buzz through the year from tourism, major festivals, and convention traffic. The epicenter of downtown centers around Lake Eola with a beautiful park that offers stunning views of the city skyline.
Dine at one of the many restaurants offering up almost any cuisine you could imagine and boutiques. Visit one of the museums in town or perhaps enjoy one of the many spas, or golf courses in area.
For adults looking of fun head to one of the craft breweries or rooftop bars in the area or check out our list of the best date night spots in Orlando!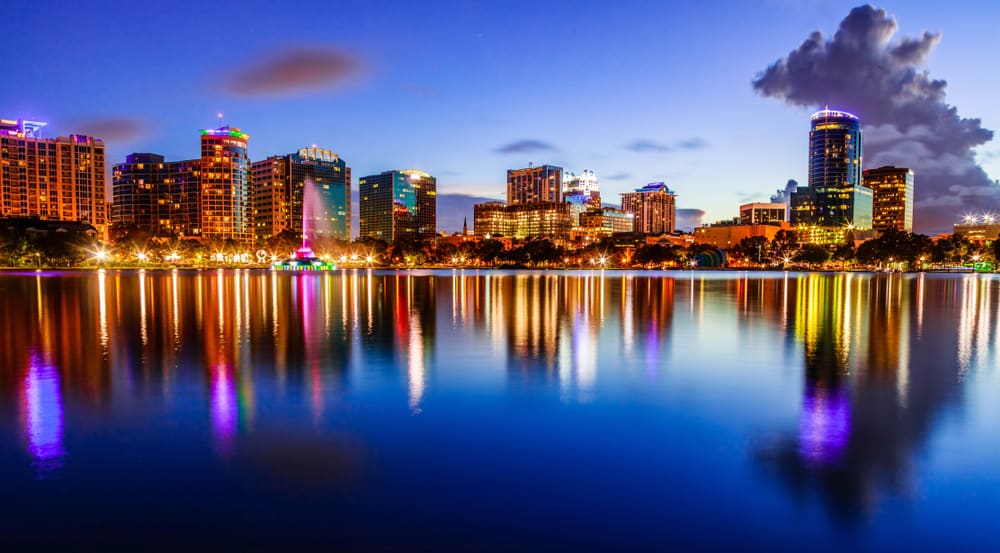 Sarasota
Sarasota is one of the Florida cities located on the southwest gulf coast. Located about an hour south of Tampa and Saint Petersburg we consider this town to be a hidden gem! The town's motto is "where urban amenities meet small-town living" meaning you get the best of both worlds here. This sleepy beach town has tons to explore as well!
From the headquarters of Ringling Circus to Siesta Key Beach one of the top beaches in Florida to Myakka River State Park one of the oldest and largest state parks, to the Jungle Gardens a mix between a zoo and botanical garden or Celery Fields on the Great Birding Trail in Florida there is plenty to do!
This is the perfect place if you are in the mood for seafood from al fresco outdoor spots to upscale restaurants you can find most of the dining centered around downtown or St. Armands Circle!
If looking for a list of Airbnb's in Sarasota check out our list that includes everything from high end luxurious homes to cozy accommodations!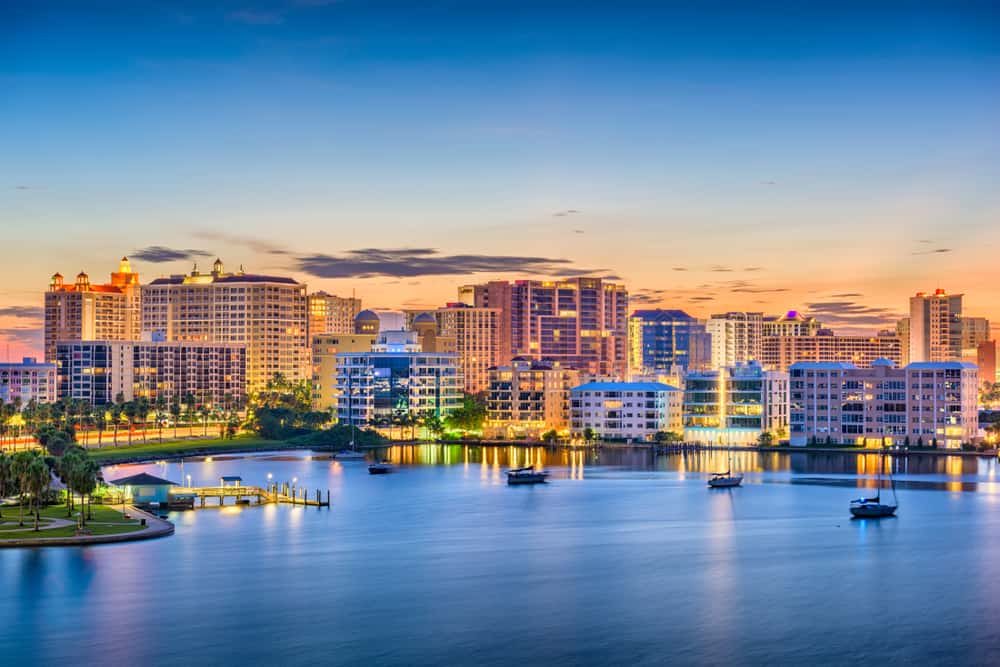 Saint Augustine
Saint Augustine is the nations oldest city that has been transformed into a bustling modern day town. Not only is of the most romantic cities in Florida, it is perfect small town for exploring year round!
You have your choice from exploring the Ottis castle, spending the day at one of the Atlantic coast beaches, visiting exhibits at the museums, exploring national parks such as Castillo de San Marcos fort, climbing the famous Saint Augustine lighthouse, taking a popular haunted ghost tours.
Don't forget to check out our list of the best restaurants! Or if in the mood for drinking head to the distilleries and wineries!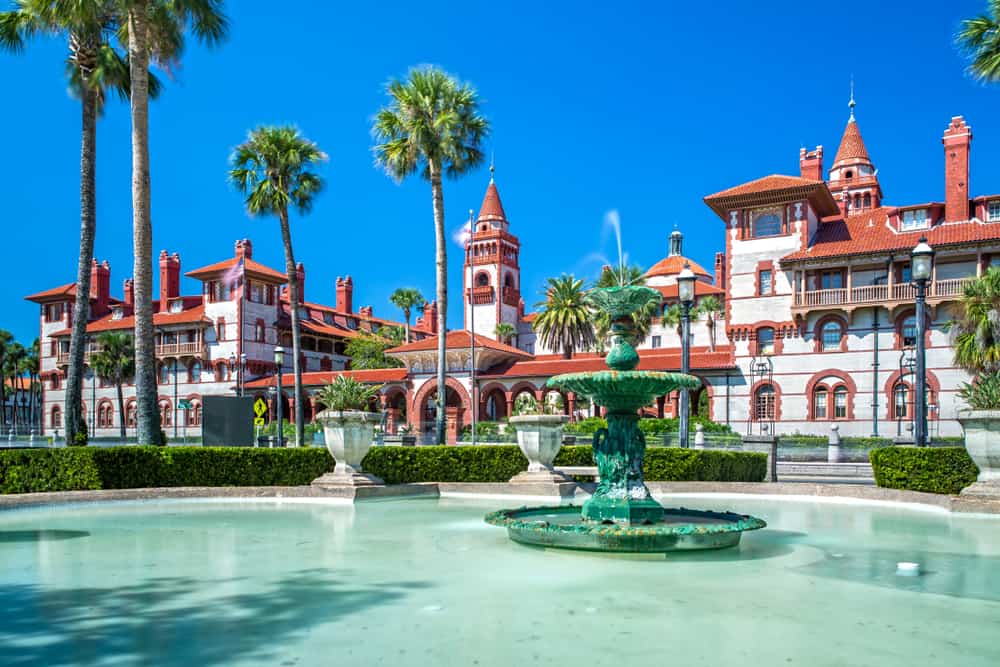 Fort Myers
Fort Myers is located north of Naples and to the south of Sarasota, and is one of Florida's most beloved vacation spots, perfect for the whole family! Visitors flock to Fort Myers for its pristine beaches, professional theatre and minor league baseball, and nature preserves.
If you are looking for a wildlife destination, look no further. Fort Myers actually houses the largest population of burrowing owls! And you can also spot Florida panthers, dolphins, sting rays, and manatees!
Visit one of the best museums in Florida in Fort Myers the Edison and Ford Winter Estates which houses a laboratory and museum! Or just off the coast visit Captiva Island one fo the prettiest islands in Florida!
Fort Myers culinary scene has a variety of farm to table eats, Italian, French and Mexican restaurants to seafood and more!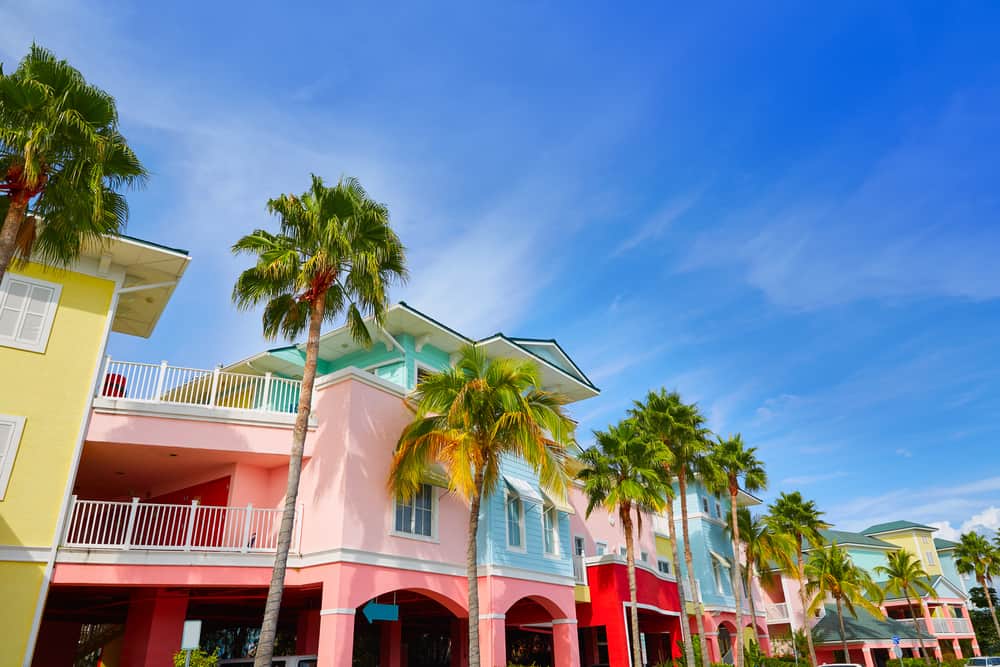 Fort Lauderdale
While Fort Lauderdale has one of the worst ranked airports, it is also one of the cheapest airports to fly into in Florida! Located just 40 minutes north of Miami it is a city worth exploring! With a more relaxed vibe, you can explore museums, arts district with painted murals, and the riverwalk areas.
Las Olas boulevard is known as the place to be from award-winning restaurants, boutiques, hotels and nightlife it is worth a visit! For those wanting to visit the stunning beach youa re in luck.
Fort Lauderdale has more than seven miles of beautiful beaches and Ocean Rescue supervises two miles of it with 15 year-round, permanently staffed lifeguard towers making it a very family beach! For those looking for adventure you can snorkel, dive, jet ski and more!
If you want to do something unique while visiting take one of the Everglades Airboat Tours in the hopes of spotting alligators!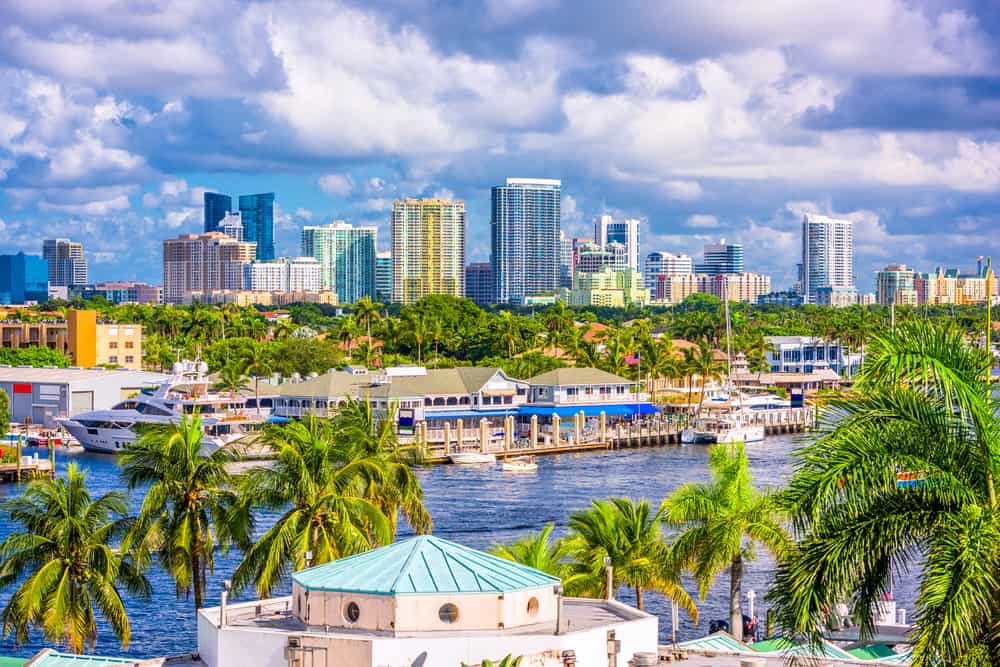 Daytona Beach
Daytona beach is one of the more beach cities in Florida located on the Atlantic Ocean. While it is often considered a spring break hotspot, home of the Daytona 500 the premier NASCAR race and Daytona Bike week, it is also home to music festivals like Welcome to Rockville.
For those looking to relax on the beach, Daytona has over 20 miles of sugary white sand beaches some of which you can even drive on! Visit the lively boardwalk and pier that is a family friendly attraction that is part amusement park with a giant Ferris wheel, video game arcade and restaurants!
Or visit the Ponce de Leon Lighthouse the tallest lighthouse in Florida, or one of the several museums or historic homes in the area!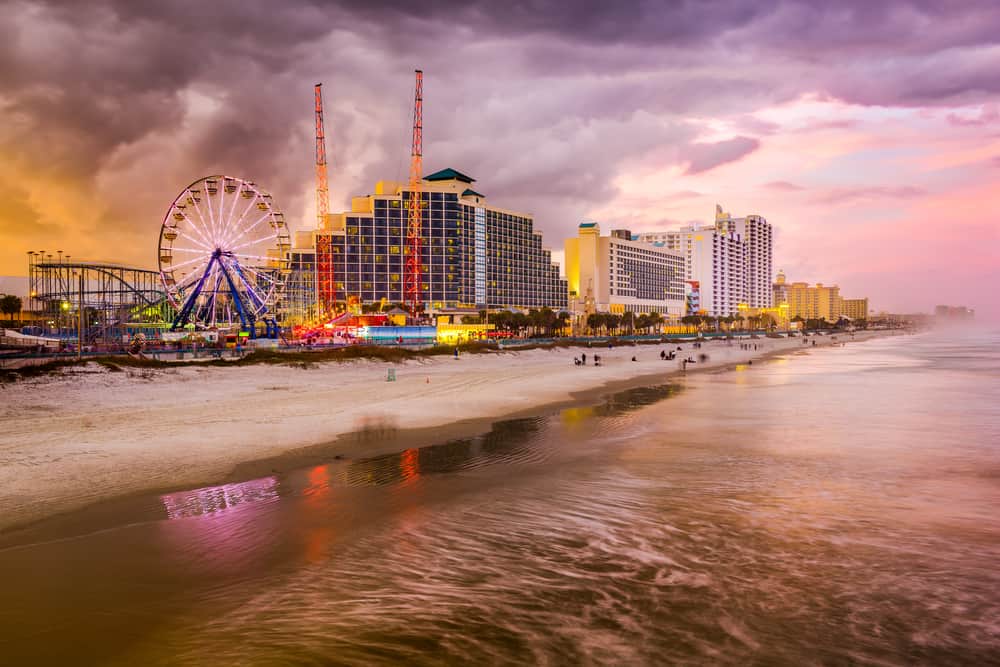 Did You Find This Post Helpful?
If so, we would love to keep in touch! We enjoy seeing photos and comments about your experiences in Florida! You can follow us on Instagram and we will repost your photos on our feed and comment too! Just tag us at @floridatrippers and hashtag #floridatrippers. We can't wait to see your travels!