If you are looking to visit Florida in March, make sure to check out our guide for things to see on your trip!
We have chosen a variety of the best places to visit in Florida in March. From Key West to beaches, springs, and festivals, to exploring Northern Florida there are so many places to explore in March! Not only is the weather gorgeous out (not too hot, nor too cold) March is an amazing time to visit the sunshine state because it is not as crowded as the high season!
The further south you head in Florida, the warmer the weather will be. Head to the beach in Miami or Naples, or go swimming with manatees at one of the springs in North-Central Florida. Or checkout one of the many festivals around the state that are held in March.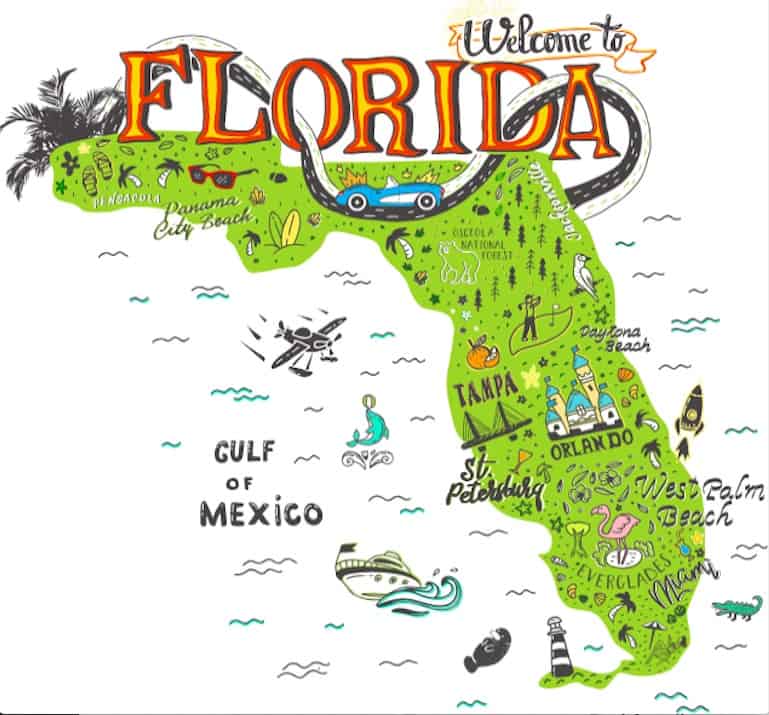 6 Things To Know Before Visiting Florida In March
#1 – Seeing Manatees
Visiting Florida in March is a great time to see manatees because it is cold and is the LAST month to see them in Florida! While sometimes March is cold, sometimes March is warm, it depends but will be the last month to see manatees in the wild.
Manatees in Florida are not difficult to find if you know where to look! We have a guide on the best places to see wild manatees in Florida! These gentle giants are gray in color with a large paddle-shaped back fin. They can grow to be 13 feet long and up to 3,500 lbs!
Manatees are always in search of warm waters, due to the fact that they only have an inch of body fat! As such, they love Florida's springs as they stay 72 degrees year round. Manatees sightings are highest from mid-November through the end of March, peaking in December, January, and February.
You should always practice "passive observation" when around wild manatees in Florida. Remember, you are a guest in their home! Do not chase, approach, or touch a manatee. These behaviors are all considered "harassment" which is illegal.
You can find one of the best places to see manatees in natural Florida springs just west of Gainesville in Chiefland, at Manatee Springs State Park is a haven for migrating sea-cows.
Or head to Crystal River, where manatees here are some of the friendliest and easiest to spot in Florida. Just about 90 minutes north of Tampa, swimming with the manatees is a perfect day trip for fun with the whole family.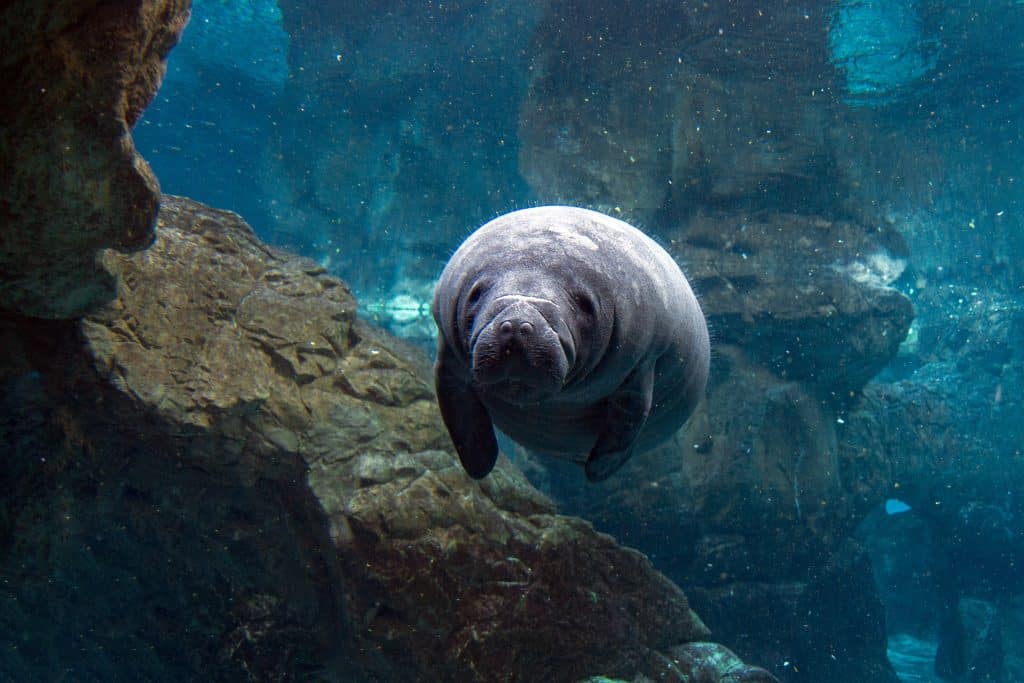 #2 – The Weather – Cool and Dry in March
Florida is known as the sunshine state for good reason. Located close to the equator, the tropical climate is similar to a Caribbean island, with warm water of the Atlantic ocean and Gulf of Mexico along with warm weather and sunshine in the Spring.
The weather is one of the main draws for those traveling to Florida in March! So what weather can you expect in March? The Florida weather in March is cool and dry, making a spring trip the perfect time to visit! The highs in Florida will average in the 70's up to high 70's in later march, while the lows will average 60's to 70's.
Not only is the weather amazing, you will beat the heat of the summer as well as the crowds! Nor will you have to watch for hurricanes during the fall. Plus for those living in northern states, you will not have deal with snow!
#3- Spring Season
March is spring season, as in a visit to one of the many natural springs around Florida. Thanks to the Sunshine State's natural underground aquifer, about 800 billion gallons of water flow through limestone to bubble up to form more than 700 of the natural springs in Florida every single day. That's the largest collection anywhere on earth!
The water stays a constant 72 degrees much like the average temperatures in Florida in March. However, the cooler air actually makes the water feel warmer this time of year. Plus, you won't have to fight the summer crowds.
If you are looking for springs and things to see in Florida in March checkout our guide to the 16 best natural springs in Florida! A visit to the springs crystal clear water will allow you to explore the underwater ecosystem that make Florida special. Whether you are visiting Tampa, Orlando, or North Florida we have put together a list of the best natural springs worth a visit!
One of our favorite springs to visit, is Devils Den. A pre-historic hidden oasis, just make sure to book in advance as it often sells out. The cost is $15 per person.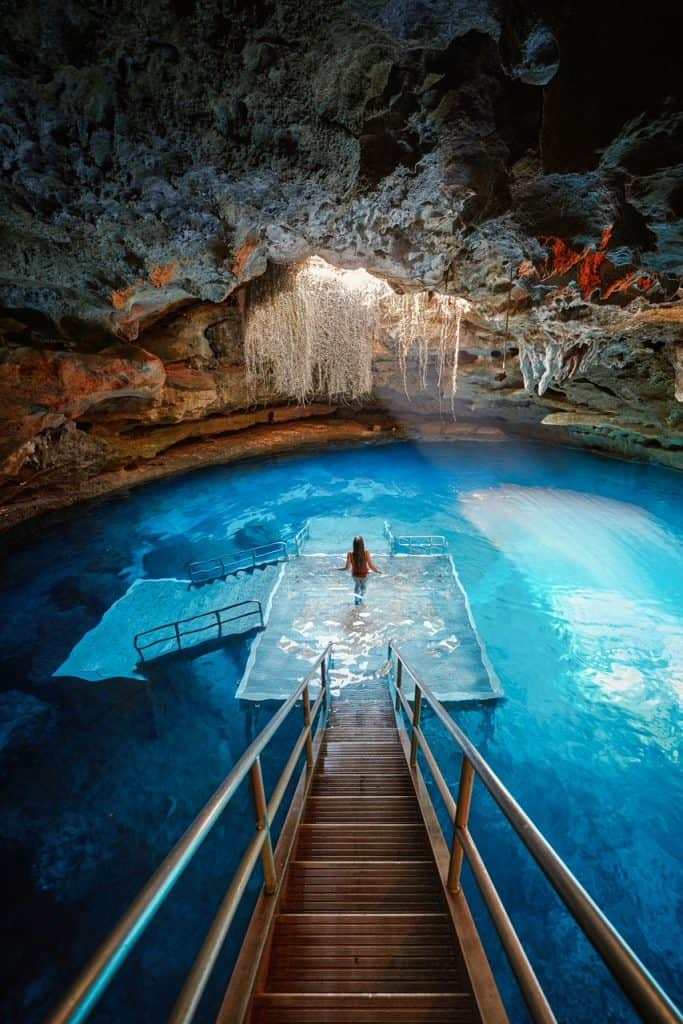 #4 – Miami, Fort Myers and Miami are the Warmest cities in Florida in March if you want the sun!
In March, the further south you go in Florida generally the warmer the weather will be. The weather in Florida in March averages 78 or 79 degrees for the warmest and 66 to 70 for average lows for the warmest place in Florida in March are Miami, Fort Myers and Miami.
However, the warmest place to visit in March in Florida is Everglades National Park, with an average temperature of 85. It is also one of the driest months of the year!
Head to the southern tip of the US a mm 0 Key West, one of the warmest city in Florida in March thanks to the island being surrounded by warm waters. An honorable mention goes to "St. Pete" known as the Sunshine City.
The spring weather in March has vacationers and spring breakers flocking to the area during this time for not only the beaches, but to visit the state and national parks, museums, theme parks, and more.
The further north you go in Florida the cooler the weather gets, with weather being in the high 60's and low 70's in places like Panama Beach or Jacksonville.
We still recommend packing a light jacket or sweater for the nighttime!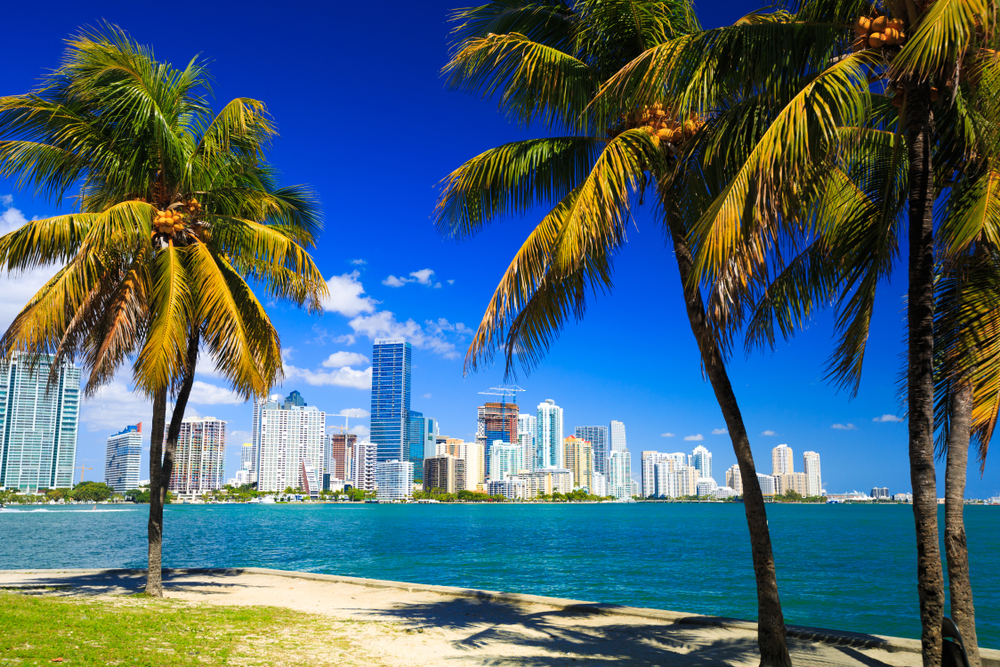 #5 – South Beach is the best beach to visit in Florida in march
While Florida's weather varies from the south, think Miami where it stays warmer year round than northern Florida beaches such as St. Augustine. Visiting south Florida in March is the perfect time of year, as it is the dry season with amazing weather in the high 70's. However, be prepared for crowds as March is Spring Break season. We put togehter a list of where to spend spring break in Florida!
Our recommendation for the best beach in Florida in March is South beach and Miami Beach. This area is one of the top vacation spots in Florida in March. Explore over 10 miles of pristine white sand where the weather is perfectly warm, not hot like in the summer, it rarely rains. Plus, the water is warm and it stays light longer especially after daylight savings time in the middle of March.
South Beach is probably the most famous beach in Miami . This is a very family-friendly beach and is sure to be the location of many fond memories. With white sand paired with turquoise water, South Beach is rated one of the best beaches in the world.
This beach is in a hip neighborhood so it is worth a visit just to experience the lively vibe. There are many cool art deco buildings along with amazing restaurants and cool shops.
Visitors and residents alike flock to South Beach for March in Florida because of its vibe and culture that is not experienced anywhere else. Known by locals as SoBe, this was the first section of Miami Beach to be developed. Now the white sands are surrounded by pastel art deco masterpieces and a lively vibe that extends after dark. We have a list of the best things to do after dark and best rooftop bars to visit in Miami.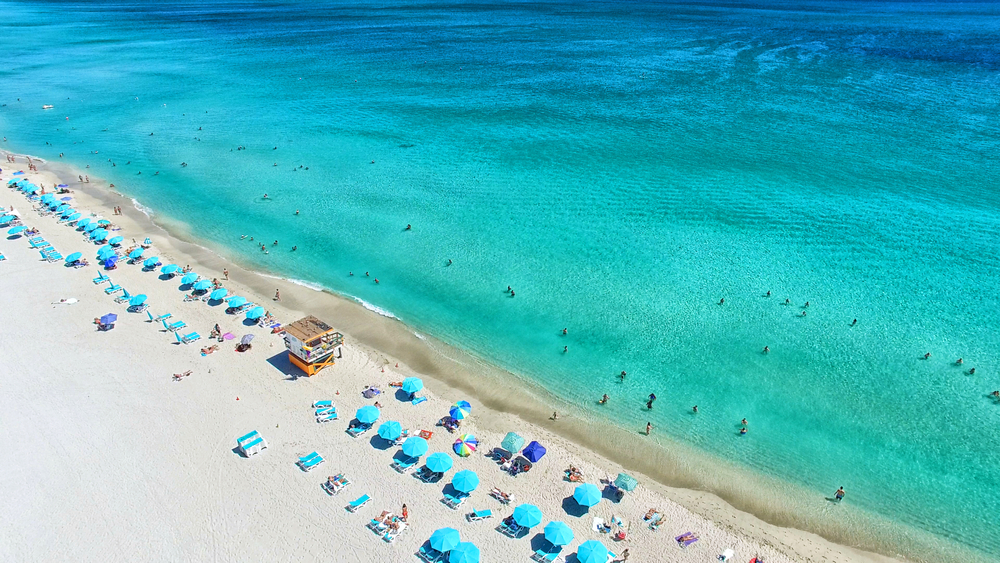 #6 – March is a Great Time of year for Festivals
If you are looking for things to do in Florida in March, why not head to one of the many festivals that are held yearly. You will find a variety of festivals across major cities like St. Pete, Miami, Key West and even Tarpon Springs.
For music festivals, the Ultra Music Festival is one of the largest electronic music festivals in the world, and it is held in downtown Miami in late March. This outdoor festival is held right on the beach in Bayfront Park, and if you are wanting to attend be warned tickets sell out in under 5 minutes!
Over 165,000 attendees flock to one of the best music festivals in Florida and is held alongside the Miami Music Week. Or head to Reggae Rise up held in St. Pete at the Vinoy park for a weekend festival.
If looking for an arts festival, head to the Tarpon Springs Fine arts festival, in its 47th year.
And for those looking for a food festival, head to the Florida Keys to Marathon where you can try over 200 seafood dishes at the Marathon Seafood Festival. Or try the Coconut Grove Food and Wine festival located in Peacock park where you can sample dishes from some of the finest restaurants in the area.
To round out the festivals the Florida Strawberry Festival is held in early March for 10 days in Plant City, Florida. Located in central Florida between Orlando and Tampa, a visit to this festival bring back small town America. From delicious fair foods, featuring local Plant City strawberries, to livestock, rides, shows, craft booths and more, this a fun family activity.
This is also a great time of year to go strawberry picking in Florida!