If you are looking for a guide to the ultimate Florida Keys road trip itinerary, we have you covered with all the best places to stop!
We have put together an epic itinerary for a road trip to Key West from Miami. Trust us when we say we have picked out the best stops along the way! We have you covered with activities, things to do, as well as hotel and tour suggestions!
Planning your trip to Key West last minute?
Make sure to book ahead! Hotels and tours often sell out the closer you get to your trip. Here are our top picks for Key West!
Top Experiences And Tours In Key West:
Top Places To Stay In Key West:
You can make the trip your own by choosing stops that best fit your personal interests. Or if you want a personalized trip experience checkout our e-book for amazing personalized touches on the best stops! Take as little or as much time as you have. You can do a quick day trip if you don't mind a quick-paced trip, a weekend get-a-way, or spend a week leisurely visiting all the stops linked below!
To adventuring outdoors at state parks, to going offshore to visit Dry Tortugas national park, to snorkeling the only living US coral reef, to fun stops for families and adults like where you can spot the Key Deer or feed tarpon, to visiting Key West and all the best beaches along the way, trust us this itinerary for the best road trip to the Florida Keys that is action-packed!
Before you plan your trip, make sure to check out The Best Times To Visit The Keys where we break down each month and talk all things weather!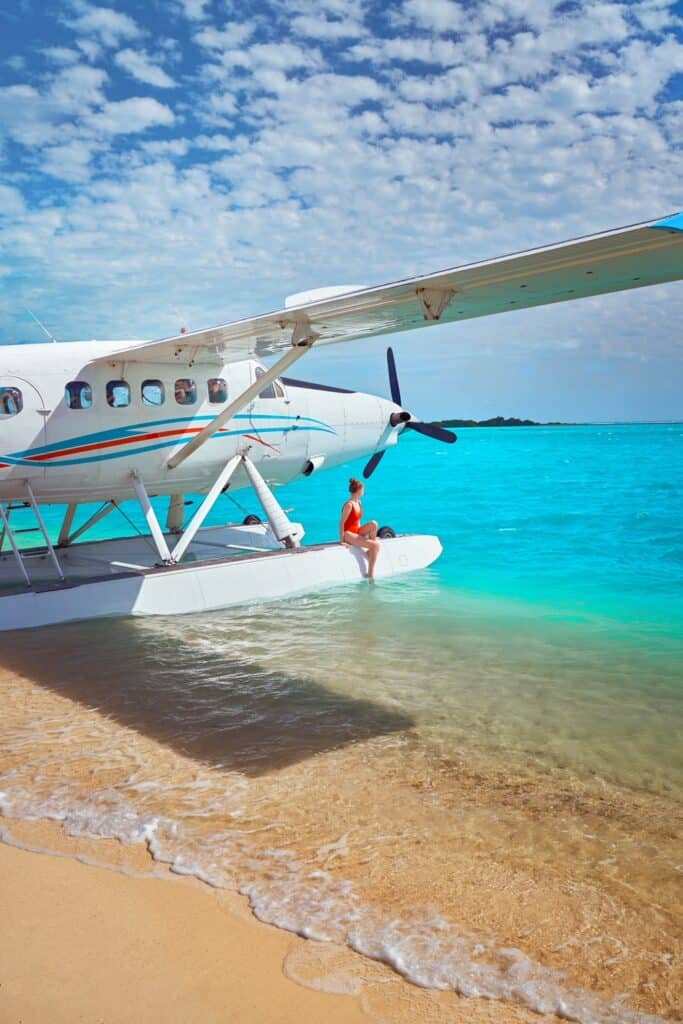 How long does the Florida Keys road trip take?
If you were to drive non-stop from Miami to Key West on your Florida Keys road trip the 165 miles journey would take you just over 3 hours. Meaning you can decide the perfect amount of time to spend on your Florida Keys drive from Miami!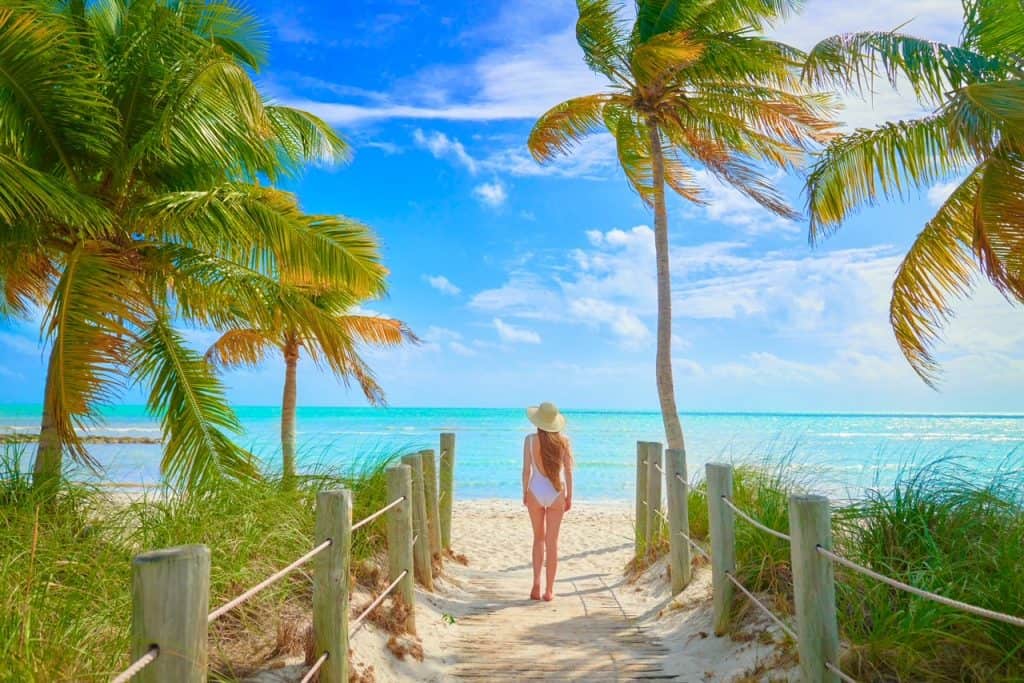 How long should you take on your Florida Keys itinerary?
You could make it a day trip, a weekend trip, or a week-long trip! The choice is yours! We have put together a list of the best places to stop on a drive from Miami to Key West. Stop at one, or stop at all, meaning you can put together your very own trip curated to your own interests and travel style.
OR take the guesswork out of your itinerary, and purchase our ebook that helps you plan your own trip, with unique itineraries and bonuses! You can purchase it here: https://floridatrippers.com/florida-keys-itinerary-planning-ebook/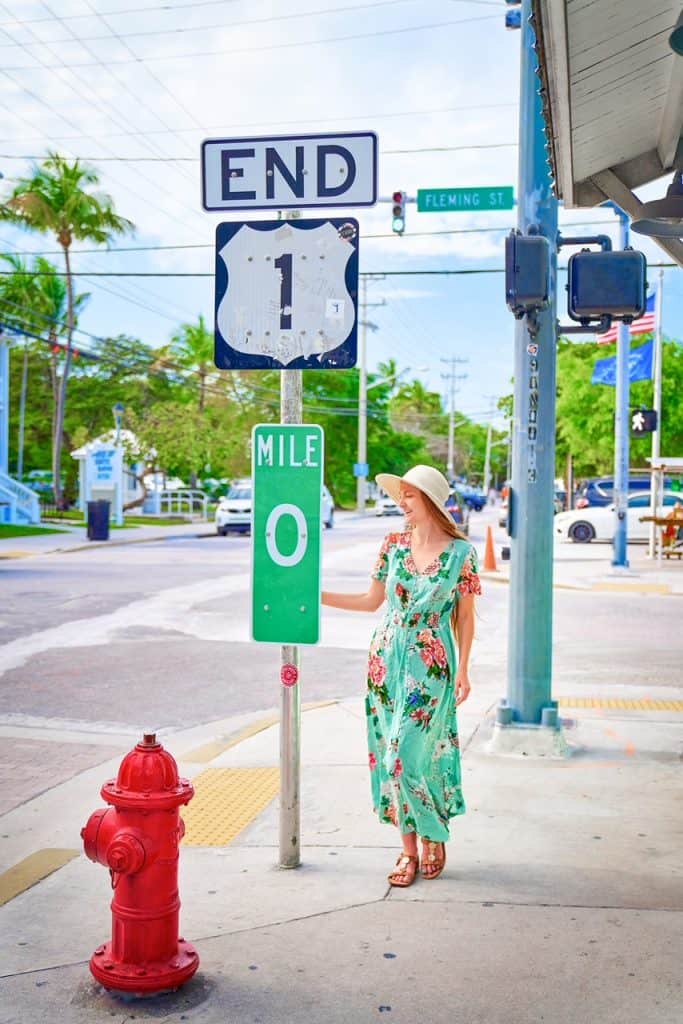 Best time of year to road trip the Florida Keys
Anytime! The average temperature year-round ranges from 73 to 83 degrees for the Florida Keys! And the sunshine state has an average of 270 sunny days a year, meaning there is no wrong time to plan a trip!
There are plenty of festivals throughout the year or head to the southernmost points of the US for the holidays! Just remember that hurricane season does run from June to November, meaning you might have to be a little flexible on your plans if a hurricane or tropical storm is headed towards the Florida Keys or Miami!


Best stops on your Florida Keys road trip itinerary:

Downtown Miami
The first of our epic places to stop on a drive from Miami to Key West is Downtown Miami. If you flew into MIA airport, this will be the perfect spot to explore, grab a bite to eat, visit a museum such as the Frost Museum of Science or Perez Art Museum or take a relaxing stroll along the water before heading south on your drive.
In this energy-filled town, you are sure to find plenty to explore, and perhaps take in an NBA or MLB game. If you are on a romantic getaway we have you covered with the best date nights in Miami as Miami is a city that comes alive after dark!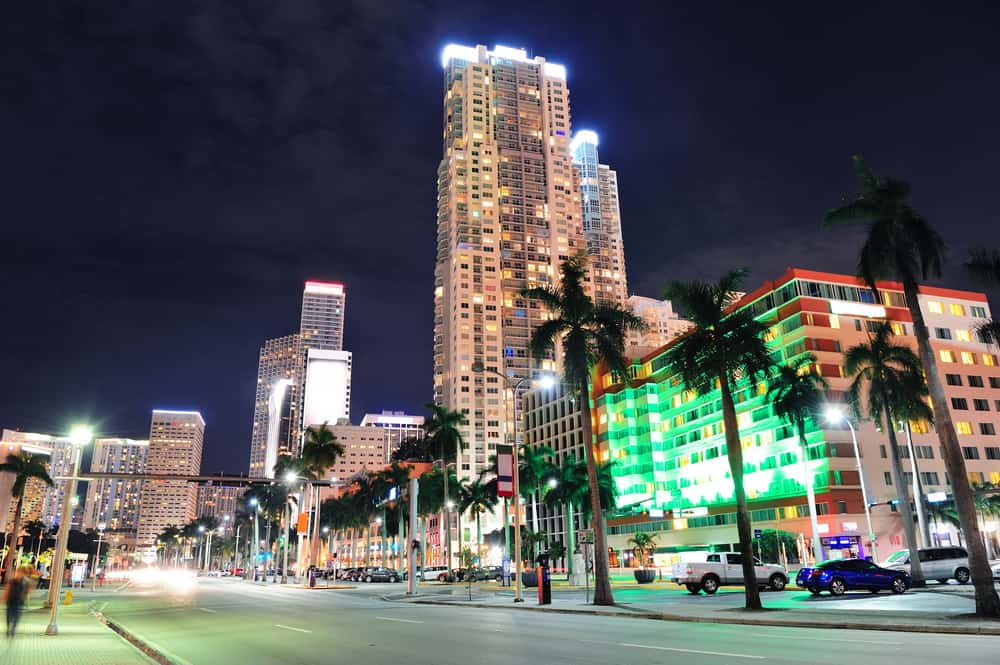 Biscayne Bay National Park
Who doesn't love free Florida keys road trip stops? Biscayne Bay National Park is one of the best National parks in Florida, and it's free to enter! On your second stop, we take you away from the busy city to explore nature. Visitors will be transported to the turquoise waters and colorful coral reefs found in this national park. Over 95% of this national park is covered by water!
The activities here range from guided eco-adventures, fishing, and boating to paddling, snorkeling, and scuba diving the shipwrecks just offshore to just relaxing! While exploring, you can always take a boat cruise through the docks and sail over Biscayne Bay.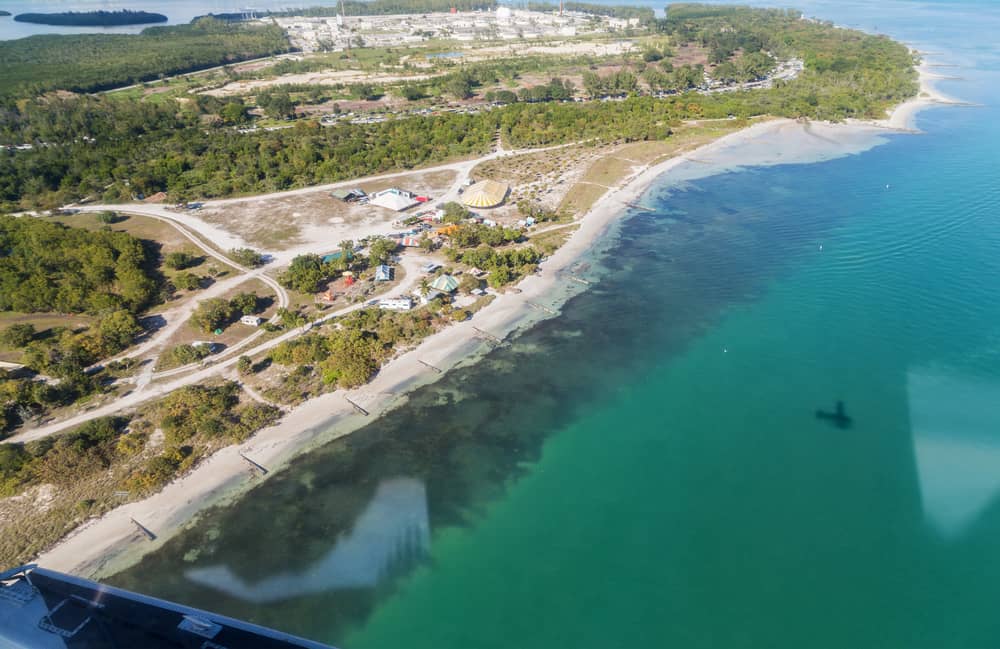 Everglades
The Everglades, are the second National Park on this itinerary for the Florida Keys! We have a list of all the best things to do in the Everglades for those wanting to spend more time here! At over two million acres to explore, the Everglades provide countless activities and ways to explore this very unique ecosystem.
If you are up for an adventure, an airboat ride is a perfect way to see areas of the Everglades only seen by water. But there are plenty of biking and hiking trails ( or take a ranger-led tour) if you prefer to stay on land. Keep your eyes sharp the Everglades is a habitat for endangered and rare species like the manatee, American crocodile, and the Florida panther.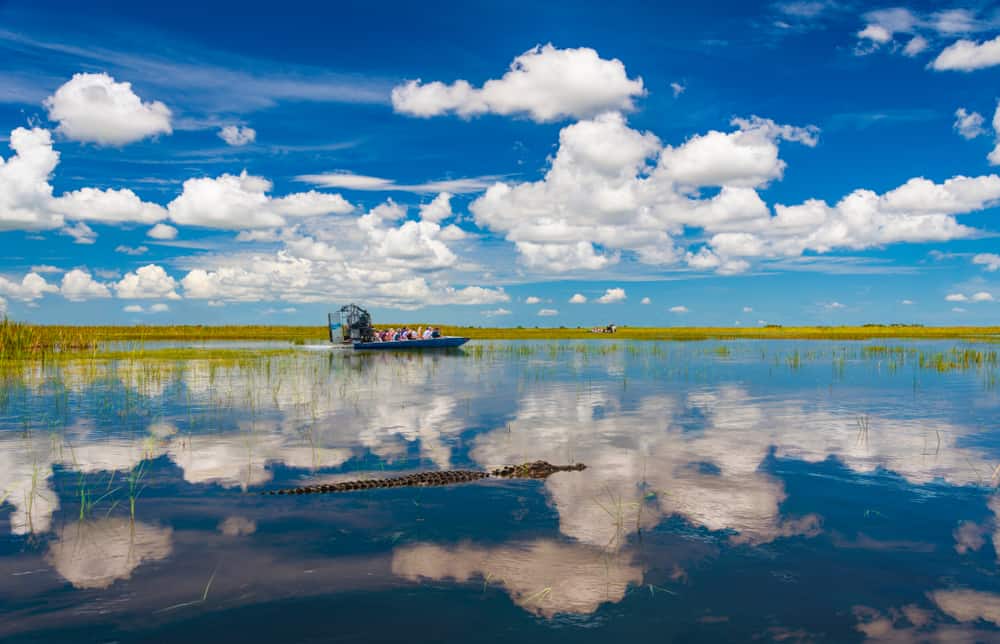 John Pennekamp Coral Reef State Park
John Pennekamp is one of the most magical of the Florida state parks and is located in the Key Largo at MM 102.5. This is a scuba divers' dream destination for those driving in the Florida Keys and looking for a place to stop! It is actually the first undersea state park in the entire US!! It protects the only living reef in the United States, and as such is an underwater lovers' paradise.
While here you can explore the over 70 nautical miles of beautiful coral reefs, hike along the pine trees, or snorkel along the mangroves and shoreline. We highly recommend this as one of the stops along with your Florida Keys Road Trip from Miami!! You can also book a glass bottom boat ride to see the tropical fish and the reef without having to get wet!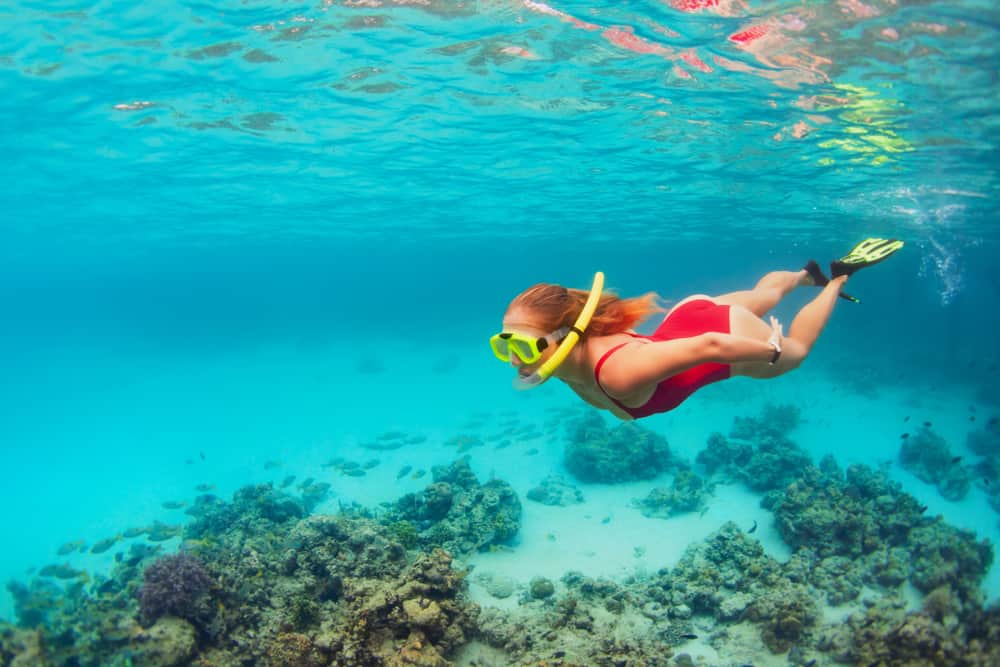 Key Largo
Key Largo is a great place to stop for the first day when road tripping the Florida Keys. There is so much to do here in Key Largo! Known as the "Dive Capital of the World," you will find beautiful beaches with pristine waters. While it does in fact boast those things, there's a whole island of adventure waiting for you at MM 102.
There are plenty of beaches to explore, an offshore shipwreck and coral reef, explore water sports like jet skiing, paddle boarding, kayaking or charter a boat for some fishing! Plus, there are tons of amazing restaurants to enjoy fresh seafood on your visit.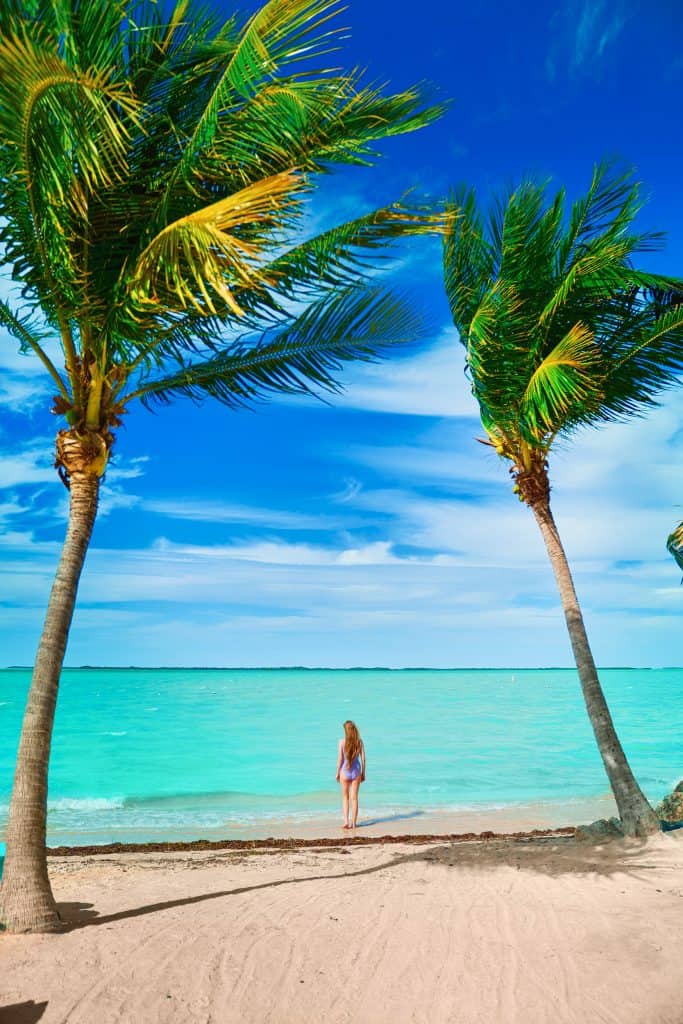 Windley Key Fossil Reef State Park
Windley Key Fossil Reef State Park is one of our favorite places to visit in the Florida Keys! Windley Key State Park is a historic site that doubles as a geological area that is formed by fossilized Key Largo Limestone. The entrance fee is $2.50 a person is a perfect way to spend a full day or even just a few hours it makes for an inexpensive stop on a Florida Keys road trip! It is located at MM 85.5.
It is important to note that the park is closed Tuesday and Wednesday, but open Thursday through Monday. You can take one of the five self-guided tours throughout the quarry that Henry Flagler used to build his railroad or experience it at your own pace on a self-guided tour.
This is one of the best and most iconic stops on the famous Florida Overseas Highway!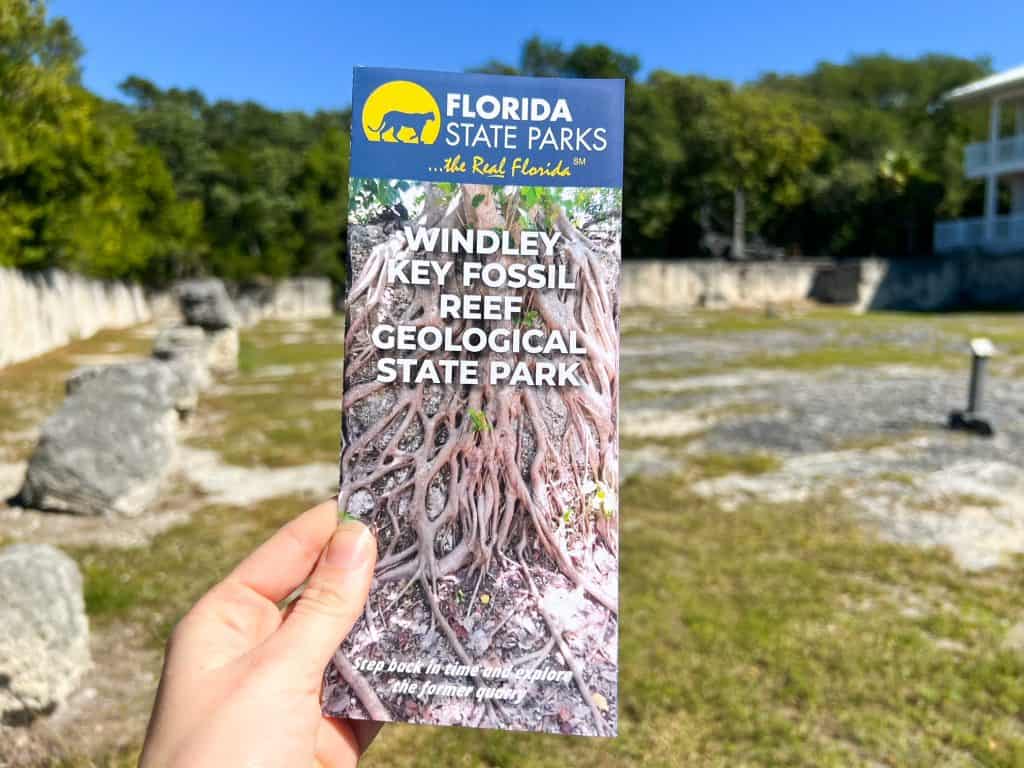 Islamorada
Islamorada is located about 1.5 hours ( 79 miles) south of Miami at MM 88 and makes our list of the best small beach towns in Florida. The best part is that Islamorada is almost the halfway point between Miami and Key West!
There are six islands that make up Islamorada and are connected via US1. Known as the sports fishing capital of the world, there are also tons of amazing restaurants, gorgeous national parks, and tons of activities.
Make sure to check out some of the Best Islamorada Restaurants for your trip!
You can check out our full list of things to do in Islamorada here! From visiting the Theater of the sea to swimming with dolphins to a fishing charter, history of the diving museum, state, and national parks, and more!
Peak season is in December through May and the best part is you are surrounded by Gulf on one side and the Atlantic Ocean on the other! This is truly home to some of the best snorkeling in the Florida Keys!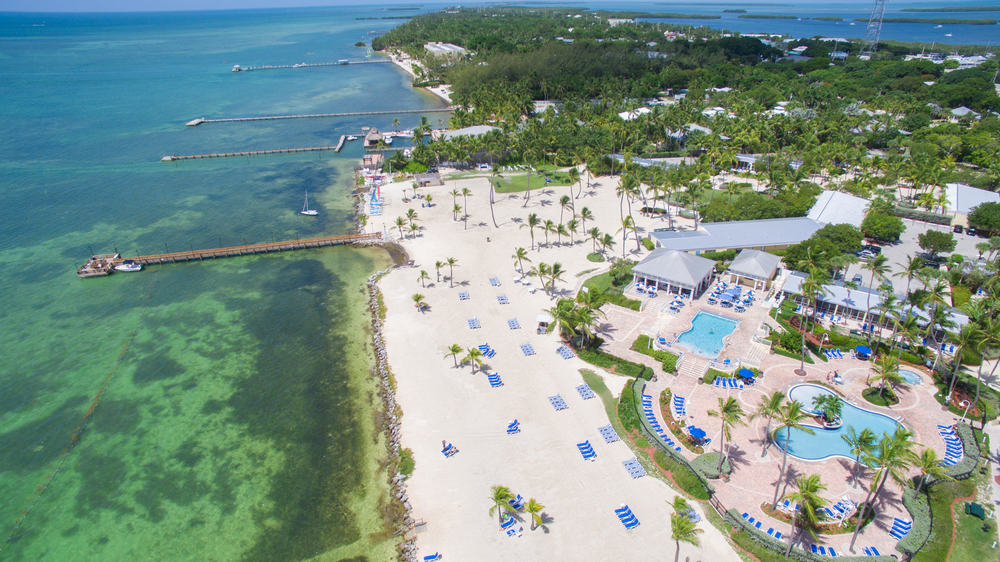 Visit Robbie's Waterfront to feed the tarpon
Robbie's is probably one of the most well-known stops on your Key West road trip. Located at MM 77 to you can spend a few hours here enjoying lunch and then feed the school of over 100 massive tarpons for $2.50 per person. Kids and adults alive love to partake in feeding the fish and watching the seagulls try and catch the fish here. Fish buckets are $4.50.
The restaurant is open from 6:30 am for a sunrise breakfast until 9 pm for after dinner cocktails. Robbies also has a party boat fishing charter that leaves twice a day and includes everything you need for a fun day on the ocean. As well as sunset catamaran charters.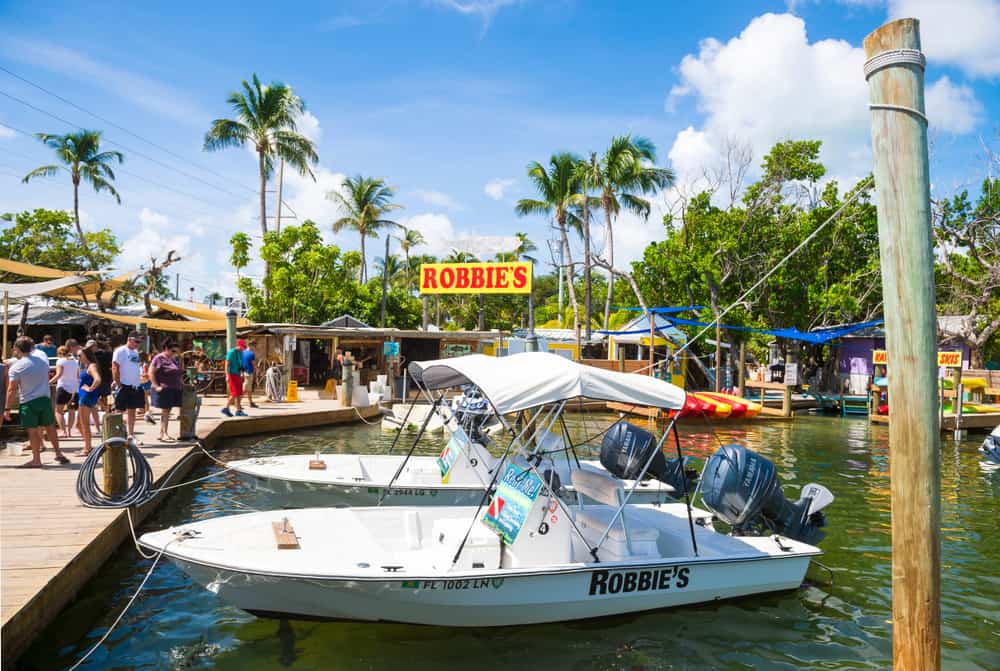 Dolphin Research Center
The Dolphin Research Center is located at MM 59 ( about 2 hours south of Miami), and has been providing sanctuaries to dolphins since 1984. The center's mission is to promote education and communication between marine mammals and humans.
Open daily from 9 a.m. to 4:30 p.m, admission is $28 for adults and $23 for children. Admission includes observing the dolphins and sea lions in training sessions and interacting with each other.
In addition to the educational experiences offered, you can book a dolphin encounter where you can get up close and personal with dolphins in the water. Or even paint with a dolphin experience or a VIP trainer for the day.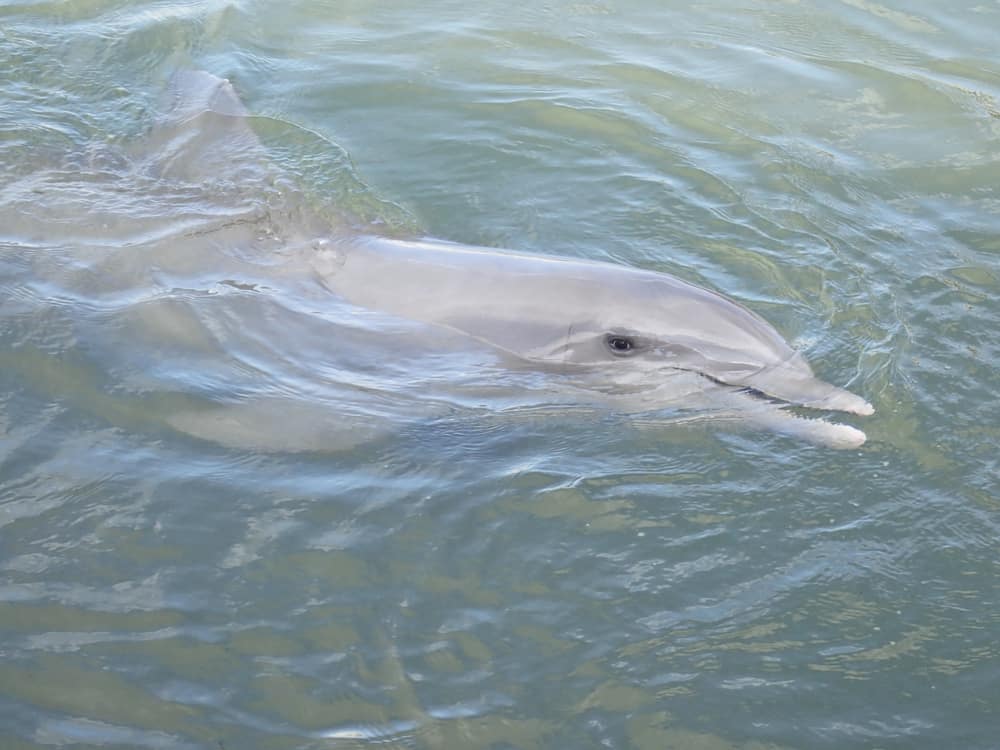 The Turtle Hospital
The Turtle Hospital is located at MM 48.5 in Marathon, Florida. Since 1986, the mission at the Turtle hospital has been to rehabilitate turtles and educate the public about turtles. Open daily from 9 am to 6 pm tours run every 30 minutes.
If you love Marathon, make sure to check out some of our other favorite things to do in the Middle Keys!
Admission is $30 for adults and $15 for children. This is one of the educational Florida Keys road trip ideas. Over the 90-minute educational experience, you will watch a presentation on sea turtles, get a behind-the-scenes look at the hospital facilities and rehabilitation area, and finally the chance to feed the turtles.
Reservations can be made online!
Don't forget to check out some of the best restaurants in Marathon Key!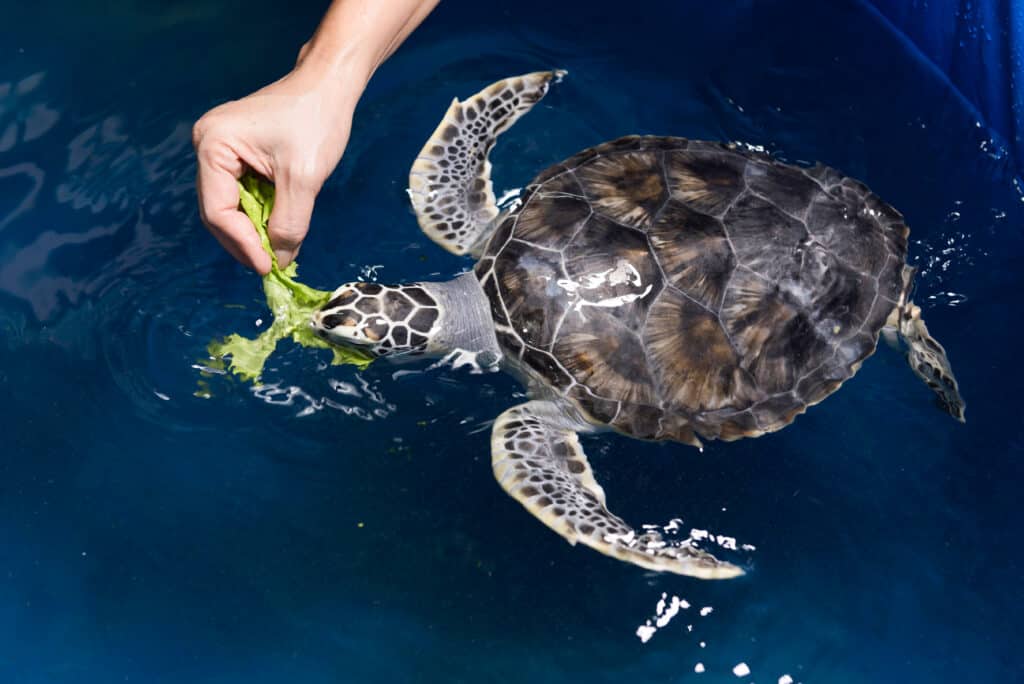 Drive or walk the 7 Mile Bridge
When driving the Florida Keys the 7 Mile Bridge is located at MM 42 in Marathon. This is the bridge that connects the middle keys with the lower keys. For those who want to continue their road trip, you will have no choice but to drive over the new 7-Mile Bridge that was finished in 1982. IT is the longest bridge in the state of Florida.
But for those who want to get out stretch their legs, and smell the salty ocean breeze why not walk the old bridge or a portion of it? This bridge is important historically as it made a land route from Miami to Key West.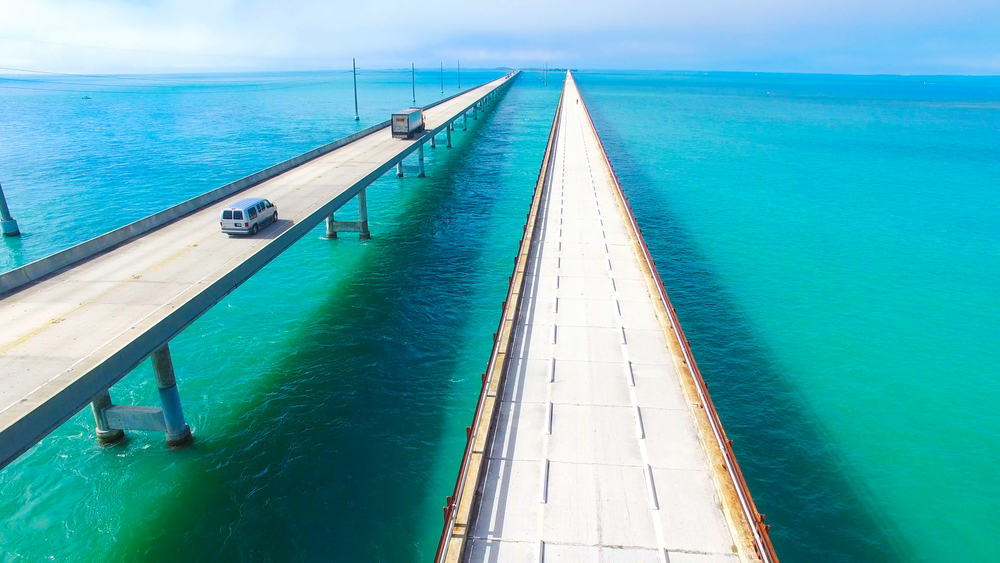 Bahia Honda State Park
Bahia Honda State Park is one of our favorite places to stop on the way to Key West. Located at MM 37, about 30 miles north of Key West. We have put together an entire post on all the tips for visiting Bahia Honda. It was Henry Flagler who spent $30 million to build a railroad to Key West in the early 1900s that turned Bahia Honda State Park into a tropical paradise.
Make sure to check out some of our other favorite things to do in the Lower Keys in addition to Bahia Honda!
Bahia Honda State Park costs $8 per car to enter and is the place to stop if you love palm-lined beaches, clear water, and just activities like snorkeling, camping, and swimming at one of the three beaches from sunrise to sunset!
Although make sure to arrive early on weekends and holidays because it can reach capacity.
This is truly one of the Best Beaches In The Florida Keys and you must check it out!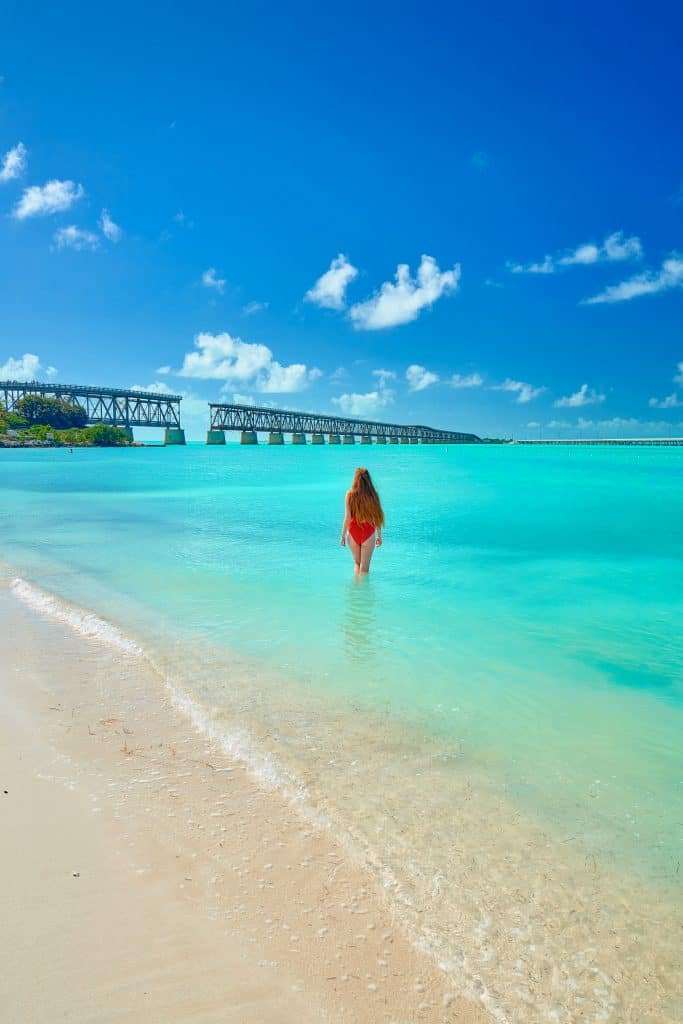 National Key Deer Refuge
For those looking to get up close to the Key Deer only found in the lower keys, the National Key Deer Refuge is the place for you! What makes the key deer unique is that there are only about 800 left that can only be found on Big Pine Key. This small dog-like deer is only 2 ½ feet tall and weighs just 90 pounds.
This is a free activity to spend an hour or so, visiting the visitors center and learning all about the key deer. Established in 1957, at MM 30.5 it aims to protect species of animals such as the key deer and 20 other endangered species and plants.
Please note it is against the law to feed, touch, or hunt the key deer.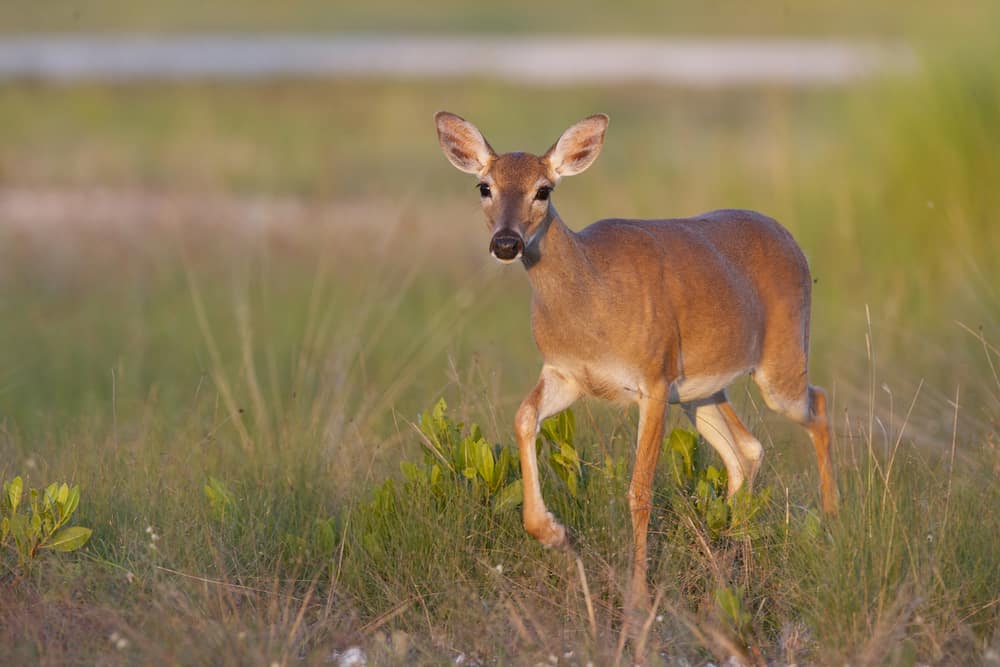 Dry Tortugas National Park
The Dry Tortugas National Park is the only stop on this Florida Keys road trip guide that is only accessible by private or chartered boat tour, chartered seaplane tour, or the Yankee Freedom Ferry.
If you want to add this stop to your Florida Keys road trip we highly recommend booking your dates as early as possible! The Dry Tortugas are a group of seven small islands 80 miles off the coast of Key West. Located in the Gulf of Mexico its iconic red brick Fort Jefferson transports visitors back in time. You will be in awe of how beautiful the water is, and how remote this national park truly is!
For those into camping and stargazing, this is your place! Just remember you must pack everything in and out with you! Check out our guide to avoid the big mistakes plus tips when visiting Dry Tortugas National Park!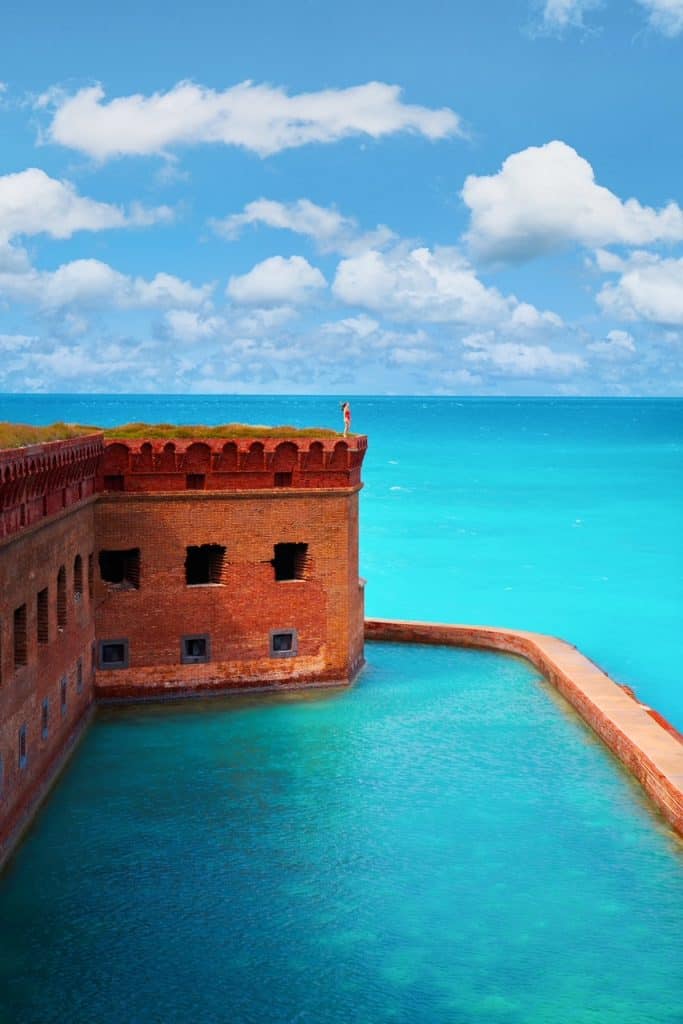 Key West
Key West is as far south as you can drive on this Florida Keys itinerary! At MM 0, you will find the southernmost point of the continental US! There are so many things to do here in Key West! Don't let the party atmosphere scare you away from visiting. There are historical sights like Ernest Hemingway or Truman winter home, beaches, amazing restaurants, and plenty of activities to enjoy after the sun sets.
We have an entire post dedicated to the best tours in Key West from those craving adventure to laid-back food and walking tours!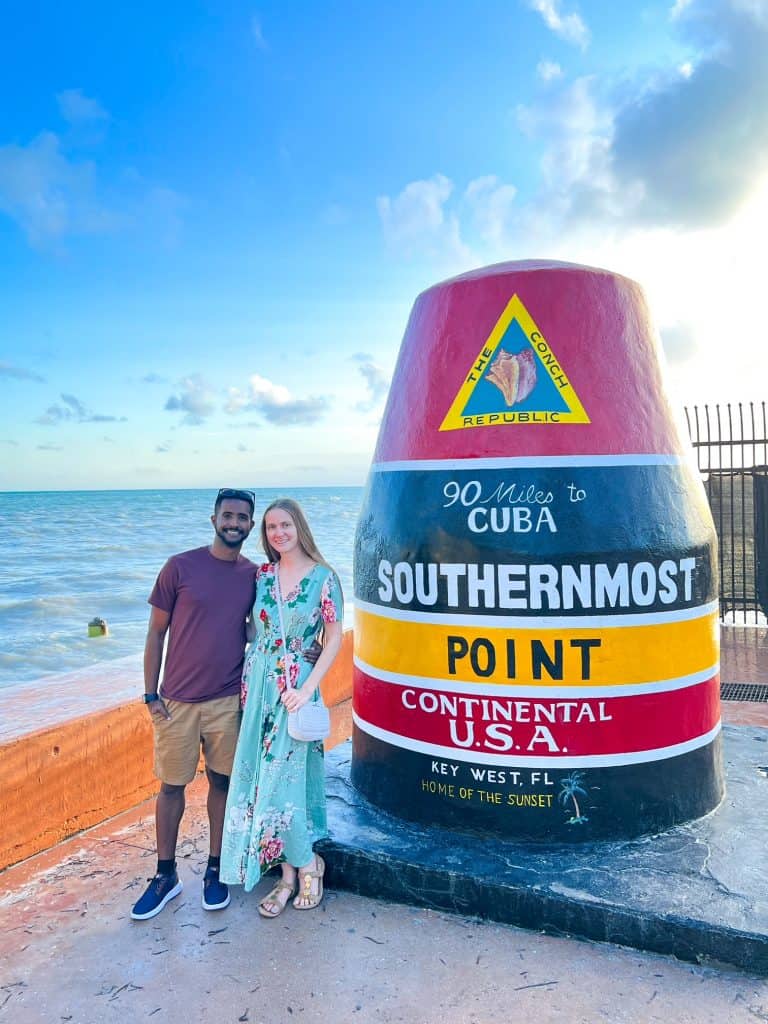 Fort Zachary Taylor State Park
Fort Zachary Taylor State Park is one of the hidden gems on this Florida keys driving itinerary. You will be mesmerized by the gorgeous blue water inviting you in for a swim or snorkel. Plus, the beach area is super instagrammable!
It is also the southernmost state park in the continental US and has our vote as one of the best Florida Keys state parks! The cost to enter per car is $6.50 and is open from 8 am-5 pm daily.
Built in the 1840s, as a series of forts to protect the southern coast after the conflict of the War of 1812 and used during the Civil War and Spanish American War, it was named after US President Zachary Taylor.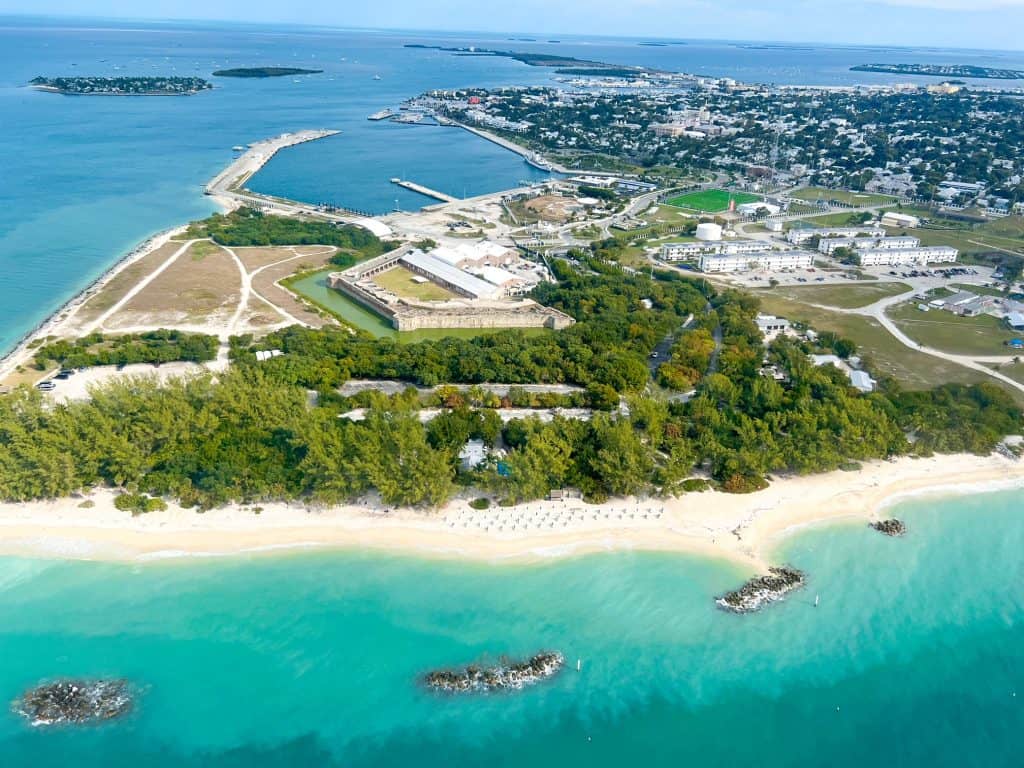 Smathers Beach
The last stop on your Florida Keys driving guide is Smathers beach! This gorgeous white sand beach is the best beach to go for those looking for real sand, as most beaches in Key West are pebble or rock. The imported white sand is the perfect place to relax and swim or snorkel in the water. All of the usual facilities are present here like parking and showers.
The last stop on our Florida Keys road trip is the perfect place to relax and unwind before your drive back to Miami!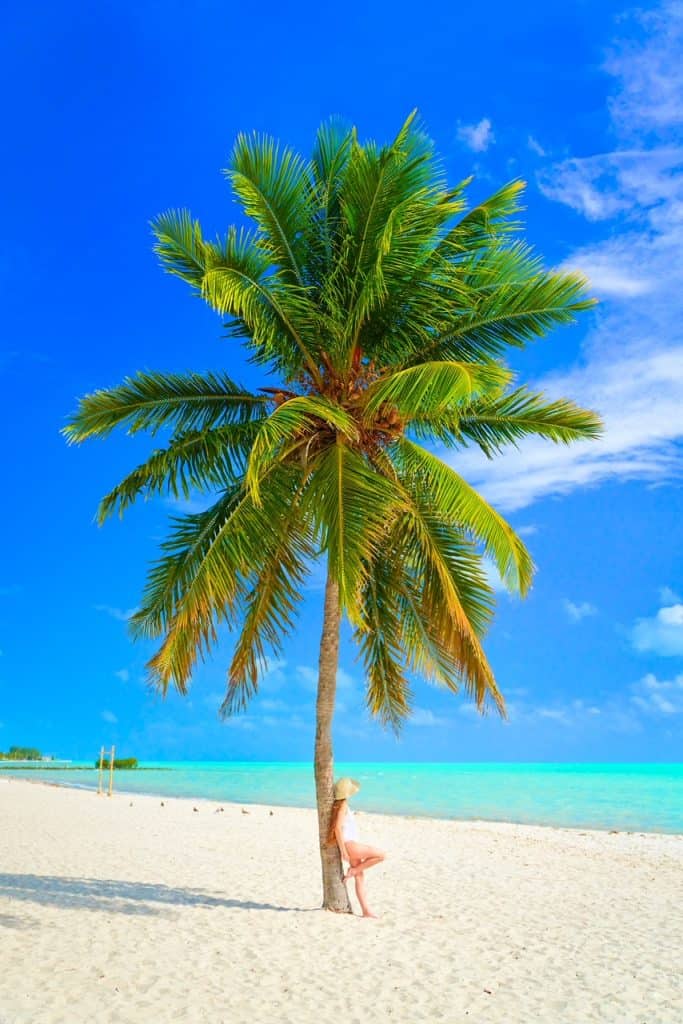 Where to stay on your Florida Keys road trip itinerary
Key West Marriott Beachside
For those looking to stay in Key West, we highly recommend staying at Key West Marriott Beachside, like we did on our last trip to the area! But have also put together a list of the best luxury hotels in Key West.
The resort is located on the oceanfront with a large pool as the centerpiece of the resort. At the hotel's marina, you can rent jet skis, kayaks, and paddleboards.
Plus, there is a complimentary hotel shuttle downtown multiple times daily meaning you don't have to bother with trying to find parking. This is truly one of the Best Places To Stay In Key West!
Many of the balconies are oceanfront allowing you to relax and enjoy a sunset or ocean breeze from your town room!
Check Rates: Booking.com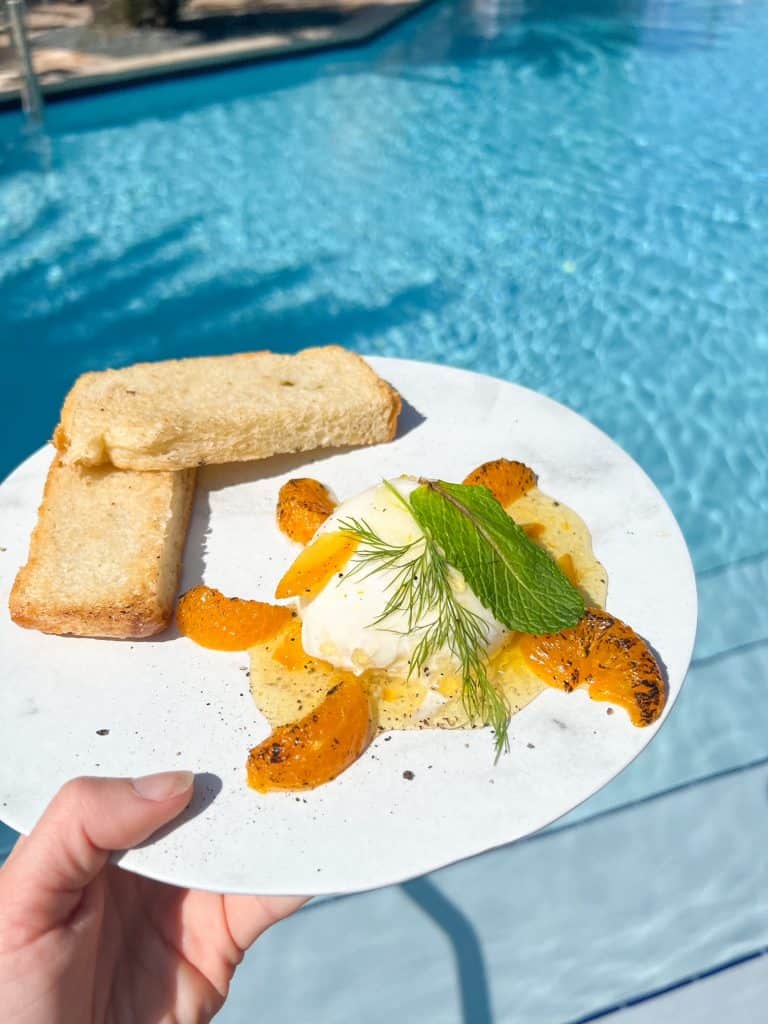 Bakers Cay
We give Bakers Cay resort in Key Largo a 10/10! Located just over an hour from Miami, this could be the perfect spot to spend your first night on your Florida Keys road trip! This cool and unique hotel features gorgeously appointed rooms with ocean views!
There are tons of activities that the resort provides including snorkel, boat, and dive tours! The property also features two large pools and a state-of-the-art fitness center.
Make sure to check out our list of the Best Resorts In The Florida Keys! There are some really epic resorts featured for couples, families, and more.
Check Rates: Booking.com
Cheeca Lodge and Spa
Cheeca Lodge and Spa is located in Islamorada, one of the cutest small towns in Florida! It is located 15 minutes from the local airport or just a 1.5-hour drive south of Miami. A stay here means relaxing in a lush tropical paradise surrounded by the turquoise waters of the ocean. This is truly one of the best luxury hotels in Florida!
The property features a golf course, restaurants, pools, sea kayaks and bicycles for guests to use, Camp Cheeca for children, and an ocean-front bar! The rooms here are luxurious with all the amenities one could want and balconies to enjoy the ocean view or golf and lagoon views.
Check Rates: booking.com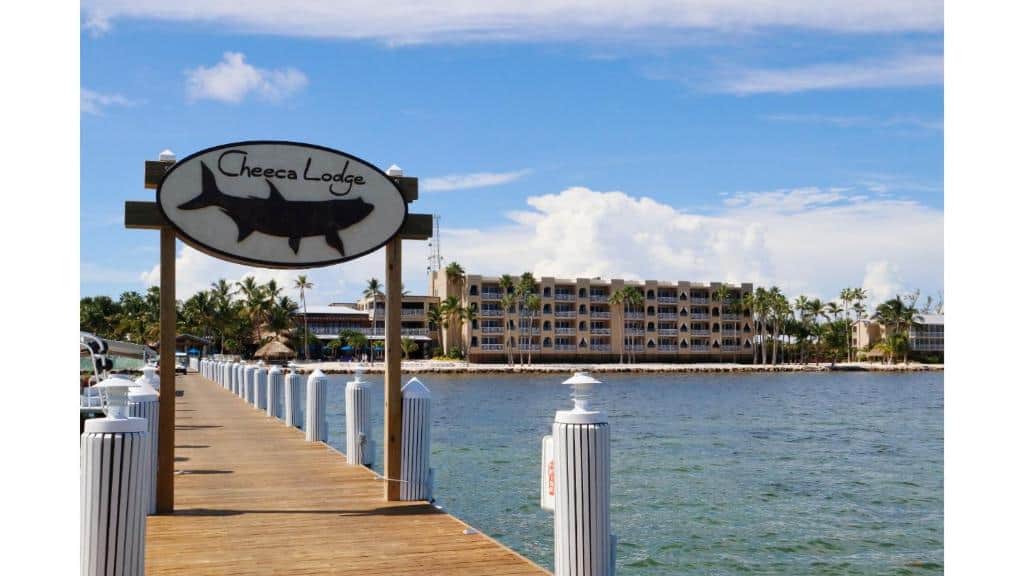 Faro Blanco Resort & Yacht Club
Marathon is just over 2 hours (114 miles) from Miami making it the perfect place to stop for the night on your Florida Keys vacation itinerary. Don't let the resort and yacht club scare you the property is reasonably priced averaging $230 a night!
The resort is on the water and features modern rooms, with a gorgeous pool and onsite restaurant. It is easy to spot by its historic lighthouse right on the bay.
Check Rates: booking.com