Are you looking for a list of the best historical sites in Florida to visit? If so, we have you covered with all the Florida historic sites.
There are a plethora of historical landmarks in Florida to visit. Starting at the southernmost point in the state, you will find historic fort just off shore in the Dry Tortugas, to historic sites in Florida near Miami like Vizcaya Villa, to National and State parks featuring ruins in Florida as well as historic plantation where you can learn the history of Florida.
Outdoor lovers and adventures can wander through gardens in Tampa and St. Pete, and learn about educational battles and inventions that shaped the state. You can learn about the history of the state from the time of Native Americans through Modern day. There is no shortage to explore here in Florida!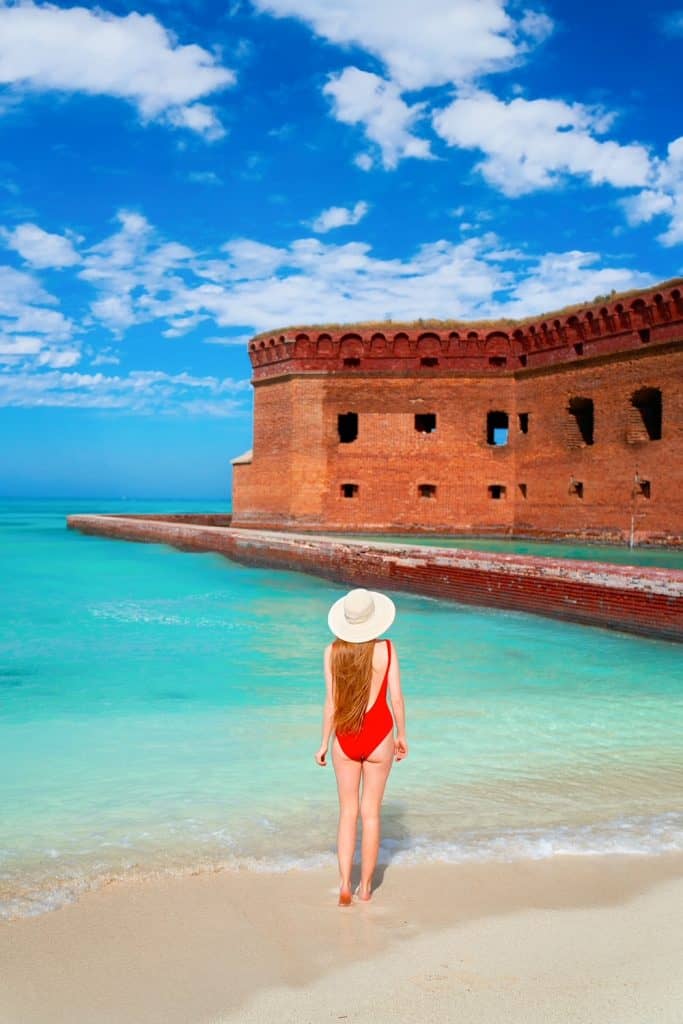 17 Historical Sites in Florida You Must Visit
Fort De Soto
Fort De Soto Park is one of the historical sites in Saint Petersburg Florida. It features 7 miles of waterfront including several beaches, 7 miles of paved trails, two large swimming centers, and historic forts.
Named after the Spanish explorer Hernando De Soto, this is one of the famous Florida monuments. Home to the Tocobaga Indigenous peoples from 1000 AD to 1500 AD. Spanish explorers came in 1528 but sadly all that remains are historic finds.
The forts at Fort De Soto were constructed in 1898 and the forts were completed in 1900.By the mid 1800's, the five keys that make up Fort De Soto were used as fortification. Fort De Soto area of Florida was used as a military blockade for the Civil War.
There are over 230 campsites and picnic shelters, making it a great place to visit for a day trip or overnight stay from Tampa or Sand Key.
The entrance fee is $5 to enter for cars and is open daily from 7am to sundown. Making it one of the best places to catch a sunset over the Gulf.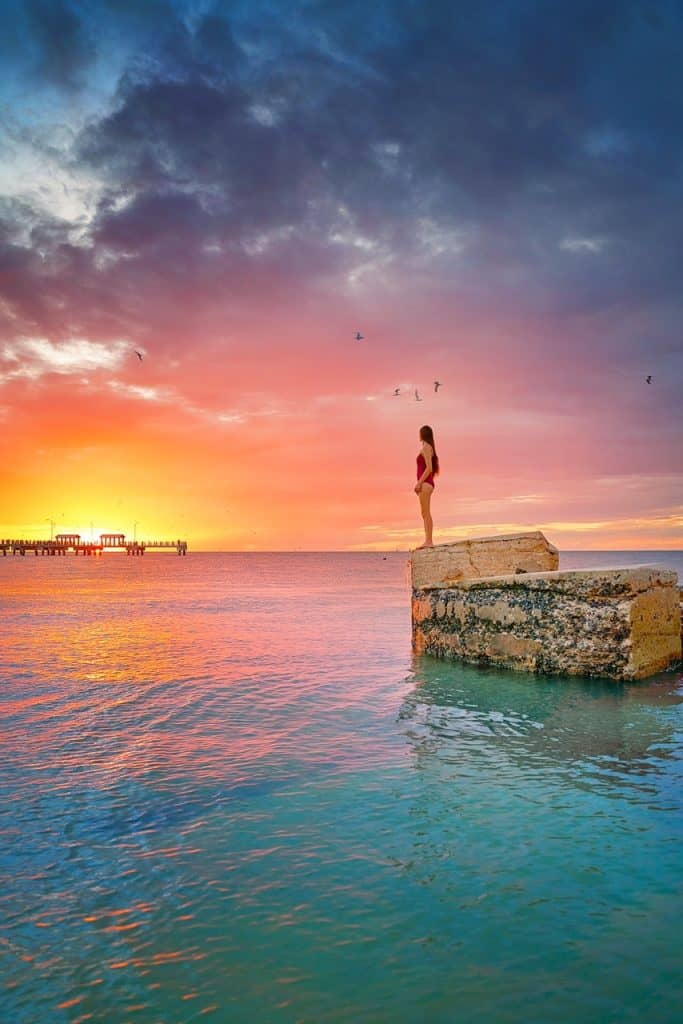 Fort Zachary Taylor
One of most instagrammable historical sites in Florida, Fort Zachary Taylor is a beautiful beach just 2 miles from downtown Key West. You can explore 87-acre Florida state park.
Fort Zachary pre dates the Civil War with its deep red brick walls, largest collection of Civil War cannons and gun ports along the covered archways . Along with the fort there several walking trails to explore, sunbathe at the beach and explore the fort.
The entrance fee to the park costs $6 and parking is free. And should be a must do on every visitors list in Key West.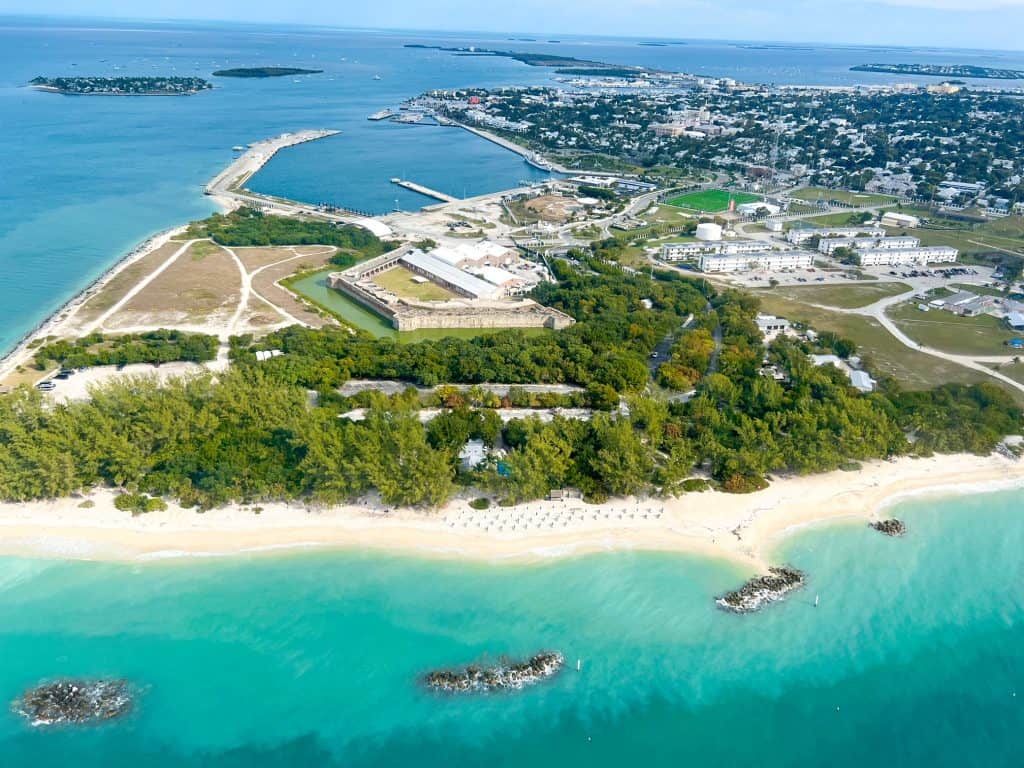 Windley Key State Park
Windley Key Fossil Reef Geological State Park is one of the best historical sites in Florida to visit for those interested in geology.
Opened in 1908 it is one of the coolest State parks, it is made completely of fossilized coral ! The park was built on the quarry that was used to create famous Floridian Henry Flagler's railroad. A transformational moment at the turn of the 19th century for Florida.
Located in Islamorada visitors can wander through ruins in Florida featuring old quarry equipment, walk along where the mine was, or take one of five self-guided tours that you can experience at your own pace!
The park is closed on Tuesday and Wednesday, but is open Thursday through Monday. Admission is $2.50 and ranger led tours are available at 10 a.m. and 2 p.m. Friday through Sunday.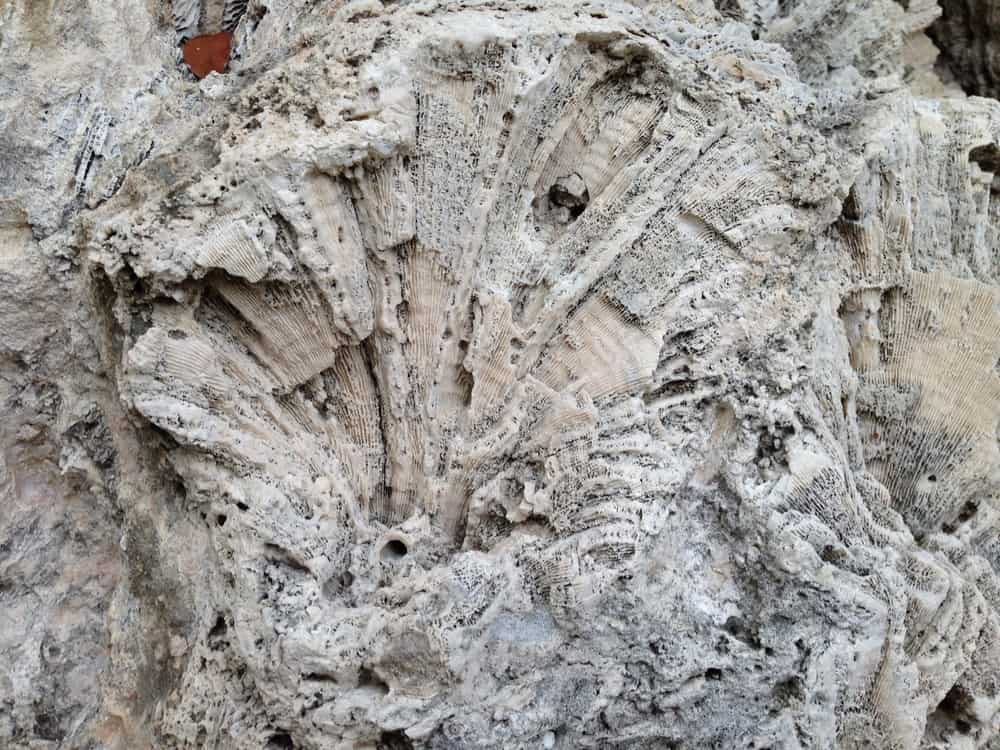 Bok Towers is one of the hidden gems that you must add to your bucket list of what to do in Florida! Opened in 1929, visitors can come from 8 am to 6 pm daily. Admission is $15 for adults and you can even bring your dog for $5! During the holiday season the garden decorated with lights!
Bok Towers is a 250 acer lush garden and bird sanctuary located in Lake Wales, Florida. Visitors can explore the myriad of Florida flora and fauna as you wander through the expansive garden on paved paths at one of the outdoor historical places in central Florida.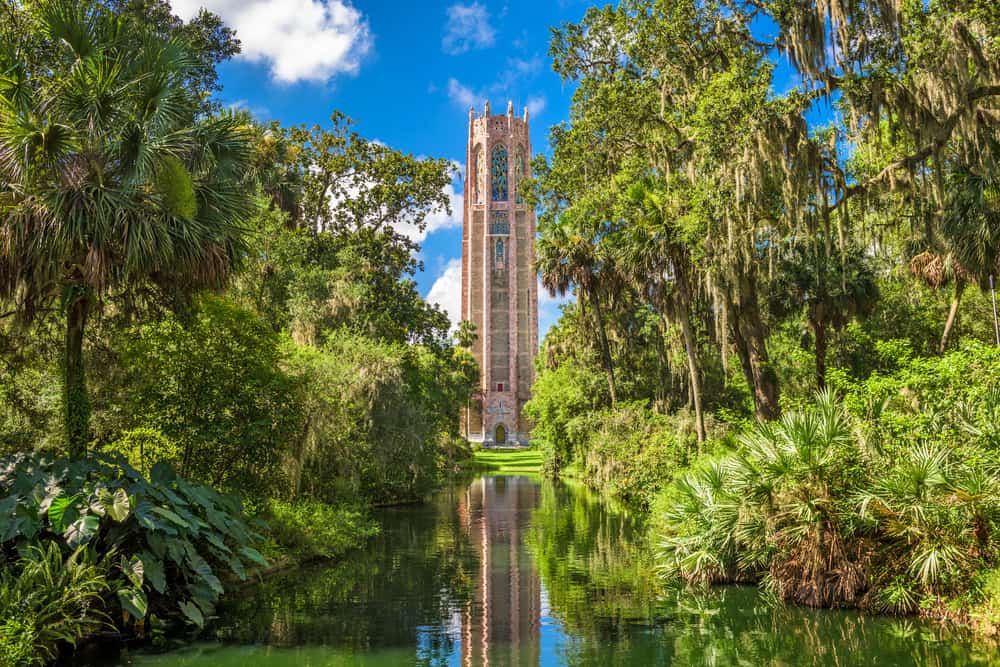 Castillo San Marco
It features a 205-foot tall Singing Tower with carillon bells that ring, and tower sits next to the reflection pool which creates a stunning view and also houses koi fish. If you're feeling adventurous hike the Pine Ridge Trail to view the Pinewood Estate mansion.
Castillo San Marco is the oldest of the historic forts in Florida and is located in Saint Augustine. We consider this not only the best National Park but the best Saint Augustine historcial site to visit.
This masonry fort is constructed of coquina stone and mortar and has been under control of several European countries. Built by the Spanish during the 23 years between 1672-1695 to control their empire from other European powers.
In 1763 with the Treaty of Paris, Castillo San Marcos was transferred to British control. It was returned to Spain in 1784 until Florida became a United States Territory in 1821.
Take a ranger led or guided tour and visit the soldiers rooms, the large interior courtyard, cannon firing, gun deck with amazing views of the city and more! You can catch a historic weapons demonstration every hour, weather permitting, check the castle's website You can even visit here on a ghost tour!
Admission is $15 for those 16 and older , and free for those under 15. You can't miss a visit to the most historic of cities in Florida.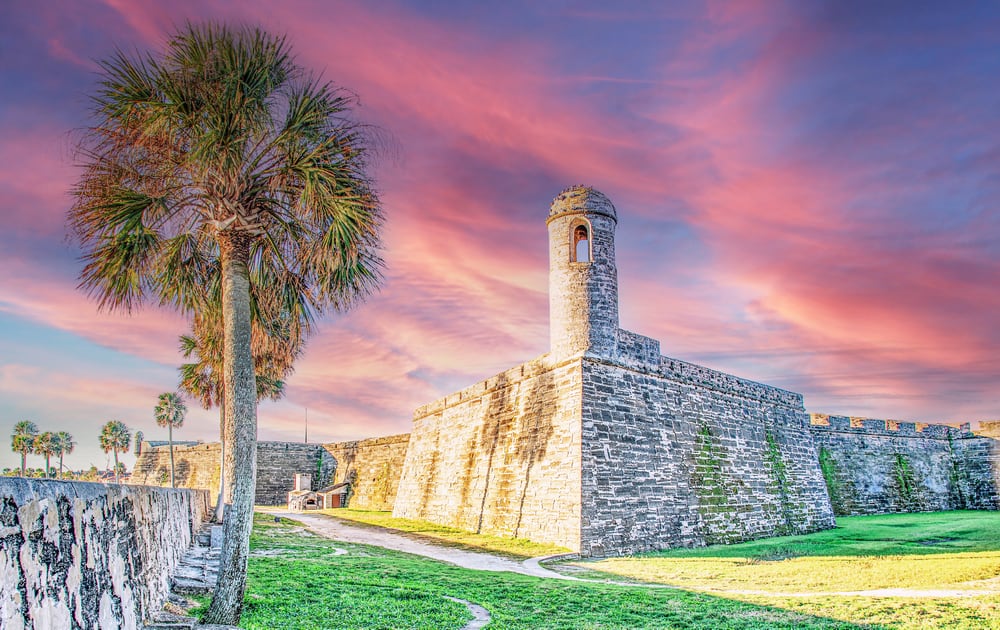 Ringling Museum
Ringling Museum is one of the famous sites in Florida, located in Sarasota that you must visit!
What draws visors here is the beauty of the exterior of the Renaissance inspired pink complex. In the courtyard, a garden area flourishes with flowers and fountains, as well as bronze and stone casts of iconic sculptures like Michaelangelo's David. If you plan to visit, don't forget to check out our Tips For Visiting The Ringling Museum!
The Ringling Museum of Art houses the collection of circus co-founder John Ringling favorite artists from the Roman, Greek, Medieval, and Renaissance periods.
The Ringling has an entrance fee of $25 for adults. Reduced entrance rates are offered on Thursdays between 5 PM – 8 PM.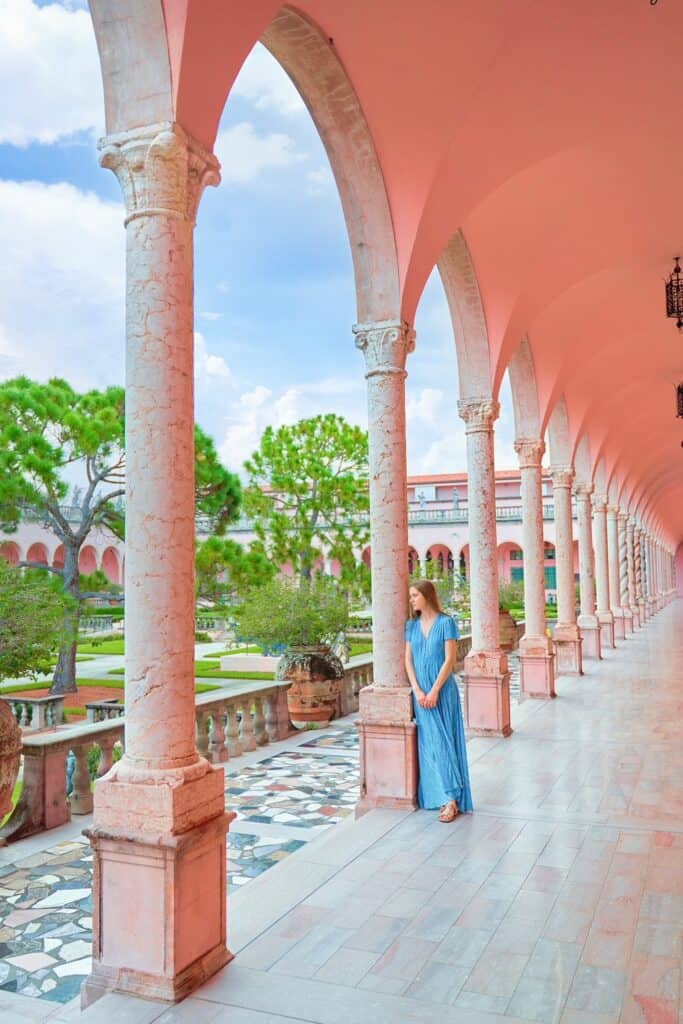 Henry Morrison Flagler Museum
Located in West Palm Beach, Henry Morrison Flagler museum is one the must see historic sites in Florida. This 75 room Gilded Age mansion was the private residence of Henry Flagler and features neoclassical architecture with an open-air courtyard, modeled after palaces in Europe.
Built in 1902, you can admire the marble floors and walls with hand painted murals on the ceiling and heavy gilding everywhere. Or sip high-tea in the courtyard. The museum features special exhibits from the 1865 to 1929 time period.
The Flagler Museum reigns as a must-see on any Florida road trip itinerary! Take a tour Tuesday through Saturday from 10:00 AM – 5:00 PM. Admission starts at $18 and includes self-guided or Docent-led tours Tuesday through Friday at 11 am and 2 pm.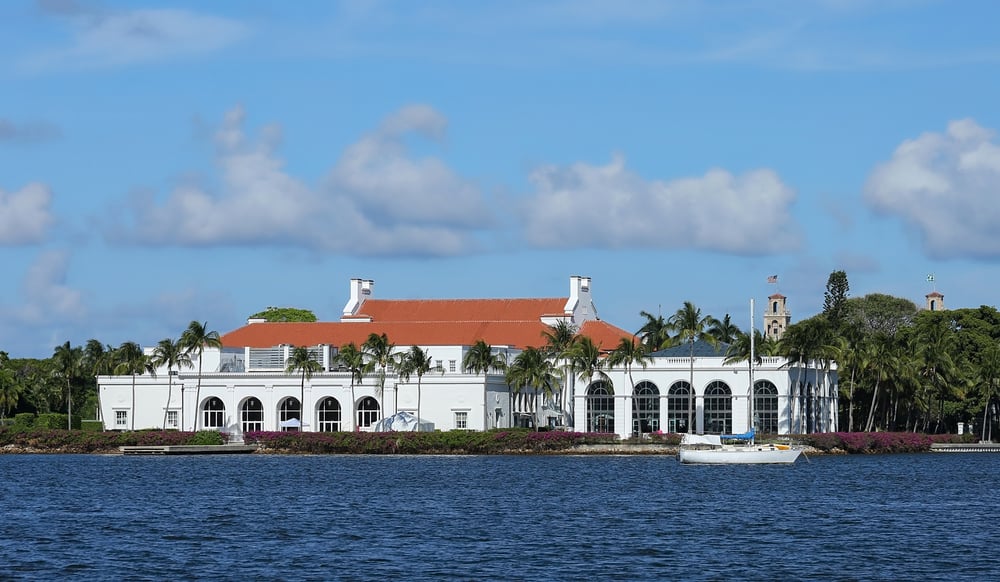 Henry B Plant Museum
Henry B Plant Museum is one of the Florida historic sites located in Tampa. Originally opened in 1891 by railroad magnate Henry B. Plant as the Tampa Bay Hotel, it is now part of the University of Tampa Campus.
The museum's exhibits are centered around tourism from the Gilded Age in Tampa where you will learn about the lifestyle of the rich and famous guests. The railroad was at the center of the Tampa's economy connecting it with various parts of the state.
Start your visit with the 14-minute video The Tampa Bay Hotel: Florida's First Magic Kingdom. Then as you wander you will be struck by the sheer opulence of the building, furnishings and sculptures all handpicked by Mr. and Mrs. Plant while in Europe.
On the 4th Friday of the month admission is free for Tampa's cultural "Fourth Friday". If visiting on 3rd Thursday from 11 am to 11:30 they there is live music. And during Christmas time, guests may attend the annual Victorian Christmas Stroll, hosted by the hotel.
Visitors can visit this Tampa historical site Tuesday through Sunday from 10 am to 5pm and admission is $10 for Adults.
Vizcaya Museum
Overlooking the Biscayne Bay, Vizcaya is one of the gorgeous Florida monuments and landmarks attraction to visit in Miami. It was the winter estate of the Late industrialist James Deering.
Because of its timeless Mediterranean-style architecture, a visit to the Vizcaya is like taking a tour through the Gilded Age. While there are 32 decorated rooms and 10 acres of gardens have been pristinely preserved, only the first floor is open to visitors.
Once you step out into the gardens, you'll be transported to Europe, and see why it made our list of historical places to visit in Florida!
The gardens will transport you back to Italy and France in the 17th and 18th century . Low hedges in geometric patterns divide the garden into a series of rooms. With sculptures made of porous coral stone throughout the gardens.
The Vizcaya Museum & Gardens is open on Thursdays through Monday from 9 AM – 4:30 PM. Admission is $22 for adults.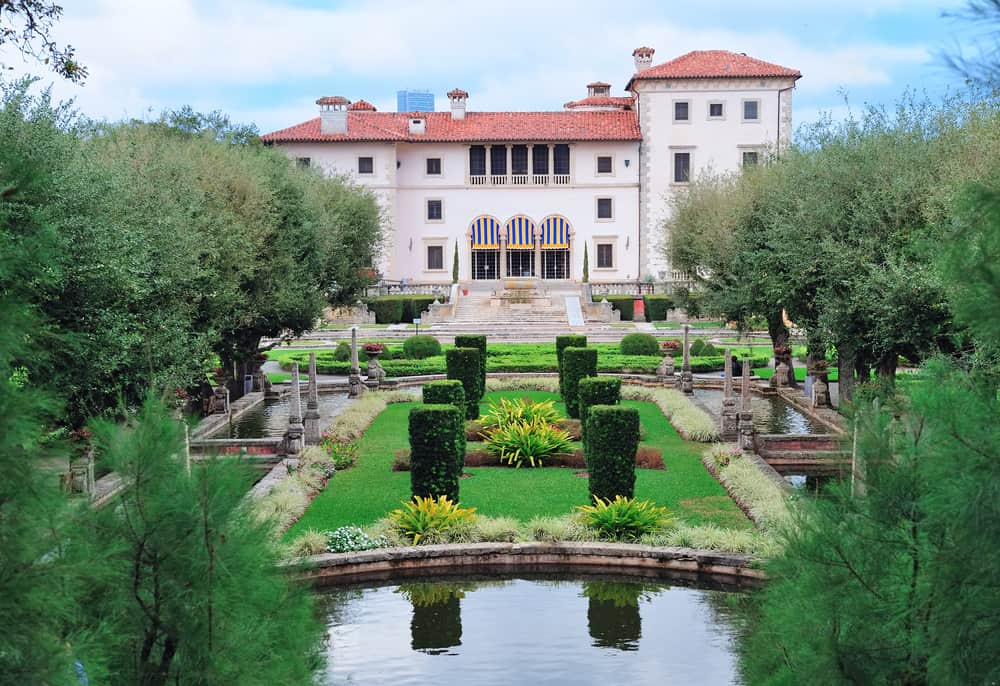 Saint Pete Sunken Gardens
The Sunken Gardens is one of the outdoor historic sites in St Petersburg Florida. We have put together tips for visiting here as it is one of our favorite places to visit on a hot summer day to during the winter. It is the perfect day trip from Tampa.
The gardens are over 100 years old, with over 50,000 native and exotic plants and animals from all around the world. Best of all it is one of Florida historic sites that is ADA-accessible. With wide paved paths wind through waterfalls, tropical environments, bird habitats, koi pound and the 22 Chilean flamingos!
There is plenty of shade in the gardens and places to stop and relax and enjoy the view on the 1.5 hour way.
You can visit the St. Pete Sunken Gardens from 10am to 4:30pm Monday through Saturday and 12 noon to 4:30pm on Sunday and admission is only $12, or if you are local a yearly family membership is just $100!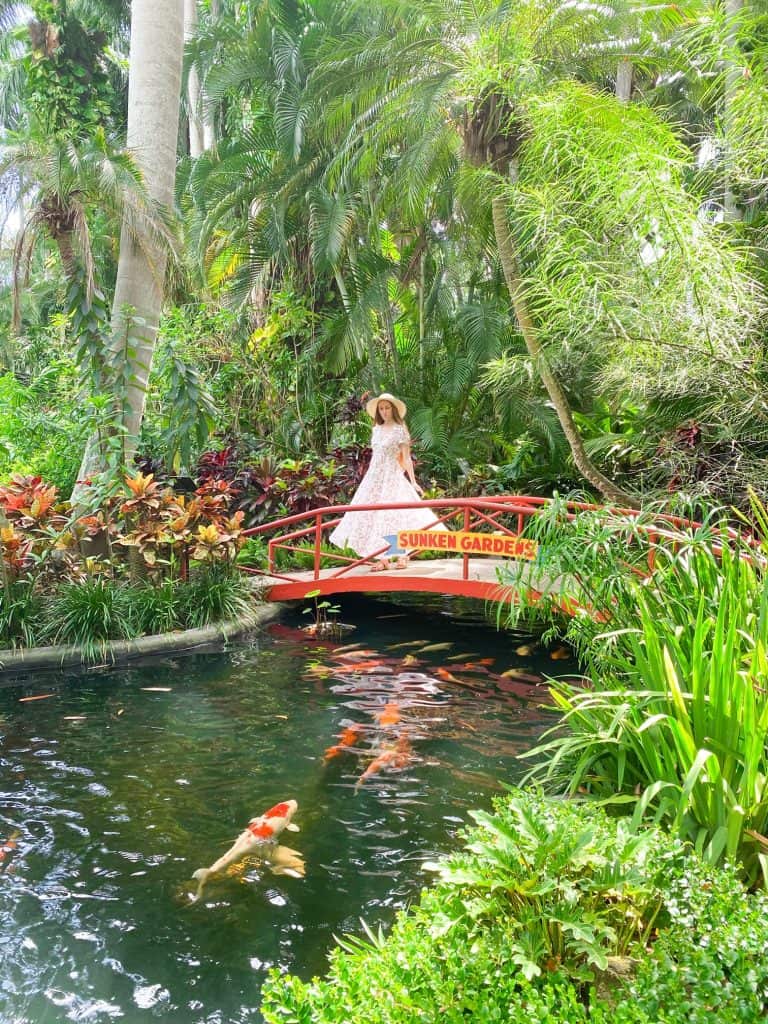 Edison and Ford Winter Estates
If you are looking for historic sites in Fort Myers to visit while in Florida, head to the Edison and Ford Winter Estates. A visit here will transport museum goers back to the turn of the century and how American life looked for two influential men.
Explore the 20 acer botanical gardens with 1,700 plants from six continents including a rare plant Moonlight garden.
The laboratory showcases Edison Botanic Research , and the 15,000 sq foot museum or you can take a tour of Edison and Ford's historic homes. Inside the homes you will catch a glimpse inside the lives of the two men with model cars and electric experiments, as well as innovation gallery.
Tickets are $25 for adults, and you can talk a daily self-guided tour from 9 am to 4:30 pm. Or take a historian group tour for $30.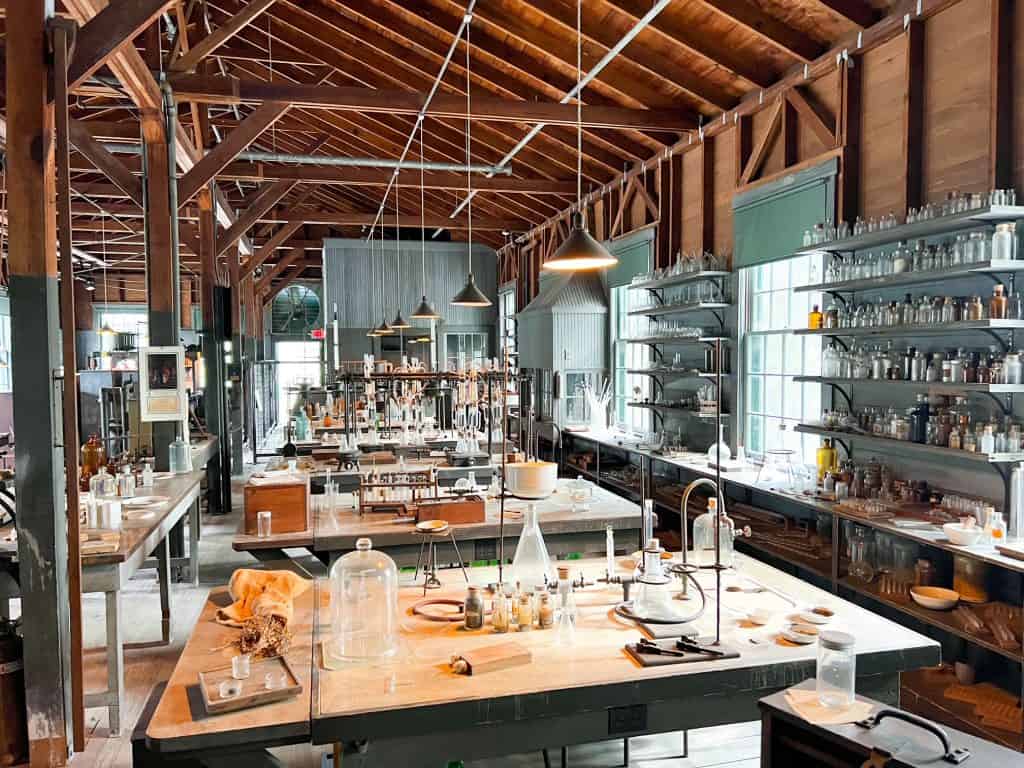 Fort Mose Historic State Park
Fort Mose is one of the most significant waterfront historic state parks. If you want to learn about the history behind free-slave settlement that preserves the history and educates visitors this is a must visit. Located in St. Augustine, it is open daily 9 am to 5 pm and is free to visit.
The museum ($2 entrance fee) here is a must visit for those looking for an educational and interactive learning about the first free African settlement in the entire United States. It was settled in 1738 by the Spanish for runaway slaves. While the structures are long past gone, you can sand on the land and feel the history behind the area.
On the first Saturday of the month the Fort Mose Militia trains for battle with weapon demonstrations with muskets from the era. Since 1994, it has been on the Florida's Black Heritage Trail historic landmark list.

Timucuan Ecological and Historical Preserve
Located in Jacksonville, the Timucuan Ecological and Historical Preserve is one of the historical places in Florida.
The 46,000-acre preserve is steeped in history over a 6,000 year period. This preserve is located on the Atlantic Coast is another of the free historical sites in Florida to visit! You can learn the history of the Timucuan Indian tribe, European Settlement, and Civil war.
Fort Caroline National Memorial is a memorial named after the French King, Charles IX. What makes this Preserve so important is its historical importance: it was the first contact between Timucuan and European settlers!
The Kingsley Plantation is located on nearby Fort George Island. Named after Zephaniah Kingsley who resided from 1814 to 1830s. Home to 60 enslaved labors, and his wife, who was a former slave you will learn all about life for the enslaved laborers here.
Eden Garden State Park
Eden GardensState Park is one of the Florida historical sites, that doubles as one of the historic plantations in Florida with Wesley Mansion. A trip here will transport you back in time to the Bridgerton era! Located near Panama City, the gardens and historic mansion needs to be on your list.
The center piece of Eden Gardens State Park is Wesley Mansion which was built in 1897. You can tour the mansion and the beautiful surrounding gardens with a large canopy of oak trees . As you wander through the home you will see American and European decor dating back to the 1700's. It is the perfect place to pack a picnic lunch and relax under the trees.
Entrance fee is $4 for car, and it is open 8 am until sunset all year. The house is closed on Tuesday and Wednesdays, but other days you can take a 45 minute tour for $4.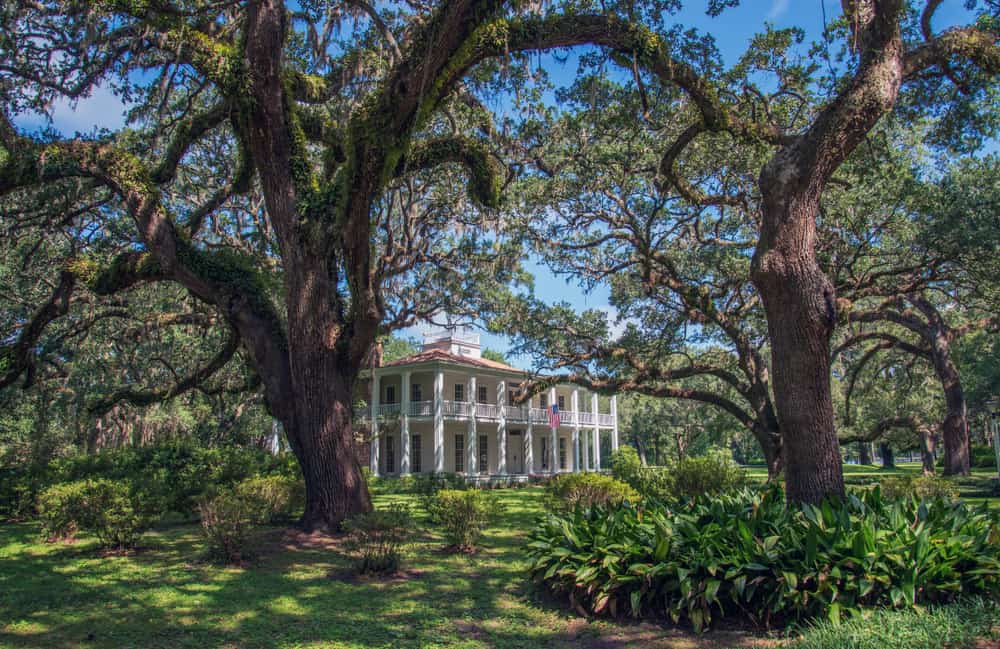 Dade Battlefield
A visit to the Dade Battlefield will allow visitors to experience the history behind Dade's battle in 1835 during the American Indian War.
If visiting during January, the park recreates the iconic battle. Spend the da in either rate Seminole camp or solider camps, vendors, canon firing and historical arts and crafts.
This is where by 1832 tensions had reached a boring point when Seminoles refused to move off the land. In 1835 the Seminole warriors ambushed soldiers led by General Dade though the area and started the second Seminole war.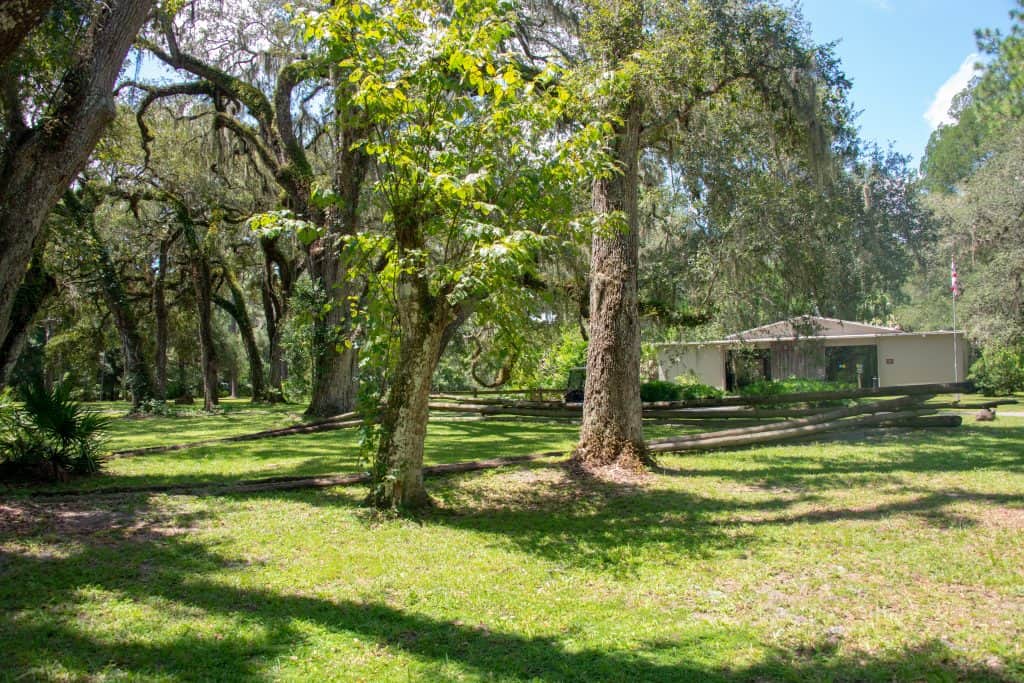 Coral Castle
Coral Castle isn't actually made out of Coral and isn't actually a castle, it's still one of the ruins in Florida to explore just south of Miami.
The construction has been compared to the likes on Stonehenge and the Great Pyramids of Egypt, because the exact method the builder Edward Leedskalnin used to make this magnificent castle is still unknown! It took him almost thirty years to build, starting in 1923 and finishing just after 1950.
More than 1,000 tonnes of limestone was constructed into various different shapes such as a crescent moon, a sundial, tables and chairs and many more! Surrounded by a rock garden carved out of coral feature beautiful bougainvillea trees and rocking chairs made from carved coral stone.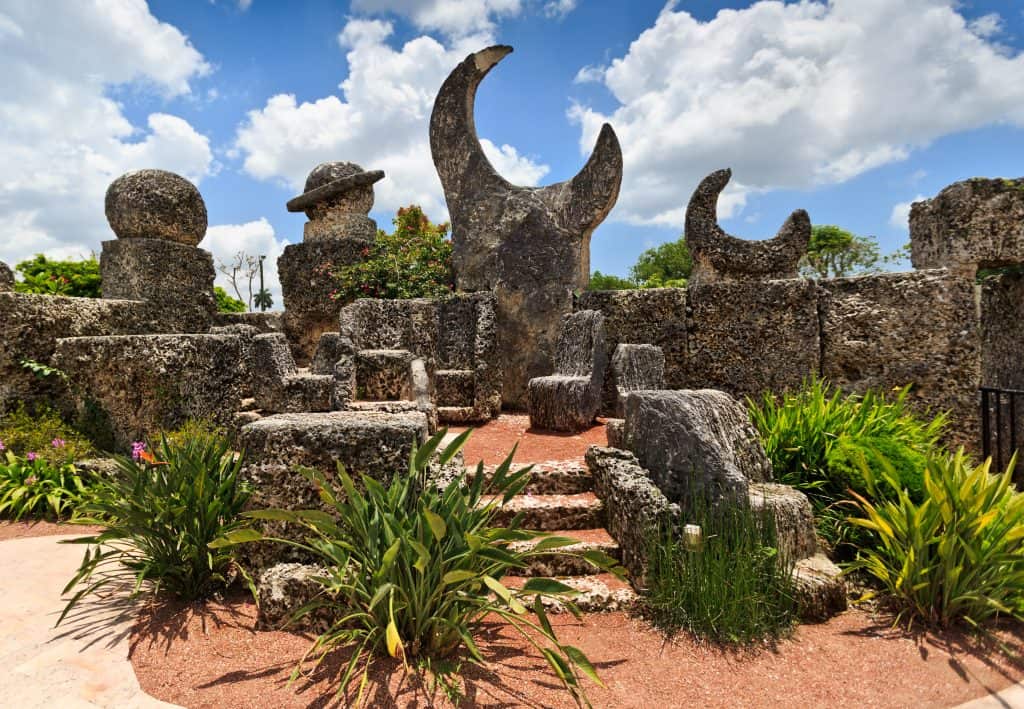 Dry Tortugas
Dry Tortugas is one of the best National Parks in Florida. Often considered one of the best day trip Key West historical sites, it can be accessed by sea plane or boat charter. There are seven islands in the 100 square mile National Park, named by explorer Ponce de Leon in 1513.
It became one of the off-coast historical sites in Florida in 1993 when it was registered as a historical landmarks in Florida. The only tropical reef in the United States and the third-largest in the world is located at Dry Tortugas. Snorkeling or Scuba Diving here is a must!
Also home to the famous 19th Century Fort named Fort Jefferson after the 3rd US President, Thomas Jefferson. The entrance fee is $15 and a the pass is good for 7 days. It is a great primitive camping area at just $15 a night especially for those looking to stargaze.