Are you thinking about which of the lakes in Florida are worth a visit? We have you covered. In this article, we will walk you through famous lakes in Florida, the clearest lakes in Florida, and the Florida lakes that you have to see.
When you think of Florida and its crystal clear water you probably think of the beautiful Emerald Coast and its picture-perfect beaches. Or you might even bring to mind one of the cooling tranquil springs but I bet you don't think about Florida lakes.
Discounting the lakes in Florida is a mistake. Florida lakes are perfect for boating, fishing, watersports, swimming, and relaxing. A day at the lake can make a perfect Florida day trip.
You might be wondering how many lakes are in Florida? The answer may surprise you. There are upwards of 30,000 lakes that cover more than 3million acres of land. So, let's just say the choice is endless.
Whatever you like doing on or around the lake we guarantee there is a lake in Florida for you. Whether you like lakes surrounded by entertainment, lakes great for relaxing, or more wild and natural lakes Florida has it all.
So are you ready to see which we feel are the best lakes in Florida? Grab a seat a cup of coffee and let us take you on a journey through central Florida lakes, south Florida lakes, and north Florida lakes.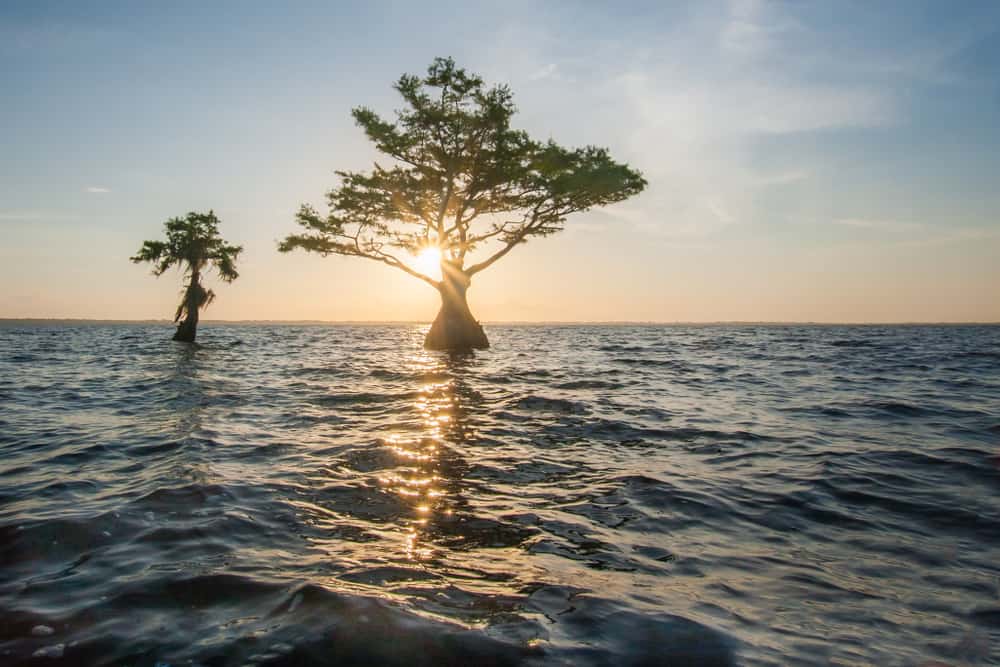 15 Best Lakes In Florida You Must Visit
Lake Kissimmee
When it comes to Florida lakes Lake Kissimmee is probably one of the most famous lakes in Florida. It's probably due to the proximity to Orlando and Disney World that means it's the most well known.
The lake lies about 70 miles south of Orlando and is connected to Lake Tohopekaliga and Lake Okeechobee by a system of rivers and canals. It's the third biggest lake in Florida at 141 square kilometers.
It is a wonderful natural wonder and one of the central Florida lakes that are well worth a visit. It's surrounded by lush forests and marshes and the shoreline in Lake Kissimmee State Park is beautiful.
More than 13 miles of hiking trails weave through the surrounding area and if you are lucky you might see white-tailed deer, eagles bobcats, and lots of bird varieties.
There are lots to do on and around the lake like swimming, horseback riding, canoeing, boating, kayaking, or just relaxing. It's also teeming with fish if you are an angler.
There are picnic tables, restroom facilities, and playgrounds, and is the perfect family-friendly lake. It's also used a lot as a wedding destination, yes it is that beautiful.
This is one of the freshwater lakes in Florida that offers a bit of everything and is a great place to escape if the hustle and bustle of Orlando are all a bit too much.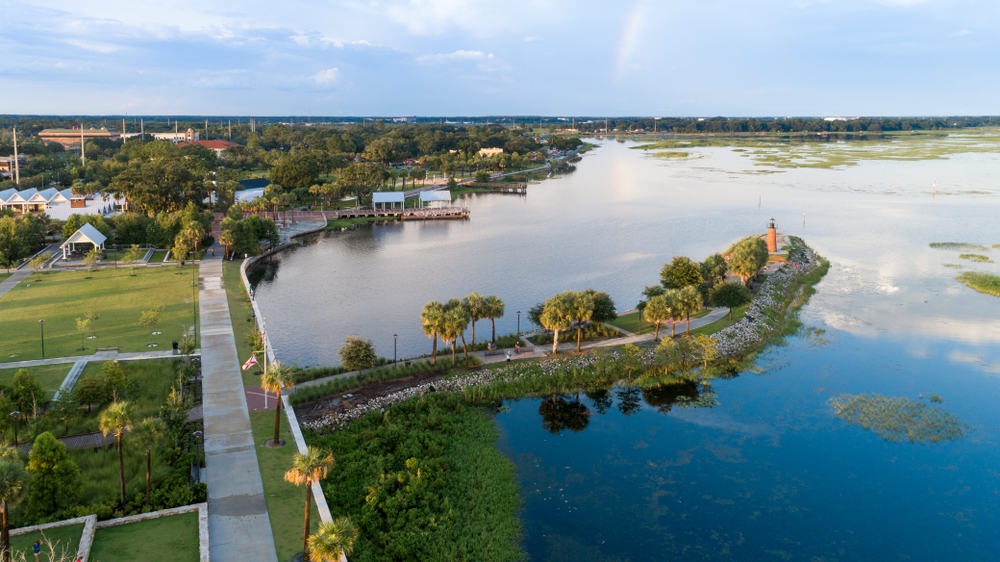 Blue Cypress Lake
Blue Cypress Lake, also known as Lake Wilmington is the lake to go to if you love photography. It's all dropping cypress trees and azure water, it honestly looks like a film set.
It is the largest lake in the Treasure Coast and Indian River County with its headwaters at St. Johns River. There is an abundance of wildlife here and it is actually known as one of the premier fishing locations in Florida.
The lake is 8 kilometers west of Fellsmere and makes a great day out if you love scenic lakes. It's not a lake to swim in though or a particular family-friendly location. It is however one of the best lakes in Florida for boating.
There is somewhat of a fairy tale quality to this place and drifting down in a canoe, kayak, or boat you can't help but fall in love with it. The swamps, marshes, and cypress forests only seem to add to the magical quality.
Expect to see alligators, ospreys, turtles, and lots of fish. There is a picnic area, cabins, a campground, a snack shop, and public restrooms. One of the south Florida lakes that are well worth a visit.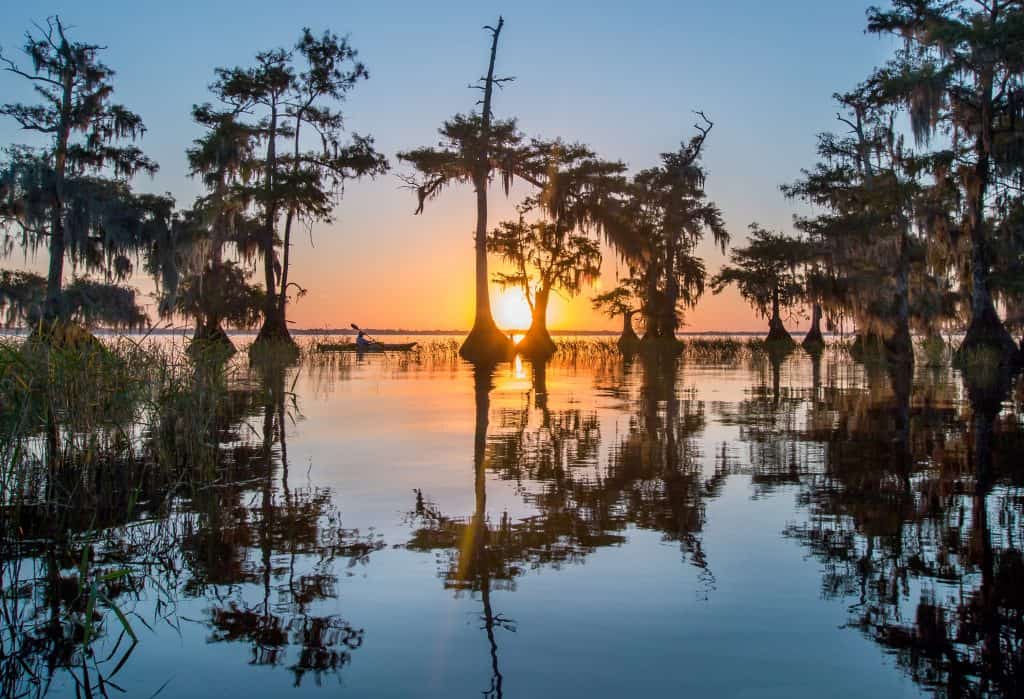 Lake Okeechobee
Lake Okeechobee is huge, the largest lake in Florida it is 450,000 acres and spans five counties. Called the Big O by locals it is the 7th largest freshwater lake in the States and the largest in the lower 48 states.
Named originally by the western Georgia Indian tribe Hitchiti its name even means big water "oki," meaning water, and "chobi," meaning big. While it might be huge it only averages nine feet in depth.
The lake as well as being great for fishing sits on the Florida National Scenic Trail, which is great for hiking and cycling. Or stay a while and hike the 110-mile Lake Okeechobee Scenic Trail.
The best way to see the lake is on one of the boat tours. Swimming and watersports do take place on the lake however this changes due to algae levels so check before you go.
It's a popular vacation spot with rental properties, campgrounds, and RV parks in the area so if you want to explore more and stay a while you can.
If you are looking to visit one of the south Florida lakes in the Everglades then make it this one.
The current advice at writing this is to not drink, swim, wade, use personal watercraft, water ski, or boats in waters where there is a visible bloom of algae.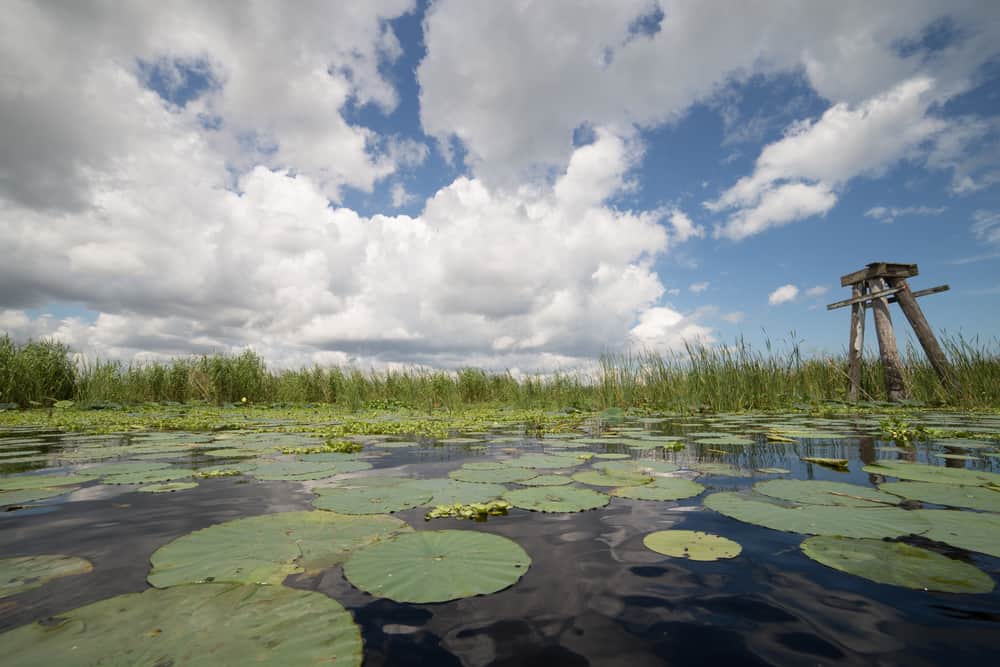 Lake Eola
In downtown Orlando in Lake Eola Park, this lake is most famous for its fountain which is illuminated at night. Taking a paddleboat out on the lake while it's all lit up is an amazing experience.
The shorelines of the lake are dotted with various entertainment opportunities. The Disney Amphitheatre, Chinese pagoda, and a playground all adorn the lakeshore. You can even rent a swan-shaped paddleboat if that is your thing.
It's an artificial lake that developed from a sinkhole and was established in 1888 by Orlando resident Jacob Summerlin.
It's a beautiful area with wide sidewalks, paves patios, dining establishments a welcome center, and of course a gift shop. It is one of the central Florida lakes that are best viewed and enjoyed at nighttime.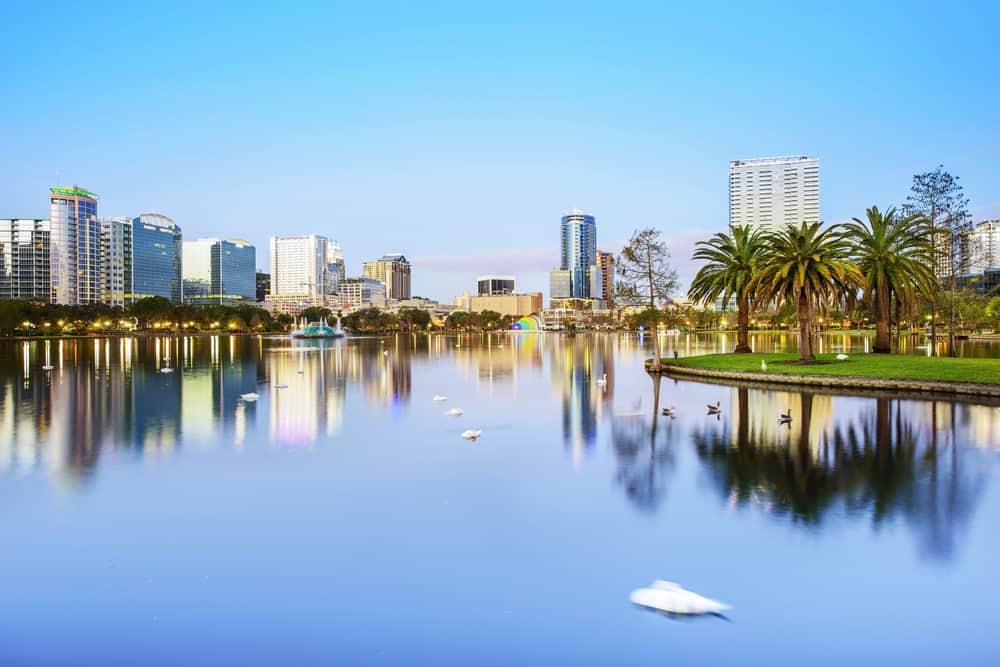 Lake George
The second-biggest freshwater lake in Florida, Lake George is about 46,000 acres with an average depth of eight feet. It's a perfect lake for swimming.
At 12 miles long it is the largest lake on the St. Johns River but it is still only a tenth the size of Lake Okeechobee. The western shore is part of the Ocala National Forest.
The lake environment here is unique in that the water is fed by springs making the water brackish and therefore perfect for animals you wouldn't find in other lakes. Blue crabs, Atlantic stingrays, and striped bass can all be found here for example.
Hiking, fishing, wildlife viewing, bicycling, horseback riding, hunting, and primitive camping are all great activities here. You can kayak and canoe here however remember this lake has the highest number of alligators in Florida so be careful.
This is one of the north Florida lakes that has something slightly different to offer and is a great lake to go to if you love wildlife.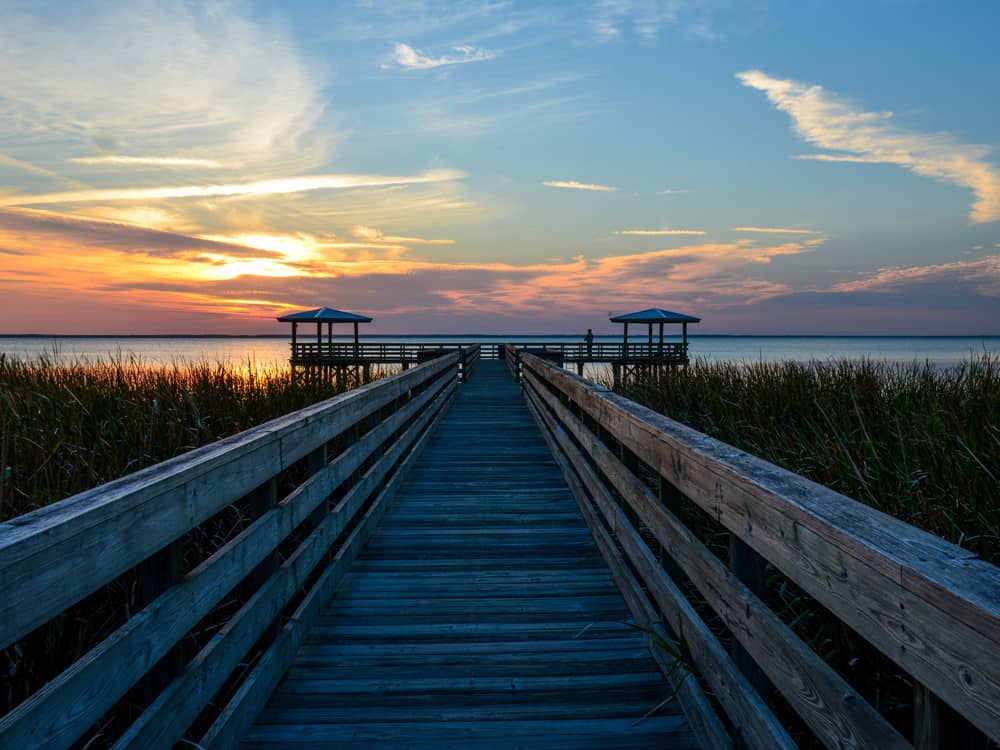 Lake Dora
41 miles northwest of Orlando is Lake Dora. This is one of the freshwater lakes in Florida that is part of the Harris Chain of Lakes.
If you are looking for a relaxing lake then this is the lake for you. It's also great for birdwatching.
The lake is good for boat cruising, water skiing, canoeing, kayaking, windsurfing, and of course fishing.
The lake is close to Tavares and Mount Dora and if you need to rent equipment these are the best places to do it. If you can book a boat tour of the region they are a great way to spot the wildlife and birds.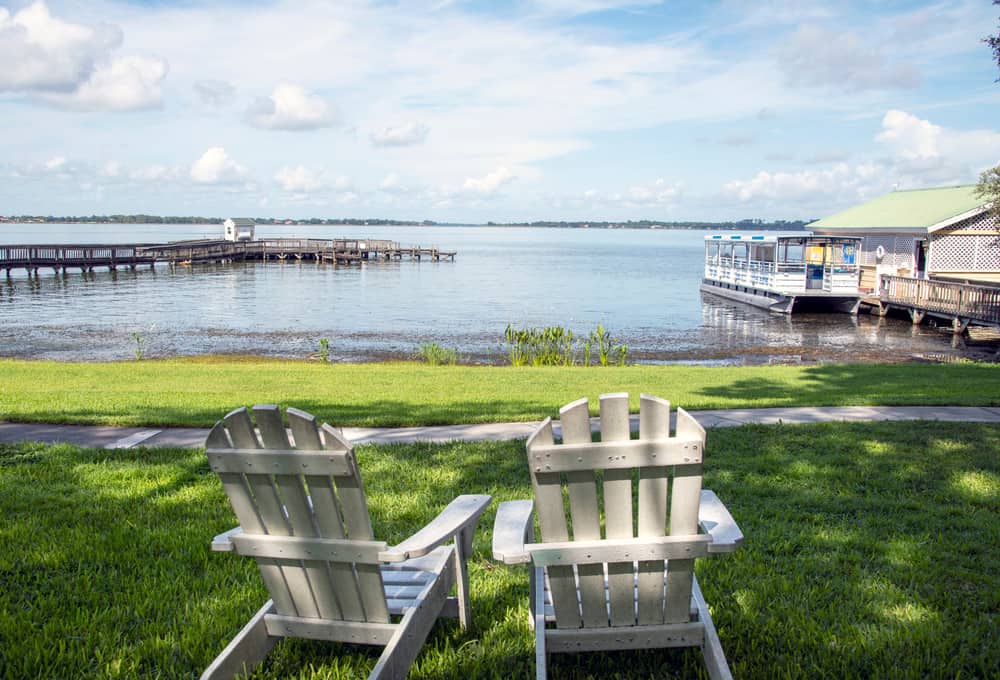 Lake Harris
Lake Harris is one of the 1000 or so lakes that are in Lake County. Yes, Lake county is actually a thing and Lake Harris is the largest in the Harris Chain of Lakes in the Upper Ocklawaha River Basin.
About 30 miles northwest of Orlando it's a popular spot for those looking for something a little quieter. It's also one of the best lakes in Florida for boating.
The lake is a really beautiful spot and great for photographers, you will find lovely cypress trees and sandhills. And it's great for watersports, boating, and swimming.
It can get a little choppy on the lake mainly due to its size so if you want a slightly calmer boating or swimming experience head to the nearby Little Harris Lake.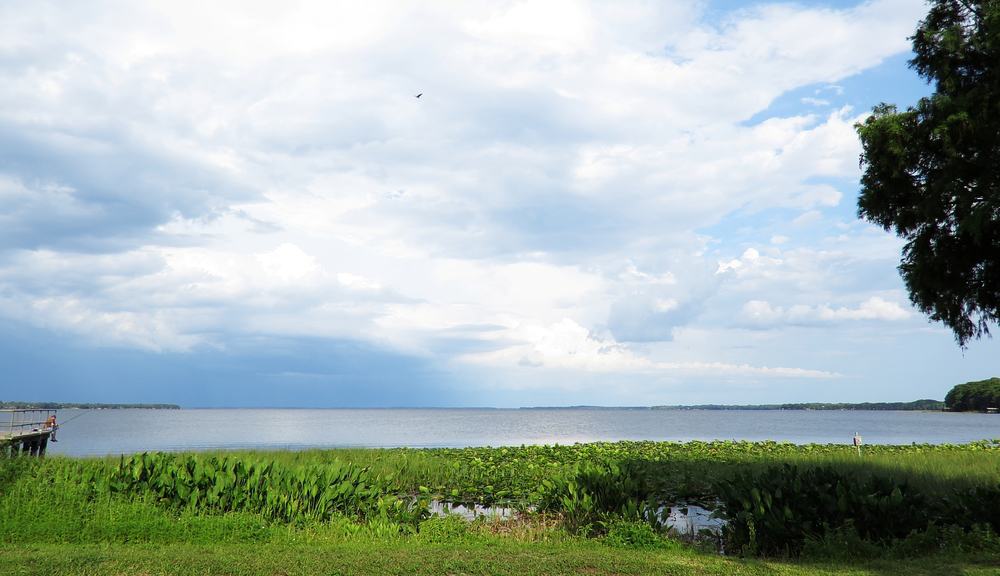 Lake Apopka
Lake Apopka is one of the largest in the state and spans 30,000 acres. It is a nature lovers and photographer's paradise here.
The wildlife here is spectacular and the best bit is the Lake Apopka Wildlife Drive lets you observe it all from your car. The tour takes you about two hours.
This is not a lake for swimming or watersports and is more of a wild nature-loving lake. Charge your camera if you visit here because you are going to need it.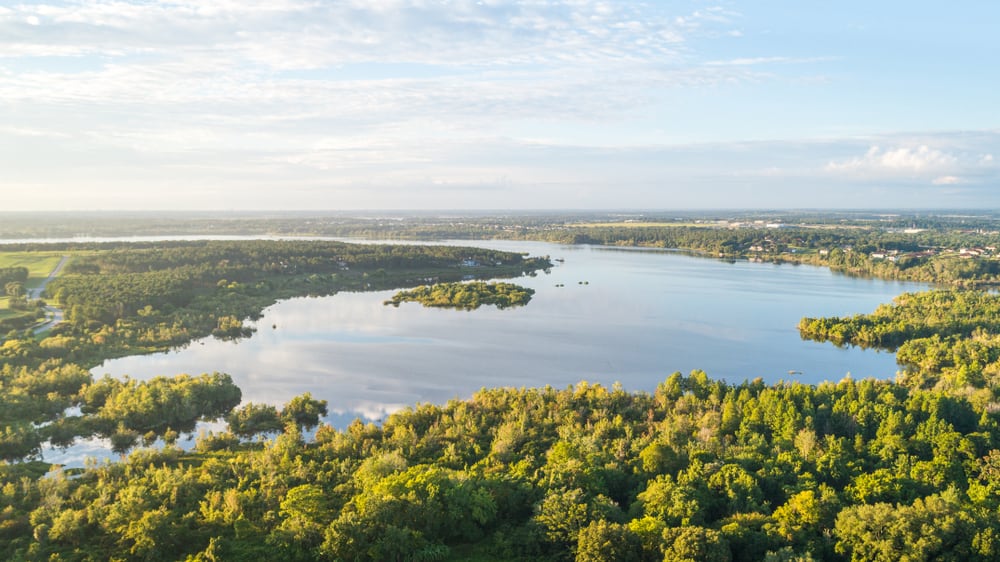 Cresent Lake
Covering more than 15,900 acres in North Central Florida this lake is a magnet for wildlife. This is a lake for fishing and wildlife spotting.
The south end of the lake is the Crescent Lake Conservation Area and it's the best area to see the abundant wildlife on offer.
Canoeing is allowed on the lake but motorboats are not so keep that in mind. There is also plenty to do on the shoreline here from hiking to biking to horseback riding.
This long narrow lake is surrounded by palms and cypress swamp and really quite beautiful and wild.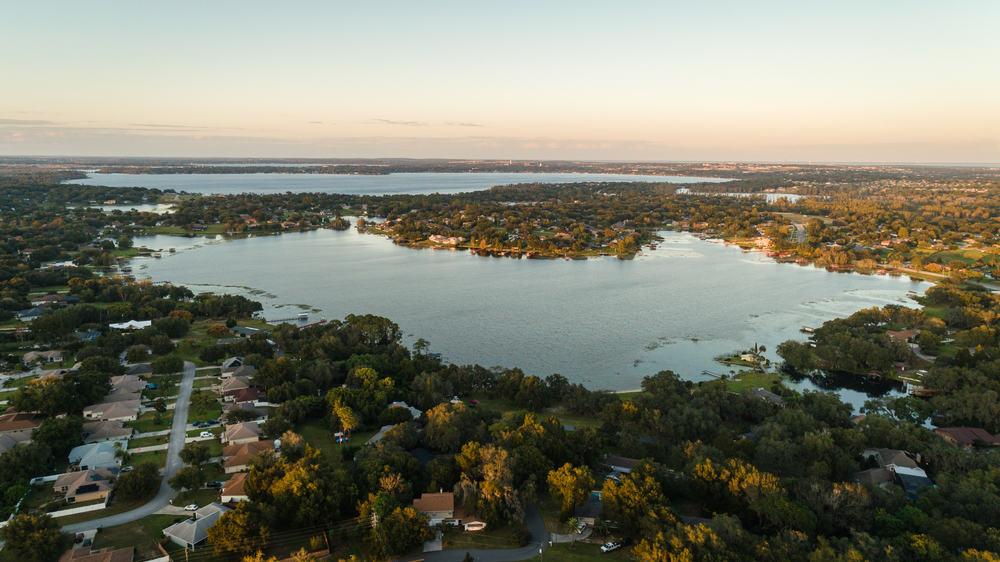 Lake Parker
One of the most popular lakes in Lakeland this lake is recreational heaven. It's the largest lake and is to the northeast of the city.
The lake is surrounded by parks and greenery and has three boat ramps. Fishing and boating are the most popular activities here.
Lake Palmer is also the starting point of the Lake-To-Lake Trail if you fancy some hiking. Or just spend the day at the lake and the evening eating in one of the fine restaurants in the area.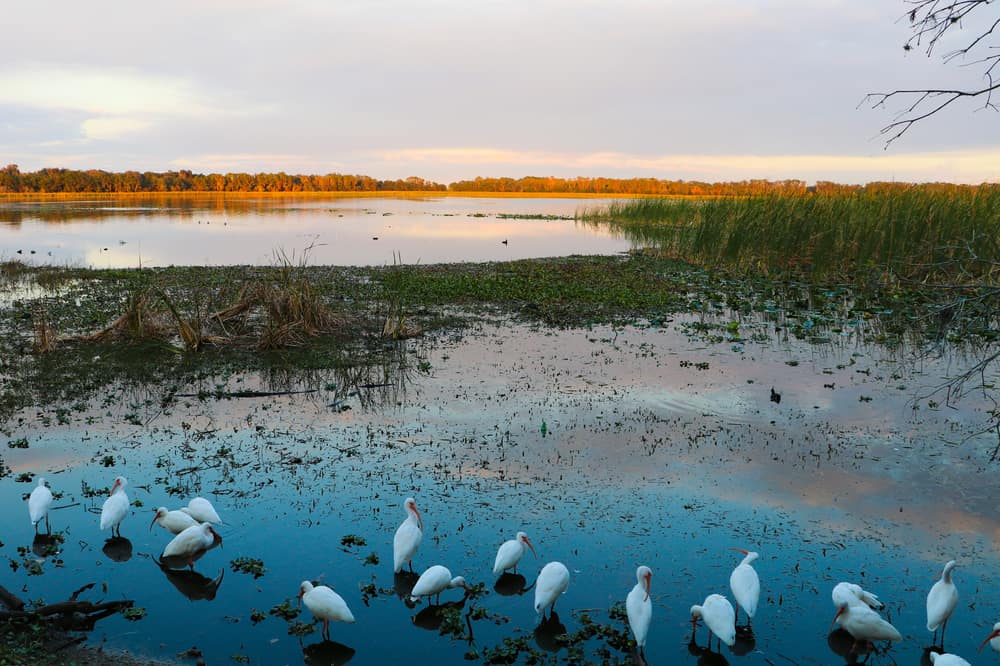 Lake Tohopekaliga
The locals know this lake as Lake Toho and it is part of the Kissimmee Chain of Lakes. It's the largest lake in Osceola County and is a big tourist draw.
This is one of the clearest lakes in Florida and most come here to enjoy swimming boating and fishing. The wildlife here is also pretty abundant with alligators and turtles easy to spy on while ospreys and eagles fly above.
There are many playgrounds and picnic tables here so pack a picnic and make a day of it. If you want to explore more there is also a hiking trail so you can see the natural scenery up close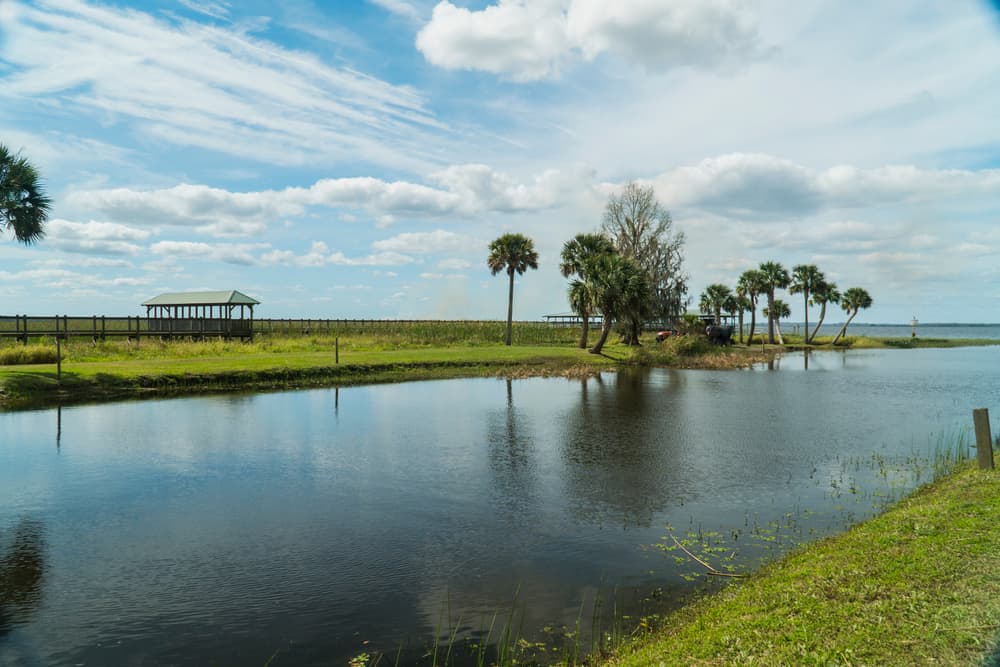 Lake Istokpoga
The sixth-largest lake in Florida with nearly a 28,000-acre expanse there is lots to explore here. At four feet deep airboats are a great way to explore this lake and also super fun.
It's a pretty lake often mirroring its surroundings when calm and the grass and Lilly pads really add to the beauty.
It's a great lake for an overnight stay with five boat ramps, two parks, and several camping grounds surrounding the lake.
Lake Eustis
In central Florida's lake county this is one of the spring-fed lakes. Part of the Harris Chain of Lakes this 7000-acre waterhole is a delight.
It connects to Lake Harris via the Dead River and also St. Johns River. It's also home to the Lake Eustis pupfish which are a protected species.
It's a great lake for boating, swimming, sailing, canoeing, kayaking, and windsurfing. The nearby towns of Eustis and Tavares are good for rentals.
If you visit here the best thing to do is take a sunset walk around the quarter-mile-long trail that follows the shore it really is spectacular.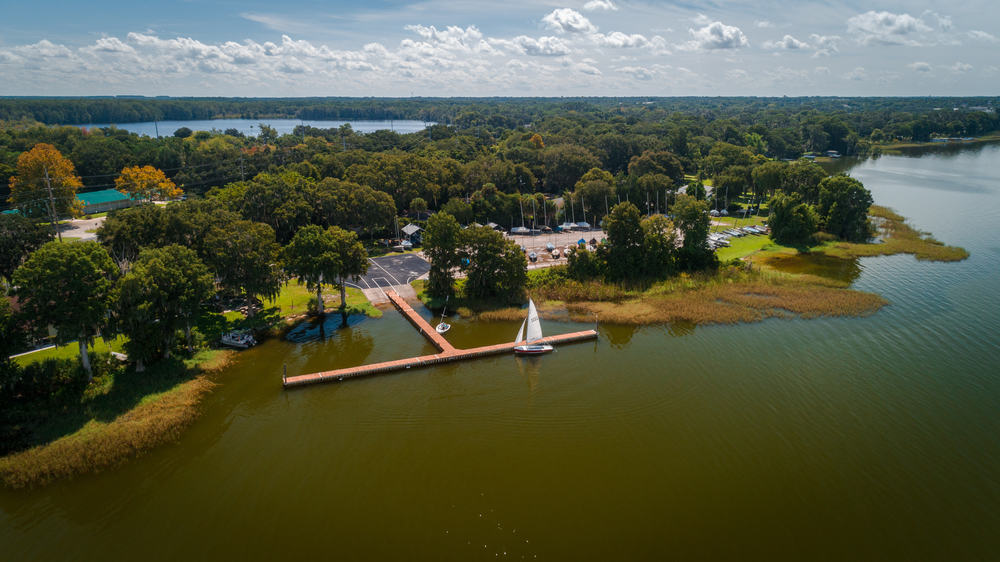 Lake Tarpon
Lake Tarpon is located about 10 miles west of Tampa. As the name suggests it is near Tarpon Springs and is the largest lake in Pinellas County.
The lake is just over 2,500 acres and is this lake is popular among anglers who enjoy fishing for largemouth bass, black crappie, and bluegill.
While there is some boating on the lake it is not a lake for swimming in or general watersports.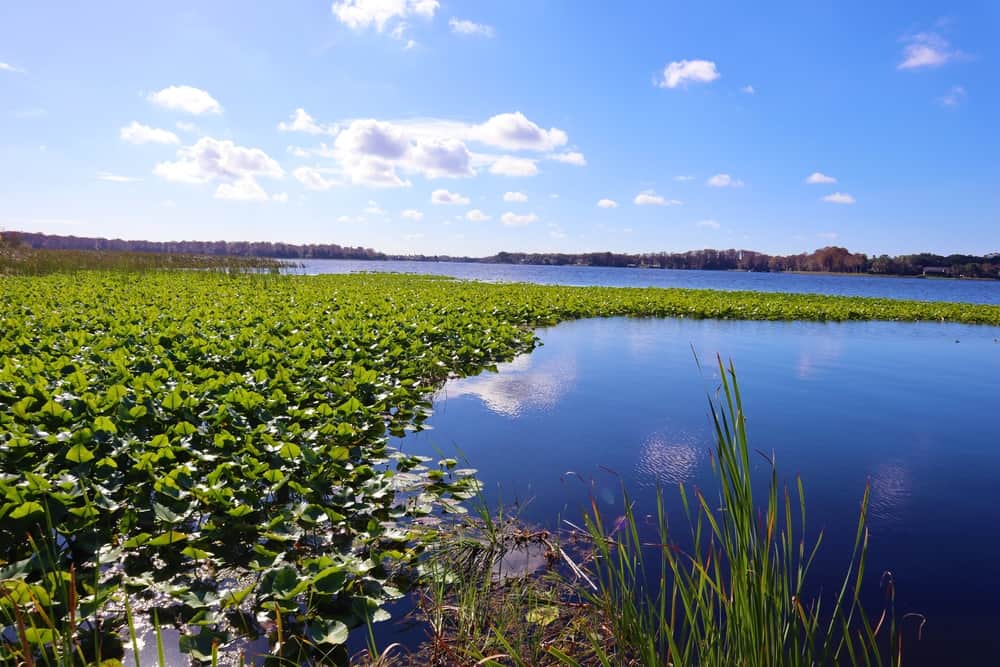 Lake Griffin
Lake Griffin is full of extensive marshes and consequently some great wildlife. This lake feeds the Ocklawaha River and is 9,500 acres.
The best way to explore is by boat, kayak, or canoe this is also the best way to see the alligators, turtles, and bird species that inhabit this area.
Lake Griffin State Park lies on the shores and is a great place to explore the incredible natural landscape in the area. There are some giant oak trees in the park one believed to be over 400 years old.
You can camp here and it's a great getaway in a somewhat serene location. And if you can book a tour with a local ranger it's the best way to see the wildlife in the area.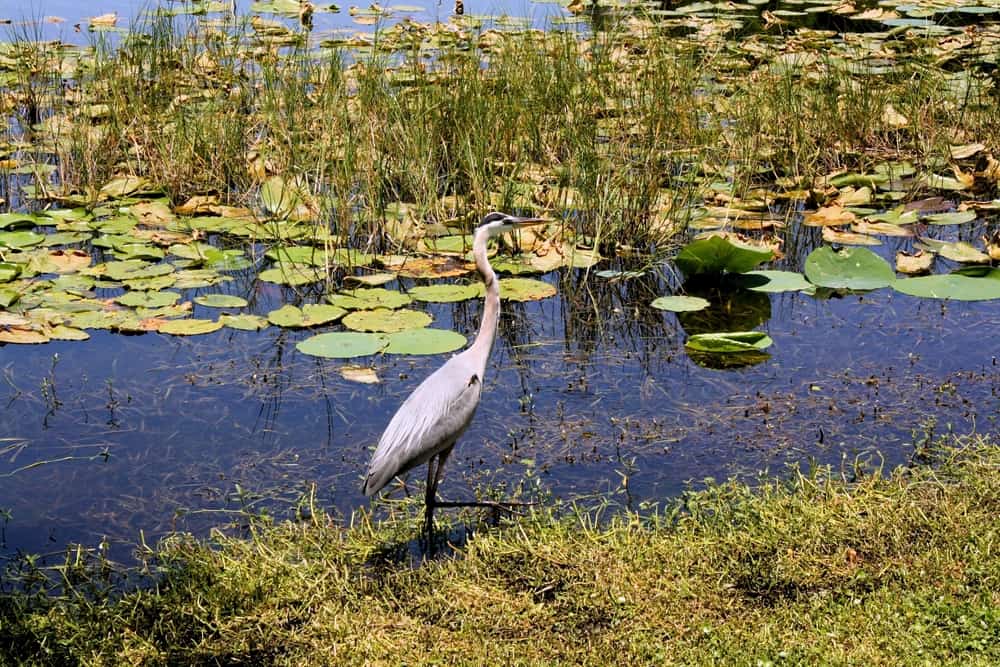 As you can see when it comes to lakes in Florida, there are so many to choose from. We feel these are some of the best lakes in Florida and whichever you visit you won't be disappointed.
Perhaps you will visit the largest lake in Florida, one of the clearest lakes in Florida, or one of the famous lakes in Florida, whichever you choose please come back and tell us all about it.