Are you thinking of having a Florida bachelorette party? Want some ideas on bachelorette destinations in Florida? You are the right place.
In this article we will walk you through the best Florida bachelorette party locations giving you ideas of what to do in each location. We have something for everyone from the adventurous, to the chill, to the all out party girl we have you covered. By the end you will be able to make a decisions about which of these Florida bachelorette destinations is right for you.
Florida is the perfect place for a bachelorette party, not only is the weather reliable and warm but it is so diverse in facilities offered and environment. You will find some of the best beaches in the country in Florida, some of the most diverse wildlife and some incredible springs.
There is a lot more that Florida has to offer than people think. Whatever kind of bachelorette party you can think of Florida can probably offer it.
The infrastructure is also great so you can get here easily and get around without any problems when here. Florida really can cater for everyone's needs and we guarantee wherever you go you will have fun and find something unique to do.
Florida is also friendly and welcoming towards the LGTBQ+ community.
So are you ready to see where we picked for your Florida bachelorette party?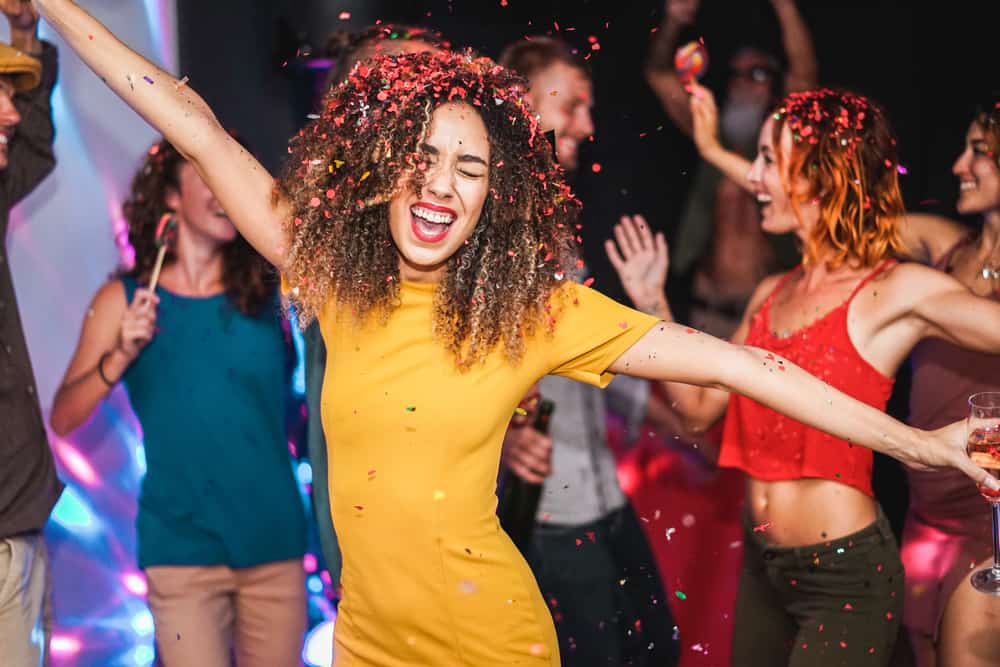 12 Best Florida Bachelorette Party Destinations You Will Love
St Augustine For Culture, Food And Great Surroundings.
A visit to the nations oldest city might not seem like a place where you would hold a bachelorette party but it has a lot to offer. Founded in 1565 Saint Augustine really is beautiful and the architecture is stunning with a Spanish feel.
The beach is also beautiful and if you are after a Instagram friendly backdrop you have in abundance in St Augustine. Castles, beaches, museums, national parks, ghost tours, distilleries and wineries are all in abundance here. St Augustine is really about choosing which way you want to experience it. There is so much to do in St Augustine.
Sure it is a beautiful, romantic often ethereal looking place but it also knows how to party. The culture here really is a vibe, the food is incredible and the surroundings breathtaking.
So what does St Augustine have to offer for the Florida bachelorette party other than walking about the beautiful town or relaxing on the beach?
If you are after a wine and food experience St Augustine is your pace. Consider a sunset wine cruise or a wine and food walking tour around downtown, the restaurants here are truly amazing. You can also visit a local winery too.
If you want more of a fun lively experience how about a treasure hunt on a pirate ship and of coarse you can hire party boats.
If you are looking for something different how about a haunted pubs tour or an evening tour of the famous lighthouse as featured in Ghost Adventures and Buzzfeed Unsolved.
And if you want more of an outdoor adventure there are many green spaces and outside spaces to spend some time.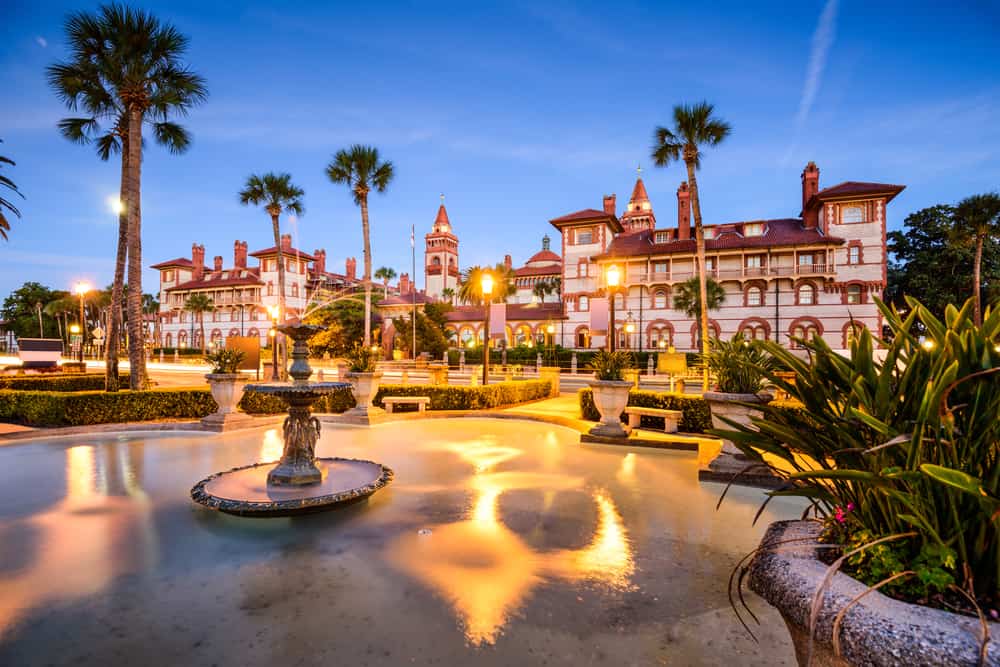 Tampa And St Petersburg For Great Beaches And Great Nightlife
Tampa might seem like a odd choice but this city has gone through somewhat of a makeover and is becoming a very trendy place to be. Add to the fact that is sits close to some of the best beaches in the world you can see why it's a great palace for your Florida bachelorette party .
This is a great two center location where you can mix all the nightlife of a big city with the relaxing ambience of the incredible beaches.
Tampa is a mix of rooftop bars, restaurants, clubs and bars not to mention the two venues offering Magic Mike style shows, or maybe hiring the brew bus is more your thing. On the more tame side you could go to a sip and paint or go to an authentic Japanese tea room.
A night partying in the Lively Ybor City is well worth it if you like Cuban and Latin American food. Also consider going on a Tiki Boat BYOB Cruise and party around your own Tiki hut as it drives around the bay.
Tamps is also home to the state's best adult-friendly theme parks Busch Gardens if you want some thrills at your bachelorette party.
For the more adventures try ziplining over Tampa bay or hiking. You might also consider a dolphin tour.
And when you want to relax a bit head out to St Petersburg where you can just take it easy or live it up some more, the choices are yours.
Pizza on the beach and cocktails at a Tiki bar are always good options. And if you want those Instagram worthy photos' head up the Don Ceasar hotel it really is a pink palace.
If you are there in the evening head downtown. It has a very distinct vibe and the atmosphere is lively and welcoming. Again take your camera as there are incredible murals everywhere. Life-size beer pong a Park and Rec is super fun or consider playing shuffleboard for the evening in the worlds largest club.
What we have tell you is that you won't run out of things to do in this area.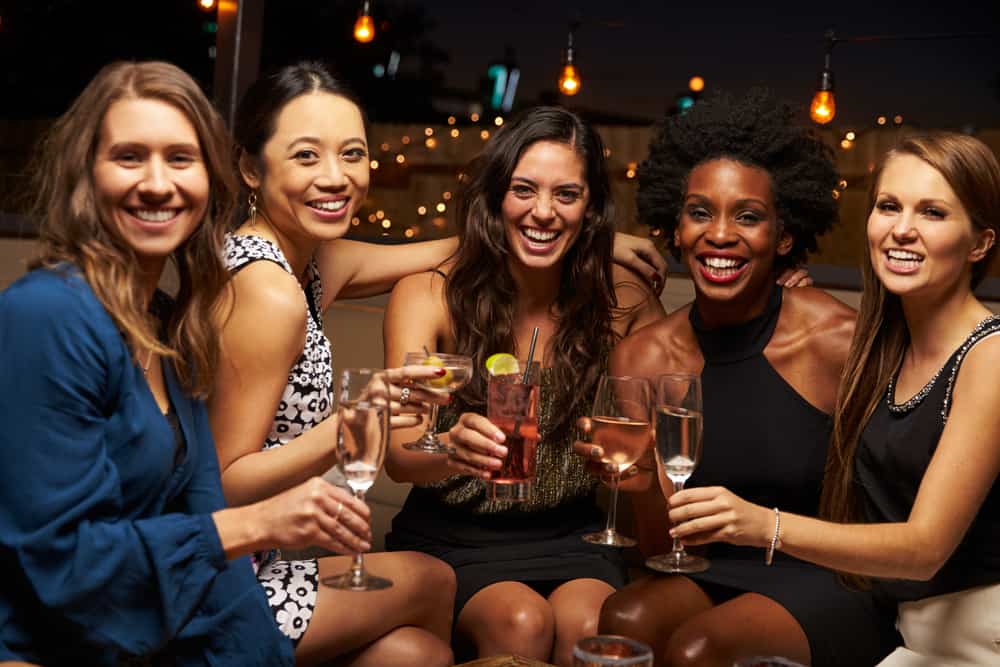 Orlando For All The Magic
If you have a Disneyholic then a trip to Orlando may just be perfect for a Florida bachelorette party but it has more to offer than just Disney
Obviously the Disney parks offer a lot, a princess day in Magic Kingdom complete with Princess meal. A day eating and drinking your way around the world at Epcot or a day of thrills at Disney Studios or Animal Kingdom. I mean lets face it you could probably plan countless different bachelorette party option at Disney.
If you have a Harry Potter fan how about Wizarding World at Universal Studios. You could all get dressed up and get some amazing photos.
Orlando has more to offer than theme parks though with countless bars, restaurants and clubs you can plan the perfect party whichever you want.
You can consider also consider a food tour of downtown, a cocktail or a brewery tour.
For something different try a eExperience at the VR version of Jumanji at the Void or get an amazing zero-gravity massage at the Ritz Carlton Spa Orlando. Or visit the Whirlydome, where you can play Whirlyball, which combines bumper cars and basketball into a crazy, competitive game
If you want more of an outdoor adventure there are kayaking tours where you meet the beautiful manatees. And if you want to reax a bit maybe consider a spa day at one of the hotels.
Orlando really does have everything you could possible want or need in terms of Florida bachelorette destinations.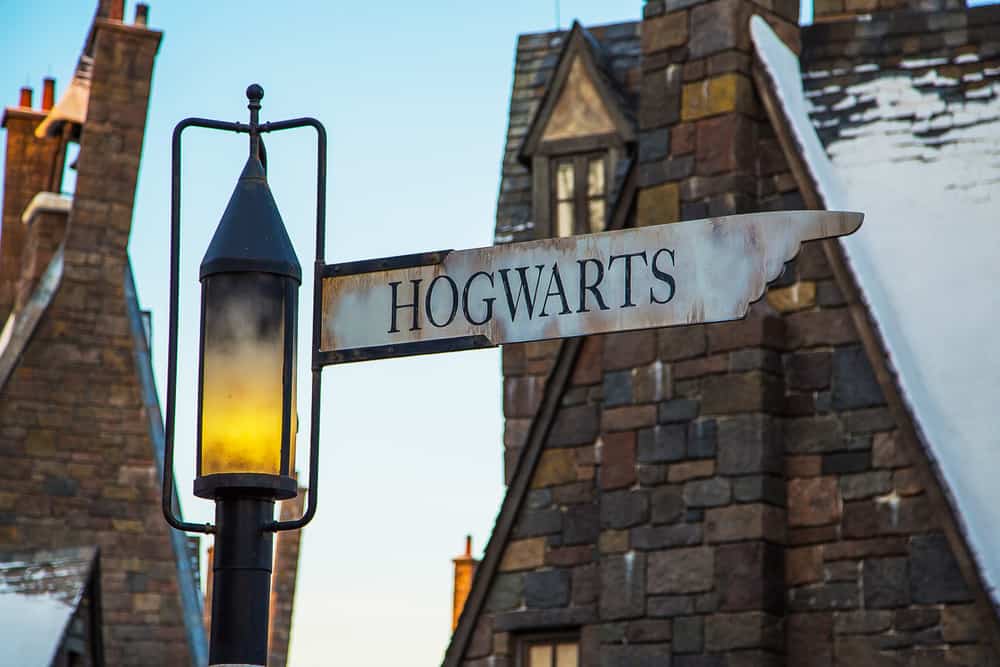 Amelia Island For Classy And Sophisticated
If you fancy a bachelorette party on an island then the idyllic Amelia Island might just be for you. It's a little on the quieter side but of you don't want to go all part party this might be for you. It's classy, sophisticated and the beaches are amazing.
If you want a real experience one of the resorts here might be perfect for you as most of them have everything you could possibly need. If you don't want to travel around you could spend the entire time just in the one of the resorts and not run out of things to do.
Private bar tours , paddleboard adventures and kayak tours are also an option. This island is a natural wonder and exploring it like this would be a treat for everyone.
Cocktails tours and a night around downtown are a great experience and you will find some really good restaurants.
if you like things a bit quieter and very classy then you will love Amelia Island.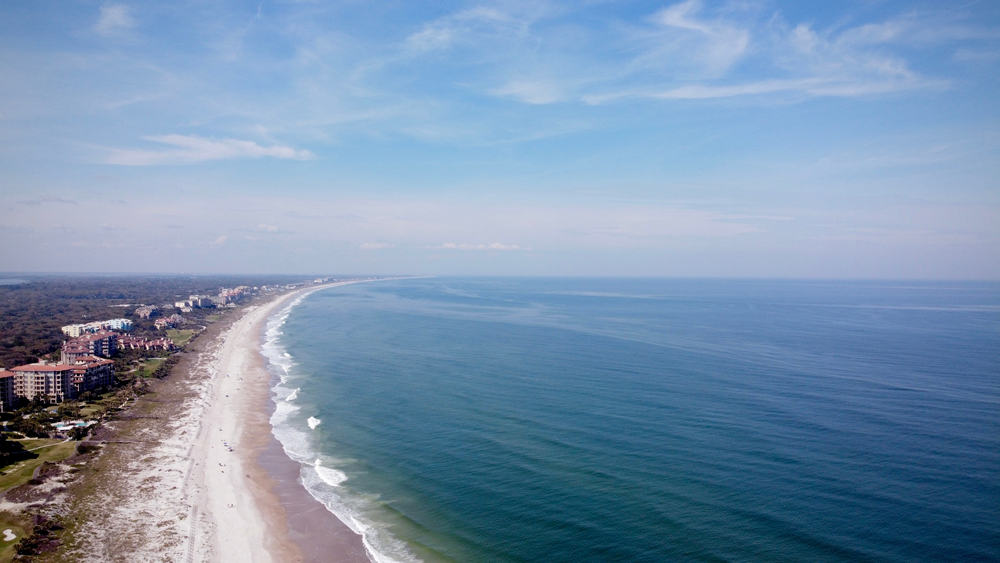 Sanibel And Captiva For Sunsets, Beaches And Dolphins
If the perfect bachelorette party for you involves sun and sand then this might be just the place for you. The beaches here are incredible with their famous white sand and turquoise water you might think you are in the Caribbean.
While the downtown offers you all the things you would expect how about going a little more chill. Watch the sunset or sunrise from the beach they really are stunning from the beaches in this area. Take a sunset cruise and watch for dolphins you are almost guaranteed to see them.
Go Kayaking, it's not uncommon to see manatees, sea turtles or dolphins in the water beside you and in Buck Key Preserve you can go kayaking in the mangroves for something a little different.
A great way to explore the islands is on bikes so rent some and go out exploring for the day to see what you can find. The beaches around here are stunning each with a different feel and vibe so choose which one suits how you want to spend your time.
And for that added extra spend some time at one of the many day spas in the area to feel perfectly relaxed.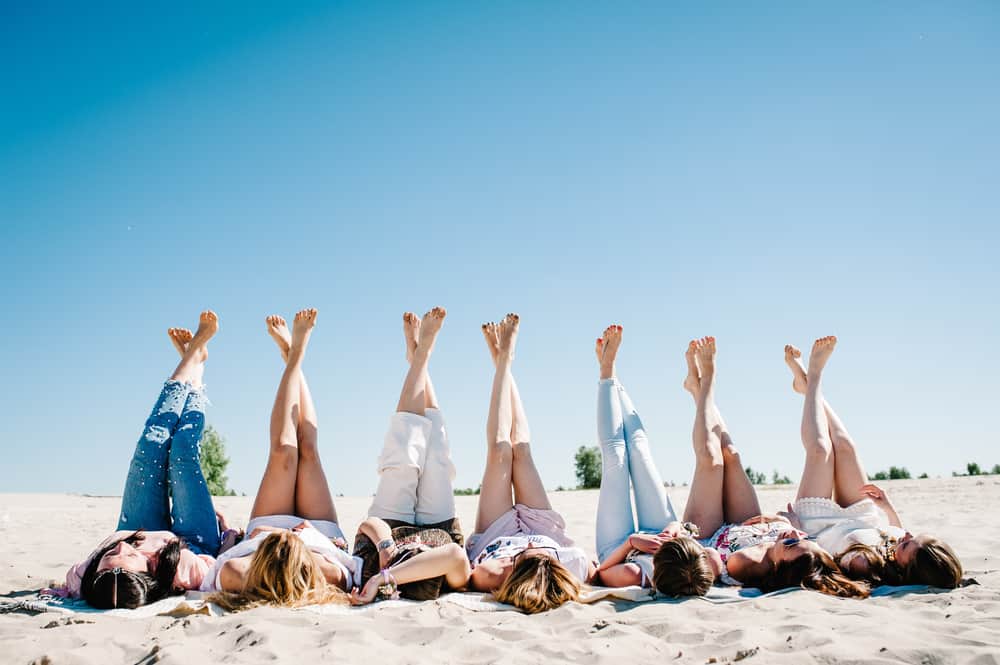 Sarasota And Siesta Key For A Taste Of Paradise
At the case of us sounding like a broken record let me also say that Sarasota and Siesta Key is also a little taste of paradise. They seem to naturally mix beaches, sun, great food and entertainment in perfect equations.
Siesta Key is a popular after dark hangout where you will find bars, clubs and restaurants. More notable Siesta Key Oyster Bar has around-the-clock live music and Gilligan's Island Bar with its fishbowl cocktails and Beach Club where you can dance under a giant shark.
The beaches here are gorgeous each with a different feel and vibe so choose the one that suits you best and send the day relaxing. If sunbathing isn't for everyone take a walk around the local shop sand boutiques or book into one of the local spas.
There are many boat trips that you could take part in including sunsets tours. You can custom create your own tour experiences from watersports to sophisticated wine and cheese parties. We particularly like the sound of Dolphin and Donuts tours.
You will find so much to do in Sarasota and Siesta Key, it really is a great destination.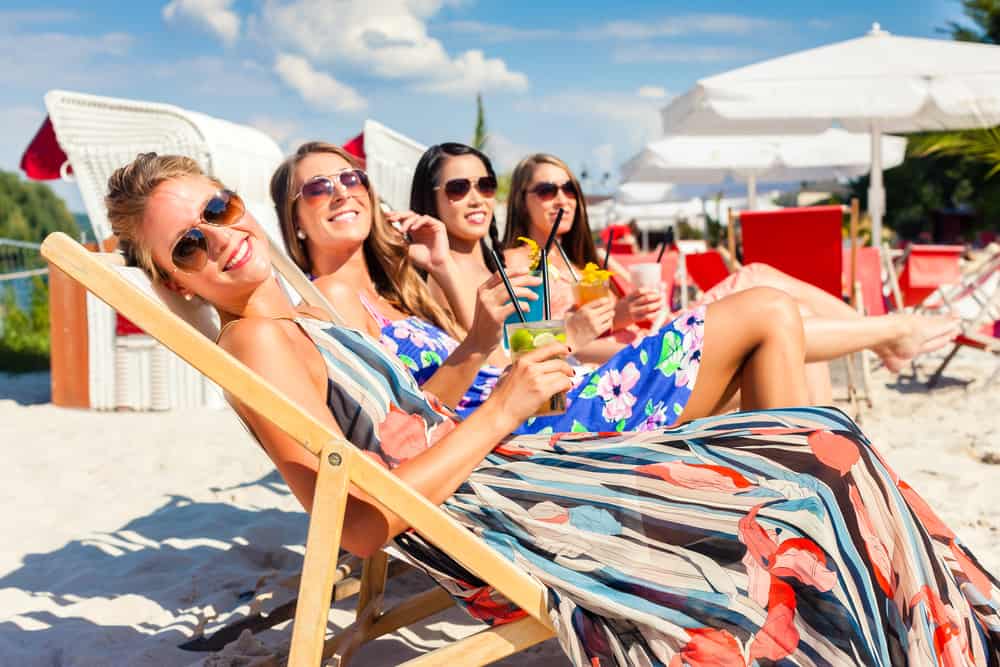 Destin For Partying On A Sand Bar And Beach Bonfires
On Florida stunning Emerald Coast Destin is truly beautiful and has everything you need to throw a great bachelorette party. Make sure to check out our list of the best beaches in Destin for your trip!
You will find endless shops, booze cruises, restaurants with incredible views, nightclubs to party the evening away and beaches to sleep it off on. Don't forget to check out some of the best beachfront hotels in Destin for planning your trip!
We recommend the Donut Hole, bottomless lunch at at Harry T's and dancing at Bric a Brac. 790 On The Gulf offers bottomless champagne every day of the week from 11am-3pm
Destin will suit a bride who likes to relax and party and if she likes seafood then this really is the place for her.
A visit to Crab island is a great way to spend a day. It's not actual an island but a sandbar. You can anchor up and join the party on the sandbar but Bring your own because you cant get anything there.
It's best to get there by chartering a boat or you could arrive on a floating tiki bar or a 16 seat pedal pub. This place really is an experience.
And if you up for something a little different how about axe throwing, pole dancing lessons or renting a jeep.
Abd for the perfect tropical island experience join a free beach bonfire Royal Palm Grille in Miramar Beach every Monday and Friday. Or request to set up your own but you will need a permit in advance.
This really is a great bachelorette destinations in Florida. There really is so much to do in Destin.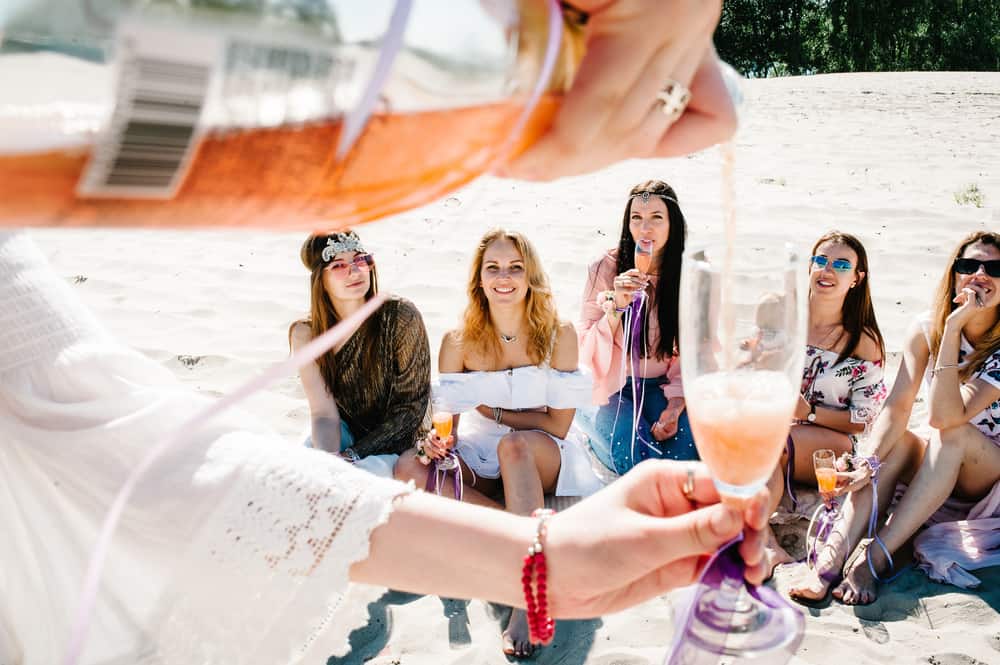 Key West For The Vibe
Key West makes a perfect bachelorette party destination. The town itself is so small and everything is gathered around Duval Street so it's really easy to get around on foot.
It's also incredible beautiful with some of the best beaches you will find anywhere and the weather is nearly always perfect.
If you are going to spend your bachelorette party at Key West you absolute must go dancing watching the sunset at Mallory Square, it really is a once in a lifetime experience, such a vibe.
Other things you might consider doing apart form a pub crawl in Duval Street, is going on a sunset party cruise, a jet ski tour a cocktails crawl, and our personal favorite a pub crawl with a drag queen.
Lets just say you won't be trying to find things to do in Key West. And they aren't all of the party kind.
The Key West Butterfly and Nature Conservatory is truly beautiful amid tropical gardens, it's a real gem. Also think about a dolphin tour, or going snorkeling or scuba diving as the marine life is incredible in this area.
Key West is also an incredibly friendly LGTBQ destination.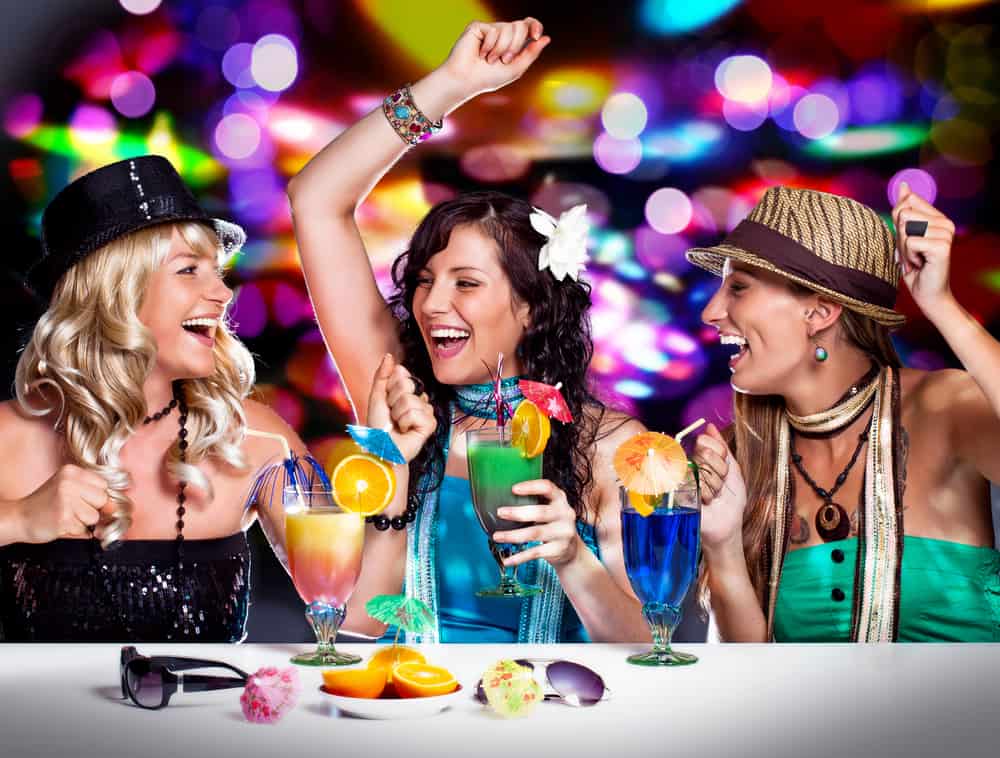 Dry Tortugas For Something Different
If you up for something a little different and a bit adventurous then try Dry Tortugas. A former military fort on an island 70 miles off Key West. You could combine this with some time at Key West of just enjoy this incredible place.
It is one of the most pristine and least spoiled locations accessible in the United States. Dry Tortugas offers world-class snorkeling and diving opportunities. The beaches are superb, and the the water clearer than anywhere else we have ever seen.
There are three ways to get there, seaplane, ferry or private boat. You can camp there the night too. Nothing beats camping under the stars, but be warned its privative. Other than bathrooms there is nothing else here, and there is no water source on the island so you have to bring everything with you. There is no going to the shops to get supplies here.
The best way to get here would be to charter your own boat. Bring kayaks and camping gear along and you can really enjoy this area to its full benefit.
This is the bachelorette party for the real outdoorsy kind who wouldn't mind going primitive for a while. But please be considerate in this area it isn't a party place so fellow residents will not be happy with a rowdy group.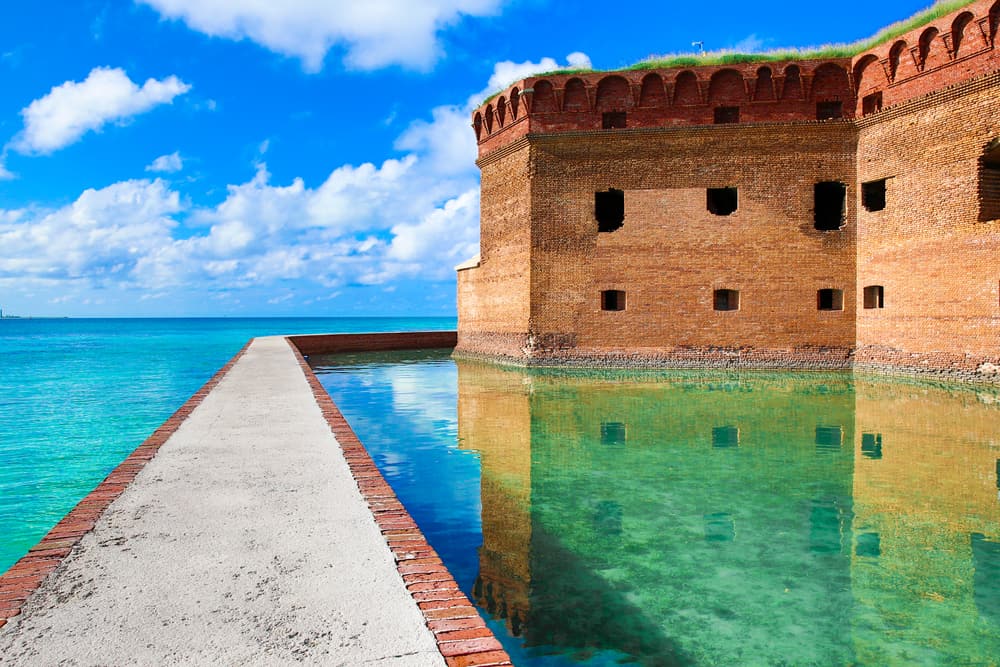 South Beach And Wynwood For Instagram Worthy Photographs
If you have never been to South Beach then you are in for a treat. This area is just incredible. Its trendy, on trend, and full of the most amazing art deco buildings you can imagine. It's very aesthetically pleasing and we are here for it.
Couple that with a trip to the oh, so trendy mural clad Wynwood and you truly have the Instagram perfect bachelorette party if that's you thing.
Just laze around on the beach, enjoy the many bars and restaurants on South Beach and honestly that is enough. But there is more you can do.
How about parasailing in Biscayne Bay, going to a pool party at Shaker Sunday BBQ, hiring a limo, going to an open-bar party or learning to dance while sipping cocktails. Yes here you really can choose to party however you wish.
There is a little bit of everything here and you won't be disappointed. The beach is powder white and crystal clear, with a pastel mix of loveliness and the watersports plentiful.
Miami has some of the worlds best nightclubs that are very hip and happening and if you can pay VIP or bottle service please do as they can be hard places to get into if you just turn up.
For something a little different visit the The Enchanted Dollhouse where you can enjoy afternoon in a life sized dollhouse, We kid you not. The Glitz and Glam theme is adorable and again think of the Instagram pictures.
Take in tours of Miami South Beach and the Wynwood area while you are here if you can because honestly these places have so much to offer and a guide really help. You can go on A Wynwood Instagram tour and a Private Tour to Miami Beach, Wynwood and Little Havana in a Classic Convertible for example.
And if you really want to live the high life how about Miami Skyline a 90 minute Cruise of South Beach Millionaire Homes & Venetian Islands.
I mean honestly the options are endless here and the pictures will be fantastic.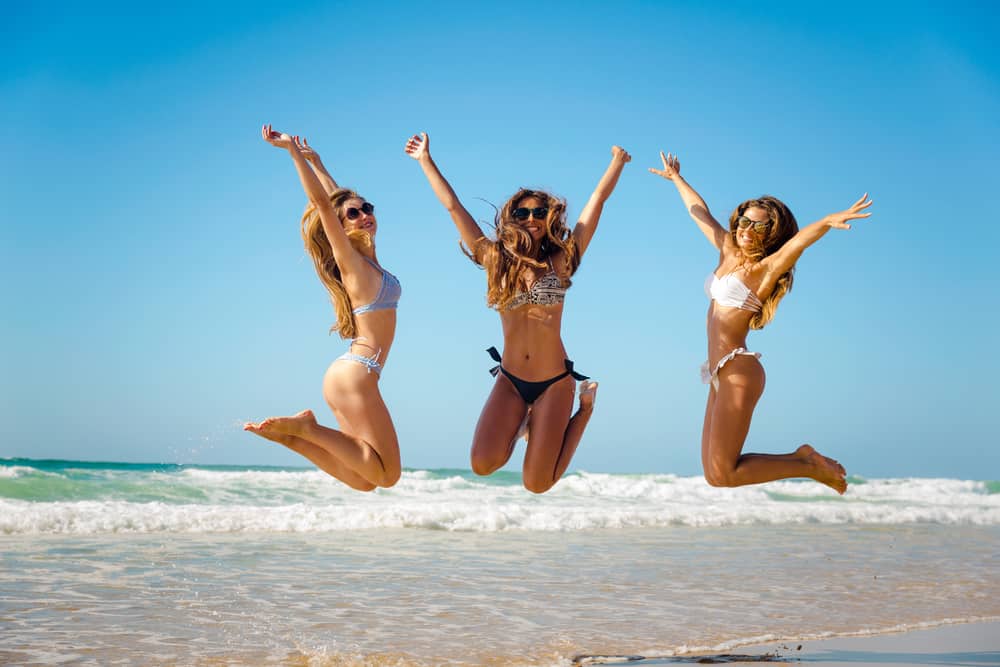 Miami To Key West For The Perfect Road Trip
While a road trip might not be on everyone's list for a bachelorette party if it's one yours then this might be perfect. Think convertible, wind in your hair, sea as far as you can see and you can get what this one is all about.
You will go through some of the most stunning scenery and get to experience so many different things. This will be a trip that will suit everyone. It takes about four hours to drive and you could do it all in one day would we recommend you stop and see a few sights along the way.
It's one of the most scenic drives in Florida, all greens, blues, beaches and palm trees it's a tropical paradise type drive. You will make memories on this trip that you can all keep forever.
You could start by spending a few days in Miami experiencing some of the best nightclubs in the world and visiting some iconic locations like south beach and Wynwood for example.
Then set off and stop at the Everglades this will make the most adventurous types in your party happy. There are so many tours to do here from to . The Everglades really is an experience.
You could also take a stop at Coral Castle along the way if you are all about the whimsical and romantic. Other places you might want to stop along the way are Islamorada where you can take a trip around Islamorada Beer Company. Also worth a stop is Bahia Honda Key where you can see iconic abandoned bridge, which crosses the Bahia Honda Channel.
When you arrive at Key West you will finds loads to do we recommend you definitely take in a sunset at Mallory Square and the bars of Duval Street.
The is a Florida bachelorette party for everyone, with something that even the most difficult person will find something about to enjoy.
Obviously you will need a designator driver/drivers for this trip or why not hire someone to drive you so you can all enjoy the adventure.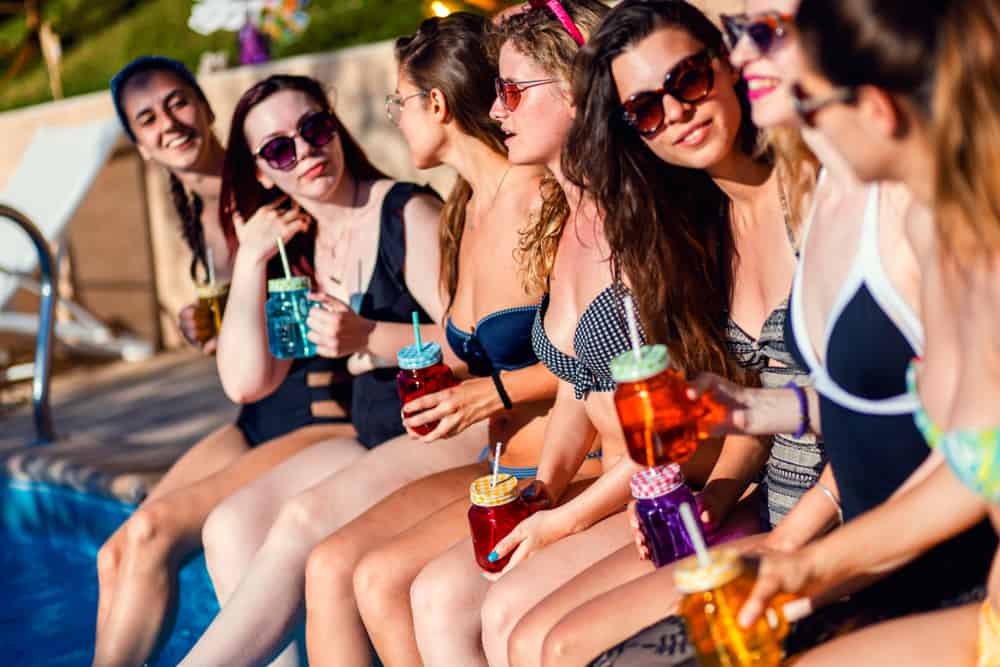 Ginnie Springs for Tubing and Camping
What you might not know about Florida is that it is full of natural springs. Due to the geology here there are springs everywhere. If your party aren't that use to the heat they can be a great place to have fun, cool off and are very money friendly.
Ginnie Springs is the one we recommend. It is picture perfect and has some of the clearest water. You can camp here too, meaning you can make a real experience of it without having to leave or even take your swimsuit off.
It is a private run spring so you can drink on site so bring everything you need. Tube and swim all day and party all night with no worries about taxis or paying extra to get into places.
You will pay for day use of the springs which is $14-$20 per person and you will pay extra for camping. Some things like scuba diving also cost so take a look at their website to be sure on costs before you go.
If you stay on the site the springs are open 24/7 if you just have a day pass it closes between 6 and 8 pm
You can tube, paddle board, kayak to your hearts content. The tube run here is about an hour in length which is long compared to most which tend to be 15 – 30 minutes. You can bring your own equipment or rent it while you are here just account for the cost when working our prices.
Just be warned it can get busy here and can attract a college crowd.
While this may be a little different we think a trip to Ginnie Springs would make a great bachelorette party for those that love the water and are more about partying than looking good and going to the best places.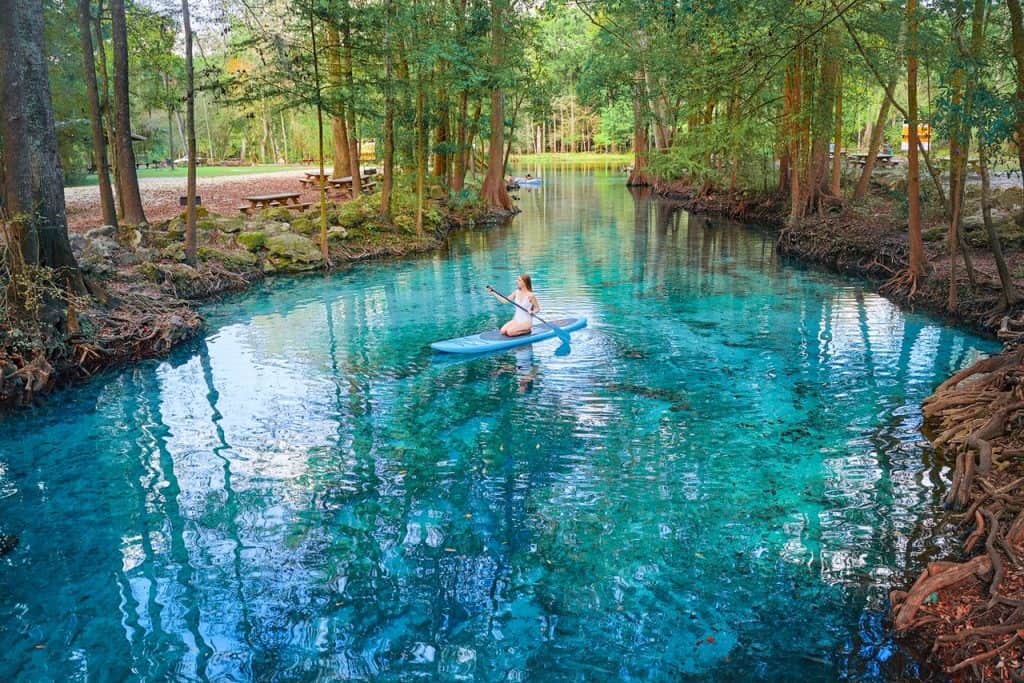 We hope these have given you some idea of what to do for your bachelorette party in Florida. As you can see there is a lot to do and some of them are quite unique all topped off with the beautiful backdrop of our Florida coastline.
We would love to know if you do any of these or perhaps combine some so please tell us how it goes. Wherever you go we do hope you have an amazing time and please give our best wishes to your bride.
​