You've hit your breaking point: it's finally time to unplug, get away from it all, and go camping in Florida! The Sunshine State has a variety of camping options, from sleeping under the stars to staying in ancient chickees in the Everglades.
When you go camping in Florida. you leave your busy schedule at home. There's no deadlines, no rush, and nothing interrupting you or competing for your attention. What you do get is stress reduction and relaxation you can't find anywhere else.
See the stars, devoid of the bright lights of the city. Get in touch with nature and see incredible Florida wildlife. You and your family will connect with nature as you explore the incredible benefits of camping.
Science has proven that time outdoors camping in Florida can improve blood pressure, digestion, and give your immune system an extra boost. The clean air, free of pollutants afford campers some serious health benefits!
You have no excuse not to go camping in Florida, especially if you've never been before. Luckily, we're here to help!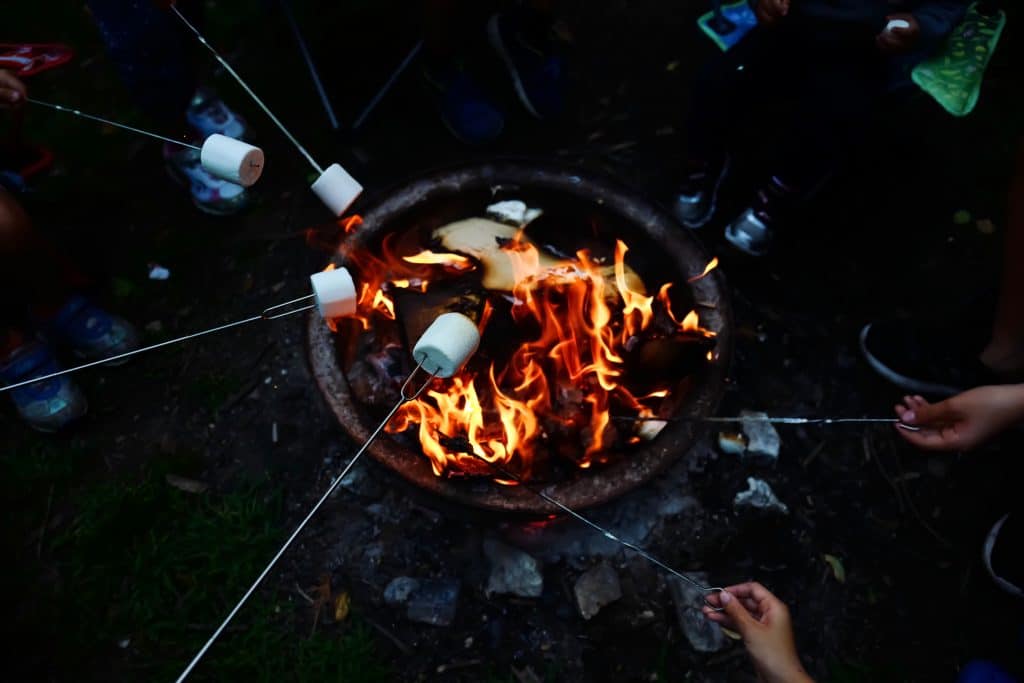 Can You Camp Anywhere In Florida?
The Sunshine State actually provides many opportunities for camping in Florida: state parks, national parks, city parks, beaches, recreational areas, and even private campgrounds. It is important, however, to do your homework before just walking around and setting up a tent!
In most cases, you need a permit. Research how long in advance you will need to obtain that permit for each campsite, as they may be different. Some campsites require you to obtain a permit up to a week in advance, others just a day before you go.
When selecting your campsite, make sure your preferred mode of shelter is allowed! About half of the campgrounds in Florida prohibit tents. Other conversely do not have RV accessibility. Some campgrounds are even accessible by boat!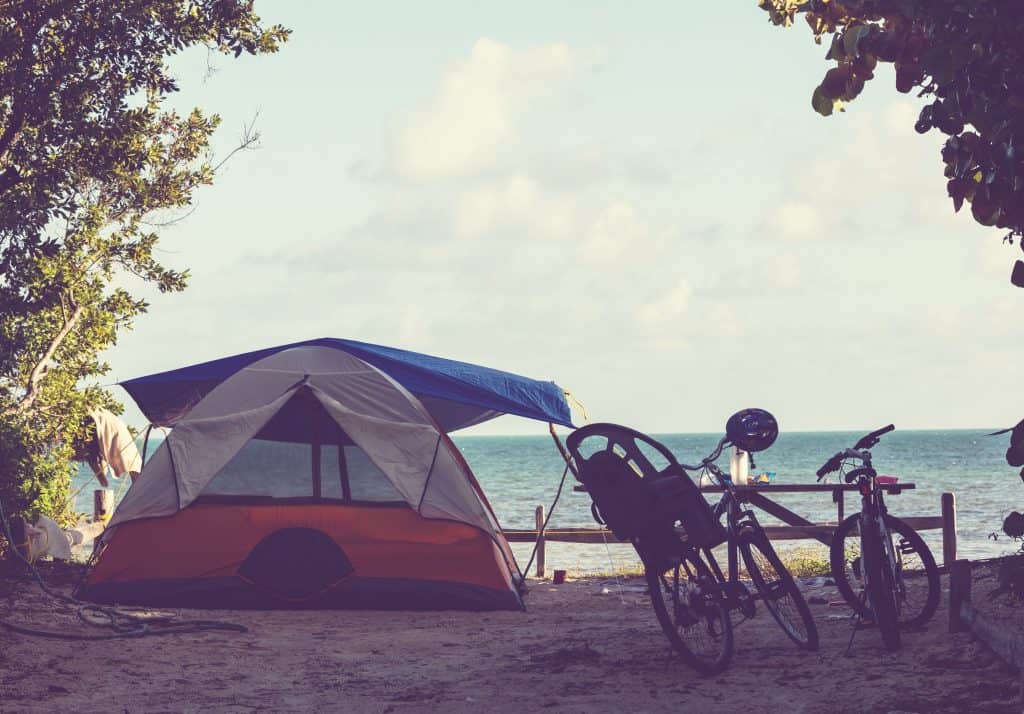 Where Can You Camp For Free In Florida?
Fortunately for budget-conscious campers, Florida does offer many free campgrounds for your pleasure. They don't skimp on the beauty or rest and relaxation either. If you're looking for the best free camping in Florida, consider the following:
Cypress Creek Preserve: In Land O Lakes, simply sign up online to make a free reservation and receive a gate code for entrance. Inside you'll find fishing, hiking trails, a picnic area, and a fire ring. Better yet, it's secluded and has decent cell phone coverage.
Hampton Tract Green Swamp Wilderness Preserve: In Lakeland, enjoy level campgrounds complete with fire rings and picnic tables. Perfect for equestrian campers, RVs, and tenters alike, you'll love the nature-filled quiet. It's also pet-friendly!
Davenport Landing: In Salt Springs within the Ocala National Forest, you'll find only four level sites, so make reservations early. While there are no bathrooms or cell service, you'll love seeing the ancient burial ground nearby as well as the swimming hole with a rope swing!
Pine Creek Landing: In the Apalachicola National Foprest, you'll enjoy primitive camping along the Florida Panhandle. This site is perfect for hunters during hunting season. First-come, first-served, plan to arrive early. Because it is so primitive, pack thoroughly!
Potts Preserve: Near the Withlacoochie River, you'll fall in love with 22 miles of hiking trails, four of which are riverside! Picnic tables and fire rings are provided. Make sure to keep an eye out for the rare, endangered Florida scrub-jays hiding in the trees.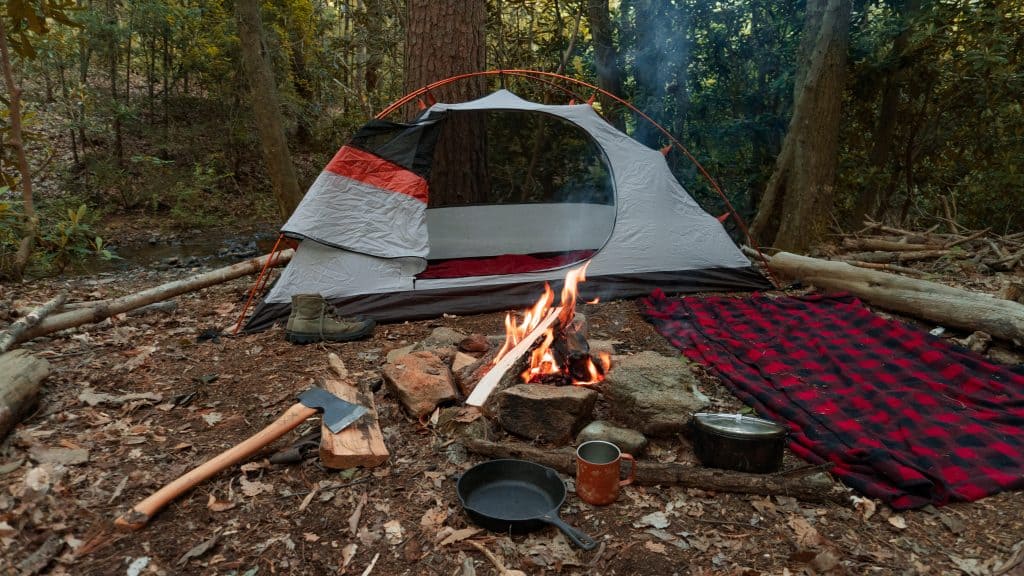 How Much Do Campgrounds In Florida Cost?
Depending on the park or campgrounds, the price for campsites may vary. Expect anything from $16 to $42 a night for tent camping. If you're looking for a cabin in a State Park, you can expect $30 to $160 a night, depending on the park.
While prices vary, all visitors will pay a non-refundable $6.70 reservation fee when making a reservation for camping in Florida parks. The fee will be collected at the time of the reservation.
It is also important to notes that Monroe County implements a County surcharge of $2.50 per night when staying on a campsite or in a cabin in a State Park.
If you're in an RV, things get a little pricier. However, RV parks, in general, cost less than hotels in the state of Florida! On average, most State Parks and RV sites offer rates of $50 per night. For a week, the average rate becomes $220, and for a month for serious campers, only $515.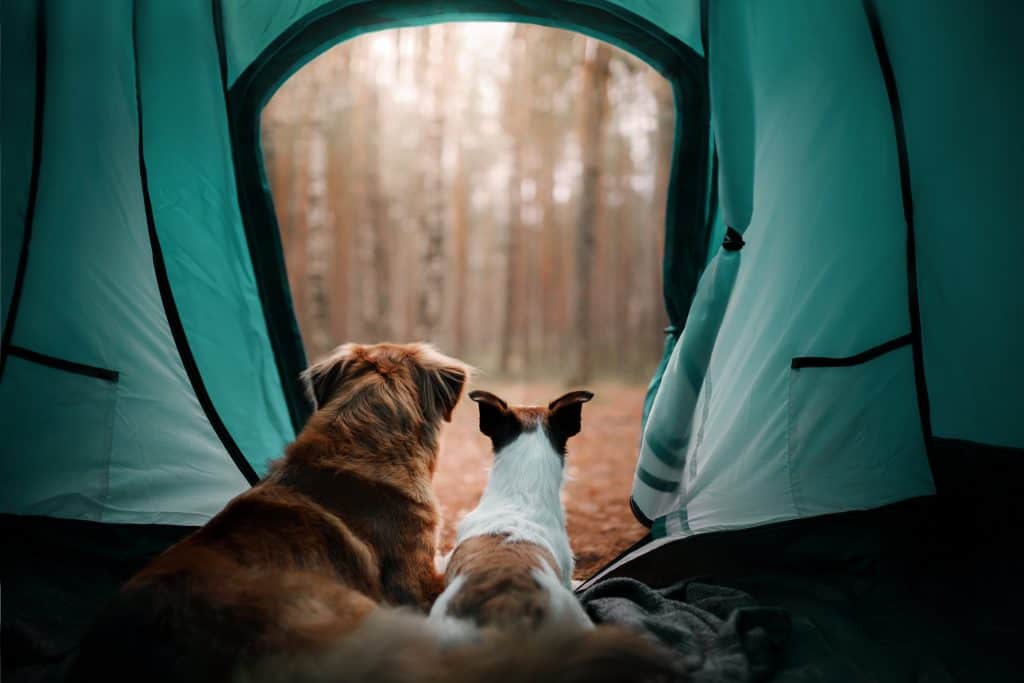 Is It Legal To Sleep On The Beach In Florida?
Unfortunately, no, it is not legal to sleep on the beach in Florida! Many residents live directly on the beach. So of course they don't want you camping in their backyard! Even in the daytime, setting up an enclosed tent is prohibited on many beaches.
Under Florida law, nighttime beach sleeping is considered trespassing. This means you'll be slapped with a third-degree misdemeanor. You might even rack up a $500 fine and spend up to 60 days in jail.
There are exceptions of course! With a permit, you can camp overnight on many Florida beaches that are designated camping sites! Keep in mind, some of these areas are heavily restricted. The campsites are actually found just behind the dunes of the beach.
If you want to sleep directly on the sand, there are a few places where beach camping in Florida is completely unrestricted. Anclote Key and Shell Key are both in Pinellas County and don't require any reservations. Another favorite is Keewaydin Island between Naples and Marco Island. Keep in mind you will need a boat to get there!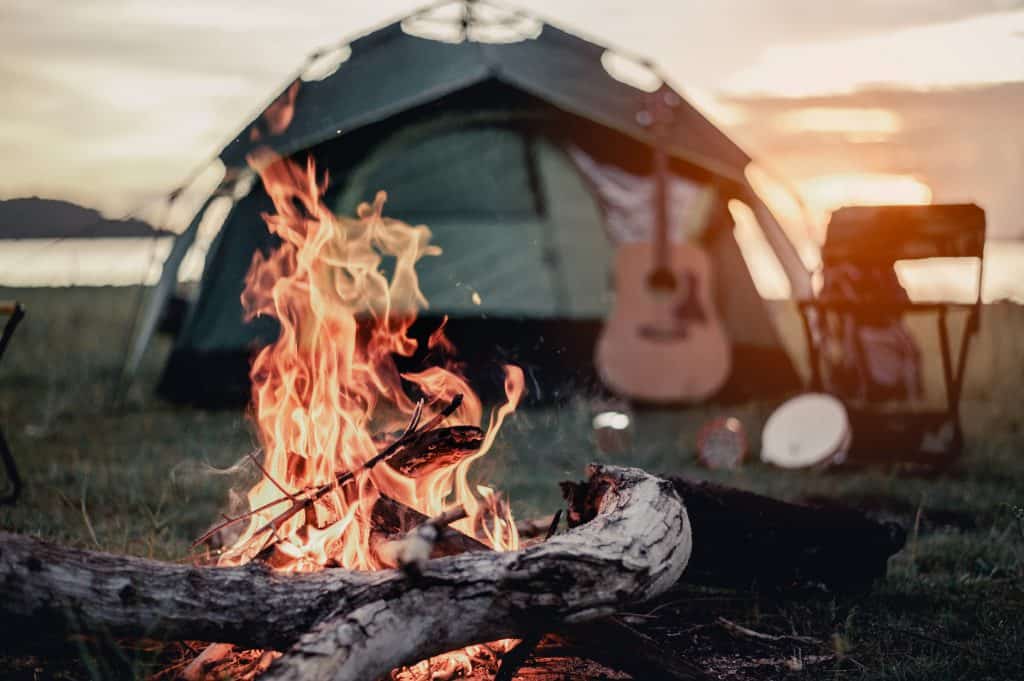 Best Places For Camping In Florida
Anastasia State Park
In historic St. Augustine, the United States' oldest city, you'll find 1,600 acres of beautiful ecosystems at Anastasia State Park. On a peninsula on Anastasia Island, beaches, tidal marshes, and nature trails make up the grounds, perfect for camping in St. Augustine.
The campgrounds here are laced with deep history. Campers will hike their way back in time along the Ancient Dunes Nature Trail Loop. Have no fear, 80 of the 123 campsites have modern RV-friendly hookups!
The campsites themselves afford campers a lot of privacy. your tent or RV will be shrouded by the deep thicket of the woods. You're only a short bike ride away from the park beaches, which never have heavy crowds.
Make sure to check out the Coquina Quarry. The combination of rocks, shells, and sand found here would literally become the foundation of the city of St. Augustine. The coquina can also be seen at the Castillo de San Marcos, one of the prettiest castles in Florida.
It is important to check the weather before you pack. Heavy rain may cause the trails and campgrounds to become muddy. So water resistant shoes are a must.
Upon making your online reservations, you will be required to pay a $6.70 fee. You may book campsites up to 11 months in advance. Cancellation fees cost $17.75. Nightly rates for tents and RVs is $28.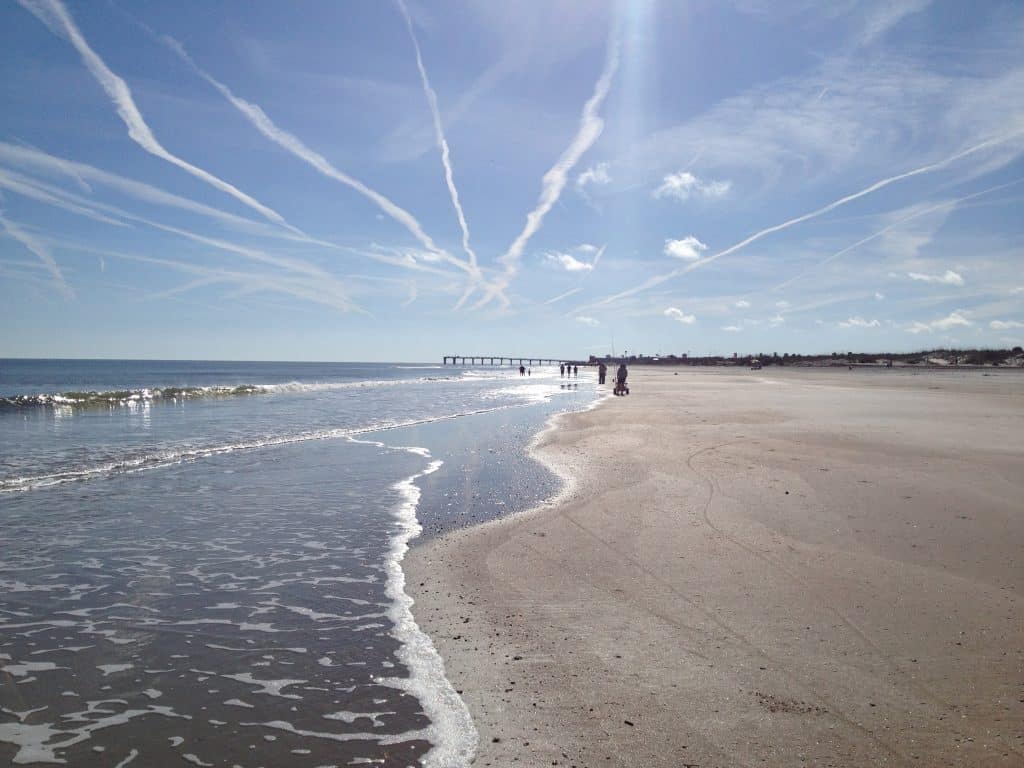 Florida Caverns State Park
Just northwest of Tallahassee, enjoy subterranean wonders while camping in Florida! At Florida Caverns State Park, you can visit the only state park that offers cave tours to the public!
At Florida Caverns State Park, you'll find 30 single-family campsites. 38 of those have RV hookups, 3 are tent only sites, and 3 double as equestrian campsites!
All the campsites are quite large with many trees offering plenty of shade during the day. You'll find amenities like picnic tables, fire rings, charcoal grills, as well as running water, showers, flush toilets, and a dumpsite.
Take a tour inside the caverns to see limestone stalactites, stalagmites, soda straws, flowstones, and draperies. If you get claustrophobic, you can enjoy fishing, canoeing, and boating in the nearby Chipola River.
Florida Caverns State Park also has one of the best golf courses in Florida! If you need to work on your short game, hit up the nine-hole golf course right at the crack of dawn.
Reservations are required to camp at Florida Caverns, including a non-refundable $6.70 reservation fee. Camping costs $20 per night which includes water and electricity. There is also a charge for organized groups of 25 at $4 per person.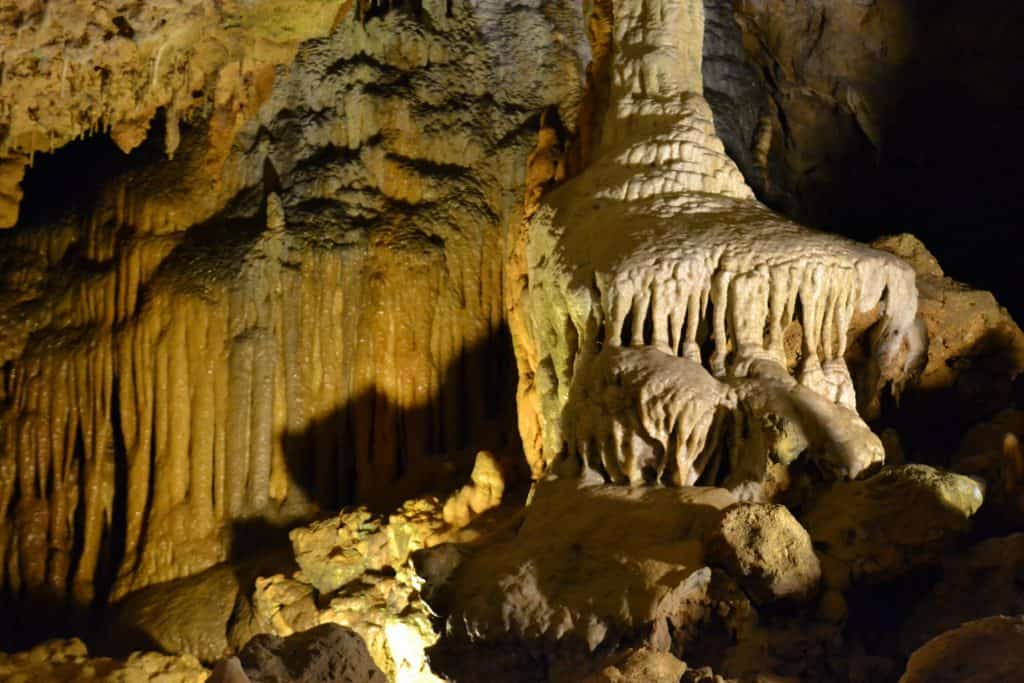 Fort De Soto
One of the best things to do in St. Pete, Fort De Soto is one of the best coastal Florida playgrounds! With 7 miles of waterfront, 15 picnic shelters, 7 miles of paved trails, two large swimming centers, a dog beach, and historic forts, there is truly something for everyone.
Fort De Soto has 238 campsites, each complete with a grill. Bring your own charcoal and you're ready for outside dining. With fire rings, you can easily set up a campfire and make some smores!
Fort De Soto's campgrounds are some of the most popular in the state, and it can be difficult to get reservations. Plan well in advance, at least one to two months out. If you're lucky, you might even be able to snag a coveted waterfront site.
The grounds are set up into 3 different areas. Area 1 includes sites 1-85 are mostly waterfront with access for tents, vans, pop-ups, or trailers under 16 feet. Area 2 includes sites 86-164 and allows all units and pets! The most desirable is Area 3 with sites 165-236, also allowing all camping units.
All campsites have 30 amp electrical hookups and water hookups. There is no sewer, but you'll find restroom amenities and plentiful dump stations.
The prices for camping at Fort De Soto are between $37-45 depending on the type you are looking for. If you cancel your reservation in under 48 hours of your stay, you will be charged a $5 fee.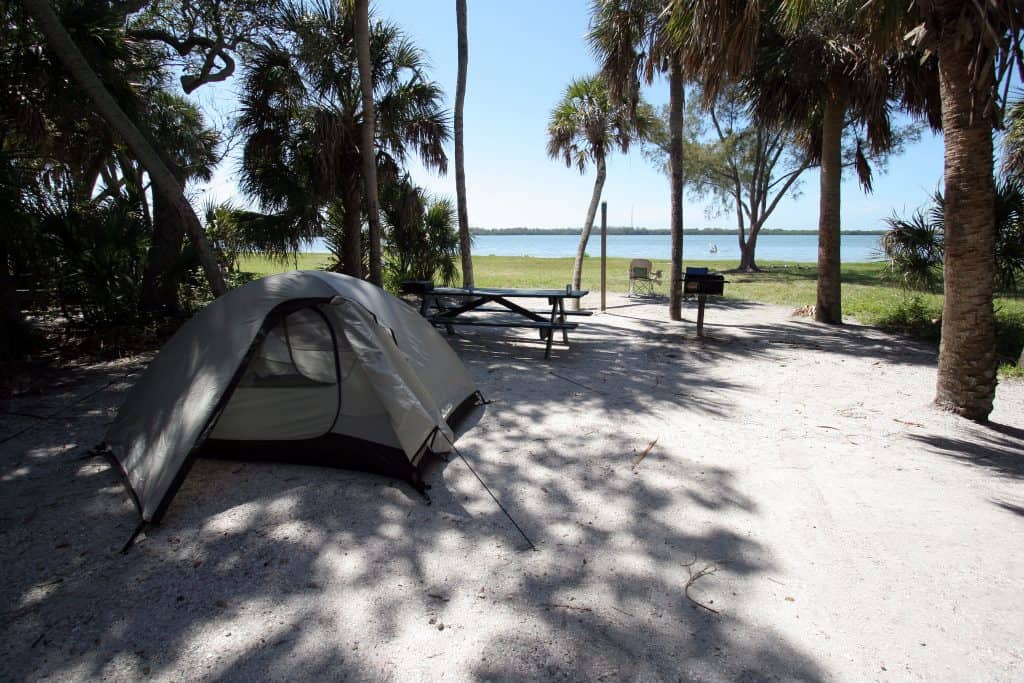 Rainbow Springs State Park
At Rainbow Springs State Park, you'll find Florida's fourth-largest freshwater spring. One of the most beautiful natural springs in Florida, Rainbow Springs forms the headwaters of the Rainbow River. Here you'll find one of the best campgrounds in Florida!
Aside from the headsprings and tubing entrance, the campgrounds offer 60 sites! All campsites have full hookups with 20/30/50 amps electric. You can also find certain sites that are ADA accessible.
Among the campsite amenities, you'll find a recreation hall, showers, and restrooms, laundry, dump station, and playground. Campers automatically have free access to the headsprings and tubing area!
When you're not roasting marshmallows around the campfire, Rainbow Springs is one of the best places to beat the Florida heat. Swim in the fresh water of the spring or rent a canoe or kayak. You can even rent tubes to float down the Rainbow River.
If you want to tube, make sure to visit during April through September. Rainbow Springs also hosts the Florida Manatee Festival, one of the best festivals in Florida dedicated to the beautiful wild manatees! Also check out Jazz Up Dunnellon, a music festival in October.
Camping at Rainbow Springs State Park costs $30 per day, no matter the time of year. Reservations fill up fast during the tubing months, so book your site well in advance.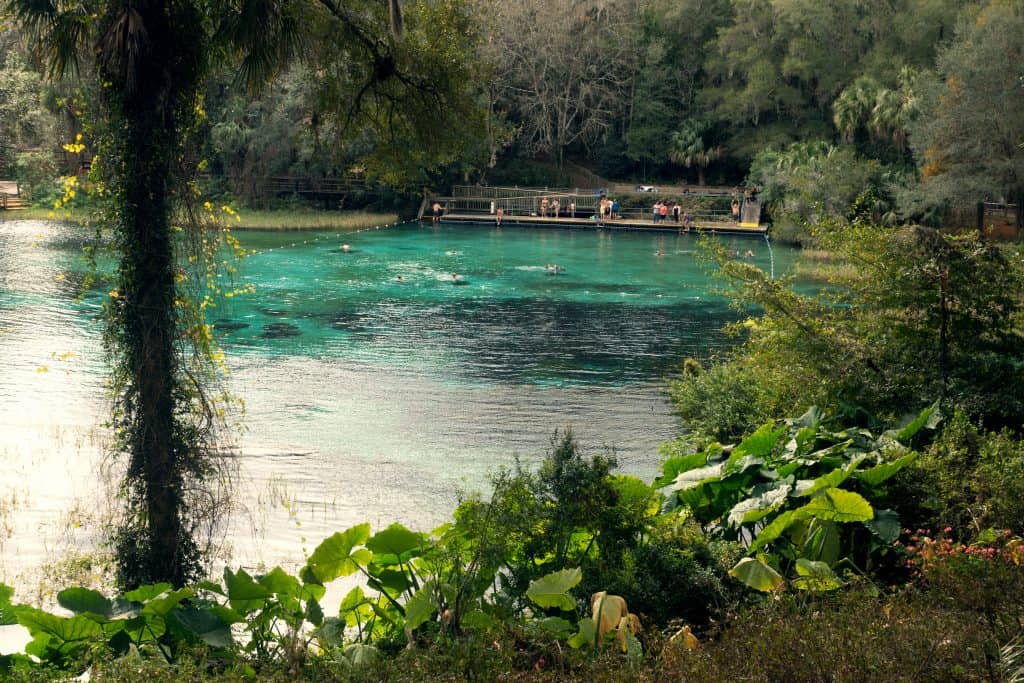 Paynes Prairie Preserve State Park
In Micanopy, just south of Gainesville, it actually feels like fall in Florida! The prairies are filled with wild flowers, wild horses, and bison. A taste of the midwest, Paynes Prairie Preserve State Park has some of the best campgrounds in Florida.
At Paynes Prairie Preserve, you'll find 49 campsites next to scenic Lake Wauberg. With waterfront views and multi-use access, this is one of the best RV parks in Florida. First thing in the morning, kayak and canoe right on the lake as the sun rises.
28 of the campsites have water and electric hookups (1-18 and 34-49). Campsites 19-33 are tent-only sites. However, every campsite has a picnic table, fire ring, and grill. Amenities included drinking water, flush toilets, hot showers, and an RV dump station.
Among the 22,000-acre preserve, you can enjoy boating, canoeing, fishing, biking, and horseback riding! With one of the best hiking trails in Florida, you can spy on some of Florida's native wildlife!
With one of the lowest prices in the state, camping at Paynes Prairie Preserve State Park is only $18 per night. Water and electric are included and built into the price.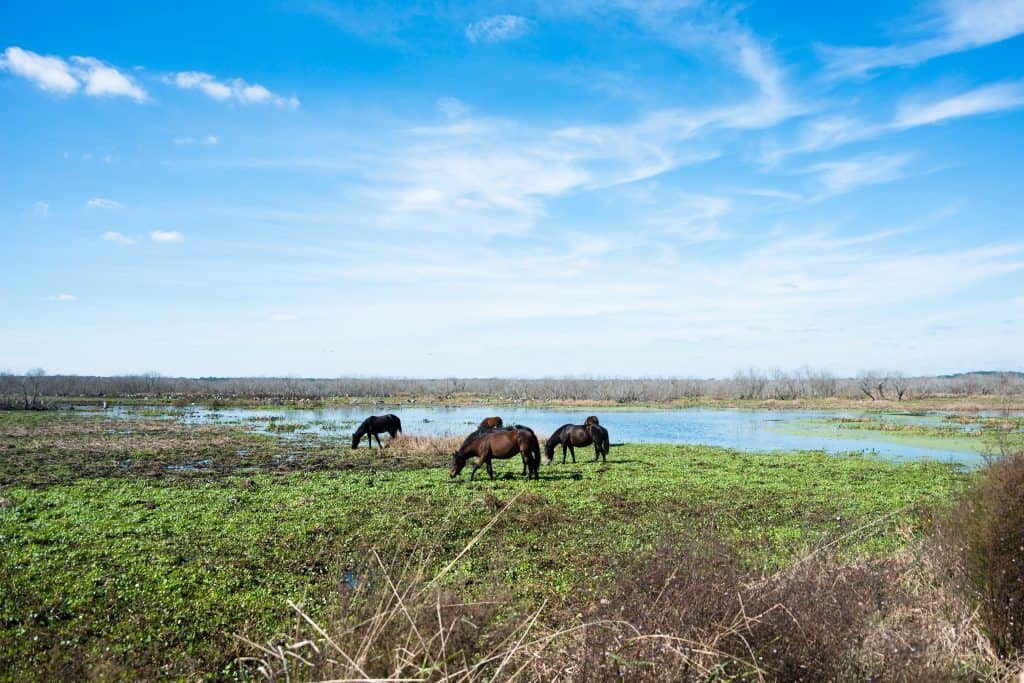 Dry Tortugas
If you're looking for scenic Florida Keys camping, you can't beat the sights and sounds of Dry Tortugas. One of the most beautiful national parks, you won't find better island campgrounds in Florida.
Over seven islands with protected coral reefs, you'll camp within 50 feet of historic Fort Jefferson. The only way to get there is by private boat, charter sea plane, or the Yankee Freedom Ferry.
While there are no camping reservations, the National Park Services does limit the number of campers. Reservations for the ferry fill up very quickly, so you'll need to plan several months in advance.
Camping at Dry Tortugas is incredibly primitive. There is a bathroom, but nothing else, not even drinking water. If you're camping multiple days, you can get lunch or snacks on the ferry when it arrives each afternoon.
The upsides? Mosquitos are virtually nonexistent because there is no fresh water on the island. Near the outhouse, campers will leave leftover supplies in a plastic bin when they leave, as a friendly courtesy.
While camping is only $15 per night, the Yankee Freedom Ferry runs about $200 round-trip. So it may be worth chartering your own boat to get there!
Devil's Den
For a prehistoric adventure, consider camping at Devil's Den. While not a state park, Devil's Den is actually a privately owned underground spring inside a dry cave! For one of the most unique campgrounds in Florida, Devil's Den can't be beat.
With one of the best RV parks in Florida, you'll find 32 camping sites. Most offer 30/50 amp hook=ups, water, and sewer. Back-in rentals start at $35 per night, $190 per week, and $400 per month.
Along the tent campgrounds, gaze at the night sky under the stars. Select sites have electric/water hookups. There are porta potties on site in addition to two bathroom/shower facilities. Tent sites are first come, first serve and cost $12 per night, per person.
If you don't feel like roughing it, you can also rent one of the four of the cutest cabins in Florida! All are identical in size and layout while sleeping four people each.
After you set up, head over to the spring to go snorkeling and scuba diving. Walk down a wooden staircase and descend up to 54 feet deep in the springs. You can also enjoy a heated swimming pool, charcoal grills, and pavilions with lawn games for the whole family to enjoy.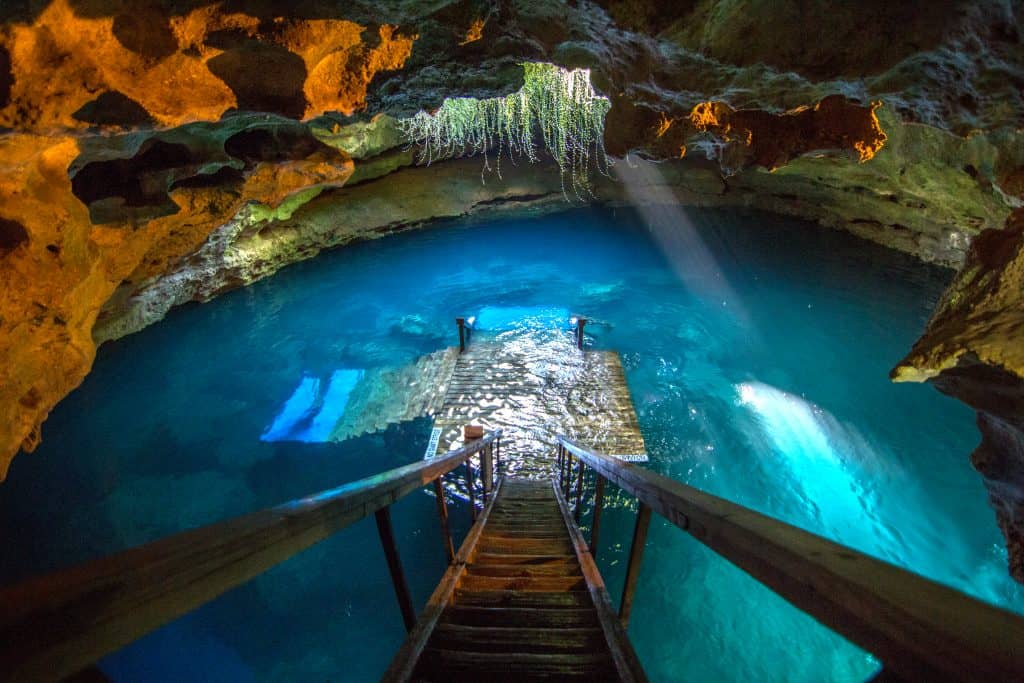 Ten Thousand Islands
One of Florida's hidden gems, the Ten Thousand Islands are a chain of islands and mangrove islets that can be found near Naples between Cape Romano and the mouth of the Lostman's River.
Here, you can choose between Tiger Key or Picnic Key to enjoy the most secluded beach camping in Florida. One of the best weekend getaways, this is not an easy adventure. We recommend doing your homework and preparing thoroughly.
First, to get here, you'll have to launch a kayak from the National Park Ranger Station, at the edge of the Everglades. Make sure to consult a map and only use marked waterways. It is very easy to get lost in the labyrinth of mangroves.
Make sure the tides are high before you embark on your journey. This way, the current helps you paddle to the outer islands. Plan the reverse on your return, the low tide will help pull you inland.
Once you've made your way to the beach, you can set up camp on a crescent-shaped beach. You'll be likely be the only one on the island, and it is undeveloped , so prepare to camp primatively. Directly camping just feet away from the water cannot be more relaxing.
This Florida beach camping site requires a backcountry camping permit, which can be obtained at the Everglades National Park Visitor Center. Make sure to get your permit in advance. The fee is $15 for the permit and $2 per person, per day.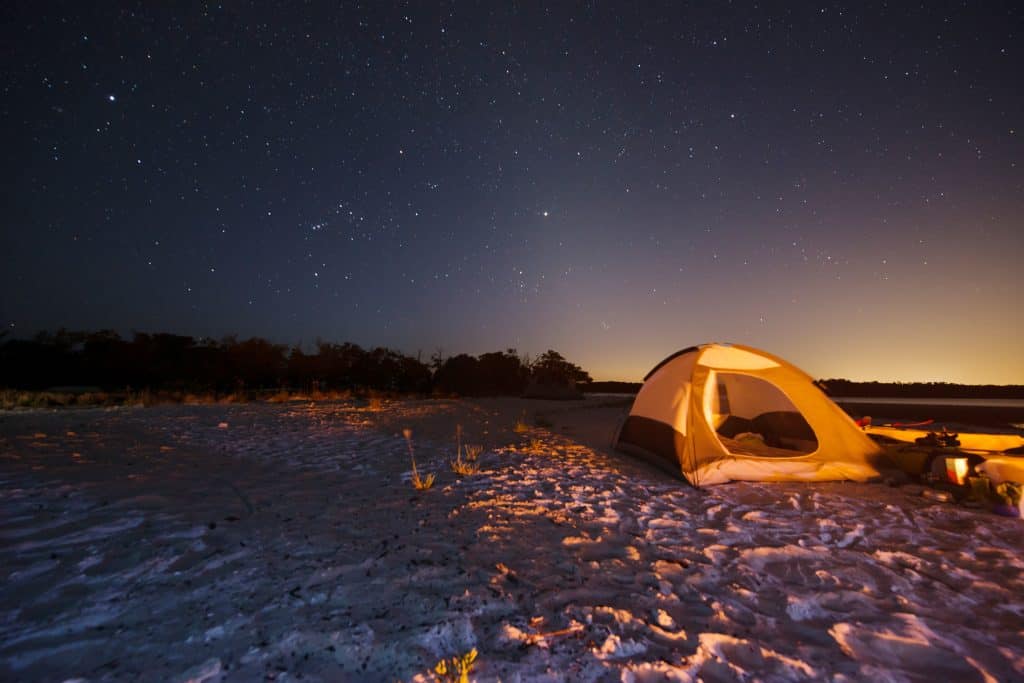 Bill Frederick Park
In the City Beautiful, or Orlando, you'll find Bill Frederick Park at Turkey Lake. One of the best destinations for nature lovers, you'll also find one of the best places for camping in Florida.
With over 183 acres of pristine Florida nature, you can enjoy camping in Orlando on one of 136 camping sites! The grounds accommodate both tent and RV camping. The sites are very spread out and are incredibly large with easy access. You'll feel secluded surrounded by towering trees.
Because the fee is only $19 per night by reservation, this is a popular alternative to booking a hotel in Orlando. Because of its proximity to downtown, you're minutes away from Disney and Orlando's many attractions.
Tenting campsites tend to be on the primitive side, but you do have access to bathrooms that may be a little old, but are kept incredibly clean. You also have access to laundry facilities and a book exchange!
When camping with an RV, there are full hookup sites available. Electric and water hookups are available as well as access to a dump station.
When you're not at your campsite, you can enjoy many miles of hiking trails, boat rentals, a playground for the kids, as well as a heated swimming pool. While the gates close at 5 PM, campers are given a gate code, so you can come and go as you please.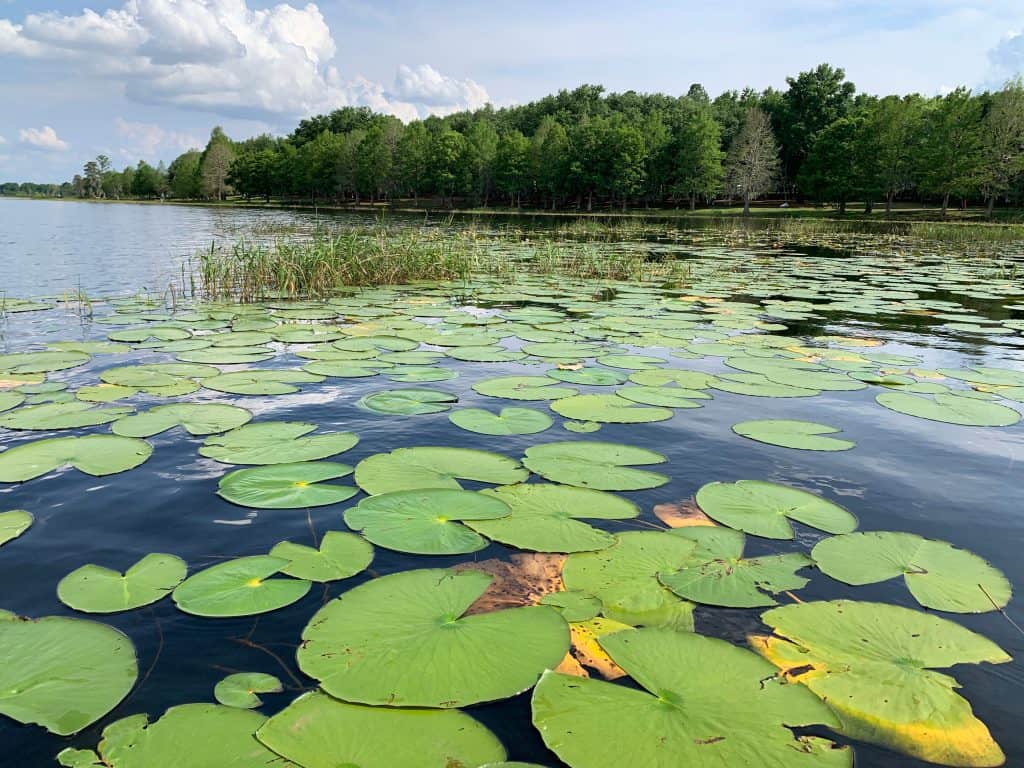 Huguenot Memorial Park
In Jacksonville, you can find one of North Florida's remaining natural areas with gorgeous views. Practically surrounded by water, you can drive directly on the beach, making this one of the best Florida beach RV parks.
That's right! You can drive your Rv or airstream directly onto the beach at Huguenot Memorial Park for stunning sunsets year round. Choose from 55 sites that are directly on the water.
The grounds are very basic with just electric hookups. So you'll have to provide your own water, but there is a dumpsite! All sites also have fire rings and picnic tables.
Scruffy and a touch unloved, some campers say Huguenot reminds them of Thailand, especially with views of the St. Johns River, Fort George inlet, and the Atlantic Ocean. Tent camping is also permitted. When the beach shuts down to regular visitors, you'll have the entire shoreline to yourself.
Among the recreation, you can launch boats or fish from the jetty. Families with children will enjoy the playgrounds. Campers may bring pets, but must keep them leashed when not in the RV or tent.
Rates are very affordable at $27 per night with all amenities included. Because beach camping in Florida is so popular, we recommend making your reservations in advance just to be safe, especially to choose a site near the amenities you most want to enjoy!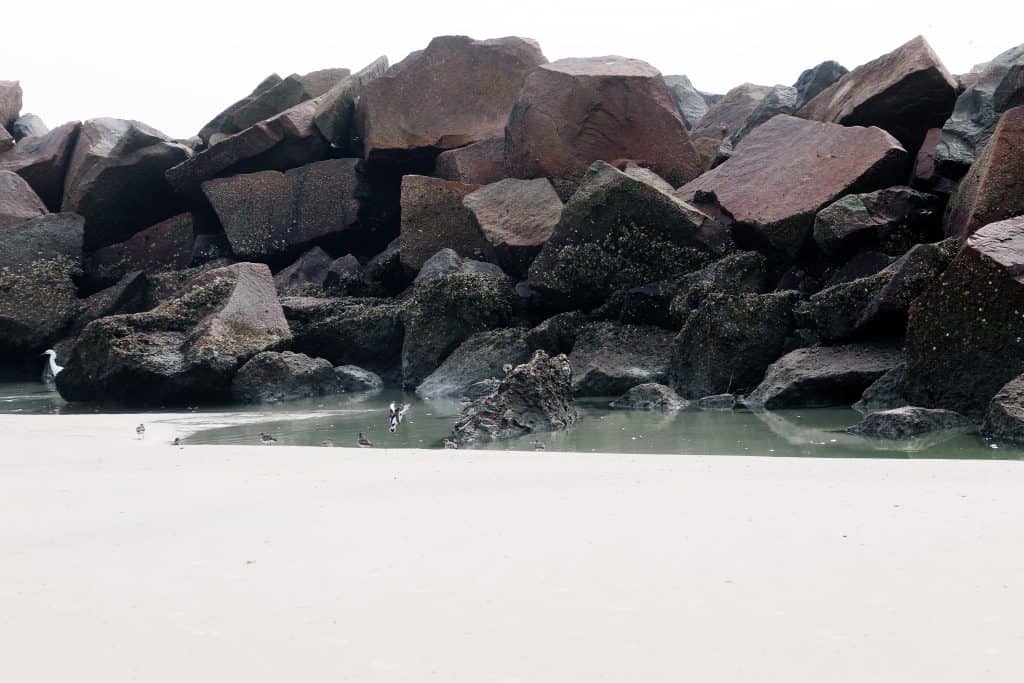 Harney River Chickee
The Everglades is a gigantic national park at the southern tip of the Florida peninsula. A "river of grass" spanning over two million acres, you'll find plenty of campgrounds throughout the wetlands and saw grass marshes.
We'd like to highlight a different kind of experience you should consider when camping in Florida. A prime example of "wilderness camping," a stay at the Harney River Chickee is no walk in the park.
To get there, you'll have to brave the Wilderness Waterway. With many interconnecting creeks, rivers, lakes, and inner bays, only the most experienced paddlers should tread these waters. Make sure to follow all marked waterways, as some are only passable during the wet season.
Your reward for the journey will be worth it. Set up camp on one of two chickee platforms right above the water. Make sure to tie your tents and gear securely to the chickee so nothing blows away! While the wind can help dry out your gear, you don't want to make more work for yourself.
As the tide lowers as the sun sets, the mud flats become exposed and many birds come out to feast. With 360 degree views, you're literally camping on the water. The sunsets along the mangrove shoreline can't be beat.
Get your permit at the Flamingo or Gulf Coast Visitor Centers no more than one day in advance. Permits are free during the winter but $15 in the summer. You will also pay a fee of $2 per person, per day year round.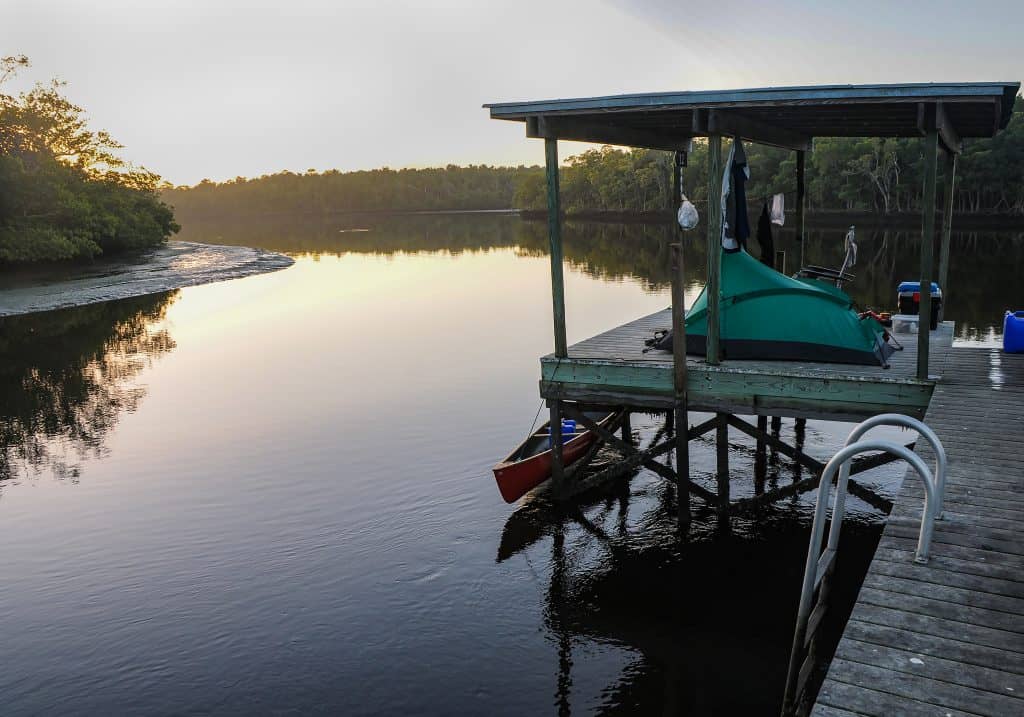 Kelly Park/Rock Springs
A perfect Florida oasis, Kelly Park is the epitome of Florida beauty and home to the fabulous Rock Springs in Apopka. Its proximity makes it a perfect day trip from Orlando, especially if you're sick of theme parks.
Kelly Park is one of the most popular campgrounds in Florida, and one of the best destinations for camping in Orlando. With options for tents and RVs, you'll enjoy a relaxing stay in peaceful woods with deer, raccoons, squirrels, and rabbits.
Choose from 26 campsites, all with grills, water, electricity, and picnic tables! We recommend booking your campsite well in advance. The sites sell out quickly, especially during the busy season.
When you're not relaxing at your campsite, you'll want to take advantage of the amazing water recreation the park has to offer. Rock Springs is 68 degrees Fahrenheit year round, so with 26,000 gallons of crystal clear water pumped out every minute, its the best way to beat the heat.
Bring your own pool noodle or float, or rent one to hit the tube run! Only 3/4 of a mile long, you'll want to ride it many times! The water is shallow enough so that you can touch your toes, but if you're not a strong swimmer, wear a life jacket. Then simply relax at the beach area at the tube run's end.
Camping is incredibly affordable at $18 for Orange County residents and $28 for visitors at a single campsite. Larger family campsites run $46 a night and can hold up to 12 people and 4 tents.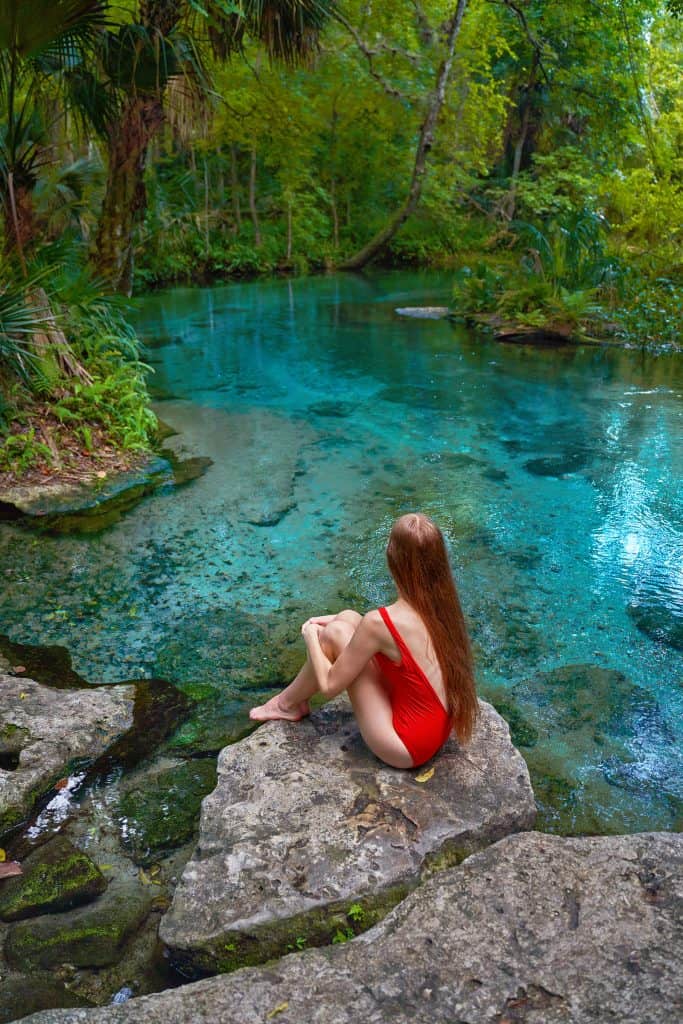 Key Largo Kampground and Marina
Key Largo is the Sunshine State's "Dive Capital of the World" and a great place for spring break! In the first and northernmost of the Florida Keys, you won't find a better escape. Key Largo is a world away and has some of the best Florida Keys camping around.
At the Key Largo Kampground and Marina, you'll find 40 acres of tropical flowers and foliage along the Atlantic Ocean. The campsites come in a variety of options with offerings for tents and RVs. You can opt to have a waterfront view or not, and you can even choose an RV site with a boat slip!
Tent sites can fit two tents on pea gravel with partial shade. You can easily hang hammocks on most sites! Some offer electric hookups, but all of the sites have grills. Tent sites range from $60-80 per day depending on if you want electric and water hookups.
RV sites feature full 30/50 hookups in a variety of pull-through and back in options. All RV sites include picnic tables and cable TV connections, with a box available to rent. You can even choose a site with a boat slip! RV sites run $100 a night, $130 a night for a site with a boat slip.
At the marina, you can bring any boat, cycle, kayak, or canoes that fit on your rented site. You can even go snorkeling and scuba diving and John Pennekamp State Park! Make sure to visit the nearby Sombrero Beach Park from April through October to see Loggerhead sea turtles nesting!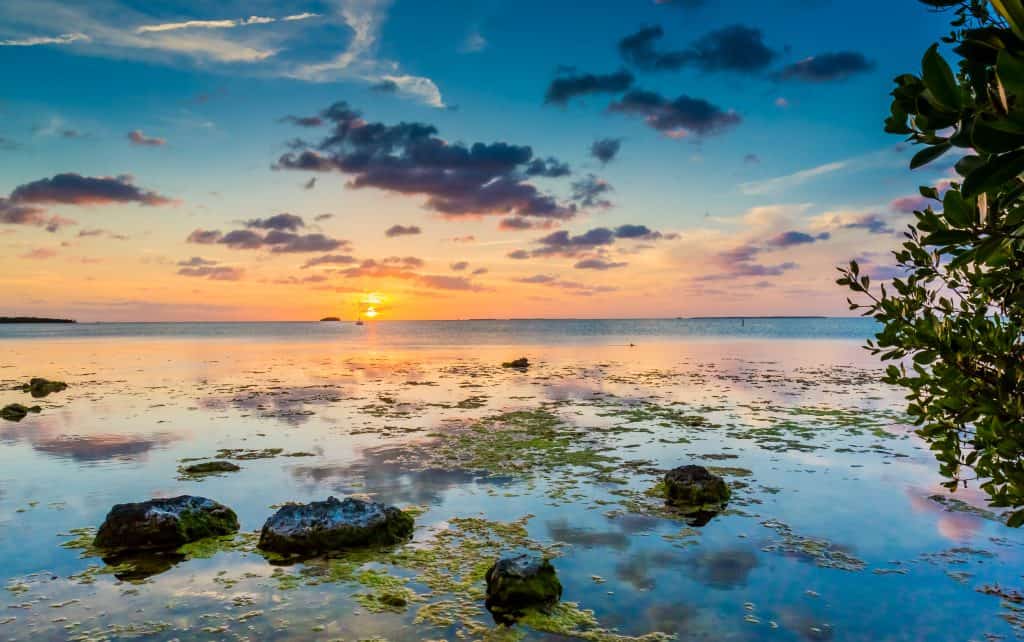 Juniper Springs Recreation
In Ocala, one of the best ways to enjoy nature and unplug is to spend some time at the Ocala National Forest. The most popular of the campsites in the park is the Juniper Springs Recreation Area!
The campsites are arranged into three loops near the creek and springs. All sites are shaded and equipped with picnic tables, a grill, campfire ring, lantern post and space for tents. No sites have full hookups, though.
Campground amenities include hot showers, flush toilets, and a dump station. Nearby you can walk to a small convenience store. Here you can purchase camping supplies, beach supplies, food, drinks, and ice cream.
When you're not relaxing at the campfire, you'll love swimming in a warm natural pool! Canoe down the 7-mile Jupiter Run to see stunning views of the Juniper Prairie Wilderness.
Ocala National Forest also has some of the best hiking trails in Florida! You can spend the entire day on the park's section of the Florida Trail. Look out for turtles, deer, black bears, and turkey. This is also one of the best places to see wild alligators in Florida.
Make sure to book your reservations in advance, as they are required and can be sparse! Fees run $21 per campsite per night.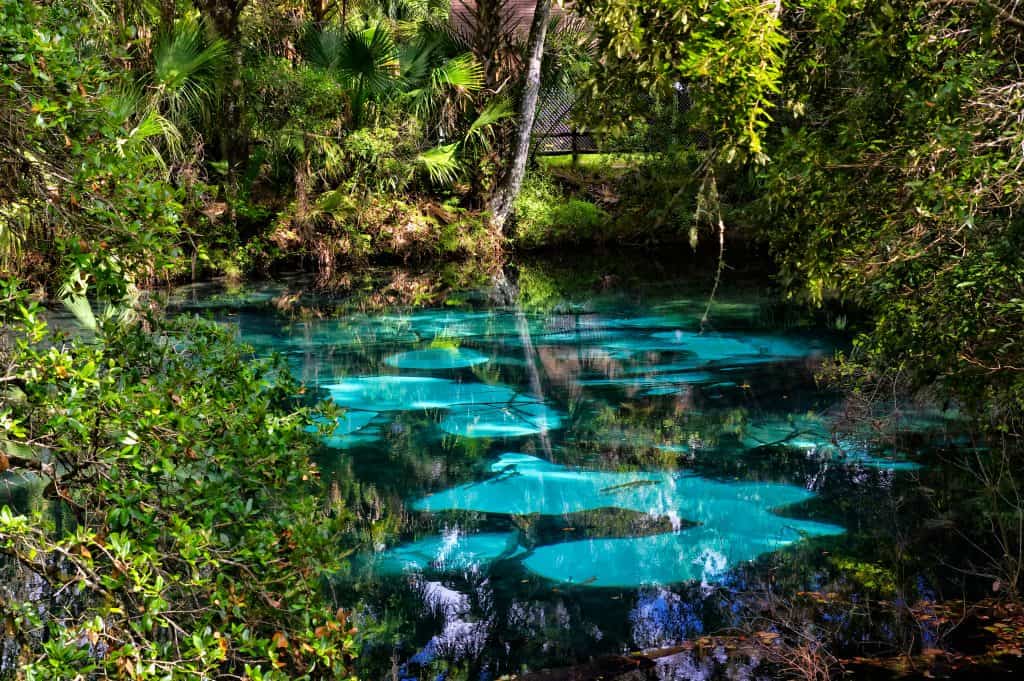 Jonathan Dickinson State Park
If you're a fan of Burt Reynolds, that should be your draw to visit Jonathan Dickinson State Park, as it's just north of his estate. If not, then the 16 stunning natural communities and campgrounds will make you fall in love.
Perfect for families, Jonathan Dickinson State Park offers two campgrounds for reservation. The first, Pine Grove, can be found on the east side of the park. The River Campgrounds can be found four miles from the park's entrance.
On either of the campgrounds, you'll have access to water, electricity, picnic tables, and a grill. Sewer hookups are offered only at Pine Grove. If you have a horse with you, there are five equestrian campgrounds as well.
If you're looking for something more rough and tumble, then try one of the two primitive backpacking campsites! These are off the expansive Florida Trail. Make sure to pack a stove, because firewood collecting is prohibited in Florida State Parks.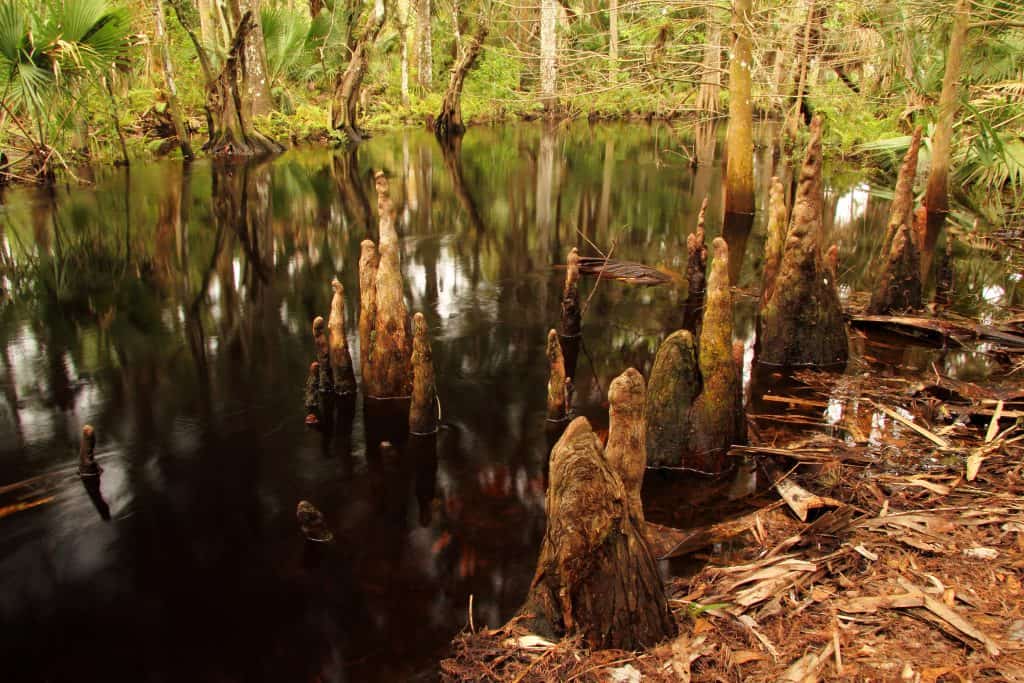 Did You Find This Post Helpful?
If so, we would love to keep in touch! We enjoy seeing photos and comments about your experiences in Florida! You can follow us on Instagram and we will repost your photos on our feed and comment too! Just tag us at @floridatrippers and hashtag #floridatrippers. We can't wait to see your travels!